Canada's historical wonders, stunning landscapes, diverse culture, snowy mountains, and shining lakes make it a famed tourist destination worldwide.
The country is also home to numerous historic and modern buildings, standing out with their refined design, rich history, and intricate beauty.
These buildings are proof of Canada's longstanding status as a leader in architecture, technology, and creativity.
From skyscrapers to ancient cathedrals and historic hotels, here are ten famous buildings in Canada.
Famous Buildings in Canada
1. CN Tower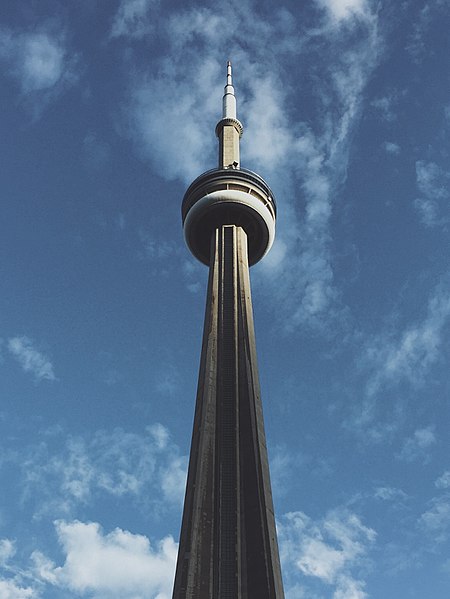 The CN tower is a telecommunication and observation tower dominating Toronto's skyline at 553 meters high. It held the trophy as the world's tallest self-supporting structure for more than three decades between 1975 and 2007.
This tower is an engineering wonder, with the American Society of Civil Engineers naming it among the seven modern world wonders in 1995.
Reputable designers, including Webb Zerafa, John Andrews, E.R Baldwin, and Menkes Housden, drafted this architectural masterpiece while the Canadian National Railway Company built it in 1973.
Also Read: Famous Canadian Landmarks
Although the tower was initially privately owned, currently, the Canadian government manages it through a public corporation.
The CN tower is a famed tourist attraction that receives more than two million visitors annually. It features restaurants, gift shops, an entertainment complex, and multiple observation towers.
Visitors to the building can experience the thrilling edge walk, enjoy Canadian cuisine at the award-winning 360 Restaurant, and immerse in the spectacular views at three observation levels.
2. Habitat 67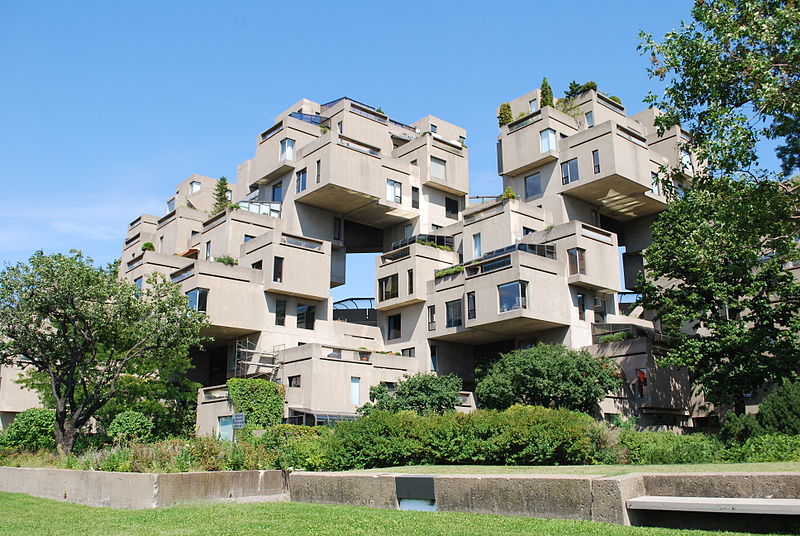 Another great representation of Canada's world-leading architecture is Habitat 67, or simply Habitat in Cite du Havre, Montreal.
With 148 residences, Habitat 67 is among the most significant buildings of the 1960s. It stands out with its unique cubist design, modern vibe with a vintage feel, and unusual prefabricated construction.
This architectural landmark is the work of an Israeli-Canadian architect called Moshe Safdie. Interestingly, it began as a thesis project at McGill University's School of Architecture.
Safdie saw the project as a solution to housing problems such as overcrowding and poverty in dense urban environments. Habitat's amended version became the pavilion for the Expo 67 of 1967.
Habitat 67 is famous for its distinctive style, allowing each apartment to enjoy lots of natural light and fresh air, spectacular city views, and suspended terraces.
Its innovative design has spread worldwide, earning Safdie recognition as a guru in contemporary architecture. If you are passionate about beautiful architecture, Habitat 67 is a must-see.
3. Chateau Frontenac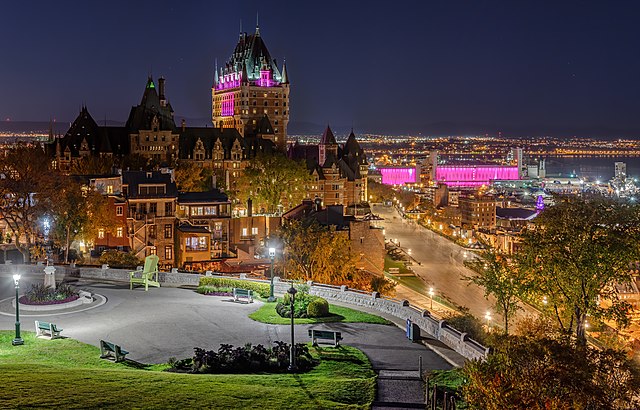 It is a historic hotel located in Quebec, Canada, and is considered the most photographed hotel in the world. Chateau Frontenac is famed for its Chateauesque architectural style, fortress-like tower design, and picturesque eclecticism common in Victorian architecture.
Also, its blend of historic charm and modern elegance makes it one of the noteworthy buildings in Quebec city.
This landmark luxury hotel dates back to 1892, when the Canadian Pacific Railway Company constructed it to encourage tourists to use their railways.
Bruce Price, an American architect, designed the hotel while William Van Horne, the GM at Canadian Pacific Railway, supervised its building.
Chateau Frontenac appeals with its breathtaking views, on-site restaurants offering various dining options, and elegant European-style furnishings. It is a national symbol of quality accommodation and comfortable elegance.
The hotel has 610 guest rooms and suites, some with themes to honor world leaders and prominent personalities.
4. Canada Place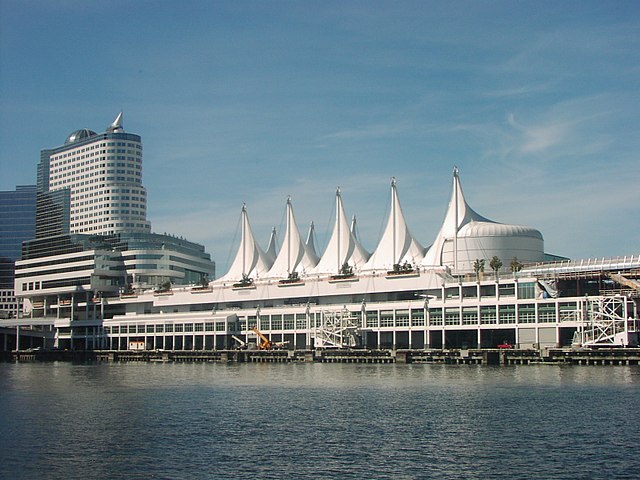 Vancouver is famous for its beautiful beaches, tasty cuisines, busy nightlife, striking sceneries, and diverse population.
It is also home to numerous landmarks and famous buildings, including Canada Place. Canada Place is a waterfront complex featuring hotels, an IMAX theater, and a cruise ship terminal.
Canada Place is a tourism hub with approximately 1 million cruise ship passengers visiting every year. It also hosts numerous national and local events and celebrations, such as Canada Day and National Aboriginal Day.
Visitors at this distinctive landmark enjoy the phenomenal views of North Shore mountains, Stanley Park, and Coal Harbor, take strolls along the water, or dine in one of the world-class hotels in the area.
5. Gooderham Building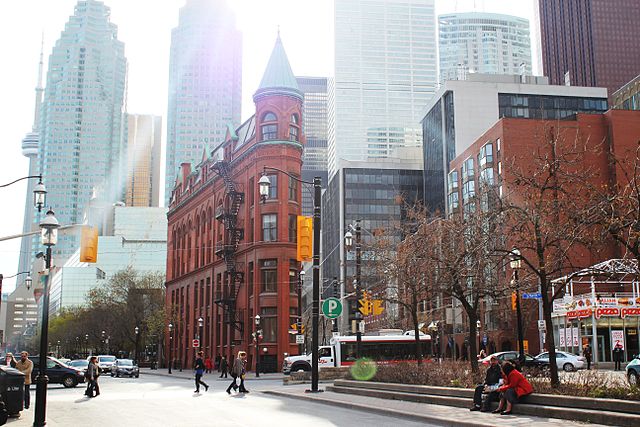 This impressive building is undeniably among the most famous buildings in Canada. It is a four-and-a-half-story red brick building in Toronto's St Lawrence Market District, constructed in 1889.
Gooderham Building holds a place in history because of its location in a vibrant and historically significant neighborhood. Also, it nears other renowned heritage sites like St James Cathedral and St Lawrence Market.
Gooderham Building is renowned for its narrow wedge shape, Romanesque cornice, and a mural on its back wall. It derives its unique triangular shape from the confluence of two downtown streets -Wellington Street and Front Street.
The building was associated with the Gooderham family and their businesses, such as distillery, banking, retail, shipping, and mills.
It was the most costly office space in the history of Toronto, costing $18,000. Designed by Davis Roberts Jr, the Gooderham Building has charged ownership ad management throughout.
6. Banff Springs Hotel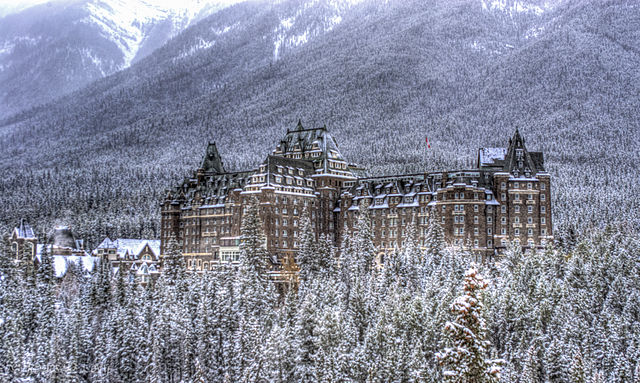 Banff Springs Hotel is a historic hotel boasting more than a century of offering legendary hospitality and uncompromising luxury.
As a landmark in the beautiful Banff town, it woes guests with excellent interior furnishings such as animal carvings, oak beams, and Terrazzo floors. It has 757 guest rooms and event spaces for conferences and weddings.
This world-famous hotel is among the earliest grand railway hotels. The Canadian Pacific Hotel was built in 1888 with Bruce Price as the designer.
Unfortunately, a fire ravaged the original building in 1926, and a replacement was erected in 1928. Over the years, the hotel has been revamped and upgraded to preserve it's longstanding status.
7. Canadian Museum of History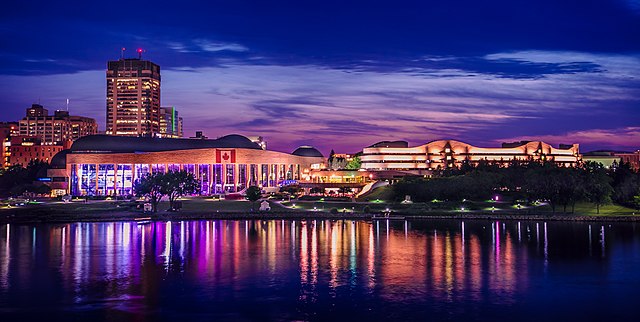 Canada is home to numerous museums spread across its ten provinces. One of the most remarkable ones is the Canadian Museum of History in Gatineau, Quebec.
This museum specializes in anthropology, cultural studies, ethnology, and Canadian history. Its purpose is to support Canada's heritage and research while providing museological excellence. Notably, the museum houses more than three million artifacts and documents.
Designed by Douglas Cardinal, a Canadian architect, the Canadian Museum of History dates back to 1856 and is one of the oldest public institutions in the country.
The museum ranks as the most-visited museum attracting over 1.2 million people annually. Visitors learn 15,000 years of Canadian history and indigenous cultures and reflect on the country and its people. Also, they can attend the many exhibitions the museum organizes.
8. Science World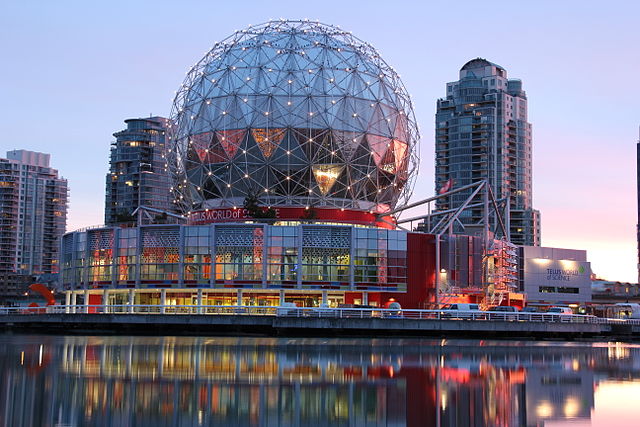 If you are a science enthusiast, Science World is a must-visit site in Canada. It is a giant ball-shaped high-rise building at the east end of False Creek in Vancouver.
Science World's unique spherical design and iconic geodesic dome make it the crown jewel of False Creek and an attraction for locals and tourists.
Science World has its roots in the World Fair of 1986. When the expo ended, there was lobbying to convert the space into an art, science, and technology center.
With the support of the government, private sector, foundations, and individuals, the Expo Center was revamped, and a 400-seater Omnimax theatre was built.
In May 1989, Science World opened officially and purposed to increase accessibility to science-learning opportunities to communities in BC.
Science World is famous for its mind-blowing live science demonstrations, entertaining activities, and interactive indoor and outdoor exhibits. It also has a family center stage for live educational science shows.
Since its construction, Science World has added various features, including a Wonder Gallery for toddlers, to enhance visitors' experience.
9. Art Gallery of Ontario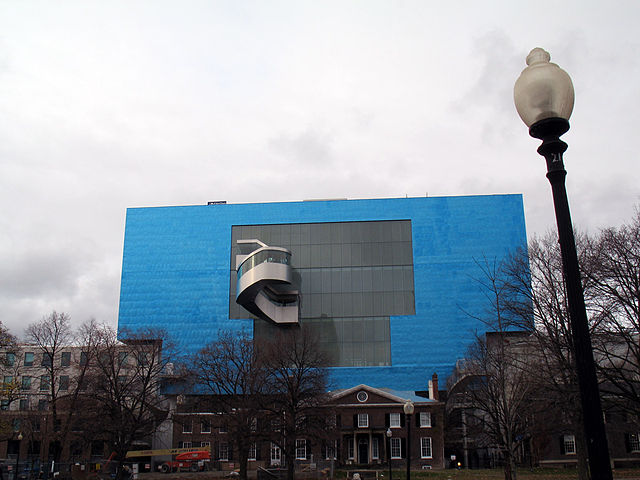 The list of famous buildings in Canada cannot be complete without the Art Gallery of Ontario (AGO), a renowned art museum in Toronto.
This art gallery is one of the largest and most distinguished art museums in Canada and North America. It seconds the Royal Ontario Museum as the largest art museum in Toronto.
The AGO started in 1900 as the Art Museum of Toronto. Later, it was renamed the Art Gallery of Toronto in 1919 and its current name in 1966. Since its inauguration, the AGO has been expanded and renovated to meet its changing needs.
AGO is home to 120,000 artworks from the first century to the present day and a world-class collection from prominent artists across the globe.
It houses exhibition spaces, libraries and archives, gift shops, event spaces, lecture halls, workshops, dining facilities, and research centers.
After an insightful day at the art gallery, visitors can enjoy a meal at the dining facility and shop for gifts, jewelry, and books at the gift shop.
10. Notre-Dame Basilica of Montreal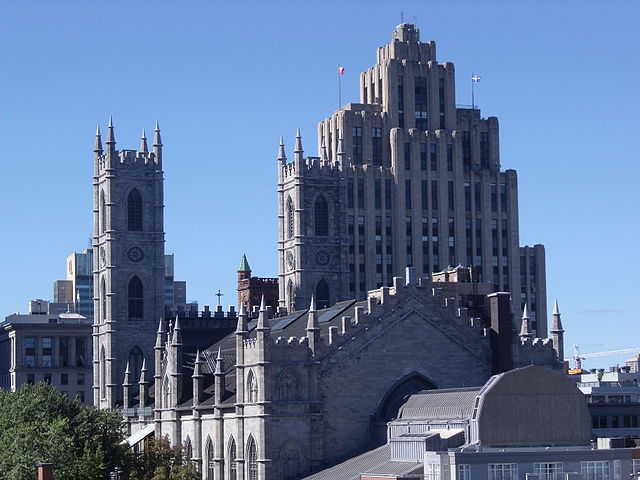 Receiving more than ten million visitors annually, the Notre-Dame Basilica of Montreal is the oldest Catholic church in Montreal and among the most visited historical sites in North America.
The basilica was constructed between 1824 and 1829 and has passed the test of time to become a world-renowned religious landmark.
This architectural gem is famed for intricately designed interiors, gothic revival architecture, stunning ceilings, elaborate wood carvings, colorful stained-glass windows, and religious statues.
Unlike most churches, the Notre-Dame Basilica of Montreal does not have paintings of biblical scenes on the walls but scenes depicting the religious history of Montreal.
Canada boasts numerous famous buildings renowned for architectural beauty, rich history, jaw-dropping designs, and religious significance. Whether in Vancouver, Toronto, or Montreal, you will get noteworthy ancient and modern buildings, each with a story.
Undoubtedly, Canada is an architectural hub, designing, constructing, and maintaining world-class structures.