Miami is a city known for its weather and beautiful beaches. The city is full of architectural masterpieces that have been iconic for decades and are recognized as the best in Florida.
While it may not be a hub for historic structures, it has some outstanding buildings as a cultural hot spot.
Some are widely recognized as legendary landmarks that define the city. Others don't date back to the time before the building codes were required, but they still stand tall over South Florida and its surroundings.
Here is a list of ten famous buildings in Miami which stood the test of time and often serve as iconic symbols of what people associate with Miami
Famous Buildings in Miami
1. Freedom Tower, Miami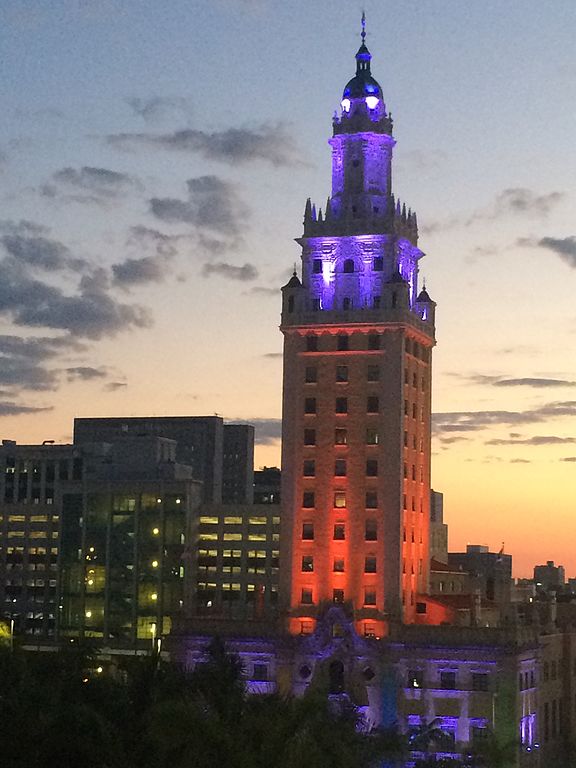 Constructed from June 11, 1924, to July 26, 1925, Freedom tower started as a printing facility and newspaper headquarters. It became iconic with 17 stories and over 82,000 square feet of space, a remarkable achievement by then.
The freedom tower design is based on Seville's Spanish Giralda Cathedral tower. It has Italian and Spanish architectural blends with Moorish ornamental finishes. This secured it a significant and permanent hallmark of the Miami skyline.
Also Read: Famous Landmarks in Florida
Freedom tower is also considered the Ellis Island of the South, an assistance center for Cuban refugees. It was a facility for processing refugee documents and offered sanctioned relief and medical services between 1960 and 1972.
The freedom tower stands as a historic landmark of Cubans' exodus to the United States during the cold war under the regime of Fidel Castro.
After the refugee era, it was sold many times, leading to distortion of its initial architectural embellishments. Finally, in 1997, it was purchased by a Cuban- American businessman, Jorge Mas Canosa, the founder Cuban American National Foundation.
After passing on two months later, his family went on with the renovation and sold it to the Pedro Martin family.
In 2005, the structure was donated to the famous Miami Dade College. The donation agreement required that the college should establish a Cuban exile experience. In honor of the agreement, today, it's a museum and a hub for culture and education.
The freedom tower continues to gain popularity as the government plans to refurbish and preserve it as a symbol of hope and freedom.
2. Vizcaya Museum and Gardens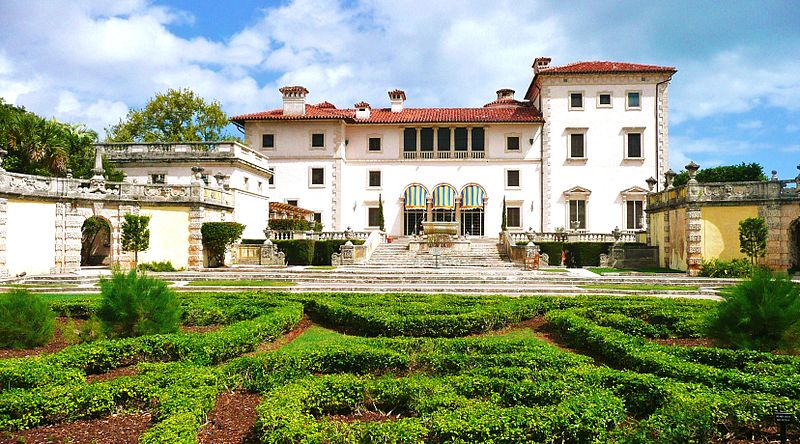 Named after the fascinating shore of the northern Spanish province, the Vizcaya Museum and Garden brings out a Mediterranean revival architectural style.
It was initially known as Villa Vizcaya, an estate to a prolific industrialist, James Deering. He built the estate on an Italian renaissance inspiration. It included an ancient outbuildings compound and a classic woodland landscape.
The Vizcaya Museum and garden was constructed between 1914 and 1922, but the elaborate Italian renaissance continued in 1923. James Deering wintered in the estate between 1916-1925, where he passed on, leaving it to his two nieces.
Then, due to hurricanes that caused an increase in maintenance costs, they started selling it–from the residence's neighboring land to the exterior gardens.
In 1945, a large portion of the property was sold to construct Miami's mercy hospital. Later in 1952, the villa and Italian gardens were sold to Miami-dade county, which began renovation.
It started operating as an art museum in Dade county. In 2008, it was listed as one of the endangered historic places. As a result, it hosts events to collect funds for its preservation.
3. Miami Biltmore Hotel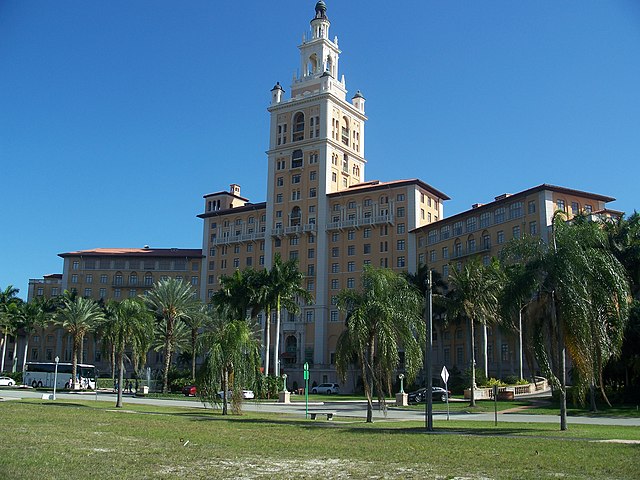 The Miami Biltmore Hotel was constructed in 1925 and opened in 1926 on the eve of a massive hurricane. Its builders were coral gables owner George.e.Merrick and John McEntee Bowman, the president of the Bowman-Biltmore Hotel.
It constitutes three buildings with the approximate design of Seville's Giralda cathedral tower.
Through decades, it was sold several times, losing its initial glory until 1983, when it was restored and opened as a hotel. In 1992 it gained new ownership from a multinational consortium that refurbished it.
New lighting, pool repair, new telephone systems, furnishing, and spa completion made the hotel an outstanding and luxurious consortium.
The hotel features a culinary academy opened in 2007, 18-hole, par 71 golf course, and a 12000 square foot spa. The Biltmore hotel also has a 700000 gallon with polished marble surface and a tropical waterfall.
4. Miami Tower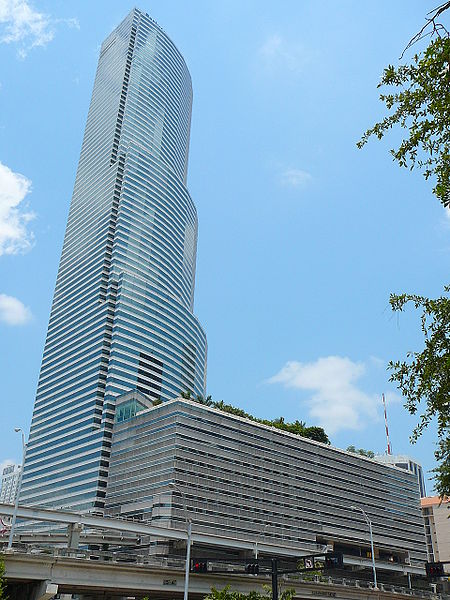 Having won as one of the tallest skyscrapers in Miami, Florida, the Miami tower features captivating scenery.
It features phenomenal three glass tiers and exquisite night-time lighting. It was built in 1987, sitting on 1.6 million square feet with 47 stories at 625 feet.
Miami tower has the only metro station in a skyscraper worldwide. Its exceptional interiors have enhanced its popularity locally and worldwide.
They include a gold and marble-covered sky lobby and a mahogany cabinet in the gym—the outdoor features 10000 square feet of terrace.
In 2012, LED lighting was installed for conspicuous displays commemorating different seasons and holidays. Miami tower also features TV shows and video games.
5. Coral Castle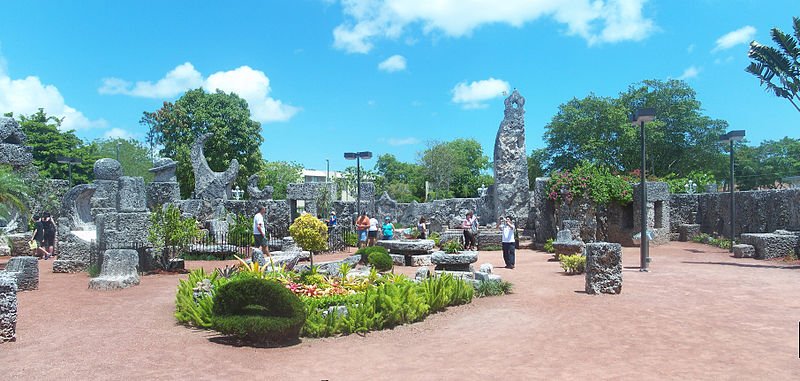 Made of 1100 tons of stones, the Coral Castle Museum is one of the fascinating sites in Miami, Florida. It's located between the cities of Homestead and Leisure City.
Latvian-American Edward Leedskalnin single-handedly built it between 1887-1951.
Despite the mystery of its construction, today, it is an enchanting tourist attraction.
It has mind-blowing sculptures of carved coral rocks, a polar telescope, a barbeque, a waterfall, an obelisk, and an array of furniture. There is also a well-balanced gate that opens with the touch of a finger.
6. Fontainebleau Miami Beach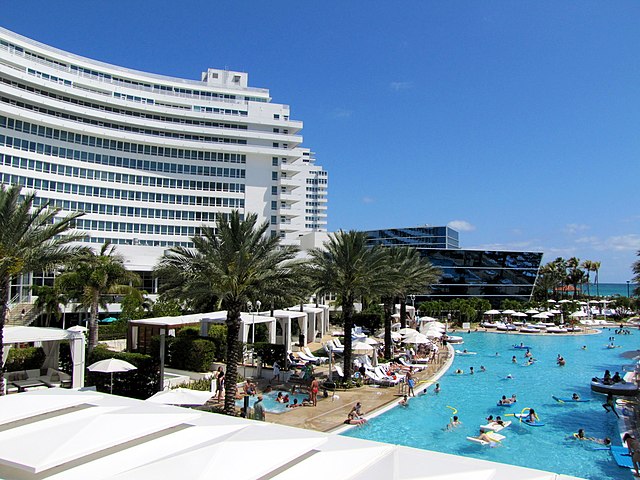 Established in 1954, Fontainebleau Miami Beach was designed by Morris Lapidus using modern Miami architecture. In 2007, it ranked number ninety-seven as America's favorite architecture.
Later in 2012, the American Institute of Architecture ranked it first on the list of Florida architecture.
Over the years, it was sold many times as it continued to lose its vibrancy. However, in 2006, it was refurbished and reopened.
Today, it belongs to the Soffer family and is managed by the Fontainebleau resorts.
7. Wynwood Walls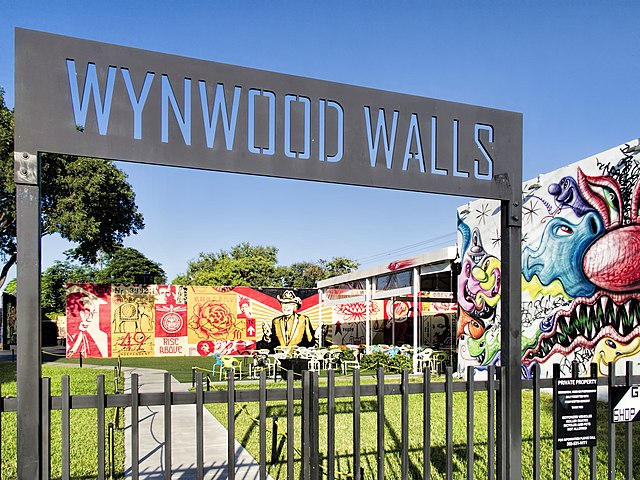 A once abandoned cluster of warehouses, Wynwood Walls were transformed into vibrant street art. An art patron and property developer, Tony Goldman discovered its potential in 2009.
His goal was to transform the desolate warehouses into a place people could explore and develop pedestrian ability in the locality.
Over the years, Wynwood Walls museum has incorporated artists from different countries on an 80,000-square feet wall. As a result, it has grown to be an international center of attraction.
The media, including Forbes, BBC, and the New York Times, listed it as one of the most vibrant neighborhoods.
8. Holocaust Memorial of the Greater Miami Jewish Federation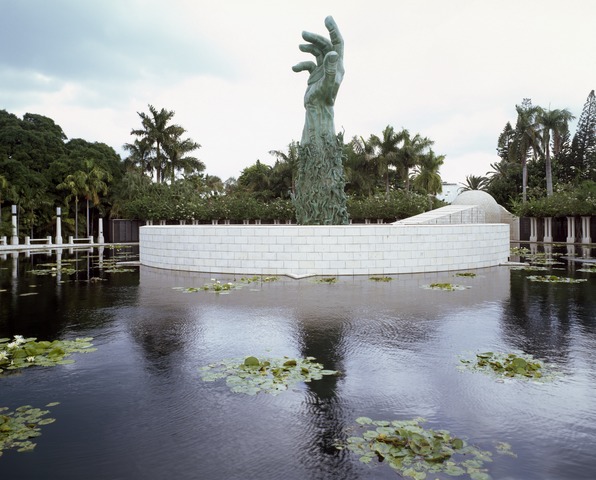 Located at memorial avenue, the Holocaust Memorial of the Greater Miami Jewish Federation is a memorial for six million Jews killed during world war 11.
Kenneth Treister designed it on a location commissioned by the Miami Beach city authorities.
The area belonged to holocaust survivors Florrie Loeb and William. In 1970, they sold it to Miami city beach.
It started its operations on February 4, 1990, with Andrew.c.hall, a holocaust survivor and a Miami attorney, as the chairman.
9. 1111 Lincoln Road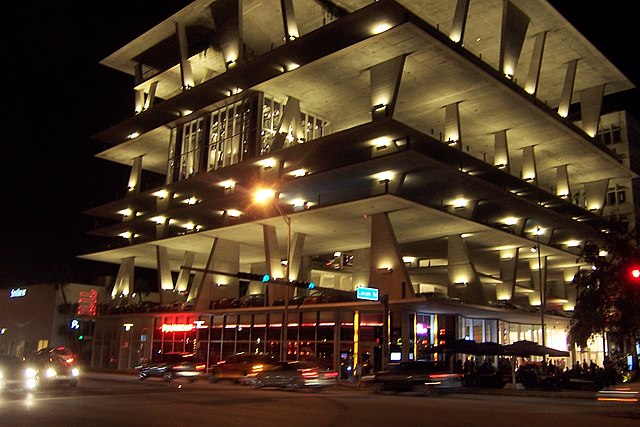 Known for its exceptional design compared to other traditional garages, 1111 Lincoln Road started its operations in 2010. It was designed by an internationally reputable firm belonging to De Meuron and Herzog.
In 2005, Robert Wennet bought the sun trust bank building, which was constructed in 1968. The structure was designed in a brutalist style and had a surface parking lot. Instead of eliminating the existing structure, he refurbished it for use as offices, storefronts, and creative firms.
He also built a parking garage, 1111 Lincoln Road, next to the existing structure, which had the same height.
Photographers and architects who desire its design have used the garage as a benchmark. It is also a tourist attraction, and athletes use it for their exercise.
It has a spectacular 7th floor used to hold events and as an advertisement scene. Due to its achievements, it has provoked the surrounding parking garages to add design to their structures.
10. Olympia Theater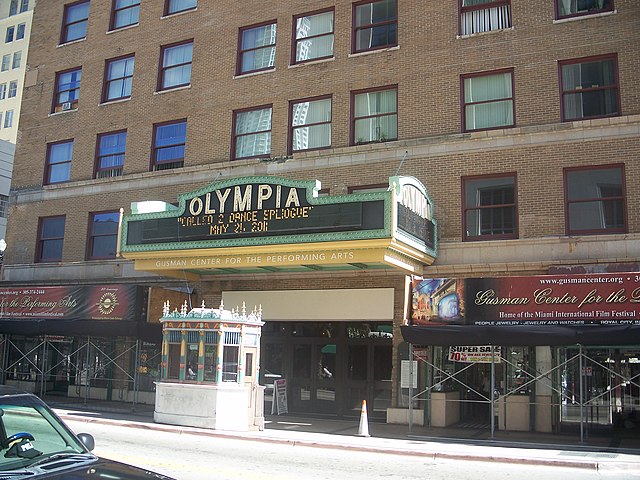 Featuring excellent acoustics, with exceptional Moorish architecture, Olympia Theater opened in 1926. John Eberson designed it under the George A.Fuller company. Today, it remains the only atmospheric theater in Florida, along with the Tampa Theater.
The Olympia Theater began construction in 1925 as the 'Miami Theater and Office Building.' After completion in 1926, the name was changed to Olympia Theater and office.
Through the decades, it was sold to different people. It declined until 1989, when it was renovated and reopened in 1994. Renovation continued in a bid to restore its initial artwork. In 2014 its original name, Olympia Theater, was restored.
In 2020, after the COVID-19 pandemic, the cost of maintaining a closed venue along with repair costs was too much. Therefore, the board of directors and the management found it difficult to return to operation.
There you have it; a snapshot of some of the most iconic architecture in Miami and an overview of what to expect. With these examples, there's plenty to explore in every part of this dynamic city. Now that you're armed with the knowledge get out there and enjoy!