Pointillism is a painting style in which tiny, distinct dots of color are put in patterns to create an image.
In 1886, Georges Seurat and Paul Signac invented the method, splitting off from Impressionism. The name "Pointillism" was created by art critics in the late 1880s to disparage the works of these painters, but it is now used without the negative connotation it formerly had.
Neo-impressionism is the movement that Seurat started with this approach. The Divisionists utilized a similar patterning approach to create pictures, but with bigger cube-like brushstrokes.
The approach depends on the viewer's ability to mix the color spots into a broader spectrum of tones. Divisionism, a more technical variation of the approach, is connected to it.
Divisionism is concerned with color theory, while pointillism is more concerned with the brushwork technique used to apply the paint.
It is a technique used by few professional artists nowadays, although it may be seen in the works of Seurat, Signac, and Cross.
Famous Pointillism Artists
1. Georges Seurat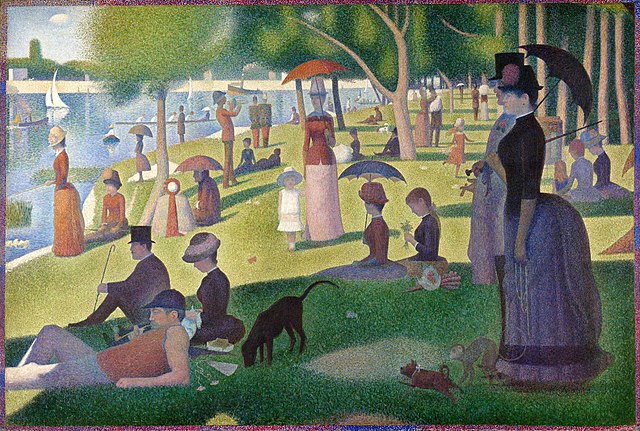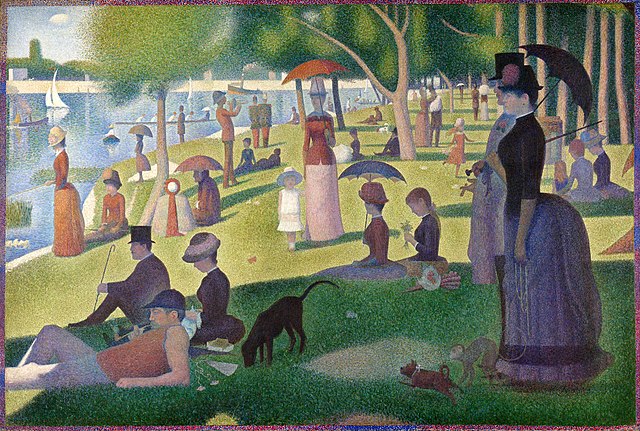 Georges Pierre Seurat was a French post-impressionist painter who lived from 2 December 1859 to 29 March 1891.
He pioneered the painting methods of chromoluminarism and pointillism, and he used conté crayon for rough-surfaced paper drawings.
Seurat's creative temperament united aspects that are generally seen as diametrically opposed and incompatible: on the one hand, a profound and sensitive sensitivity, and on the other, a drive for logical abstraction and a near-mathematical mental precision.
He spent 1883 working on his first big painting, Bathers at Asnières, a massive canvas depicting young men resting by the Seine in a working-class Paris district.
Although influenced by Impressionism in terms of color and light tone, the painting, with its smooth, simplified textures and carefully outlined, rather sculptural figures, demonstrates the continuing influence of his neoclassical training; critic Paul Alexis described it as a "faux Puvis de Chavannes."
Seurat also deviated from the Impressionist ideal by preparing the piece in his studio with a series of drawings and oil sketches before beginning on the canvas.
Bathers at Asnières was rejected by the Paris Salon, and he instead exhibited it in May 1884 at the Groupe des Artistes Indépendants.
Disillusioned with the Indépendants' inadequate organization, Seurat and several other artists he met via the group – notably Charles Angrand, Henri-Edmond Cross, Albert Dubois-Pillet, and Paul Signac – formed a new organization, the Société des Artistes Indépendants.
Seurat's new views on pointillism had a particularly great impact on Signac, who later painted in the same style.
A Sunday Afternoon on the Island of La Grande Jatte (1884–1886), his monumental masterpiece, affected the development of modern art by introducing Neo-Impressionism and is recognized as a masterpiece of late-19th-century painting.
2. Paul Signac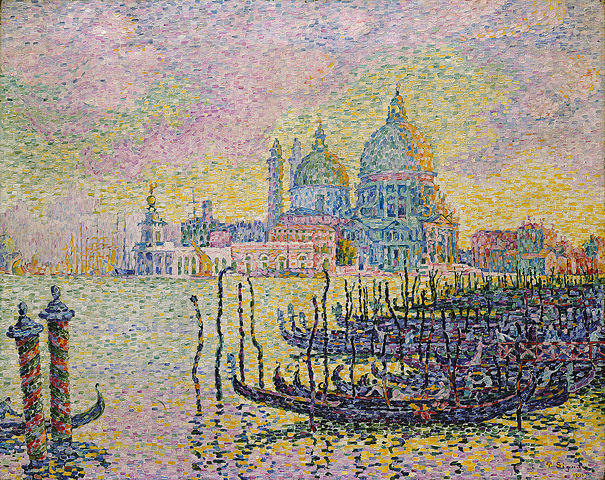 Paul Victor Jules Signac (11 November 1863 – 15 August 1935) was a French Neo-Impressionist painter who, together with Georges Seurat, helped pioneer the Pointillist style.
Paul Signac was born in Paris on November 11, 1863. After seeing an exhibition of Monet's paintings at the age of 18, he decided to pursue a career as a painter after studying architecture.
He traveled across the Mediterranean Sea, visiting European coasts and drawing the landscape he saw. In later years, he also created a series of paintings illustrating French port settlements.
In 1884, he met Claude Monet and Georges Seurat. He became Seurat's ardent disciple, friend, and successor with his description of Neo-Impressionism and the Divisionism technique after being struck by Seurat's meticulous working techniques and color theory.
Under the influence of Seurat, he abandoned the short brushstrokes of Impressionism in favor of experimenting with carefully placed tiny dots of pure color, aiming to melt and blend not on the canvas, but in the viewer's eye, which became Pointillism's defining characteristic.
The Mediterranean coastline is a common theme in Signac's works of art. He left the city every summer to spend time in the south of France, either Collioure or St. Tropez.
3. Vincent van Gogh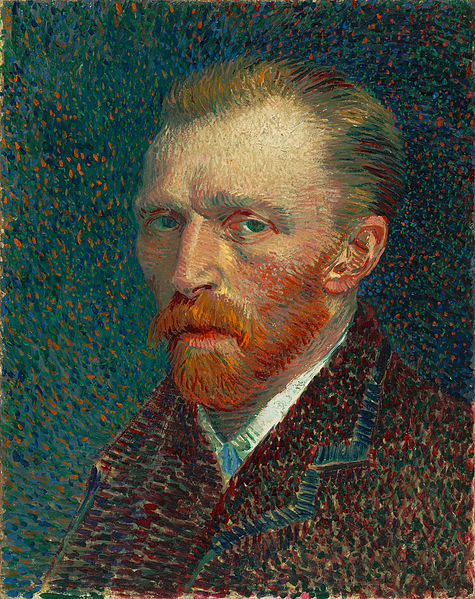 Vincent Willem van Gogh was a Dutch Post-Impressionist painter who lived from March 30, 1853, to July 29, 1890. After his death, he became one of the most famous and important artists in Western art history.
He made about 2,100 works of art in ten years, including about 860 oil paintings, most of which were made in the last two years of his life.
They include landscapes, still lifes, portraits, and self-portraits, and they have bold colors and dramatic, impulsive, and expressive brushwork that helped build the foundations of modern art.
He wasn't successful in his lifetime, struggled with severe depression and being poor, and killed himself at age 37.
Van Gogh only briefly played with pointillism yet a lot of his works do draw from the techniques that he learned from Seurat and Signac, in particular his brushwork.
4. Henri-Edmond Cross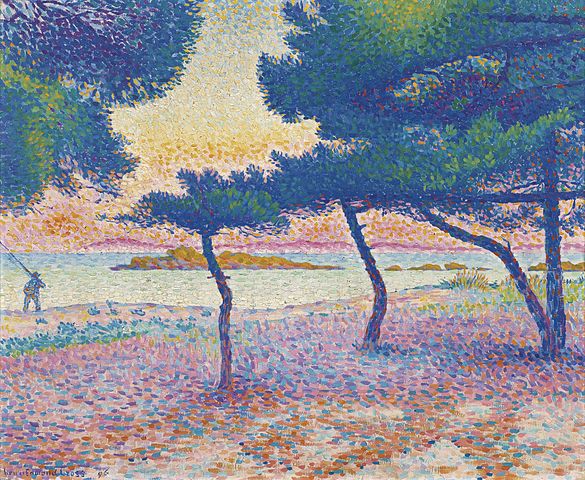 French painter and printer Henri-Edmond Cross was born Henri-Edmond-Joseph Delacroix on 20 May 1856 and passed away on 16 May 1910.
He is most known as a master of Neo-Impressionism, and he had a significant impact on the second phase of that style.
He had a major influence on Matisse and several other painters. His contributions were essential to the development of Fauvism.
Cross's Pointillism paintings from the early to mid-1890s are characterized by the use of tightly spaced and uniformly colored dots.
Beginning about 1895, he progressively altered his approach, using instead large, blocky brushstrokes and leaving tiny sections of raw canvas exposed between the brushstrokes.
The resultant surfaces resembled mosaics, and the resulting paintings may be seen as antecedents to Fauvism and Cubism.
5. Maximilien Luce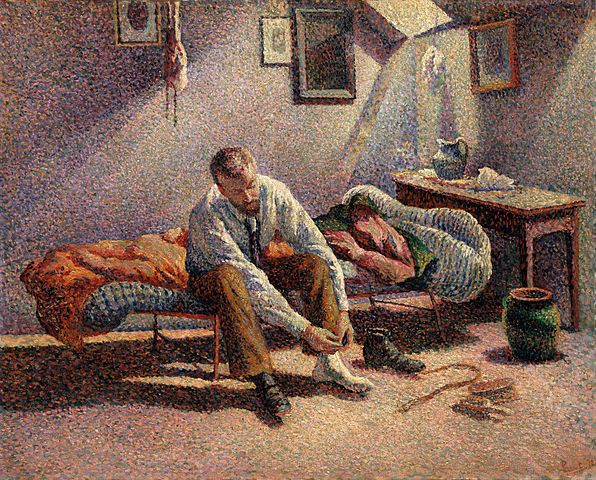 Maximilien Luce (13 March 1858 – 6 February 1941) was a prolific French Neo-impressionist artist recognized for his paintings, illustrations, engravings, and graphic art, as well as his anarchist activities.
After beginning as an engraver, he focused on painting, first as an Impressionist, then as a Pointillist, and eventually as an Impressionist once again.
Luce was exposed to the Divisionist style used by Georges Seurat in 1884. This encouraged Luce to adopt the pointillist technique of painting.
In contrast to Seurat's detachment, Luce's paintings of modern topics depicted the "violent effects of light" with aștiindștiiștiinștiiștiinștiiștiin In 1887, he relocated to Montmartre.
Luce joined the Société des Artistes Indépendants and participated in their third spring show, where La Toilette was acquired by Paul Signac. Camille Pissarro and art critic Félix Fénéon were equally captivated by the seven pieces on exhibit by Luce.
Fénéon described Luce as a "raw, sincere guy with a rugged, powerful skill." In addition to Pissarro and Signac, he met several Neo-impressionists, including as Seurat, Henri-Edmond Cross, Charles Angrand, Armand Guillaumin, Hippolyte Petitjean, Albert Dubois-Pillet, and Pissarro's son Lucien.
A New York Times reviewer deemed this Pointillist phase to be the zenith of Luce's creative career, citing the 1895 picture On the Bank of the Seine at Poissy as an example. The artist characterized the artwork as a "lyrical celebration of nature."
From 1887 until his death in 1941, Luce participated in every exhibition at Les Indépendants, with the exception of 1915 to 1919.
6. Charles Angrand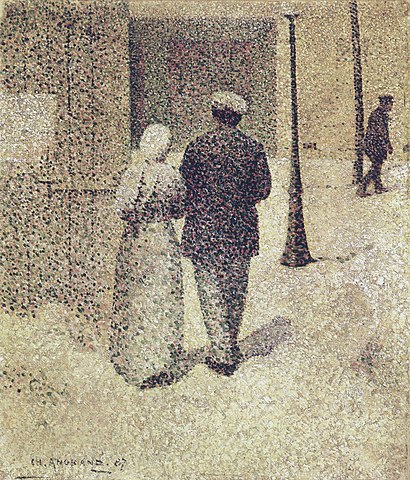 Charles Angrand (19 April 1854 – 1 April 1926) was a renowned French artist whose Neo-Impressionist paintings and sketches earned him widespread acclaim. In the late 1880s and early 1890s, he was a prominent part of the avant-garde art movement in Paris.
After École des Beaux-Arts refused him admission, he returned to Paris in 1882 and started teaching mathematics at Collège Chaptal.
His residence was close to Café d'Athènes, Café Guerbois, Le Chat Noir, and other artist-friendly institutions. Angrand became associated with key members of the Parisian avant-garde, including Georges Seurat, Vincent van Gogh, Paul Signac, Maximilien Luce, and Henri-René Cross.
In 1884, he co-founded Société des Artistes Indépendants alongside Seurat, Signac, Odilon Redon, and others, motivated by his avant-garde artistic and literary associations.
Angrand's use of Pointillist methods was distinct from that of some of the movement's foremost proponents. He used a more subdued color scheme than Seurat and Signac, who employed vibrant, clashing hues.
As shown in Couple on the Street(above), Angrand avoided the intense coloring present in many other Neo-Impressionist works by using dots of different colors to improve shadows and offer the appropriate tone.
7. Anna Boch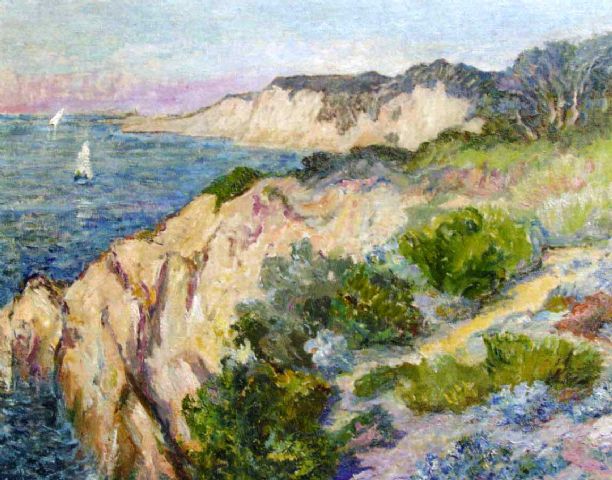 Anna Rosalie Boch, born in Saint-Vaast, Hainaut on 10 February 1848 and passing away on 25 February 1936, was a Belgian painter. Anna Boch passed away at Ixelles in 1936, and she is buried in the Ixelles Cemetery in Brussels, Belgium.
Boch was an active participant in the Neo-Impressionist movement. Her early paintings were executed in a Pointillist manner, but she is most recognized for her Impressionist style, which she used for the majority of her career.
As a student of Isidore Verheyden, she was inspired by the Groupe des XX member Théo van Rysselberghe.
In addition to her own works, Boch had one of the most significant Impressionist art collections of her day.
She supported several young painters, including Vincent van Gogh, whose skill she valued and who was a close friend of her brother Eugène Boch. Anna Boch's purchase of La Vigne Rouge (The Red Vineyard) was long considered to be the sole artwork Van Gogh sold during his lifetime.
After her death, the Anna Boch collection was put up for sale. She left the money in her will to compensate for the retirement of destitute artist pals.
8. Albert Dubois-Pillet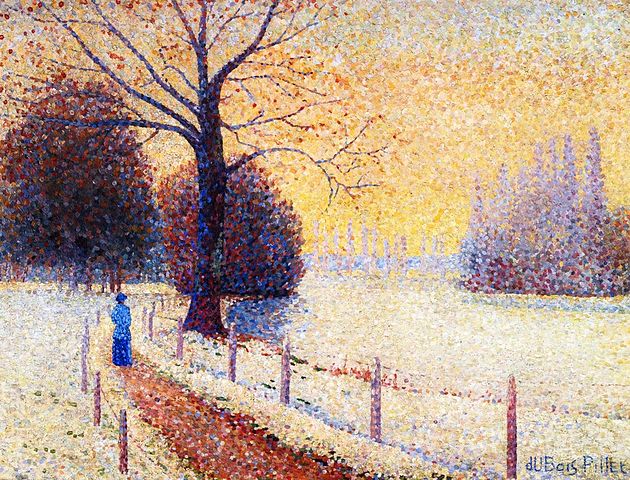 Albert Dubois-Pillet (28 October 1846 – 18 August 1890) was a French Neo-impressionist painter and army commander by profession.
He was one of the first painters to adopt Pointillism and was influential in the establishment of the Société des Artistes Indépendants.
Despite his lack of professional art training, he proved to be a remarkable artist. In 1877 and 1879, the official Paris Salon approved one of his still-life paintings.
However, following his arrival in Paris, he produced slightly more experimental paintings, and his applications to The Salons from 1880 to 1883 were rejected.
Beginning in 1884, he sought to conceal his artistic pursuits from the military by adding his mother's maiden name to his own, signing his works "Dubois-Pillet."
In 1885, perhaps motivated by his contacts with Seurat and others, he started experimenting with Divisionist methods and adopted Pointillism, becoming one of the first painters to do so.
The next year, his paintings were exclusively Neo-impressionist. He utilized pen and ink to produce pointillist drawings using Signac.
During the movement's early years, Dubois-Pillet's studio-apartment functioned as the unofficial Neo-impressionist headquarters. Some of his pointillist works have "photographic accuracy."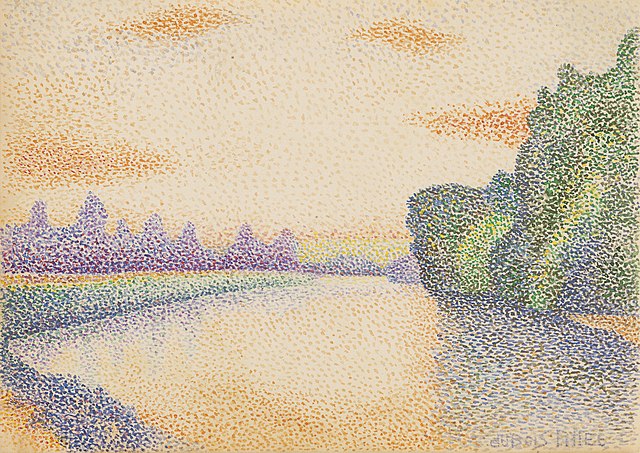 In 1886, he was instructed by the army to cease participating in art exhibitions and to disassociate himself from Les Indépendants but Dubois-Pillet paid little heed to these directives.
He continued to present his work, including annual Les Indépendants shows, an 1886 Nantes exhibition, and participation in the 1888 and 1889 Les XX exhibitions in Brussels.
His lone solo exhibition occurred in 1888 in the headquarters of the French symbolist periodical Revue Indépendant. His pointillist drawings were published in 1887 in La Vie moderne.
Late in 1889, the army sent Dubois-Pillet to a position as commander of the gendarmerie at Le Puy-en-Velay, a commune in south-central France. His relocation may have been a consequence of his refusal to comply with demands to limit his creative pursuits.
The subject matter of his later works are the cathedrals and scenery of the nearby Auvergne area. On August 18, 1890, at the age of 43, he passed away at Le Puy-en-Velay due to an epidemic of smallpox.
The next year, Les Indépendants presented a memorial show of sixty-four of Dubois-paintings, Pillet's coordinated by Signac and featuring his work. Due to a fire that destroyed the most of his work and his untimely demise, his surviving works are quite limited.
9. Leon Viorescu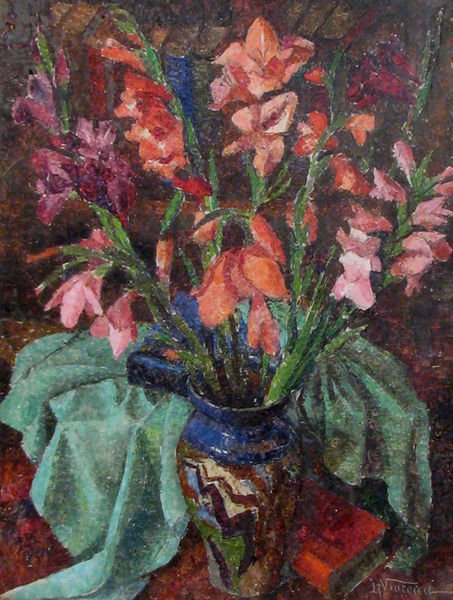 Romanian painter Leon Viorescu (born 1886 in Botoșani; died 1936 in Bucharest).
Viorescu graduated from Iași's Belle Arte Art School and was of the same generation as tefan Dimitrescu and Viorescu's close friend Nicolae Tonitza.
Beginning in 1920, his primary occupation was that of a public clerk at the Romanian Ministry of Culture. The financial security given by his profession was essential in his decision to pursue a career in the arts.
Viorescu choose pointillism as his primary creative expression, but reinterpreted it in his own painting manner.
Viorescu's approach to landscape, interiors, and still lifes distinguished him as a master painter during the Interbelic period in Romania.
Of all the themes, the most popular were compositions characterized by an internal mood that is distinctive and characteristic of his own style.
10. Alfred William Finch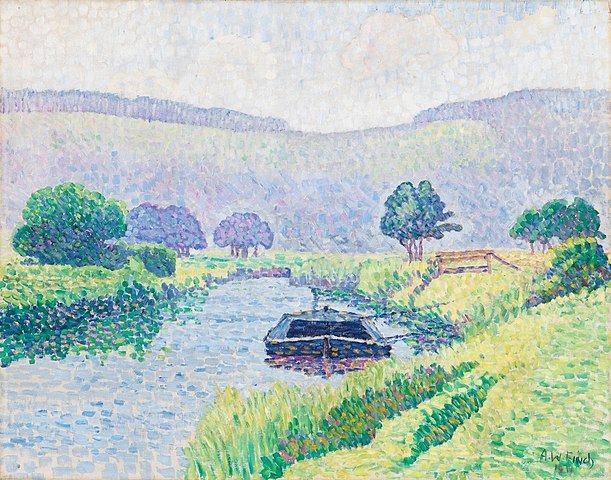 Alfred William Finch (1854–1930) was a pointillist and Neo-Impressionist ceramicist and painter. Born to British parents in Brussels, he spent the most of his artistic life in Finland.
Alfred William Finch was born in Brussels, Belgium on 28 November 1854 to British parents, Joseph Finch (an entrepreneur) and Emma Finch (née Holach). His boyhood was spent at Ostende. At the age of twenty-four, he undertook a year of study at the Académie Royale des Beaux-Arts in Brussels.
On 28 October 1883, he joined Les XX, a group of twenty Belgian painters, designers, and sculptors who revolted against the prevalent aesthetic norms and outdated academism.
As a result of being influenced by the works of Georges Seurat and Paul Signac, he shifted from a more realistic approach to a pointillistic manner.
In the years that followed, together with Théo van Rysselberghe, Finch became one of the most prominent proponents of his style in Belgium.
Finch changed jobs from painting to pottery in the early 1890s after realizing he could not make a life as a painter.
In 1897, with the invitation of count Louis Sparre, Finch relocated to Porvoo, Finland, to head the Iris ceramics business and impacted the local Jugendstil. After the business closed, Finch continued his painting career until his death on April 28, 1930, in Helsinki.