Gothic art was a medieval art style that emerged in Northern France in the 12th century AD from Romanesque art, aided by the parallel development of Gothic architecture.
It extended across Western Europe, as well as most of Northern, Southern, and Central Europe, but never completely supplanted more classical forms in Italy.
The refined court style of International Gothic emerged in the late 14th century and continued to evolve until the late 15th century.
Late Gothic art persisted in several countries, particularly Germany, long into the 16th century before being absorbed into Renaissance art. Sculpture, panel painting, stained glass, fresco, and illuminated manuscripts were among the primary mediums used throughout the Gothic era.
The immediately visible architectural alterations from Romanesque to Gothic, and Gothic to Renaissance styles, are often used to define eras in art in all media, albeit figurative art grew at a different speed in many areas.
Famous Gothic Artists
1. Giotto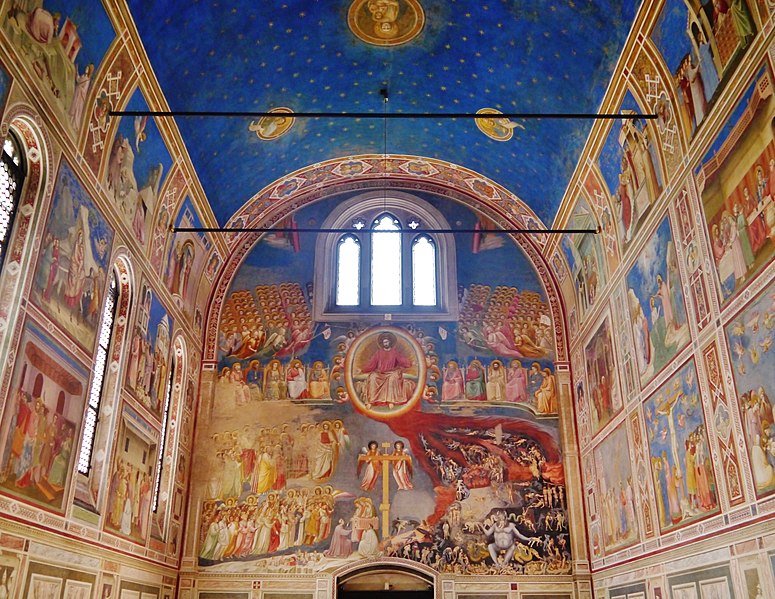 Giotto di Bondone (c. 1267 – January 8, 1337), sometimes known as Giotto and Latinised as Giottus, was a Florentine painter and builder during the Late Middle Ages.
Giotto worked primarily during the Gothic/Proto-Renaissance era. Giovanni Villani, a banker and historian who lived during Giotto's time, described him as "the most sovereign master of painting in his day, who drew all his figures and their poses true to nature," and of his widely acknowledged "skill and quality."
Giotto was credited with ushering in "the great art of painting as we know it now, establishing the method of drawing precisely from life, which had been ignored for more than two hundred years," according to Giorgio Vasari.
Giotto's masterpiece is the ornamentation of Padua's Scrovegni Chapel, commonly known as the Arena Chapel, which was finished about 1305. The fresco cycle covers the Virgin's and Christ's lives. It is considered one of the greatest works of the Early Renaissance.
Among the few certainties concerning Giotto's life are the knowledge that he painted the Arena Chapel and was selected by the Commune of Florence in 1334 to build the new campanile (bell tower) of the Florence Cathedral.
Almost every other detail is debatable: his birth date, birthplace, appearance, apprenticeship, the sequence in which he made his works, whether he painted the renowned frescoes in the Upper Basilica of Saint Francis in Assisi, and his burial location.
2. Duccio di Buoninsegna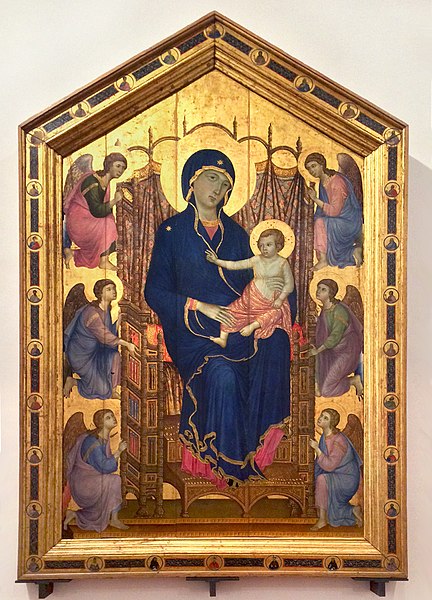 Duccio di Buoninsegna (c. 1255-1260 – c. 1318-1319) was a late 13th and early 14th century Italian painter working in Siena, Tuscany.
Across his career, he was contracted to perform several major works in government and religious buildings throughout Italy. Duccio is regarded as one of the finest Italian painters of the Middle Ages, and is credited with developing the Trecento and Sienese schools of painting.
He also made substantial contributions to the Sienese Gothic style.
Where and with whom Duccio trained is still a source of considerable contention, but art historians have been able to narrow the area by evaluating his style and technique.
Many believe he trained under Cimabue, while some claim he journeyed to Constantinople himself and learnt straight from a Byzantine teacher.
Prior to 1278, when he was 23, he is reported as having painted twelve account book cases, nothing is known about his painting career.
Although Duccio lived from 1268 to 1311, just roughly 13 of his works have survived.
Only two of Duccio's surviving pieces can be securely dated. The "Rucellai Madonna" (Galleria degli Uffizi), commissioned in April 1285 by the Compagnia del Laudesi di Maria Vergine for a chapel in Florence's Santa Maria Novella; and the Maestà, commissioned in 1308, for the high altar of Siena Cathedral, which Duccio finished by June 1311.
Duccio's notable works are painted in egg tempera on wood panels and adorned with gold leaf. Unlike his contemporaries and predecessors, Duccio was a tempera master who conquered the medium with delicacy and accuracy. There is no definitive proof that Duccio painted frescoes.
3. Cimabue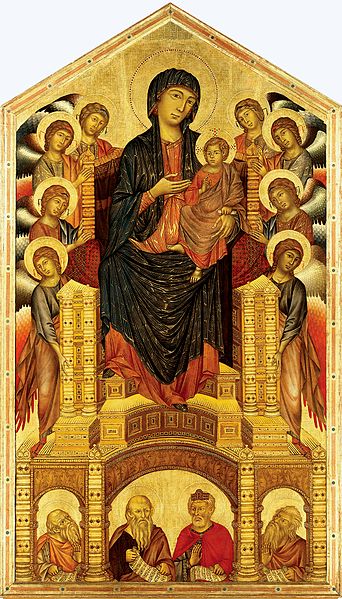 Cimabue (about 1240 – 1302) was a Florentine painter and mosaic creator.
Cimabue is often recognized as one of the first major Italian painters to depart from the Italo-Byzantine style, while being greatly inspired by Byzantine models.
Cimabue's figures were shown with more sophisticated realistic proportions and shading than other painters of his period, but medieval art at the time featured scenes and shapes that were relatively flat and highly stylized.
Cimabue was the instructor of Giotto, the first great artist of the Italian Proto-Renaissance, according to Italian painter and historian Giorgio Vasari. Many academics nowadays, however, prefer to dismiss Vasari's assertion by referencing previous sources that show otherwise.
4. Fra Angelico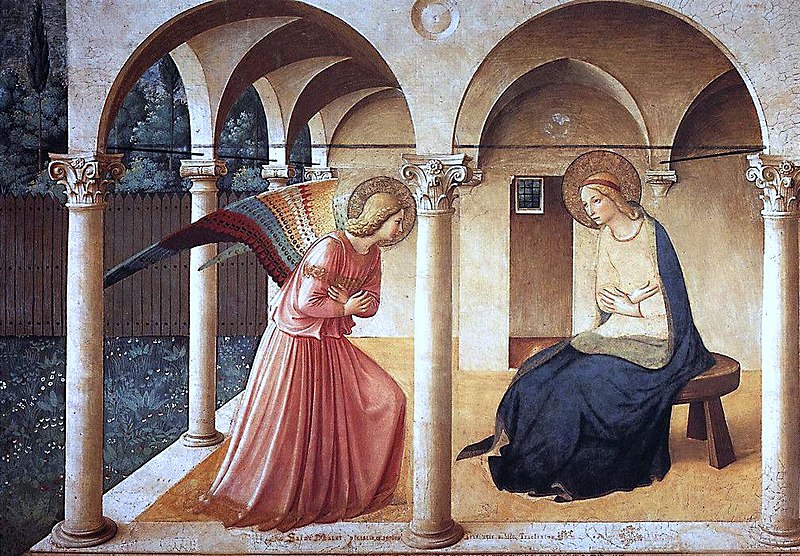 Fra Angelico (born Guido di Pietro; c. 1395 – February 18, 1455) was an Early Renaissance Italian painter.
He is most known for the sequence of murals he created for his own friary, San Marco, in Florence.
Contemporaries referred to him as Fra Giovanni da Fiesole (Brother John of Fiesole) and Fra Giovanni Angelico (Angelic Brother John). In contemporary Italian, he is known as Beato Angelico (Blessed Angelic One); in English, he is known as Fra Angelico (Angelic Friar).
In 1982, Pope John Paul II declared him "blessed" for the sanctity of his life, making the title "Blessed" official.
Fiesole is commonly mistaken as part of his official name, but it was just the name of the place where he professed his vows as a Dominican friar, and it was used by contemporaries to differentiate him from other Fra Giovannis.
In the Roman Martyrology, he is known as Beatus Ioannes Faesulanus, cognomento Angelicus—"Blessed John of Fiesole, surnamed 'the Angelic.'"
Fra Angelico's works have features that are both conservatively Gothic and gradually Renaissance.
The altarpiece of the Coronation of the Virgin, painted for the Florentine church of Santa Maria Novella, has all of the features that a 14th-century altarpiece should have, including a perfectly tooled gold ground, a lot of blue, and a lot of vermilion.
The golden haloes and gold-edged gowns are exquisitely crafted, and everything is quite Gothic.
The figures' solidity, three-dimensionality, and realism, as well as the realistic way their clothing hang or drape about them, distinguish this picture from Gentile da Fabriano's masterwork. Even though these characters are standing on clouds rather than the ground, they do so with weight.
5. Carlo Crivelli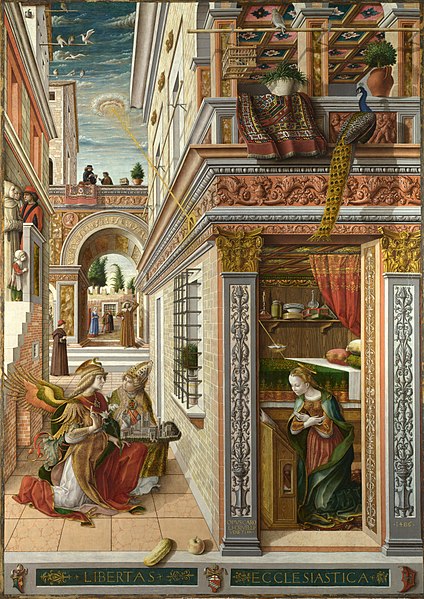 Carlo Crivelli (about 1430 in Venice – around 1495 in Ascoli Piceno) was an Italian Renaissance painter of conservative Late Gothic decorative sensibility who spent his early years in the Veneto, absorbing influences from the Vivarini, Squarcione, and Mantegna.
By 1458, he had left the Veneto and spent the most of the rest of his career in the March of Ancona, where he established a unique personal style that contrasted with that of his Venetian contemporary Giovanni Bellini.
Crivelli's style, in contrast to the naturalistic styles that emerged in Florence during his lifetime, continues to symbolize the courtly International Gothic mentality. His cityscape scenes are jewel-like, with intricate allegorical detail.
He preferred lush countryside settings, and his works are distinguished by his distinctive use of fruits and flowers as ornamental elements, typically represented in pendant festoons, which are also a trademark of Francesco Squarcione's Paduan workshop, where Crivelli may have worked.
His paintings have the linear quality of his Umbrian counterparts. Crivelli is a painter with a distinct style. Unlike his colleague, Giovanni Bellini, his paintings are not "soft," but rather crisp and distinct in contour, with a keen attention to detail.
His trompe-l'oeil technique, which has been likened to that of Northern Renaissance artists such as Rogier van der Weyden, incorporates elevated elements such as diamonds and armor molded in gesso on the panel.
6. Hermen Rode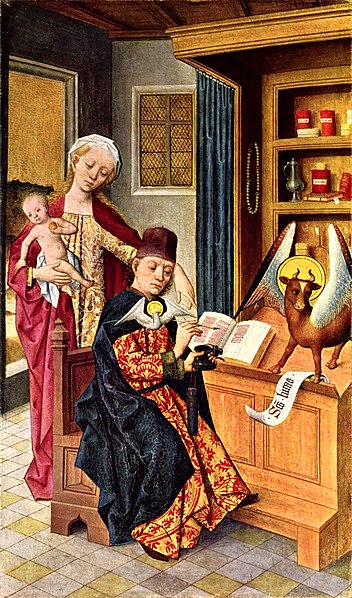 Hermen Rode (about 1468 – around 1504) was a German Gothic painter.
Rode is a little-known figure. He lived and worked in Lübeck, and he possessed a property on Johannisstrasse street in the city beginning in 1468, signifying a significant level of income and reputation.
He is credited with a number of altarpieces, but only one has his signature: the altarpiece of St. Luke, completed in 1484 for St. Catherine's church in Lübeck and now housed in St. Anne's Museum in Lübeck.
Several altarpieces credited to Rode may now be discovered in various regions of Sweden, and they seem to have been designed expressly for the Swedish market, since they feature representations of national Swedish saints.
Some of these paintings are currently housed at the Swedish Museum of National Antiquities, while others may be seen in churches around Sweden, including an altar devoted to St. Mary in Sorunda church and an altarpiece dedicated to St. Gertrude and St. Dorothy in Falsterbo church.
Rode's mature High Altar of St. Nicholas' Church in Tallinn is one of his most striking works of art. It is presently on exhibit in the Niguliste Museum, a division of the Estonian Art Museum. This artwork depicts the earliest recorded image of Lübeck's skyline, with its eight church towers in the backdrop.
7. Simone Martini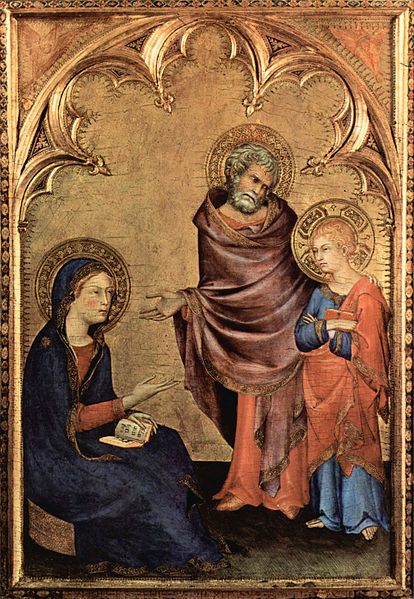 Simone Martini (about 1284 – 1344) was a Sienese painter. He was a pivotal player in the evolution of early Italian painting and had a significant impact on the International Gothic style.
Martini is supposed to have been a student of Duccio di Buoninsegna, the finest Sienese painter of his period.
According to Giorgio Vasari, a late Renaissance art writer, Simone was instead a disciple of Giotto di Bondone, with whom he traveled to Rome to paint in the Old St. Peter's Basilica, where Giotto also executed a mosaic.
Lippo Memmi, also an artist, was Martini's brother-in-law. There is very little evidence of Simone's life, and many attributions are debatable among art historians.
8. Pietro Cavallini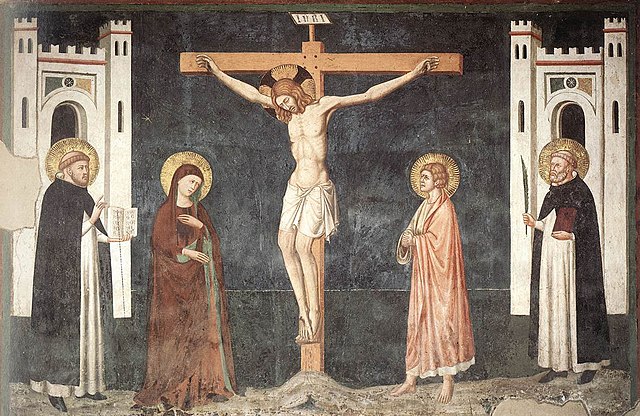 Pietro Cavallini (1259 – c. 1330) was a late Middle Ages Italian painter and mosaic artist.
Little is known about his life, save that he was born in Rome and signed pictor romanus.
His first significant works were the fresco cycles for the Basilica of San Paolo fuori le Mura, which depicted tales from the New and Old Testaments (1277–1285). They were destroyed in the 1823 fire.
His Last Judgment at the Church of Santa Cecilia in Trastevere in Rome, painted in 1293 and regarded Cavallini's masterpiece, exemplifies a Roman naturalist aesthetic style. This realism affected painters in other Italian towns, like Florence and Siena.
The influence of classical Roman forms merged with the region's Byzantine artistic legacy and northern Gothic influences to generate a naturalized painting style that was one of the sources of International Gothic in the Sienese school.
The influence of classical Roman forms coupled with the region's Byzantine artistic tradition to generate an interest in volumetric, realistic paintings and statues in Florence. This work stands in sharp contrast to the more ornate and flat Gothic, International Gothic, and Byzantine styles.
This naturalism may also be seen at Assisi's Basilica of San Francesco d'Assisi, which was erected in the early 13th century in honor of the newly canonized St. Francis.
Because the shrine was commissioned by the Roman church, the interior is decorated in the Roman style. The identity of the painters working in this cathedral are mostly unknown, however at least one group of artists came from Rome.
Because the work at San Francesco resembled that of Florentine artist Giotto, he was historically credited with portions of the frescoes, however most experts now think he was not involved.
9. Ambrogio Lorenzetti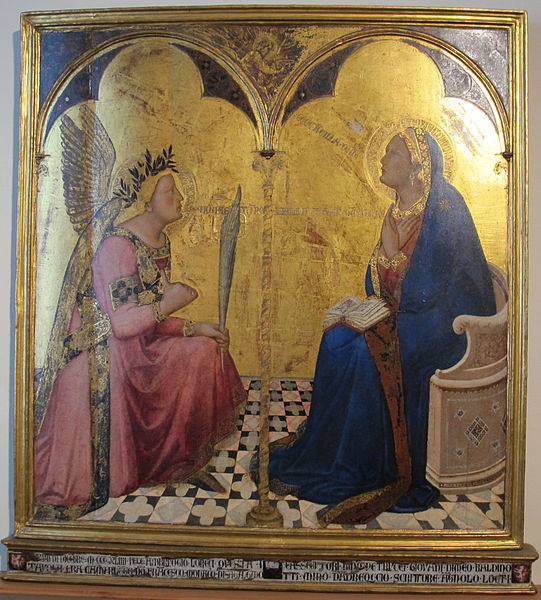 Ambrogio Lorenzetti (c. 1290 – 9 June 1348), sometimes known as Ambruogio Laurati, was a Sienese school painter. He was active from from 1317 until 1348.
He painted The Allegory of Good and Bad Government at Siena's Palazzo Pubblico's Sala dei Nove (Salon of Nine or Council Room). Pietro Lorenzetti, his older brother, was a painter.
Lorenzetti was heavily inspired by both Byzantine and classical art genres, which he utilized to develop a distinct and independent painting style. His work was quite unique. Individuality was rare at this period owing to the effect of patronage on art.
Individualism in art was uncommon since works were regularly commissioned. Lorenzetti is known to have experimented with perspective and physiognomy, as well as studied ancient antiquity, which were supposed to have their beginnings throughout the Renaissance.
His corpus of work clearly demonstrates the inventiveness that other painters choose to copy.
10. Pisanello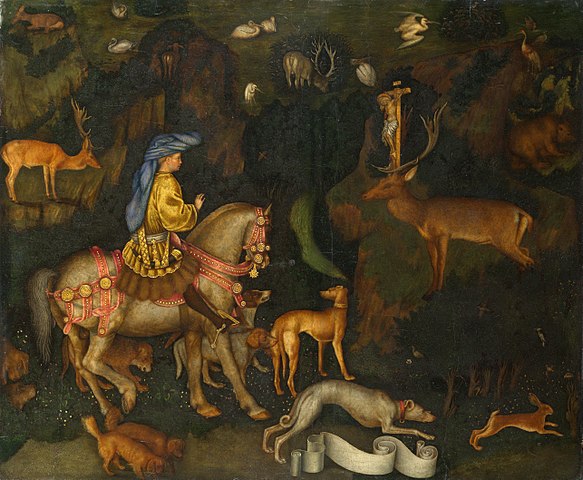 Pisanello (c. 1380/1395 – c. 1450/1455), born Antonio di Puccio Pisano or Antonio di Puccio da Cereto, and erroneously referred to as Vittore Pisano by Giorgio Vasari, was a prominent painter of the early Italian Renaissance and Quattrocento.
He was lauded by poets such as Guarino da Verona and humanists of the day, who likened him to names such as Cimabue, Phidias, and Praxiteles.
Pisanello is well-known for his magnificent paintings in enormous murals, exquisite portraits, little easel images, and other outstanding drawings, including those in the Codex Vallardi (Louvre).
He is regarded as the most famous commemorative portrait medallist of the first half of the 15th century, and he is credited with inventing this essential type.
Paintings by Pisanello may still be seen in Rome, Venice, Verona, and Pistoia, as well as two at the National Gallery in London (The Vision of Saint Eustace and The Virgin and Child with Saint George and Saint Anthony Abbot).
Many of his works are presently on display in the Biblioteca Ambrosiana in Milan, Italy, and the Louvre in Paris, France.
Pisanello had an impact on many of his contemporaries, although he did not establish his own school. His talent shined briefly, and following his death, he was rapidly forgotten in the growth of Renaissance humanistic and classical culture.
He is today regarded as the last and most magnificent gothic artists of the 15th-century courtly form of Gothic art known as the International Gothic style. On the other hand, he may be regarded as one of the founding figures of the Renaissance movement.