Jan van Eyck was a painter who lived in Bruges and is considered to be one of the most important exponents of Early Northern Renaissance art.
He was born around 1390 and died on July 9, 1441. His paintings are considered to be among the earliest examples of Early Netherlandish painting.
Most likely born in the city of Maaseik (previously Maaseyck, hence his name), which is located in what is now the country of Belgium.
When he arrived in The Hague in 1422, he was already an accomplished painter and had workshop assistants. He worked as a painter and valet de chambre for King John III the Pitiless of Holland and Hainaut.
After John's death in 1425, he was given the position of court painter by Philip the Good, Duke of Burgundy. He worked in Lille as a painter until 1429, when he moved to Bruges, which is also where he passed away.
He was well-liked by Philip and undertook a number of diplomatic travels overseas, one of which was to Lisbon in 1428 in order to study the possibility of a marriage contract between the Duke of Burgundy and Isabella of Portugal.
Between the years 1432 and 1439, he created approximately 20 paintings that are still in existence. These works, along with the Ghent Altarpiece and the illuminated miniatures of the Turin-Milan Hours, may be attributed to him with absolute certainty.
Ten of them have his signature and a variation of the phrase "As I (Eyck) can," which is a play on his name, which he typically painted in Greek letters. These signatures and dates are found on the paintings.
Altarpieces, religious figures on a single panel, and commissioned portraits were some of the secular and religious works that Van Eyck produced during his career. Single panels, diptychs, triptychs, and polyptychs all make up his body of work respectively.
Philip lavishly compensated him because he wished for the painter to enjoy a secure financial situation as well as complete artistic liberty, enabling him to paint "at any time" he chose to do so.
The work of Van Eyck is in the style of International Gothic, but he swiftly exceeded it, in part because to a stronger attention on naturalism and realism.
He achieved a new level of dexterity by developing his skills in the use of oil paint, which allowed him to create more complex works. He had a significant impact, and the artists of the early Netherlands internalized, refined, and mastered his techniques and aesthetic.
Jan van Eyck Famous Paintings
1. Arnolfini Portrait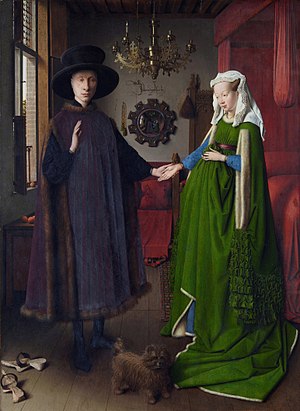 Jan van Eyck's The Arnolfini Portrait, one of the most famous portraits of a married couple in history, was completed in 1434 as an oil painting on a hardwood panel, a popular medium at the time.
The image is famous for its high level of detail and clarity even in the most minute of areas. The couple in the painting are claimed to be wealthy Italian merchants, and the setting represents their lavish home.
The man is holding his expectant wife's hand with a devout expression on his face. Van Eyck's skillful layering of the painting's colors and tones draws the eye down into the picture's depths.
The artist has captured the couple with a level of realism that extends far into the background, and in a way that suggests several dimensions.
2. Ghent Altarpiece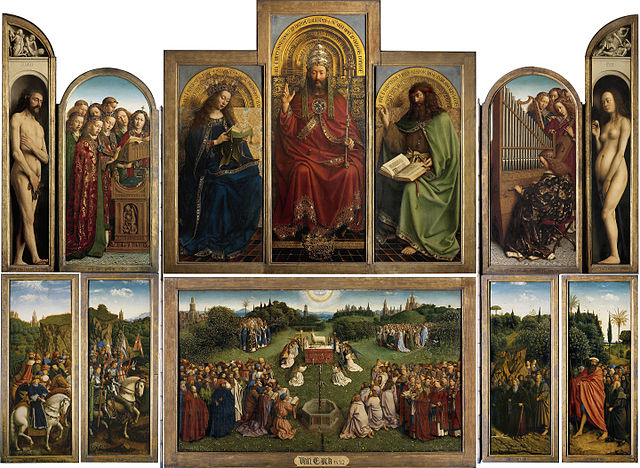 Hubert and Jan van Eyck created one of the most famous paintings to come out of the Dutch region: a polyptych in which each panel depicts a major character or event from the Christian Old Testament or New Testament Bible.
The panels can be folded outward and assembled in a variety of patterns, with two different layouts aligned vertically.
Two famous Flemish men who worked together during this era are credited with creating this piece.
Although Hubert and Jan van Eyck painted several other religious works together, none would receive the same level of acclaim as their masterpiece from 1432.
The upper register of panels depicts a heavenly redemption scenario, while the lower register is populated by various clergy, angels, and statues of John the Baptist and John the Evangelist.
3. Portrait of a Man (Self Portrait?)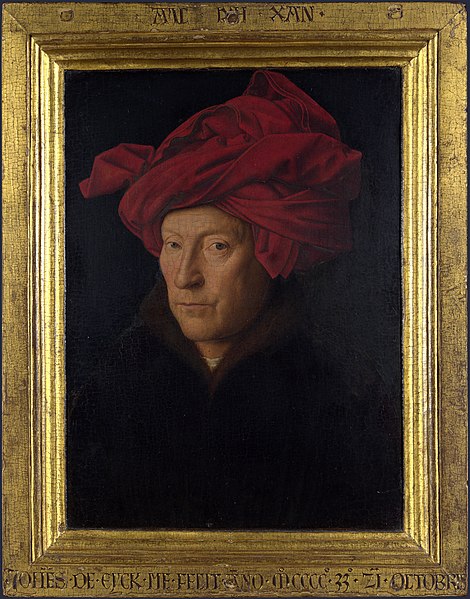 The 1433 oil work Portrait of a Man (Self Portrait?) is also known as Portrait of a Man with a Turban. Als Ich Can (intended as "as I/Eyck can") appears at the top of the panel in an unusually large and prominent handwriting style for van Eyck.
This, combined with the man's extremely direct and combative glare, has led some to conclude that the painting depicts the artist himself.
It has been hypothesized that van Eyck painted the portrait to keep on hand in his studio, where he could show it to prospective customers as an example of his work (and, by extension, his social standing, given the affluent subject's taste in clothing).
However, by 1433, he had already established such a stellar reputation that he was in high demand for commissioned work.
Since 1851, when the gallery first opened, this panel has been on display in the National Gallery in London; it had previously been in England since Thomas Howard, 21st Earl of Arundel acquired it, most likely during his exile in Antwerp between 1642 and 1644.
4. Madonna of Chancellor Rolin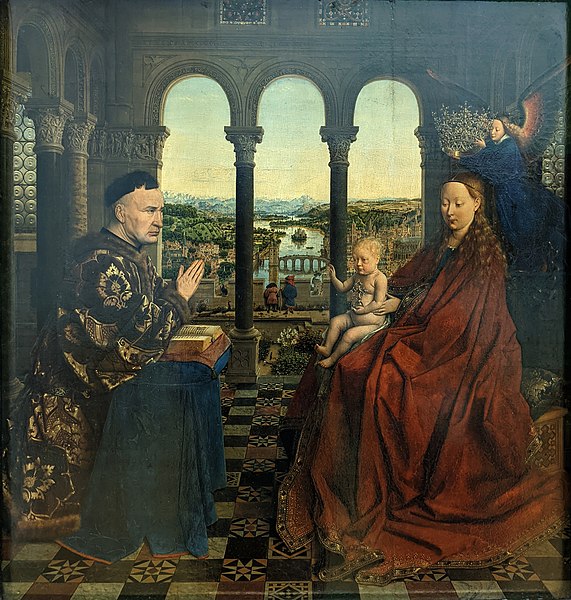 A picture of the Madonna, completed in oil in 1435. Nicolas Rolin, age 60, chancellor of the Duchy of Burgundy, whose votive portrait occupies the left side of the picture, commissioned this altarpiece for his parish church, Notre-Dame-du-Chastel in Autun.
It remained there until the church was destroyed in a fire in 1793; it is now on display in the Musée du Louvre in Paris. The piece spent some time in Autun Cathedral before making its way to the Louvre in 1805.
This is typical of van Eyck works in that the space is not shown as simply as it seems at first glance.
Looking at the floor tiles in relation to the other features, we can deduce that the figures are only around six feet from the columned loggia screen and that Rolin may have to squeeze himself through the aperture in order to escape.
Despite the fact that many van Eycks depict interior spaces that are actually rather small, they do it in such a way that the viewer feels a sense of closeness rather than claustrophobia.
5. Virgin and Child with Canon van der Paele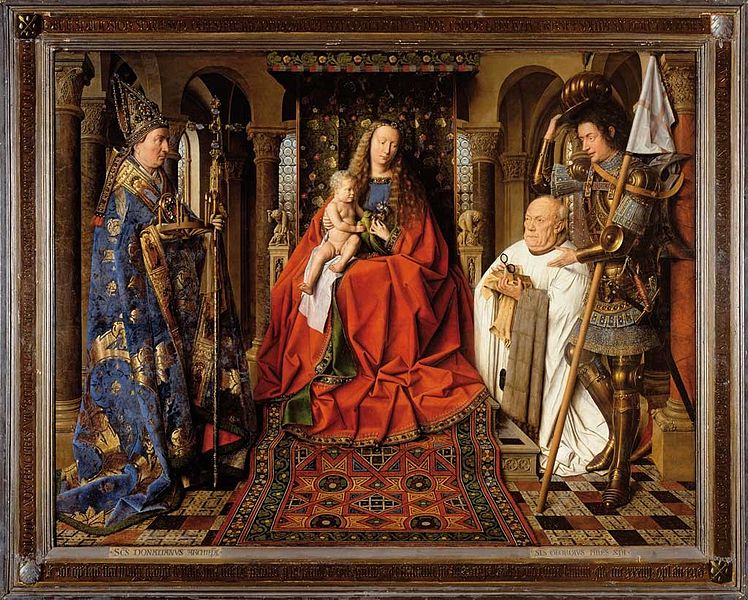 The Virgin and Child with Canon van der Paele is a huge oil-on-oak panel artwork painted around 1434–1436.
In it, patron saints appear to Joris van der Paele, who commissioned the artwork. The Virgin Mary, Christ Child on her lap, sits on a throne in the center of the semicircular chamber that likely symbolizes a church's sanctuary.
She is flanked on her right by Saint Donatian and on her left by Saint George, patron saint of the giver. Van der Paele wanted the panel to use as an altarpiece when he commissioned it. He was then a wealthy pastor from Bruges, but aged and gravely ill, and intended the work as his memory.
6. Annunciation

Jan van Eyck, an early Netherlandish painter, painted The Annunciation in oil circa 1434–1436. The National Gallery of Art in Washington, DC has the work in it's permanent collection.
It had been painted on panel, but that was changed to canvas on some unknown date. The other two wings of the triptych have not been seen since around 1817, thus it is likely that this was the left (inner) one.
The iconography of the annunciation is still a matter of controversy among art historians because of the work's complexity. Originally intended for the Hermitage Museum, Stalin's regime sold it in
7. Portrait of a Man with a Blue Chaperon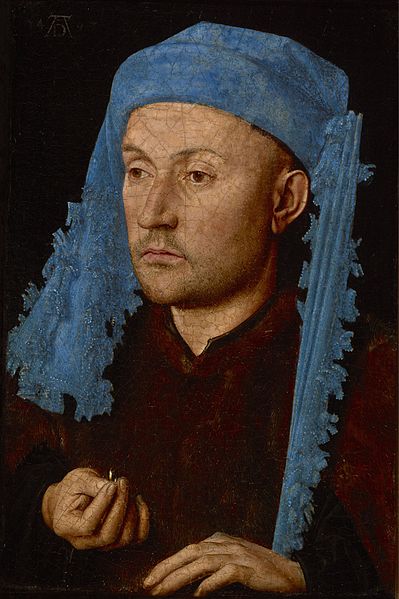 This tiny oil on panel portrait of an unnamed man is often credited to Dutch master Jan van Eyck, but its actual dimensions are only 22.5 centimeters by 16.6 centimeters with the frame.
Around the year 1430, the picture was commissioned and finished. A somewhat inflated head, a dark and flat background, forensic attention to the fine details and textures of the man's face, and illusionistic methods are all there, as are other features typical of van Eyck's secular portraits.
Since Northern Renaissance artists rarely, if ever, titled their paintings, generic names have inevitably been applied to this portrait of an unknown subject over the centuries.
For a long time, it was assumed that the ring displayed on the man's right hand was meant to indicate that he was a jeweler or goldsmith, and so, the picture was titled in variations of this sense.
Titles provided by various art historians and publications since then are typically more descriptive of the color or form of the headgear, despite the ring being regarded more recently as a mark of betrothal.
In the late 19th century, the painting was assigned to van Eyck, but this was continuously contested by some art historians until a cleaning in 1991, when infrared imaging showed an underdrawing and methods of handling of oil that were clearly van Eyck's.
8. Léal Souvenir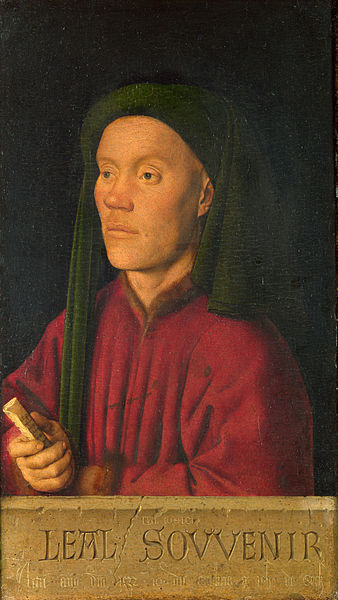 The miniature portrait of Léal Souvenir by the Early Netherlandish artist Jan van Eyck, titled 1432, is painted in oil on oak panel.
Although the identity of the sitter is unknown, his distinctive features point to a real person rather than the idealized type more typical in northern Renaissance portraiture. The sitter's modest build and unassuming torso are in sharp contrast to his refined look.
As the subject of a portrait by the court painter of Burgundian duke Philip the Good, the sitter must have had some degree of importance in the duke's inner circle.
Some recent studies have pointed to the legalistic language in one of the inscriptions, leading some to speculate that he was either a lawyer or an employee of Philip the Good.
Since its purchase in 1857, the panel has been on display at London's National Gallery.
9. Portrait of Margaret van Eyck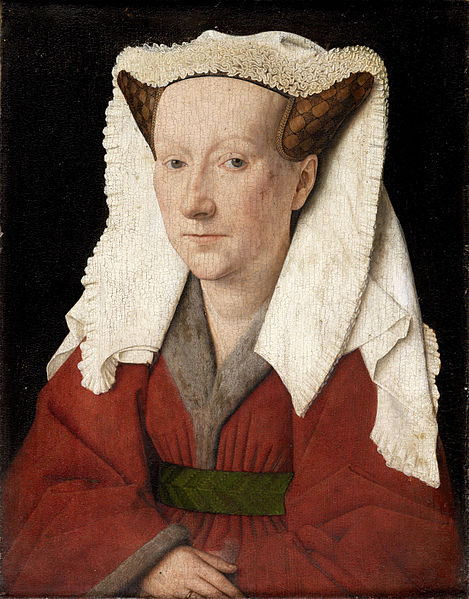 Jan van Eyck painted a portrait of his wife, Margaret, using oil on wood in 1439.
It is one of the two most recent paintings by him that have survived to the present day and is also among the first depictions of a painter's spouse in European art.
Her work, which she finished when she was about 34, hung in the Bruges chapel of the Guild of painters until the early 18th century.
This painting is supposed to be a companion piece or diptych panel to either Jan van Eyck's probable self-portrait on display at the National Gallery in London or to a lost self-portrait from documents before to 1769.
10. Lucca Madonna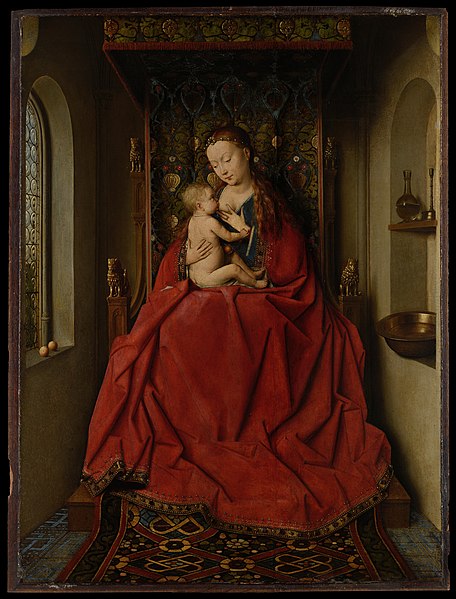 Jan van Eyck, an early Netherlandish painter, is responsible for the oil painting known as the "Lucca Madonna," which was completed around the year 1437.
It depicts Mary being enthroned on a wooden throne and being covered by a canopy while she is shown nursing an infant Jesus.
Its construction gives the impression that it was formerly the central panel of a triptych, and its diminutive size suggests that it was intended for personal devotion. The Stadel Museum in Frankfurt, Germany, currently has the painting in their collection.
Due to the fact that it was part of the collection of Charles II, Duke of Parma and Lucca in the early 19th century, it is commonly referred to as the Lucca Madonna.
It is considered to be one of Jan van Eyck's more recent works. Margaretha, the artist's wife, has been determined to be the subject of the painting known as "The Virgin."