As a city New York boasts some of the greatest museums in the world drawing millions of visitors every year.
There is a great variety of museums in New York and with upwards of eighty to choose from you might have your work cut out for you if you are only in town for a quick visit.
That being said there are some museums that should be on everyone's list to get to.
Two of the very best art museums in New York are the Metropolitan Museum of Art(The Met) and the Museum of Modern Art (MoMA) both of which boast vast collections of art and should be at the top of every art lovers list of places to visit.
But;
New York has far more on offer than just art museums.
The Intrepid Sea, Air, and Space Museum is an interesting day out for any military buffs and is usually a big hit with kids.
Whereas the New-York Historical Society and the Lower East Side Tenement Museum offer a glimpse into the New York of old.
Regardless of your choice New York has a museum for just about anyone to enjoy.
Best Museums in NYC
1. Metropolitan Museum of Art
The Metropolitan Museum of Art in New York City, informally known as "the Met," is one of the world's biggest art museums.
Its permanent collection, which is split into 17 curatorial divisions, has almost two million items. The main structure, located at 1000 Fifth Avenue on the eastern side of Central Park on Manhattan's Upper East Side, is one of the world's biggest art museums by area.
The Cloisters in Fort Tryon Park in Upper Manhattan, a considerably smaller second site, has a vast collection of medieval European art, architecture, and relics.
The Metropolitan Museum of Art was created in 1870 with the goal of bringing art and art education to the people of America.
The permanent collection of the museum includes works of art from classical antiquity and ancient Egypt, paintings and sculptures by practically all European masters, and a large collection of American and contemporary art.
The Metropolitan Museum of Art has vast collections of African, Asian, Oceanian, Byzantine, and Islamic art. The museum has extensive collections of musical instruments, clothing, and accessories, as well as historical weaponry and armor from all around the globe.
In its galleries, noteworthy interiors spanning from 1st-century Rome to current American design are shown.
The Fifth Avenue building, located at 681 Fifth Avenue, first opened its doors on February 20, 1872.
2. Museum of Modern Art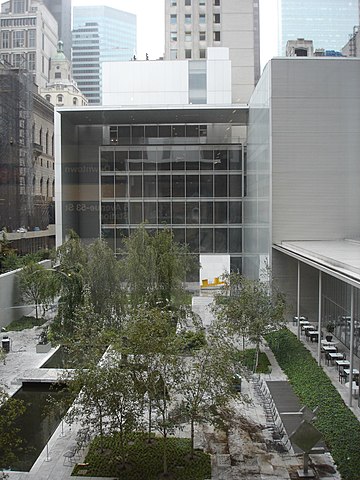 The Museum of Modern Art (MoMA) is an art museum situated on 53rd Street between Fifth and Sixth Avenues in Midtown Manhattan, New York City.
It is widely regarded as one of the world's biggest and most prominent museums of contemporary art, and it plays a significant role in the development and collection of modern art.
The collection of the MoMA includes works of architecture and design, drawing, painting, sculpture, photography, prints, illustrated books and artist's books, cinema, and electronic media.
The MoMA Library has over 300,000 books and exhibition catalogs, over 1,000 magazine titles, and over 40,000 files of ephemera regarding particular artists and organizations.
The archives include primary source material on the history of modern and contemporary art.
Many consider MoMA's holdings to be the finest collection of contemporary Western classics in the world, with over 150,000 distinct items, 22,000 films, and 4 million film stills.
MoMA, a private non-profit institution, is the seventh-largest museum in the United States in terms of money; its yearly income is around $145 million (none of which is profit). In 2011, the museum declared net assets of slightly over $1 billion (essentially, a sum of all the resources it has on its books less the value of the art).
Unlike other museums, the museum does not accept government financing, instead relying on a patchwork budget from a half-dozen distinct sources of revenue.
3. American Museum of Natural History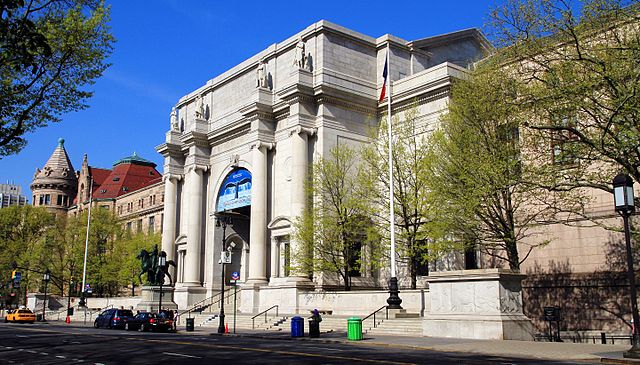 The American Museum of Natural History (abbreviated as AMNH) is a natural history museum located on Manhattan's Upper West Side.
The museum complex, located across the street from Central Park in Theodore Roosevelt Park, consists of 26 linked buildings holding 45 permanent exhibition rooms, as well as a planetarium and a library.
The museum's holdings include about 34 million plant, animal, fossil, mineral, rock, meteorite, human remains, and human cultural objects, as well as specialized collections for frozen tissue and genetic and astrophysical data, of which only a tiny portion may be shown at any one time.
The museum covers over 2 million square feet (190,000 m2). The AMNH employs 225 full-time scientists, supports over 120 special field trips each year, and receives around five million visitors every year.
The AMNH is a 501(c)(3) non-profit organization. Its purpose is to "find, understand, and distribute knowledge about human civilizations, the natural environment, and the cosmos via scientific research and education."
4. Solomon R. Guggenheim Museum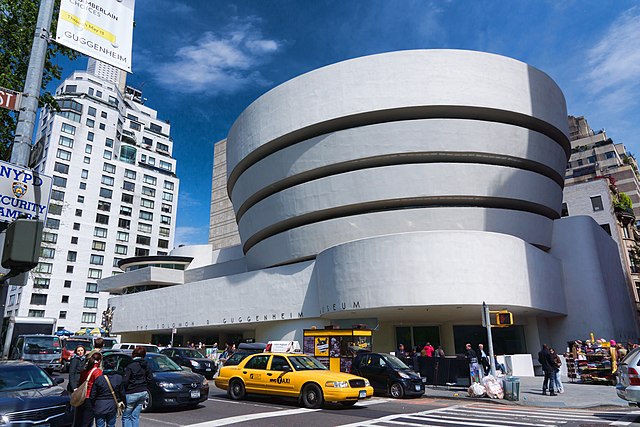 The Solomon R. Guggenheim Museum, sometimes known as The Guggenheim, is an art museum located at 1071 Fifth Avenue on the intersection of East 89th Street on Manhattan's Upper East Side.
It has a permanent collection of Impressionist, Post-Impressionist, early Modern, and contemporary art, as well as special exhibits throughout the year.
The Solomon R. Guggenheim Foundation founded the Museum of Non-Objective Painting in 1939, under the direction of its first director, Hilla von Rebay. It took its present name in 1952, three years after its founder, Solomon R. Guggenheim, died.
The museum relocated from leased space to its present location in 1959, a major piece of twentieth-century architecture built by Frank Lloyd Wright.
The cylindrical structure, which is broader at the top than at the bottom, was designed as a "temple of the spirit." Its one-of-a-kind ramp gallery rises from ground level in a long, continuous spiral around the building's outside walls, ending just under the ceiling skylight.
When a nearby tower was completed in 1992, the structure underwent substantial enlargement and modifications, as well as from 2005 to 2008.
The museum's collection has expanded over eight decades and is based on numerous significant private collections, starting with Solomon R. Guggenheim's.
The collection is shared with sister museums in Bilbao, Spain, as well as other locations. Nearly 1.2 million individuals visit the museum each year.
5. Whitney Museum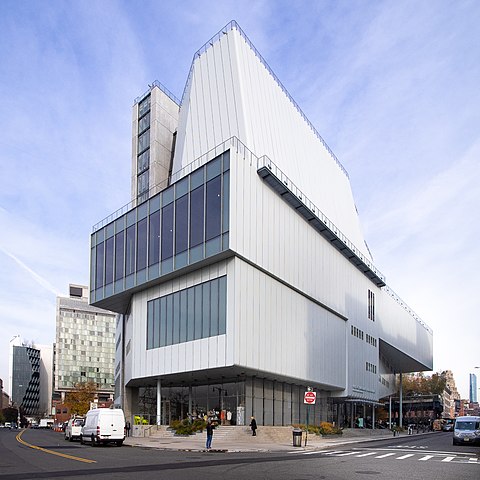 The Whitney Museum of American Art, often known as "The Whitney," is a New York City art museum located in the Meatpacking District and West Village areas.
Gertrude Vanderbilt Whitney (1875–1942), a rich and influential American socialite, artist, and art lover, created it in 1930.
The Whitney focuses on American art from the twentieth and twenty-first centuries. Its permanent collection, which spans the late nineteenth century to the present, has over 25,000 paintings, sculptures, drawings, prints, photos, films, videos, and new media artifacts by over 3,500 artists.
It focuses on showing the work of contemporary artists while also keeping a large permanent collection of noteworthy items from the first half of the twentieth century.
The museum's Annual and Biennial exhibits have long provided a platform for emerging and lesser-known artists.
The Whitney was located at 945 Madison Avenue on Manhattan's Upper East Side from 1966 until 2014, in a building built by Marcel Breuer and Hamilton P. Smith.
The museum closed in October 2014 to transfer to its new location at 99 Gansevoort Street, which was built by Renzo Piano and inaugurated on May 1, 2015.
6. Frick Collection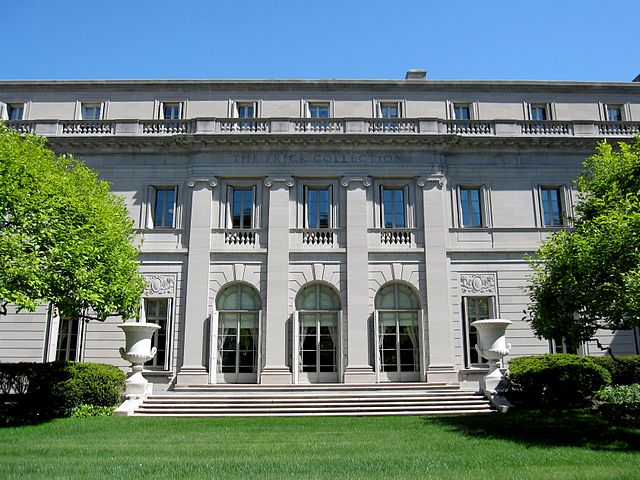 The Frick Collection is a New York City art museum. Its permanent collection (usually housed in the Henry Clay Frick House, but now at the Frick Madison) includes Old Master paintings and European fine and decorative arts by Bellini, Fragonard, Goya, Rembrandt, Turner, Velázquez, Vermeer, and others.
Henry Clay Frick (1849–1919) created the museum, and its collection has more than quadrupled in size since it was opened to the public in 1935.
The Frick also includes the Frick Art Reference Library, a famous art history study facility founded by Helen Clay Frick in 1920.
The Frick is one of America's leading minor art museums, housing a high-quality collection of old master paintings and beautiful furnishings in nineteen galleries of varied sizes inside the former estate.
Frick planned for the home to ultimately become a museum, and a handful of the artworks are still organized in Frick's design. The Frick has traditionally presented modest, targeted temporary exhibits in addition to its permanent collection.
The collection includes some of the most well-known paintings by renowned European painters, as well as sculpture and ceramics. It also features French furniture from the 18th century, Limoges enamel, and Oriental carpets.
Following Frick's death, his daughter, Helen Clay Frick, and the Board of Trustees enlarged the collection, acquiring about half of the collection's artworks since 1919.
Although the museum cannot lend Frick's pieces of art, as specified in his will, The Frick Collection does lend artworks and items acquired following his death.
The collection includes the classic The Progress of Love by Jean-Honoré Fragonard, three paintings by Johannes Vermeer, including Mistress and Maid, two paintings by Jacob van Ruisdael, including Quay at Amsterdam, and Piero della Francesca's St. John the Evangelist.
7. The Cloisters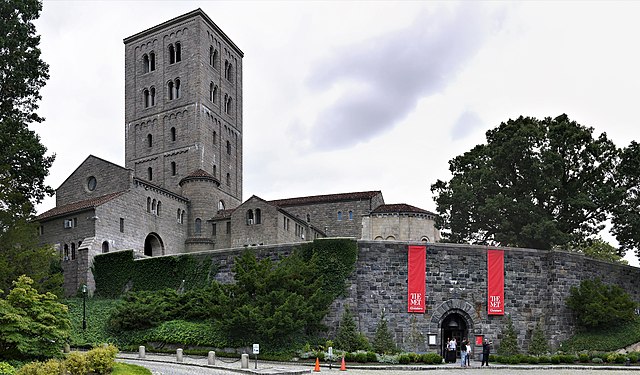 The Cloisters, often known as the Met Cloisters, is a museum in Washington Heights, Manhattan, New York City, specialized in European medieval art and architecture, with a concentration on the Romanesque and Gothic eras.
The Metropolitan Museum of Art oversees the collection of medieval artworks shown in the architectural settings of French monasteries and abbeys.
Its structures are focused around four cloisters—the Cuxa, Saint-Guilhem, Bonnefont, and Trie—that were purchased in France before 1913 by American artist and art dealer George Grey Barnard and relocated to New York.
John D. Rockefeller, Jr., a billionaire and philanthropist, purchased Barnard's collection for the museum. J. P. Morgan and Joseph Brummer's collections were other important suppliers of artifacts.
The museum's structure was created by architect Charles Collens on a steep slope with higher and lower floors. It has medieval gardens as well as a number of chapels and themed galleries, such as the Romanesque, Fuentiduea, Unicorn, Spanish, and Gothic rooms.
The building's architecture, layout, and mood are designed to convey a feeling of medieval European monastic life.
It has over 5,000 items of art and architecture, all of which are European and predominantly date from the Byzantine to the early Renaissance eras, primarily from the 12th to the 15th century.
Among the many pieces are stone and wood sculptures, tapestries, illuminated manuscripts, and panel paintings, the most well-known of which are the c. 1422 Early Netherlandish Mérode Altarpiece and the c. 1495–1505 Flemish Hunt of the Unicorn tapestries.
In 1930, Rockefeller acquired the museum site in Washington Heights and gave it, together with the Bayard collection, to the Metropolitan Museum of Art.
8. Intrepid Sea, Air & Space Museum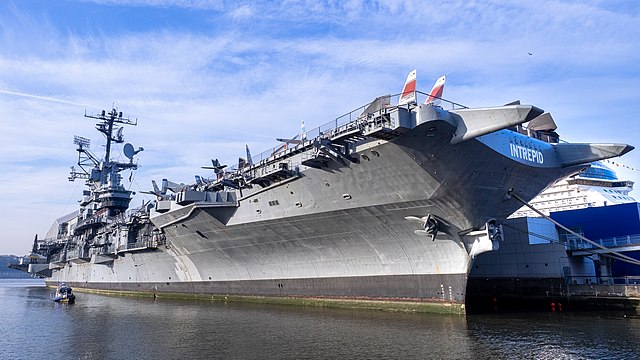 The Intrepid Sea, Air, and Space Museum in New York City is an American military and maritime history museum featuring a fleet of museum ships.
It is situated at Pier 86 at 46th Street, along the Hudson River, in the Hell's Kitchen district on Manhattan's West Side.
The aircraft carrier USS Intrepid, the cruise missile submarine USS Growler, a Concorde SST, a Lockheed A-12 supersonic reconnaissance plane, and the Space Shuttle Enterprise are all on display in the museum. A recreation of a World War I biplane may also be seen on the lower deck.
The museum, which opened in 1982, closed in 2006 for a 1.5-year refurbishment of Intrepid and facilities. New exhibitions were among them. On November 8, 2008, the museum reopened to the public.
The museum also acts as a venue for local and national events. It hosted performances during the 2013 MLB All-Star Weekend and the 2014 Super Bowl XLVIII, when the museum's moored cruise liner Norwegian Getaway was transformed into the "Bud Light Hotel."
The museum acts as a focal point for the yearly Fleet Week celebrations. Visiting warships land at the cruise ship docks to the north, and festivities take place on the museum grounds and the Intrepid's deck.
9. New-York Historical Society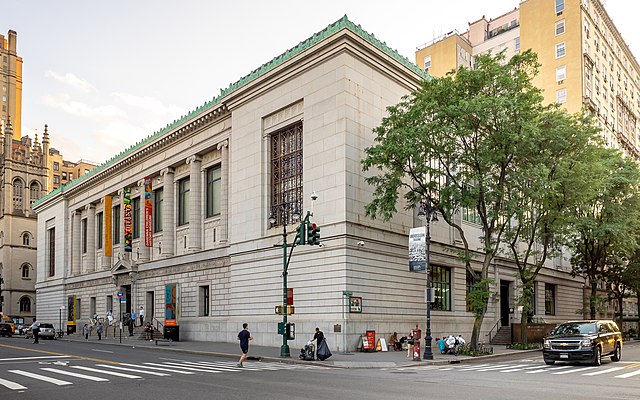 The New-York Historical Society is an American history museum and library in New York City, located on the Upper West Side of Manhattan along Central Park West between 76th and 77th Streets.
The organization was established in 1804 as the city's first museum. It hosts exhibits, public activities, and research on the history of New York and the United States.
Since 1908, the New-York Historical Society Museum & Library has been at its current site. York & Sawyer designed the granite structure in a typical Roman Eclectic style. The structure is a New York City landmark.
The facility was renovated in November 2011, making it more accessible to the public, providing room for an interactive children's museum, and improving access to its collections.
Beginning in 2005, the museum in New York hosted a two-year show on slavery, its greatest thematic exhibition in 200 years on a subject it had never explored previously. It included an art exhibition by artists who were asked to use museum items into their works.
The Society's basic concentration is on Manhattan's expanding city core. In 1863, the Long Island Historical Society (later Brooklyn Historical Society) was established in Brooklyn.
A reenactment of loyalist colonial soldiers protects the Society building from George Washington's Rebels.
The New-York Historical Society has a large collection of historical relics, works of American art, and other resources chronicling New York and American history.
It has well-researched displays on George Washington, Alexander Hamilton, Slavery in New York, The Hudson River School, Abraham Lincoln, Ulysses S. Grant, Tiffany designer Clara Driscoll, and the history of the Constitution.
The Society also provides curriculum-based school programs and teacher tools, as well as academic scholarships and public activities for individuals to promote lifelong learning and a profound understanding of history.
10. Tenement Museum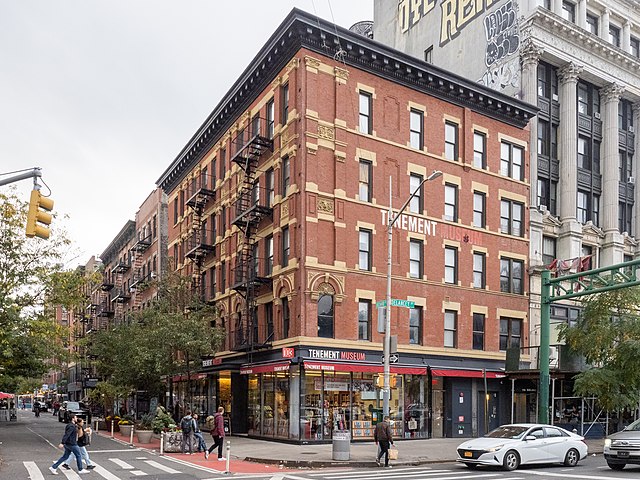 The Lower East Side Tenement Museum, situated at 97 and 103 Orchard Street in Manhattan's Lower East Side district, is a National Historic Site.
Between 1863 and 2011, the Museum's two ancient tenement buildings housed an estimated 15,000 residents from over 20 countries. The museum, which also has a tourist center, promotes tolerance and historical perspective on the immigrant experience.
Ruth J. Abram and Anita Jacobson created the Tenement Museum in 1988. On April 19, 1994, the Museum's first major property, the tenement at 97 Orchard Street, was named a National Historic Landmark.
Exhibits and events at the museum include rebuilt period room apartments and stores available daily for public visits, portraying the experiences of immigrants who lived at 97 Orchard Street between 1869 and 1935 and 103 Orchard Street during the 1950s and 1980s.
The museum also offers a documentary video and visits with costumed interpreters depicting the building's historical tenants, as well as samples of customary cuisine from their communities and neighborhood walks.
The museum's tours examine the experiences of the immigrants in the perspective of American history. The museum also houses a large collection of historical archives and offers a number of educational activities.