Napoleon Bonaparte (15 August 1769 – 5 May 1821) was a French military and political commander who came to prominence during the French Revolutionary Wars and conducted numerous victorious operations.
From 1799 until 1804, he served as the de facto head of the French Republic as First Consul. Napoleon I reigned as Emperor of France from 1804 until 1814, and then again in 1815.
During the Napoleonic Wars, Napoleon controlled European and global events for more than a decade while leading France against a succession of alliances. He won the great majority of these wars and conflicts, establishing a massive empire that dominated over continental Europe until its eventual collapse in 1815.
There are numerous paintings of Napoleon Bonaparte that depict significant historical events in his life. However, the existence of any portraits of Napoleon is unexpected, considering he nearly never voluntarily posed for a artist.
In fact, he was infamous for hating to pose and thought that paintings should reflect his personality more than his physical appearance.
Famous Napoleon Paintings
1.

Napoleon Crossing the Alps

– Jacques-Louis David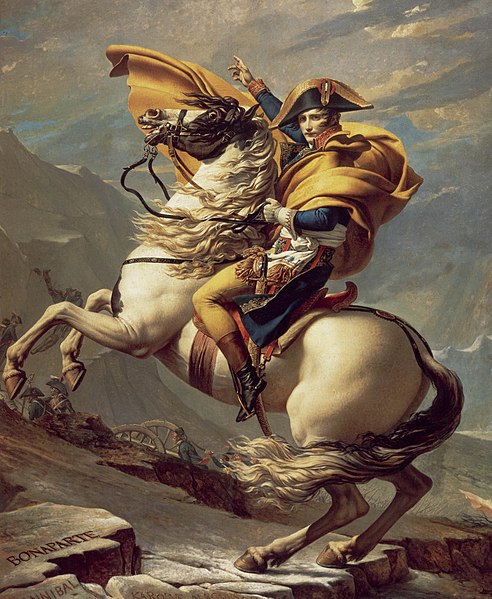 Jacques-Louis David is regarded as one of the most well-known Neoclassical painters, having produced several works depicting major political and cultural leaders.
David is well known for his Napoleonic series of paintings, which he started in 1801. Napoleon's legendary overland march over the Alps, one of the world's most hazardous mountain ranges, was commemorated by the works.
Also Read: Military Paintings
The commander was able to guide his forces via the tight passages that wound their way around the snow-capped summits in order to reinforce his troops stationed in Italy at the time.
At the time, the action was regarded as one of the most daring and ingenious military plans in recent memory, and David was tasked with creating a few pieces to commemorate the achievement.
2.

The Coronation of Napoleon

– Jacques-Louis David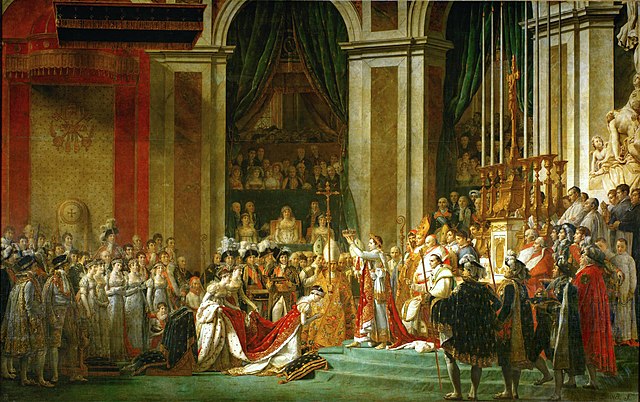 The Coronation of Napoleon is a picture by Jacques-Louis David, Napoleon's official painter, showing Napoleon's coronation at Notre-Dame de Paris, finished in 1807.
The oil painting is almost 10 metres (33 feet) broad by little over 6 metres (20 feet) tall, with a width of over 10 metres (33 feet). The piece is on exhibit at Paris's Louvre Museum.
Napoleon verbally commissioned the work in September 1804, and David began working on it on December 21, 1805, at the disused chapel of the College of Cluny, near the Sorbonne, which acted as a workshop. In January 1808, he completed the work with the help of his pupil Georges Rouget.
3.

Napoleon I on His Imperial Throne

– Jean Auguste Dominique Ingres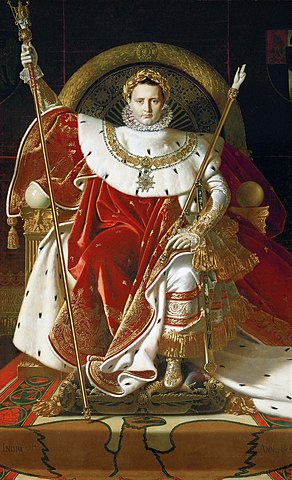 Napoleon I on His Imperial Throne is a picture of Napoleon I of France created by the French painter Jean-Auguste-Dominique Ingres in his coronation garb in 1806.
Napoleon is shown as Emperor, sitting on a circular-backed throne with ivory ball-encrusted armrests, in the outfit he wore during his coronation. He wields the sceptre of Charlemagne in his right hand and the hand of justice in his left.
A golden laurel wreath, identical to Caesar's, adorns his head. Under the Légion d'honneur's magnificent collar, he wears an ermine hood, a gold-embroidered satin tunic, and an ermine-lined purple velvet cloak with gold bees. The coronation sword is safely stowed in its scabbard, which is secured in place by a silk scarf.
4.

The Emperor Napoleon in His Study at the Tuileries

– Jacques-Louis David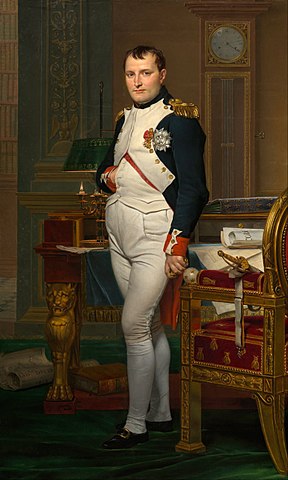 Jacques-Louis David completed The Emperor Napoleon in His Study at the Tuileries in 1812. It depicts Napoleon I of France in uniform in his study at the Tuileries Palace. Despite the meticulous attention to detail, Napoleon is unlikely to have posed for the photograph.
It has a vertical format and depicts Napoleon standing three-quarters life size in the Imperial Guard Foot Grenadiers costume (blue with white facings and red cuffs).
He also sports gold epaulettes, white French-style culottes, and white stockings, as well as his Légion d'honneur and Order of the Iron Crown insignia. His right hand is in his jacket and his face is turned to the spectator.
It was commissioned in 1811 by Alexander Hamilton, 10th Duke of Hamilton, a Scottish aristocrat and Napoleon fan, and finished in 1812.
Originally shown at Hamilton Palace, it was sold in 1882 to Archibald Primrose, 5th Earl of Rosebery, from whom it was purchased by the Samuel H. Kress Foundation in 1954, who donated it to the National Gallery of Art in Washington, D.C., where it currently hangs.
5.

Bonaparte Visiting the Plague Victims of Jaffa

– Antoine-Jean Gros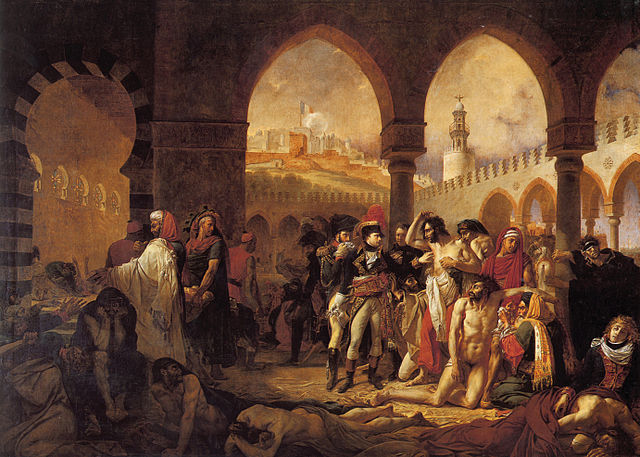 The picture Bonaparte Visits the Plague Stricken at Jaffa was commissioned by Napoleon Bonaparte and painted by Antoine-Jean Gros in 1804. It depicts an episode during the French conquest of Egypt.
The image depicts Napoleon at a dramatic moment that is said to have taken place in Jaffa on March 11, 1799, representing the French commander visiting his sick troops at the Armenian Saint Nicholas Monastery.
During his retreat from his Syrian campaign, Napoleon ordered fifty plague victims in Jaffa to be given deadly doses of opium.
The commission was an effort to embellish Bonaparte's mythology and suppress accusations that he had ordered fifty plague victims in Jaffa to be given fatal doses of opium.
It also worked as a propaganda tool in the face of tales of French atrocities committed during the occupation of Jaffa.
6.

War. The Exile and the Rock Limpet

– J. M. W. Turner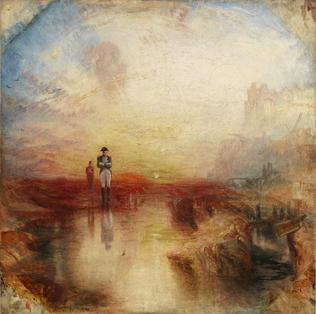 J. M. W. Turner (1775–1851) created War. The Exile and the Rock Limpet in 1842. War is a painting that portrays a scene during Napoleon Bonaparte's exile at Saint Helena, and was intended to be a companion work to Turner's Peace – Burial at Sea.
Napoleon was transferred to Longwood House, despite its condition of decay, by the British government in December 1815 to live in captivity; during his last years in solitude, Napoleon had plunged into despair.
Napoleon Bonaparte, who had been defeated decisively at the Battle of Waterloo in June 1815, had fallen into British hands after pondering a push for an escape to the United States at the end of his Hundred Days.
The former Emperor was banished to Saint Helena in the South Atlantic in December and placed under surveillance at the Longwood House, where he suffered from horrible living circumstances. Napoleon spent his last days in Saint Helena, without any realistic possibility of escaping, until his death in 1821.
7.

The Distribution of the Eagle Standards

– Jacques-Louis David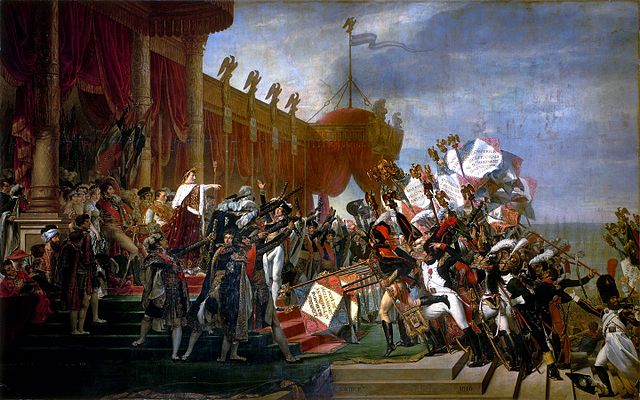 The Distribution of the Eagle Standards is an oil painting by Jacques-Louis David from 1810 that depicts Napoleon's military ceremonial in 1804 after assuming power as Emperor of France. Napoleon used the ritual to reintroduce the Roman Empire's military culture.
On the 5th of December 1804, three days after Napoleon's coronation, the portrayed incident occurred. He distributed "eagles" modeled after the Roman aquila used by the Roman soldiers.
Also Read: Famous French Revolution Paintings
The standards symbolized the regiments established by the several districts of France, and they were designed to instill pride and devotion among the warriors who would form the backbone of Napoleon's new administration.
Napoleon delivered an impassioned address in which he emphasized the importance of warriors fighting for the standards with their life.
8.

Bonaparte, First Consul

– Jean Auguste Dominique Ingres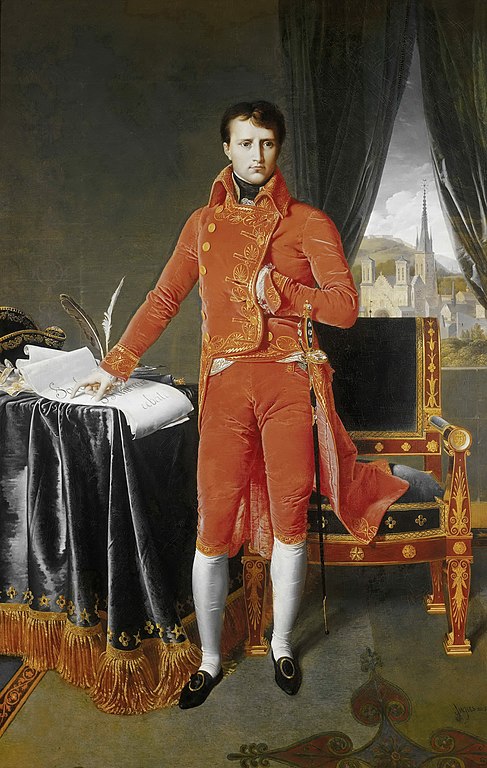 Jean-Auguste-Dominique Ingres' painting Bonaparte, First Consul depicts Napoleon Bonaparte as First Consul in 1804. In paintings of monarchs, posing the hand within the waistcoat was common to show calm and steady leadership.
The picture was commissioned by the city of Liège when Ingres was 23 years old. He couldn't persuade Bonaparte to sit for it, so he had to make do with a painting of him by Antoine-Jean Gros from 1802. The Bonaparte of Ingres' picture is 34 years old and preparing to sign an act named "Faubourg d'Amercur rebâti" (Amercur suburb rebuilt).
This edict alludes to one issued by Napoleon in 1803 to the prefecture of the Ourthe département to rebuild this suburb, and it is an effort to show to the newly captured city the advantages of being a part of France while also symbolically reclaiming the city.
9.

Bonaparte at the Pont d'Arcole

– Antoine-Jean Gros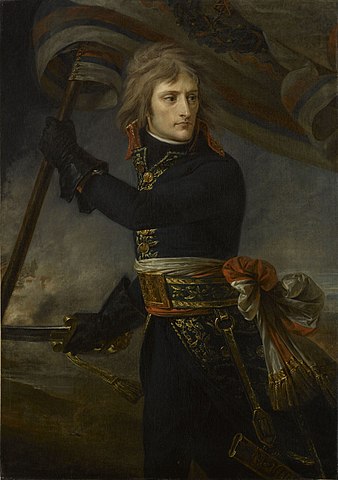 Bonaparte at the Pont d'Arcole is a 1796 painting by Antoine-Jean Gros depicting General Napoleon Bonaparte leading his forces to attack the bridge during the Battle of Arcole in November 1796.
The picture depicts Bonaparte as a three-quarter-length figure carrying the Armée d'Italie flagstaff in his left hand and his sword in his right, with the inscription Bonaparte, Armée d'Italie on its blade.
He wears the dark blue pants and tunic of a First French Republic general, complete with a gold-embroidered crimson collar. He's dressed in a white shirt and a black neck-scarf underneath them. A gold-fringed tricolor cummerbund and a square-buckled belt with his empty scabbard complete his ensemble.
With a few homes in the distance to the left, the backdrop implies war smoke. A flaming cannonball may still be seen on the terrain adjoining the river, which is painted in dark tones.
10.

Bonaparte Crossing the Alps

– Paul Delaroche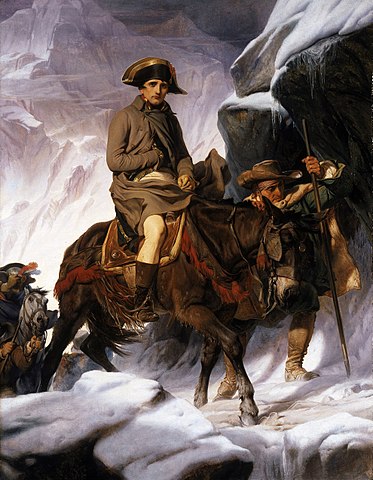 Bonaparte Crossing the Alps (sometimes known as Napoleon Crossing the Alps, despite the presence of Jacques-Louis David's more well-known picture of the same name, described above) is a French artist Paul Delaroche's 1848–1850 oil-on-canvas portrait of Napoleon Bonaparte.
The picture portrays Napoleon riding a mule over the Alps with his army, a trek Napoleon and his army took in the spring of 1800 in an effort to surprise the Austrian army in Italy.
Jacques-Louis David's series of five Napoleon Crossing the Alps paintings (1801–1805) served as inspiration for the piece. Napoleon's trek across the Great St. Bernard Pass is also shown in David's paintings, although there are considerable artistic variances between the two ideas.
Delaroche's Napoleon is icy and despondent, while David's Napoleon is immaculately dressed and adored as a hero. Delaroche was asked to paint a realistic portrait in the manner that was becoming popularity at the moment.