Some of the world's most well-known parks are recognized for their natural beauty, as well as their historic value. These parks often draw artists into them to experience the magnificent views and scenery that the natural world has to offer.
It's not surprising that some of the greatest painters in history have created works that focus on their favorite parks across Europe, America and other regions.
In this article, we'll explore 10 of the most famous park paintings and discuss some of the reasons why these artists chose to paint scenes from each location.
Famous Park Paintings
1. A Sunday Afternoon on the Island of La Grande Jatte – Georges Seurat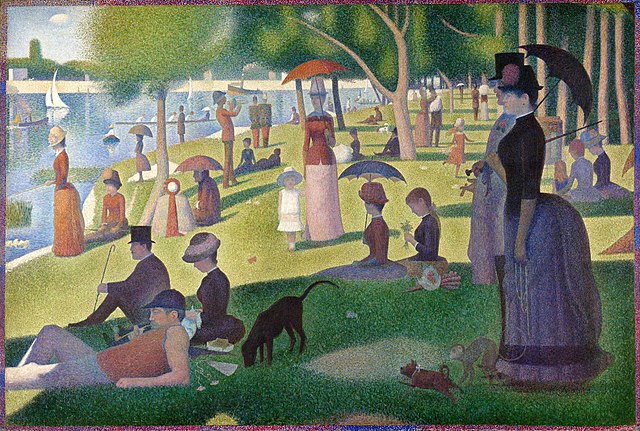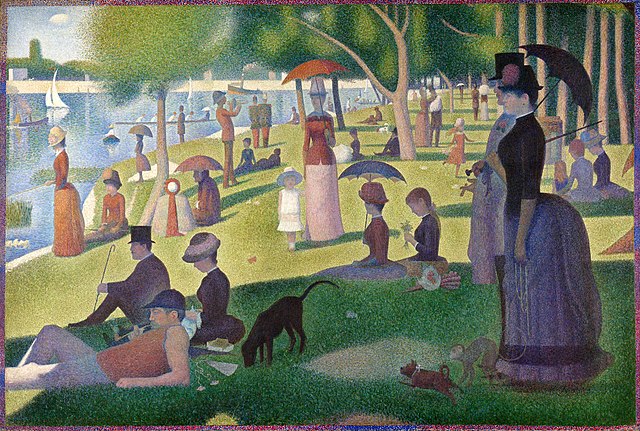 Georges Seurat was a famous French artist during the latter end of the Impressionist movement, which spanned throughout 19th century Europe and other parts of the world.
Seurat was known for his distinct painting style that included stippling, or pointillism, which he used to produce one of the most famous paintings from his career.
The work is titled A Sunday Afternoon on the Island of La Grande Jatte and was one that was representative of French culture during the late 19th century, especially in and around Paris.
This painting was done in 1886 and has since been recognized as one of the most notable works that focus on the setting of a popular park.
It's one of the most iconic paintings from this era and gives the viewer a glimpse into what life must have been like during this time period.
2. Park Monceau, Paris – Claude Monet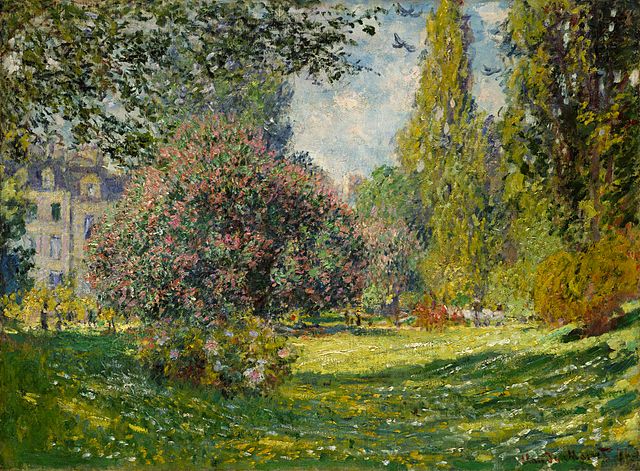 This is one of three views of Paris's Parc Monceau painted by Monet in the spring of 1876.
The park, which is located on the avenue de Courcelles and is flanked by expensive town residences, was designed in the late eighteenth century in the style of an English garden for Philippe d'Orléans.
The work is titled Park Monceau, Paris and was completed in 1876 just after the park had opened to the public.
This painting was part of a series of three works that Monet created which all depicted the park from a different perspective.
Monet positioned his easel for this painting, which was presented at the 1877 Impressionist exhibition, so that the composition would be framed by the greenery on the sides and the dwellings in the distance.
3. Hyde Park – Camille Pissarro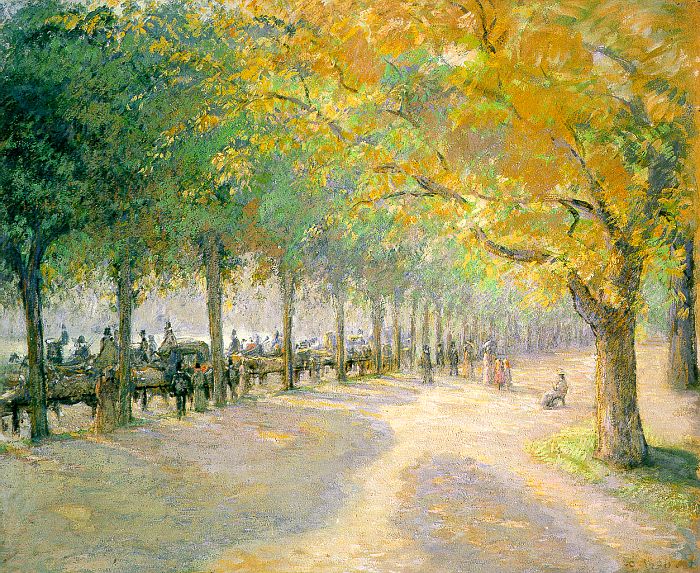 Camille Pissarro is widely recognized as one of the founding members of the Impressionist movement and many of his works focus on vast, sweeping landscapes or natural scenes.
Like many of his colleagues, Pissarro believed strongly in painting 'en plein air' which involved the artist sitting with a canvas at the sight of his subject instead of making quick sketches and returning to the confines of a studio to produce the work.
One of his great masterpieces was titled Hyde Park and Pissarro finished this painting in 1890 toward the end of his career. His subject was London's Hyde Park and it's evident that Pissarro painted the scene during the middle of the autumn season.
The trees stretching overhead are seen taking on a fiery amber coloration as they prepare to shed their leaves before the onset of winter.
4. In St Cloud Park – Pierre-Auguste Renoir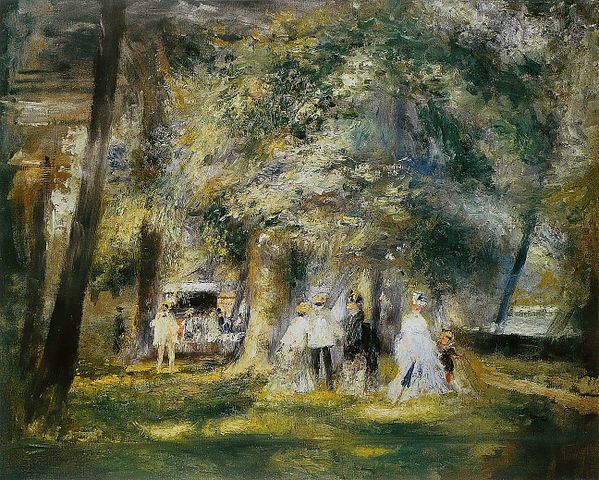 Another notable artist from the Impressionist movement was French painter Pierre-Auguste Renoir. He was known as a master of color and much of the characteristics that make up the Impressionist style.
He is known to have visited many parts of the French countryside in his efforts to capture the essence of life during mid-19th century France.
In 1866, Renoir created a work that focused on a sprawling nature reserve near Paris that would later become a prominent park.
Also Read: Famous Paintings of Trees
The painting is titled In St Cloud Park and it was done to portray the serene park, which is now known as Parc de Saint-Cloud and is visited by many tourists and locals from the Parisian area.
At the time when Renior painted this work, the park was heavily forested and the artist emphasized the trees' ability to form what resembles an enclosure amidst the lush green leaves, grass and undergrowth.
5. Hyde Park, London – Camille Pissarro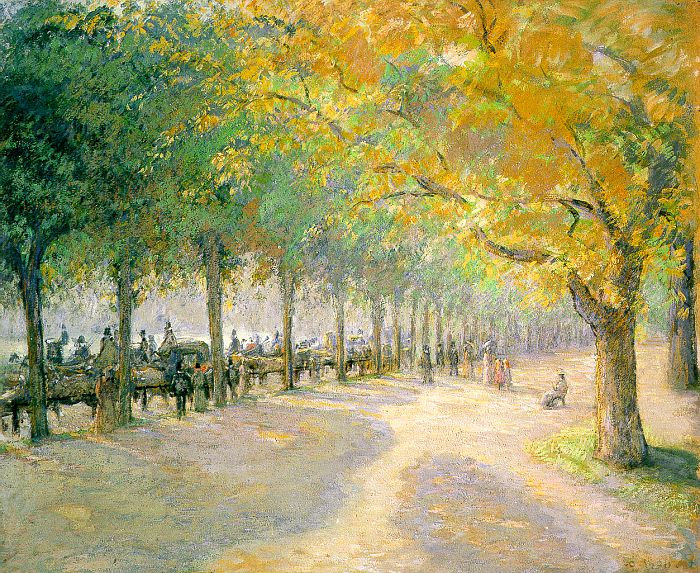 Camille Pissarro is responsible for another work that many critics and art scholars would likely consider to be among the most famous paintings that depict a park.
Just a few years before his death in 1903, Pissarro seemed to show an affinity for nature and the vast majority of the works that he created in the final years of his life communicate this. He was especially fond of many parks that are located near the sprawling city of Paris.
One of these locations is not officially known as a park, but is considered to be a public garden. Located near the Louvre is a popular destination known today as The Garden of the Tuileries.
In 1899, Pissarro painted a work that captures what this garden, or park, looked like during the late 19th century. The painting is titled The Garden of the Tuileries on a Spring Morning and depicts the blossoming trees and visitors from a high perspective that gives the viewer a unique perspective of the park.
6. Avenue in the Park – Vincent van Gogh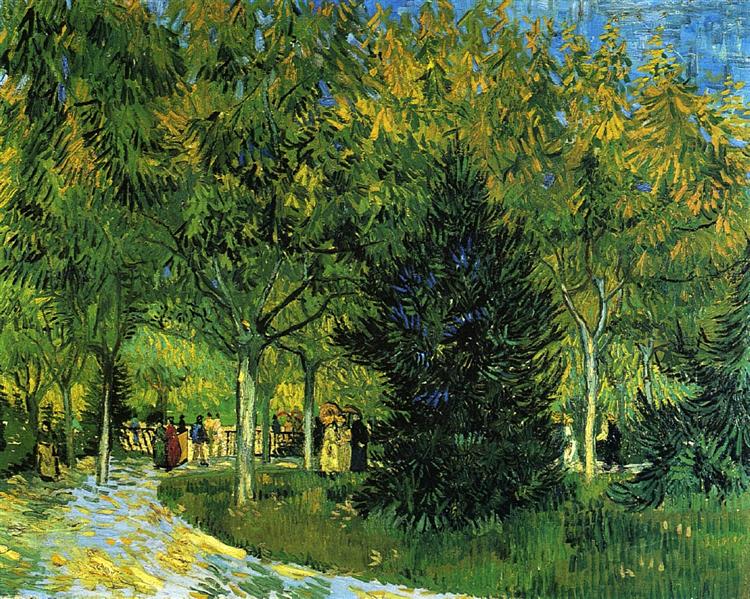 Vincent van Gogh was known to have a special affection for nature and the seemingly insignificant details of the natural world's beauty that many other painters often overlooked.
Just a few years before his death, he created several different series of paintings that almost exclusively focused on nature in one way or another.
He was said to be a frequent visitor of the parks located in and around Arles, France, which was the site of the asylum where he spent his final two years.
It was during this time that van Gogh painted a work titled Avenue in the Park. Finished in 1888, this painting depicts the vibrant setting of one of Arles' parks in a way that was common to van Gogh's style.
The different green hues and bright yellow accents are a prime example of van Gogh's mastery in terms of producing images of the natural world.
7. The Park – Gustav Klimt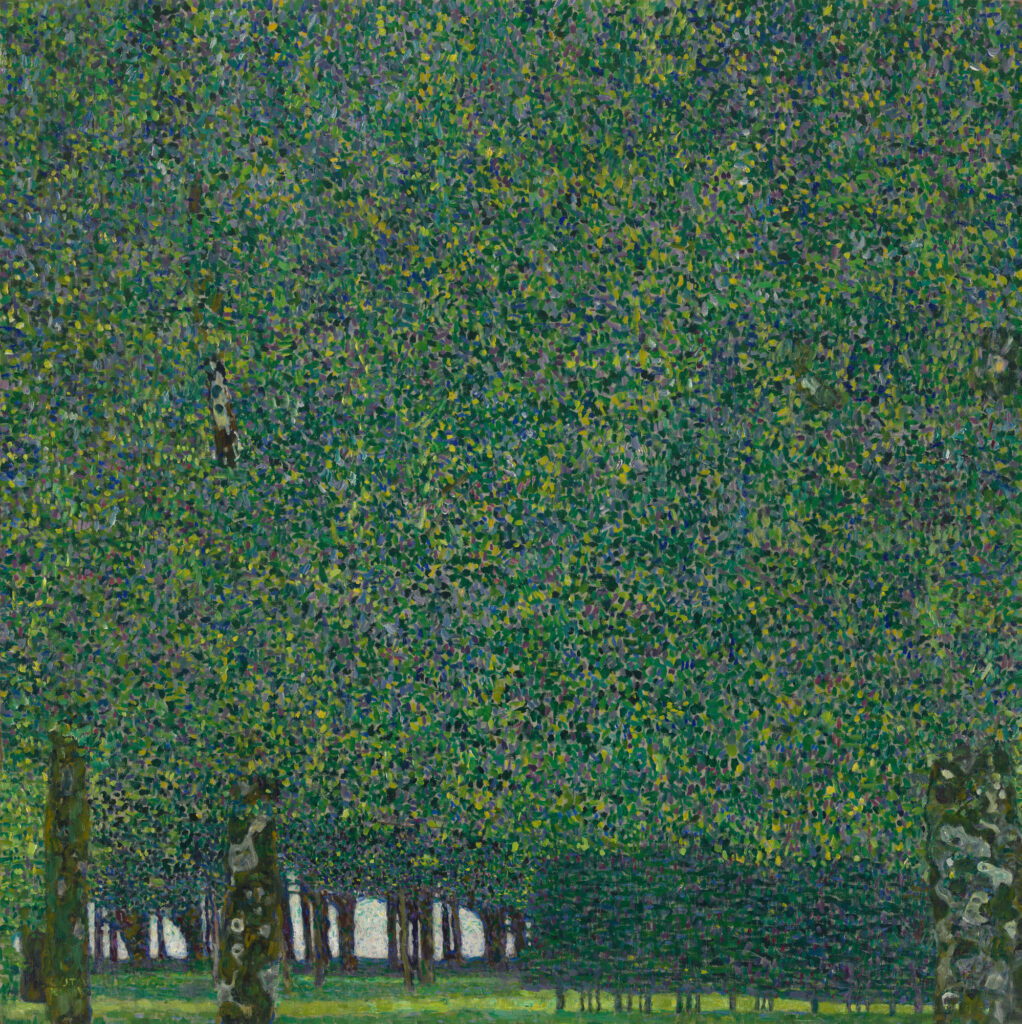 Gustav Klimt was known as an eccentric painter that hailed from Austria during the late 19th and early 20th centuries.
Many of his works focus on the female form or other deep subjects that most artists rarely ventured to depict.
However, Klimt was also fond of the outdoors and some of his works that critics and historians would consider to be landscape paintings are incredible masterpieces.
One of these paintings is simply titled The Park and was completed in 1910. The painting's unique composition puts the viewer's focus squarely on the towering trees that form an impenetrable collection of leaves and branches with a deep green coloration.
8. Spring in Central Park – Childe Hassam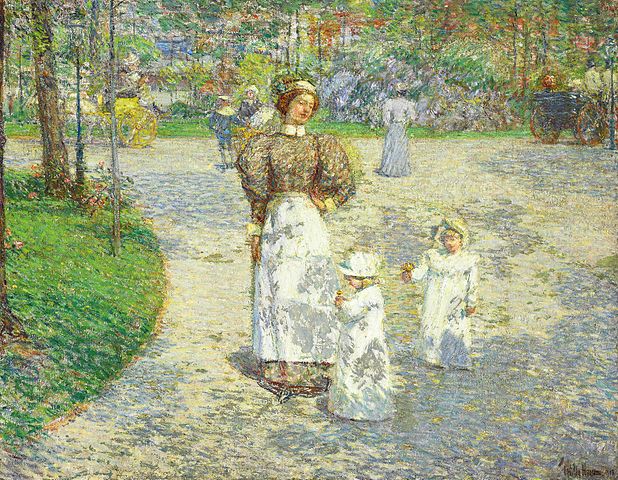 Childe Hassam is a lesser-known artist from the late 19th and early 20th century who focused much of his efforts on outdoor cityscapes.
One of the emerging American painters during the late Impressionist movement, Hassam is credited with painting one of the more notable works that depict a world-famous park.
Completed in 1898, this painting is titled Spring in Central Park. In true Impressionist fashion, the artist paints in a way that portrays a fleeting sense of majestic beauty that centers on what appears to be a mother and her two daughters in New York's Central Park.
9. A City Park – William Merritt Chase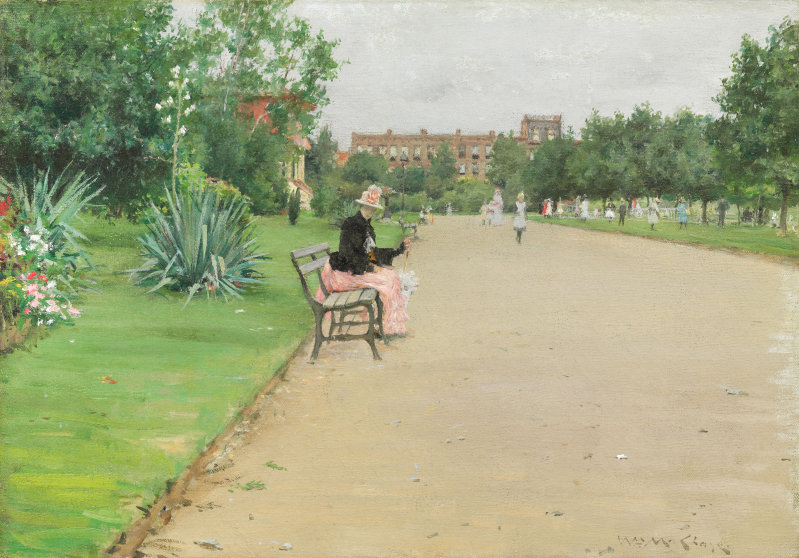 Another American painter who was a colleague of Hassam was William Merritt Chase. Known as an Impressionist artist, Chase's style was distinct and well-received in the United States culture during the late 19th century.
His works mostly centered around the people during this time period and their usual activities, which provides viewers with a glimpse into American culture during the height of the Industrial era.
One of his more notable paintings is titled A City Park and was done in 1887. Like his other works, the central focus is a woman, who is sitting on a park bench surrounded by the park's graceful and elegant beauty. This work is yet another that demonstrates Chase's masterful use of color and light contrast.
10. In Central Park New York – Maurice Prendergast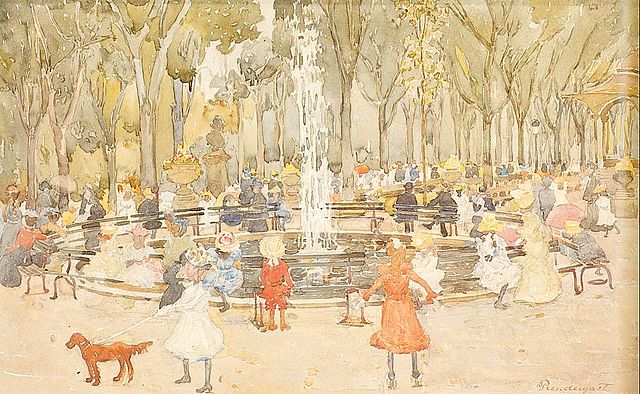 Another famous artist that was captivated by New York's Central Park was Maurice Prendergrast.
He used mediums that were somewhat different from other painters of the late 19th and early 20th centuries and was known to work in watercolor and monotype as much as he painted using oils.
Most of his works depict people in an outdoor setting, which was often some of the world's most frequently-visited parks.
In 1901, he painted a work known as In Central Park New York. This painting was part of a series of works that portrayed the park in all its bustling glory with visitors walking, sitting on benches or reclining on blankets draped across the ground.
Central Park, like Prendergast's paintings show, was often heavily populated during this time.