Roses have long been a popular subject for artists throughout history, due to their natural beauty and symbolic meanings. From still lifes to portraits, famous rose paintings can be found in the collections of museums around the world.
Many famous artists, such as Vincent van Gogh, Henri Fantin-Latour, and Pierre-Auguste Renoir, have been drawn to the challenge of capturing the delicate beauty and complex symbolism of roses in their work.
Some famous rose paintings depict single roses, while others feature lush bouquets or gardens full of roses.
Whether as a symbol of love, beauty, or the divine, roses have inspired countless artists over the years, resulting in a rich tradition of rose paintings that continue to captivate viewers today.
Famous Rose Paintings
1. Still Life: Vase with Pink Roses – Vincent van Gogh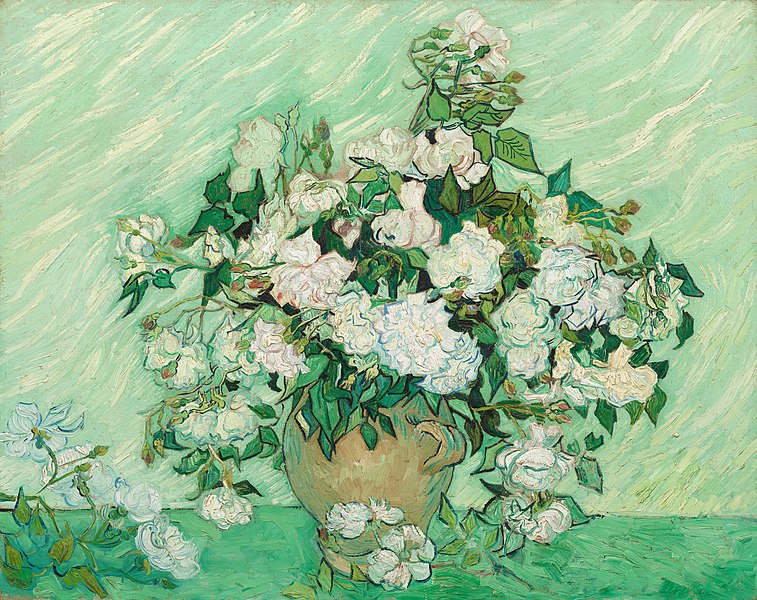 Still Life: Vase with Pink Roses was painted in Saint-Rémy in 1890 by Vincent van Gogh. At the time the painting was created, Van Gogh was preparing to depart the asylum at Saint-Rémy for the tranquil town of Auvers-sur-Oise outside of Paris.
This and the similarly dated Pink Roses reflect Van Gogh's optimism about his future, both in terms of his choice of subject matter and the hues used. The National Gallery of Art in Washington, D.C., is the owner of the painting.
The painting is one of several examples by Van Gogh of abundance in still life, with the vase and overflowing flowers dominating the picture plane. Still Life with Carnations and Still Life with Anemones are two additional examples.
It is said that the exuberant bouquet of roses is one of Van Gogh's largest and most stunning still life paintings. In Saint-Rémy, Van Gogh created another rose painting, which is currently on exhibit at the Metropolitan Museum of Art in New York.
When Van Gogh departed Saint-Rémy on May 16, he left behind two rose paintings with extremely thick paint to dry. The paintings arrived at Van Gogh's final residence in Auvers-sur-Oise on June 24; Van Gogh had estimated that it would take one month for them to cure.
2. Roses – Peder Severin Krøyer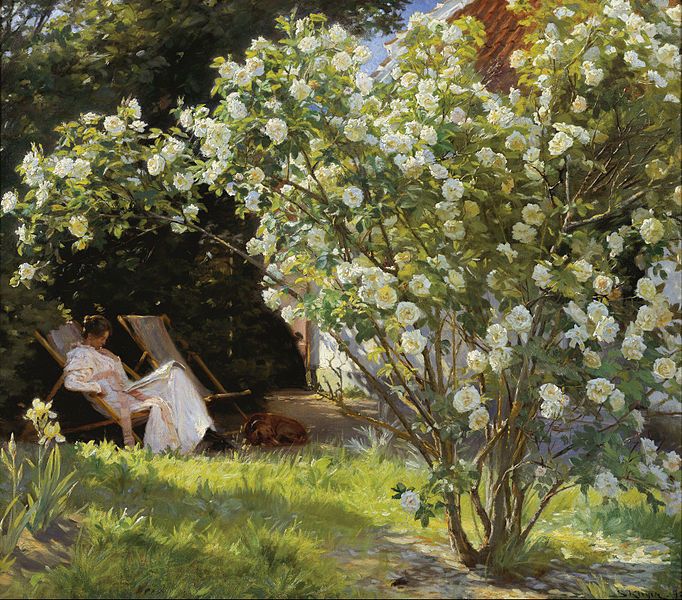 Roses (Danish: Roser) is a painting by P. S. Kryer, one of the most prominent artists of the Skagen Painters community, which flourished in Skagen in northern Jutland in the late 19th century.
The work depicts the artist's wife, Marie Kryer, sitting in a deckchair under a large rose bush in the garden of a Skagen home they rented while their canine, Rap, snores beside her.
It is an oil on canvas measuring 67.5 by 76.5 centimeters (26.6 by 30.1 inches). It is one of several paintings, photo studies, and sketches created by Kryer between 1891 and 1894, when he and his wife rented a home from Madam Bendsen in Skagen's Vesterby.
The treatment of light and shadow in Roses demonstrates Kryer's exposure to the French Impressionist movement.
The expansive Alba Maxima rosebush dominates the foreground and obscures the majority of the home in the background. The species, of which an example still exists on the premises of the Skagens Museum
3. The Roses of Heliogabalus – Lawrence Alma-Tadema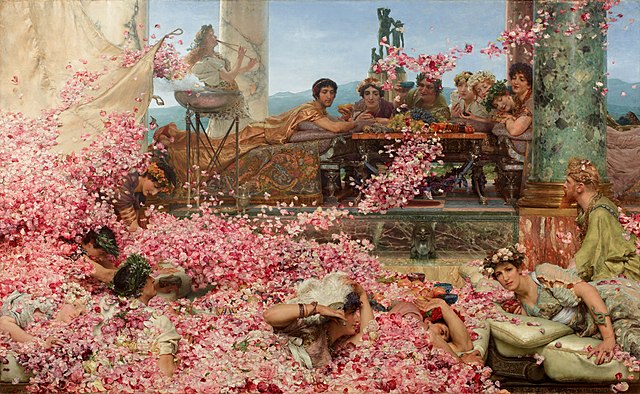 Sir Lawrence Alma was born in 1888. Tadema's artwork The Roses of Heliogabalus depicts a meal for the young Roman Emperor Elagabalus (203-222 AD).
The illustration depicts a (perhaps mythical) incident from the Augustan History of the Roman Emperor Elagabalus, also known as Heliogabalus (204-222).
Despite the Latin's mention of "violets and other flowers," Alma-Tadema depicts Elagabalus drowning his naïve guests with rose petals released from a fictitious ceiling.
For £4,000, Sir John Aird, 1st Baronet commissioned the painting in 1888. Alma-Tadema is supposed to have had rose petals imported from the south of France every week for the four months it was painted because roses were out of season in the UK.
4. Roses in a Glass Vase – Henri Fantin-Latour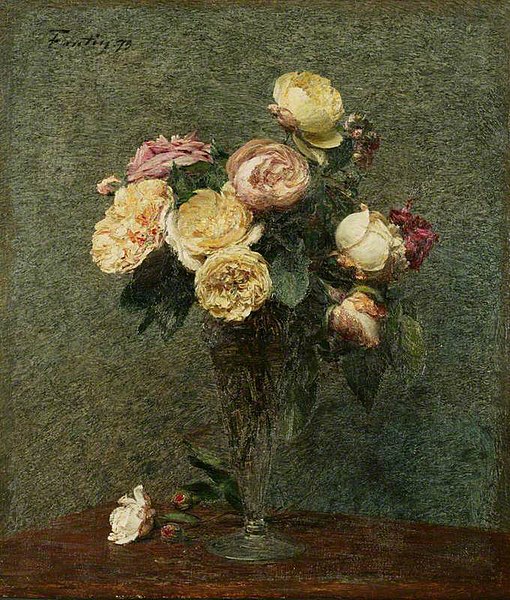 Roses in a Glass Vase is an 1879 oil painting on canvas by French artist Henri Fantin-Latour. The painting measures 68 by 53 cm and is signed and dated in the upper left corner. The event takes place at the Manchester Art Gallery.
The canvas depicts yellow, white, pink, and red roses in a slender glass container placed on a wooden table. Left-extended is a tiny stem with a white rose and two pink buds.
The backdrop is textured and dark green. Some of the blossoms appear to have been cut prematurely, whereas others are wilting.
Numerous rose still lifes by Fantin-Latour are currently on display in museums around the globe. The still lives of fellow French painter Jean-Baptiste-Siméon Chardin and 17th-century Flemish masters influenced him.
5. Carnation, Lily, Lily, Rose – John Singer Sargent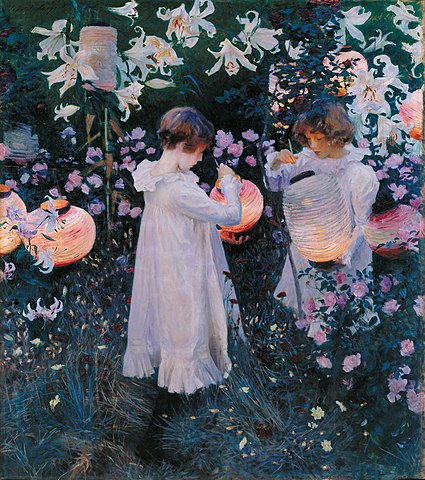 As darkness descends in a garden overflowing with pink roses, yellow carnations, and towering white lilies, two young children dressed entirely in white are seen putting off paper lanterns.
The picture lacks a horizon or other horizontal line to provide the illusion of depth, and the foliage that does exist dominates the composition.
It's as if the spectator is looking down from eye level on the youngsters. The two girls in the painting are the artist's daughters, Frederick Barnard.
Sargent spent the summer of 1885 in England, away from the scandal following his 1884 painting Portrait of Madame X, and this work is situated in a Cotswolds garden at Farnham House in Broadway.
Sargent was inspired by the words of Robert Louis Stevenson, author of A Child's Garden of Verses, who lived there.
6. Pink Roses – Vincent van Gogh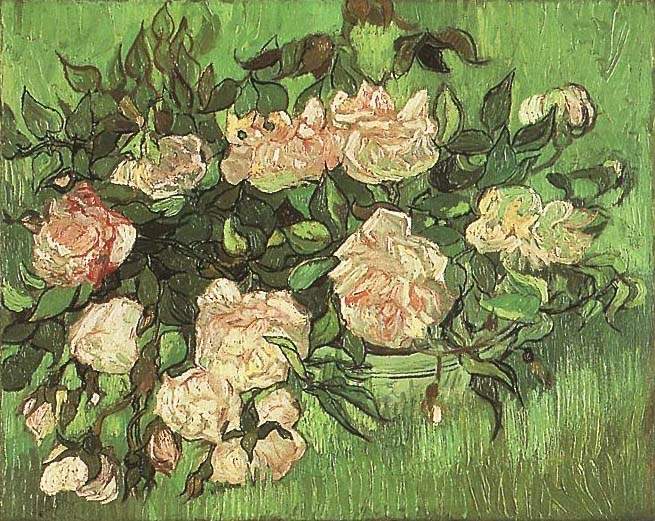 Pink Roses is one of Vincent van Gogh's final paintings, completed in 1890.
It is now housed in the Ny Carlsberg Glyptotek, which Helga Jacobsen donated to in 1923.
It was completed during his final two months at Auvers-sur-Oise, from May to July 1890 along with Still Life: Vase with Pink Roses.
7. Bouquet of Roses – Pierre-Auguste Renoir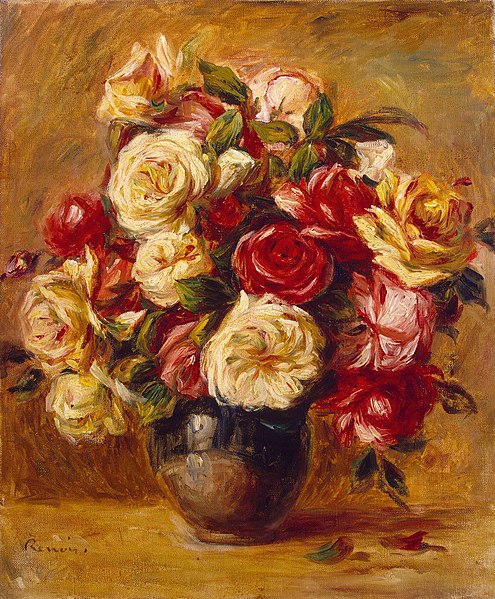 Pierre-Auguste Renoir is widely regarded as one of the most influential Impressionist painters.
As he is known to have been captivated with the concept of leisure, many of his paintings feature comfortable social situations and scenes from French culture at the time.
However, some of his flower-themed paintings have received high praise from the world's most renowned art experts.
His painting, Bouquet of Roses, was completed about 1912.
Renoir's distinctive sweeping brushstrokes, which seemed to infuse life into his paintings, are used to paint the vividly illuminated vase and arrangement of roses.
8. Roses, Convolvulus, Poppies, and Other Flowers in an Urn on a Stone Ledge – Rachel Ruysch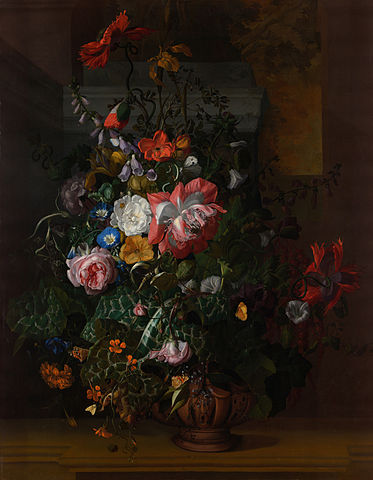 "Roses, Convolvulus, Poppies, and Other Flowers in an Urn on a Stone Ledge" was painted circa 1680 by Dutch artist Rachel Ruysch.
During the Dutch Golden Age, Ruysch was a well-known still life painter who specialized in floral arrangements. Her art is distinguished by its attention to detail, realism, and composition.
Ruysch skilfully arranges a variety of flowers, including roses, convolvulus, poppies, and other petals, in an elegant urn situated on a stone ledge in this painting.
Each flower and leaf is depicted in great detail, demonstrating her outstanding skill and deep awareness of nature. Her use of light and shadow creates a sense of depth and texture in the composition, which is well-balanced.
Ruysch's work, such as "Roses, Convolvulus, Poppies, and Other Flowers in an Urn on a Stone Ledge," displays still life painting's ongoing appeal during the Dutch Golden Age. Her beautiful and technical floral creations continue to attract people.
9. The Soul of the Rose – John William Waterhouse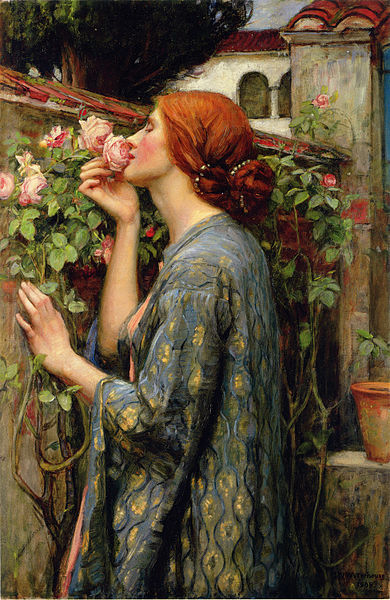 "The Soul of the Rose" is a painting by English artist John William Waterhouse, completed in 1908. The painting depicts a young woman dressed in a flowing blue gown, holding a single pink rose in her hand.
The woman appears to be lost in thought, with her eyes cast downward and a pensive expression on her face. The painting's title suggests that the rose holds deep significance and symbolism, possibly representing the soul or the innermost essence of the woman.
Waterhouse was known for his Pre-Raphaelite style, characterized by detailed and realistic depictions of figures and scenes from mythology, literature, and history.
In "The Soul of the Rose," Waterhouse employs this style to capture the intricate details of the woman's dress and the delicate petals of the rose.
10. Marie Antoinette with a Rose – Élisabeth Vigée Le Brun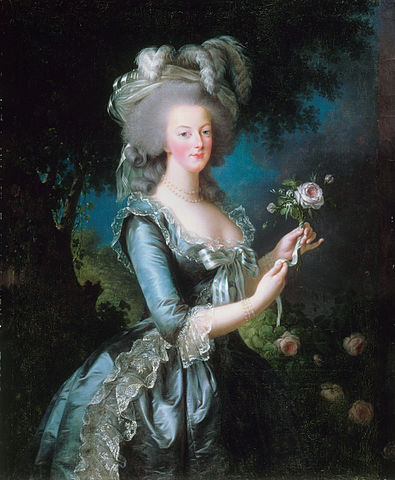 Élisabeth Vigée Le Brun, Queen Marie Antoinette of France's court painter, created Marie Antoinette with a Rose. Vigée Le Brun joined the Académie Royale de Peinture et de Sculpture on May 31, 1783.
Marie Antoinette commissioned her to submit a portrait of herself for that year's Salon. To play the queen, she wore a chemise.
The chemise was copied from the queen's favorite Parisian fashion seamstress Rose Bertin during the period when she lived at the Petit Trianon, outside of the palace.
Visitors to the Salon were surprised because they thought it was unacceptable to depict the queen of France in such attire. The photograph was then removed from the Salon.
The artist made five further copies, each with a different outfit, such as a cap or a muslin garment. The initial painting, in a chemise, appears to have been lost, but the artist created five later reproductions with outfit alterations, such as a cap or a muslin garment.