The human form has long served as subject matter for many artists throughout the world.
However, there have been a great number of painters who have focused on the morbidity and drab nature of skulls as a central feature of their works. These artists cover a wide range of different art styles and movements.
In this article, we will examine our selections for the most famous skull paintings in history, as well as more information regarding the artists who painted them and their motives behind such works.
Famous Skull Paintings
1. Skull with Burning Cigarette – Vincent van Gogh
Vincent van Gogh is one of the most celebrated painters in history. The French artist was one of the main figures from the Impressionist movement that took place in the 19th century throughout Europe and other parts of the world.
Many of van Gogh's paintings feature bright, lively scenes of nature that are done with vibrant colors and details, yet there are a select few works that were especially dark and strange.
One of van Gogh's most notable paintings that has a more dark nature is titled Skull with Burning Cigarette. This 1886 work is one of the artist's most iconic works from his early career which he painted in a manner that was in contrast to many of van Gogh's later Impressionist paintings.
Many critics believe that the painting represents the artist's views toward conservative academic practices during the time period.
This work displays van Gogh's masterful ability to convey light and dark through black and other light colors. Many art historians and scholars point to this work as the single most famous skull painting ever done by an artist from the 19th century.
2. Vanitas Still Life – Pieter Claesz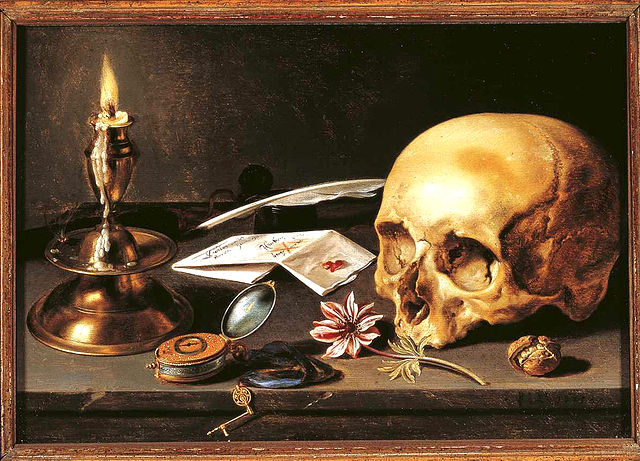 Pieter Claesz is one of the more celebrated Spanish artists from the 17th century who is known to have worked in the Baroque style.
Many of his works center around religious themes as Claesz was known to be a devout Catholic artist who created many paintings for some of Spain's most prestigious religious centers during the 1600's.
One of his most notable paintings is titled Vanitas Still Life and was completed in 1630. The painting depicts a range of items displayed on a table, the most notable among them being a skull.
This work is considered to be a vanitas style painting, which is meant to portray the fleeting vanity of many of life's pleasures. This painting contains much of the brushwork and lighting style that one would expect in a typical Baroque painting and Claesz' masterful ability to portray vivid details is on fully display in this painting.
3. Pyramid of Skulls – Paul Cézanne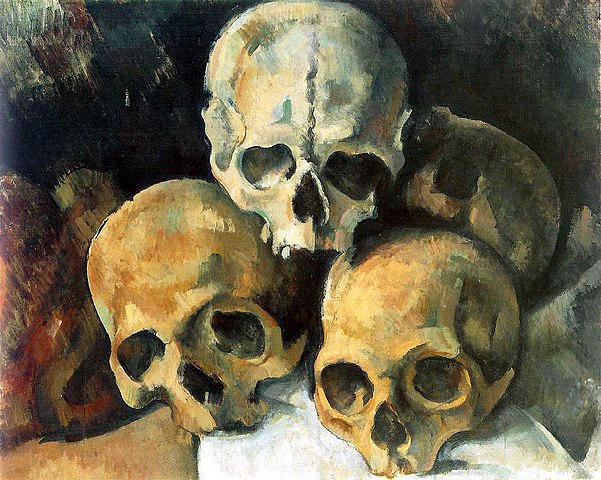 Paul Cézanne is considered to be one of the central figures of the Post-Impressionist movement with many of his most famous artworks pertaining to a wide range of subject matter.
He is known to have created paintings that depict everything from still life works, social settings and even cityscapes within the Impressionist style.
One of Cézanne's most famous paintings is titled Pyramid of Skulls and was done in 1901. This painting is one that the artist reproduced on a few occasions using a variety of different levels of light and darkness.
Cézanne was known to have focused on mortality in the final years of his life and this painting is a representation of his possible intention to convey those thoughts.
4. Death and Life – Gustav Klimt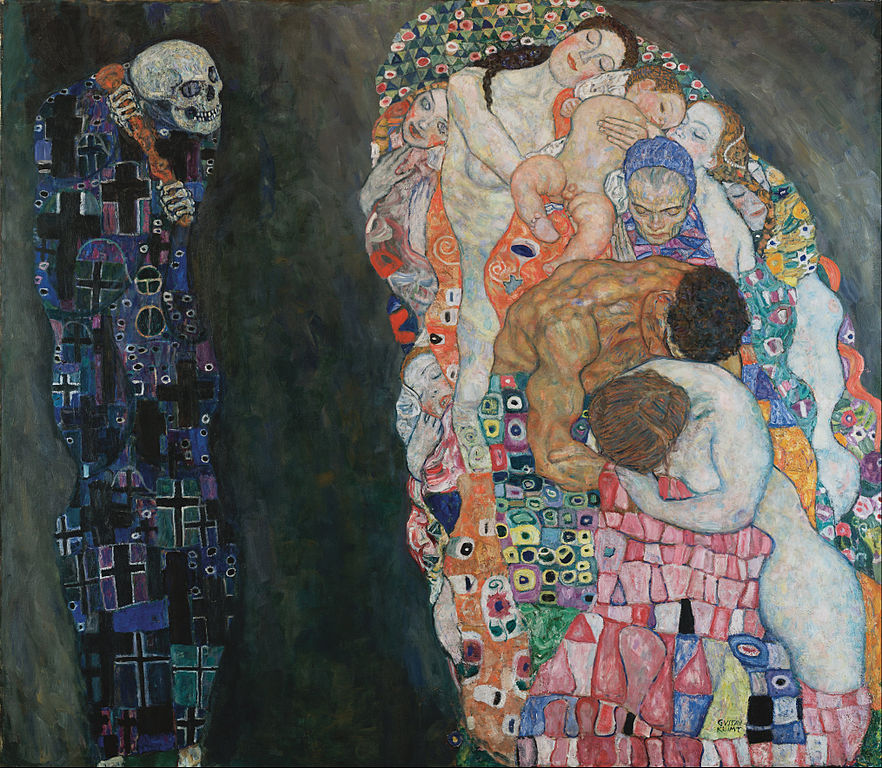 Gustav Klimt was known for his paintings in the Symbolism style. His works were considered avant garde compared to many of the other paintings from this time period.
Klimt was known to focus much of his subject matter on the human figure, especially the female form. His works included a range of vivid colors and perspective in terms of those figures that were his subject matter.
One of Klimt's most well-known paintings that had a very dark undertone is titled Death and Life. This work was believed to have been finished in the years following 1910. This work shows the dichotomy between death and life in two different portions of the canvas.
Klimt portrayed death on the left of the canvas using dark colors along with a skull atop the head of a shrouded figure. The other side of the canvas depicts a few individuals, from all walks of life, grouped together with lighter tones and more colorful hues.
5. Saint Jerome – Caravaggio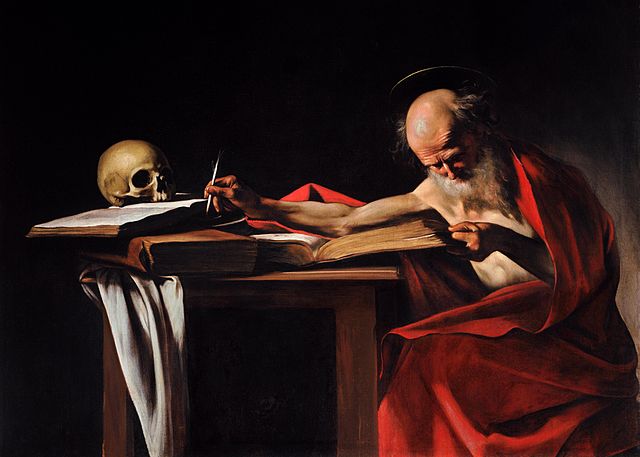 Michelangelo Merisi da Caravaggio is widely recognized as one of the most talented artists from the Baroque movement. Many of his paintings feature a characteristic difference between light and dark. He was one of the greatest painters from the centuries following the Italian Renaissance and Caravaggio's work is considered to be some of the greatest of all time, according to many of the world's critics, historians and art scholars.
Caravaggio created one of his most iconic works in 1608. The painting was titled Saint Jerome and depicts the famous religious figure sitting with a long, flowing red robe covering him as he is writing on a piece of parchment next to him. This painting features Caravaggio's characteristic use of light and dark to convey good in Saint Jerome, yet the most memorable piece to this painting is the skull sitting on the table next to Jerome's parchment.
6. Untitled Skull Head – Jean-Michel Basquiat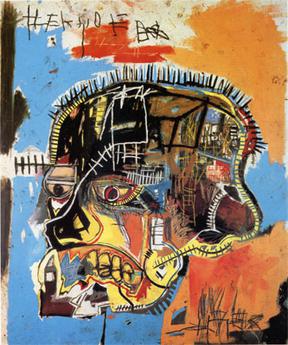 Jean-Michel Basquiat is one of the most notable avant garde painters from modern American history.
His career began as a street artist and Basquiat was known to have produced evocative graffiti murals and paintings before becoming noticed by prominent critics and having his work featured in some of the most famous museums in America.
Jean-Michel Basquiat is known to have produced a number of works that depict skulls in many shapes and forms, but one of his most notable works is ironically known as Untitled Skull Head.
It was done in 1981 and features much of Basquiat's typical style of vibrant background colors that form a myriad of colors.
7. Vanitas Still Life with a Tulip, Skull and Hour-Glass – Philippe de Champaigne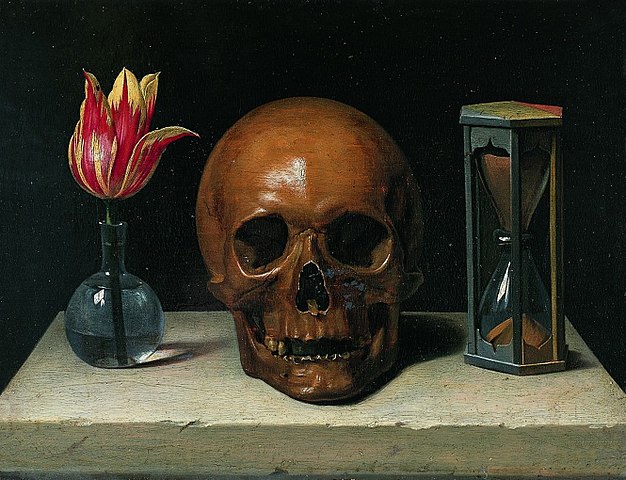 Philippe de Champaigne is recognized as one of the greatest Baroque painters in history and many of his works feature prominent religious and political figures from the 1600's.
His style was such that he focused much of his paintings on intricate details and metaphoric symbolism using various items.
One of his paintings that critics consider to be among his most morbid is titled Vanitas Still Life with a Tulip, Skull and Hour-Glass.
This 1671 work was done near the end of his life at a time when he, like many other artists, had been deeply contemplating his own mortality. The painting features a single skull sitting on a table next to a flower and an hourglass.
8. Portrait of a Man Holding a Skull – Frans Hals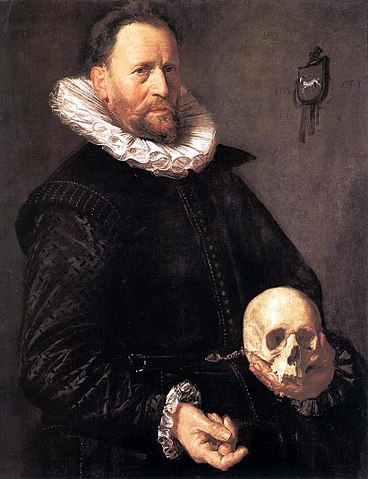 Frans Hals is one of the more well-known painters from the Dutch Golden Age who is known for his works as a Baroque painter. Many of his paintings center around prominent political and religious figures from the 17th century.
One of his more memorable paintings is titled Portrait of a Man Holding a Skull and was completed in 1612. The work is, as the title indicates, a man seated and holding a skull.
This painting was likely done for the man featured in the work and historians say that it was featured next to another painting of the man's wife who was seated to his right.
9. Studies of Human Skull – Leonardo da Vinci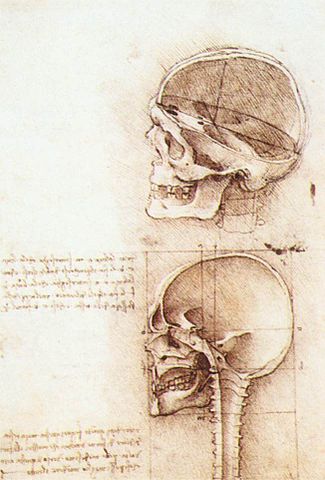 Leonardo da Vinci is considered one of the greatest artists of all time, as well as one of the most gifted geniuses from history.
His paintings are as impressive and notable as his many inventions and other artistic works. In addition to his paintings, da Vinci's drawings and sketches have garnered much acclaim as well.
One of da Vinci's most memorable paintings that pertain mostly to the human figure is titled Studies of the Human Skull. In this sketch, the famed painter displayed much of the things he learned during his time examining cadavers in an effort to gain more experience and knowledge of the human body.
These simple sketches have since become iconic in the world of art, as well as the medical field as doctors, surgeons and different kinds of physicians have used them to display the common human skull from a variety of angles.
10. Skulls – Andy Warhol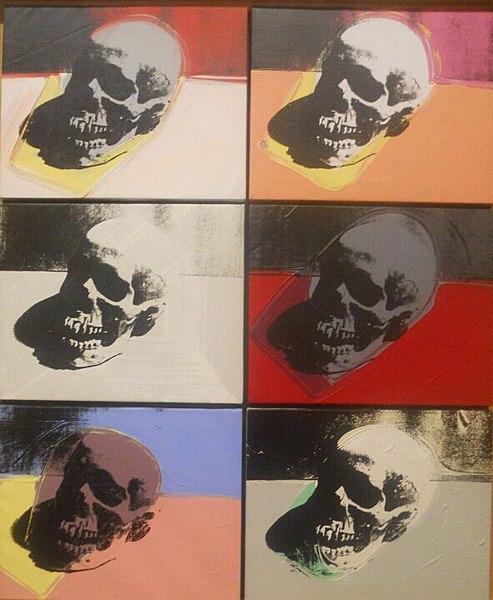 Andy Warhol is recognized as one of the most famous modern artists from the time period following the Industrial Revolution.
His distinct style included repetition of images using different colors and tones in a way that is now synonymous to the modern art movement.
One of Warhol's most well-known works is aptly-titled Skulls and was done in 1976. It features a single skull set at an angle with its shadow cast in front onto the surface.
This painting series consists of six different canvases, each consisting of a different color combination. It displays Warhol's unique style and is based on a photograph that was taken by Warhol's assistant, Ronnie Cutrone.