Tiziano Vecelli or Vecellio (1488/90 – 27 August 1576), better known in English as Titian, was a Renaissance painter from Italy (Veneto). He is often regarded as the most prominent member of the 16th-century Venetian school.
He was born near Belluno in Pieve di Cadore. Throughout his life, he was often referred to as da Cadore, 'from Cadore,' after his home location.
Contemporaries regarded him as one of the most versatile Italian painters, equally at ease with portraiture, landscape backdrops, mythical and religious topics.
His painting techniques, notably in the application and use of color, had a major impact not just on late Italian Renaissance artists, but also on subsequent generations of Western art.
From the outset of his career, he attracted benefactors, originally from Venice and her domains, then from northern Italian lords, and lastly from the Habsburgs and pope. He is credited with co-founding the Venetian School of Italian Renaissance painting alongside Giorgione.
Titian's creative style evolved dramatically throughout the course of his lengthy life, yet he kept a lifelong fascination with color.
While Titian's mature paintings lacked the vibrant, dazzling hues of his early works, their free brushwork and sensitivity of tone were unprecedented in Western art history.
Titian Famous Paintings
1.

Venus of Urbino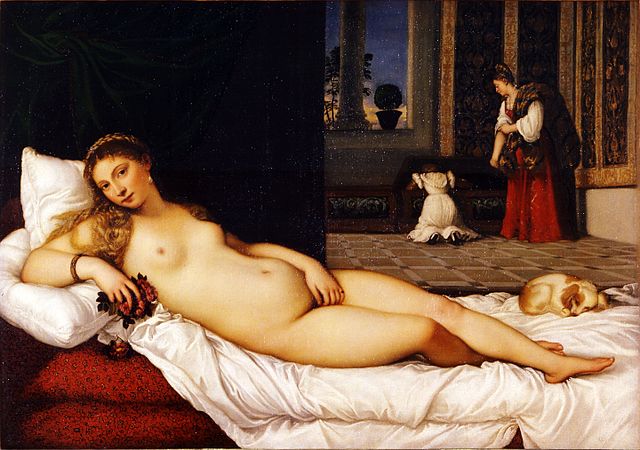 The Venus of Urbino (also known as Reclining Venus) is an oil painting that was probably started in 1532 or 1534, finished in 1534, but not sold until 1538.
It shows a naked young lady, often associated with the goddess Venus, lounging on a sofa or bed amid the opulence of a Renaissance castle. It is presently on display at Florence's Galleria degli Uffizi.
The figure's stance is modeled on Giorgione's Dresden Venus, for which Titian at least finished the landscape. Titian has domesticated Venus in this painting by placing her in an interior environment, interacting with the audience, and emphasizing her womanly charms.
2.

Bacchus and Ariadne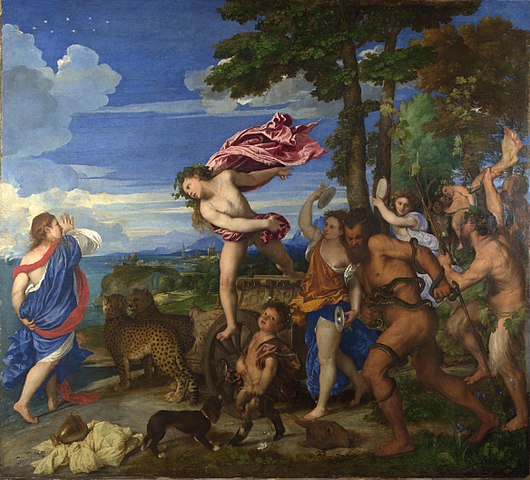 Bacchus and Ariadne (1522–1523) is part of a sequence of mythological paintings created for Alfonso I d'Este, Duke of Ferrara, for the Camerino d'Alabastro, a private chamber in his Ferrara palace filled with paintings based on ancient literature.
Raphael, who had initially been handed the commission for a Triumph of Bacchus, was offered an early payment.
Only a preliminary sketch was finished at the time of Raphael's death in 1520, and the contract was subsequently passed on to Titian. The subject matter for Bacchus and Ariadne was drawn from the Roman authors Catullus and Ovid.
Ariadne has been abandoned on the island of Naxos by her lover Theseus, whose ship has sailed off to the far left. Bacchus, the god of wine, discovers her on the beach, leading a procession of revelers in a chariot driven by two cheetahs.
Bacchus is pictured leaping out of the chariot in mid-air to defend Ariadne from the monsters.
The picture, which is regarded as one of Titian's best, is presently on display in the National Gallery in London.
3.

Assumption of the Virgin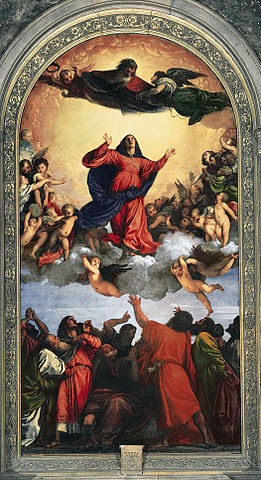 The Assumption of the Virgin, also known as the Frari Assumption or Assunta, is a huge altarpiece panel created between 1515 and 1518. It remains on the high altar of the Basilica di Santa Maria Gloriosa dei Frari, or Frari church, in Venice, where it was created for.
The huge church, with a substantial distance between the altar and the crowd, prompted the creation of the city's biggest altarpiece, with figures considerably above life-size.
The pictures above and below are by Palma Vecchio and are not by Titian. It signaled a shift in Titian's style, reflecting his knowledge of advancements in High Renaissance painting in Florence and Rome, where painters like as Raphael and Michelangelo were working.
The Apostles' frenetic figures signified a departure from the normal pensive serenity of saints in Venetian painting, as seen in the works of Giovanni Bellini and others.
4.

Diana and Actaeon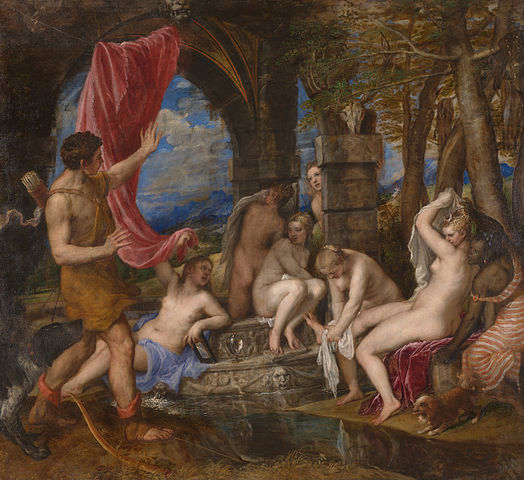 Diana and Actaeon is regarded as one of Titian's most important masterpieces. It depicts the moment when the hunter Actaeon rushes into the bathing area of the goddess Diana and her nymphs.
Diana is enraged, and she will transform Actaeon into a deer, who will be followed and murdered by his own hounds, as seen in Titian's The Death of Actaeon (National Gallery).
Diana is the lady on the painting's right side. She's wearing a crown with a crescent moon on it, which she's hiding behind the dark-skinned lady who may be her servant. The nymphs exhibit a wide range of emotions as well as naked positions.
The National Gallery of London and the National Galleries of Scotland successfully campaigned for the picture to be purchased from the Bridgewater Collection for £50 million in 2008–2009. As a consequence, Diana and Actaeon will stay on exhibit in the UK for another five years, rotating between the two galleries.
5.

The Attack of Europa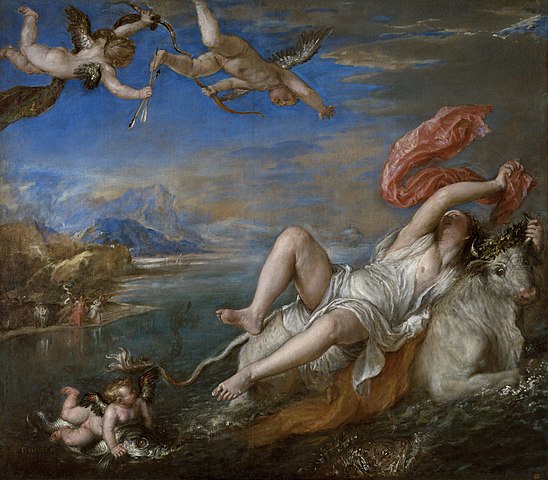 The Attack of Europa is a painting by Titian, produced between 1560 and 1562 in Venice. It is part of the Isabella Stewart Gardner Museum's permanent collection in Boston, Massachusetts.
The title of the picture alludes to the mythical account of Europa's abduction by Zeus (Jupiter to the Romans). According to legend, the deity took the appearance of a bull and tempted Europa to ride on his back.
The bull then galloped into the sea and took her all the way to Crete, where he revealed his true nature. Europa married Zeus and had three offspring, making her the first Queen of Crete.
6.

Danaë(Series)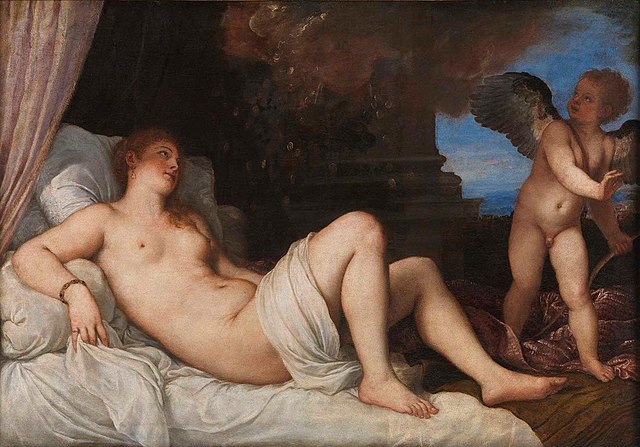 Dana (or Dana with the Shower of Gold) is a series of at least six different variations of the same subject created by Titian and his studio between 1544 and 1560.
The scenario is based on the Roman poet Ovid's – very short – account of the fabled princess Dana, as told by Boccaccio in more detail.
Following a prophesy that her firstborn would murder her father, she was imprisoned in a bronze tower. Dana was seduced and got pregnant by Zeus (in Roman mythology, Jupiter), who, enraged by passion, descended from Mount Olympus to seduce her in the shape of a shower of gold, notwithstanding the consequences.
Titian and his studio created at least six different copies of the artwork, all of which differ in some way.
7.

Diana and Callisto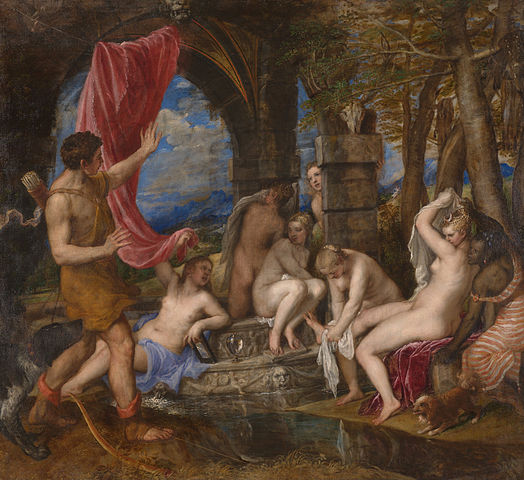 Diana and Callisto is a painting that was produced between 1556 and 1559. It depicts the moment when the goddess Diana learns that her maid Callisto is expecting a child from Jupiter.
In March 2012, the National Gallery and the Scottish National Gallery bought the artwork for £45 million. It is shown alternately between London and Edinburgh with its companion work Diana and Actaeon.
A later version by Titian and his studio may be seen at Vienna's Kunsthistorisches Museum.
8.

Sacred and Profane Love

Titian's Sacred and Profane Love is an oil work that was most likely completed around 1514, early in his career. Niccol Aurelio, a secretary to the Venetian Council of Ten, whose coat of arms appears on the tomb or fountain, is said to have commissioned the painting to commemorate his marriage to a young widow, Laura Bagarotto.
It might be a figure of the bride clothed in white, seated near Cupid and escorted by the goddess Venus.
The image has been subjected to a variety of differing interpretations. Their first step is to determine the painting's aim, which most interpretations in recent decades perceive as honoring a marriage.
Following that, the figures that are physically identical but whose attire is so different must be given identities, at which point agreement comes to an end.
While the tendency in recent years has been to discount elaborate and cryptic interpretations of Titian's (and other Venetian artists') iconography, no easy reading has been established in this instance, and historians are more willing to accept allegorical alternatives of significant complexity.
9.

Pesaro Madonna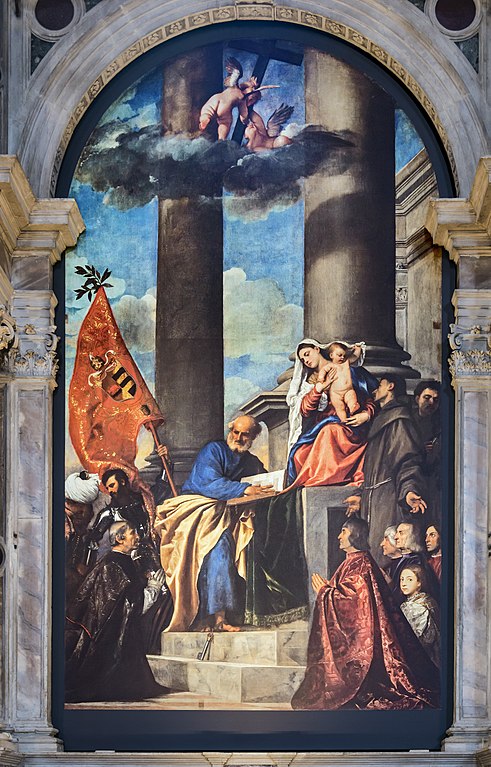 The Pesaro Madonna (also known as the Madonna di Ca' Pesaro) is a painting by the late Italian Renaissance painter Titian. It was commissioned by Jacopo Pesaro, whose family bought the chapel in the Frari Basilica in Venice in 1518, and where it still stands today.
Jacopo was the Bishop of Paphos in Cyprus, and the Borgia pope, Alexander VI, had appointed him as commander of the papal fleet. This artwork is reminiscent of one of Titian's first works, Jacopo Pesaro being delivered to Saint Peter by Pope Alexander VI, c. 1510-11.
Titian depicts his patron in a devout attitude, bowing in front of the Virgin and being given to her by Saint Peter. Saint Peter's key is prominently shown on the step; its diagonal plane, pointing toward the Virgin, mirrors that of Jacopo.
The Virgin's location at the top of the stairs refers to her heavenly function as Madonna della Scala (Madonna of the Stairs) and the Stairway to Heaven. Titian used his wife, who died shortly after giving birth, as the model for the Virgin Mary in this painting.
10.

Equestrian Portrait of Charles V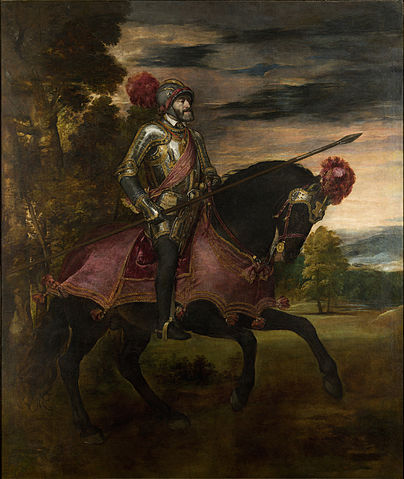 Titian's Equestrian Portrait of Charles V (also known as Emperor Charles V on Horseback or Charles V at Mühlberg) is an oil-on-canvas painting.
It was created between April and September 1548, when Titian was at the imperial court of Augsburg, as a tribute to Charles V, Holy Roman Emperor, after his victory over the Protestant army at the Battle of Mühlberg in April 1547.
The portrait's directness and feeling of restrained force contribute to its impact: the horse's might seems to be only in check, while Charles' brightly sparkling armor and the painting's vivid reds are memories of combat and valor.