Watercolor, also known as aquarelle (French), is a painting technique in which pigments are suspended in a water-based solution. Watercolor refers to both the material and the finished piece of art.
Watercolor paint is an old style of painting. Watercolor painting with inks is known as brush painting or scroll painting in East Asia.
It has been the primary media in Chinese, Korean, and Japanese art, commonly in monochromatic black or browns, and often utilizing inkstick or other pigments. Watercolor painting has a long history in India, Ethiopia, and other places.
In the early nineteenth century, American painters tended to treat watercolor largely as a sketching medium in preparation for the "completed" piece in oil or engraving.
The majority of watercolor artists produce works of either landscapes or portraiture, however there are some artists that will produce abstract artworks in the medium of watercolor.
Watercolor Artists
1. Albrecht Dürer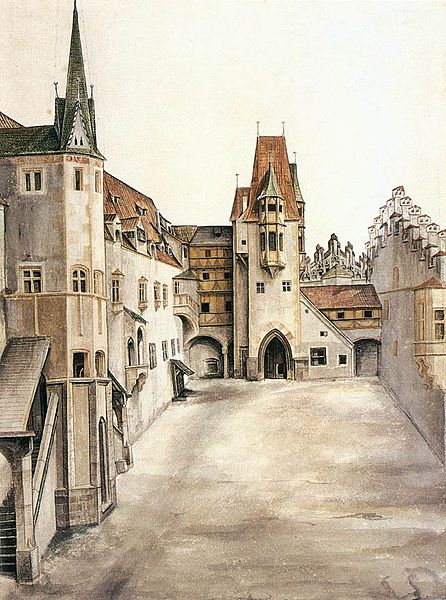 Albrecht Dürer (21 May 1471 – 6 April 1528) was a German Renaissance painter, printer, and thinker.
Dürer, who was born in Nuremberg, earned his fame and influence across Europe in his twenties as a result of his high-quality woodcut prints.
He came in touch with renowned Italian painters of the period, such as Raphael, Giovanni Bellini, and Leonardo da Vinci, and was patronized by Emperor Maximilian I beginning in 1512.
Dürer's extensive corpus of work includes engravings, which he favored in his later works, altarpieces, portraits and self-portraits, watercolors, and books.
The woodcuts series is more Gothic than his other work. His best-known engravings are Knight, Death, and the Devil (1513), Saint Jerome in his Study (1514), and Melencolia I (1515). (1514).
His watercolors establish him as one of the earliest European landscape painters, while his woodcuts redefined the medium's possibilities.
Dürer's incorporation of classical elements into Northern art, aided by his understanding of Italian painters and German humanists, cemented his status as a pivotal character of the Northern Renaissance. This is supported by his theoretical treatises, which include mathematical concepts, perspective, and ideal proportions.
2. J. M. W. Turner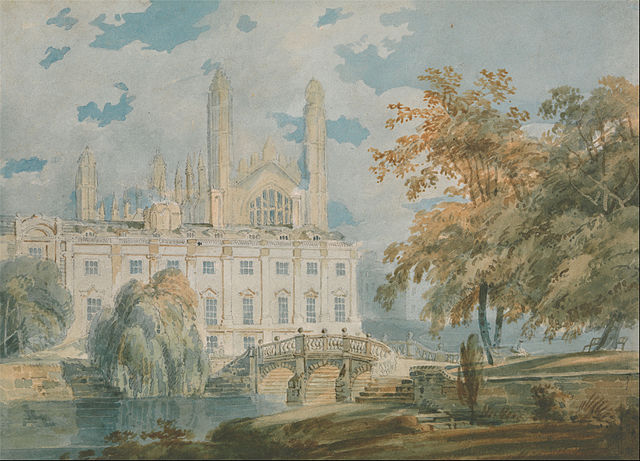 Joseph Mallord William Turner RA was an English Romantic painter, printmaker, and watercolorist who lived from 23 April 1775 to 19 December 1851.
He is well-known for his expressive colorizations, unique landscapes, and stormy, often violent sea paintings. He left behind around 550 oil paintings, 2,000 watercolors, and 30,000 pieces on paper.
Many of Turner's early drawings were architectural studies or exercises in perspective, and he is known to have worked as a young man for a number of architects.
Turner began his study with topographical draughtsman Thomas Malton, who specialized in London vistas. Turner learned the basics of his trade from him, copying and coloring outline prints of British castles and abbeys. At the time, topography was a burgeoning business that might help a young artist pay for his school.
Also Read: Famous Turner Paintings
Turner entered the Royal Academy of Art at the age of 14 in 1789, and Sir Joshua Reynolds accepted him a year later. He began drawing buildings as a child, but was encouraged to focus on painting instead.
In 1790, Turner was 15 years old when his first watercolor, A View of the Archbishop's Palace, Lambeth, was accepted for the Royal Academy summer exhibition.
Turner was unparalleled in his depiction of the uncontrolled natural world, as well as his investigation of the effect of the elements and the battle of nature's forces.
Turner started his career as a water-colorist before switching to oils somewhat later in his career. He then applied his watercolor abilities to oil paintings.
3. Paul Klee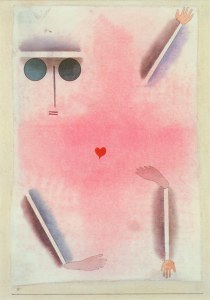 Paul Klee (18 December 1879 – 29 June 1940) was a German artist of Swiss origin. His distinct style was inspired by art trends such as expressionism, cubism, and surrealism.
Klee experimented with and eventually deeply explored color theory, writing extensively about it; his lectures Writings on Form and Design Theory (Schriften zur Form und Gestaltungslehre), published in English as the Paul Klee Notebooks, are regarded as equally important for modern art as Leonardo da Vinci's A Treatise on Painting for the Renaissance.
Both he and his colleague, Russian painter Wassily Kandinsky, taught at Germany's Bauhaus school of art, design, and architecture.
His paintings exhibit his sarcastic wit and often infantile viewpoint, as well as his unique moods and views and musicality.
4. John Singer Sargent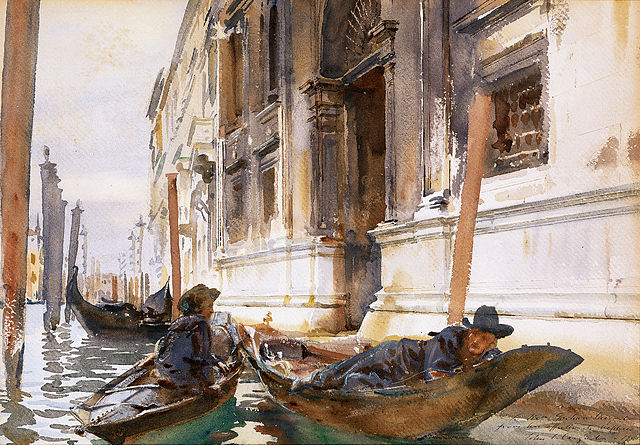 John Singer Sargent (January 12, 1856 – April 14, 1925) was an American expatriate artist known for his evocations of Edwardian-era opulence.
He produced around 900 oil paintings and over 2,000 watercolors, as well as many sketches and charcoal drawings. His work covers his travels across the globe, from Venice to the Tyrol, Corfu, the Middle East, Montana, Maine, and Florida.
He was born in Florence to American parents and had his training in Paris before going to London, where he spent the most of his life. As a portrait painter, he achieved worldwide fame.
Portrait of Madame X, an early entry to the Paris Salon in the 1880s, was meant to solidify his standing as a social painter in Paris, but instead resulted in controversy. Following the incident, Sargent left for England, where he resumed a successful career as a portrait artist.
Sargent painted around 2,000 watercolors over his lengthy career, traveling from the English countryside to Venice, the Tyrol, Corfu, the Middle East, Montana, Maine, and Florida. Each location provided photographic excitement and treasure.
Even in his spare time, when he was not under the demands of the portrait studio, he painted with restless passion, frequently from daylight till night.
His hundreds of watercolors of Venice, many of which are done from the viewpoint of a gondola, are particularly noteworthy.
Sargent painted Bedouins, goatherds, and fishermen in the Middle East and North Africa. In the final decade of his life, he painted several watercolors of animals, flora, and local peoples in Maine, Florida, and the American West.
Sargent was able to satisfy his initial creative tendencies for nature, architecture, foreign peoples, and majestic mountain scenery via his watercolors. And it is in some of his latter pieces that Sargent seems to be painting solely for himself.
His paintings have a delightful fluidity about them. He also painted a lot of family members, friends, gardens, and fountains.
In watercolors, he depicted his friends and family in Orientalist costumes, lounging in brilliantly lighted landscapes that allowed for a more vibrant palette and adventurous handling than his assignments.
In 1905, he had his first significant solo exhibition of watercolor paintings at the Carfax Gallery in London. In 1909, he showed 86 watercolors in New York City, 83 of which were purchased by the Brooklyn Museum.
5. Andrew Wyeth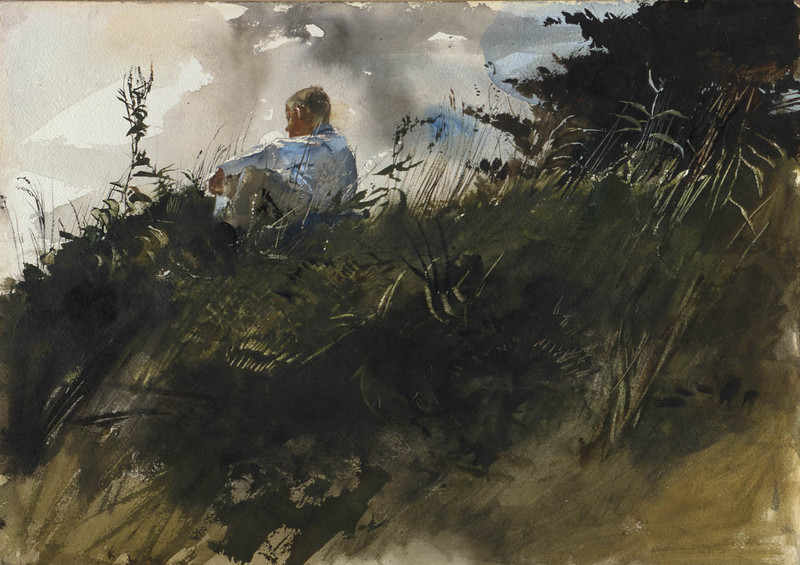 Andrew Newell Wyeth (July 12, 1917 – January 16, 2009) was an American visual artist who mostly worked as a realism painter in a regionalist style. He was a well-known American artist of the mid-twentieth century.
The terrain and people surrounding him were Wyeth's favorite themes in his painting, both in his birthplace of Chadds Ford, Pennsylvania, and at his vacation home in Cushing, Maine. "I paint my life," Wyeth frequently commented.
Christina's World, one of the most well-known pictures in twentieth-century American art, is now in the collection of the Museum of Modern Art in New York City. This tempera painting was completed in 1948, when Wyeth was 31 years old.
Tempera and watercolors would be his favored media for the rest of his life.
At the age of twenty, Wyeth held his first one-man watercolor show at the Macbeth Gallery in New York City. The whole painting inventory was sold out.
Wyeth maintained a realism painting technique for nearly seventy years, dividing his time between Pennsylvania and Maine. He was drawn to a number of distinct landscape themes and models. His sceneries were mostly inspired by his solo treks.
He established a remarkable closeness with the land and water, striving for a spiritual knowledge based on history and wordless feeling.
Before completing a full painting in watercolor, drybrush (a watercolor method in which the water is squeezed from the brush), or egg tempera, he would generally draw hundreds of studies in pencil or loosely painted watercolor on a subject.
6. John James Audubon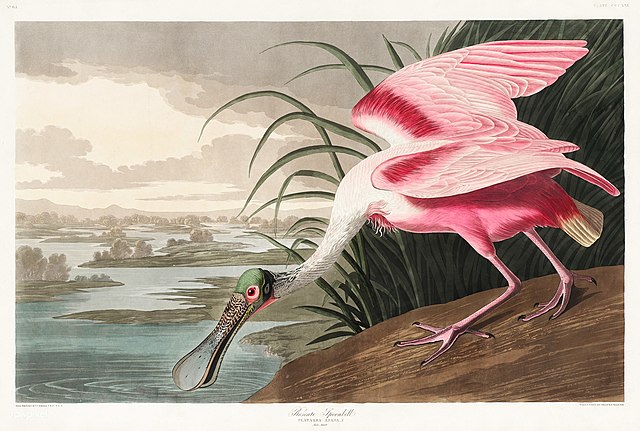 John James Audubon (April 26, 1785 – January 27, 1851) was a self-taught artist, naturalist, and ornithologist from the United States. His combined interests in painting and ornithology resulted in a desire to create a thorough graphic record of all North American bird species.
He was known for his comprehensive research on all species of American birds, as well as his precise paintings of the birds in their natural settings.
His primary work, The Birds of America (1827–1839), a color-plate book, is regarded as one of the best ornithological works ever created. Audubon is also credited with the discovery of 25 new species.
Audubon made additional money and publicized the book by selling oil-painted replicas of the sketches.
All 435 preliminary watercolors for The Birds of America are housed at the New York Historical Society. After her husband's death, Lucy Audubon sold them to the organization.
When Lucy Audubon, desperate for money, sold the original copper plates for scrap to the Phelps Dodge Corporation, all but 80 of them were melted down.
7. Winslow Homer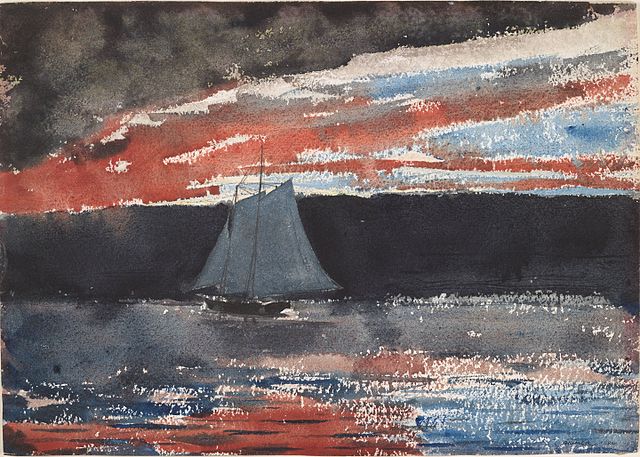 Winslow Homer (February 24, 1836 – September 29, 1910) was a landscape painter and printer from the United States, well known for his sea compositions.
He is regarded as one of the most important painters of nineteenth-century America and a pivotal figure in American art.
Homer started his career as a commercial artist, mostly self-taught.
He then took up oil painting and created large studio works that were distinguished by the medium's weight and richness. He also worked extensively in watercolor, producing a flowing and prolific body of work that mostly documented his working holidays.
During a summer visit in Gloucester, Massachusetts in 1873, Homer began painting in watercolors on a regular basis. His technique was effortless, flowing, and confident from the start, showcasing his intrinsic skill for a challenging medium. His influence would be seismic.
His paintings were popular and long-lasting, and they sold more easily, significantly improving his financial situation.
They ranged from the highly precise "Blackboard" to the more impressionistic "Schoner at Sunset" (shown above). Some watercolors were created as preliminary drawings for oil paintings (such as "Breezing Up"), while others were created as full works in their own right. After then, he seldom went without paper, brushes, and water-based paints.
8. Georgia O'Keeffe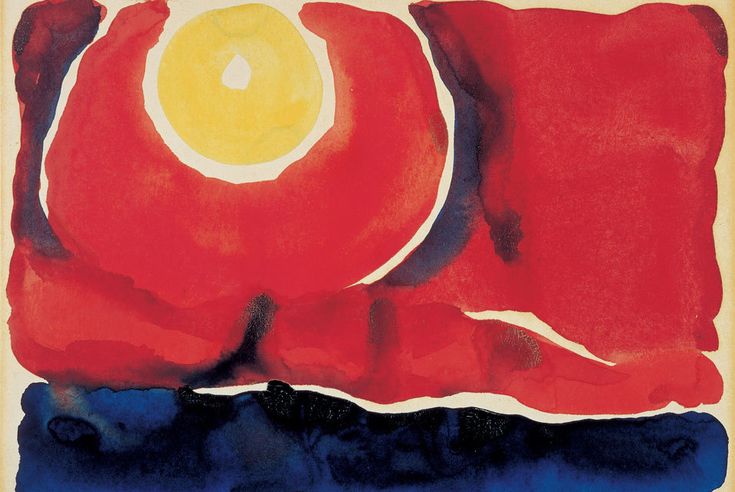 Georgia O'Keefe is a well-known artist who was at the forefront of the American Modernist movement. She was born in 1887 on a farm in Wisconsin and grew up there.
She moved to Chicago and New York after graduating from high school in 1905 to study traditional types of painting.
She broadened her approach to include abstract works. Albert Stieglitz, an art dealer and photographer, recognized her abstract paintings and was the first to exhibit them. They also got married.
O'Keeffe's well-known style includes paintings of New York skyscrapers and large, vibrant flowers. Her art was heavily inspired by the environment of the Southwest United States beginning in 1929.
She had a mishap in New Mexico and finally relocated there full-time. She painted what she observed while traveling the globe in the 1950s.
Georgia O'Keefe's vision weakened her in her 90s, but her helpers assisted her in creating art. Georgia O'Keeffe died in 1968, at the age of 98, in Santa Fe, New Mexico.
9. Frank Webb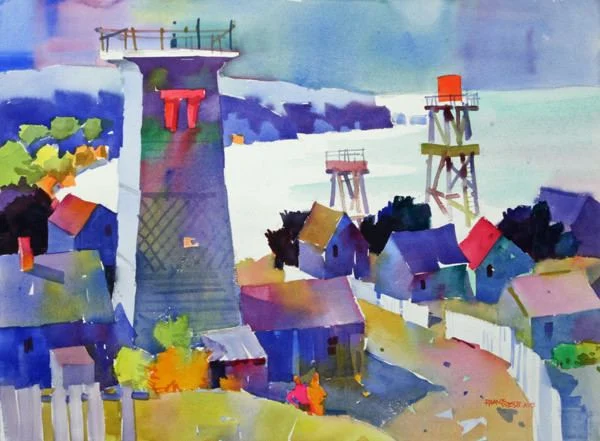 Frank Webb (born 1927) is a Pittsburgh, Pennsylvania-based watercolor painter. Webb attended the Art Institute of Pittsburgh.
Webb was born in North Versailles, Pennsylvania, a Pittsburgh suburb, in 1927. During WWII, he enlisted in the United States Navy and was returned during the Korean War to service aboard the USS Macon (CA-132).
He used the GI Bill to attend the Art Institute of Pittsburgh and worked as a commercial artist after graduation, ultimately taking over and directing a commercial studio.
Webb participated in a watercolor class held by Edgar Whitney in 1970 and started showing widely after that, earning a member of the American Watercolor Society in 1973. This is one of the country's oldest non-profit organizations.
In 1980, Webb withdrew from his business studio and started teaching watercolor painting seminars. He has given over 500 seminars in every state in the US as well as worldwide.
He emphasized the significance of creating a sketch or drawing of your picture before you paint, create, draw, or do anything else. He believes that by doing so, you will be able to locate all of the crucial aspects you wish to include in a composition. When you start painting, the drawing will come to life.
Webb received the Mario Cooper & Dale Meyers Medal from the American Watercolor Society in 2013, and the Transparent Watercolor Society of America has designated him as a TWSA Master.
He is also a member of the National Watercolor Society, Audubon Artists, the Pennsylvania Watercolor Society, and an honorary lifetime member of the Pittsburgh and Philadelphia Watercolor Societies.
Webb is the author of three watercolor painting instructional books: Watercolor Energies, Webb on, and Strengthen Your Paintings With Dynamic Composition.
10. Charles Demuth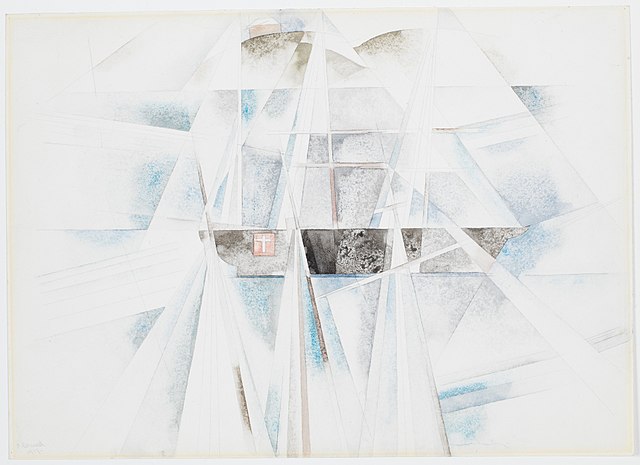 Charles Henry Buckius Demuth (November 8, 1883 – October 23, 1935) was an American painter who specialized in watercolors before transitioning to oils late in his career, adopting a Precisionist style of painting.
Demuth had lived in Lancaster, Pennsylvania his whole life. His mother's house is now the Demuth Museum, which exhibits his art.
He attended Franklin & Marshall Academy before going on to Drexel University and the Pennsylvania Academy of Fine Arts in Philadelphia. He performed in a play at the Academy as a student at PAFA, and he also met William Carlos Williams at his boarding home. The two became quick friends and stayed in touch for the remainder of their lives.
He went on to study at the Académie Colarossi and the Académie Julian in Paris, where he got involved in the avant-garde art movement. Demuth preserved Cubist elements in several of his paintings after his return to America.
Demuth remained passionately connected to Lancaster throughout his career. Hundreds of his watercolors and drawings depicted the city's modest commercial and civic structures.
His portrayals of warehouses, factories, and row homes endow these mundane buildings with a grandeur and splendor generally associated with cathedrals, palaces, and temples (sometimes humorously).
11. Charles Reid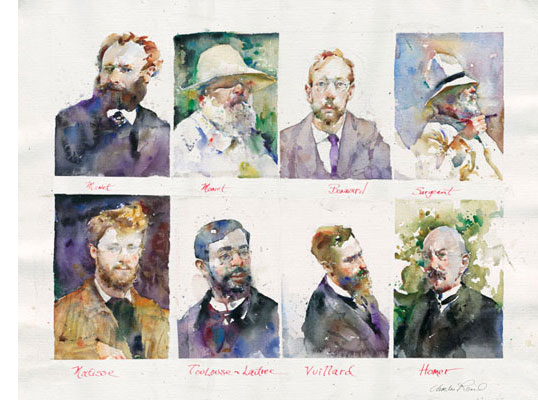 Charles Clark Reid (August 12, 1937 – June 1, 2019) was a watercolor painter, illustrator, and instructor from the United States.
He has received multiple national and international prizes for his watercolor and oil works, and he has also organized numerous workshops in the United States and overseas.
With his watercolor paintings, he has had multiple books and instructional DVDs released, as well as a postage stamp and an iconic commercial campaign. His watercolors and oil paintings may be found in private and university museum collections.
Despite not being a member of the American Watercolor Society, they displayed Reid's work four times: in 1973 with Sleeping Girl, 1975 with Miss Goodman, 1978 with Narda, and 1984 with Mary. Reid and Miss Goodman received the Samuel J. Bloomingdale Memorial Award, while Narda received the High Winds Award.