The color yellow has been used in art for centuries, and it can evoke a range of emotions and meanings depending on its context. In painting, yellow is often associated with warmth, sunshine, and happiness. It is a bright, cheerful color that can be used to convey optimism and positivity.
In addition to its symbolic meanings, yellow has also been used in art for its aesthetic qualities. When used in bold and vibrant ways, yellow can draw the viewer's eye and create a sense of energy and movement.
In more subtle hues, yellow can add depth and warmth to a painting, creating a sense of balance and harmony.
Many famous artists throughout history have used yellow in their work, from Vincent Van Gogh's use of bold yellows in his sunflower series to Mark Rothko's color field paintings, which feature gradients of yellow tones that create a sense of luminosity and depth.
Other artists, such as Edvard Munch and Salvador Dali, have used yellow in more symbolic ways to convey emotions such as anxiety and surrealism.
Overall, the color yellow is a powerful tool for artists, allowing them to convey a range of emotions and meanings through its use in their paintings.
Famous Yellow Paintings
1. Sunflowers – Vincent van Gogh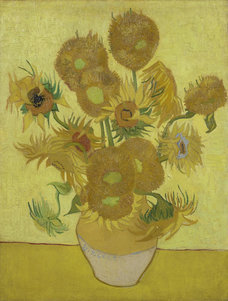 Vincent Van Gogh's representations of flowers are unparalleled in the history of art.
No other artist has matched his uncanny ability to capture the innocence and purity of a flower's natural beauty, despite his numerous mental illnesses.
Supposedly, Van Gogh was captivated by sunflowers and the way their hue changed as the sun moved across the sky.
Sunflowers by Van Gogh, for instance, is part of a wider series that explores the intricacies of the sunflower.
Also Read: Orange Paintings
Van Gogh's vivid sunflower paintings bring the plants to life and highlight the nuances of their stalks and leaves. His paintings of the French city of Aries date to circa 1889. Each piece of artwork depicted a vase containing a bouquet of sunflowers.
It is believed that he painted a number of the works in the series while he was a resident of the Yellow House and Paul Gauguin was a guest there.
Gauguin referred to Sunflowers as "totally Vincent," remarking that the artist's lighting provided spectators with a unique perspective on the kaleidoscope of colors contained within each petal.
2. The Kiss – Gustav Klimt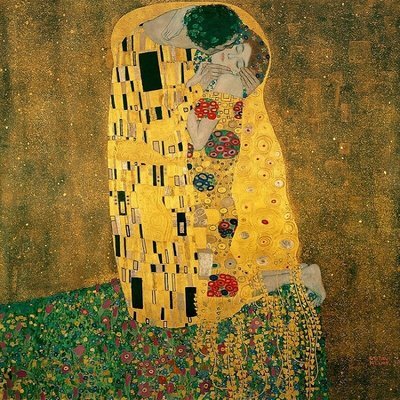 This oil on canvas painting, titled Die Kuss in its native Language, has gold leaf, silver, and platinum accents. The picture, dated to Klimt's "Golden Period" between 1907 and 1908, symbolizes the pinnacle of his career.
According to the exhibition catalogue, its premiere as Liebespaar occurred in 1908. (the lovers). The artwork depicts a couple in embrace, their bodies entwined in exquisite robes embroidered in a manner influenced by both Art Nouveau and the earlier organic features of the Arts and Crafts movement.
The artwork is currently on exhibit at the Austrian Gallery Belvedere in Vienna's Belvedere district, where it has garnered international recognition as a masterpiece of the Vienna Secession (the city's version of Art Nouveau).
It is believed that Klimt depicted the moment when Apollo kisses Daphne in this picture, which is based on a narrative from Ovid's Metamorphoses.
Art historians credit Klimt for representing the Orpheus and Eurydice mythology. When Orpheus turns around to caress Eurydice, Klimt seemed to have captured the moment.
According to the narrative, the semi-transparency of the woman in this artwork indicates her slow departure.
It is on display at the Osterreichische Gallery Belvedere at Vienna, Austria's Belvedere palace.
3. New York City 1 – Piet Mondrian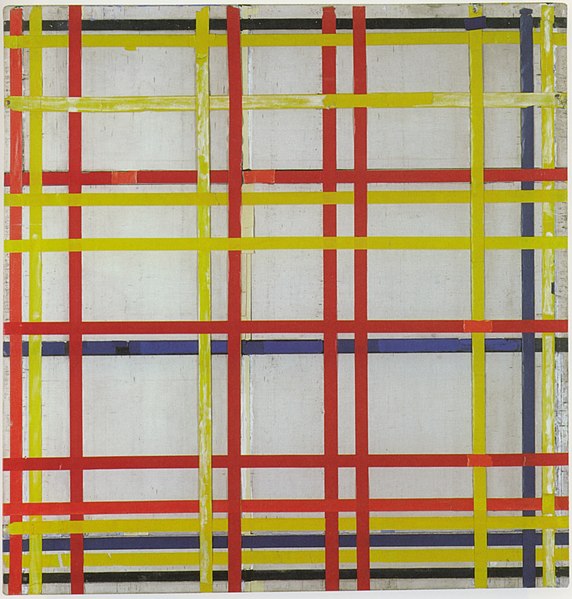 Piet Mondrian was a Dutch painter who is considered one of the pioneers of abstract art. One of his most famous works is "New York City 1," which was painted in 1942 while he was living in New York City during World War II.
"New York City 1" is part of a series of paintings that Mondrian created during his time in New York, in which he attempted to capture the energy and vitality of the city. The painting features a grid of black lines and rectangles filled with bright colors, including yellow, red, and blue. The colors are arranged in a way that creates a sense of movement and rhythm, suggesting the bustling energy of the city.
Mondrian's use of primary colors and geometric shapes in "New York City 1" reflects his interest in the idea of universal harmony, which he believed could be achieved through art. By simplifying his compositions and using only basic shapes and colors, he sought to create a sense of balance and order that transcended individual cultures and histories.
"New York City 1" is considered a masterpiece of abstract art and is now held in the collection of the Gemeentemuseum Den Haag in the Netherlands. It remains a powerful example of Mondrian's innovative use of color and form to capture the spirit of a specific time and place.
4. Cold Morning on the Range – Frederic Remington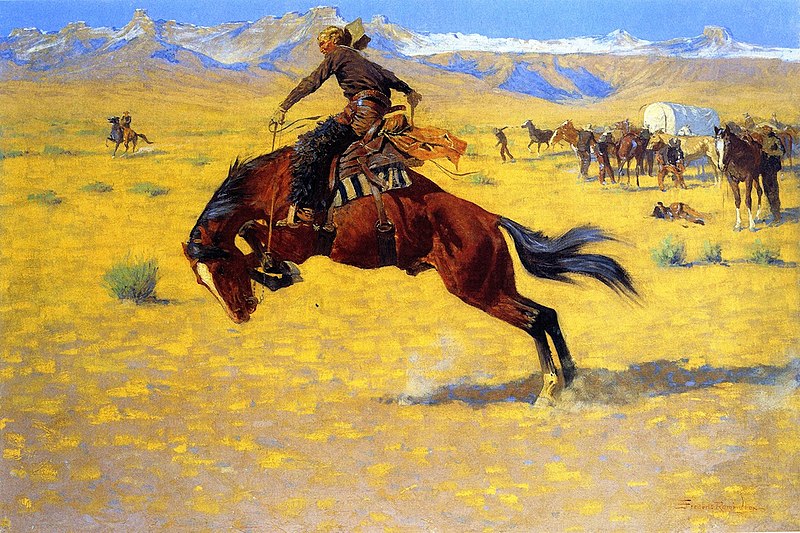 Cold Morning on the Range is a 1904 oil painting by the American artist Frederic Remington. The picture depicts a man riding a giant, brown, wild horse on the American frontier.
The horse is untrained, as evidenced by its leaping and generally unruly appearance. Several other men on horses may be seen in the background, perhaps on a livestock drive.
Mountains are also visible in the distance, leading the spectator to believe that this is the Goodnight-Loving Trail and that the mountains are a range of the Rocky Mountains.
Yellow predominates throughout the artwork to represent the desolate condition of the land. Remington intended to emphasize such ideas as independence and mastery of nature.
This 69-by-102-cm painting is currently on display in the American Museum of Western Art in Denver, Colorado.
5. Mound of Butter – Antoine Vollon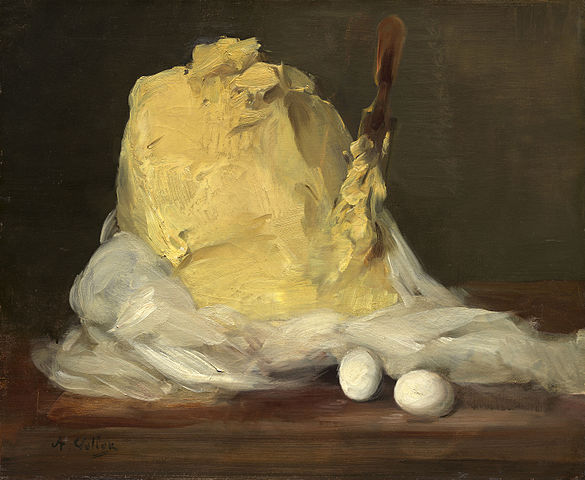 Mound of Butter is a still life painting depicting a mound of butter produced by the French realist artist Antoine Vollon between 1875 and 1885.
The artwork is on exhibit in the National Gallery of Art in Washington, D.C., and the New York Times has labeled it one of "Washington's Crown Jewels."
Throughout his career, Vollon was best known for his paintings of still life, which also featured landscapes and portraits. During his lifetime, he attained rockstar status as a member of the French Realist movement.
The image is an outstanding example of Vollon's still-life work, depicting a heap of butter in a rich, deep yellow tone (presumably from the carotene of the fresh plants that grazing cows commonly eat on barn fields). When Antoine Vollon was alive, it was common practice to purchase butter made by hand from a farmer.
Following milking, the cream is often collected, churned, and the butter lumps are kneaded by hand or massaged with a spatula to eliminate moisture, as large quantities of buttermilk would reduce its shelf life.
Traditionally, butter was stored in a cool location and wrapped in cheesecloth. In the artwork, the fabric of the butter mound is thrown over a pair of eggs next to it.
6. The Yellow House – Vincent van Gogh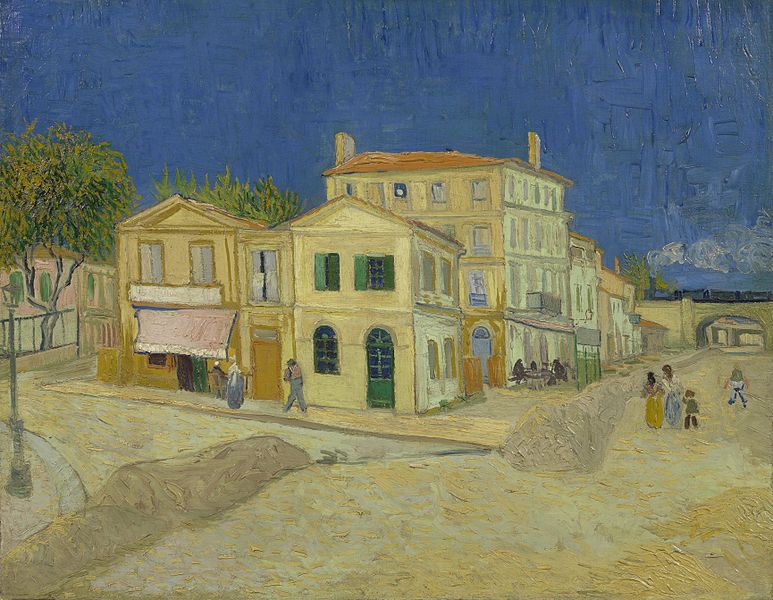 In May 1888, Van Gogh rented four apartments in a house on Place Lamartine in Arles (southern France).
In most of his prior life, he had rented single-room apartments, frequently in less-than-desirable locations.
The green shutters in this artwork of the plaza indicate where he resided. Van Gogh utilized the two large rooms on the ground floor as an atelier (workshop) and kitchen, in addition to the two smaller rooms on the first floor that faced Place Lamartine.
Van Gogh's guest room, where Paul Gauguin resided for nine weeks beginning in late October 1888, is the first-floor window with both shutters open that is closest to the building's corner. Behind the next window, with the shutters nearly closed, is Van Gogh's bedroom.
The Yellow House itself has been demolished. It was extensively damaged by air strikes during World War Two and subsequently dismantled. Currently, the location appears remarkably identical sans the home. A sign acknowledges its previous existence.
7. Impression III (Concert) – Wassily Kandinsky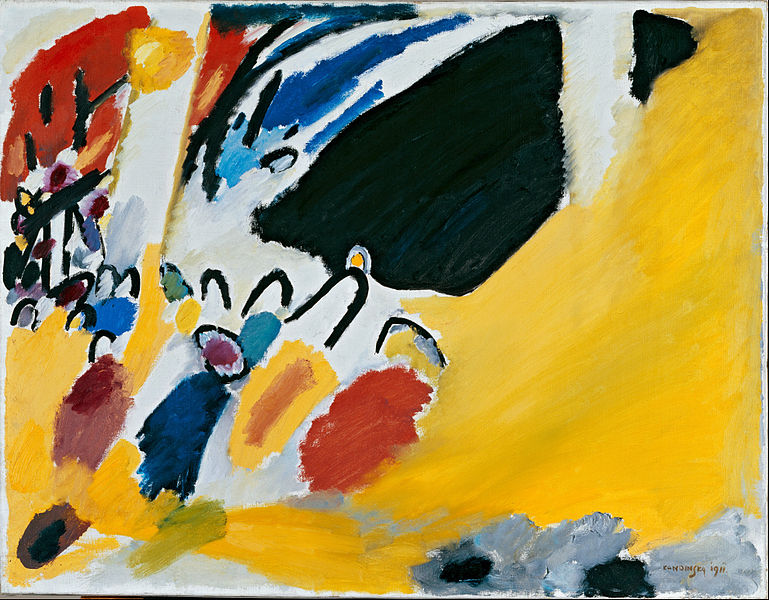 "Impression III (Concert)" is a painting by Russian artist Wassily Kandinsky, who is considered a pioneer of abstract art. Created in 1911, the painting is part of a series of works inspired by music and reflects Kandinsky's interest in synesthesia, a condition in which one sensory experience triggers another.
"Impression III (Concert)" features a colorful, abstract composition that suggests movement and energy. The painting is dominated by bright, contrasting hues of red, yellow, and blue, with thin black lines and shapes that add structure to the composition.
The title of the work suggests that it was inspired by a musical performance, and Kandinsky believed that the colors and shapes in the painting could evoke the same emotional responses as music.
Kandinsky's use of color and form in "Impression III (Concert)" reflects his interest in the idea of "inner necessity," which he believed could be achieved through art.
By focusing on the expressive power of color and form, he sought to create a visual language that could communicate universal human experiences and emotions.
8. The Yellow Cow – Franz Marc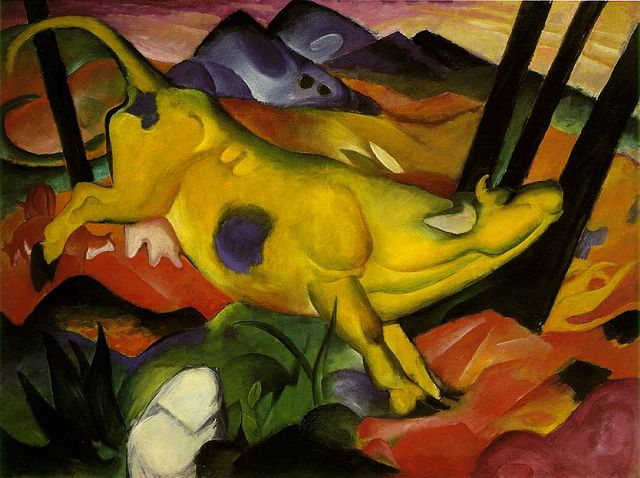 "Yellow Cow" is a painting by German artist Franz Marc, who was a key figure in the Expressionist movement.
Created in 1911, the painting is part of a series of works featuring animals that Marc created during his time with the Der Blaue Reiter (The Blue Rider) group, which included other prominent Expressionist artists such as Wassily Kandinsky.
"Yellow Cow" features a vibrant, stylized cow depicted in bright shades of yellow, orange, and red. The animal is set against a bold, blue-green background that creates a sense of depth and movement.
The use of bright colors and bold, curving lines gives the painting a sense of vitality and energy, reflecting Marc's interest in the spiritual and emotional qualities of art.
For Marc, animals represented a connection to nature and the primal, instinctive side of humanity. He believed that animals could help to create a sense of harmony and balance in an increasingly industrialized and mechanized world.
By depicting the cow in bold, vibrant colors, he sought to convey the animal's essential vitality and energy, as well as the spiritual qualities he associated with it.
9. The Yellow Christ – Paul Gauguin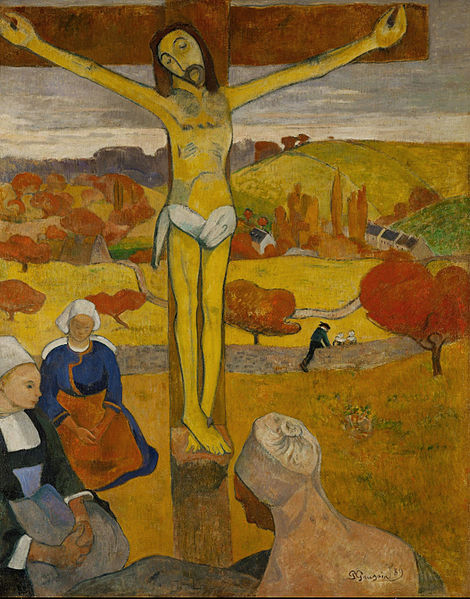 In 1889, near Pont-Aven, Paul Gauguin painted The Yellow Christ (Le Christ jaune). Among the most significant Symbolist works beside The Green Christ.
Gauguin made his first journey to Pont-Aven in 1886. Beginning in 1888, he returned to the area and remained there until the middle of October, when he left to join Vincent van Gogh in Arles. Gauguin remained in Pont-Aven until the following spring after returning there in the early months of 1889.
It depicts the crucifixion of Christ amid a group of devout Breton women in northern France around the nineteenth century. Gauguin's figures are delineated by sharp lines, while the female figures are shaded very gently.
The autumn palette of yellow, crimson, and green in Christ's figure reflects the season's palette of yellow, crimson, and green in the landscape. Cloisonnist paintings are distinguished by their flatness and strong figure shapes.
The Thyssen-Bornemisza Museum possesses a pencil sketch of The Yellow Christ, while Elizabeth F. Chapman gave the Art Institute of Chicago a watercolor version.
10. Young Woman Seated at a Virginal –
Johannes Vermeer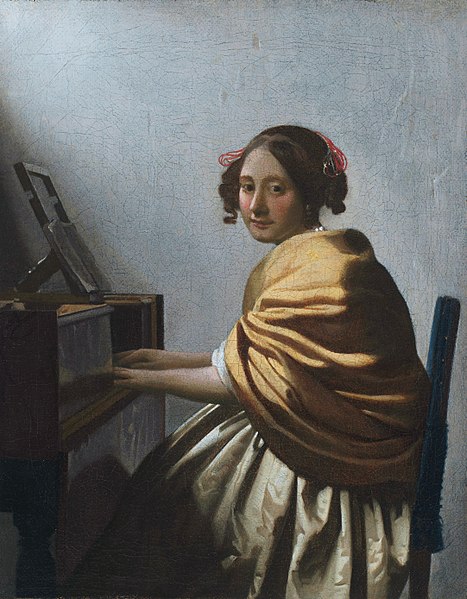 A Young Lady Sitting at the Virginals is a painting that is currently attributed to Johannes Vermeer, despite the fact that its authorship was long contested. Since 1993, a number of technological studies have confirmed the attribution.
It is currently part of the Leiden Collection in New York and is believed to be circa 1670. It is not synonymous with Young Woman. Vermeer's Virginal Sitting in the National Gallery in London.
The initial dimensions of the artwork were identical to those of Vermeer's Lacemaker. Evidence gained in the 1990s indicating the canvas was cut from the same bolt as the Lacemaker was supported by a later, more advanced examination.
The ground appears to be the same as in the two Vermeers owned by the National Gallery of London. X-ray analysis uncovered evidence of a pinhole at the vanishing point, which Vermeer routinely utilized in conjunction with a thread to create accurate perspective in his paintings.
The painting employs pigments in a manner typical of Vermeer, most notably the costly ultramarine component of the background wall.
In addition, the usage of green earth in the shadows is noteworthy. The usage of lead-tin-yellow indicates that the picture cannot be an imitation or forgery from the nineteenth or twentieth century.
Examining the cloak, which is sometimes described as the crudest element of the picture, reveals that it was painted over another clothing after a period of time had passed.
However, technical analysis conducted in advance of the Rijksmuseum's 2023 Vermeer exhibition reveals that the yellow shawl was painted by Vermeer.