Indigenous Australian art covers work created by Aboriginal and Torres Strait Islander peoples, as well as collaborations with others.
It contains works in a variety of mediums, such as painting on leaves, bark painting, wood carving, rock carving, watercolor painting, sculpture, ceremonial dress, and sand painting; art by Indigenous Australians dating back thousands of years, up to the current day.
Aboriginal art is made in a variety of styles and processes, including rock painting, dot painting, rock engravings, bark painting, carvings, sculptures, weaving, and string art. Australian Aboriginal art is the world's longest uninterrupted art tradition.
Rex Batterbee, an Australian painter, educated Aboriginal artist Albert Namatjira and other Aboriginal artists western style watercolor landscape painting at the Hermannsburg mission in the Northern Territory in 1934.
It became a popular style known as the Hermannsburg School, and the paintings sold out when they were shown in Melbourne, Adelaide, and other Australian cities. As a consequence of his reputation and popularity with his watercolor paintings, Namatjira became the first Aboriginal Australian citizen.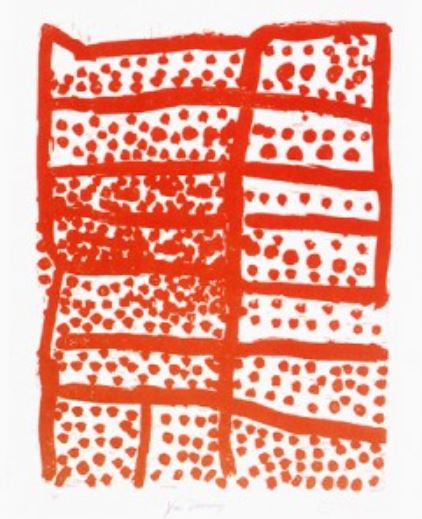 Geoffrey Bardon, an art instructor in Papunya, north-west of Alice Springs, encouraged Aboriginal people to paint their Dreamings on canvas in 1971–1972. These tales had earlier been scribbled on the desert sand and had now been given a more permanent shape.
The dots were utilized to conceal secret-sacred rituals. Initially, the Tula artists were successful in establishing their own firm, Papunya Tula Artists Pty Ltd, with an Aboriginal name.
However, disenchantment set in when artists were chastised by their peers for revealing too much of their holy heritage. Secret patterns limited to a ceremonial setting were suddenly on the market, making Australian Aboriginal art visible.
Much of the Aboriginal art on exhibit in tourist stores may be traced back to the Papunya style. Clifford Possum Tjapaltjarri was the most well-known artist to emerge from this movement.
Johnny Warangkula, whose Water Dreaming at Kalipinya sold twice at a record price, the second time for $486,500 in 2000, is also part of this trend.
Over 200 items and artworks are housed in the Papunya Collection at the National Museum of Australia, including examples of 1970s dot paintings.
Famous Aboriginal Artists
1. Emily Kame Kngwarreye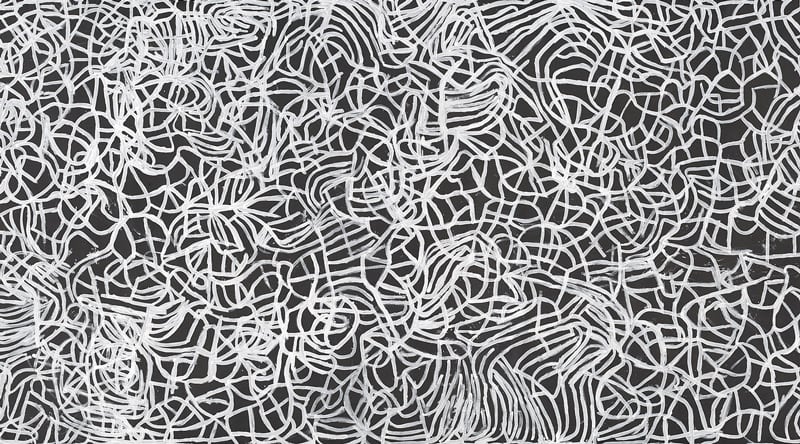 Emily Kame Kngwarreye (or Emily Kam Ngwarray) was an Aboriginal Australian artist from the Northern Territory's Utopia community who died in September 1996. She is widely considered as one of the most well-known and skilled artists in Australia.
Kngwarreye was a member of the Anmatyerre language group who was born on Alhalkere in 1910. (Utopia Station). The Anmatyerre and Alywarre peoples live in 20 small Aboriginal settlements in the eastern part of Central Australia, which is around 250 kilometers north-east of Alice Springs.
After almost a decade of working with the batik method, Kngwarreye began painting using acrylic on canvass in late 1988. She was a senior woman at the time, and over the next eight years, she created an incredible body of work that has endured and established her as one of Australia's greatest painters.
As an elder and ancestral protector, Kngwarreye had spent decades painting for ceremonial purposes in the Utopia region. The emergence of artists from this region is linked to the establishment of the Utopia Women's Batik Group in 1977. Batik making started as a group effort, but as time went, individual artists developed their own unique styles.
She and 20 other women were taught tie-dye, block painting, and batik methods at Utopia Station's adult education programs. Kngwarreye was a founder member of this group, which transitioned to acrylic
2. Minnie Pwerle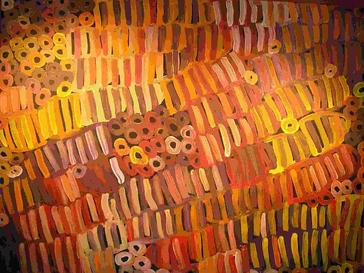 Minnie Pwerle (born between 1910 and 1922 – 18 March 2006) was an Aboriginal artist from Australia.
She comes from Utopia, Northern Territory (Unupurna in local language), a cattle ranch in Central Australia's Sandover region 300 kilometers (190 miles) northeast of Alice Springs.
Minnie started painting at the age of 80 in 2000, and her images quickly became prominent and sought-after works of modern Indigenous Australian art.
Minnie's paintings were shown across Australia and acquired by major institutions, including the Art Gallery of New South Wales, the National Gallery of Victoria, and the Queensland Art Gallery, from the time she began painting on canvas until her death in 2006.
With her prominence came the pressure from people who wanted to buy her art. She was supposedly "kidnapped" by someone who wanted her to paint for them, and her work has been faked, according to media sources.
Minnie's art is often likened to that of her sister-in-law Emily Kame Kngwarreye, who also hails from Sandover and began painting in acrylics later in life. Barbara Weir, Minnie's daughter, is a well-known artist in her own right.
3. Albert Namatjira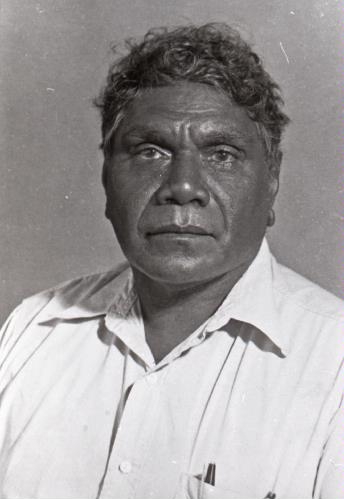 Albert Namatjira (born Elea Namatjira; 28 July 1902 – 8 August 1959) was an Arrernte painter from the MacDonnell Ranges in Central Australia. He is widely considered as one of Australia's greatest and most influential artists.
As a pioneer of contemporary Indigenous Australian art, he was possibly one of the most well-known Indigenous Australians of his day. He was Australia's first well recognized Aboriginal artist.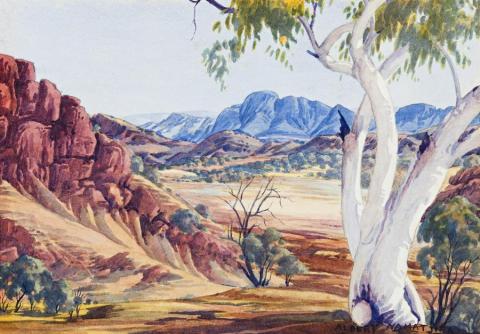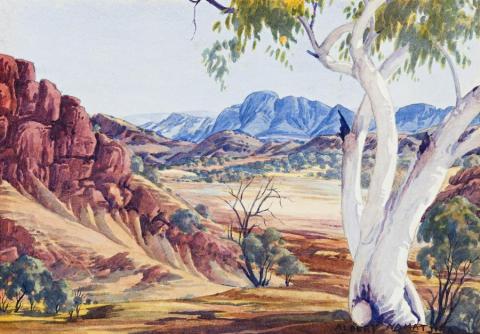 In 1956, William Dargie's photograph of Namatjira became the first to win the Archibald Prize for an Aboriginal individual. Namatjira was awarded the Queen's Coronation Medal in 1953, and he was commemorated on an Australian postage stamp in 1968.
4. Dorothy Napangardi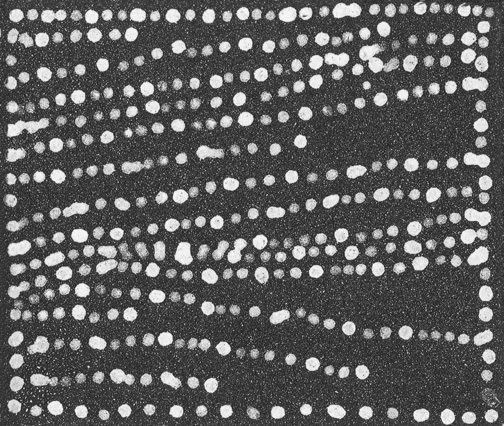 Dorothy Napangardi (born early 1950s – 1 June 2013) was a modern Indigenous Australian artist who was born in the Tanami Desert and worked in Alice Springs.
She grew raised in Yuendumu, a settlement town, and lived the most of her life in Alice Springs, where she started painting in 1987.
She had limited formal education but was taught about her people's historical Dreaming. The term 'Dreaming' is an imperfect English translation of the Warlpiri word 'Jukurrpa,' which narrates the origins and migrations of ancestral creatures in the land and marks holy sites where the spirits live.
In general, the Jukurrpa theme is one of the inseparability of the individual from the environment, and it commonly incorporates journey over the land.
These are ideas that can also be seen in Napangardi's work, which has a plethora of crossing lines that convey spiritual significance and emotive depth.
"To me, Dorothy's art is like Yapa (people) flowing through and over their nation, traveling through their paths when they go traveling," a Warlpiri speaker said in a catalogue of Napangardi's work.
On June 1, 2013, Napangardi was killed in an automobile accident.
5. Rover Thomas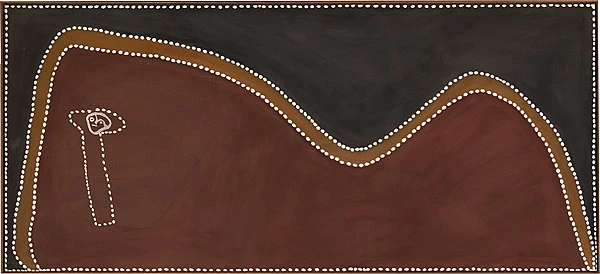 Rover Rover Thomas, also known as Thomas Joolama (c.1926 – 11 April 1998), was an Aboriginal Australian artist.
Rover Thomas was born in 1926 in Gunawaggii, at Well 33 on the Canning Stock Route in Western Australia's Great Sandy Desert.
At the age of ten, Thomas and his family relocated to the Kimberley, where he started working as a stockman, as was customary at the time. Thomas resided in Turkey Creek later in his life.
In 1977, Thomas and his Uncle Paddy Jaminji began painting dancing boards on dismantled tea chests for the Krill Krill event.
Thomas began painting ochre on canvas in the early 1980s and quickly became a pioneer artist of what became known as the East Kimberley School.
Many East Kimberley artists, including Queenie Mckenzie, Freddie Timms, and Paddy Bedford, were inspired by him.
In 1994, he was the focus of the significant solo exhibition Roads Cross: The Paintings of Rover Thomas, which was shown at the National Gallery of Australia in Canberra.
Thomas' work was one of eight solo and collaborative groups of Indigenous Australian artists shown at Russia's famed Nicholas Hall at the Hermitage Museum in 2000.
6. Clifford Possum Tjapaltjarri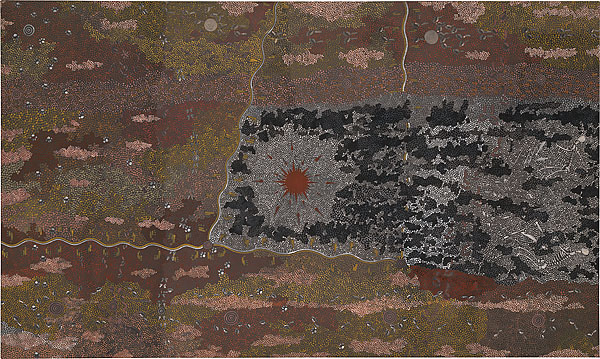 Clifford Possum Tjapaltjarri (1932–21 June 2002) was a well-known and well-collected Australian Aboriginal artist.
His works may be found in galleries and collections across the world, including the Art Gallery of New South Wales, the National Gallery of Australia, the Kelton Foundation, and the Royal Collection.
Following his father's death in the 1940s, his mother married Gwoya Jungarai, better known as One Pound Jimmy, whose portrait appeared on a popular Australian postage stamp. Tim Leura Tjapaltjarri, whose artwork appears on another stamp, was his brother.
Possum was the most well-known of the current painters who resided in the Papunya region of the Northern Territory's Western Desert when the acrylic painting technique (popularly known as "dot art") was introduced.
In the early 1970s, Geoffrey Bardon visited Papunya and encouraged the Aboriginal people to paint their dreaming tales, which had previously been rendered ephemerally on the ground.
He rose to prominence as one of the forefathers of the Western Desert Art Movement, a school of painting. Possum belonged to the Anmatyerre culture-linguistic group, which lived in the Alherramp (Laramba) village.
Clifford Possum Tjapaltjarri passed away in Alice Springs on the day he was to be awarded the Order of Australia for his services to art and the Indigenous community.
His obituaries, which appeared in newspapers all across the globe, referred to him as Clifford Possum and estimated his age to be roughly 70.
7. Queenie McKenzie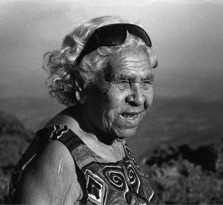 Queenie McKenzie (Nakarra) was an Aboriginal Australian artist who lived from 1915 until 1998. She was born on Old Texas Station, on the Ord River's western bank in East Kimberley.
McKenzie was in danger of being removed from her home by the government throughout her childhood, as were many other Aboriginal children of mixed ancestry at the time.
Her mother, on the other hand, supposedly prevented her child's displacement by blackening her complexion with charcoal, and the little girl grew up working for the stockmen of the Texas Downs cattle ranch.
McKenzie was helped by the Waringarri Aboriginal Arts Corporation, which was established to guarantee that Aboriginal art is respected in terms of copyright and moral rights, and that Aboriginal artists be appropriately compensated for their work.
A painting by McKenzie portraying the Mistake Creek Massacre was purchased by the National Museum of Australia in 2005, but it was never mounted owing to debate regarding the facts of the event, which was part of the History Wars.
It will be on display at the Museum beginning in July 2020 as part of a new exhibition titled "Talking Blak to History."
8. Lin Onus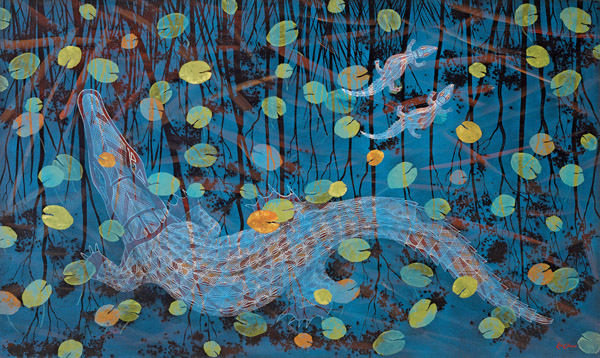 Lin Onus AM, born William McLintock Onus, was an Australian artist of Scottish-Aboriginal ancestry who died on October 23, 1996.
William McLintock Onus was born in Melbourne on December 4, 1948, to Yorta Yorta father William and Scottish mother Mary Kelly.
In the 1950s and 1960s, Onus attended Deepdene Primary School and Balwyn High School in Melbourne, Victoria. He was essentially a self-taught urban artist who, after being expelled from Balwyn High School for fighting, worked as a mechanic and spray painter before working for his father's firm, Aboriginal Enterprise Novelties, manufacturing items for the tourist industry.
Onus rose to prominence as a painter, sculptor, and printer. In 1994, his artwork Barmah Forest received the national Aboriginal Heritage Award in Canberra.
Onus's paintings often include symbolism from Aboriginal traditions of painting, as well as recontextualization of current creative aspects.
His paintings include evocative depictions of his father's home country's Barmah red gum woods, as well as the usage of a rarrk cross-hatching-based painting technique that he learnt (and was granted permission to use) when visiting the Indigenous villages of Maningrida in 1986.
"Michael and I am just sneaking out to the bar for a minute", his most renowned painting, has been published on a postcard and is a reference to his colleague, artist Michael Eather.
The picture depicts a dingo riding on the back of a stingray, which is supposed to represent the unification of his mother's and father's cultures. The picture of the wave is based on Katsushika Hokusai's work, The Great Wave of Kanagawa (1832).
9. Mick Namarari Tjapaltjarri
Mick Namarari Tjapaltjarri (b.c.1926 in Marnpi, southeast of Kintore, Northern Territory – 1998) was a Western Desert painter of great importance.
Mick Namarari, a member of the Pintupi linguistic group, was one of the founding painters of the Papunya Tula movement. Geoffrey Bardon, a white schoolteacher, saw him as one of eight artists whose contributions to the movement's inception were especially noteworthy.
Old Walter Tjampitjinpa, Kaapa Tjampitjinpa, Clifford Possum Tjapaltjarri, Tim Leura Tjapaltjarri, Tim Payungka Tjapangati, Charlie Tarawa Tjungurrayi, and Johnny Warrangkula Tjupurrula were the others.
He progressed from figurative to huge geometric patterns that characterised Papunya Tula art in the late 1970s and early 1980s.
In the 1990s, he started creating "minimalist" paintings depicting kangaroo imprints in the sand, seeds that the marsupial mouse feeds on, or the aftermath of hailstorms in the desert.
10. Wenten Rubuntja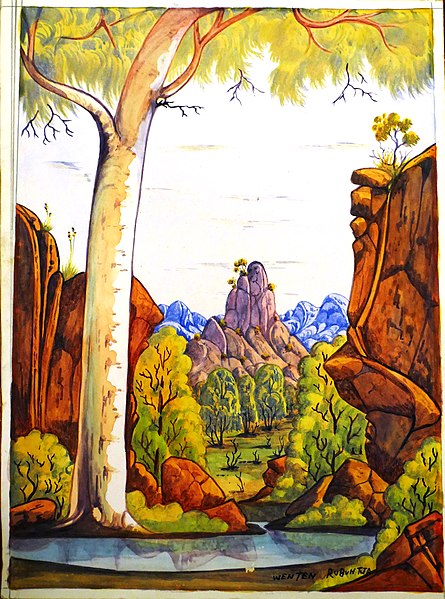 Wenten Rubuntja AM (c. 1923 – 2005) was an Australian artist, campaigner for Aboriginal rights, and historian.
Wenten was born in the town of Bart's Creek, some 56 kilometers north of Alice Springs. In 1975, members from Central Australian Aboriginal communities chose Charlie Perkins as the inaugural head of the Central Land Council, and Wenten Rubuntja as his deputy.
Mr Rubuntja was also a well-known artist, working in both the desert "dot" style and the westernised landscape style, influenced by his uncle, the great watercolour artist Albert Namatjira.
His work may be found in the National Gallery of Australia, the Robert Holmes a Court collection, the Northern Territory Gallery, and the Araluen Collection in Alice Springs.
Rubuntja was awarded an Order of Australia Member in 1995 for "service to Aboriginal people, notably in Central Australia."