Jean-Michel Basquiat (December 22, 1960 – August 12, 1988) was an American artist who came to prominence during the Neo-expressionist movement in the 1980s.
Basquiat rose to prominence as part of the graffiti duo SAMO, along with Al Diaz, penning cryptic epigrams on Manhattan's Lower East Side during the late 1970s, when rap, punk, and street art collided to form early hip-hop music culture.
By the early 1980s, Basquiat's paintings were being shown in galleries and museums all over the world.
At the age of 21, Basquiat became the youngest artist ever to participate at Documenta in Kassel. He was one of the youngest artists to show in the Whitney Biennial in New York, at the age of 22. In 1992, the Whitney Museum of American Art featured a retrospective of his work.
Also Read: Facts About Jean-Michel Basquiat
Basquiat's paintings contrasted luxury and poverty, integration and segregation, and inner vs outside experience. He appropriated poetry, drawing, and painting, marrying word and image, abstraction, figuration, historical knowledge, and modern criticism.
Basquiat's artwork employed social criticism as a tool for reflection and connecting with his experiences in the Black community of his period, as well as assaults on power structures and racist institutions.
His visual poetry was sharply political and straightforward in its condemnation of colonialism and support for class struggle.
Basquiat's art has continuously gained in value since his death at the age of 27 from a heroin overdose in 1988.
Untitled, a 1982 artwork by Basquiat portraying a black skull with red and yellow rivulets, sold for $110.5 million at a Sotheby's auction in May 2017, becoming one of the most expensive paintings ever acquired. It also established a new auction record for an American artist.
Jean-Michel Basquiat Famous Paintings
1.

Untitled (1982)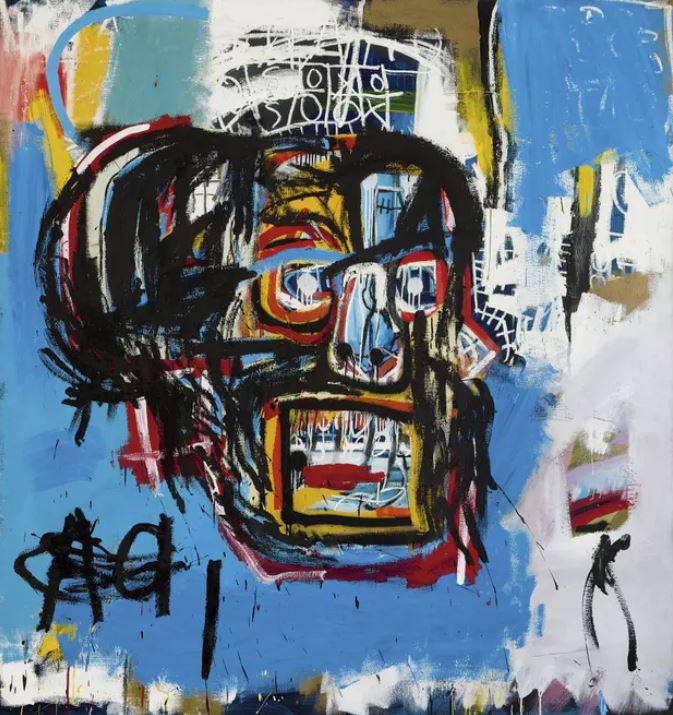 Untitled is a 1982 artwork by Jean-Michel Basquiat. The picture, which shows a skull, is one of the most expensive pieces of art ever acquired. It sold for $110.5 million at Sotheby's in May 2017, the highest price ever paid at auction for a work by an American artist.
Jean-Michel Basquiat executed Untitled in 1982, which is regarded as his most significant year. The bulk of the most expensive Basquiat paintings sold at auction come from 1982. Untitled is a painting of a skull made out of black brushstrokes with red, yellow, and white rivulets on a blue backdrop. It was initially priced at $4,000 in 1982.
The Annina Nosei Gallery in New York owned it until selling it to Phoebe Chason, who sold it to Alexander F. Milliken in 1982. It hadn't been seen in public since Jerry and Emily Spiegel bought it at Christie's in 1984 for $20,900.
The picture was auctioned off at Sotheby's in May 2017 to Japanese businessman and art collector Yusaku Maezawa for $110.5 million, greatly above the pre-sale estimate of $60 million.
Basquiat, who was 21 years old when he created Untitled, is the youngest artist to have sold a painting for more than $100 million. It is also the first piece created after 1980 to fetch more over $100 million.
It was on display at the Brant Foundation in New York during the Jean-Michel Basquiat exhibition from March to May 2019.
2.

In Italian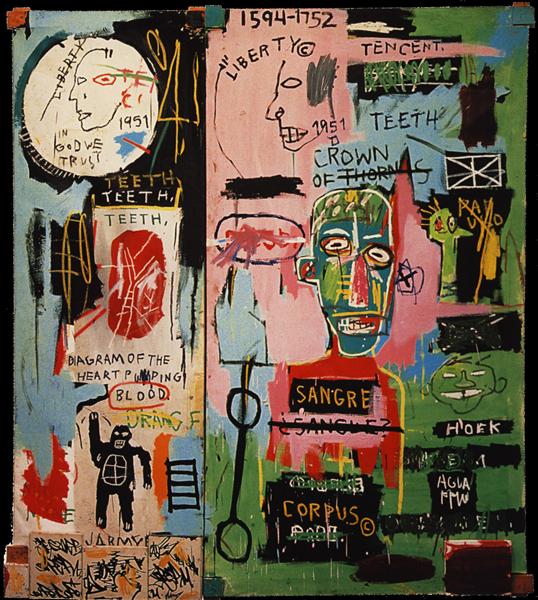 Basquiat gained to popularity in the 1980s with his neo-expressionist paintings, but his oeuvre truly started in the mid-1970s with the street art he created on New York City's Lower East Side.
There he created his improvisational approach, which incorporates symbols and allusions from a variety of sources, including music, religion, and history, as well as cultural and political commentary, to investigate the meaning of being African American in current culture.
His well-known words and symbols, such as "crown of thorns," "corpus," and pictures of human anatomy, are found in In Italian and refer to some of the key issues involving the person, religion, and mortality.
3.

Warrior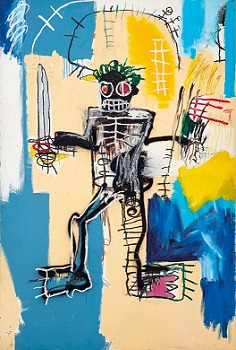 Warrior is a 1982 artwork by Basquiat and is described as a "semi-autobiographical piece that champions his artistic vision as a black artist."
The painting sold for $41.8 million at Christie's in Hong Kong in March 2021, making it the most expensive Western artwork ever sold at auction in Asia.
Warrior was painted by Jean-Michel Basquiat in 1982, a watershed moment in his career. He held his first solo show in the United States at the Annina Nosei Gallery in New York, and he was the youngest artist ever to participate in documenta in Kassel.
Basquiat subsequently remarked that in 1982, his most valuable year, he "produced the finest paintings ever."
Warrior was painted on a wooden panel at Basquiat's basement studio at the Annina Nosei Gallery. On a yellow and blue patched background, the picture portrays a powerful gladiator holding a sword, signifying the eponymous fighter.
Warrior initially debuted in a solo show at Tokyo's Akira Ikeda Gallery in 1983. It was shown in exhibits in Paris, Vienna, and Milan throughout the next several decades.
Sotheby's sold it for $1.8 million in 2005 and $5.6 million in 2007. Aby Rosen, a German-American real estate entrepreneur and art collector, paid $8.7 million for the artwork at Sotheby's in 2012.
Warrior sold for $41.7 million in March 2021 in a live-streamed Christie's auction in Hong Kong, setting a new auction record for the highest price paid for a Western artwork in Asia.
4.

Dustheads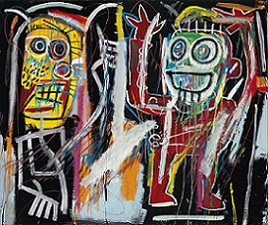 Dustheads was created in 1982. It sold for $48.8 million at Christie's in May 2013, setting a record for a Basquiat artwork sold at auction at the time.
Dustheads features two drug junkies on angel dust as frantic glowing figures set against a dark background.
In May 2013, billionaire Jho Low paid $48.8 million for it at Christie's, setting the record for the most expensive Basquiat artwork sold at auction at the time.
Low sold Dustheads at a loss for $35 million in 2016, amid a government probe into assets allegedly purchased with cash stolen from the 1Malaysia Development Berhad development fund.
5. In This Case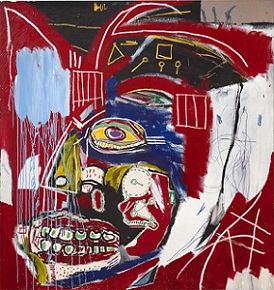 In This Case is a 1983 artwork by Jean-Michel Basquiat. The picture, which shows a skull, is one of the most expensive pieces of art ever acquired. It sold for $93.1 million at Christie's New York in May 2021, the artist's second best auction record.
Jean-Michel Basquiat had already achieved worldwide renown for his neo-expressionist paintings by the time he completed In This Case in 1983, at the age of 22. The six-by-six-foot canvas piece has a "huge skull head placed against a ruby-red backdrop, with a burning eye, projecting green fangs, and fragmented anatomy."
Between 1981 and 1983, In This Case was the last in a series of enormous skull paintings. The first, Untitled (Skull) (1981), was purchased by Eli and Edythe Broad a year after it was completed and is currently on display at The Broad Museum in Los Angeles.
The second, Untitled (1982), was sold at Sotheby's in 2017 for $110.5 million, the highest price paid for an American artist at auction.
A Basquiat retrospective showcasing the trinity of skull paintings appeared at the Louis Vuitton Foundation in Paris in 2018. The savagery they bring to their upending of the vanitas makes these works among his most startling.
6.

La Hara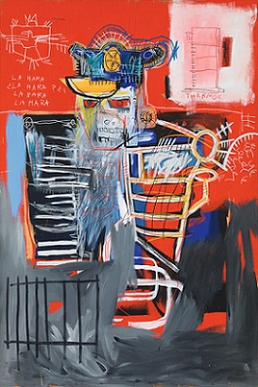 La Hara is a 1981 Basquiat painting that shows a skeleton police officer which sold for $35 million at Christie's in May 2017.
Jean-Michel Basquiat painted La Hara in 1981, a watershed point in his career from a street artist to an art world superstar. He started working in the basement of Annina Nosei's SoHo gallery, where La Hara was executed. This period's paintings by Basquiat are regarded his most valued.
La Hara is one of Basquiat's rare paintings depicting white males. A terrifying white skeleton figure wearing a peaked hat is seen against a crimson backdrop in the artwork. Throughout the artwork, Basquiat uses vibrant colors and designs.
During the 1940s and 1950s, it was a frequent surname among New York police officers. The painting's bottom is gray with steel prison cell bars.
The picture originally appeared at auction in 1989, when it sold for $341,000 at Sotheby's. It was then sold privately to Steve Cohen, an American businessman and art collector.
In May 2017, the artwork sold for $35 million at Christie's post-war and contemporary art auction, above the pre-sale estimate of $28 million.
7.

Untitled (Boxer)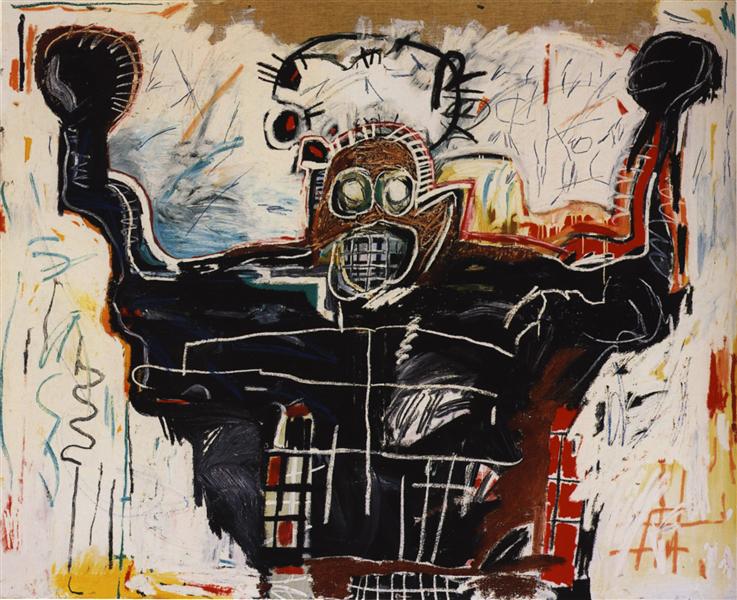 Untitled (Boxer) is a monumentally sized artwork by Basquiat depicting a boxer, a champion of epic proportions, and a figurative self-portrait of Basquiat as a rebellious warrior.
The piece was painted in 1982, the year Basquiat reached the pinnacle of his strength as a young painter at the age of twenty-two, and it portrays the artist at his most ambitious.
Looking back on that year, Basquiat boasted, much like a prizefighter, "I painted the finest paintings ever."
8.

Hollywood Africans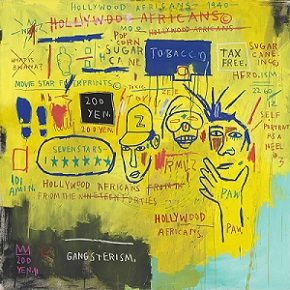 Basquiat made the picture Hollywood Africans in 1983. Basquiat's artwork is a reaction against the representation of African Americans in the entertainment industry.
A self-portrait of Jean-Michel Basquiat and his buddies painters Toxic and Rammellzee is set on a beautiful yellow background in the midst of Hollywood Africans. Basquiat's birthday is shown by the figures 12, 22, and 60 in the top right corner.
Basquiat crossed out various words and phrases, as he often did in his works. He said that this was done to draw attention to them, saying, "I cross out words so you notice them more; the fact that they are hidden makes you want to read them."
Hollywood Africans is part of the Whitney Museum of American Art's permanent collection in New York. It was on display at the Barbican Centre in London in 2017 as part of Basquiat: Boom for Real.
The artwork will be on display at the Museum of Fine Arts, Boston in 2020 as part of the exhibition Writing the Future: Basquiat and the Hip-Hop Generation.
9.

Charles the First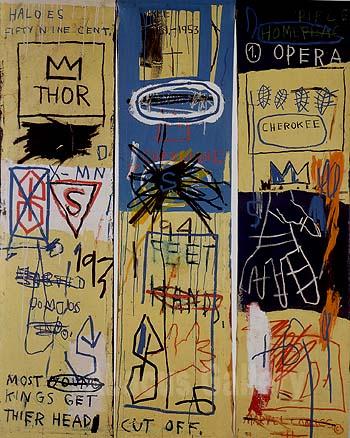 Charles the First is a 1982 picture that was inspired by jazz musician Charlie Parker and used as the inspiration for rapper Jay-2010 Z's song "Most Kingz."
Charles the First was executed in 1982, which was a watershed moment in Basquiat's skyrocketing career. The picture is a tribute to jazz musician Charlie Parker, sometimes known as "Bird," who was a pivotal influence in the creation of bebop.
Basquiat told The New York Times Magazine in 1985: "I've dreamed of being a celebrity since I was seventeen. I'd think about all my idols, like Charlie Parker and Jimi Hendrix… I had a romantic notion of how these folks got to be renowned."
Similarly like Parker, Basquiat suffered with heroin addiction and died at the age of 27 like Hendrix.
10.

Irony of Black Policeman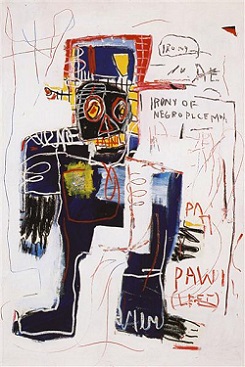 Irony of a Black Policeman is a 1981 artwork by American artist Jean-Michel Basquiat. It shows a black person as a police officer, but Basquiat felt the concept of the "Black Policeman" to be particularly humorous.
Jean-Michel Basquiat had made the leap from street artist to gallery artist by 1981. Basquiat joined the Anina Nosei Gallery in New York, and Nosei gave him studio space in the gallery's basement, where he produced some of his most notable pieces, including Irony of a Black Policeman. In 2012, the artwork sold for $12.6 million at a Phillips Contemporary Art auction.
The figure in the artwork portrays the dictatorial black mass: a black guy clothed in a midnight blue police outfit. The cap that frames the policeman's head resembles a cage, and it depicts what Basquiat feels are the confined independent perspectives of African-Americans at the period, as well as the policeman's own perceptions inside white culture.
One of the most essential subjects in Basquiat's work was race. He frequently centered his artwork on the black figure because, as he observed, "Black people are never really shown truthfully in…I mean, not even in contemporary art sufficiently."
However, Basquiat suggests irony in that the oppressed is donning the oppressor's uniform.