You already know that bridges are built to provide passage over obstacles, including water bodies and valleys. The truth is, bridges can play many roles, including beautification, allowing pedestrian traffic, and easy navigation below.
Venice is a beautiful city widely known for its architecture and bridges. These bridges are either girder or arch types. Yet, regardless of the type, they have become unique tourist attraction points for most people.
Venice boasts a wide selection of incredible bridges running over its waterways. The following ten options stand out.
Famous Bridges in Venice
1. Rialto Bridge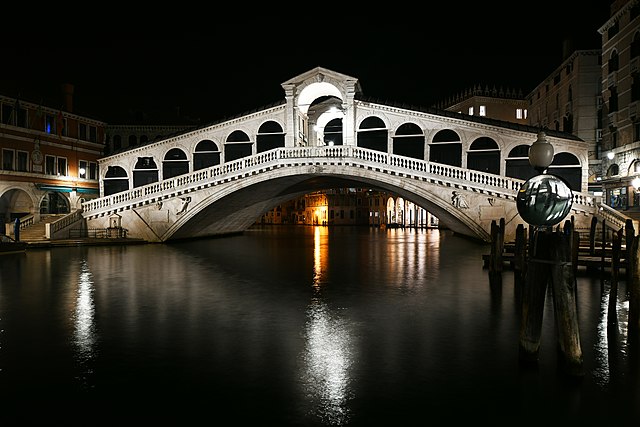 Rialto Bridge is among the oldest bridges on Venice's Grand Canal. It is an arched bridge made of stone and divides San Polo and San Marco districts.
Rialto Bridge comprises three stairs on the central, south, and north sides. The main stairs are home to multiple shops and vendors, easily distracting you from the iconic view of the Grand Canal.
Also Read: Famous Landmarks in Venice
In contrast, the north and south stairs provide unrivaled scenes, ensuring an immersive experience when crossing the Grand Canal.
Rialto Bridge's stairs are all crowded. Yet, they offer perfect spots for memorable photos. They are also lined up with multiple shops to purchase your souvenirs.
This overpass has also acted as the financial artery of Venice for a while. It is among the leading commercial hubs in the city, providing sufficient revenue through tourist attractions.
2. Bridge of Sighs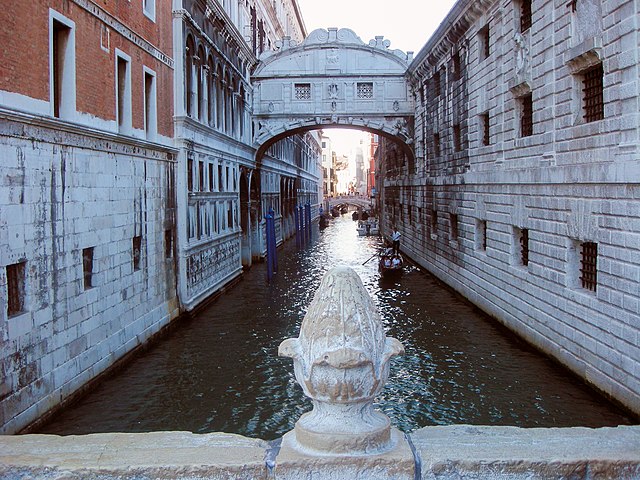 Also known as Ponte de Sospin, the Bridge of Sighs is a beautiful overpass over Rio di Palazzo, connecting the New Prison to the interrogation rooms in the Doge's Palace.
You might need to carefully plan your trip to this bridge to avoid the crowds, as its photogenic design makes it a popular tourist site. Between the backdrop of your photo, a lagoon will appear.
The architecture of this bridge is fantastic. Antonio Contino designed it and used white limestone to construct it. While it has an arched design, it is not open air like most bridges in the region.
Also Read: Famous Bridges in Venice
It features two narrow hallways in its interior, ensuring that prisoners entering and leaving the facilities do not meet.
The Bridge of Sighs has inspired art, which has helped spur its popularity. Multiple films, paintings, and books draw their motivation from this piece of architecture.
3. Ponte della Costituzione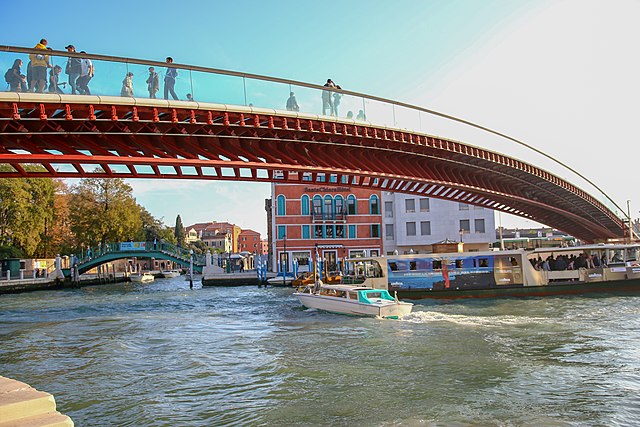 Ponte Della Constituzione is among the newer bridges over the Grand Canal. Santiano Calatvara designed this truss bridge, which was opened in 2008.
Its unique design required glass paving to provide an anti-slippery upper surface. However, this surface has worn out over time, making it slippery for some public users.
Various activities suffice around this bridge, from shopping to nightlife. Multiple shops and vendors are lined up around the bridge, guaranteeing an excellent source of souvenirs. There are also numerous hotels around the region, making it easier to access the destination when necessary.
While it is an incredible sight, Ponte Della Constituzione is not very crowded. For this reason, you can visit it at any time of the year. However, you can expect an increase in the number of people on the bridge during peak tourist seasons.
4. Ponte degli Scalzi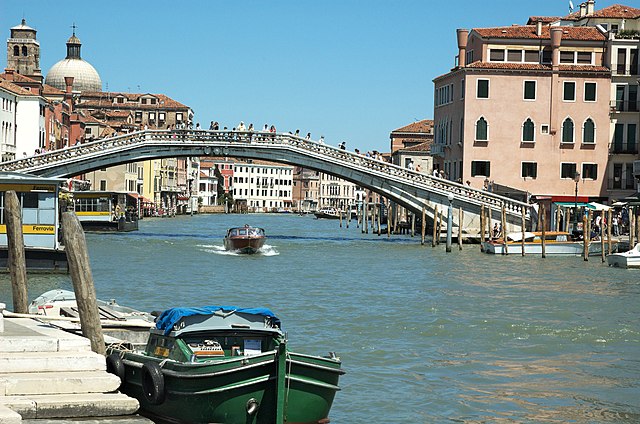 Here is yet another incredible bridge spanning across the Grand Canal. It is an excellent tourist site for people who want to enjoy the scenic view of the Grand Canal unobstructed. This famous arch bridge connects Cannaregio to Santa Croce.
You can visit the northern or the southern side of this bridge. On the north side is Cannaregio, the largest district in the region with a bustling Santa Lucia train station. Santa Croce is on the south side, a bustling religious area.
Also Read: Paintings in Venice
This bridge was built in the 19th century to boost pedestrian mobility. Yet, it has developed into an attractive commercial and tourist site. Its neoclassical architectural design blends with the surroundings, making it ideal for incredible photos.
Ponte Degli Scalzi is a perfect sightseeing bridge. Besides its scenery, it boasts a fully-fledged commercial hub that allows for shopping and nightlife. While the bridge is high, you can access boats to take you around.
5. Ponte dell'Accademia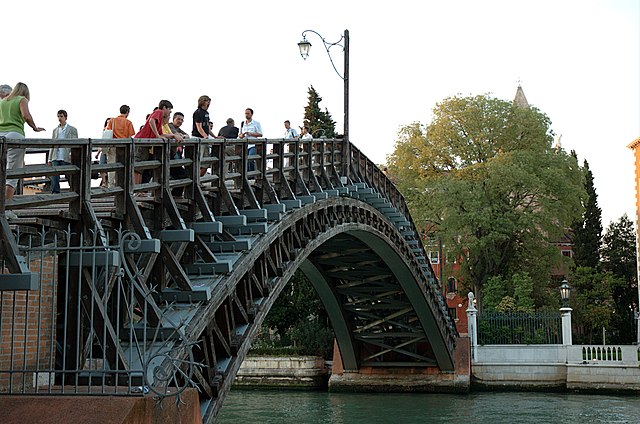 Suppose you want to visit an elegantly designed wooden footbridge. In that case, the Ponte dell'Accademia will be a worthwhile choice.
Its classic beauty and panoramic views have helped spur its popularity over the years. For instance, taking a photo on this bridge provides a backdrop of the Laguna and Santa Maria de Salute.
This bridge was the first to be constructed over the Grand Canal in the 20th century. Its central role was to ease pedestrian mobility after the train station was built in the region. Ponte dell'Accademia connects the city center to the district of Dorsoduro. Dorsoduro is home to fine arts, thanks to the Academy of Fine Arts.
This bridge is the primary connection to the Gallerie dell'Accademia, a beautiful Venice museum famous for its incredible paintings. It also provides access to the Santa Maria del Salute church and the Peggy Guggenheim Museum.
6. Ponte della Paglia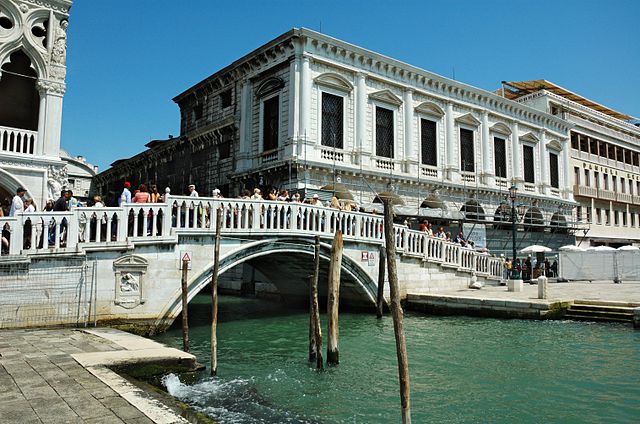 Ponte della Paglia is a famous bridge in Venice located behind Palazzo Ducale, near Rio di Palazzo. It is home to a small shrine called the Madonna of Gondoliers. This shrine depicts a gondola with a covered seat area.
It is famous for its scenic views, particularly the unobstructed view of the Bridge of Sighs.
In addition, it provides you with some of the most fantastic sights of the town during summer and when the sun sets behind the Santa Maria della Salute church.
7. Ponte della Libertà
Also referred to as the Liberty Bridge, Ponte della Liberta is one of the longest bridges in the city. It measures approximately 2.4 miles. Notably, it is the only bridge that connects the mainland and the Venetian archipelago. The idea was to create a railway bridge to allow easier transportation of people and goods between these two places.
The highway bridge runs side by side with the initial crossing that was first opened in 1933. It provides an excellent view of the Venetian lagoon and the city center.
There are various points of interest you can consider visiting Ponte della Liberta. For instance, the Venetian Arsenal is worth going to. It is home to museums and chapels that have a rich history. The Venetian boats in this region will help you easily tour the place. Above all, accessing this bridge from both sides is effortless.
8. Ponte delle Guglie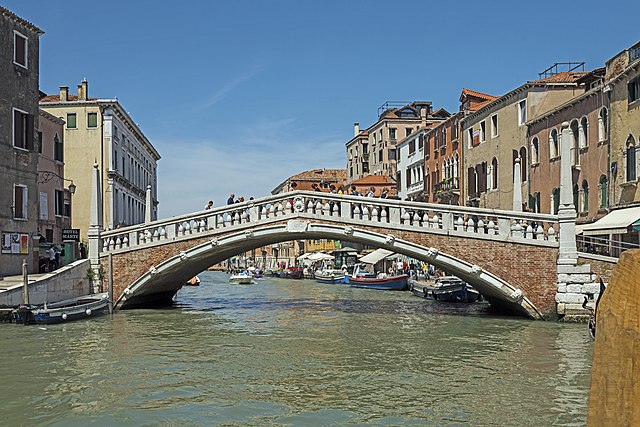 Ponte della Guglie is an incredible bridge that spans the Cannaregio Canal. It sits on the western side of the canal near the Venezia Santa Lucia railway station. This stone and brick bridge replaced the initial wooden bridge, which was built in 1285.
Over the years, it has undergone significant renovation and modernization, strengthening it and making it more attractive.
This bridge is famous for its four spires, highlighting its unique design. While they were added in the 20th century, these spires are on each of the four corners. In addition, this arched bridge has carved balustrades that border each side.
The initial aim of the Ponte della Guglie was to enhance passenger mobility. However, this has slowly gravitated to being a tourist attraction offering scenic views of the city and the Cannaregio Canal.
9. Ponte dei Pugni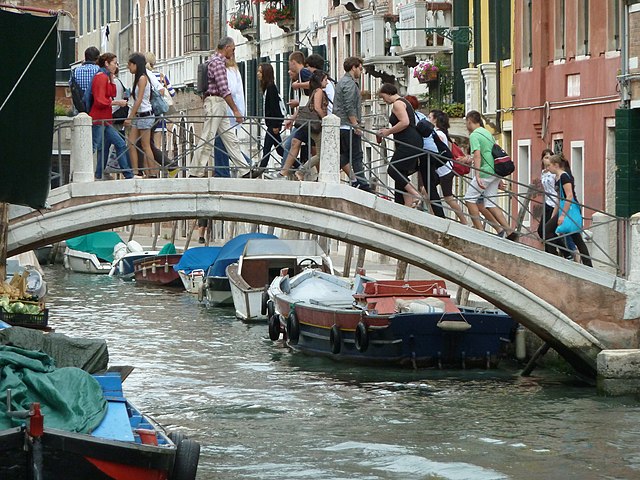 Ponte dei Pugni is a famous Venice bridge associated with incredible fights and fist matches. It is located in the district of Dorsoduro, near Campo San Barnaba.
The top of the bridge highlights four footprints, marking the fighters' starting position when invaders or rivals attack. Its popularity rose because of the rivalry between the Castellani and the Nicolotti clans. However, this tradition ended after the bloodbath of 1705.
Next to the bridge sits a big boat that sells fresh fruit and vegetables. You can also shop in the shops or vendors around the place.
At the same time, visiting the Church of San Barbara near the bridge will be worth it. You could also consider the Library of Indiana Jones, particularly if you are a longtime fan of this famous cinema character.
10. Ponte delle Tette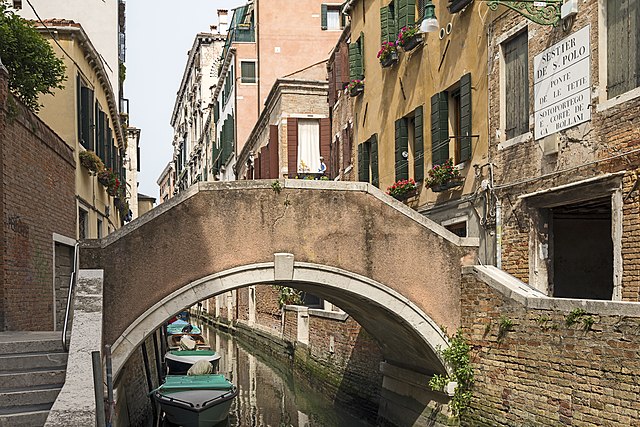 Ponte delle Tette enjoys a spicy history, making it one of Venice's best places to visit. Its name literally translates to the Bridge of Tits, perhaps because it is in a previously brothel-packed region. Some historians suggest that the term was used to encourage prostitution in the area. In turn, this move would help curb homosexuality.
While this bridge is considered small, it is central to the enhanced pedestrian mobility in Venice's former Red Light district.
This bridge is not widely known outside Venice. Yet, it boasts a rich history. Initially, it helped raise enough taxes on prostitution to finance excavation at the Venetian Arsenal. You can visit it at any time, as it attracts minimal crowds.
Venice is an attractive place whose bridges have helped spur its popularity. The bridges mentioned above have a rich Italian history, scenic views, and incredible architecture you'd marvel at. While you are encouraged to visit them, proper timing will be central to avoiding crowds and time wastage.