Barcelona is considered to be one of the most architecturally distinct cities in the world with various elements from Modernist and Art Nouveau styles, as well as those dating all the way back into the middle ages when the region was under Islamic rule.
One of the main draws to Barcelona for tourists is the city's many different structures and buildings that are rich in history and beautifully-detailed art and architecture.
The following list is 10 of the most famous buildings in Barcelona and a bit of information regarding the architect behind the design, as well as the history of the structure itself.
Famous Buildings in Barcelona
1. Casa Milà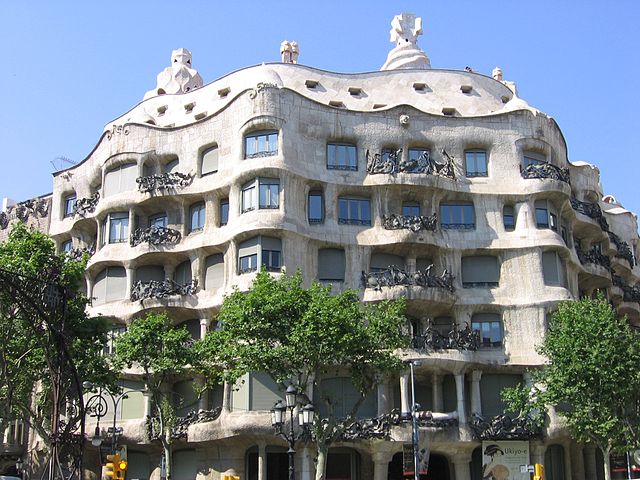 One of the most prominent landmarks in the city of Barcelona, Spain is also considered its most stunning work of architecture.
The Casa Milà is a true Modernist masterpiece that was designed by widely-acclaimed Spanish architect Antoni Gaudí, who is regarded as one of the world's greatest architects from both the modern era, as well as centuries preceding it.
The Casa Milà displays Antoni Gaudí's architectural prowess in many ways and is one of the buildings that is recognized by everyone in the city for its unique charm and mystique.
Construction began on the structure in 1906 during the height of Gaudí's career and it would be completed a few years later in 1912.
At the time it was commissioned, the design was very much controversial with many of the city's most influential architects and leaders as it featured a curved stone facade and wrought-iron balconies, which were partly-designed by famous Spanish architect, Josep Maria Jujol.
Also Read: Famous Gaudi Buildings
The unique nature of the building became its main attractive quality to those in the city and, over the years following its completion, it soon became a building that was looked at as a work of art instead of a monstrosity.
In 1984, the Casa Milà was recognized as a World Heritage Site by UNESCO and is today known as the most famous building in Barcelona.
2. Sagrada Familia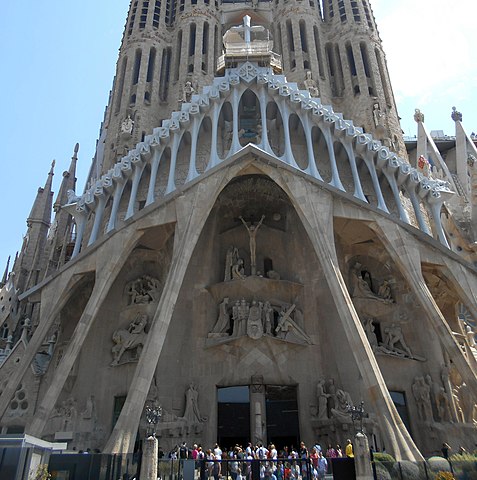 Most of the cathedrals that are scattered throughout Europe are ornately-designed and known to be architectural masterpieces compared to other structures around them.
Those who live within the city of Barcelona, as well as those who visit the city mostly agree that the most exquisitely beautiful building in the entire city is the Sagrada Familia.
This massive, high-reaching cathedral is known as one of the most magnificent structures in the Catholic faith and its majestic towers provide a distinct appearance that makes it one of the most iconic churches in the world.
This is another building that was designed by Antoni Gaudí and many consider it to be his one crowning achievement compared to his many other works within the city of Barcelona and throughout Spain.
The Sagrada Familia is one structure that nearly everyone who views it agrees that it is aesthetically pleasing in many ways.
The massive church is capable of holding up to 9,000 visitors at a time and the four massive towers at its center entrance are what makes it one of the most iconic cathedrals in the world.
The two largest of these towers stretches to a staggering height of 560 feet. Despite the Sagrada Familia being designed starting in 1882, work is still continuing today and the structure is planned to be completed in 2026.
3. Casa Batlló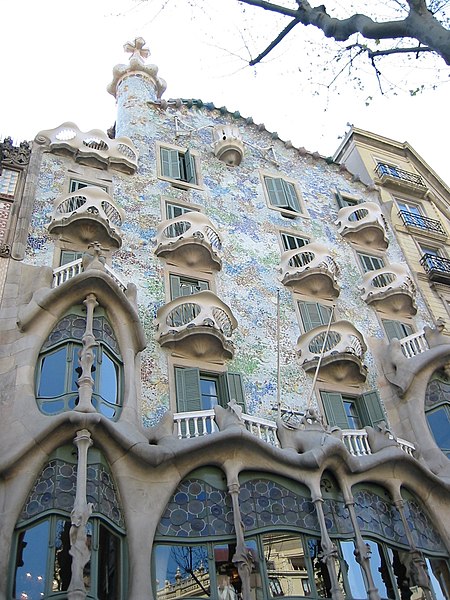 Another incredibly-designed building in Barcelona is yet again credited to the masterful architect, Antoni Gaudí.
Known throughout Barcelona as Casa Batlló, this structure was a remodeling of an existing building that was intended to serve as a home for the Batlló family, who was one of the most prestigious families in Barcelona during the early 20th century.
Also Read: Famous Buildings in Spain
This building is known for its incredibly unique design that many, both at the time of its construction and today, consider to be controversial and something that is not congruent with some of Barcelona's other architectural works.
The front facade is made up of three distinct sections made up of Montjuïc sandstone with undulating lines and very little, if any, symmetry.
The exterior, from the top to the bottom, features a number of sculptures and statue-like works of everything from lizards to the arched back of a dragon on the roof.
It was initially built in 1877, but Gaudí remodeled the structure in 1906 and created it into the iconic building that it is today
4. Palau Güell
Catalonia, Spain is a region that's culturally and architecturally distinct, with its own specific language dialect and its own culture within the larger Spanish culture itself.
Of all the prominent buildings in Catalonia, the Palau Güell is perhaps the most famous of any that was built in the city of Barcelona in the late 19th century.
It is yet another structure that was designed and built by Antoni Gaudí and demonstrates his ability to restrain the eccentric nature of the Art Nouveau and Modernist style that was popular during this time and create a building that was more in line with classical designs.
Construction began on the Palau Güell in 1886 and it was finished just two years later in 1888.
The Palau Güell was commissioned by industrial tycoon and wealthy businessman, Eusebi Güell. The ornate windows and exterior facade offered privacy and a stunning view over the bustling streets of one of Barcelona's busiest districts during the late 19th century.
5. Casa Vicens Gaudí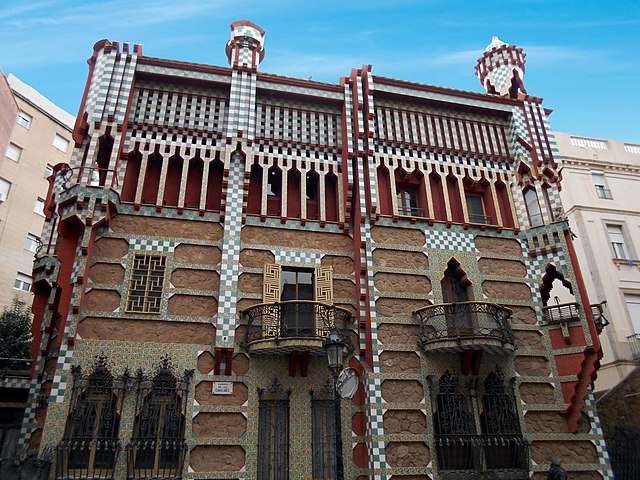 One of the reasons why critics of architecture and art alike view the famous designer Antoni Gaudí with such widespread acclaim is that he was capable of demonstrating a mastery is so many different styles.
Many of his Art Nouveau or Modernist structures were controversial when they were designed and constructed, but he was also able to produce buildings that were more traditionally-oriented and featured the cultural flair that Barcelona was known for during the late 19th and early 20th centuries.
One of the most famous buildings in Barcelona is another one of his works known as Casa Vicens Gaudí. This structure is one that architectural historians point to as being on the city's most significant because it was one of Gaudí's very first designs that came to fruition.
Construction started on the Casa Vicens Gaudí in 1883 and was completed just a few years later in 1885.
It is one of the few buildings from this time period that has remained largely unchanged since it was first opened, mostly due to its historic nature and the connection to Barcelona's most famous architect.
The design blends both the old and new of Barcelona and Spain's history in the styles and patterns that Gaudí used. It is considered to be one of the most visually-stunning buildings, both inside and out in all of Spain.
6. Palau de la Música Catalana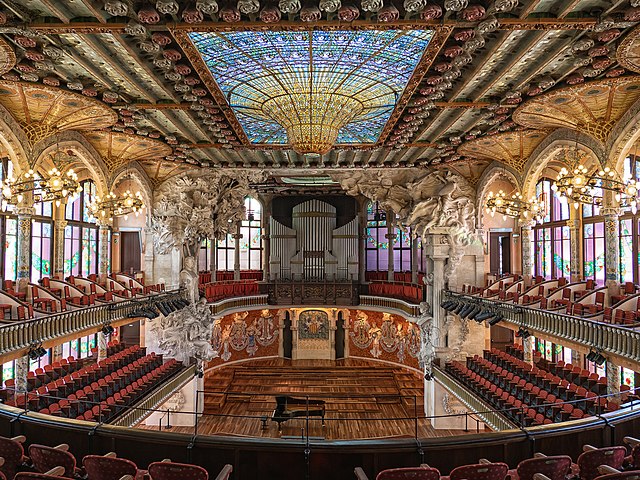 During the same period in which Antoni Gaudí had risen to fame and was at the height of his career, there were a few other incredibly-talented architects in Spain at the time that were his rivals and colleagues.
Among them was Lluís Domènech i Montaner, who many point to as being more skillful and deliberate in his works whereas Gaudí would often gravitate more toward producing buildings that lacked intricate traditional detail.
One of Montaner's greatest works is another that is considered to be among the most famous buildings in Barcelona. Known locally as Palau de la Música Catalana, this structure was a magnificently-designed concert hall that many consider to be among the most spectacular in the world.
Construction began in 1905 and it was completed in 1908 and it was not soon after that the public was in awe of the grandeur and beauty in the new theatre.
The interior of the Palau de la Música Catalana is exponentially more impressive than its exterior as inside the music hall features various pieces of art that line the walls and nearly every part of the building, which can seat up to nearly 2,200 people.
7. Torre Glòries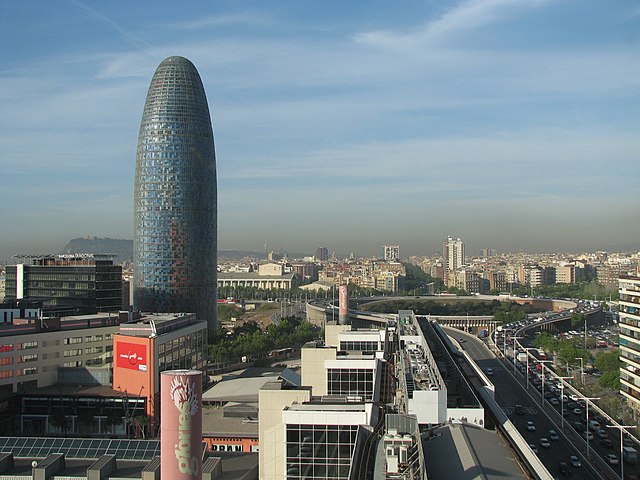 Some of the most unique skyscrapers in the world include intricately designed exteriors that are more artistic than those created in the early 20th century. One of the newest skyscrapers in Barcelona is also one that has quickly grown into a local landmark and one of the most famous structures in the metropolitan area.
Known as the Torre Glòries, this large, 38-story building is a distinct and challenging design that was the work of French architect, Jean Nouvel, who worked under b720 Fermín Vázquez Arquitectos, which was a Spanish architectural firm.
Construction began on this building in 1999 and it was completed just a few years later in 2004. The form or structure of the building are potentially the most distinct elements that set it apart from other skyscrapers in Barcelona or Spain as a whole.
It is lined on the exterior with numerous pieces of tempered glass and stretches upward, coming to a curved top.
This unique shape has often been referred to as resembling a bullet. The building is even more stunning at night as there are lights installed throughout its steel structure that make it look as if it is reflecting a neon-blue and red coloration.
This color, along with its shape and placement make the Torre Glòries appear to be one of the most unique of any other structure in Barcelona.
8. Casa Amatller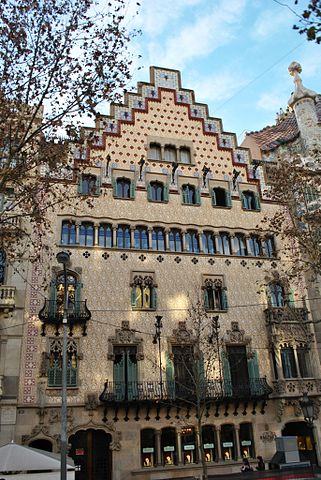 Another one of Barcelona's most highly-revered architects is Josep Puig i Cadafalch, who was known to have created a number of prominent structures throughout Spain during the late 19th and early 20th centuries.
One of his greatest works is known as Casa Amatller. This building was created to serve as the home of Antoni Amatller, a wealthy businessman who owned a company that produced high-quality chocolate, yet also a man interested in archaeology.
The house was done according to the Modernisme style, which dominated much of the cityscape in Barcelona during the late 1800's and early 1900's.
The exterior of the house featured a beautiful and organized design that was characteristic for Cadafalch, yet it was still able to draw the eye of anyone, critic or layman, viewing it due to the ornate design used by the architect.
The Casa Amatller today serves as a well-known historical museum in Barcelona and it has largely remained untouched by modern hands or anyone seeking to do extensive renovations.
9. Monasterio de Pedralbes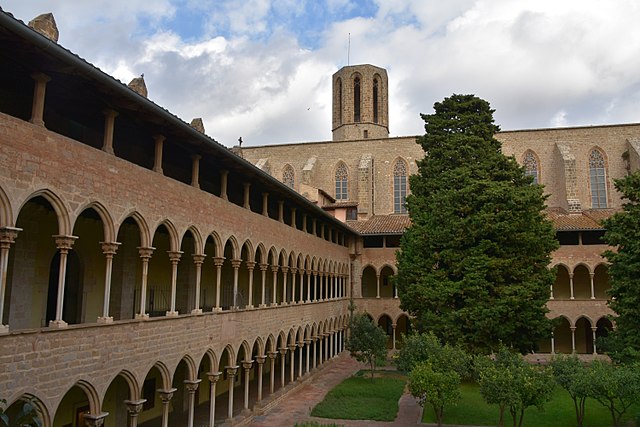 One of the oldest structures in Barcelona is also one that deserves mention on our list of the most famous buildings in the city.
Known as the Monasterio de Pedralbes, this beautifully-designed church has stood in this region for more than seven centuries and has largely remained intact over that span of time as well.
Founded by King James II of Aragon, the Monasterio de Pedralbes was used as a private monsetary for the Queen Elisenda de Montcada in 1326.
It is now known today as the Chapel of St. Michael and serves as a museum which hosts exhibitions of art for local artists, as well as third-party exhibitions.
10. Santa Maria del Mar, Barcelona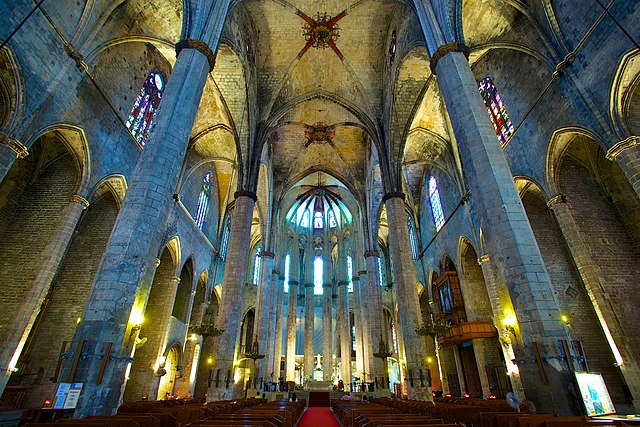 Another one of the city's oldest buildings is also a local landmark to those living in and around Barcelona. The building is known as Santa Maria del Mar, Barcelona and is believed to have been created in the 14th century in the distinct Catalan Gothic architectural style.
Compared to other buildings established during the medieval period in Europe, the Santa Maria del Mar, Barcelona is quite expansive.
It was built on the site of an ancient church that has historically been recorded under the name Santa Maria by the Sea.
The building, in its present state, was promoted by Bernat Llull, who was Archdean at the time. Construction began in 1329 under King Alfonso IV of Aragon and the building was completed decades later in 1384.
The stunning and high-reaching vaulted ceiling are characteristic of many other churches across Europe that were built during the same time period and there are various pieces of artwork across much of the interior of the Santa Maria del Mar, Barcelona.