Edward Hopper (July 22, 1882 – May 15, 1967) was a realism painter and printmaker from the United States. While he is most renowned for his oil paintings, he was also a skilled watercolorist and etching printer.
His marriage to fellow artist Josephine Nivison, who contributed significantly to his work as both a life model and a creative collaborator, had a significant impact on his career.
Hopper was a minor-key artist who created quiet drama out of everyday scenes that were "layered with a lyrical meaning," allowing narrative interpretations that were frequently unanticipated. He was commended for portraying America with 'full veracity.'
Hopper drew inspiration for his subjects from two principal sources: one, ordinary components of American life (gas stations, motels, restaurants, theaters, railways, and street scenes) and their occupants, and the other, seascapes and rural landscapes.
In terms of his own style, Hopper described himself as "an mixture of numerous ethnicities" who was not a member of any school, notably the "Ashcan School."
Despite the several art fads that came and went over Hopper's lengthy career, his painting remained constant and self-contained after he acquired his mature style.
Famous Edward Hopper Paintings
1.

Nighthawks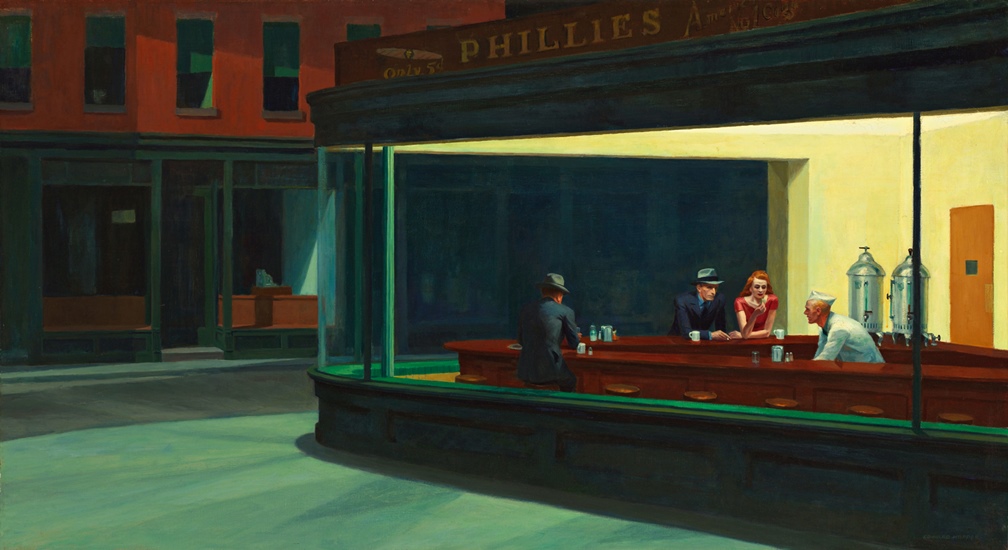 Edward Hopper's 1942 oil on canvas painting Nighthawks depicts four persons in a downtown restaurant late at night as seen through the cafe's enormous glass window. The diner's light illuminates a darker and abandoned metropolitan cityscape.
It is considered Hopper's best-known work and one of the most iconic paintings in American art. On May 13, 1942, it was sold to the Art Institute of Chicago for $3,000, only months after it was completed.
The scene was allegedly inspired by a restaurant (now gone) in Greenwich Village, Hopper's Manhattan neighborhood.
According to Hopper, the picture was inspired by "a café on Greenwich Avenue where two streets intersect." He also said, "I simplified the scenario a lot and made the restaurant larger."
2.

Automat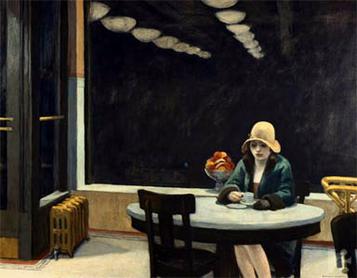 Hopper, created Automat in 1927. The artwork was initially shown on Valentine's Day 1927, at the Rehn Galleries in New York City, as part of the opening of Hopper's second solo exhibition.
It was sold for $1,200 by April. The Des Moines Art Center in Iowa now owns the picture.
The picture depicts a lone lady peering into a cup of coffee at a nighttime automat. Through the night-blackened glass, the reflection of similar rows of light fixtures spreads out.
Both the woman's circumstances and her emotions are uncertain, as is frequently the case with Hopper's paintings. She is well-dressed and wearing cosmetics, which might mean she is on her way to or from work in a job where personal appearance is vital, or she is on her way to or from a social event.
She has just removed one glove, which might suggest that she is preoccupied, in a rush and can only stop for a minute, or that she has just come in from outdoors and has not yet warmed up.
However, the latter alternative is doubtful, since there is a little empty plate on the table in front of her cup and saucer, indicating that she may have had a snack and been sitting here for some time.
3.

Chop Suey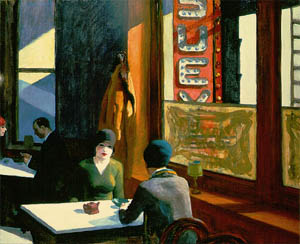 Edward Hopper created the artwork Chop Suey in 1929. The work's foreground depicts two ladies conversing at a restaurant. It was sold for a record sum for the artist's work in November 2018.
Two ladies are seated at a table at a restaurant, with another couple in the background. The painted woman's face, the coat hanging above her, her companion's back [to the spectator], the couple in the background, the tea pot on the table, the masked lower window panel, and the restaurant sign outside are the only details revealed in great detail.
Rather than a narrative backdrop, Edward Hopper's artwork is noted for its realistic scenes that touch on issues of loneliness and self-esteem.
Despite the fact that the artwork depicts a communal setting, there is a strong feeling of loneliness present. The lady in green, who is facing the viewer, is seated with a companion but does not seem to be communicating with her. The guy, like the pair in the background, seems distant from the lady he sits across from.
Each human figure is solitary, separated from others, and reserved inside oneself. This is shown with faces covered or masked, removing a human element from the figurines.
This also applies to the lady in detail; despite the fact that we have a complete view of her face, there is a distance to her due to her striking makeup.
4.

Gas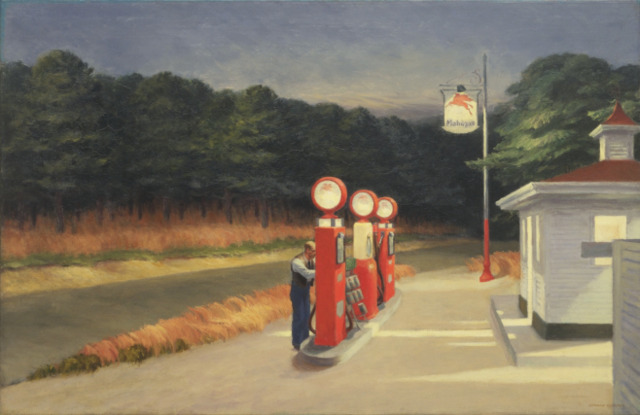 Gas was painted in 1940, displays a petrol station at the end of a roadway in the United States.
Hopper's topic was a mash-up of numerous petrol stations he'd seen. The gas station theme was something Hopper had wanted to paint for a long time, according to his wife. Hopper struggled to complete the picture.
He'd started making new paintings at a slower pace than previously, and he was having difficulties locating acceptable petrol stations to paint in.
Hopper wanted to paint a station with lights above the pumps, but the stations in his neighborhood only switched on the lights when it was completely dark outside, in order to conserve electricity.
5.

House by the Railroad
House by the Railroad is an oil on canvas work by Edward Hopper that was completed in 1925.
The artwork is reported to be inspired by a Second Empire style Victorian home in Haverstraw, New York, which still remains today.
The artwork is said to have inspired the Bates home in Alfred Hitchcock's Psycho, one of the mansions in George Stevens' 1956 film Giant, the home Charles Addams designed for The Addams Family, and the house in Days of Heaven.
House's painting was featured in Paintings by 19 Living Americans, The Museum of Modern Art's first display purely of American art, in 1929–30. It was bought by MoMA in 1930 as one of the first items to become part of the assets of the then-new art organization.
Stephen Clark, heir of the Singer sewing machine firm, art collector, and philanthropist, presented the piece to the MoMA in 1930.
6.

Early Sunday Morning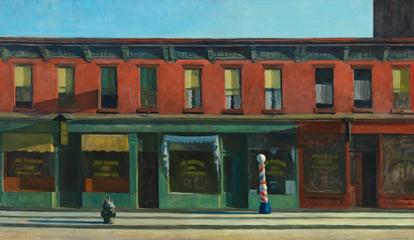 Edward Hopper's picture Early Sunday Morning was completed in 1930.
The picture depicts the little stores and shops on New York City's Seventh Avenue just after daybreak. It depicts a clear sky above a long, red structure.
On the right side of the pavement, a red and blue striped barber pole stands in front of one of the entrances, while a green fire hydrant is on the left. The desolate, vacant street and businesses are thought to depict the city's dismal status during the Great Depression.
Despite the title, Hopper has said that the picture was not always inspired by a Sunday vista. Seventh Avenue Shops was the initial title of the picture. The word "Sunday" was "tacked on by someone else" to the title.
The picture was inspired by a structure near Hopper's studio. It is believed to be "nearly a faithful translation of Seventh Avenue," although a few small features were adjusted, such as limiting the size of the entrances and making the inscriptions on the storefront less visible.
7.

Rooms By The Sea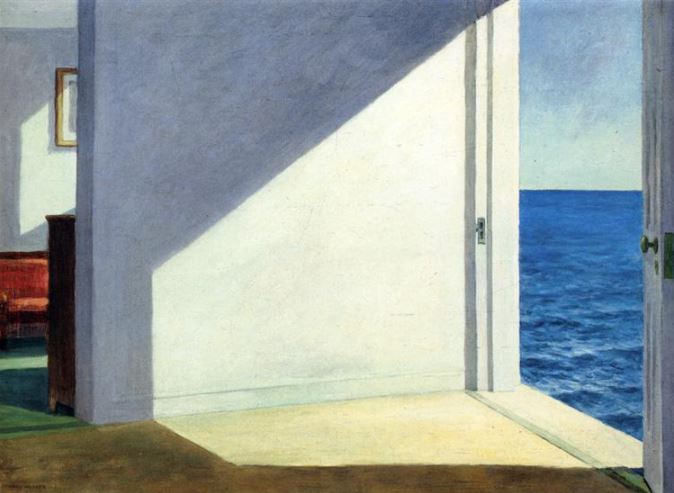 Hopper, as a mature artist, spent most of his summers in Cape Cod, Massachusetts.
He created and constructed a bright, quiet studio on a cliff overlooking the river in Truro.
The vista in Rooms by the Sea is similar to what Hopper would have seen from his studio's back door.
We get only a glimmer of the two rooms featured but it is the sunlight that is the real star in this painting.
8.

Office at Night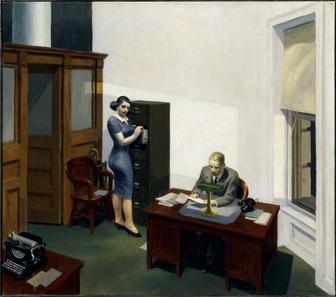 Office at Night is an 1940 oil-on-canvas painting . The Walker Art Center in Minneapolis, Minnesota, owns it after purchasing it in 1948.
The artwork represents an office with a beautiful young lady in a short-sleeved blue dress standing at an open file cabinet and a somewhat older male, maybe in his early thirties.
He is clothed in a three-piece suit and sits at a desk. The nature of the workplace is unclear—it may be a lawyer's, an accountant's, or a small business's office.
Hopper depicts movement with a wind-blown curtain, like he does in many of his other works. The ring at the bottom of the blind's drawstring is swinging outward in this artwork after the blind has been blown in by a burst of wind, probably in reaction to a cross-breeze created by a passing train.
9.

Morning Sun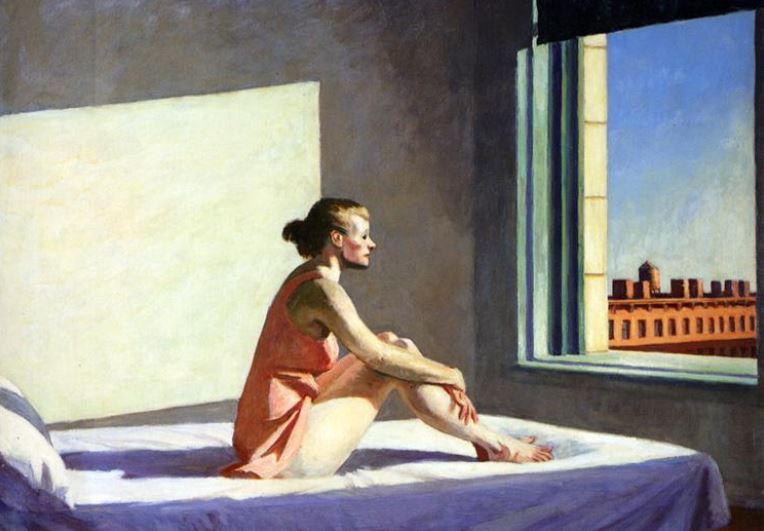 The lady in Morning Sun, based by Hopper's wife, Jo, faces the sun impassively and seems to be lost in meditation. Her visible right eye is blind, accentuating her loneliness.
A closer look at the sitting lady in the middle of the picture shows an uncertainty in her connection to the outer world.
Her back and head are not bent. Her attention is drawn to the outside world. Nonetheless, it would be tough to argue that she is preoccupied with the outside world.
10.

Office in a Small City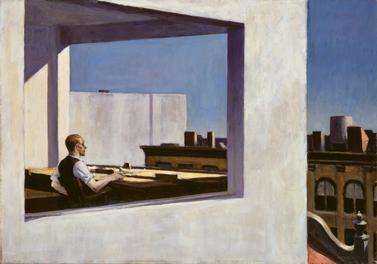 Office in a Small City is a 1953 work by Edward Hopper, which is a painting that The Metropolitan Museum of Art in New York City now owns.
The picture portrays a guy sitting in a corner office looking out the window at the scenery beyond.
The picture emphasizes loneliness and beauty in a very harsh but appealing manner, a recurring topic in Hopper's art. Hopper's wife referred to it as "the guy in the concrete wall."