The color green has long been associated with the world of nature and of spring the time for new growth.
Of all the colors that artists focus their works on, or create a theme around, green is one of the more prominent.
It is a color that represents life and vitality with many artists incorporating green into their works to signify the spring or summer season.
In this article, we will examine 10 of the most famous green paintings from history, as well as look more closely at the artists who produced these paintings.
Famous Green Paintings
1. Green Wheat Field with Cypress – Vincent van Gogh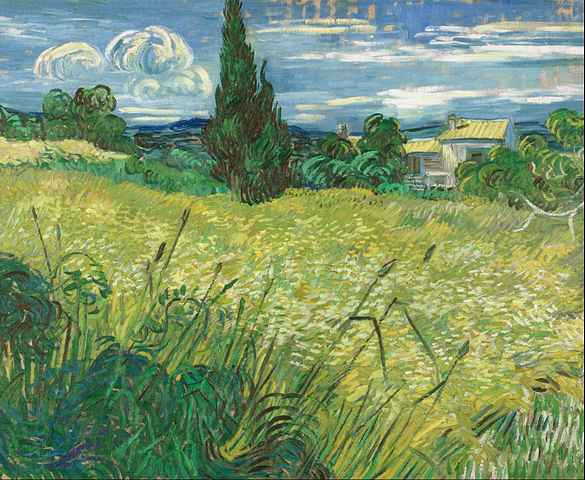 Green Wheat Field with Cypress is an oil-on-canvas work by Vincent van Gogh, a Dutch Post-Impressionist.
The National Gallery Prague owns it, and it is on exhibit in the Veletrn palác in the Holeovice neighborhood, where the artwork is known as Zelené obil ("Green wheat").
The landscape painting, like many comparable works at the period, was created on a size 30 canvas and measures 73 cm 93.5 cm (28.7 in 36.8 in). It displays a field of mostly green wheat, with some yellowing.
In the middle of the landscape is a large black fastigiate cypress tree, close to a modest white cottage, with mountains in the backdrop and a blue sky with white clouds above.
Van Gogh produced the picture in 1889 while voluntarily detained at the institution of St. Paul near Saint-Rémy in Provence.
When he was free to leave the asylum grounds and investigate the neighboring environment, Van Gogh painted numerous additional works of wheat fields with cypresses, with the wheat quickly ripening to a ripe yellow.
Aside from cypresses, van Gogh had a specific affection for wheat fields, which he represented hundreds of times throughout the years; to Vincent, they signified the cycle of life and death, and he found both consolation and inspiration in them.
2. Camille (The Woman in the Green Dress) – Claude Monet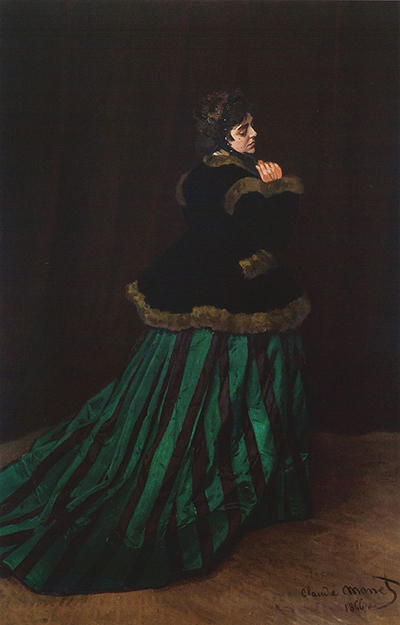 Claude Monet is widely known for his impressionist paintings, but before he became renowned and the movement gained traction, he was a highly skilled realism painter.
Monet was really working on a huge painting (Luncheon on the Grass), but it would not have been completed in time for the 1866 Paris Salon.
He was prompted to paint something fast and in one go at the request of his close friend Gustave Courbet so that he may submit something to the Salon.
Camille, Monet's first wife, was painted by Monet.
Full-length portraits were normally reserved for royalty or aristocracy at the time, and such a picture was considered fairly unusual.
The picture was really quite well received at the time and sold for 800 francs, which would have been a fantastic sum of money for the struggling artist and his sweetheart at the time.
3. The Lute – Thomas Wilmer Dewing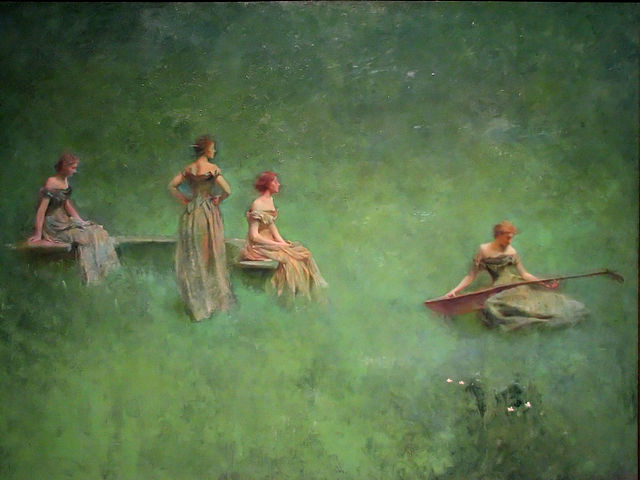 Twentieth century American painter Thomas Wilmer Dewing is remembered as one of the more widely respected artists from the early 1900's.
His works are often described as having Impressionist characteristics and Dewing is known for his ability to create an overall theme using specific colors—mostly green.
One of Dewing's most notable paintings is titled The Lute and was done in 1904. This work, like many of Dewing's other paintings, contains a heavy amount of green that's intended to portray a mist or fog that a group of women are standing and watching one woman play a lute.
The woman is seated and playing the instrument while the others look on in a manner that some historians and scholars describe as dream-like due to the ambiance created by the green atmosphere of the work.
4. Spring Landscape with a Farmer and White Horse – Childe Hassam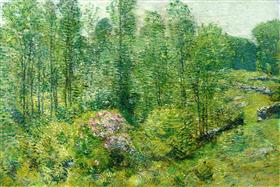 American artist Childe Hassam is one of the many Impressionist painters from the United States that used his talents to produce nature, landscape and cityscape works. He was known for his use of color and his ability to deliver a realistic and noteworthy theme to his works through certain hues.
A particular work done by Hassam that many consider to be one of the most famous green paintings from history Is titled Spring Landscape with a Farmer and White Horse.
This work was believed to have been completed in 1906 and depicts a lush, vibrant stretch of landscape that features trees and other vegetation.
The painting contains a great amount of the color green that the painter uses in different tones and lighting to produce a work that is done in what critics point to as being very much an Impressionist style.
5. The Green Interior (Figure Seated by a Curtained Window) – Edouard Vuillard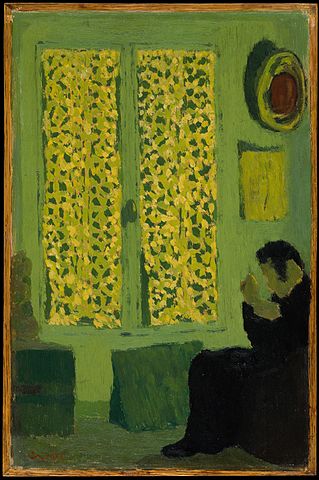 Edouard Vuillard is known as one of the many different French abstract painters that lived in and around Paris during the early-to-mid 20th century.
Many of his works involve people and the various activities they engaged in during this time period when the Industrial revolution had transformed the country of France.
One of Vuillard's more well-known paintings is titled The Green Interior (Figure Seated by a Curtained Window). This work was done in 1891 and depicts a figure seated in front of a large window that's set within a green-colored wall.
The color dominates the canvas and virtually every other tone used by the artist in this painting contains some element of green.
6. Vue Prise du Jas de Bouffan – Paul Cézanne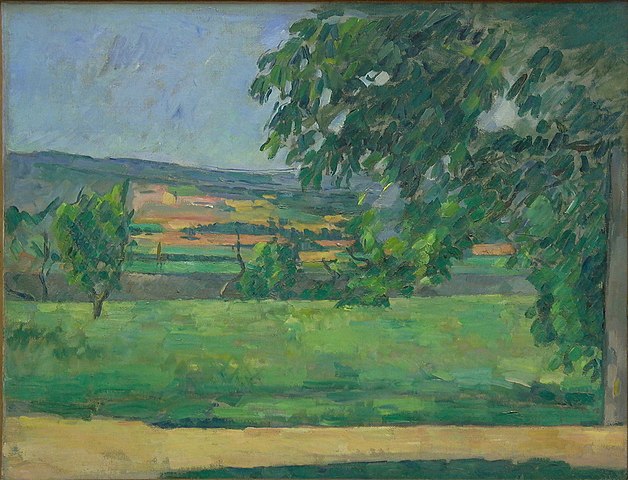 Cézanne is another famous French artist who had one of the more illustrious careers of the 20th century. Cézanne was widely recognized for his ability to recreate various elements in his works such as the effect that sunlight would have across a hillside or the wind sweeping through the trees.
One of the artist's more memorable paintings includes a work titled Vue Prise du Jas de Bouffan. This 1876 work was done in two parts and features a country landscape during the hot summers of southern France.
Cézanne created two works that centered around the same exact perspective looking out into a field from under a tree. One work depicts the sweltering midday sun while the other is a painting done to capture the fleeting light of dusk at the same location.
7. At the Races – Édouard Manet
Édouard Manet is recorded as being one of the more prolific artists from the Impressionist era, but he was also known to be a regular visitor at the many different horse racing competitions in France during his lifetime.
Few artists tried to capture such scenes as the horse racing setting was one that was extremely difficult to portray on canvas due to its fast-paced nature.
Yet, one of Manet's more well-known paintings depicts a horse racing competition from a unique perspective.
His 1872 painting titled At the Races is one of many different sketches and paintings done by the artist that feature a view from the track, looking directly at the oncoming horses and jockeys.
This title was given to a few of Manet's paintings that featured a view of horse racing or horses running around the track.
This particular work is one of the few that the artist delved into with intricate details and the light green hills and fields can be visible in the background while the horses jockey for position at the center of the canvas.
8. Promenade at Argenteuil – Gustave Caillebotte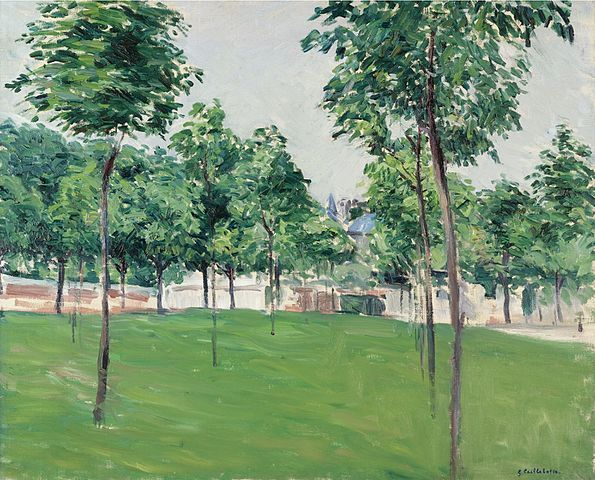 Gustave Caillebotte is one of the 19th century's more under-appreciated painters, according to many critics and historians. He was able to create masterful works in both the Impressionist and Realism style and many of his more notable paintings are considered to be the greatest works of the time period.
One of Caillebotte's more famous paintings is titled Promenade at Argenteuil and was done in 1883. This work contains both Impressionist characteristics, as well as the intricate details you might expect in a Realism painting.
It displays a scene on a quiet stree tcorner in which a woman stands underneath a shade tree, which is made up of a collage of different leaves that seem to compliment the surroundings in color.
9. Rest along the Stream. Edge of the Wood – Alfred Sisley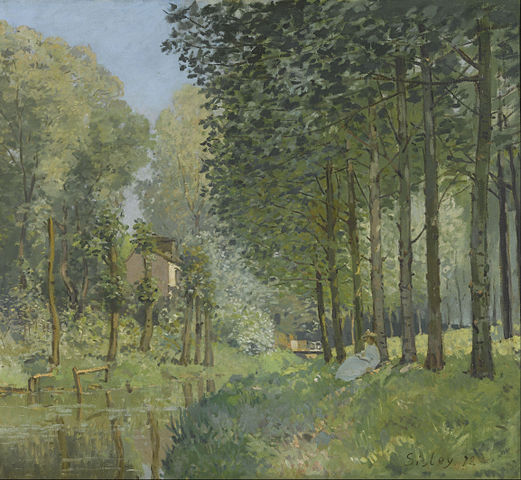 Alfred Sisley is another highly talented French painter that had a reputation for creating breathtaking landscape and nature paintings during his lifetime.
Many of his works center around the forest and one in particular is considered to be one of his greatest.
The painting is titled Rest along the Stream. Edge of the Wood and is believed to have been finished in 1878.
The work is undoubtedly one that Sisley completed according to the en plein air style and it features a serene view from the edge of a slow-moving creek.
10. Nocturne Grey and Silver – James McNeill Whistler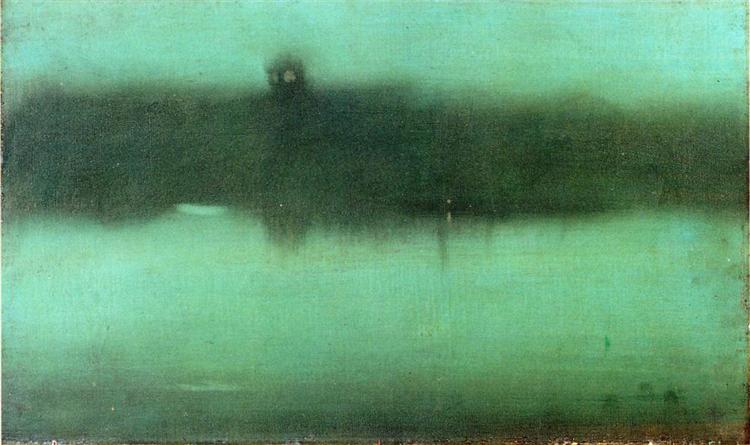 James McNeill Whistler is one of the more creative artists from the 19th century and he is credited as being the founding member of what some critics describe as the Tonalism movement.
His works usually featured an overwhelming tone or color that is used to portray a mist of some kind.
One of Whistler's best paintings is titled Nocturne Grey and Silver and was a work done on a darkened canvas.
He used heavy amounts of green and scattered orange and yellow in to portray fireworks lighting and sparkling in the sky above.