Realism was an artistic movement that sprouted in France in the 1840s during the 1848 revolution. Realism artists denounced romanticism, which prevailed the French literature and artistic work since the early 19th century.
Realism was chiefly concerned with how things appealed to the eye rather than the ideal representation containment of the world. Gustave Courbet was regarded as the greatest proponent of Realism as an art movement in France.
Later it spread across Europe and was influential for the rest of the century. The following famous realism artist was regarded as real proponents of Realism as depicted in their respective biographies.
Famous Realism Artists
1.

Gustave Courbet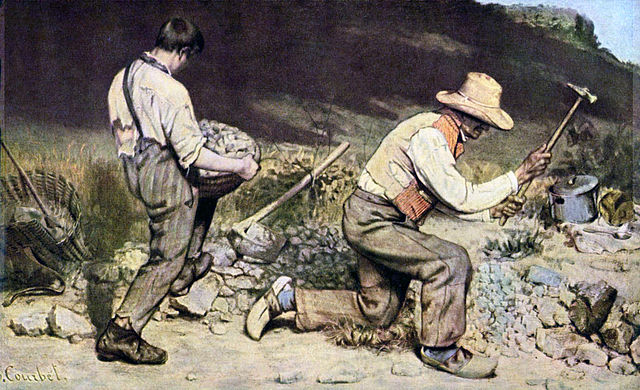 The French painter and leader of the Realist movement got born on June 10, 1819, in Ornans, France. He later died at La Tour-de- Peilz, Switzerland, on December 31, 1877. Courbet, the son of Eleonor-Regis, who was a prosperous farmer. He attended both the college Royal and the fine arts college at Besancon and proceeded to Paris in 1841 to study law.
However, Gustave dedicated most of his time studying paintings of the masters in the Louvre more than in law. He instead preferred to devote his life to art rather than becoming a provincial lawyer.
In 1844 at the age of 25, after numerous unsuccessful attempts gained through technical proficiency by copying the pictures of Diego Velazquez and Jose de Ribera, his self-portrait Courbet dubbed Courbet with a Black Dog was accepted by Salon.
After visiting his family at Ornans, he produced two of his greatest realism paintings:
Burial at Ornans.
The Stonebreakers in 1849.
Courbet paved the way for a new modernized form of Realism from other modern movements such as impressionism and post-impression.
2.

Ilya Repin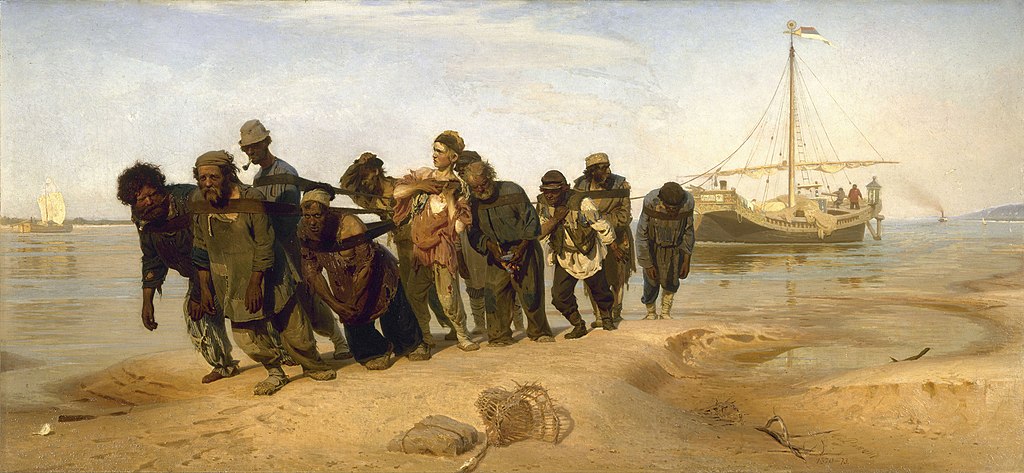 He was a Ukrainian and Russian realist painter born on August 5, 1844, in Chuguev in Ukraine. He later met his demise in 1930 at Repino, Saint Petersburg in Russia.
He is mostly remembered as being one of the leading members of the social realism art movement.
Repin was the most influential and renowned Ukrainian artist of the 19th century to define Russian Realism's spirit. He was noted as a Muzhik or peasant because he emanated from a humble background. His father was serving in the military.
Repin exhibited an aptitude and passion for art at a tender age. At the age of eleven, he garnered his first formal instruction in art at the School of Military Topography.
He later joined St.Petersburg in 1863, where he met influential figures such as Mark Antokolsky and Vladimir Stasov.
He had remarkable achievements, such as completing his first printing, such as Barge Haulers on the Volga, after leaving the Imperial.
Academy of Arts in St. Petersburg. Other accomplishments include:
Religious Procession in Kursk Province(1880-1883.
They Did Not Expect Him(1884-188)
Barge Haulers on the Volga
3.

Jean-Francois Millet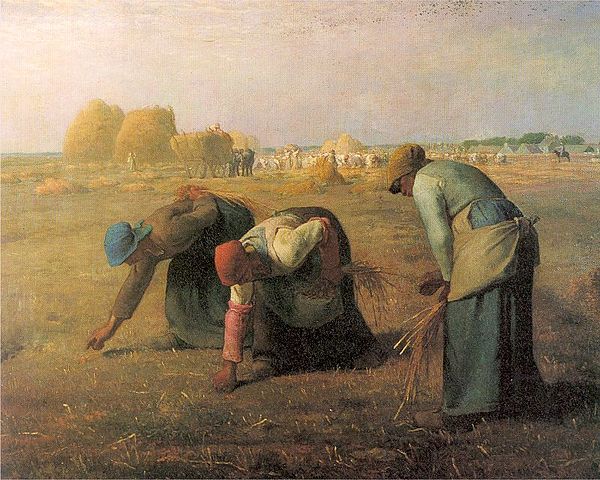 He was a French artist and one of the founders of the Barbizon school in rural France. On October 4, 1814, he was born at Greville-Hague, La Hague, France, and later died on January 20, 1875, in Barbizon, France.
Millet rose from peasant farmers' background that why his works are categorized as part of the Realism art movement.
In 1837 he arrived in Paris and enrolled at Ecole des Beaux-Arts with Paul Devaroche, where he stayed until 1839. Her first remarkable painting accepted by Salon was in 1844 named The Milkmaid and a large Pastel.
From the early 1850s, Milet's primary concern was on peasant subjects such as the Winnower(1848). Most of Millet's crucial collection pictures are found in the museum of Fine Arts in Boston.
4. Rosa Bonheur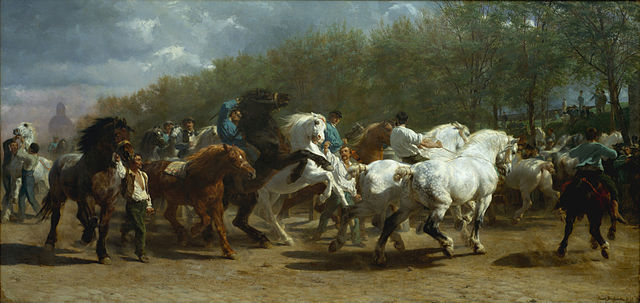 She is a renowned French artist who concentrated on painting animals but also, he was a sculptor. She was born on March 16, 1822, in Bordeaux, France. He met his demise on May 25, 1899, in Thomery, France.
Rosa was the first woman to receive France's Cross of the Legion of Honor in 1894. She was trained by her father, a portrait and landscape painter and a teacher.
Bon heur's feminism was typical of the time, molded and influenced by post-french revolutions, a sense of enlightenment and freedom, and middle-class decency. In 1852 she painted her most pronounced work, The Horse Fair, influenced by Theodore Gericault's work.
Also Read: Famous Horse Paintings
Her achievements were not only adored in France but also abroad. In the U.S, her artworks were collected by railroad Cornelius Vanderbilt, while in England, Queen Victoria was known to be a great admirer.
5. Winslow Homer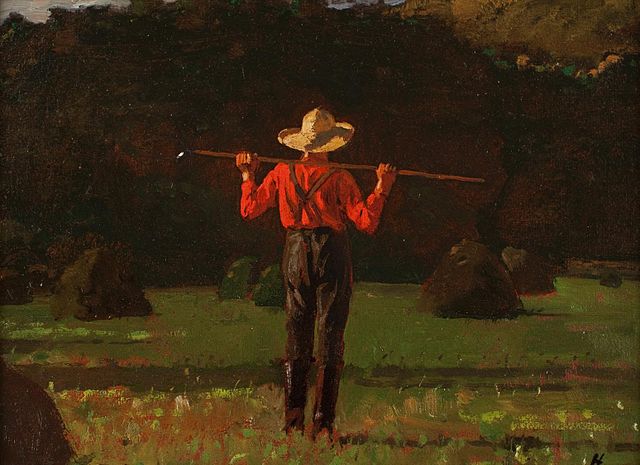 He was born on February 24, 1836, in Boston, Massachusetts, in the U.S and later died on September 29, 1910, at Prouts Neck, Maine.
He is best remembered as one of the greatest landscape artists to have ever lived. His landscape paintings are a snapshot of American life particularly in coastal regions.
He had a particular focus on paintings of the ocean with Breezing Up (A Fair Wind) and The Gulf Stream both being classics of the genre.
His classic works seemed simple on the surface but dealt with the most painful moment themed human struggle within an indifferent universe. His artistic works were encouraged by his mother, who was an amateur painter.
At 19 years, he was apprenticed to the lithographic form of John Bufford in Boston, and mostly his works involved copying designs of other artists. After relocating to New York City in 1859, Homer began his career as a freelance instructor.
In 1863 he joined painting classes at the National Academy of Design tutored by Frederic Rondel, who offered tutoring to him on painting basics. Other remarkable accomplishments included:
Country School(1871)
The Morning Bell(1876)
The Gulf Stream
Breezing Up (A Fair Wind)
6.

Édouard Manet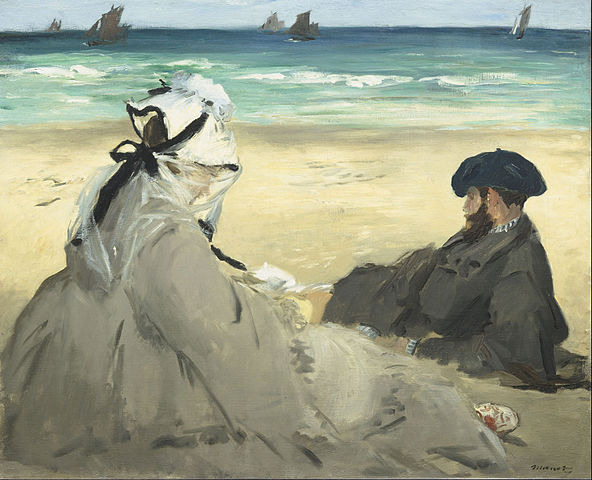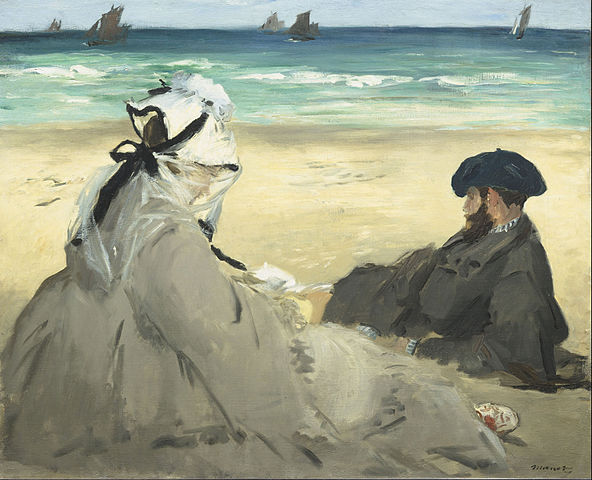 He was a French modernist painter in the 19th century and was a pivotal figure in the transition from Realism to Impressionism. On January 23, 1832, he was born in Paris, France, and later died on April 30, 1883, in Paris, France.
He was lucky to emanate from a well up background as his father was a reputable judge and his mother was of loyal ancestry. In his early life, Manet had the ultimate desire and passion of becoming an artist with his uncle's support, especially after visiting the Louvre.
In 1845 he enrolled in a drawing course where he met his fellow art enthusiast Antonin Proust. Later in life, after failing to join the navy, he was allowed to undertake an art education course supervised by Thomas Couture. His most remarkable achievement featured at Salon was:
The Spanish Singer.
The Dead Christ and the Angels.
7. Thomas Eakins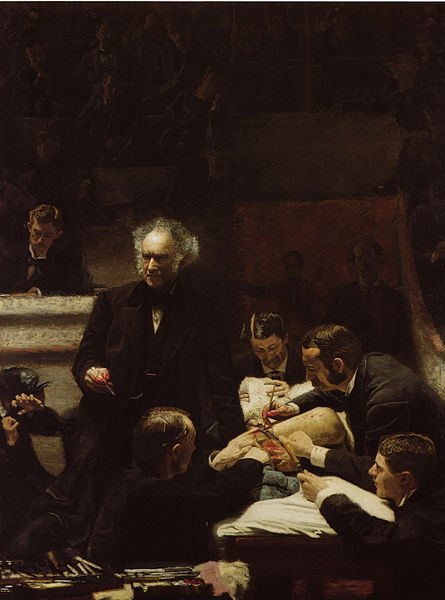 He was an American artist, sculptor, photographer, and fine arts educator. He was born on July 25, 1844, in Philadelphia, Pennsylvania. He later died on June 25, 1916, in Philadelphia, Pennsylvania in the U.S.
He was raised in a family that endowed education and after that graduated from Central High School in 1861, focusing extensively on art.
He later enrolled in the prestigious Pennsylvania Academy of Fine Arts in 1862, where he undertook courses in drawing and focused on anatomy.
Eakins completed his schooling in Europe, where he lived from 1866 to 1870. Upon obtaining a camera in 1880, numerous pieces like Mending the Net(1881) and Arcadia(1883) are well known to be derived from his photographs.
One of his most significant work was to design a portrait of professor Benjamin H. Brinton in 1876, the Philadelphia hospital surgeon. In 1887-1888 through the assistance of his family, he designed the portrait of Walt Whitman.
8.

Juan Luna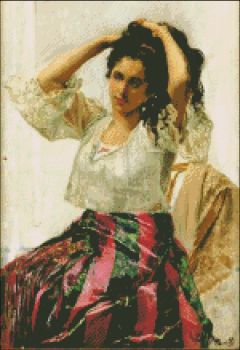 He was a Filipino painter, sculptor, and political activist of the Philippine Revolution during the late 19th century. On October 23, 1857, he was born in Badoc, Philipines, and met his demise on December 7, 1899, in Hong Kong.
Juan was the most renowned and celebrated Filipino artist in the entire Philipines. He initiated and developed masterpieces such as Solarium, Blood compact, and the Death of Cleopatra.
His artistic work is broadly remembered as one of the principal examples of Realism and Romanticism schools of art. Apart from becoming a sailor by profession, he enrolled to take painting lessons from a notable and outstanding painting teacher known as Lorenzo Guerrero.
Afterward, Juan joined Academia de Dibujo y Pintura, where he was lucky to be tutored by renowned Spanish artist Agustin Saez. Juan traveled to Europe, where he completed his training and education in the art capitals of Europe. Other remarkable artistic works include:
The Happy Beauty and the Blind Slave.
Mestiza Lady at her Dresser.
9.

Adolph Friedrich Erdmann von Menzel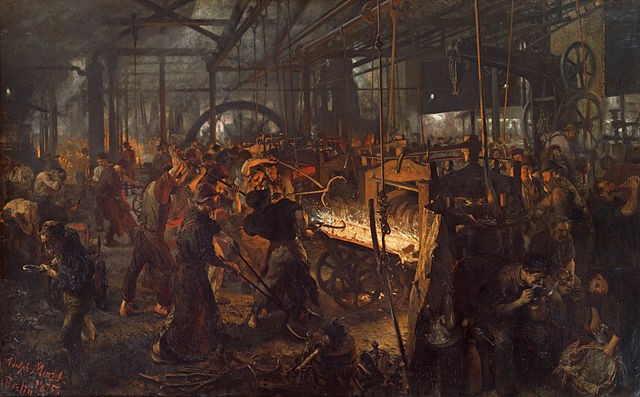 Adolph Friedrich Erdmann von Menzel was a German artist, known for drawings, etchings, and painting. On December 8, 1815, he was born in Wroclaw, Poland, and later died on February 9, 1905, in Berlin, Germany.
He learned lithography from his father and at the Berlin Academy of Arts(1830), where he drew from plaster casts and ancient scriptures. In 1832 Adolph was forced to take over the lithographic business venture after the demise of his father.
Later he studied briefly at the Berlin Academy of Arts in 1833. From 1839 to 1842, he produced about 400 drawings, which mainly introduced the wood engraving technique. During his era, Adolph's paints were appreciated by Otto Von Bismarck, and after his death, Adolf Hitler used them as electoral posters.
In 1898 he became the first painter to be admitted to the Order of the Black Eagle. Menzel was made a member of the Academie des Beaux-Arts in Paris and the Royal Academy in London.
10.

Andrew Wyeth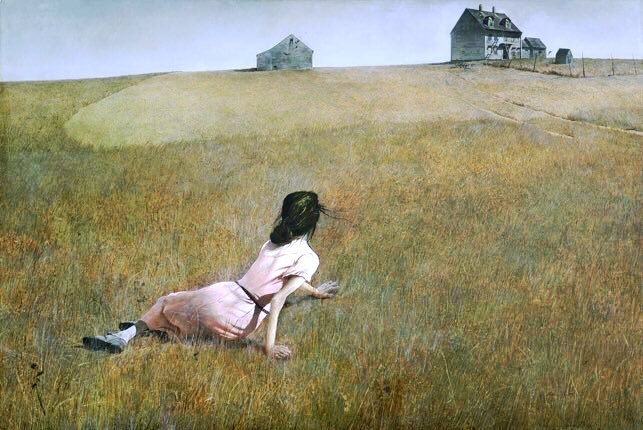 He was one of the best known U.S based 20th Century Artists. A visual artist and a realist painter who worked predominantly in a regionalist style. On July 12, 1917, he was born in Chadds Ford Township, Pennsylvania, and later died on January 16, 2009, in Chadds Ford Township, Pennsylvania, in the United States.
Wyeth's first exhibition work was in 1936 at the Art Alliance of Philadelphia, but the most outstanding work in the New York City show in 1937 was at Macbeth Gallery.
His work exhibits a strong linear quality, and his paintings are precise and detailed beyond photographic naturalism. His educational background can be attributed to his father, a teacher who schooled him at home.
During his teenage period, his father introduced him into his studio to undertake art lessons and inspired his son's love of rural landscapes, artistic traditions, and a sense of romance. Some exemplary painting works produced by Andrew include:
Christina'sWorld(1948)
Olson House(1939)
Wind from the Sea(1947)
Coot Hunter(1933)
11. Vasily Surikov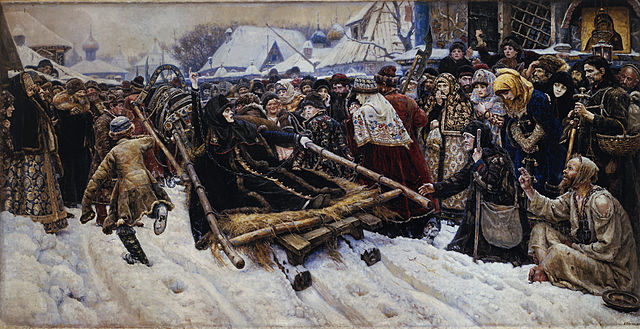 Vasily Ivanovich Surikov was a Russian Realist historical painter who lived from January 24, 1848 to March 19, 1916. Many of his paintings have become well-known to the general audience as illustrations.
Surikov's finest work was a trilogy of paintings depicting Russia during the end of the pre-Petrine era: The Boyarynya Morozova, Menshikov at Beryozovo, and The Morning of the Execution of the Streltsy. He achieved the zenith of his craft in The Boyarynya Morozova, virtually entirely engulfing his subject into pure color.
On the 100th anniversary of his birth, his Krasnoyarsk estate was turned into a museum. There are two memorials there, one in 1954 and one in 2002.
Mosfilm produced a biographical film of his life (Vasily Surikov) in 1959, scripted by Emil Braginsky and directed by Anatoly Rybakov, starring Yevgeni Lazarev as Surikov and Larisa Kadochnikova as Elisabeth.
Numerous streets and squares in Russia, as well as a crater on Mercury, have been named after him.