Henri Émile Benoît Matisse (December 31, 1869 – November 3, 1954) was a French artist recognized for his use of color as well as his fluid and unique draughtsmanship.
He was a draughtsman, printer, and sculptor, but he is best known as a painter. Matisse, along with Pablo Picasso, is widely considered as one of the artists who best contributed to define the revolutionary advancements in the visual arts during the first decades of the twentieth century, and he was responsible for key innovations in painting and sculpture.
The strong colorism of his paintings created between 1900 and 1905 earned him recognition as a Fauvist. Many of his most notable works were made in the decade or two after 1906, when he established a strict style emphasizing flattened shapes and colorful pattern.
He moved to a neighborhood of Nice on the French Riviera in 1917, and the more relaxed form of his work in the 1920s earned him critical recognition as a defender of the classical heritage in French painting.
After 1930, he took a more daring form of simplification. When his health prohibited him from painting in his later years, he developed a significant body of work in the technique of cut paper collage.
His command of the expressive language of color and drawing, as shown by a body of work spanning more than a half-century, earned him prominence as a prominent figure in modern art.
Henri Matisse Famous Paintings
1.

Dance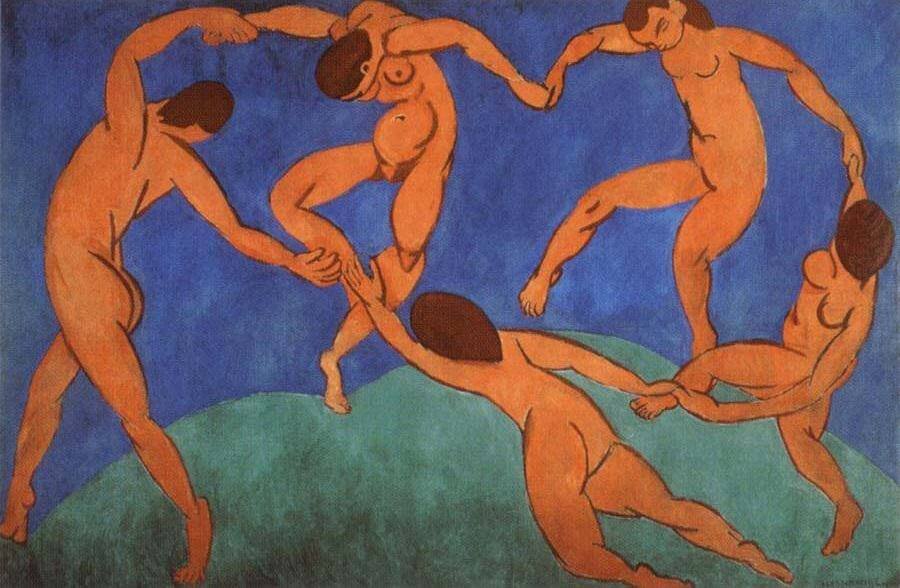 Henri Matisse's Dance, easily identifiable as one of the most famous works of contemporary art, is known for its creative character as well as the disputed method in which it was developed.
The French art establishment first responded badly to Dance because of its primitive form and use of just three colors, which was emblematic of the Fauvist movement.
This painting, commissioned and painted in 1910 for a wealthy Russian collector, features a circle of nude people dancing hand in hand against a dark blue and green background.
Also Read: Music Paintings
The artwork was condemned for its crude character, and Matisse was lambasted by many members of the art community for it.
Many art connoisseurs, on the other hand, like the painting for its unique level of color depth, since the dancing individuals are all portrayed in a reddish hue, while the ground is depicted in a solid green hue and contrasted against a lowering sky.
2. Woman with a Hat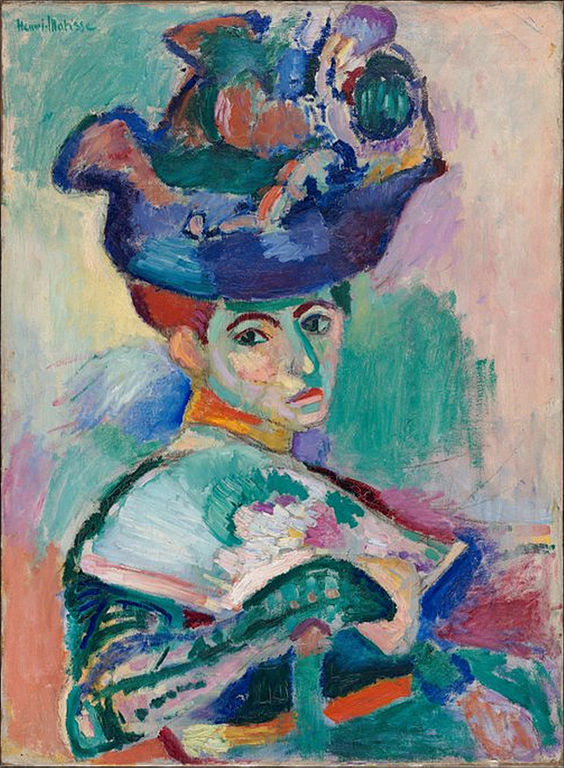 Woman with a Hat (French: La femme au chapeau) is an oil painting of Matisse's wife, Amelie.
It was painted in 1905 and displayed at the Salon d'Automne that autumn, among works by André Derain, Maurice de Vlaminck, and numerous other "Fauves" painters.
When comparing Matisse's and his companions' paintings to a Renaissance-style sculpture that shared the room with them, critic Louis Vauxcelles coined the expression "Donatello chez les fauves.." (Donatello among the wild beasts).
His remark was published in Gil Blas, a daily newspaper, on October 17, 1905, and quickly became famous. Woman with a Hat was at the core of the debate that gave rise to the name Fauvism.
It was also a painting that highlighted Matisse's aesthetic change away from the Divisionist brushstrokes of his early work and toward a more expressive manner. Its sloppy brushwork and "unfinished" look astounded visitors as much as its vibrant, non-naturalistic hues.
3. Le Bonheur de Vivre (The Joy of Life)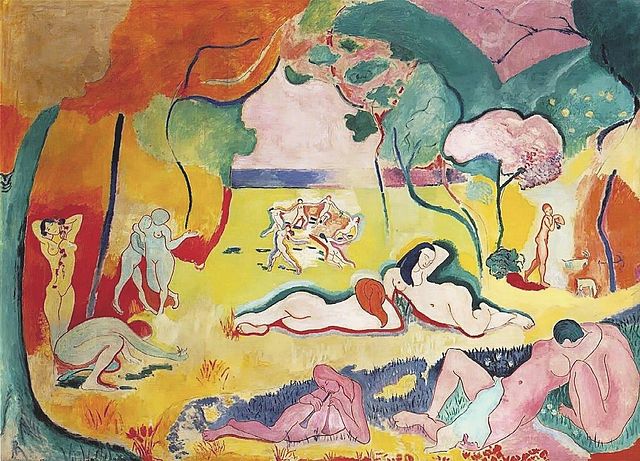 Henri Matisse's artwork Le bonheur de vivre (The Joy of Life) Le bonheur de vivre, along with Picasso's Les Demoiselles d'Avignon, is recognized as one of the foundations of early modernism.
The massive work was initially shown at the Salon des Indépendants in 1906, when its cadmium hues and spatial distortions elicited popular fury and outcry.
In the picture, naked ladies and men frolic, play music, and dance in a vibrantly colored countryside. A group of individuals in the piece's middle backdrop is comparable to the group portrayed in his painting The Dance.
It was critically panned when it was shown at the Salon des Indépendants in 1906 due to its confusing topic and lack of aesthetic consistency. Some commentators even predicted the death of French art.
However, by the 1920s, the painting had been recognized as a contemporary masterpiece. Matisse regarded it to be one of his most significant works.
4. Blue Nudes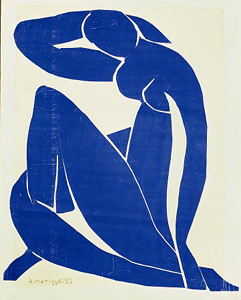 Henri Matisse's Blue Nudes is a series of color lithographs constructed from cut-outs representing naked people in different poses.
Matisse resumed making art by cutting and painting sheets of paper by hand following his stomach cancer operation, and oversaw the fabrication of the lithographs until his death in 1954.
Blue Nude IV, the first of the four nudes, required a notebook of research and two weeks of cutting and arranging before he was pleased with the finished product. In the end, Matisse settled on his favorite stance for all four works: intertwined legs and an arm stretched behind the neck.
The nude woman's stance is similar to that of a number of sitting nudes done in the early 1920s; eventually, the posture stems from the reposed figures of Le bonheur de vivre. Blue Nude II, the second in the series(featured above), was finished in 1952.
Matisse associated the color blue with distance and volume. Frustrated with his attempts to successfully marry dominant and contrasting tones, the artist was moved early in his career to use solid slabs of single color, a technique that became known as Fauvism.
Matisse's collection of African sculpture and his 1930 vacation to Tahiti inspired the painted gouache cut-outs that comprise the Blue Nudes. Matisse needed another twenty years and a post-operative period of infirmity before he was able to incorporate African and Polynesian elements into this key series.
5.

Portrait of Madame Matisse (The Green Line)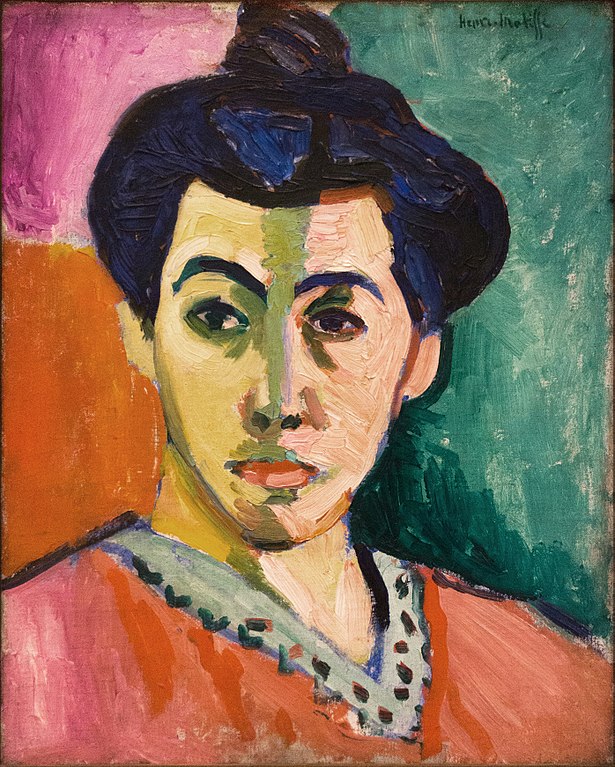 The Green Stripe (La Raie Verte), often known as Madame Matisse's Portrait. The Green Line is a portrait of Henri Matisse's wife, Amélie Noellie Matisse-Parayre, by Henri Matisse.
The picture is on display in Copenhagen's Statens Museum for Kunst.
It is an oil painting on canvas that was done in the fall or winter of 1905. It's called because the green strip that splits the face in half, which Matisse used to create a feeling of light, shadow, and volume without the use of conventional shading.
Colorism in Matisse's work was surprising at the time. When the painting was first shown in Paris in 1906, it was mockingly dubbed as the work of Les Fauves (the wild creatures), with comparable works by André Derain and Maurice de Vlaminck.
Matisse's The Green Stripe has been described as an unsettling picture by both lovers and detractors.
6.

The Conversation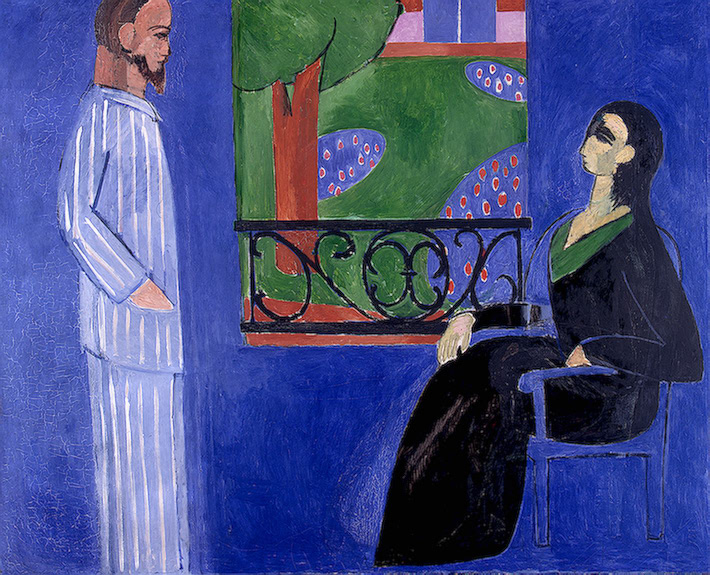 The Conversation, a Henri Matisse artwork from 1908 to 1912, displays the artist and his wife confronting each other against a vivid blue backdrop. It is part of the Hermitage Museum's collection in Saint Petersburg, Russia.
Sergei Shchukin, a Russian collector, purchased this painting straight from Matisse in Paris.
The Shchukin collection was seized during the Russian Revolution and, by 1948, it had been presented to the public, together with the Ivan Morozov collection, at the Pushkin Museum of Fine Arts in Moscow and the Hermitage Museum in St Petersburg.
The Conversation was painted by Matisse at a time when he had abandoned the wide, spontaneous brushwork of his Fauve phase in favor of a flatter, more ornamental approach.
The enormous picture (69 5/8 in. × 85 3/8 in., or 177 cm x 217 cm) depicts Matisse in profile, standing to the left in striped pajamas, with his wife, Amélie, sitting to the right. A window leading into a beautiful scene breaks up the uniformly painted blue wall behind them.
Matisse's pajamas were popular as leisure wear in early twentieth-century France. They had lately been imported to Europe from India, where tea growers wore them, and Matisse wore pajamas as his studio working attire for the rest of his life.
7.

The Dessert: Harmony in Red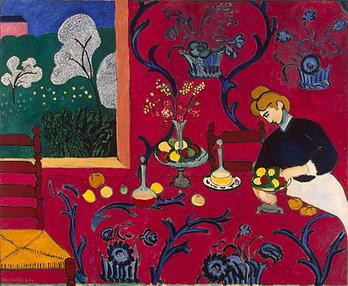 The Dessert: Harmony in Red is a painting from 1908. Some commentators believe it to be Matisse's masterpiece. With the general absence of a distinct focal point, this Fauvist painting follows the model established by Impressionism.
The picture was commissioned as "Harmony in Blue," but Matisse was unhappy with the outcome and painted it over with his favorite red.
It is part of the permanent collection of Russia's Hermitage Museum in Saint Petersburg.
8. Blue Nude (Souvenir de Biskra)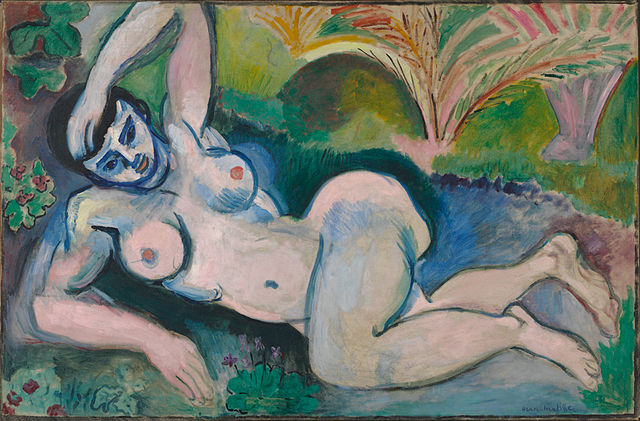 Blue Nude (Souvenir of Biskra) ("Nu bleu, Souvenir de Biskra"), an early 1907 oil painting on canvas by Henri Matisse, is part of the Cone Collection at the Baltimore Museum of Art.
When a sculpture he was working on crumbled, Matisse was inspired to paint the naked woman. He subsequently completed the sculpture, named Reclining Nude I. (Aurore).
Matisse stunned the French audience when he displayed Blue Nude at the Société des Artistes Indépendants in 1907. (Souvenir de Biskra).
Blue Nude was one of the works that became a worldwide sensation at the Armory Show in New York City in 1913.
The Fauvist artwork was contentious; it was burnt in effigy in 1913 at the Armory Show in Chicago, where it had traveled from New York.
The artwork had a profound influence on Georges Braque and Pablo Picasso in 1907, inspiring Picasso to create Les Demoiselles d'Avignon.
9.

The Snail
(Collage)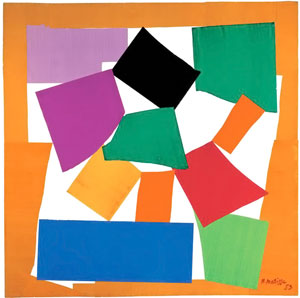 Henri Matisse's collage The Snail (L'escargot) The piece was developed during the summer of 1952 and the beginning of 1953. It is a gouache painting on paper that has been cut and pasted onto a base sheet of white paper that measures 9'434″ by 9'5″ (287 x 288 cm). The work is housed in the Tate Modern collection in London.
As the title suggests, it is made up of a variety of colorful forms arranged in a spiral pattern. Matisse sketched the snail first, then interpreted it with colorful paper.
Matisse gave the painting the alternative title La Composition Chromatique because it combines complimentary hues.
Matisse's health deteriorated in the early to mid-1940s, and he suffered from arthritis. By 1950, he had abandoned painting in favor of gouaches découpées, or paper cutouts. The Snail is a significant example of this last body of work.
10.

The Open Window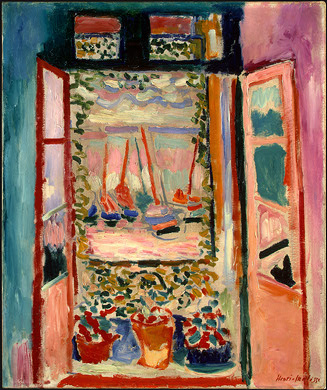 The Open Window, also known as Open Window, Collioure, is a Henri Matisse artwork. The oil on canvas painting was completed in 1905 and shown at the Salon d'Automne in Paris the following year.
Mrs. John Hay Whitney's estate presented it to the National Gallery of Art in Washington, DC in 1998.
It is an example of the Fauvist school of painting for which Matisse became recognized and was a leader during the years 1900–1909. The Open Window represents the scene from his apartment window at Collioure, on France's southern coast.
Sailboats are visible on the sea, as seen from Matisse's hotel window overlooking the harbor. He returned to the motif of the open window repeatedly in Paris, notably during his years in Nice and Etretat, and in his later years, particularly in the late 1940s.
Henri Matisse was fond of painting open windows and did so throughout his career.