Music and art have a long shared history with both of them being a creative outlet for people of all walks of life regardless of background.
Painting, music, writing, and dancing are examples of creative activities. It is these creative activities that add a rich and varied tapestry to life itself.
Many artists have used music as an inspiration for their work.
Below we will examine some of the most famous music paintings in greater detail while also taking a look at the artist behind each work and what motivated them to produce these paintings.
Famous Music Paintings
1. The Music Lesson – Johannes Vermeer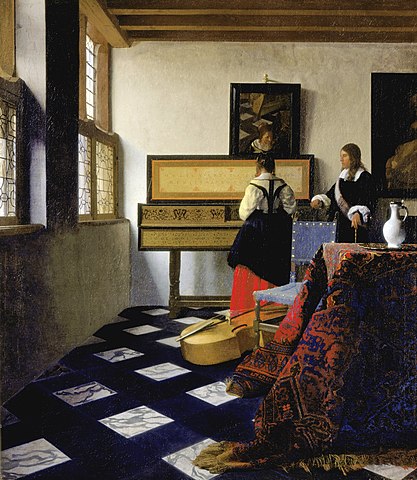 Johannes Vermeer's work The Music Instruction, Woman Seated at a Virginal or A Lady at the Virginals with a Gentleman depicts a young female learner having a music lesson from a guy.
The man's mouth is slightly open, as if he's singing along with the song that the little girl is playing.
This implies a connection between the two personalities, as well as the concept of love and music being linked. This was a popular motif in Netherlandish painting at the time.
Vermeer's paintings often included the same things, such as a draped rug, a white water jug, numerous instruments, a tiled floor, and windows that express light and shade.
This is one of few Vermeer's paintings that remained in his house until his death in 1675, when his family was compelled to sell them.
It was added to the Royal Collection and is now displayed at the Queen's Gallery at Buckingham Palace in London.
2. The Musicians – Caravaggio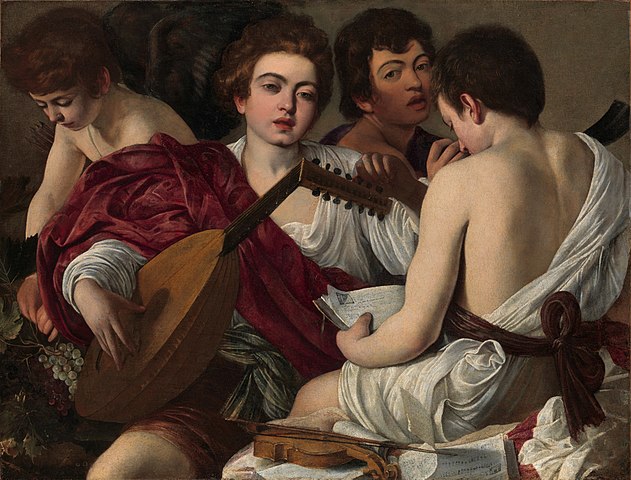 The Musicians or Concert of Youths (c. 1595) is a painting by Michelangelo Merisi da Caravaggio (1571–1610), an Italian Baroque painter.
It has been on display at the Metropolitan Museum of Art in New York since 1952. In 1983, it received considerable repair throughout it's lifetime.
Caravaggio is said to have joined the household of Cardinal Francesco Maria Del Monte in 1595, and The Musicians is considered to be his first picture done specifically for the cardinal.
The image depicts four lads dressed in quasi-Classical attire, three of them are playing different musical instruments or singing, and the fourth who is costumed as Cupid and reaching for a cluster of grapes.
The image is a metaphor that compares music to the nourishment of love, just as food is the nutrition of life.
3. The Cellist – Amedeo Modigliani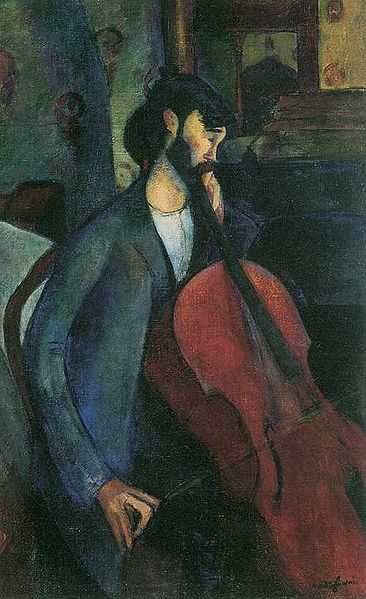 Amedeo Clemente Modigliani (July 12, 1884 – January 24, 1920) was an Italian painter and sculptor who mostly worked in France.
He is best known for portraits and nudes in a contemporary style typified by a surreal elongation of features, necks, and bodies, as seen above in his painting The Cellist.
These paintings and the style in which the were painted were not well appreciated during his lifetime but have since become highly sought-after.
Modigliani spent his childhood in Italy, where he studied antique and Renaissance art. He went to Paris in 1906, where he met artists like as Pablo Picasso and Constantin Brâncuși.
Henri de Toulouse-Lautrec was his initial inspiration, but about 1907 he got obsessed with Paul Cézanne's art.
He eventually created his own distinct style, which cannot be appropriately classified with that of other painters.
4. Orchestra Musicians – Edgar Degas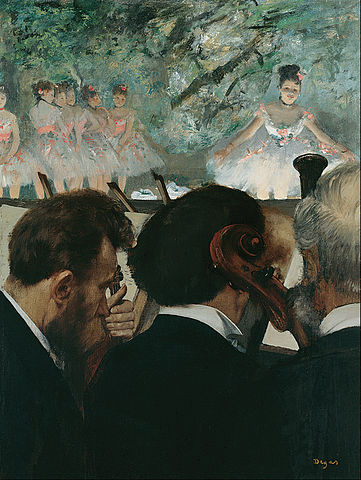 Orchestra Musicians is an 1872 artwork by Edgar Degas that was modified in 1874. This was initially a horizontal-format painting, with the musicians in the orchestra pit in the middle and the ballet dancers on the stage in the backdrop, with just the bottom half of their bodies visible.
Degas subsequently shortened both edges of the canvas and expanded it at the top. The emphasis on the musicians has been broadened in the new version to encompass the stage and its dancers.
This painting kicks off Degas's long series of dance representations, for which he is as well known today as he is for his distinctive manner of framing his settings.
5. The Wedding at Cana – Paolo Veronese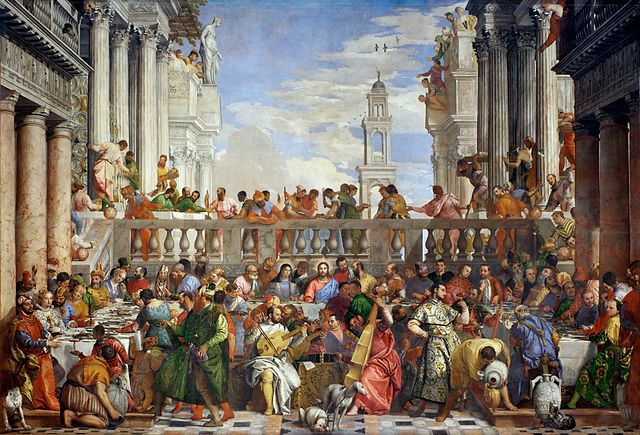 The Wedding Feast at Cana (Nozze di Cana, 1563), by Paolo Veronese, is a figurative painting of the biblical tale of the Marriage at Cana, in which Jesus magically transforms water into red wine (John 2:1–11).
The large-format (6.77 m 9.94 m) oil painting, executed in the late Renaissance Mannerist style (1520–1600), embodies the artistic goal of compositional harmony, as pursued by the painters Leonardo, Raphael, and Michelangelo.
The painter Paolo Veronese depicts Jesus' water-to-wine miracle in The Wedding Feast at Cana (1563), in the magnificent manner of the opulent feasts of food and music that were typical of 16th-century Venetian culture.
6. El Jaleo – John Singer Sargent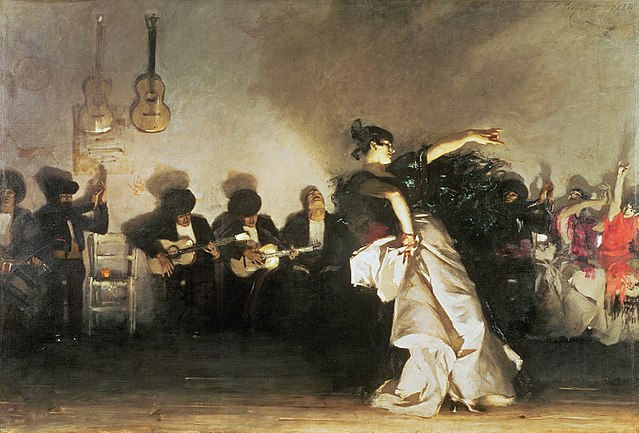 El Jaleo is a giant John Singer Sargent artwork that depicts a Spanish Gypsy dancer dancing to the accompaniment of musicians. It was painted in 1882 and is now on display at the Isabella Stewart Gardner Museum in Boston.
Sargent's five-month voyage across Spain and North Africa in 1879 inspired the work, as did a smaller oil painting, The Spanish Dance (Hispanic Society of America).
The picture is chronologically and conceptually similar to a sequence of paintings Sargent made during a later visit in Venice, which also incorporate dramatic light effects, exotic models, and restrained colors.
Impressed by the costumes and theatricality of Gypsy dancing, the artist went to Paris and started work on a massive painting like a stage.
El Jaleo refers to both the general meaning of jaleo, a commotion, and the particular dance known as jaleo de jerez.
7. The Piano Lesson – Henri Matisse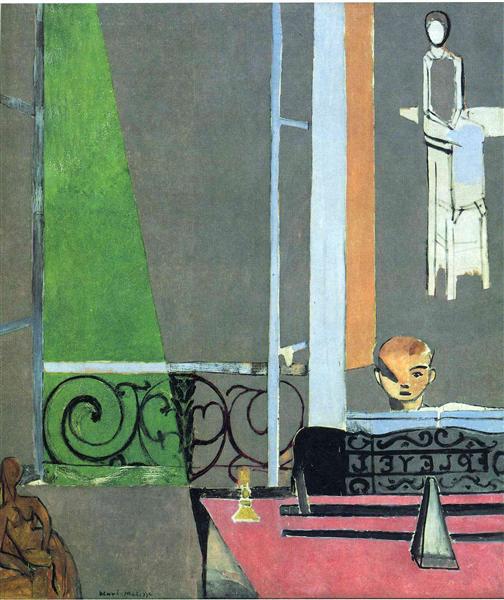 The Piano Lesson displays Henri Matisse's living room at Issy-les-Moulineaux, with his older son, Pierre, playing the piano, the artist's sculpture Decorative Figure (1908), at bottom left, and his painting Woman on a High Stool, at top right.
Matisse started with a realistic sketch, but as he worked, he removed detail, scraping down parts and recreating them with vast fields of color.
The triangle of shadow on the boy's face and the corresponding green triangle of light falling on the garden recall a precise moment in time—light unexpectedly switched on in a darker home.
The artist's incising on the window frame and stippling on the left side create a pitted aspect that symbolizes the eroding effects of light or time, a concept reinforced by the metronome and burning candle on the piano.
8. Three Musicians – Pablo Picasso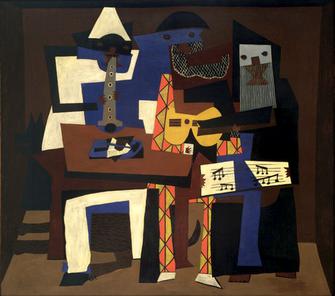 Picasso's title for two collage and oil pieces is Three Musicians. Both were completed in 1921 at Fontainebleau, near Paris, France, and are remarkable specimens of the Synthetic Cubist style.
Each piece features a Harlequin, a Pierrot, and a monk, who are claimed to represent Picasso, Guillaume Apollinaire, and Max Jacob, in that order.
The Harlequin in the center, playing a guitar, is a recurring stand-in for Picasso himself throughout his work. Pierrot and Harlequin are well-known characters from the ancient Italian comic theater known as Commedia dell'Arte, a common theme in Picasso's art.
Despite the fact that it is an oil painting, Three Musicians seems to be a collage made from cut out pieces of colored paper. The shapes have been simplified to geometric patterns that connect like jigsaw puzzles.
Three Musicians represents a significant shift in Picasso's work that occurred after 1914. Picasso only made a few collages after 1914.
Instead, he used Cubist methods in the traditional medium of oil on canvas, enabling him to create far larger and more colorful pieces.
This new approach had a significant advantage: oil paintings could be sold for far higher prices than collages.
9. The Fiddler – Marc Chagall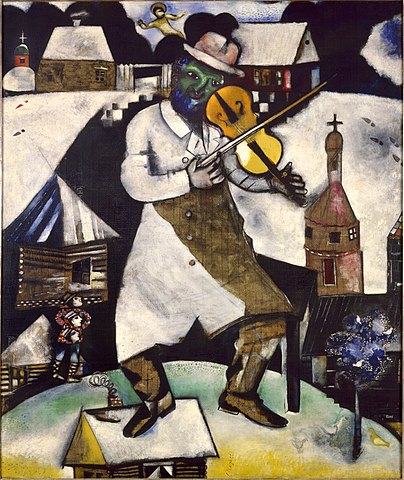 Marc Chagall was a Belarusian-French artist who lived from 6 July 1887 to 28 March 1985.
He was an early modernist who worked in a variety of creative mediums, including painting, drawings, book illustrations, stained glass, stage sets, ceramics, tapestries, and fine art prints.
The Fiddler by Marc Chagall is an oil work done in 1913 when the artist was residing in France. The quasi-cubist artwork depicts a violinist in Chagall's hometown of Vitebsk.
The fiddler is just a singer who creates music at the turning events in every man's life, beginning with his birth, wedding, and death.
Using clashing hues, the artist concentrates on producing a visual depiction of the typical individual's internal conflict over his existence, with the fiddler serving as the essential symbolic element.
10. Music – Henri Matisse
Henri Matisse created Music (La Musique) in 1910 as a wall-size painting. Sergei Shchukin commissioned the painting, which he displayed beside Matisse's 1910 Dance on the stairway of his Moscow residence.
Matisse created the painting without any previous studies, and as a result, the work is riddled with alterations. Matisse's processes to get the desired effect may be practically traced.
The goal, like with Dance, was to demonstrate man's achievement of a condition of totality via absorption in creation.
The picture is presently housed at Russia's Hermitage Museum in Saint Petersburg.