Minimalism refers to movements in art and design, particularly visual art and music, in which the goal is to uncover the essence, essentials, or identity of a topic by removing any non-essential forms, characteristics, or ideas.
As an artistic movement, it is associated with changes in post–World War II Western art, particularly with American visual arts in the 1960s and early 1970s.
Minimalist artists have occasionally responded negatively to the epithet since it implies that their work is "basic".
Minimalism is often seen as a response to abstract expressionism and a gateway to post-minimal art movements.
Famous Minimalist Artists
1. Donald Judd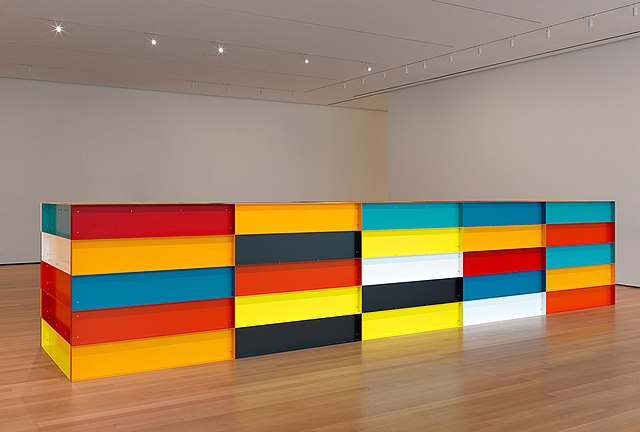 Donald Clarence Judd (June 3, 1928 – February 12, 1994) was an American minimalist artist (a term he rejected strongly).
Judd sought autonomy and clarity for the manufactured item and the space it produced in his work, eventually reaching a strictly democratic presentation devoid of compositional hierarchy.
He is widely regarded as the foremost worldwide proponent of "minimalism," as well as its most prominent theorist, thanks to works such as "Specific Objects" (1964).
Judd taught at the Allen-Stevenson School in the 1960s, the Brooklyn Institute of Arts and Sciences (1962–64), Dartmouth College in Hanover (1966), and Yale University in New Haven (1967).
Beginning in 1983, he taught on art and its link to architecture at colleges around the United States, Europe, and Asia.
During his lifetime, Judd wrote a substantial corpus of theoretical papers in which he vigorously championed the cause of Minimalist Art; these essays were released in two volumes in 1975 and 1987.
2. Yayoi Kusama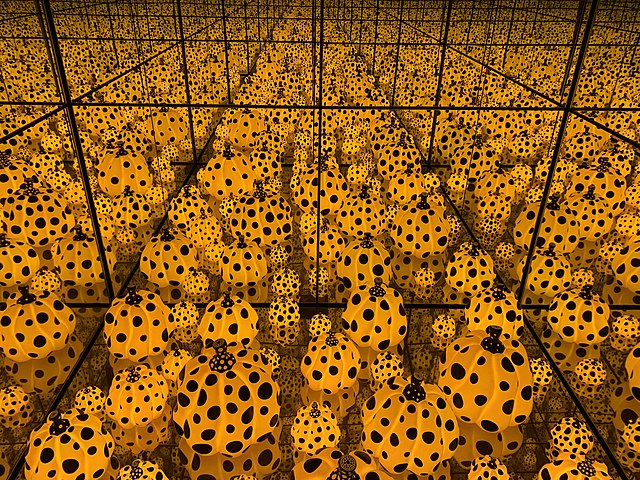 Yayoi Kusama is a contemporary Japanese artist who works mostly in sculpture and installation, but also in painting, performance, video art, fashion, poetry, and fiction, among other mediums.
Her work is conceptual in nature, with elements of feminism, minimalism, surrealism, Art Brut, pop art, and abstract expressionism, as well as autobiographical, psychological, and sexual themes.
She is regarded as one of the most important living Japanese artists.
Kusama was raised in Matsumoto and studied traditional Japanese painting at Kyoto City University of the Arts in the nihonga style.
However, Kusama was inspired by American Abstract Impressionism. She moved to New York City in 1958 and became involved in the New York avant-garde scene, notably the pop-art movement, throughout the 1960s.
Embracing the rise of the hippie subculture in the late 1960s, she rose to prominence by arranging a series of events in which people were painted with brightly colored polka dots while naked.
Since the 1970s, Kusama has continued to create art, mostly via museum installations.
3. Frank Stella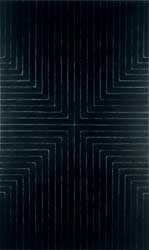 Frank Philip Stella (born May 12, 1936) is a painter, sculptor, and printer from the United States. He is known for his work in minimalism and post-painterly abstraction. Stella now lives and works in New York City.
He rebelled against the emotive use of paint by most abstract expressionist artists, instead gravitating toward the "flatter" surfaces of Barnett Newman's work and Jasper Johns' "target" works.
He started to create works that stressed the image-as-object rather than the picture as a representation of anything, whether in the physical or emotional worlds of the artist.
Stella married Barbara Rose, who went on to become a well-known art critic, in 1961. At the time, he defined a painting as "a flat surface with paint on it – nothing more."
This was a break from the traditional method of beginning a painting with a sketch. Many of the works are made by just following the course of the brush stroke, which is often done with basic home paint.
This new style was expressed in the Black Paintings (1959), a series of new paintings in which regular bands of black paint were divided by extremely thin pinstripes of unpainted canvas. One such work is Die Fahne Hoch!(shown above).
Stella's work was included in various shows in the 1960s, including The Shaped Canvas (1965) and Systemic Painting (1966) at the Solomon R. Guggenheim Museum (1966).
Stella's work was included in a retrospective at the Museum of Modern Art in New York in 1970. Since then, his work has been the topic of several retrospectives in the United States, Europe, and Japan. A retrospective of Stella's career was displayed at the Kunstmuseum Wolfsburg in 2012.
4. Sol LeWitt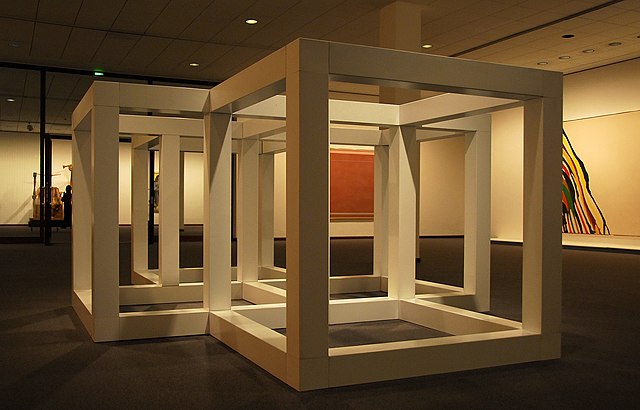 Solomon "Sol" LeWitt (September 9, 1928 – April 8, 2007) was an American artist who was associated with a number of styles, including conceptual art and minimalism.
LeWitt rose to prominence in the late 1960s with his wall drawings and "structures" (a word he preferred over "sculptures"), but he was as productive in drawing, printing, photography, painting, installation, and artist's books.
Since 1965, he has been the focus of hundreds of solo exhibits in museums and galleries all around the globe.
LeWitt is widely considered as the father of Minimal and Conceptual art. His prolific two- and three-dimensional work includes wall drawings (over 1200 completed) and hundreds of works on paper, as well as constructions in the shape of towers, pyramids, geometric patterns, and progressions.
The scale of these works ranges from books to gallery-sized installations to massive outdoor artworks. In the 1960s, LeWitt made his first serial sculptures, which used the modular shape of the square in changing visual complexity.
5. Richard Serra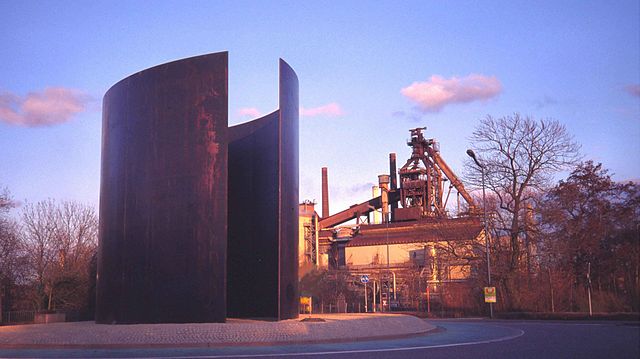 Richard Serra (born November 2, 1938) is a well-known American sculptor noted for his large-scale sculptures created for site-specific landscape, urban, and architectural environments.
Serra's sculptures are remarkable for their material quality and study of the viewer-work-site interaction.
Serra has attempted to radicalize and broaden the notion of sculpture since the mid-1960s, starting with his early explorations with rubber, neon, and lead and progressing to his large-scale steel works.
6. Robert Morris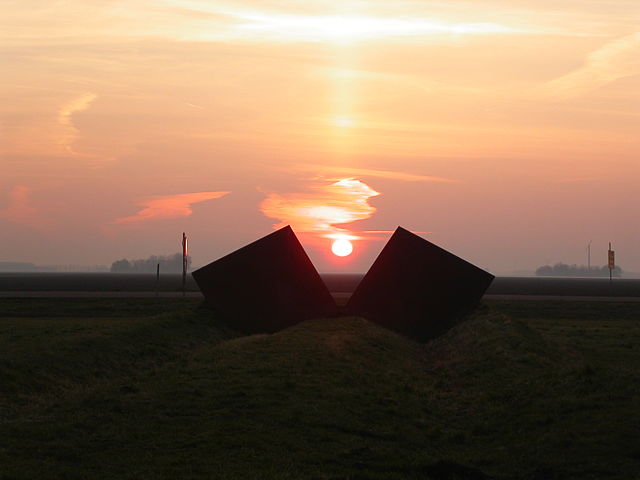 Robert Morris (February 9, 1931 – November 28, 2018) was a sculptor, conceptual artist, and writer from the United States.
Along with Donald Judd, he was recognized as one of the most influential thinkers of Minimalism, but he also made significant contributions to the development of performance art, land art, the Process Art movement, and installation art. Morris worked and resided in New York.
Morris began as a painter, and his work in the 1950s was inspired by Abstract Expressionism, notably Jackson Pollock.
Morris started to investigate Marcel Duchamp's work in New York City, creating conceptual works such as Box with the Sound of its Own Making (1961) and Fountain (1961). (1963).
Donald Judd wrote about his Minimal sculpture show at the Green Gallery in New York in 1963. Morris showed a series of large-scale polyhedron structures made from 2 x 4s and gray-painted plywood the following year, again at Green Gallery.
Morris developed Steam, an early work of Land Art, in 1967. Morris was highlighted in museum displays in America by the late 1960s, although his art and words garnered criticism from Clement Greenberg.
His work grew in size, occupying the bulk of the exhibition space with a succession of modular modules or heaps of dirt and felt.
For example, Untitled (Pink Felt) (1970) is made up of hundreds of sliced pink industrial felt pieces that have been dumped on the floor. Morris produced an exhibition for the Tate Hall in 1971 that filled the whole central sculpture gallery with ramps and cubes.
In the Netherlands, he built the Robert Morris Observatory, a "new Stonehenge" that marks the solstices and equinoxes.
Morris shifted to figurative work in the late 1970s, which astonished many of his fans. The work's themes often revolved on the threat of nuclear war.
7. Dan Flavin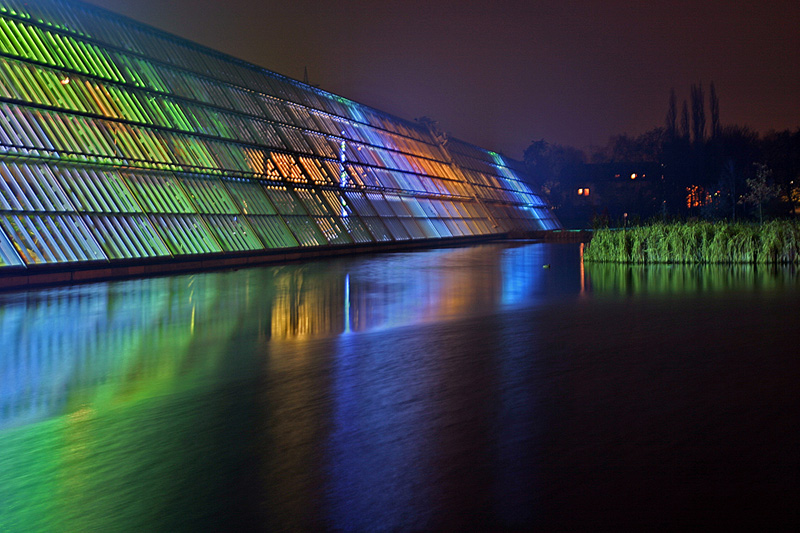 Dan Flavin (April 1, 1933 – November 29, 1996) was an American minimalist artist best known for his use of widely accessible fluorescent light bulbs to create sculptural objects and installations.
Flavin's early works were sketches and paintings influenced by Abstract Expressionism. In 1959, he started creating assemblages and mixed media collages using found things from the streets, particularly crushed cans.
Flavin began sketching sculptures using electric lights in the summer of 1961, while working as a guard at the American Museum of Natural History in New York.
His "Icons" series was the first to include electric light: eight colorful shallow, boxlike square structures created from diverse materials such as wood, Formica, or Masonite.
The Icons were built by the artist and his then-wife Sonja and had fluorescent tubes with incandescent and fluorescent lamps affixed to the sides, as well as occasionally beveled edges.
By 1968, Flavin's sculptures had evolved into room-sized light scapes. At Documenta 4 in Kassel, Germany, that year, he sketched an entire gallery in ultraviolet light.
Flavin's initial vision for a 1971 sculpture was completely realized in a site-specific installation that spanned the whole rotunda of the Solomon R. Guggenheim Museum on the occasion of the museum's inauguration in 1992.
Flavin designed his sculptures in editions of three or five, but he did not make individual pieces until they were sold in order to save excessive manufacturing and storage expenses.
His sculptures were only available as sketches or display copies until the time of sale. As a consequence, when the artist died in 1996, he left behind over 1,000 unfinished works.
8. Carl Andre
Carl Andre (born September 16, 1935) is a minimalist American artist known for his organized linear and grid format sculptures. His sculptures span from enormous public works to large indoor floor pieces to smaller more personal ones.
Andre cites Brâncuși as an influence for his early wood sculptures[8], but his discussions with Stella about space and form pushed him in a new path.
Andre created a series of wooden "cut" sculptures while sharing a workshop with Stella. Stella is quoted as saying to Andre, "Carl, that's sculpture, too," in reference to hunks of wood cut from Andre's sculpture.
Andre worked as a freight brakeman and conductor for the Pennsylvania Railroad in New Jersey from 1960 until 1964. Andre's sculpting and creative personality will be influenced later by his experience with blue collar jobs and the regulated aspect of directing freight trains.
Andre, for example, was known to wear overalls and a blue work shirt to even the most formal events.
In 1965, he held his first public showing of art at the Tibor de Nagy Gallery, in the Shape and Structure show directed by Henry Geldzahler.
Andre's contentious Lever was featured in the groundbreaking 1966 exhibition Primary Structures at the Jewish Museum in New York.
In the late 1960s, the Darmstadt industrialist Karl Ströher (Wella) purchased three important pieces by Andre and loaned them to the Hessisches Landesmuseum Darmstadt.
He had a solo show at the Solomon R. Guggenheim Museum in 1970.
In 1981, Peter Iden purchased these pieces for the Museum für Moderne Kunst Frankfurt. The sculptures have subsequently been presented in many "Change of Scene" exhibits (1992-2002) at the Frankfurt Museum and across the world.
The Tate Gallery in London purchased Andre's Equivalent VIII, a 120-firebrick composition, in 1972.
The sculpture was shown numerous times without incident until becoming the subject of controversy in 1976, when it was featured in an article in The Sunday Times and then damaged using blue food dye. The "Bricks dispute" became one of the most well-known public arguments regarding modern art in the United Kingdom.
Carl Andre's 'Lever' is made out of only one line of 137 firebricks. As the blocks hug the floor, the piece divides a space succinctly. Carl Andre gained significant notoriety after presenting 'Lever' at "Primary Structures."
9. Eva Hesse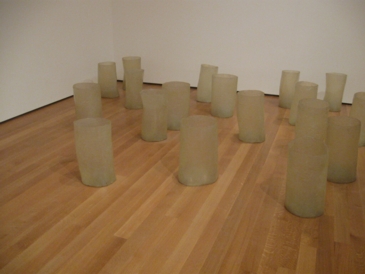 Eva Hesse (January 11, 1936 – May 29, 1970) was a German-born American sculptor best known for her work with latex, fiberglass, and plastics. She was one of the artists that helped to launch the postmodern art movement in the 1960s.
Hesse's early work (1960–65) was mostly abstract drawings and paintings. Because she is more recognized for her sculptures, her sketches are sometimes seen as precursor stages to her later work.
She did, however, make the majority of her drawings as a distinct body of work. "They were linked because they were mine," she said, "but they weren't related in the sense that one completed the other."
Hesse's fascination in latex as a material for sculptural shapes sprang from a need for immediacy. Hesse's first two latex pieces, Schema and Sequel (1967–68), employ latex in ways that the maker never envisioned.
Hesse used industrial latex in her artwork Untitled (Rope Piece), and once it set, she strung it on the wall and ceiling using wire.
Casting was the intended use for industrial latex. Hesse used it like house paint, brushing layer upon layer to create a smooth but uneven surface, jagged at the edges like deckled paper.
Hesse's art often incorporates many forms of similar shapes arranged in grid layouts or clusters.
She made quirky work that was repetitive and labor-intensive while retaining elements of the distinguishing features of minimalism, modularity, and the use of uncommon materials. Her 1968 piece Contingent is an excellent illustration of this notion.
10. Ellsworth Kelly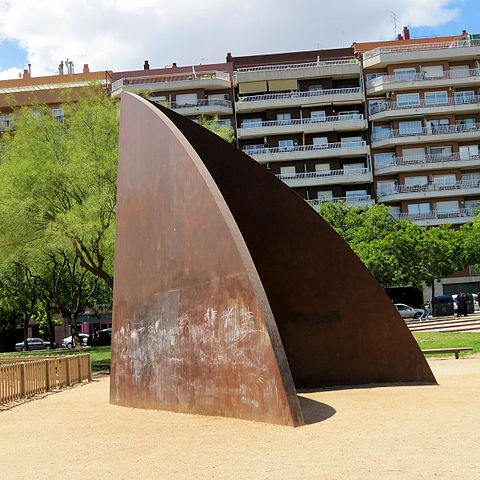 Ellsworth Kelly (May 31, 1923 – December 27, 2015) was a painter, sculptor, and printer from the United States who was connected with hard-edge painting, Color Field painting, and minimalism.
His paintings, like those of John McLaughlin and Kenneth Noland, exhibit simple approaches stressing line, color, and shape. Kelly often used vibrant colors.
He painted solely in an abstract style beginning about 1952. By the late 1950s, his paintings were emphasizing shape and planar masses (often assuming non-rectilinear formats).
His work during this time period also served as a valuable link between the vanguard American geometric abstraction of the 1930s and early 1940s and the minimalism and reductive art of the mid-1960s and 1970s.
Kelly is most known for his paintings, but he also worked in sculpture throughout his career.
Kelly's works were made via a series of thoughts on different shapes. He may have started with a sketch, then enlarged it to make a print, then taken the print and built a freestanding work, which was then turned into a sculpture.
His sculptures are intended to be very basic and to be examined fast, frequently with just one look. The spectator notices clean, flat surfaces that are isolated from the surrounding surroundings. This feeling of flatness and simplicity makes distinguishing between foreground and backdrop difficult.