The robust and often-colorful traditional art of the many Native American tribes from across North America are known to have contributed greatly to some aspects of American culture.
While the untrained mind might view Native American art as being limited to mere pottery, feathers and rock walls, the truth about modern art from various Native and First Nations people is that their works are truly unique in both perspective and subject matter.
Many Native Americans have had to deal with various cultural hardships throughout American history as they were confined to reservations for many decades which essentially caused them to be shut off from the rest of the world.
When observing artwork from some of the most notable Native American artists from the modern era, it becomes clear that art is intrinsic to the existence of Native people.
In this article, we will take a more in-depth look at some of the most celebrated Native American artists in history in an effort to help understand the motivations and meanings behind many of their greatest works and different styles.
Famous Native American Artists
1.

Jaune Quick-to-See Smith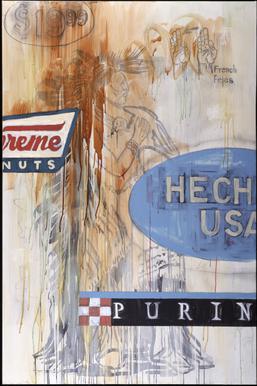 Born in Montana's Confederated Salish and Kootenai Nation reservation, Jaune Quick-to-See Smith is celebrated as the most influential Native American artist from the modern era.
Her works are distinctly tied to the plight of the people that initially inhabited North America when European settlers and conquistadors arrived centuries ago.
She obtained extensive academic degrees related to the arts and has enjoyed a long and illustrious career as a painter and printmaker, but her impact across much of the Native peoples has been felt through her work as an educator and activist.
Smith has developed a strong and well-rooted sense of identity as an artist and has used her works as a means to educate and bring attention to various issues that are all-too-often ignored by the world as a whole.
Her works blend a wide range of colors with subtle imagery in a way that often exhibits a uniquely Native American point of view that's intermingled in with much of the often overlooked modern representations of various tribes or items associated with Native life.
2.

T. C. Cannon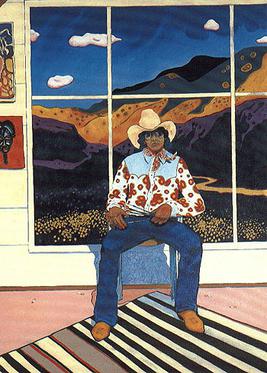 T. C. Cannon was an extremely talented Native American artist who had a short, but notable career among artists of Native ancestry. Born in Oklahoma to a family with deep roots in the Kiowa tribe, Cannon's Native name, Pai-doung-a-day, means "One Who Stands in the Sun." At an early age, he was heavily-inspired by a group that would later become known as the Kiowa Six.
Cannon was one of the greatest Native American painters in modern times and his works were bold and filled with a wide range of colors that brought the paintings to life in a unique way.
He served in the United States military, being stationed in Vietnam when his art career essentially took off after Rosemary Ellison included his work along with other Native American artists in a traveling exhibit known as the Contemporary Southern Plains Indian Art.
One of his most notable works had been featured along with another Native artist, Fritz Scholder, at the Smithsonian Institution's National Collection of Fine Arts.
The exhibition featured works that centered around stereotypical Native American imagery with an obvious level of irony and lightheartedness. His career was just beginning to rise to new heights in 1978 when he was tragically killed in a car wreck at just 31 years old.
3.

Fritz Scholder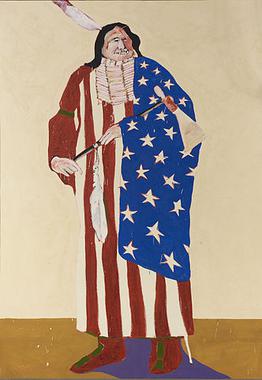 As mentioned above, Scholder had a close relationship with T.C. Cannon that would be the driving factor behind much of his work that blended Native American themes with the rich cultures of Egypt and others. Scholder was born in 1937 and enjoyed a long and celebrated career as a sculptor and painter, despite many of his works having an element of controversy to them.
He famously portrayed "American Indians'' draped in American flags with slightly comedic depictions of modern-day inhabitants of the United States. These works would sometimes include items such as beer cans, televisions, and other aspects that were considered to be uniquely American in nature.
His works that followed this style were seen as an interesting blend of the romantic sense of what many Americans viewed as "Native American" along with truths about life in the United States that were often bordering on being insulting to Americans as a whole.
Scholder's later works would send him traveling across the world in efforts to get an up-close view at some of the most celebrated works of art in the world. His travels took him across Europe and North Africa where he extensively studied Egyptian paintings and sculptures, including the sphinx.
4.

Kay WalkingStick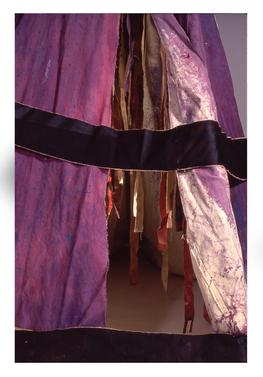 Kay WalkingStick is a Cherokee artist who is most well-known for her masterful paintings of landscapes that feature some of the most majestic locations in the United States and other parts of North America. She is famous for incorporating various elements into her paintings that are viewed as being distinctly Native American.
She has enjoyed a notable career as an artist with many paintings being exhibited in the world's most prestigious museums, but WalkingStick is perhaps best known as an educator who has written extensively on the subject of Native American art.
Many of her most famous paintings were a series of black and white portraits featuring well-known chiefs, warriors, and other influential figures from different Native American tribal backgrounds.
5.

Nocona Burgess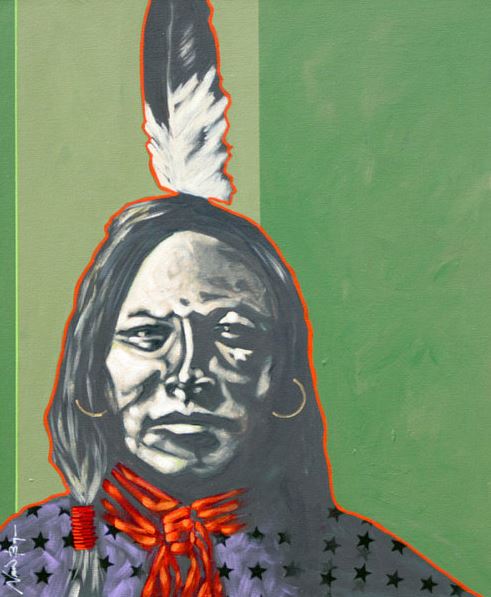 Nocona Burgess is an artist of Native American ancestry that is tied to the Comanche tribe that famously dominated the southwestern United States until the early 20th century.
Burgess' work is highly-regarded by those who are familiar with Native American-themed painting as his bold and vibrant style of portraying various figures from Native tribes is one of the most recognizable of any Native artist.
Also Read: Famous Paintings of Native Americans
Many of Burgess' paintings feature a bold-colored background that works to enhance the various colors and elements of the figure's apparel.
He is known for painting some of the most famous Native American individuals in history, basing his works on photographed portraits that were captured of the individuals during their lifetimes.
He is directly-related to famed Comanche Chief Quanah Parker and Burgess' work has been featured in some of the most prominent museums and art exhibits across the country.
6.

Frank Buffalo Hyde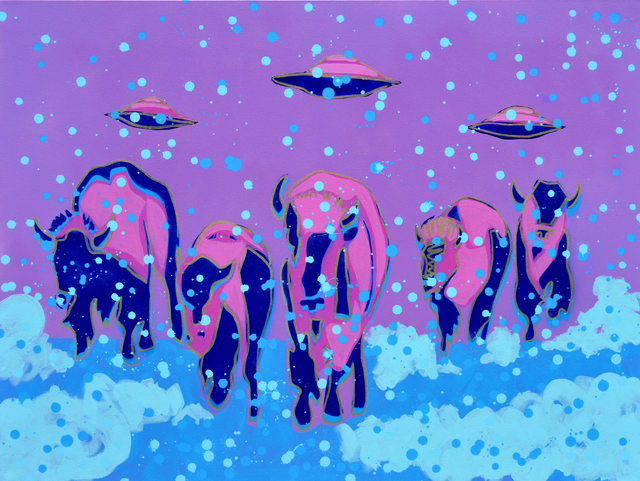 Frank Buffalo Hyde is a modern Native American artist who produces paintings that are a unique combination of Native and modern American culture.
Born in 1974, Hyde's career is still very much thriving and he is known for his ability to add great amounts of depth to the figures represented in his works.
Many of his paintings combine various ideas that are among the most easily-recognized of American and Native American tribal life.
His roots can be traced back directly to the Onondaga and Nez Perce tribes and Hyde's works have been featured everywhere from the Smithsonian Museum to various museums that focus on specific Native American tribal artwork.
7.

Joan Hill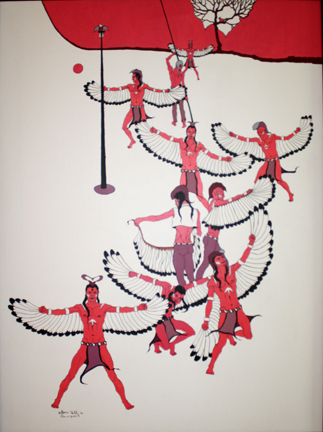 Of the most celebrated Native American artists in modern times, Joan Hill is known as one of the most recognized among her peers. Hill was born in 1930 in Oklahoma to a family that is of Cherokee and Muscogee ancestry.
She obtained various degrees in the fine arts and would go on to create some of the most intensely beautiful paintings of any modern American artist.
Hill is one of the most well-known American watercolor artists in history and many of her works feature the distinct, translucent qualities that can be attributed to a masterful use of watercolor paint.
Most of Hill's famous paintings feature traditional Native American tribal activities and subject matter.
These paintings range across a variety of different native tribes from the United States and include high level of detail with a colorful background that brings the overarching themes together in each of her works.
8.

Oscar Howe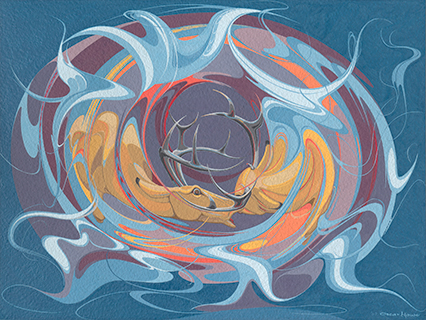 Oscar Howe is one of the most prominent Native American artists in history and his most notable works were casein and tempera paintings that included a sense of divine and spiritual reality along with Native American subject matter.
Howe was born in South Dakota in 1915 on a reservation that was home to various tribes that included Crow, Sioux, and Creek Nations.
He was of the Dakota tribe and his Native name, Mazuha Hokshina means "Trader Boy." Howe's art career took off when he was at a young age as he took part in Dorothy Dunn's highly-recognized art program in Santa Fe in the 1930's.
Howe would later serve in World War II and returned after his service to the United States where he developed his own style of painting that was deeply-rooted in what he deemed to be ideas that symbolize truth and righteousness.
9.

Duane Slick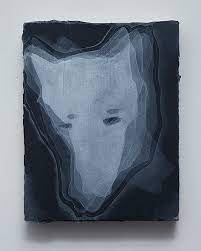 Born in 1961, Duane Slick is widely famous for his monochromatic paintings that offer a very straightforward overall design that is reminiscent of styles used by early Native American artists. He is from Iowa and has parents that are descended from the Meskwaki and the Winnebago tribe.
He obtained various degrees in the fine arts and now works as an educator, having taught at various institutions across the United States over the last three decades.
Slick's most famous paintings have a very abstract element to them that includes some notable imagery from Native American life.
10.

Allan Houser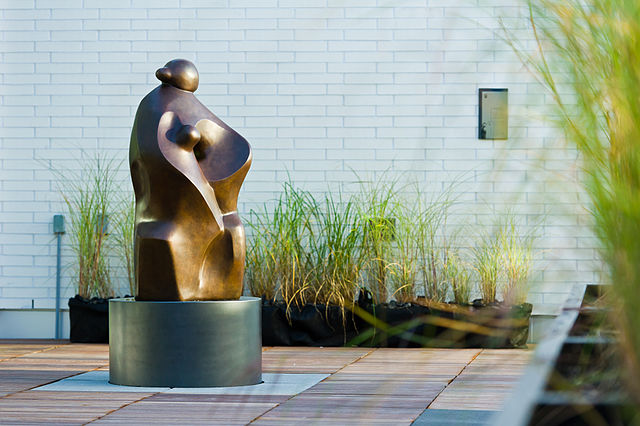 Allan Houser was one of the most widely-celebrated Native American artists of the modern era who is known to have focused on areas such as painting, sculpture, and other methods of artistic expression.
Born in 1914 in Apache Oklahoma, Houser was the first member of his particular tribe that was born outside of captivity since the surrender of Geronimo in 1886.
He is known to have created various wood carvings and other forms of sculptures, as well as paintings in his early career before serving in World War II.
His colorful and distinctive artwork has been featured at prominent museums such as the Smithsonian and other nationally-recognized exhibits.
Houser is also a famous educator in the arts and was known for his abilities as an educator and mentor to many other Native American artists during his career.