Native American heritage and customs have long been some of the most intriguing and captivating bits of culture in the world.
The natural and somewhat wild way of life that many Native American tribes practiced across every corner of the North American continent was something that drew attention and fascination from European countries that had long been civilized.
Many Native American tribes and nations have distinct forms of artwork, songs and stories that are all some of the most unique forms of expression of any other group in the world.
Many of the most prominent artists from Europe and America have found a special sense of interest in the various Native American tribal customs and artistic designs.
The bold and vibrant colors of Native American tribal attire, as well as the beauty of the American frontier combine to make Native American paintings something that is truly unique in the eyes of viewers.
In this article, we will discuss some of the most interesting and distinctly beautiful works that are centered around Native American lifestyle and traditions while also examining why the artists created these paintings.
Famous Native American Paintings
1.

The Last of the Buffalo

– Albert Bierstadt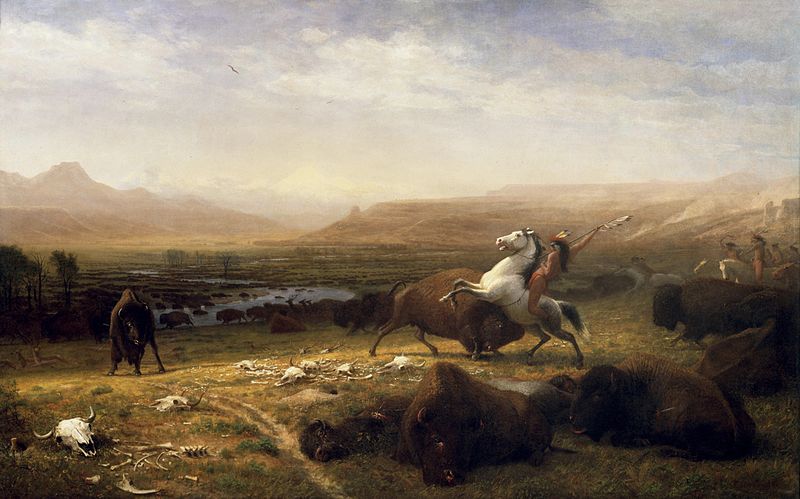 The buffalo has long been a symbol of Native American life and culture. Various Native American tribes from the western portion of the North American continent heavily relied on buffalo to survive the often harsh winters on the western plains.
Albert Bierstadt was known as an artist who created some of the most impressive landscape paintings during the last few decades of the 19th century.
Bierstadt is remembered as one of the most prominent artists to have created works that were culturally and historically significant to the plight of Native Americans as they were being pushed out of their lands and forced to live on small reservations in desolate regions of the United States' territory.
Also Read: Famous Albert Bierstadt Paintings
His painting titled The Last of the Buffalo is arguably one of the most famous Native American paintings ever created as it contains significant meaning and symbolism, as well as a truthful look at how westward expansion was streaking havoc on Native people.
The painting was a colossal 6 x 10 foot work that features a sprawling frontier that is teeming with buffalo.
In this work, we see many of these buffalo sauntering across the plains down towards a serene river, but one of these creatures is locked in combat with a tribal hunting party.
The buffalo is seen charging a Native American hunter who is mounted atop a white horse and trying desperately to stab the beast with a spear.
Bierstadt painted this work in 1888 when the buffalo were hunted nearly to extinction. His work depicts the last glorious bit of Native American culture that seemed to be dying out along with the dwindling buffalo population.
2.

When Blackfoot And Sioux Meet

– Charles Marion Russell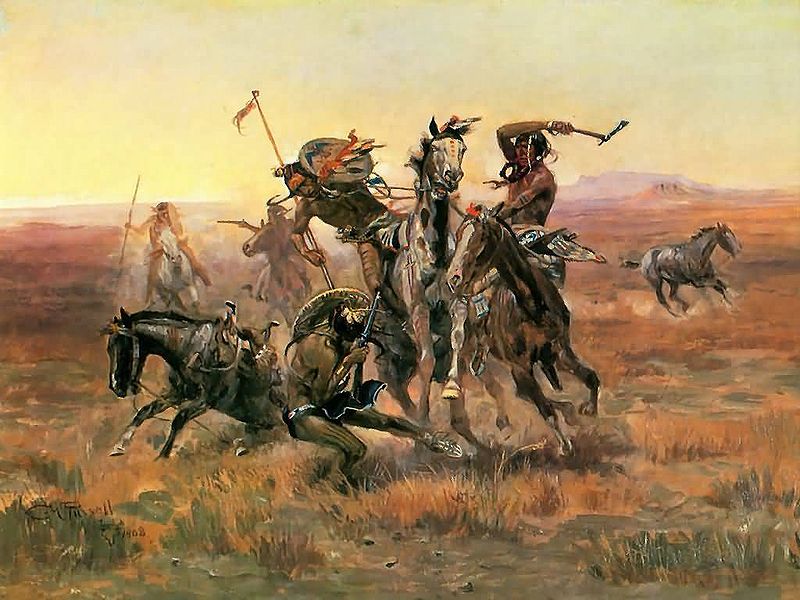 Charles Marion Russell was remembered as one of the most prolific painters that focused many of his works on the old American west.
Russell was playfully referred to as "Kid Russell" in the same way western outlaws and cowboys often doled out nicknames to their fellow riders.
Also Read: Famous Cowboy Paintings
His works were stunningly beautiful depictions of the old American West and the frontier life that was becoming more and more of a historic relic than reality in the late 19th and early 20th century.
One of his most famous works is focused on a fierce battle between two Native American tribes of the plains. This painting was titled When Blackfoot And Sioux Meet and was completed in 1908.
The painting is known for its action-packed intensity as the warriors from both tribes are locked in a deadly struggle in which they fight one another with guns, as well as their traditional tomahawks.
The painting is filled with colorful beauty from the deep yellow of the sky along with the Earthy reddish hues of the plains themselves.
Both horses and riders in these two war parties are dressed in vibrant colors and patterns that were intended to represent the pride of these men should they die in battle.
3.

The Buffalo Hunt

– Frederic Remington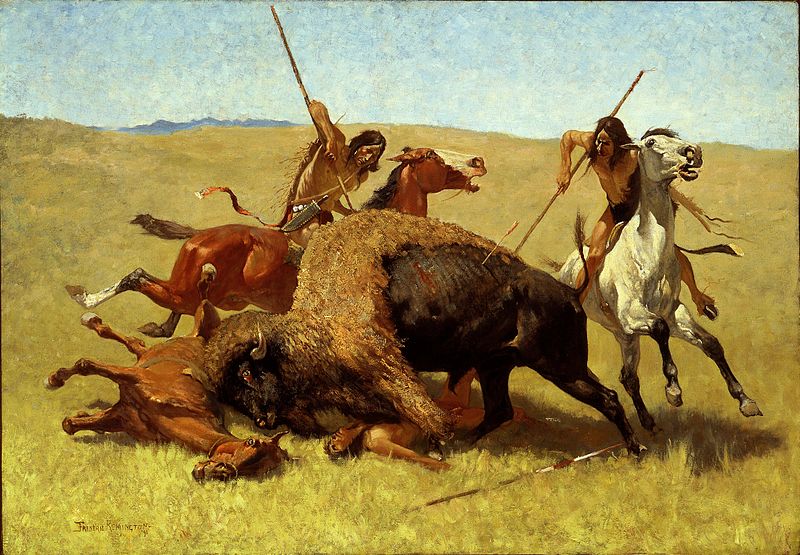 Frederic Remington was what many art historians and critics might consider to be a Renaissance man in relation to the old American west and its many unique traditions.
Remington lived during the last half of the 19th century and was a prolific sculptor, painter, and illustrator who focused the bulk of his efforts on portraying the dying western way of life.
One of Remington's best works titled The Buffalo Hunt as it represented a form of hunting that was distinctly western and was unlike any other form of hunting in other parts of the world.
Native American tribal hunters would chase after these buffalo, riding their horses across the wide open plains in an effort to overtake the buffalo and kill it using spears instead of rifles.
This painting features bright yellow coloring that really dominates the canvas. The tribal hunters are desperately trying to kill the buffalo as it has knocked one of their fellow hunters off his horse and appears to be attacking him as he lies on the ground with his horse next to him. This depiction highlights the dangerous and adventurous nature of life in the American west.
4.

Buffalo Bulls Back Fat

, Head Chief, Blood Tribe – George Catlin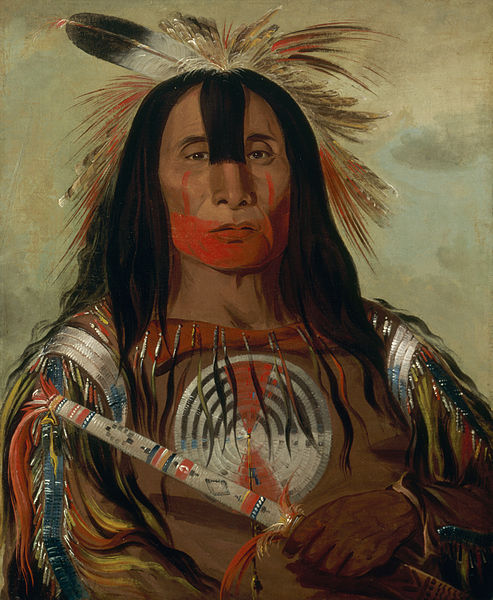 One of the most distinct characteristics of the American West is the portraits of tribal leaders who were dressed in their special clothing that would often be worn during times of war or ceremonial use.
George Catlin was a prominent lawyer who lived and worked in a few different sections of the northwestern territories that are now present-day Canada.
One such work that is remembered as being extremely famous was titled Buffalo Bulls Back Fat, Head Chief, Blood Tribe. This painting was done in 1832 and features a prominent chief of the Blood Indian tribe that lived in Alberta, Canada.
Catlin painted this work at a time in a location where many different tribes were gathered together and various political differences were discussed.
Catlin noted that the chief in the portrait appeared to be one of the more widely respected men of any of the tribesmen and proudly displayed his attire for all to see.
5.

Cree Indian

– Charles Marion Russell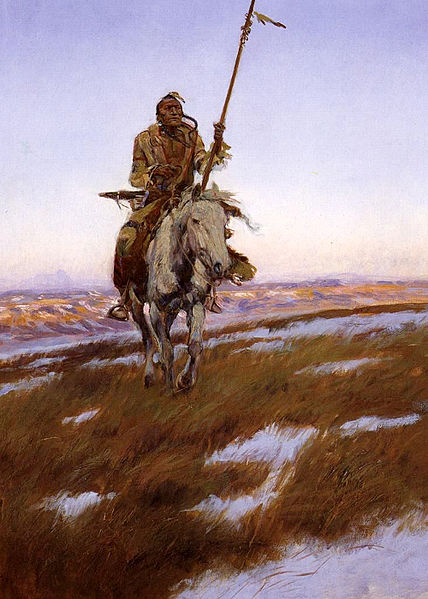 Charles Marion Russell had a special ability to capture figures and scenes from the old American West like no other artist had done before or after.
Many of his works are derived from individuals who he had actually met along his travels across the western portion of the united States.
One of his paintings titled Cree Indian was done in 1905 and features a lone, elderly man riding a horse across a desolate and cold hillside.
The Cree Indians were known to be especially fierce and brutal towards their enemies,but they, too, would eventually crumble and their nation would be forced onto a small reservation.
The painting is representative of how the Cree nation was slowly dwindling down to nothing.
6.

Attack by Crow Indians

– Alfred Jacob Miller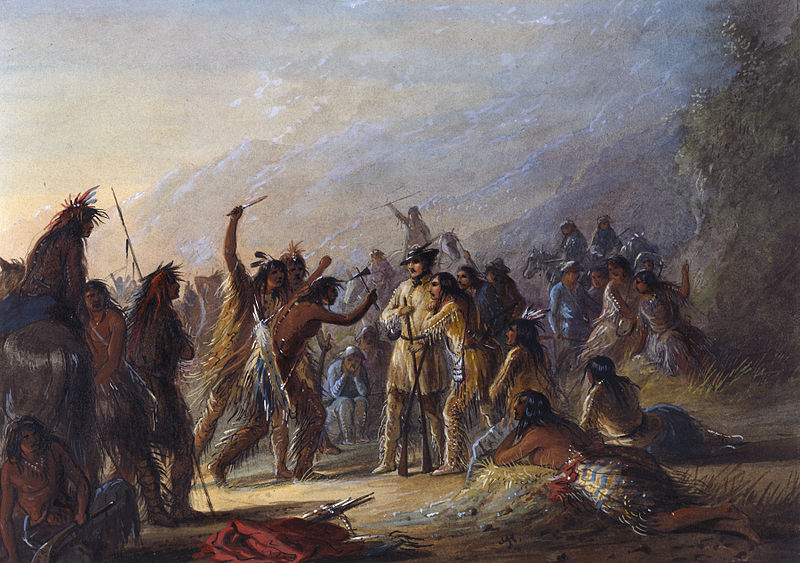 Alfred Jacob Miller was a well-known American painter who lived during the 19th century, which was a volatile time for American politics, as well as the interactions between various Native American tribes.
Miller painted a number of famous Native American-themed paintings that each had a story behind it.
One of his most notable works was titled Attack by Crow Indians. This painting was finished in 1860 and depicts a frontiersman by the name of Fitzpatrick who had been confronted by a band of young Crow Indians.
The story tells of an old Crow medicine man who warned the young braves that they would not be successful if they struck the first blow in the battle.
The braves heed this warning and tried desperately to provoke Fitzpatrick into fighting them, but it was to no avail. The painting portrays the tense moments when Fitzpatrick and his Native American scouts were surrounded by the bloodthirsty Crow warriors.
7. Scene from 'The Last of the Mohicans': Cora Kneeling at the Feet of Tanemund – Thomas Cole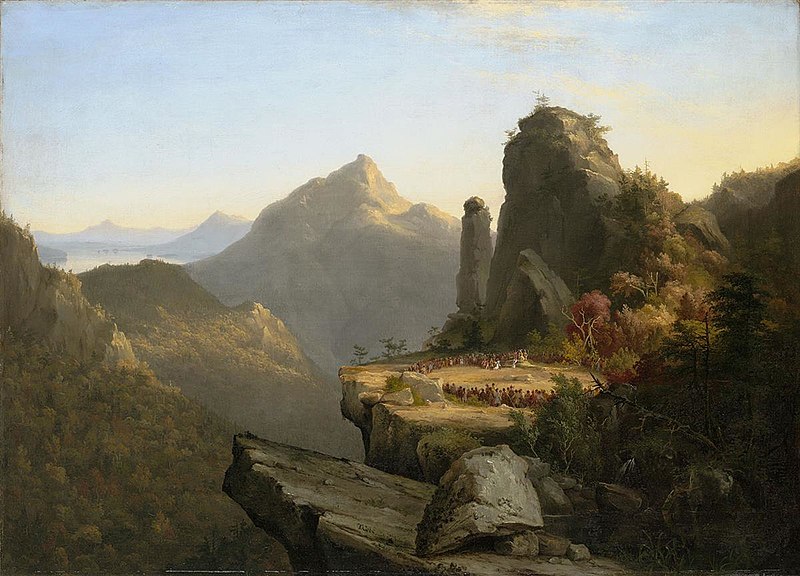 Thomas Cole is remembered as a famous American painter who depicted various scenes from the famous book that was titled The Last of the Mohicans.
This book was written by James Fenimore Cooper in 1826. The book is based on a true story and became an instant masterpiece among readers who were thirsty for tales of the frontier.
This painting depicts a climactic scene in which the Mohican people were gathered at the foot of White Mountain in New Hampshire. The tribe is gathered at the base of this mountain, which was considered to have significant ceremonial power to them.
Also Read: Mountain Paintings
The painting depicts the majesty of the mountain area as the sun drifts slower and slower toward the horizon, creating a picturesque scene among the darkened hills and valleys.
8.

The Parley

– Frederic Remington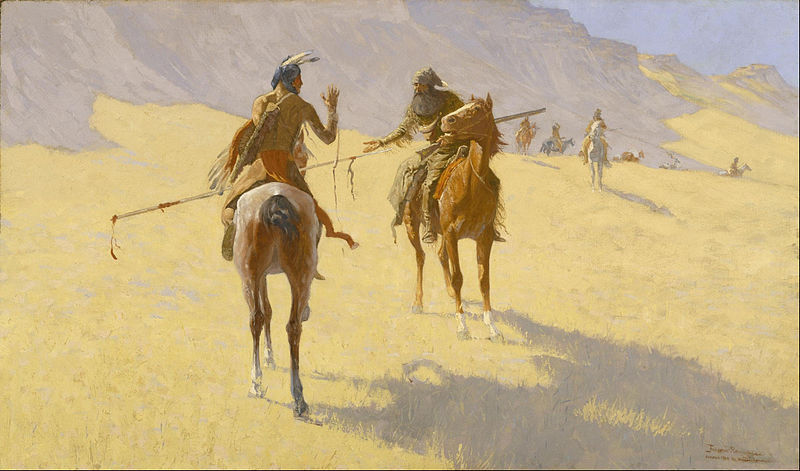 Another famous work from Frederic Remington was done around 1903 and is remembered as one of his most admirable works.
The painting is simply titled The Parley, which simply refers to a meeting between two opposing sides in an effort to reach some sort of agreement.
This painting depicts a brief meeting between two men, one a Native American tribesman and the other, a bearded and grizzled frontiersman.
Also Read: Famous Native American Artists
Both men are seen mounted on horseback and their respective groups or war parties are far behind them. The frontiersman extends his hand in an effort to shake hands with the Native American and make peace.
9.

Indian by Firelight

– Eanger Irving Couse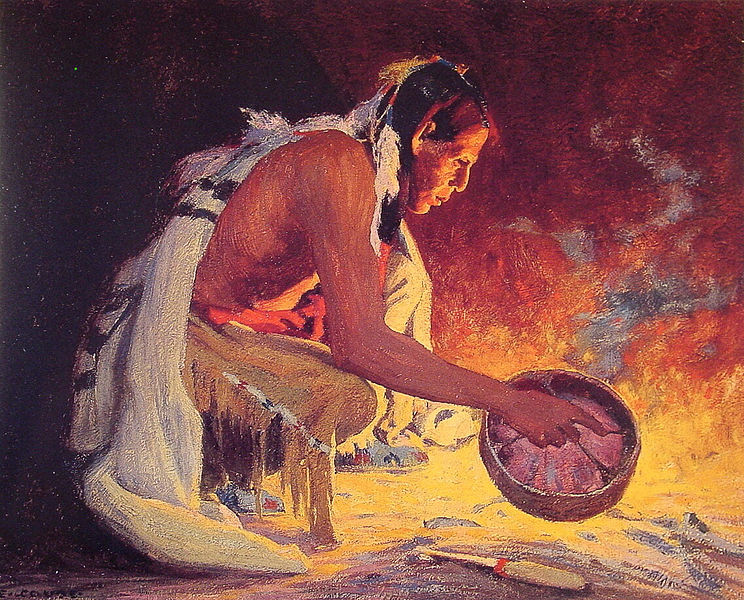 Eanger Irving Couse was one of the most highly-celebrated artists who often focused most of his abilities on painting scenes from the old American west.
Couse lived during a time when the western frontier had largely been settled and the days of fighting between frontiersmen and Native American tribesmen were largely over.
One work that remains as popular as any other from the time period is simply titled Indian by Firelight. This painting was done in 1921 when the vast majority of Native American people had been removed from their lands and forced to live on reservations.
Paintings like this depicted the true existence of Native tribes and depicted them in a very humble, realistic manner that was very different from the 'savage' depictions that were so common with other artists.
10.

Plains Indians Hunting in Winter Landscape

– John Hauser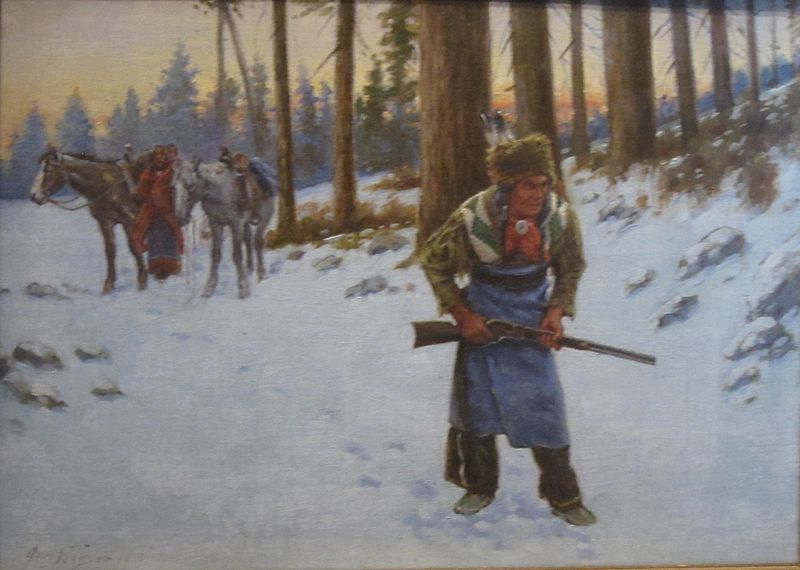 John Hauser is one of the most famous painters in American history who solely focused on capturing scenes from the real lives of Native Americans and their tribal traditions, ceremonies, and other practices that are now mostly lost to history.
Hauser was known to have lived among various tribes and learned as much as he could about them in order to enhance his paintings with realistic details.
One such work is titled Plains Indians Hunting in Winter Landscape, which was completed in 1909.
The painting depicts an aging Native American man dressed in his usual attire that would often be worn on hunting trips. He is slowly stalking through the snow into a dense forest, likely in search of deer or other types of game animals.