New York City houses some of the finest paintings by many talented artists with numerous displays and show's every week.
It's no surprise that New York attracts so many artists and art enthusiasts; the city is home to some of the world's best museums with some of the greatest masterpieces ever painted.
Below are some of the most famous paintings in New York that are on display regularly.
Famous Paintings in New York
1. The Starry Night – Vincent van Gogh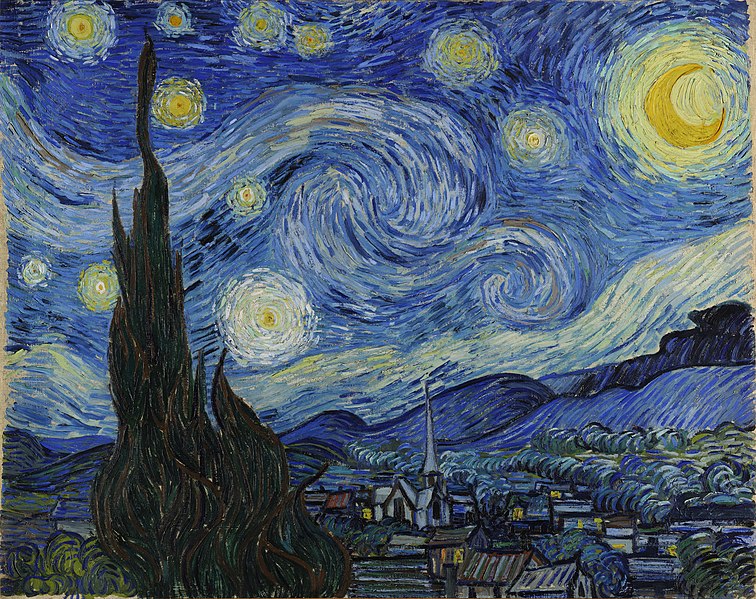 On view at the Museum of Modern Art
There is consensus among art historians and critics that Vincent van Gogh's The Starry Night is one of the best paintings ever made of the night sky.
The comparatively brief life of Van Gogh was marked by both extraordinary genius and severe mental illness. Van Gogh was born in 1853, but he didn't become widely recognized as an artist until after his death 37 years later.
It is widely agreed that the expansive depiction of the moon and stars over the French village of Saint-Rémy-de-Provence in Van Gogh's The Starry Night makes it one of the most recognizable paintings of the Impressionist era.
Also Read: Art Museums in New York
It is believed that van Gogh witnessed this scene from the window of his asylum room about a year before his death.
Van Gogh painted numerous versions of the same scene, each distinguished by subtle differences in composition and brushwork.
The most well-known rendition has fluid, circular brushwork and broad, sweeping strokes. One of the few nocturne works by van Gogh, this is often considered to be the most iconic and well-known of its kind.
2. Les Demoiselles d'Avignon – Pablo Picasso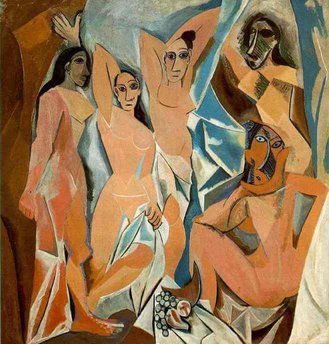 On view at the Museum of Modern Art
Picasso is widely regarded as a revolutionary artist who played a key role in popularizing the abstract Cubist style across Europe and the Americas at the turn of the twentieth century.
He frequently depicted figures in paintings that were skewed and strikingly different from the norm for artists working in this period.
One of Picasso's most famous paintings features a group of naked ladies in a seductive yet overtly abstract setting.
Picasso finished his painting Les Demoiselles d'Avignon in 1907, at the start of his prolific career.
Many critics dismissed the work because Cubism was excessively twisted and far-reaching in comparison to the more mainstream Realist style that had been prominent in the decades before to the publication of the book.
3. Portrait of Madame X – John Singer Sargent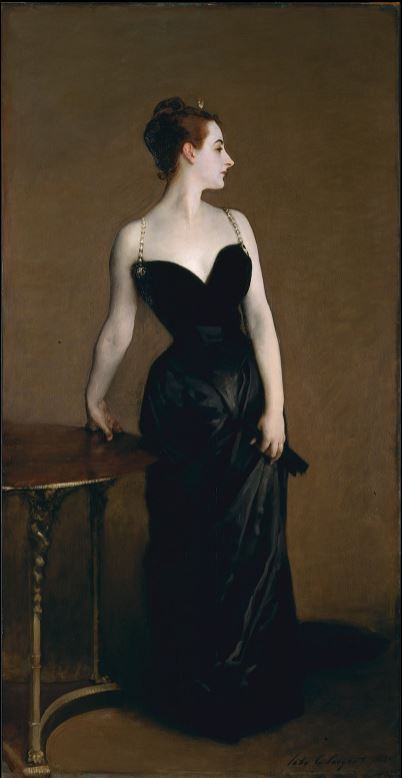 On view at the Metropolitan Museum of Art
Although many artists in the middle of the 1800s were being enticed by Impressionism and other new trends in painting, a few of famous artists remained committed to expressing themselves via vivid realism.
Hyper-realistic and shocking in their realism, John Singer Sargent's paintings of the female form established a new standard for the representation of women in art.
He created a body of work centered on the female figure in a variety of poses and attire, but his most famous is commonly referred to as "Madame X."
This picture, from 1884, depicts the wife of a wealthy French banker wearing a gorgeous black gown.
At the time it was presented at the Paris Salon, many reviewers deemed the painting improper for public viewing due to the woman's revealing attire.
However, it is still widely regarded as a timeless masterpiece and one of the most well-known paintings of a female subject matter.
4. Christina's World – Andrew Wyeth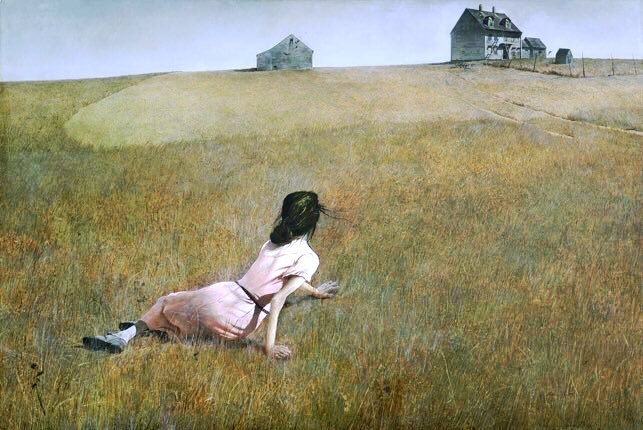 On view at the Museum of Modern Art
One of the most popular works of art housed at New York's Museum of Modern Art is a painting by renowned American artist Andrew Wyeth.
Many art critics and historians regard his work to be completely distinct from that of his contemporaries because of its focus on everyday life in the American Heartland in the early to mid-20th century.
Christina's World, by Wyeth, is widely regarded as one of the greatest paintings in American art history.
In 1948, when Wyeth was still relatively early in his career, he created this one-of-a-kind piece based on his experiences living in Maine's coastal farming towns.
According to legend, Wyeth knew the young woman depicted in the picture, and she was bedridden due to a medical condition that rendered her unable to walk.
The fact that Wyeth depicted the girl sitting on the grass with her gaze fixed on the home suggested that she wanted to get there despite her inability to really do so is further evidence of this.
5. The Persistence of Memory – Salvador Dalí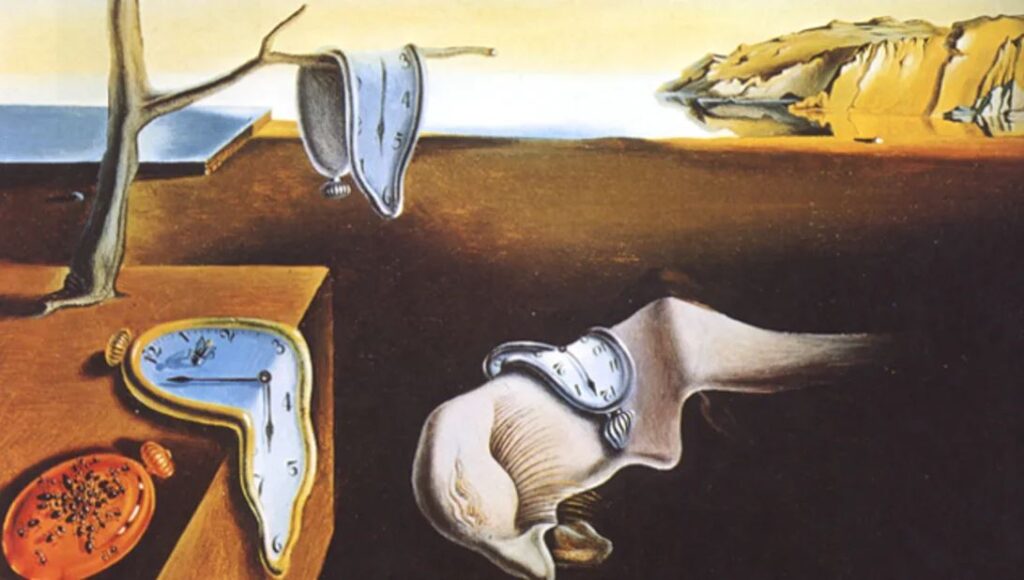 On view at the Museum of Modern Art
Another well-known international artist whose best works are on display at the MoMA is Salvador Dali.
Many historians, academicians, and critics see Dali as the father of the Surrealist movement, and he appeared on the early 20th century art scene with a distinct style all his own.
Dali's 1931 painting has subsequently become one of the painter's greatest masterpieces and is on display at the MoMA.
The picture, titled The Persistence of Memory, depicts a weird scene in which clocks are visible to the observer, but their unique depiction is what many reviewers perceive to be Dali's style's attraction.
Many critics feel that the clocks are supposed to underline the ephemeral essence of time by melting into the otherwise dreary surrounding terrain.
6. The Death of Socrates – Jacques-Louis David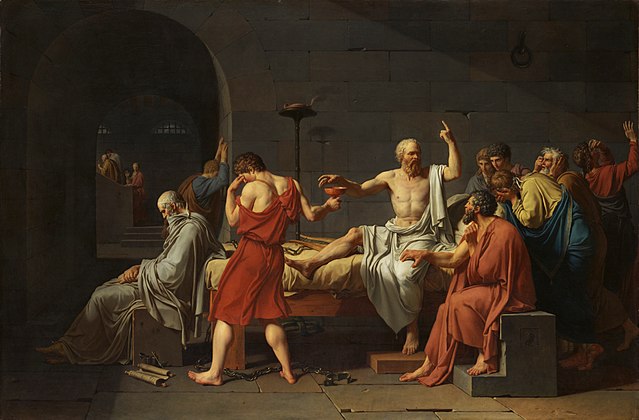 On view at the Metropolitan Museum of Art
well-known artist and political activist. Many of his paintings were in the Neoclassical style, and his subjects were mainly historical fiction or Greek and Roman mythology.
The Met houses one of the artist's paintings that critics consider to be his best. The Death of Socrates was completed in 1787, at the start of his career, when many other artists in Paris and throughout Europe were concentrating on ancient Greece and Rome.
The picture is rich in symbolism, as David signed it just underneath the image of Plato, to stress that the story behind the scenario came from Plato himself.
7. Broadway Boogie-Woogie – Piet Mondrian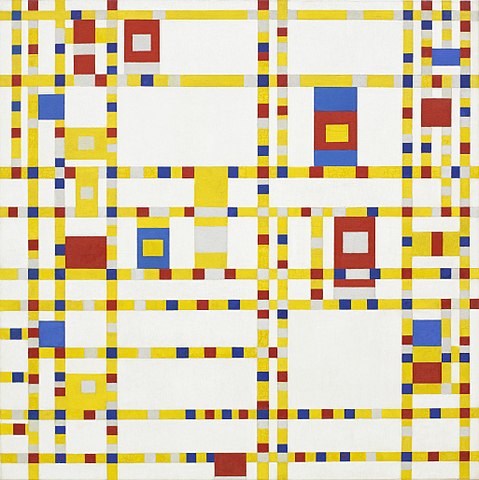 On view at the Museum of Modern Art
Piet Mondrian is regarded as one of the most talented Dutch abstract painters of the early twentieth century.
He experimented with painting in a style that some critics may label Post Impressionist in his youth, but it was later in his career that he would refine his talents and expand his artistic expression methods to create abstract paintings with very bold outlines.
Broadway Boogie Woogie is one of his most famous pieces from his career. This 1943 picture is one that art historians and experts point to as an excellent example of the abstract style that was produced during the time period soon before World War II.
In this work, Mondrian employed a variety of squares joined in various patterns, with each square being either red, yellow, white, or blue.
8. Drowning Girl – Roy Lichtenstein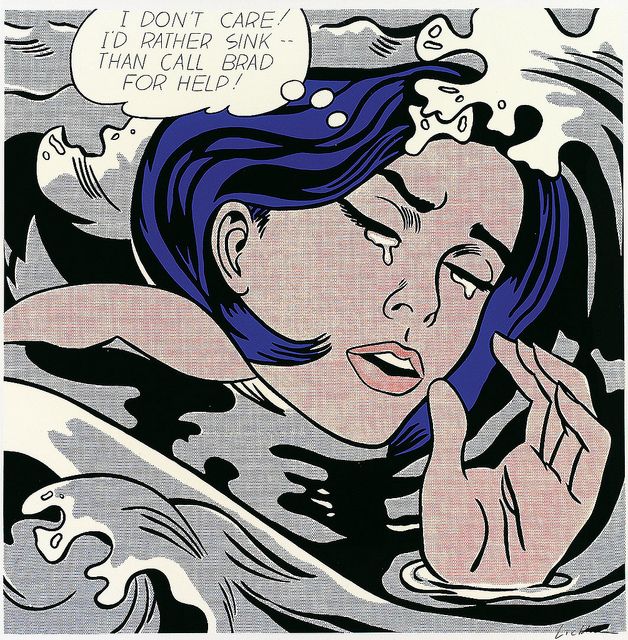 On view at the Museum of Modern Art
American pop artist Roy Lichtenstein created one of the most unforgettable paintings of the 1960s with his famous Drowning Girl.
This piece was inspired by Secret Love #83, a classic DC Comics book that depicted a dramatic scene in which the heroine drowns recklessly in front of her boyfriend.
Lichtenstein portrayed his joy in this painting by focusing on the profoundly evocative but distant landscape of grief. The girl's precarious situation is emphasized by swirling water enveloping her head as she falls beneath the waves.
Lichtenstein's skill was in capturing and expounding on a tragic moment from a commercialized medium like a comic book.
9. Campbell's Soup Cans – Andy Warhol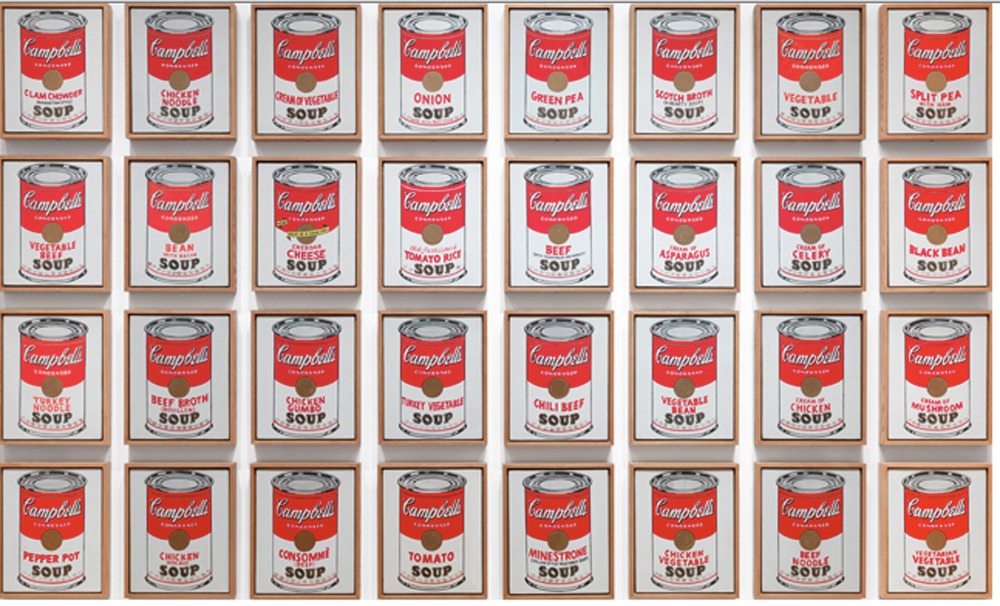 On view at the Museum of Modern Art
Andy Warhol was possibly the most well-known American artist of the mid-twentieth century. He rose to prominence in popular culture as the creator of what many refer to as Pop Art.
Many of his paintings feature everyday household goods, yet Warhol created creative renditions of these items that aroused viewers' curiosity.
Campbell's Soup Cans, one of Warhol's most iconic works, was finished in 1962. This artwork is one of the most distinctive works from this period since it features 32 separate soup cans, all of which are nearly identical in terms of how Warhol painted them.
10. The Musicians – Caravaggio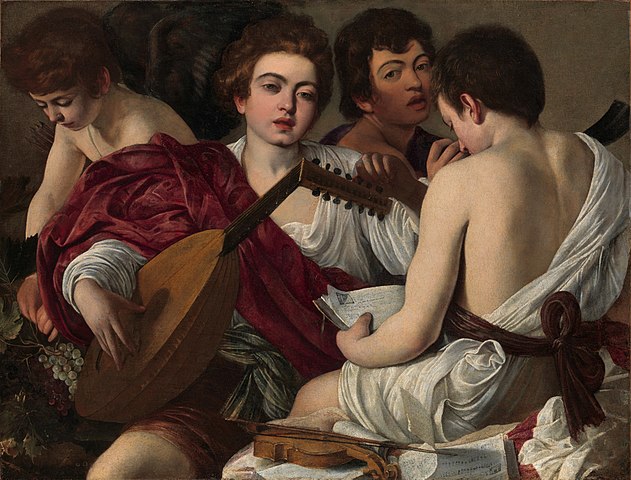 On view at the Metropolitan Museum of Art
Michelangelo Merisi (Michele Angelo Merigi or Amerighi) da Caravaggio is known as one of the more controversial artists from the Italian Renaissance era, yet his paintings are among the greatest of any artist from the 16th and early 17th centuries.
The Musicians by Caravaggio is one of the most frequented paintings at New York City's Metropolitan Museum of Art.
This 1595 painting is one of Caravaggio's first from his brief career, and it is notable for his excellent use of light and dark—even in his early works.
The artwork is comparable to others done at the same time by Italian painters in that it depicts a group of musicians at play.
This piece is notable because it is thought to be Caravaggio's debut painting and was dedicated to Cardinal Francesco Maria Del Monte.