Artists often like to create works that portray the bond they share with their immediate family members and the ways those bonds have their own unique characteristics.
It's especially common for artists to create works that depict their own siblings or well-known siblings from stories, legends and mythology.
Painters from a number of different movements and styles throughout history have produced works that pertain to the special relationship between sisters or celebrate particular groups of sisters who are noteworthy or significant in some way.
In this article, we'll explore 10 of the most famous paintings of sisters from history and provide a glimpse into the lives of the artists who created them, as well as their motives in doing so.
Famous Paintings of Two Sisters
1.

Two Sisters (On the Terrace)

– Pierre-Auguste Renoir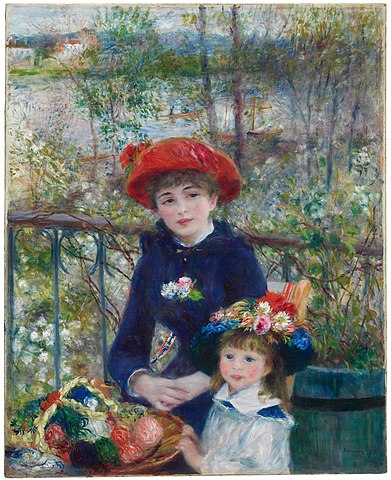 Pierre-Auguste Renoir is regarded as one of the greatest painters of the Impressionist movement that took place in the 19th century. Many of Renoir's artworks can be described as often celebrating and highlighting the beauty and sensuality of femininity.
He painted a number of works that depicted women, each of which focused heavily on the female form in a way that is similar to those done according to the Classical philosophy.
One of these paintings is viewed as a famous work from the Impressionist era that's also a depiction of sisterhood. The painting is titled Two Sisters (On the Terrace) and was finished in 1881 when he had begun his rise to prominence in the art community of Paris.
The painting is a depiction of two sisters sitting on a bench that's situated along a terrace along the Seine River.
The work is described by critics as having a wide range of color that's featured in the dress and hats worn by both sisters, as well as in the basket which holds several balls of yarn that are different colors.
The two models depicted in the painting were not actually sisters and the older of the two was Jeanne Darlot, who went on to become a French film and stage actress.
2.

The Two Sisters

– Théodore Chassériau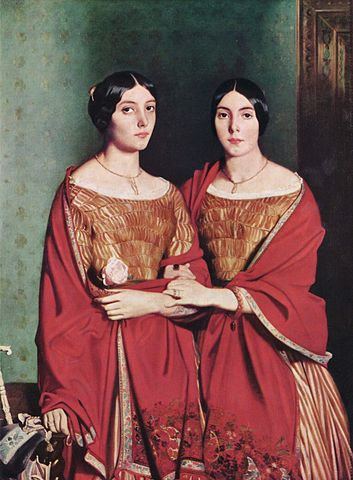 Théodore Chassériau was a well-known French artist who is the youngest painter to have had a work featured in the Louvre museum when he was just 15 years old.
He was born in Santo Domingo in 1819 when it was a French colony and his inclination toward the arts was evident from a very young age. He was a student of the great Classical artist, Jean-Auguste-Dominique Ingres and is famous for his portrait paintings and those depicting the Eastern cultures of the 19th century.
One of Chassériau's most widely-recognized works is titled The Two Sisters and is considered to be one of the most iconic sister paintings in history. It was done in 1843 when Chassériau was just 23 years old and depicts his two older sisters, Adèle and Aline.
The painting received mixed reviews from critics at the time when it was first exhibited as some claimed that it lacked the necessary artifice of light and effect that one might expect a painting of two nearly identical figures to have.
Others praised the work as one that celebrates the nature of identical appearance—although the sisters were not twins, but were actually 10 years apart in age.
3.

The Two Sisters

– Georges Lemmen
Georges Lemmen was a Belgian painter recognized for his works during the late Impressionist period near the end of the 19th century.
He was part of the famous group of painters and sculptors from Belgium known as Les XX and many of his most well-known paintings were still-life or portrait works.
One of Lemmen's most notable works is a painting that was done on a wooden framed canvas that's titled The Two Sisters. Completed in 1894, this painting is one that involves the use of the pointillism style, as well as elements of the Neoclassical movement.
It's a real depiction of two sisters named Jenny and Berthe Serruys, who were quite well-known to the artist as Lemmen was friends of the girls' parents. Critics describe the work as having an exceptional level of detail in the figure of each girl, as well as the tablecloth, vase and flowers in the painting.
4.

The Education of Anna Maria Trip by Her Sister Margarita as Pallas Athena

– Ferdinand Bol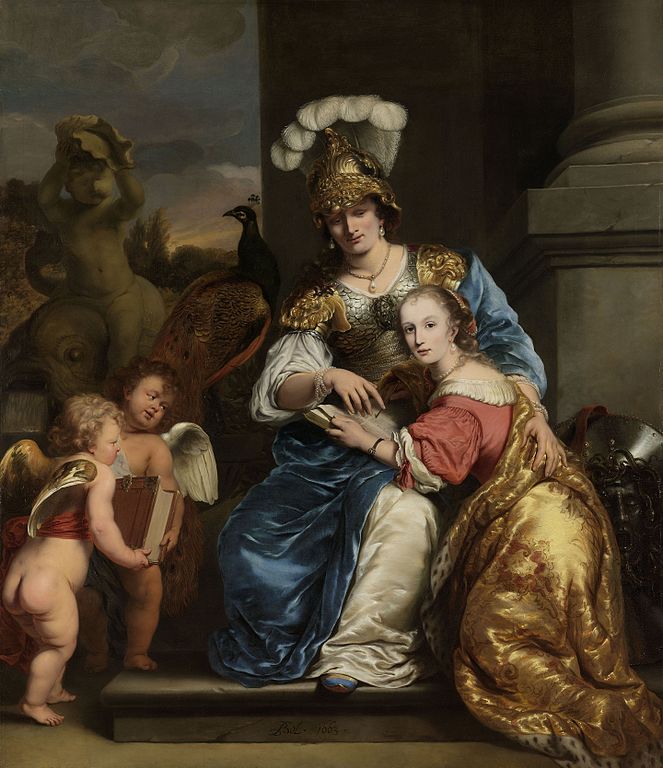 The Baroque style is one that included the influence and work of many Dutch artists, including Ferdinand Bol. Born in 1616, Bol is one of the most prominent painters from the 17th century movement and his works display many similarities to that of famous artist Rembrandt van Rijn.
Bol was known for creating thought-provoking paintings that were incredibly-detailed and one of his artworks is among the most famous sister paintings in history.
The painting is titled The Education of Anna Maria Trip by Her Sister Margarita as Pallas Athena and was signed and dated by Bol with the year 1663.
Commissioned to Bol by the wealthy Dutch merchant, Louis Trip, this painting depicts Anna Maria Trip and her older sister Margarita posing in royal attire with a pair of cherubic angel figures next to them holding a large book.
5.

The Wyndham Sisters: Lady Elcho, Mrs. Adeane, and Mrs. Tennant

– John Singer Sargent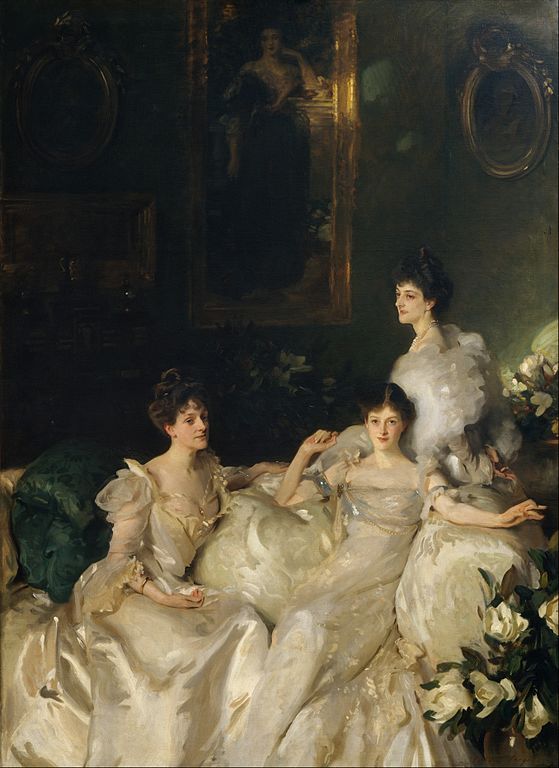 John Singer Sargent is one of the most famous members of the later Impressionist movement. He is known to have created thousands of prominent works and was well-known for his talent as a portraiture artist who was commissioned to paint works for some of the most distinguished individuals in Paris and throughout Europe.
The American expatriate artist produced an iconic painting in 1899 that depicts the three daughters of a famous British politician named Percy Wyndham.
Also Read: Family Portraits
The painting is titled The Wyndham Sisters: Lady Elcho, Mrs. Adeane, and Mrs. Tennant and was done in Sargent's distinctly elegant style of creating portraits.
The three women in the painting are dressed in beautiful white, flowing dresses and are seated in their family's residence in London's Belgrave Square. In the background behind the sisters hangs a portrait of their mother that was painted by another well-known British artist named George Frederic Watts.
6.

The Two Sisters

– Jean-Honoré Fragonard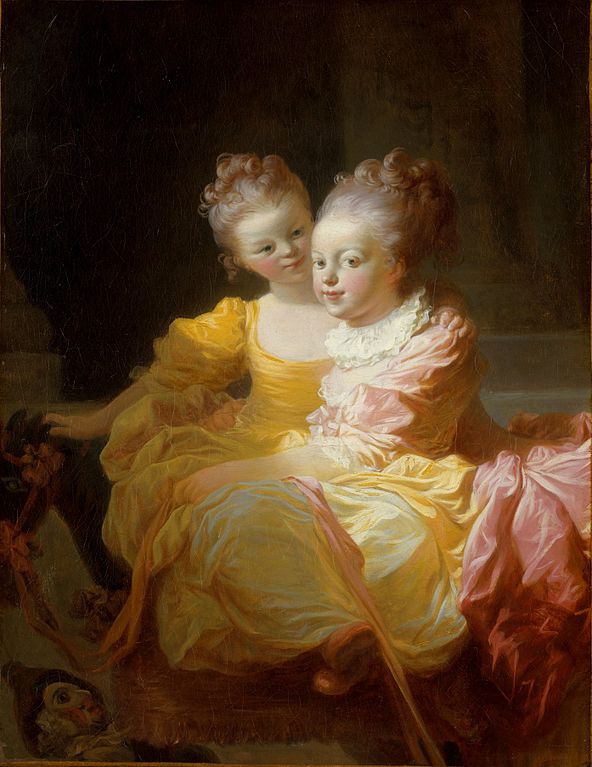 Before the Impressionist movement took hold in France and the greater part of Europe, the Rococo movement was one that was widespread and popular for a few decades in the mid-18th century. French painter Jean-Honoré Fragonard is arguably the most famous artist from this brief, but theatrical style of painting.
Fragonard produced a number of great masterpieces, but one of his lesser-known works is a worthy addition to our list of famous paintings of sisters.
The title of this particular painting, like many of the others on our list, is called The Two Sisters. It was completed in 1770 after the Rococo movement had essentially run its course and the Neoclassical period started to emerge.
The painting features the figures of two young girls seated and dressed in pastel-colored dresses that were fairly common during the mid-18th century fashion that was popular in France.
The work is said to have existed as a larger painting, but was cut down to a smaller portrait-style canvas at some time after it had passed through the hands of a few collectors.
7.

The Sisters

– Mary Cassatt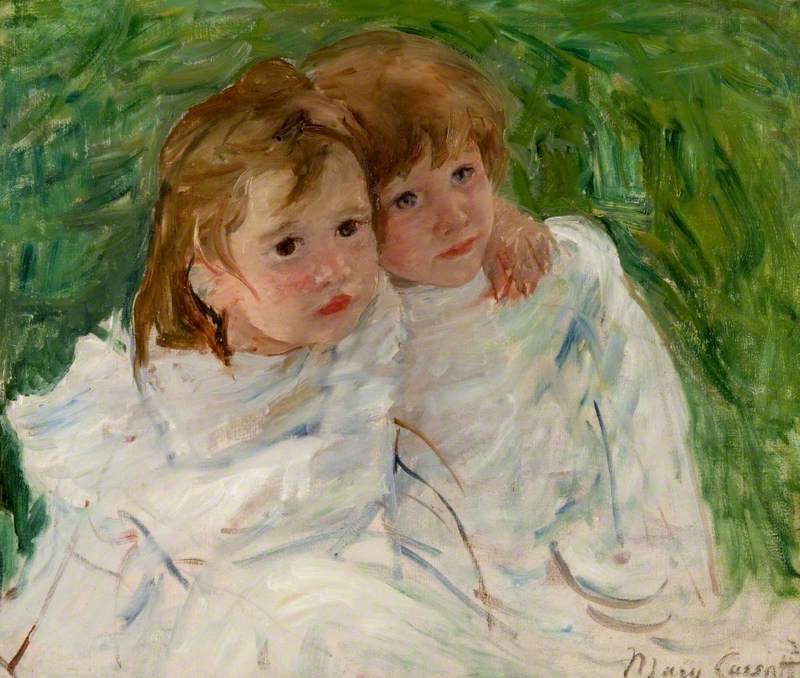 Mary Cassatt is arguably one of the most famous female American artists in history. She is known as one of the greater artists of the late Impressionist movement and many of her works contain the classic characteristics one might expect to find in an Impressionist work.
Many of Mary Cassatt's famous paintings focus on the female figure in virtually every stage of life, from infancy to old age.
Cassatt painted numerous works that depicted sisters, but one that is most well-known among the works credited to her is known simply as The Sisters. Painted in 1885, this depiction of two young sisters is deemed by critics to be one of the finest examples of American Impressionism painting.
The two sisters are shown in a close embrace with each wearing a white dress. Their rosy complexion and golden locks make it clear to the viewer that they are siblings. The painting is full of energy and passion, which is evident in Cassatt's heavy and intentional brushwork.
8.

The Two Sisters

– Paul Gauguin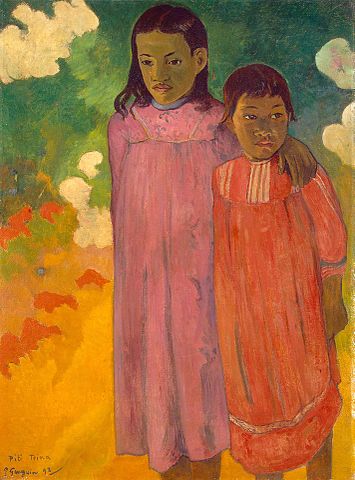 Paul Gauguin is one of the more peculiar artists of the late 19th century. Born in Paris, France in the middle of the Impressionist movement, Gauguin would later move to the islands of French Polynesia where he lived for several years painting scenes that depicted the life of people native to the islands, most notably Tahiti.
One of his paintings is a depiction of two young Tahitian sisters that was painted in 1892. Titled The Two Sisters, this painting was done at a time when Gauguin had struck up a friendship with Vincent van Gogh, who is considered to be one of the most famous artists in history.
The work features two girls standing arm-in-arm, clothed in dresses that are vibrantly-colored red and violet hues that contrast against the green background.
9.

Two Sisters

– Pablo Picassso
Pablo Picasso is another one of the most noteworthy artists in history who is known to have worked in a wide range of modern art movements that include Cubism, Surrealism, and many others.
Picasso experienced certain events in his life that caused him to undergo significant transformative periods in which he painted in extended themes or styles that critics and scholars would later categorize as the different Picasso 'periods.'
In 1902, he created a work that is described as being part of his 'Blue Period,' which was especially dark and filled with melancholy. This painting is titled Two Sisters and features two long, frail female figures that Picasso, in a letter to Max Jacob, described as 'a Saint-Lazare whore and a mother'.
10.

The Two Sisters

– Henri Fantin-Latour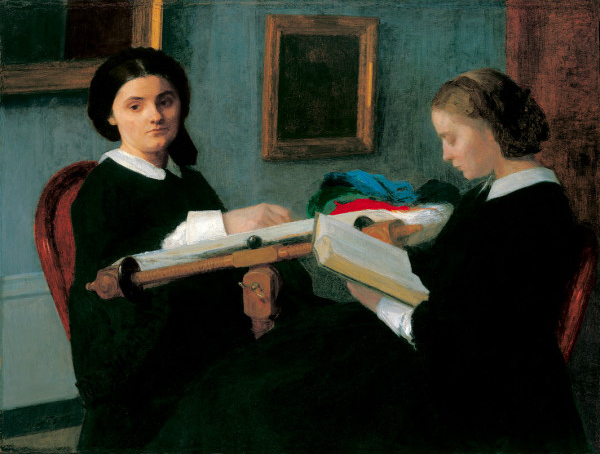 Henri Fantin-Latour is one of the more well-known French Realism painters from history. He is credited with producing numerous works that portray life as it truly was for the subjects and people he depicted.
He had a reputation for creating a large number of portraits and paintings that depict prominent Parisian artists and writers from the late 19th century.
One of Fantin-Latour's paintings is described as being an iconic representation of the artist's two younger sisters, Nathalie and Marie. Both of the girls are depicted in a way that hints at their particular interests as Marie is seen reading while Nathalie is working on a colorful embroidery.
True to the Realism style of painting, Fantin-Latour portrays his sister, Nathalie, as having a somewhat morose expression, which is a nod to the fact that she dealt with severe depression throughout her adult life that would eventually lead to her being placed in a mental institution.