Post-impressionist painter Paul Gauguin was born in Paris, France and lived from 7 June 1848 – 8 May 1903.
Gauguin's experimental use of color and Synthetist style, which set him apart from Impressionism, were not recognized until after his death.
At the tail end of his life, he spent time in French Polynesia for a decade. Gauguin's paintings of this time period often included local subjects, such as people or landscapes, in their works.
Famous for his friendship with Vincent and Theo Van Gogh, as well as his impact on the French avant-garde and contemporary art, including the works of Pablo Picasso and Henri Matisse.
Ambroise Vollard, a dealer who exhibited Gauguin's work late in his life and helped organize two major posthumous exhibits in Paris, contributed to the artist's work being popular after his death.
As a painter, sculptor, printmaker, ceramist, and writer, Gauguin played a significant role in the Symbolist movement.
His paintings, influenced by cloisonnist art(a post-impressionist painting style characterized by the use of strong, flat shapes that are broken up by shadowy features), convey the intrinsic meaning of his subjects, ushering in Primitivism and the return to the pastoral.
Paul Gauguin Famous Paintings
1. Where Do We Come From? What Are We? Where Are We Going?

The painting was completed on the island of Tahiti, and it can now be found in the collection of the Museum of Fine Arts in Boston, Massachusetts.
It is said that the painting is "a philosophical work similar to the subjects of the Gospels," and that Gauguin regarded it to be one of his greatest works.
The mysterious subject matter and mood of the painting make it stand out from other works. Personal struggles that Gauguin was going through at the time he created this piece of art have been linked by some academics to the features it possesses.
His art emphasized the vivid use of colors and broad brushstrokes, while also aiming to transmit an emotional or expressionistic power, and this painting is an exaggeration of that style.
Gauguin was a pioneer in the Post-Impressionist movement, and this painting is an exaggeration of that style. It came into being around the same time as a number of other avant-garde movements of the 20th century, such as cubism and fauvism.
2. When Will You Marry?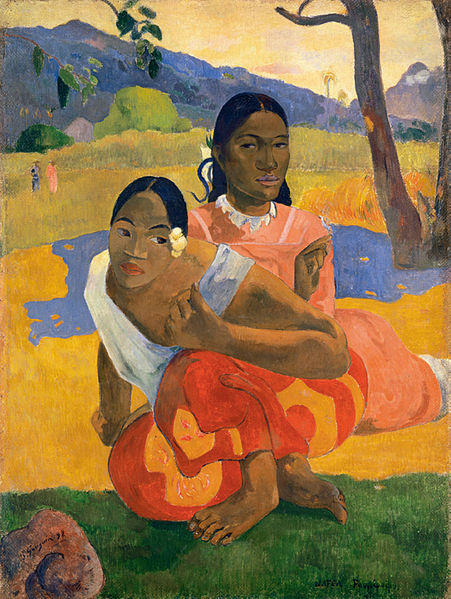 1891 was the year that Gauguin made his initial journey to Tahiti. His goal was to discover a paradise where he could produce art that was authentically 'primitive,' as opposed to the faux-primitivist works that were being produced by artists in France at the time.
Upon arriving, he discovered that Tahiti was not as he had envisioned it to be: the island had been colonized in the 18th century, and at least two-thirds of the island's indigenous population had died as a result of diseases.
The so-called "primitive" culture had been extinguished. In spite of this, he created a great number of pictures of native women, including naked women, women dressed in traditional Tahitian costumes, and ladies dressed in Western-style dresses, such as the figure in the back of "When Will You Marry?"
When Gauguin returned to France, his paintings of Tahitians, including "When Will You Marry?," were regarded with relative indifference. His 1893 exhibition at the Durand-Ruel gallery was only a limited success, earning some nice reviews but very few sales.
At the exhibition, Gauguin offered this painting for sale on consignment at a price of 1,500 francs, which was the highest price he ever allocated to a painting and was shared by only one other picture; nevertheless, no one purchased it.
In the end, Rudolf Staechelin was the one to make the acquisition in 1917 at the Maison Moos gallery located in Geneva.
It was on loan to the Kunstmuseum in Basel, Switzerland for close to half a century before it was sold privately by the family of Rudolf Staechelin to Sheikha Al-Mayassa bint Hamad Al-Thani in February 2015 for close to US$210 million (£155 million). This price is one of the highest prices that has ever been paid for a piece of art.
3. Tahitian Women on the Beach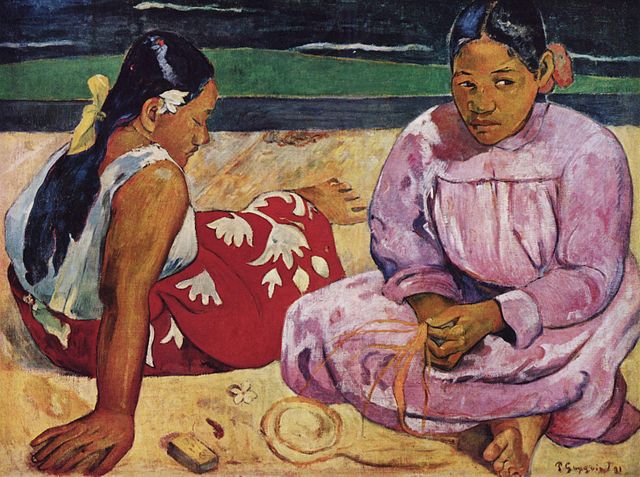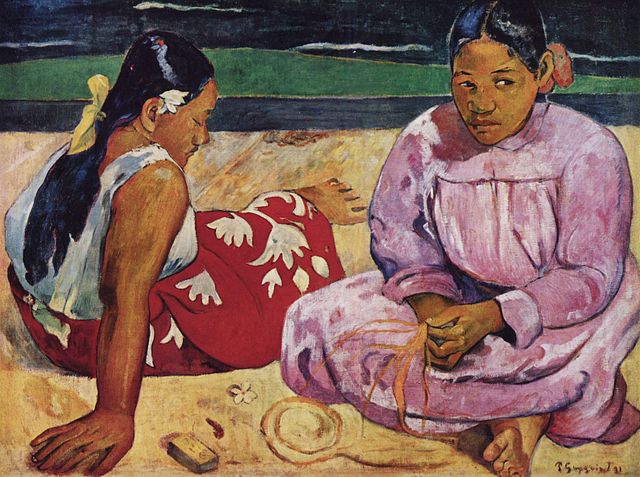 Paul Gauguin created the painting titled Tahitian Women on the Beach in 1891. It is also known as Femmes de Tahiti in French. The picture depicts two women on the island of Tahiti in the South Pacific.
The picture can be seen right now in the collection of the Musée d'Orsay, which is found in the city of Paris, France.
There is another painting by Gauguin titled "Parau api" (Two Women of Tahiti) that was completed in 1892 and can be found in the collection of the Galerie Neue Meister in Dresden.
"parau" translates to "word" in Tahitian, and "api" means "new" in Tahitian. Therefore, "parau api" translates to "news." The phrase "Eaha te parau api," which translates to "what's new?", is frequently used as a greeting.
4. Vision After the Sermon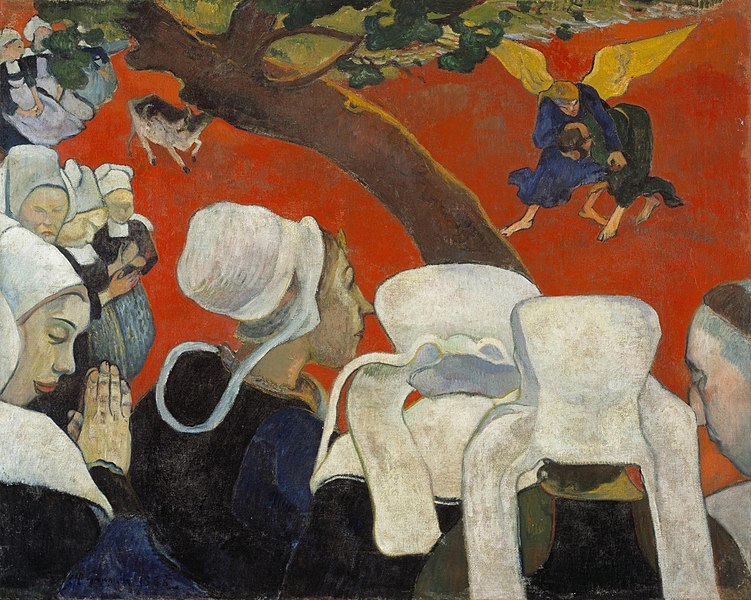 Vision after the Sermon, also known as Jacob Wrestling with the Angel, is an oil work that was painted in the year 1888 by Gauguin. It is currently on display in Edinburgh's Scottish National Gallery.
The scenario from the Bible in which Jacob is wrestling with an angel is portrayed here. This is shown in an indirect manner, in the form of a vision, which the women portrayed had after listening to a sermon in church. It was painted in the French town of Pont-Aven, which is located in Brittany.
In the beginning of his career as a painter, Gauguin had focused mostly on painting landscapes in the Impressionist style while working en plein air.
By 1888, he had reached a point when he was unsatisfied with Impressionism because it did not fulfill his passion for ancient and primordial forms or his interest in the mystical.
In the year 1888, he met the young painter Émile Bernard while he was on a trip to the artist's colony at Pont-Aven in Brittany. Bernard had recently begun painting in a simplified manner that was heavily influenced by Japanese prints.
Gauguin painted Vision After the Sermon, a work that demonstrated his interest in interpreting religious subject matter in a more personal way.
Gauguin followed the model set by Bernard, but developed it farther than Bernard did. He was soon acknowledged as the pioneer of a emerging movement known as Synthetism.
5. Day of the God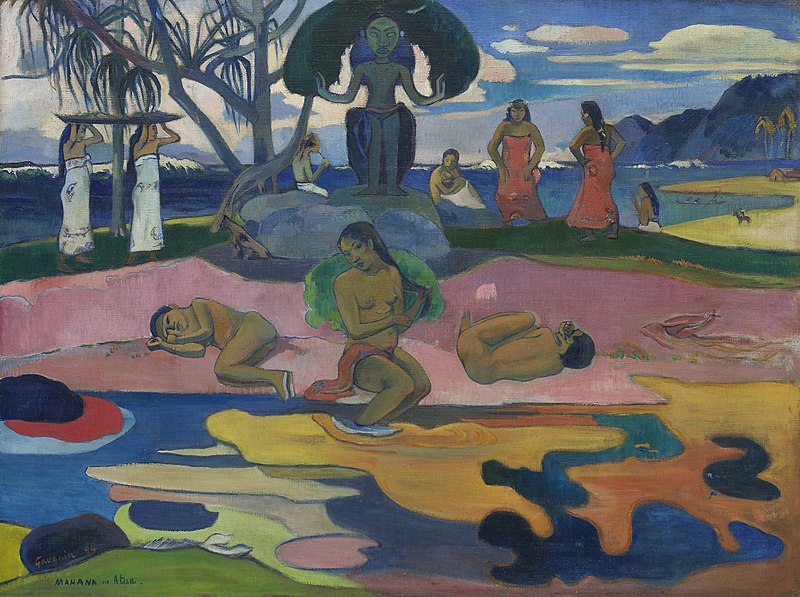 The Art Institute of Chicago is home to the 1894 Post-Impressionist oil painting Mahana no atua (English: Day of the God).
The painting, which Gauguin completed in Paris after returning from his first stay in Tahiti, is more fantastical than actual. Human figures are grouped symmetrically around a central carved idol of the goddess Hina, which is perched on a rock beside the beach.
The colonial government of Tahiti wanted to outlaw the sensual dance known as the upaupa, which can be seen being performed by two ladies on the left side of the image.
An unspoken mystery concerning the painting's foreground figures — three bathers whose stances suggest they represent birth, life, and death — remains unexplained.
The work's simplified forms and dramatic use of color are characteristic of the artist's Post-Impressionism style.
6. Arearea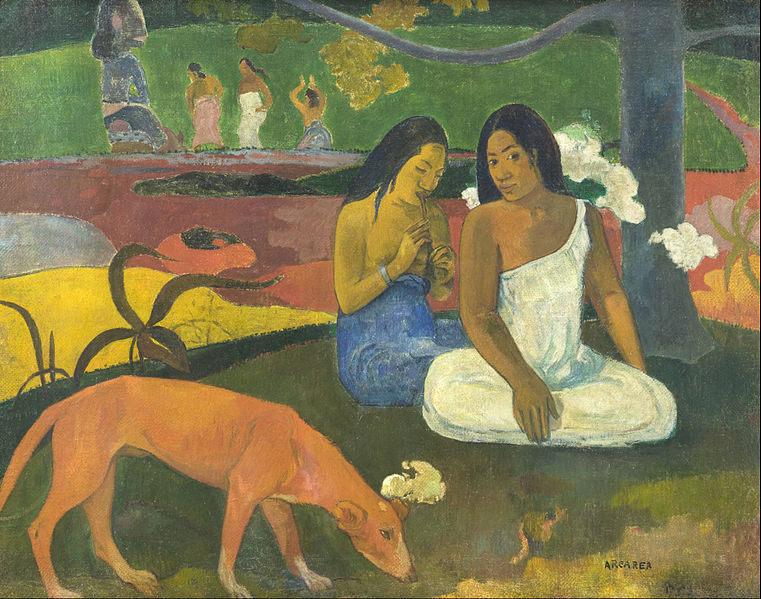 Paul Gauguin created Arearea in 1892. This painting was featured at Gauguin's Parisian Durand-Ruel exhibition of 1893.
In 1961, it was willed to the French government and entered the Louvre's collection. Having been acquired by the museum in 1986, the picture has been on display ever since.
Many have pondered the possible metaphorical or symbolic significance of the prevalence of free-range, collarless dogs in his works.
7. The Yellow Christ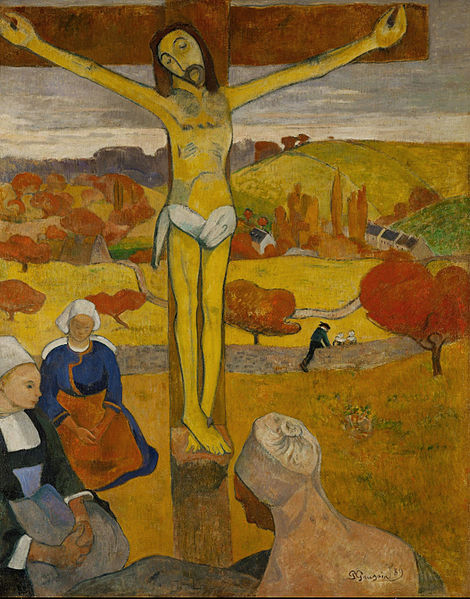 Paul Gauguin painted The Yellow Christ (Le Christ jaune) in 1889 at Pont-Aven. Among the most important Symbolist paintings beside The Green Christ.
In 1886, Gauguin made his first trip to Pont-Aven. In the beginning of 1888, he came back to the village and stayed there until the middle of October, when he departed to go to Arles to live with Vincent van Gogh.
Having returned to Pont-Aven in the early months of 1889, Gauguin remained there until the following spring.
It is a symbolic artwork depicting the crucifixion of Christ among a group of praying Breton women in northern France during the 19th century. Gauguin uses strong lines to delineate his figures and very lightly shades the female figures.
Fall's predominant color in Christ's figure is reflected in the season's palette of yellow, crimson, and green in the landscape. Cloisonnist paintings are characterized by their flatness and the strong contours of their figures.
Also Read: Yellow Paintings
The Thyssen-Bornemisza Museum holds a pencil sketch for The Yellow Christ, while Elizabeth F. Chapman donated a watercolor version to the Art Institute of Chicago.
8. Ia Orana Maria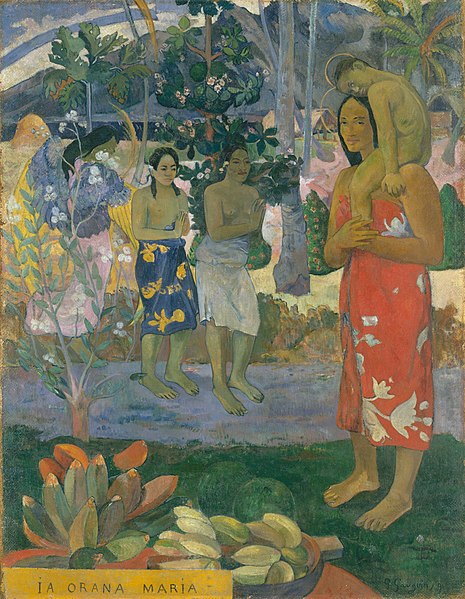 The Metropolitan Museum of Art in New York is home to Paul Gauguin's oil on canvas painting Ia Orana Maria (Ave Maria), which he completed in 1891.
One of the earliest paintings from his Tahitian period, it depicts two Polynesians (in the middle) greeting the Madonna and Child (on the right side of the painting).
Paul Gauguin's first large canvas painted in Tahiti was the religious piece titled "Ia Orana Maria" (1891).
Soon after arriving, he learned how French colonial practices had stifled local Polynesian culture, customs, and religion.
By placing the classic Christian subject in a Polynesian context, Ia Orana by Maria Gauguin deftly addresses this discord.
9. Two Tahitian Women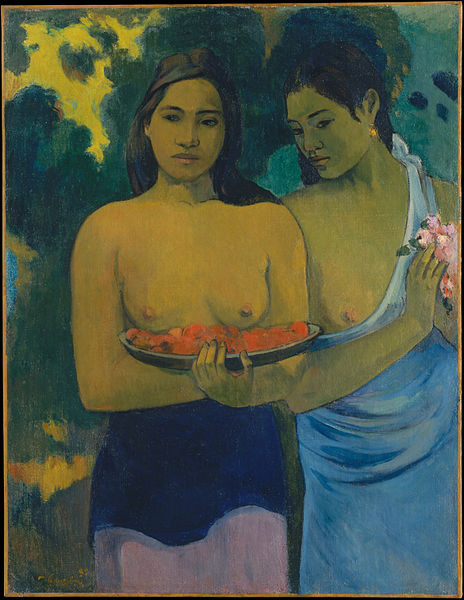 Paul Gauguin painted Two Tahitian Women in 1899. It's set on the Pacific island of Tahiti and features two scantily clad women, one of them is clutching a bunch of mango flowers.
William Church Osborn gave the picture to the Metropolitan Museum of Art in 1949, where it has remained ever since.
Despite Tahiti's portrayal as a paradise, the two women in the picture stare directly at the observer, following the artistic tradition of depicting women's breasts as flowers or fruit.
The painting was on loan to the National Gallery of Art in Washington, D.C. on April 1, 2011 when it was attacked. Luckily, the plexiglass covering it saved it from damage.
10. The Painter of Sunflowers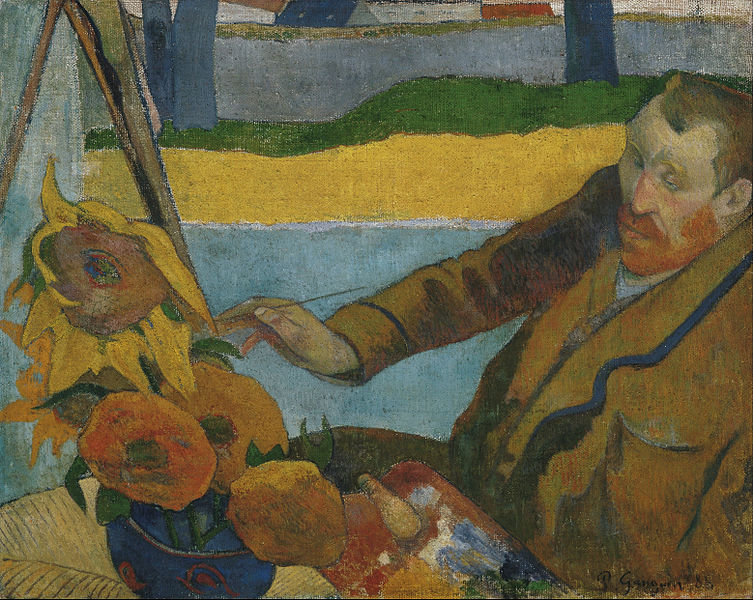 In December of 1888, Paul Gauguin painted a portrait of Vincent van Gogh titled The Painter of Sunflowers (in French: Le Peintre de Tournesols).
Van Gogh Museum in Amsterdam now has the painting on display.
While staying with Van Gogh in Arles, France, Gauguin created this portrait. Vincent had begged Gauguin to join him in Arles and establish an artists' colony there. Theo Van Gogh, Vincent's brother, paid for all of Gauguin's travel and lodging costs before the artist finally accepted.
However, Gauguin only lasted for two months because of their frequent arguments; it was after one of these fights that Van Gogh famously cut off his left ear with a razor.
The first time he saw the artwork, Van Gogh thought Gauguin had painted him as a crazy. His opinion changed with time.