Post-Impressionism was a mostly French art trend that flourished from 1886 and 1905, approximately between the final Impressionist exhibition and the advent of Fauvism.
Post-Impressionism arose in response to the Impressionists' obsession with the realistic representation of light and color.
Because of its focus on abstract features or symbolic meaning, Post-Impressionism includes the work of Les Nabis, Neo-Impressionism, Symbolism, Cloisonnism, the Pont-Aven School, and Synthetism, as well as several later Impressionists.
Paul Cézanne (regarded as the "Father of Post-Impressionism"), Paul Gauguin, Vincent van Gogh, and Georges Seurat were the most prominent Post-Impressionist painters.
Post-Impressionists expanded on Impressionism while rejecting its limitations: they continued to use vivid colors, sometimes impasto (thick application of paint), and to paint from life, but they were more inclined to emphasize geometric forms, distort form for expressive effect, and to use unnatural or modified color.
Famous Post Impressionist Artists
1. Vincent van Gogh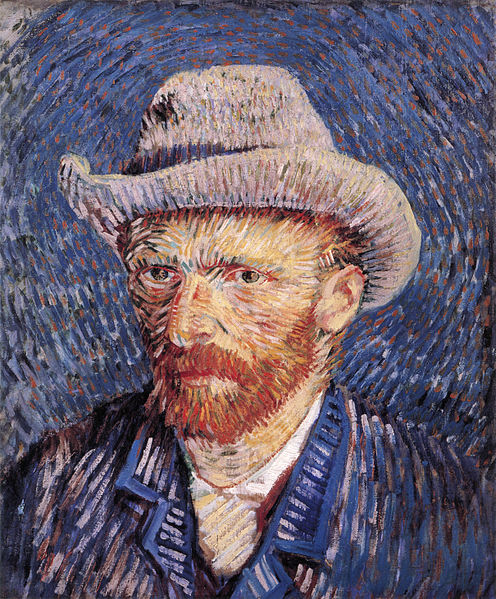 Vincent Van Gogh was a Dutch post-impressionist painter who, unlike many other renowned artists of the period, had little critical or economic success.
Van Gogh, who was born on March 30, 1853, battled greatly with his mental health throughout his brief life.
His paintings are known for their vibrant colors, forceful and frenzied brushstrokes, and meaningful depictions of mankind and environment.
Van Gogh created almost 2,100 pieces in a decade, but the majority of his 860 oil paintings date from his last two years.
Van Gogh's life and works gained prominence after his suspected suicide on July 29, 1890. Throughout the twentieth century, Van Gogh's paintings rose in prominence. His paintings had a direct influence on the German Expressionism and Fauvism movements.
Also Read: Famous Fauvism Artists
Van Gogh was later regarded as the prototypical "tortured artist," a genius who was misunderstood in his own time. His paintings are today regarded as among the most significant in human history.
2. Paul Cézanne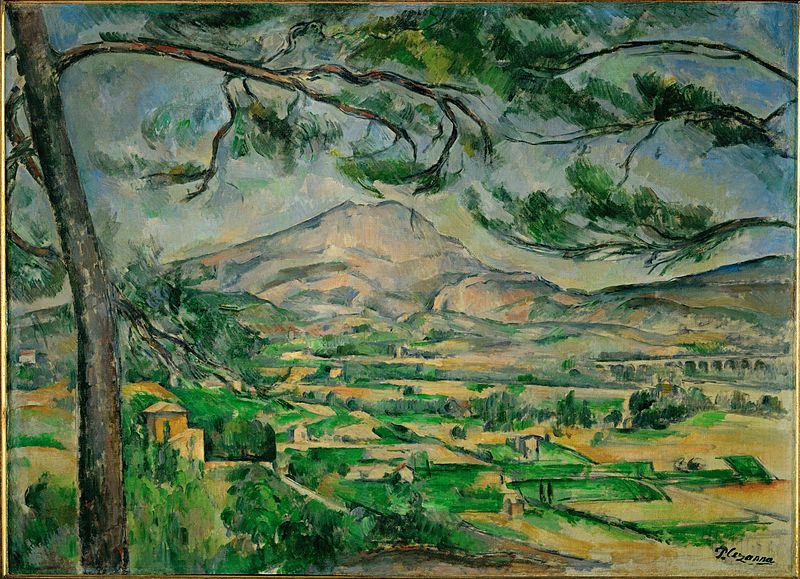 Paul Cézanne was a French post-impressionist painter whose works aided in the aesthetic and stylistic transitions of modern art. Beginning in the mid-nineteenth century, he provided a bridge for impressionism to accept the emerging creative trends of the twentieth century, particularly cubism.
Picasso and Matisse regarded him as the forefather of their more modern movements. Cézanne's paintings have significant components of repeating brushstrokes that are clearly identified. Smaller brushstrokes work together to create complex imagery with multiple color planes.
Cézanne worked primarily from his studio in Aix, where he frequently entertained visitors. Despite his importance to modern art, Cézanne's works were often dismissed by contemporary reviewers.
Despite the contempt his paintings received from older authority, a new generation of artists saw Cézanne as a genius. Cézanne was also important in the development of expressionism and Fauvism, both of which drew on his post-impressionist techniques. He passed away on October 22, 1906.
3. Pablo Picasso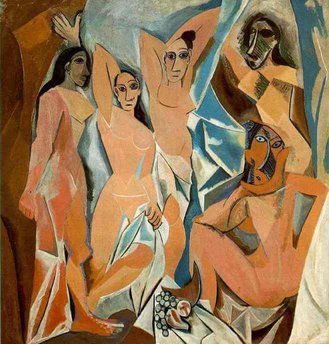 Pablo Picasso was a Spanish artist known for his paintings, sculptures, ceramics, and stage designs. Picasso, who was born on October 25, 1881, spent the most of his life in France, where he lived and worked.
He was a Cubist movement pioneer, co-inventor of collage, and creator of built sculpture.
His personal creative style evolved dramatically throughout the course of his life, as he experimented with everything from Cubism to Surrealism and many other kinds of expression.
Nonetheless, several of his pieces are unmistakably post-impressionist in style.
During his lifetime, Picasso's work impacted numerous different creative forms. "Les Demoiselles d'Avignon" and "Guernica" are two of his most renowned works.
Picasso's creative abilities were evident early in his profession, which he started as a kid. His style evolved dramatically in the early twentieth century as he experimented with new methods and ideas.
After breaking away from the Fauvist Henri Matisse, Picasso started experimenting with extreme styles. These two adversaries were often seen as the controversial leaders of the day's creative trends.
During his lifetime, Picasso achieved enormous critical and financial success.
4. Paul Gauguin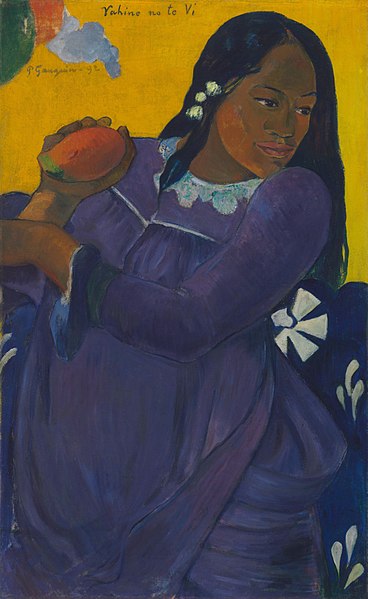 Paul Gauguin, who was born in 1848 and died in 1903, was a French painter. Where Do We Come From? is his most well-known piece. What exactly are we? In 1898, he released Where Are We Going?
The post-impressionism movement is most closely connected with Paul Gauguin.
This movement was seen as a continuation of the impressionism movement, but rejecting many of its limits. In this way, the movement emphasized symbolic substance as well as abstract features.
Paul Gauguin discovered his calling here. He is often regarded as the most famous post-impressionist painter. He relocated to Tahiti in 1891 and lived the most of his life there.
Many of Paul Gauguin's paintings were influenced by his time in Tahiti. When Will You Marry?, one of his works, was sold for about $300 million in 2015. It was one of the most expensive piece of art ever sold at the time, but has been eclipsed since several times.
5. Georges Seurat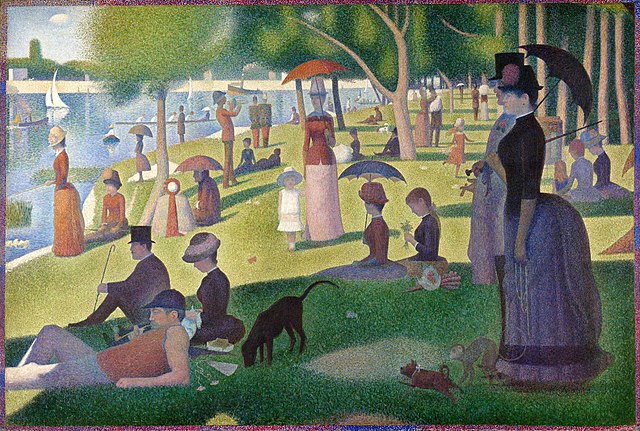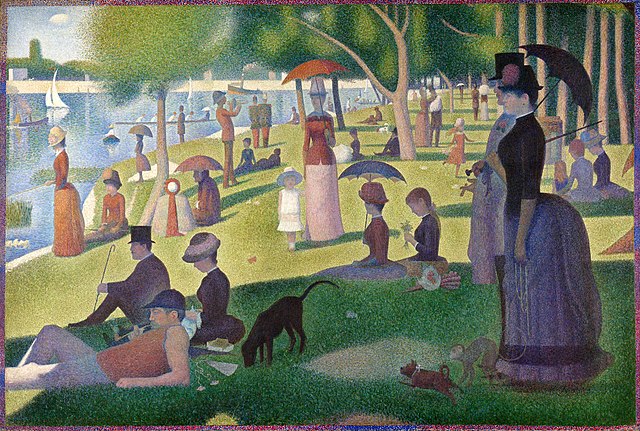 Georges Pierre Seurat was a French post-Impressionist painter who lived between December 2, 1859 and March 29, 1891.
He pioneered the painting techniques of chromoluminarism and pointillism, and he used conté crayon for rough-surfaced drawings on paper.
Seurat's creative temperament brought together elements that are frequently seen to be diametrically opposed and incompatible: on the one hand, his deep and sensitive sensibility, and on the other, a desire for logical abstraction and an almost mathematical correctness of mind.
A Sunday Afternoon on the Island of La Grande Jatte (1884–1886), his large-scale masterwork, influenced the path of modern art by introducing Neo-Impressionism, and it is regarded as a late-nineteenth-century painting classic.
6. Henri Matisse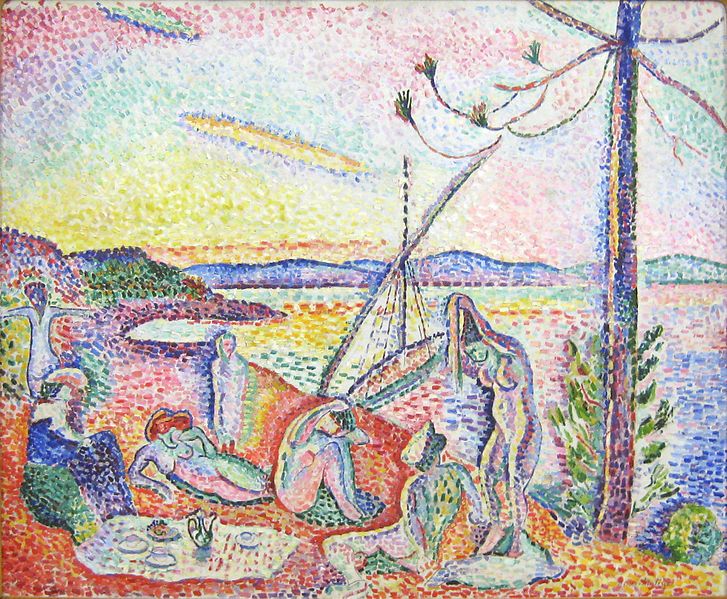 Henri Matisse is well-known for his painting, as well as printing, sculpture, and collage.
Matisse, along with Marcel Duchamp and Pablo Picasso, is regarded as one of the most important artists in contemporary art.
He worked with a broad range of mediums. Sculpture, paper cutouts, and other media are examples. He is primarily renowned as a painter for the masterpieces he created.
Henri Matisse is today regarded as a color master. He was a leader of the Fauvism art movement, which was prominent for a brief period during his career.
After spending the summer of 1904 painting in St. Tropez with the neo-Impressionists Signac and Henri-Edmond Cross, his affinity for vibrant and expressive color grew more prominent.
"Luxe, Calme et Volupté"(shown above) his most notable neo-Impressionist masterpiece, was completed that year. His paintings from this time are distinguished by flat forms and controlled lines, and he employs pointillism in a less severe manner than previously.
Henri Matisse is well recognized for his competition and relationship with Pablo Picasso, both of whom are often ranked among the most famous painters of all time.
They were both sources of inspiration for one another. Henri Matisse is well known for his masterwork, Dance, which he completed in 1910.
Henri Matisse spent his last years working with colorful paper and arranging them into collages.
7. Henri de Toulouse-Lautrec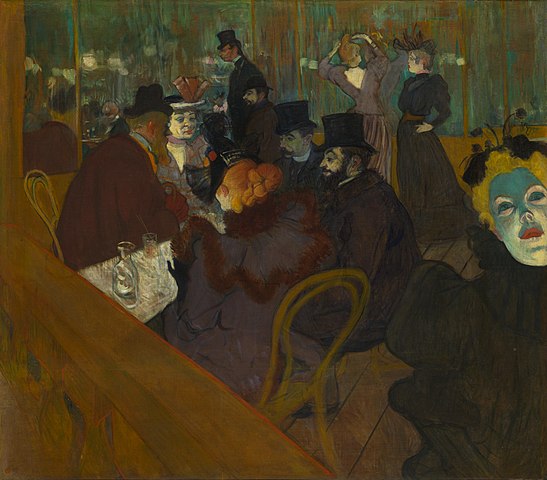 Henri de Toulouse-Lautrec is known for merging the elements and grandeur of fine art with advertising, giving rise to the famed theatrical posters and other works aimed to entice spectators or customers to nightclubs and other companies.
During his boyhood, he created wonderfully unique posters that he sold to various stores in Paris for a decent price.
Toulouse-Lautrec was a superb artist, but he suffered from a strange and terrible condition caused by inherited health concerns caused by inbreeding since his parents were first cousins.
Toulouse-Lautrec hurt both of his legs in separate events as a child, forcing his leg growth to be stunted and giving him an exceptionally low height while having a huge chest.
Toulouse-work Lautrec's work was among the most notable of the Art Nouveau movement. He was a wonderful painter who produced some of the most engaging posters that have now become iconic images of late 19th and early 20th century Europe.
8. Edvard Munch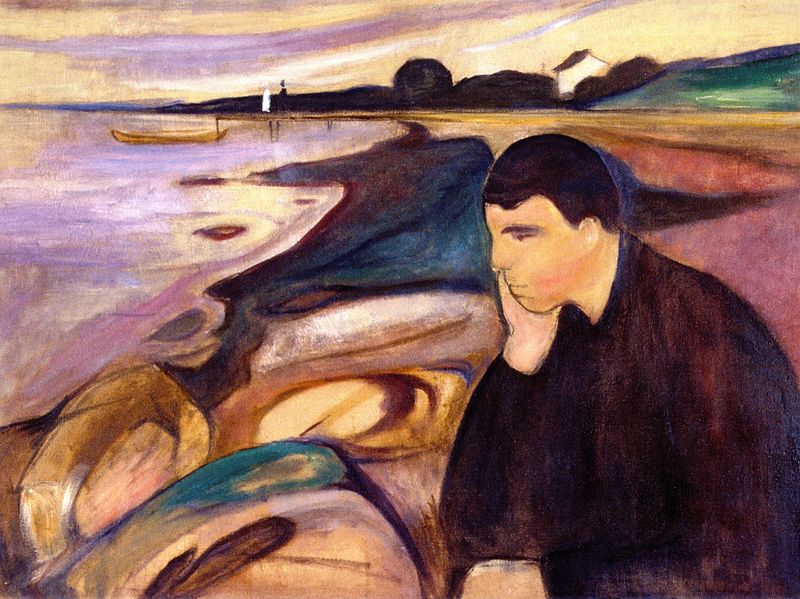 Edvard Munch, a Norwegian painter, was born on December 12, 1863 and died on January 23, 1944. His most renowned work, The Scream (1893), has become a symbol in the art world.
Sickness, grief, and the worry of inheriting a mental disease that ran in his family ruined his childhood.
Munch began living a bohemian life while studying at the Royal School of Art and Design in Kristiania (Oslo), influenced by the nihilist Hans Jgaer, who pushed him to express his own emotional and psychological state ('soul painting'). As a consequence of this, he developed his own unique style.
In Paris, he learned a lot about color from Paul Gauguin, Vincent van Gogh, and Henri de Toulouse-Lautrec.
In Berlin, he met the Swedish dramatist August Strindberg, whom he painted as he started a key run of paintings he later dubbed The Frieze of Life, reflecting a variety of intensely felt topics such as love, worry, jealousy, and betrayal, all enveloped in atmosphere.
The Scream was inspired by Kristiania. Munch was out walking after dusk when he heard "nature's big, infinite howl."
The image's anguished expression is commonly linked with modern angst. He made two painted versions, two pastel versions, and a number of prints between 1893 and 1910. One of the pastels would go on to sell at auction for the fourth highest nominal price ever for a painting.
His mental health deteriorated as his popularity and wealth grew. He considered marriage momentarily but was unable to commit. He was inspired by his increasing acceptance by the people of Kristiania and exposure in the city's museums after a mental crisis in 1908 prompted him to cease drinking excessively.
He spent his latter years working in peace and isolation. Despite the fact that his publications were illegal in Nazi-occupied Europe, the bulk of them survived WWII, preserving his legacy.
9. Camille Pissarro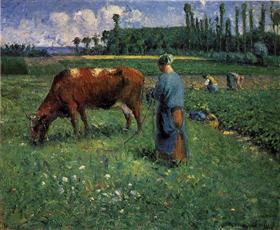 Camille Pissarro was a Danish and French impressionist who was born in the United States Virgin Islands before relocating to Paris. He was born in 1830 and passed away in 1903. He is well-known for his contributions to the impressionist and post-impressionist movements.
Camille Pissarro trained under some of the greatest painters of the past, notably Gustave Courbet, whose work affected him tremendously.
Camille Pissarro's most renowned paintings were The Boulevard Montmartre at Night, published in 1897, and The Hermitage at Pontoise, published in 1867.
Camille Pissarro was recognized as an oil paint master, and his innumerable works showed this. He mostly painted landscapes and was able to depict them from many views at various times of day.
His art is often shown in the National Gallery of Art and The Metropolitan Museum of Art. Aside from impressionism, he is also connected with realism and pointillism.
10. Paul Signac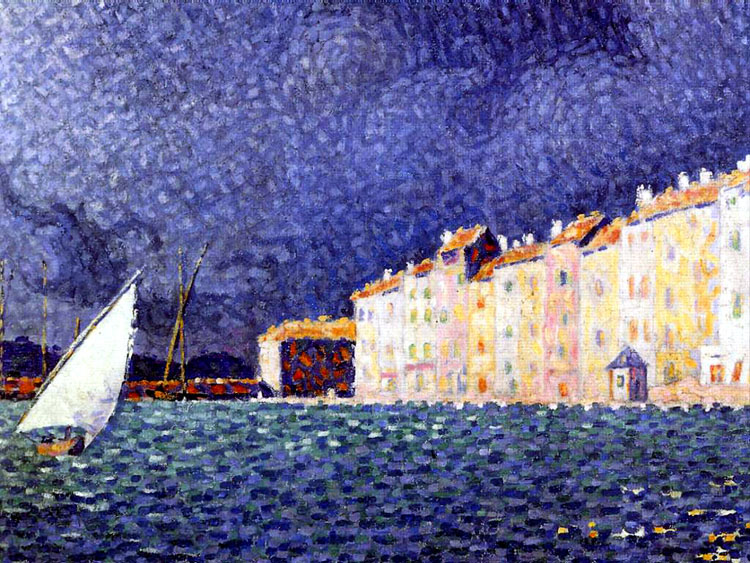 Paul Victor Jules Signac (11 November 1863 – 15 August 1935) was a French Neo-Impressionist painter who helped establish the Pointillist style alongside Georges Seurat.
Paul Signac was born on November 11, 1863, in Paris. He studied architecture before choosing to pursue a career as a painter at the age of 18 after seeing an exhibit of Monet's work.
He toured the Mediterranean Sea, visiting European shores and sketching the scenery he saw. He also produced a series of watercolors depicting French port communities in later years.
He met Claude Monet and Georges Seurat in 1884. He was impressed by Seurat's methodical working procedures and color theory, and he became Seurat's devoted follower, friend, and successor with his description of Neo-Impressionism and the Divisionism approach.
Under Seurat's influence, he abandoned the short brushstrokes of Impressionism in favor of experimenting with precisely placed little dots of pure color, designed to merge and blend not on the canvas, but in the viewer's eye, which became the distinctive element of Pointillism.
The Mediterranean shore is a recurring motif in Signac's paintings. Every summer, he left the city to spend time in the south of France, in the town of Collioure or in St. Tropez.