Vincent Van Gogh was a famous Dutch post-impressionist painter. His paintings are characterized by dramatic color, thick brushstrokes and heavy textures.
Van Gogh's paintings can be classified into two periods: the early (1880-1886) and the late (1887-90).
During his first period, Van Gogh painted mostly in black and white with some hints of color. The subjects of these paintings were mainly rural scenes, landscapes and portraits.
During the later period, his painting style changed drastically to include vivid colors, brushstrokes with more purposeful movements, and a new focus on themes like poverty and loneliness.
Van Gogh's paintings are known for their vivid colors and expressive brush strokes. Van Gogh was born in 1853 in the Netherlands, where he studied at a local art academy for about two years.
He worked for many years as an art salesman in France and England, but he struggled to create successful works of art.
In 1880, Van Gogh moved to Southern France to be with his brother Theo, who ran an art gallery. Van Gogh hoped that living with his brother would help him find some peace and stability to improve his mental health.
In 1886, he relocated to Paris, where he encountered members of the avant-garde, such as Émile Bernard and Paul Gauguin, who were protesting the Impressionist style of painting.
As his work progressed, he established a fresh approach to still life's and local landscapes. His paintings got more vibrant when he returned to Arles, France, in 1888.
During this time, he expanded his subject matter to include olive trees, wheat fields, and sunflowers.
Vincent Van Gogh's Most Famous Paintings
1.

The Starry Night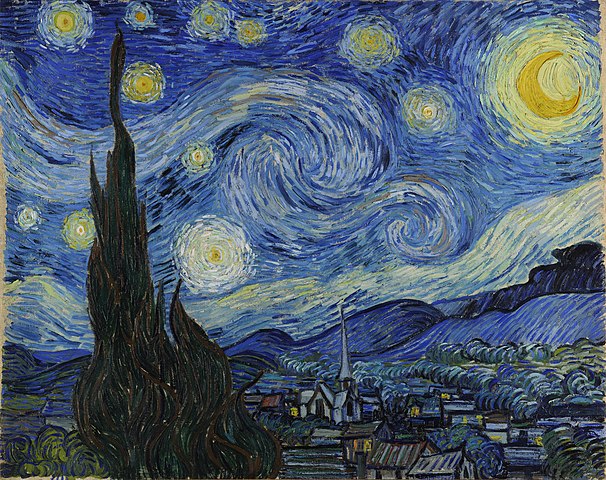 Van Gogh was admitted to the hospital at Saint-Paul-de-Mausole, near Saint-Remy-de-Provence, for bouts of sadness and insanity. During this time, he painted The Starry Night, a view from his asylum's east-facing window(or at least his version of the view).
Van Gogh is famous not just for his paintings, but also for cutting off his own ear. He would spend one of his most productive periods as an artist at the asylum of Saint-Paul-de-Mausole, where he produced some of his most famous pieces, such as Irises and his blue self-portrait.
The image depicts his ideal village before daybreak. It's not an exact copy of the view outside his window, but rather a combination of many elements from the numerous settings he's seen during his life.
All of this leads up to the final painting, which is finished just before daybreak.
It uses a unique swirling technique, which many art experts believe gives excitement and energy to the sky as it blends with the distant mountain.
In a number of ways, the artwork contrasts the natural with the man-made, producing a stunning aesthetic impact.
The buildings and everything on the ground are painted with vertical brushstrokes to indicate that mankind is focused on the heavens, while the night sky is painted with swirling strokes to give a joyful and dynamic atmosphere.
The only man-made building that makes contact with the lighted night sky is the church steeple, which seems to rise above the rest of the town and provide a solitary point of connection to the heavens.
2.

The Potato Eaters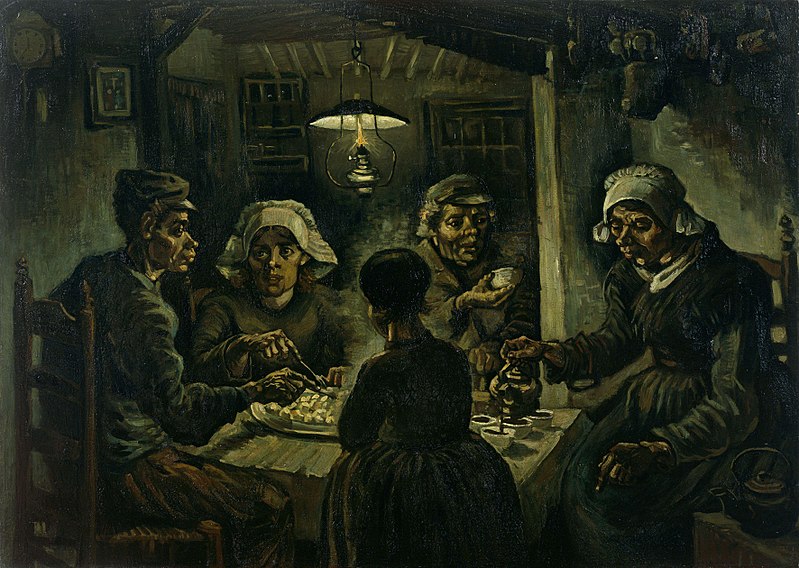 The Potato Eaters is an oil painting that was completed in April 1885 in Nuenen, Netherlands. The painting's original oil sketch is on display at the Kröller-Müller Museum in Otterlo, and he also created a number of lithographs of the picture.
The Potato Eaters is the intentional effort of an enthusiastic young artist to establish himself to the world. He would create numerous preparatory drawings and lithographs in an effort to improve his technique before creating a mature figure work.
A painting of five sitting people in a tiny dark chamber faintly illuminated by an oil lamp takes great expertise to put off properly.
Van Gogh finished the 'real' painting sometime between April 13 and the beginning of May. He chose a much bigger canvas and titled it The Potato Eaters.
Unlike the other oil and charcoal drawings, this one was not painted directly from life, but rather 'mostly from memory,' which is a genuine testament to an artist's skill.
3.

Van Gogh Self-Portrait
(1889)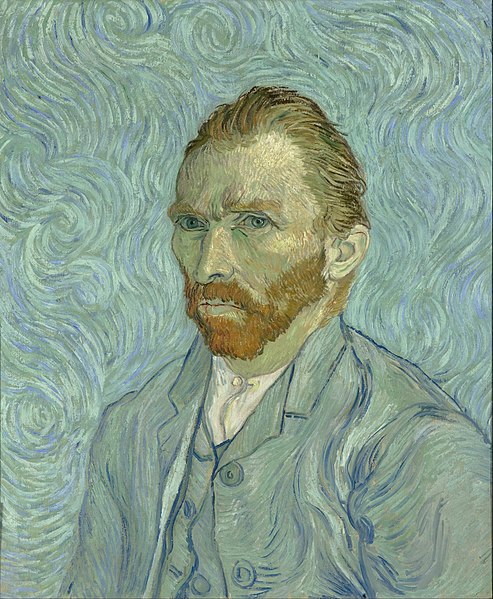 In September 1889, Van Gogh painted a self-portrait in oil on canvas. The painting, which may be Van Gogh's last self-portrait, was completed soon before he departed Saint-Rémy-de-Provence in southern France.
In the span of 10 years, Van Gogh created 36 self-portraits making him one of the most prolific famous self-portrait artists. More so than the vast majority of other well-known artists. The self-portrait was a crucial study of personal fulfillment and artistic accomplishment for many artists, including Van Gogh.
He is believed to have painted himself since he often lacked the funds to hire models. The flowing backdrop filled with broad swirling brushstrokes, in contrast to his fixed, almost stiff countenance, creates an intriguing juxtaposition.
4.

Café Terrace at Night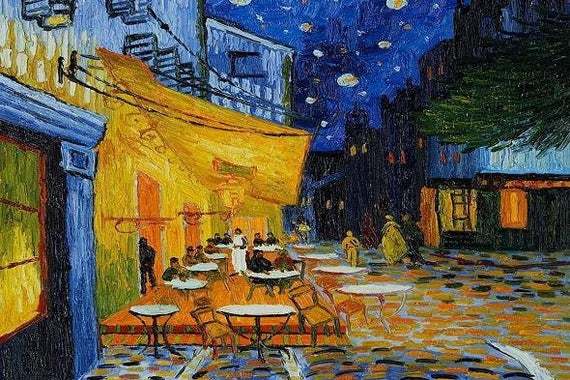 This painting, named Cafe Terrace at Night, was completed in 1888 and depicted a view of the charming street in the late evening.
The street and the café are lit by a pleasant, yellowish light that appears to welcome everyone who knows the famous spot.
The piece was one of Van Gogh's most renowned city-scape paintings. He would subsequently suffer from severe melancholy and bipolar disorder, which had a heavy toll on his physical health.
Also Read: Cafe Paintings
The contrast between the deep blue backdrop and the warmer yellows of the café (which was artificially illuminated with gas lights) is striking.
Van Gogh did not sign the work, but he did reference it in at least three pieces of writing, one of which was to his sister, which has been used to establish that it is his.
Visitors may go to this day and enjoy the same view as Van Gogh from the corner of Place du Forum, which appears nearly similar to how it was in Van Gogh's day.
5.

The Yellow House

Arles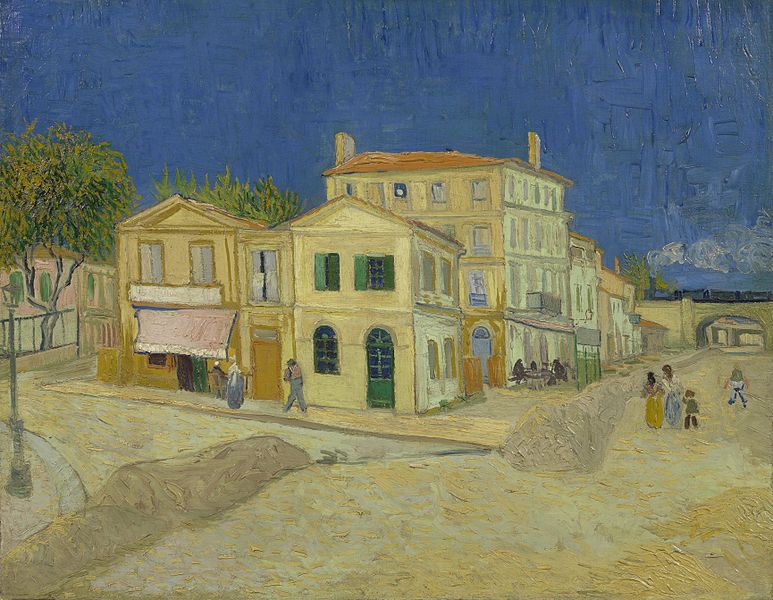 Van Gogh rented four rooms in a house on Place Lamartine in Arles in May 1888. (southern France).
This was a significant departure from the majority of his previous life, in which he had mostly rented in single-room lodgings, often in less-than-desirable neighborhoods.
In this painting of the square, the green shutters indicate where he lived. Van Gogh used the two large rooms on the ground floor as an atelier (workshop) and kitchen, as well as two smaller rooms facing Place Lamartine on the first floor.
The window on the first floor closest to the corner with both shutters open is Van Gogh's guest room, where Paul Gauguin lived for nine weeks beginning in late October 1888. Van Gogh's bedroom is behind the next window, with the shutters nearly closed.
Also Read: Famous Yellow Paintings
The Yellow House itself is no longer standing. During WWII, bombing raids severely damaged it, and it was later demolished. Today the area without the house appears nearly identical. A placard commemorates its former existence.
6.

Sunflowers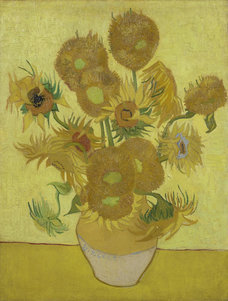 No other artist in history is as well known for his flower paintings as Vincent Van Gogh.
Despite suffering from a slew of mental diseases and ailments, he had an incredible capacity to capture the essence of a flower's inherent beauty in an innocent and pure way that no artist before or after has been able to equal.
Van Gogh is reported to have been fascinated with sunflowers and how they responded to the sun's light as it traveled across the sky throughout the day.
Sunflowers by Vincent van Gogh is one such artwork that was part of a broader series focused to the complicated nature of the sunflower.
Van Gogh painted the sunflowers in such a manner that it gave the plants new life and highlighted every curve and contour on each stalk and leaf. In 1889, he painted the works in the French town of Aries. Each artwork depicted a bouquet of sunflowers in a vase.
He is believed to have painted several of the series while living at the Yellow House alongside another renowned artist, Paul Gauguin who was staying with him.
Sunflowers was characterized by Gauguin as "totally Vincent," with the paintings illuminating the flowers in such a manner that it offered a fresh appreciation for the many distinct colors inherent in each petal.
7.

Wheatfield with Crows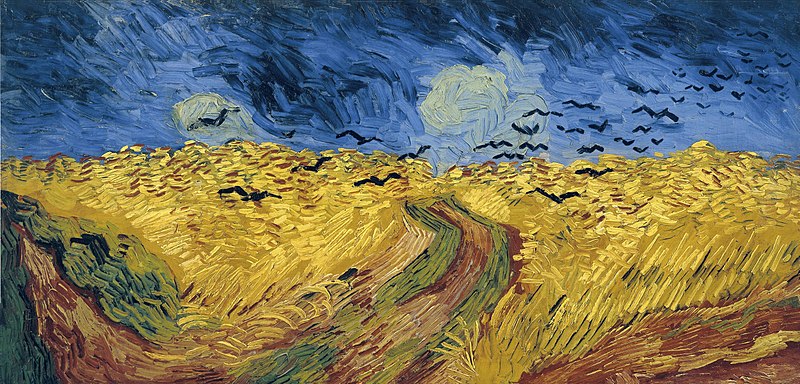 Wheatfield with Crows is an extended canvas painting that displays a dramatic foggy sky packed with crows above a wheat field. Two-thirds of the canvas is taken up by a wind-swept wheat field. The spectator is drawn into the picture by an empty route.
Van Gogh is reported to have painted Wheatfield with Crows in July 1890. Although it is not as commonly known to the general public, it is considered one of his best works.
It is widely assumed that this was van Gogh's last work. However, since no definite historical records exist, art historians are unsure whether which work was van Gogh's final.
At the time van Gogh has painted several works on double-squared canvases the other two being Wheatfield Under Thunderclouds and Daubigny's Garden(which he would paint three times).
These are all examples of van Gogh's extended double-square canvases, which he utilized solely in the final few weeks of his life, in June and July of 1890.
Wheatfield under Clouded Sky, like this piece, is in the collection of the Van Gogh Museum in Amsterdam.
Wheatfield with Crows, along with 19 other Van Gogh paintings, was stolen and soon recovered in 1991. The criminals "severely damaged" the artwork during the robbery.
8.

Irises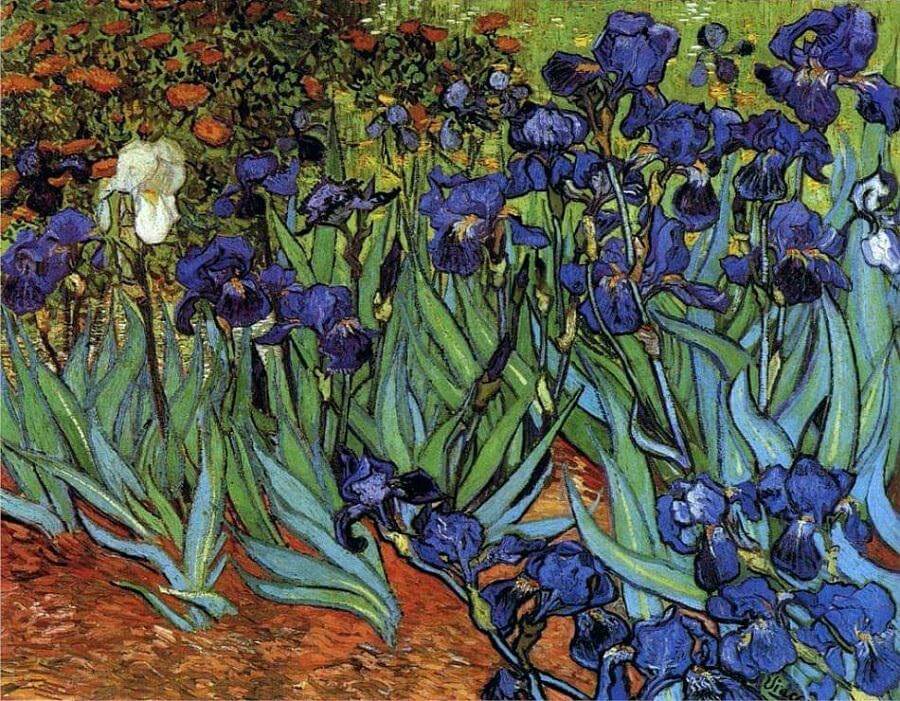 Some of Vincent Van Gogh's most well-known works were created in the two years before his sad death.
Van Gogh's paintings during this period were enormously vivid and have been studied by art students ever since for Van Gogh's remarkable use of clashing hues and unique brushstroke patterns.
In 1889, only a year before his death, he created what many consider to be his most renowned flower picture. The piece is simply named Irises and depicts a rich, green bed of flowers topped with the distinctive royal blue hue of irises.
Viewers will note a single white iris on the left side of the canvas, which seems to balance out the arrangement of this artwork.
Vincent Van Gogh was one of the rare painters who could extract every nuance of meaning from the many colors and hues of natural things.
Irises was created in 1889, after a particularly difficult period in Van Gogh's personal battle with mental illness. Before being committed to an institution in Saint-Rémy, France, he often indulged in self-mutilation, notably chopping off his ear in one occasion.
He would paint over 100 pieces there, many of which focused on the institution's garden.
Irises was completed only a year before the artist's death and was submitted by his brother to the Salon des Indépendants.
9.

Starry Night Over the Rhône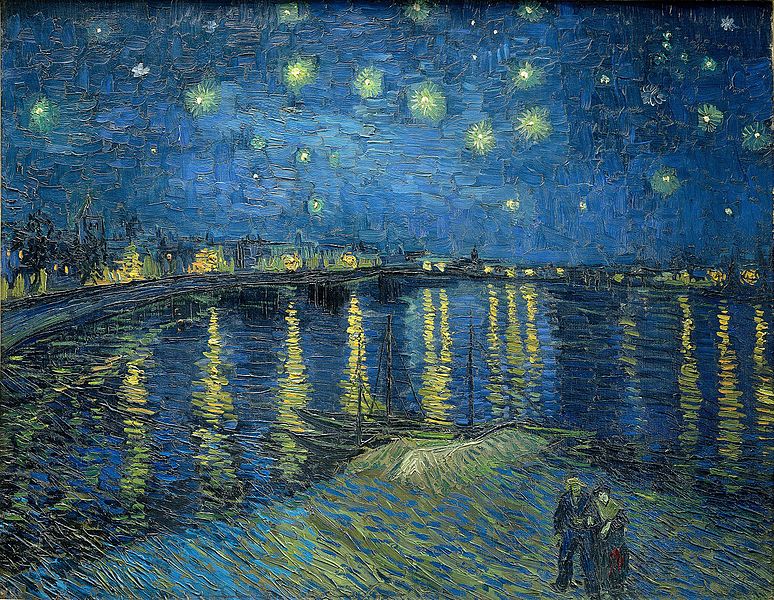 Just one year before completing The Starry Night, Vincent van Gogh created another work that is regarded as one of his master pieces.
According to art historians, this painting is another masterful Post-Impressionist creation by van Gogh that was completed at a time when he was less affected by his mental illness.
This 1888 painting, titled Starry Night Over the Rhône, depicts the wonder of the night sky as well as the beauty of the town's reflection in the water below. The Rhône being one of France's most well-known rivers.
Van Gogh observed that the light from the constellation Ursa Major was paler in comparison to the yellowish glow produced by the gas-lit lamps along the city's outskirts.
Though not as well-known as the Starry Night, this work remains an essential part of his portfolio, demonstrating his particular approach to painting nighttime landscapes in his own style.
10.

The Bedroom

in Arles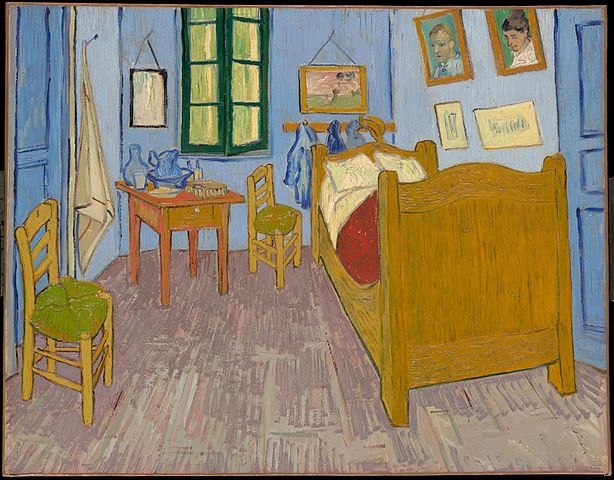 The Bedroom was Van Gogh's own title for this work. In his letters to his brother Theo, he describes three accurate accounts.
Each of three related paintings by Vincent van Gogh is titled Bedroom in Arles (French: La Chambre à Arles; Dutch: Slaapkamer te Arles).
The photos that hang on the wall on the right hand side of each canvas readily differentiate each painting from the one and other.
According to research, the very contrasted colors shown in today's paintings are the consequence of discoloration over time. For example, the walls and doors were originally purple rather than blue.
Van Gogh eliminated shadows from the painting in order in order to copy the style from Japanese prints which he had been studying. Because of the absence of shadows and the distorted perspective, several of the items look to be falling or unstable.
This is not completely due to a lack of competence or a desire to work quickly. Because of the strange angle of the exterior walls of the building, the furniture does not line up properly.