The American Civil War was the most volatile time in the nation's history as the people were divided both geographically and philosophically.
One side supporting a smaller form of government that upheld the rights for states to allow such practices as slavery while the other advocated for a more centralized federal leadership that sought to end the horrors of slavery, even if it meant fighting a years-long brutal war.
The war had severe political and societal implications as many viewed it to be a "fight between brothers" and a struggle that would forever tear a rift between the North and South of the United States of America.
The underlying ideology behind each side's stance would be the subject of many famous pieces of artwork as painters from all over the world, especially those from America itself, would seek to portray this great struggle in all its elegance and glory, as well as its darkness and horror.
Famous Civil War Paintings
This article will explore some of the most famous Civil War paintings and discuss the circumstances in which they were created, as well as the deeper meanings behind each intricate brushstroke.
1.

Home, Sweet Home

– Winslow Homer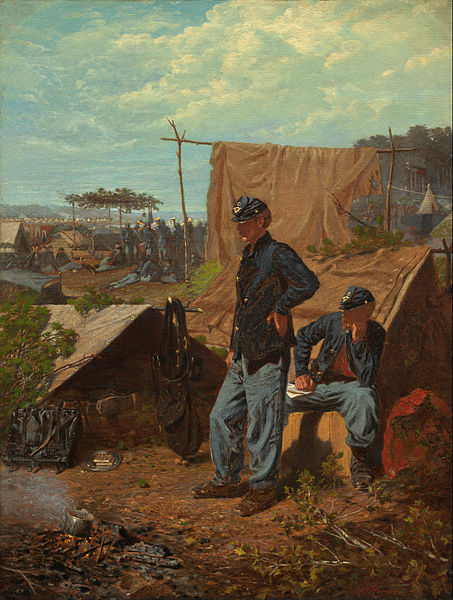 Few artists would have such a tremendous impact on the society of both the American North and South as Winslow Homer.
The iconic artist's career is even more intriguing when one considers that he was virtually a self-taught painter and never received any formal training in producing works using a brush or canvas.
He was in the prime of his life at just 25 years old when the Civil War broke out in 1861.
Art historians and critics mostly agree that one of the most famous Civil War paintings ever done was Homer's Home, Sweet Home. The work was completed in 1863 at a time when the war had been raging for two years and there seemed to be no end in sight for either side.
The painting is said to have been aimed at portraying the seemingly never ending saga of soldiers living away from the comfort of their homes and out on the move from one battle to the next.
The painting features two Union soldiers, who can be identified as infantrymen based on their caps' insignia, standing over a tattered tent. The two men have their gaze fixed upon the small fire at their feet which is likely warming a cup of stew or perhaps, coffee.
The overall purpose of Homer's work was to highlight and emphasize the immense degree of homesickness that each and every soldier must have faced—many of them leaving behind young wives and children who both the soldiers and their families were left having no idea whether their loved ones were safe or even still alive.
2.

A Ride for Liberty – The Fugitive Slaves

– Eastman Johnson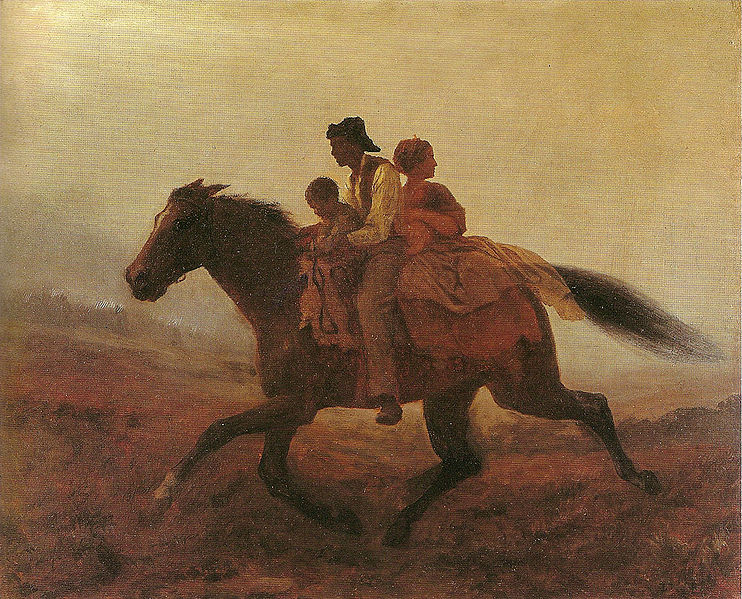 Another one of the most famous Civil War paintings is one that features a likely scene that was not from a battle, but from the realities of the practices of slavery that were supported across much of the South.
In 1862, Eastman Johnson created a painting that depicted a runaway slave on horseback, making his way northward with a wife and two young children.
The painting is titled A Ride for Liberty – The Fugitive Slaves and has long been hailed as one that truly exhibited the essence of what was being fought for by both sides.
The North was known to be mostly against the practice of slavery and would grant immediate amnesty and freedom to any slave that made it to a northern state which supported the Union stance of freedom for people of any ethnicity.
This work features a beautiful, yet riveting scene of the man riding what appears to be a strong, swift steed.
The man's expression is fixed upon the ride ahead and his goal of attaining freedom for his young family while his wife or spouse is seen clutching a newborn baby in her arms while anxiously looking back toward danger in the form of bounty hunters or even possibly the slave plantation they had just escaped from.
3.

Guerrilla Warfare

– Alfred Bierstadt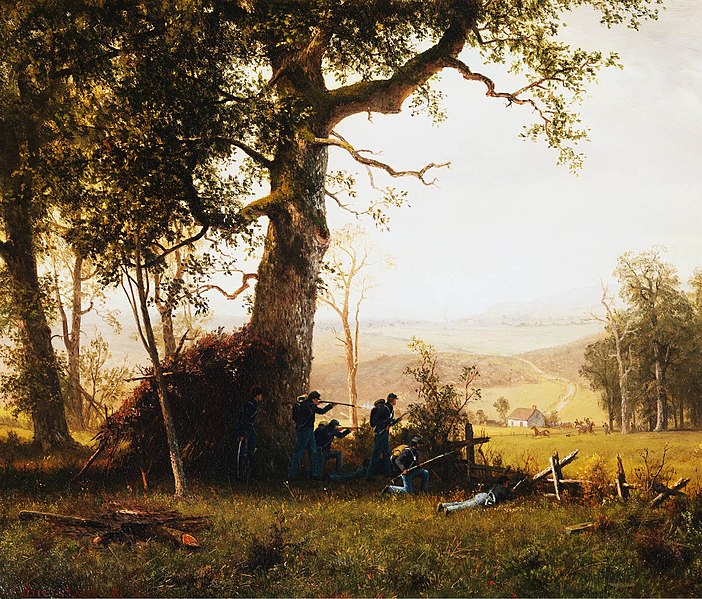 Alfred Bierstadt was a German-born painter who moved to the United States with his family as a baby in 1831.
Bierstandt was initially drafted into the Union Army in 1863 as the military forces were clamoring for new recruits and soldiers to fight against the determined and formidable Confederate Army, which had greatly outperformed anything the North expected of them at the onset of the Civil War.
The artist was wealthy enough to pay for a replacement to fight in his stead, but Bierstadt would go on to make his mark in the historic struggle with a paintbrush instead of a musket.
He painted a work titled Guerrilla Warfare in 1862, which would later become known as one of the most famous Civil War paintings of all time.
This particular work featured a beautiful landscape that appears to be almost serene without the presence of a small group of Union soldiers on 'picket duty' in a small patch of brush surrounding a towering tree, their rifles propped on a fence as they fire upon a column of Confederate soldiers.
4.

Prisoners from the Front

– Winslow Homer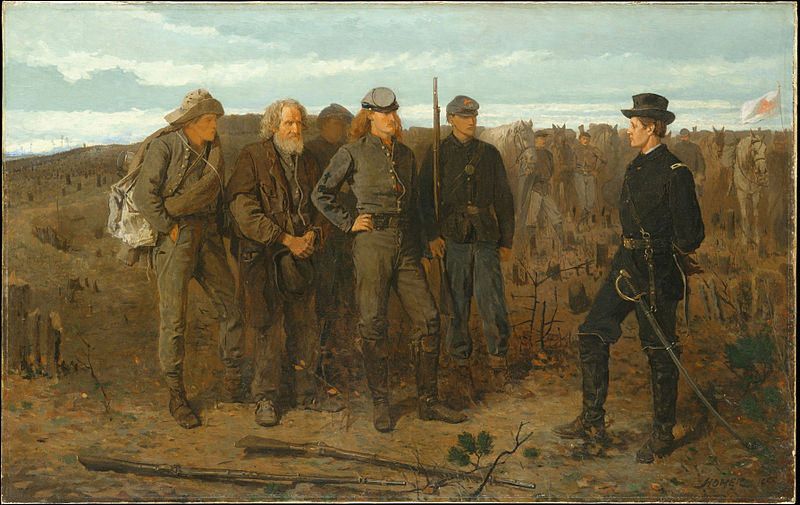 Another iconic work from Winslow Homer was one that features a unique scene of a group of captured prisoners of war from the Confederate Army.
This painting was completed in 1866 after the war had ended at a time when tensions were still quite high between people from either side of the conflict.
Homer's work was titled Prisoners from the Front and depicts an actual event from the war in which Union Brigadier General Francis Channing Barlow captured a group of rebel soldiers in June of 1864.
This painting is believed to have been one that launched Homer's status into the spotlight of the eyes of various art critics and enthusiasts at the time from all over the world.
The artist likely drew from his own personal experience as a war correspondent during the conflict. It is an interesting blend of the expression of defiance on the face of one of the Confederate soldiers who is facing a Union officer.
An elderly soldier stands behind the rebel, his hands clasped as if to indicate his sense of worry over their fate.
5.

Grant and His Generals

– Ole Peter Hansen Balling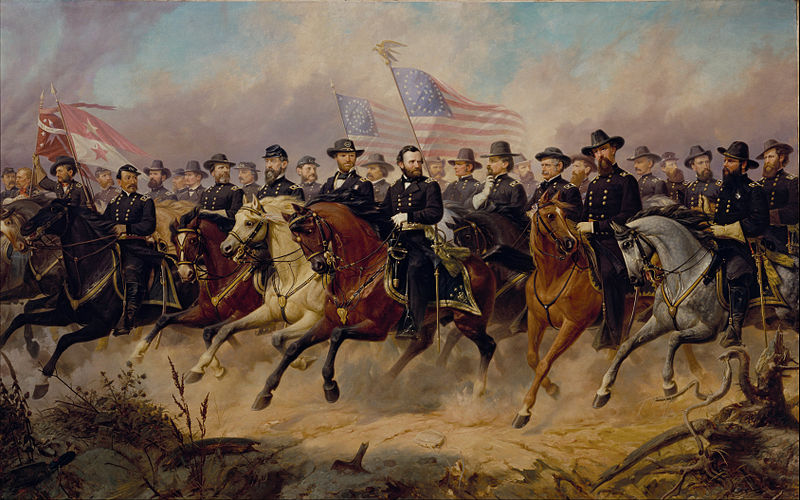 The next work on our list of the most famous Civil War painters comes from an artists that was born in Norway and is known to have spent a considerable amount of time with the upper echelons of the Union Army—even with Abraham Lincoln himself.
Also Read: Revolutionary War Paintings
Ole Peter Hansen Balling joined up with Lincoln at the White House in 1864 and would later be present among such figures as the Union General Ulysses Grant and William T. Sherman.
He painted a work that is known as Grant and His Generals in 1865 as the way finally drew to a close.
The painting shows each of the most prominent figures of the Union Army assembled in a horseback formation as if they are all riding into victory.
6.

At the Front

– George Cochran Lambdin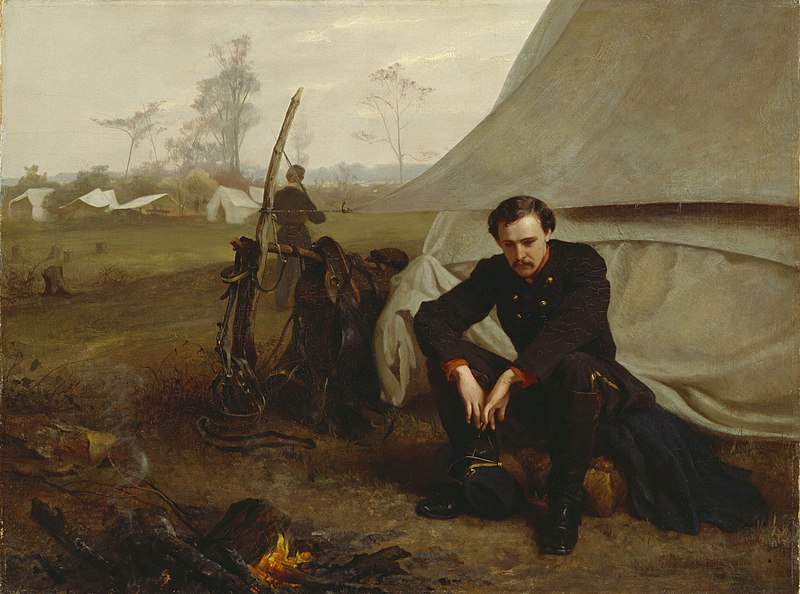 George Cochran Lambdin was an artist who likely would have never dabbled in such subjects as war or the struggles and hardships that existed away from the battlefield throughout the terrible conflict.
He is known for painting various works that included beautiful flowers and other plant life before working to portray just what the horrors of war did to men who experienced the American Civil War.
Also Read: George Washington Paintings
His painting titled At the Front was done in 1866 and features a Union officer in full uniform, staring at the ground.
The officer's expression is one in which we can only surmise that he is reflecting on scenes of terrible combat that will likely haunt him for the rest of his life.
7.

Evening Gun, Fort Sumter

– Conrad Wise Chapman & John Gadsby Chapman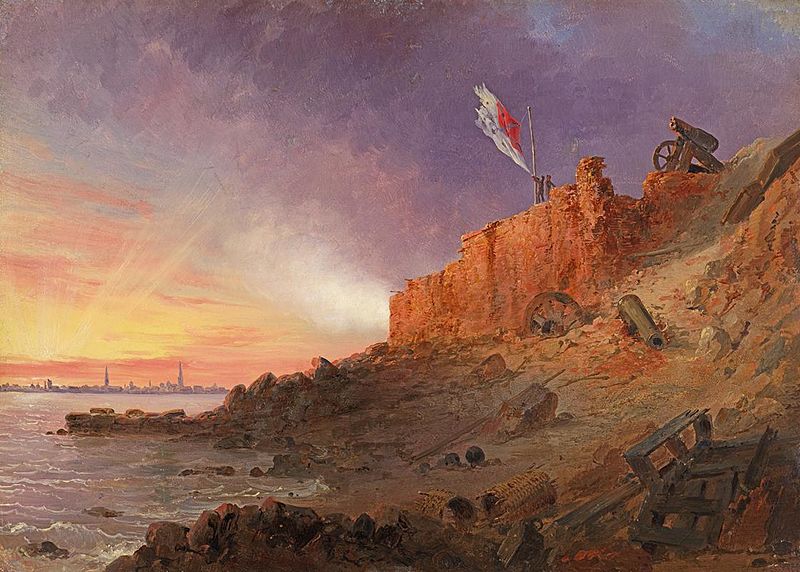 Conrad Wise Chapman was a soldier in the Confederate Army who began serving in the war at just 19 years old. He would continue to fight for the rebel army throughout the duration of the struggle, which many Southerners termed the "War of Northern Aggression."
The artist combined his efforts with that of his father, John Gadsby Chapman to create one of the most famous Civil War paintings to have ever been done.
The work, titled Evening Gun, Fort Sumter, was painted in 1864 by the elder Chapman using his son's highly detailed sketches of Fort Sumter after it had been pummeled by artillery to begin the Civil War's first engagement.
8.

Emblems of the Civil War

– Alexander Pope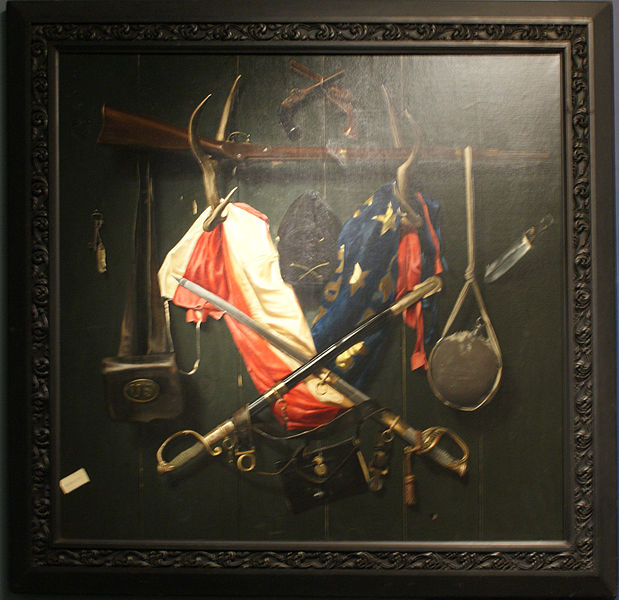 The next painting on our list of the most memorable works of art from the Civil War features a slightly different subject matter which is seen to be a close-up collection of memorabilia and gear from the American Civil War.
Painted in 1888 by Alexander Pope, the work simply features an intricately laid-out set of Union Army.
This work is titled Emblems of the Civil War, which is a fitting title for those items that are contained in the painting which are arranged in a sort of ceremonial manner.
Such items from the war would be worth quite a bit of money at auction today among collectors of Civil War memorabilia.
9.

The Girl I Left Behind Me

– Eastman Johnson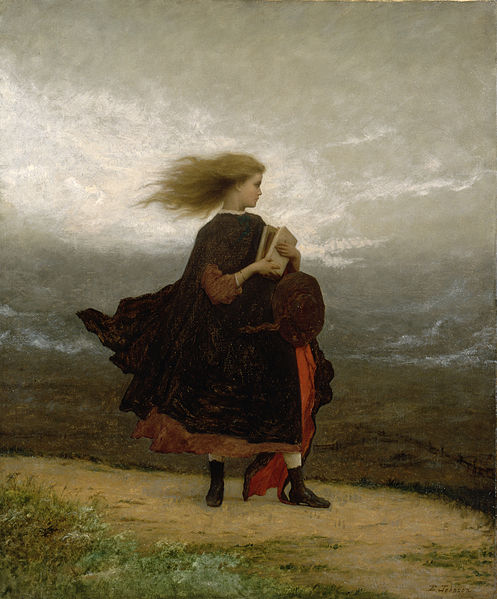 Eastman Johnson's famous painting of the Civil War era is one that is truly unique in a multitude of ways.
Instead of a raging battle scene or picturesque view of military officers surveying a scenic landscape, Johnson chose to depict a much more realistic and heart wrenching element of the struggle.
The painting is aptly titled The Girl I Left Behind Me as it features a young, beautiful girl left waiting for her husband to return as she looks down from atop a high hilltop. The painting's title is synonymous with an Irish ballad of the same name.
10.

Holding the Line at All Hazards

– William Gilbert Gaul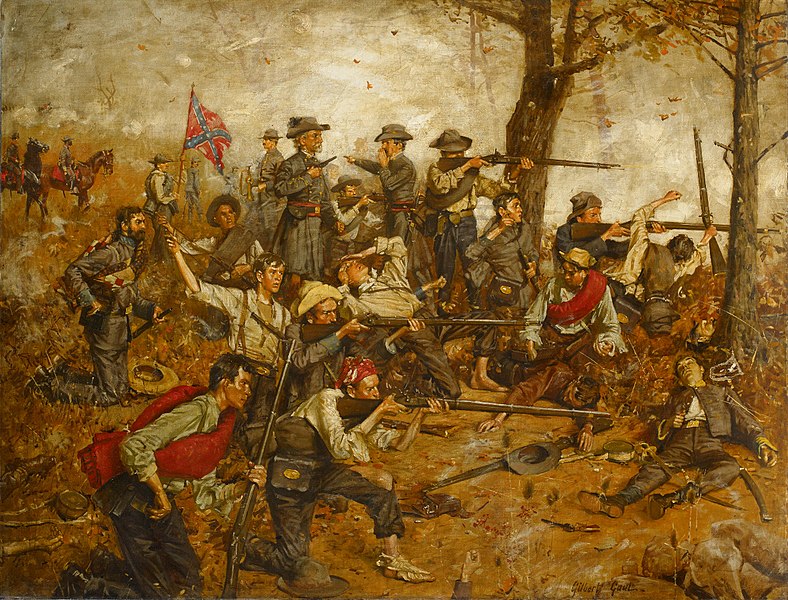 Another painting that is one of the most iconic works to have been centered around the Civil War was done by William Gilbert Gaul.
While many famous works feature Union troops engaged in combat or other activities outside of the fight, this one is quite different entirely as it portrays a group of Confederate soldiers fighting with great courage to hold fast the line that they have been tasked to maintain and prevent the Union from taking.
The viewer can see most of the men, who are bloodied and battered from the fight, continue on against a foe that we cannot see. This work was painted in 1882 and is said to be named after the famous poem by Walt Whitman.