The visual representation of clouds and/or the sky is known as a "cloudscape" in the art world.
Examples like these show how clouds are typically shown from Earth's perspective, with just enough of the surrounding terrain to indicate distance, direction, scale, and atmospheric conditions (through the application of the technique of aerial perspective).
Although a cloudless sky is not required to be considered a skyscape, the two expressions are sometimes used interchangeably.
Some later cloudscape paintings, such the ones made famous by Georgia O'Keeffe, depict the clouds as if viewed from an airplane.
Famous Cloud Paintings
1. Woman with a Parasol – Madame Monet and son – Claude Monet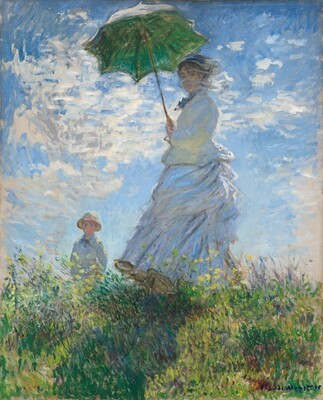 In the late 19th century, when most of Europe was intrigued by various types of what is now considered to be the Impressionist art movement, Claude Monet rose to prominence as one of the leading French Impressionist artists.
He depicts members of his own family in some of his most acclaimed works from this time period.
One of Monet's most well-known paintings, "Woman with a Parasol" (also known as "Madame Monet and Her Son"), was completed in 1875.
Monet's wife is pictured here, dressed in a flowing garment and clutching an umbrella to shield her from the midday sun.
You can make out Monet's son Jean standing in the background, staring at the spectator, but it's Camille's eyes that really draw you in.
2. Sky Above Clouds IV – Georgia O'Keeffe

In the 1960s, Georgia O'Keeffe finished a body of work focusing on the theme of clouds. In this final gigantic work, titled "Sky Above Clouds IV," the series comes to a close.
Using her own abstract method that veers between pattern and landscape, she made the sky seem to dissolve into nothing.
At the beginning of the 1960s, Georgia O'Keeffe began depicting the huge, endless stretches of cloud cover she had seen from airplane windows on her travels across the world.
It was announced that Sky above Clouds IV, along with other works by O'Keeffe, would be shown in a retrospective exhibition at the Whitney Museum of American Art in New York, the Art Institute of Chicago, and the San Francisco Museum of Art.
Despite having been shown in New York and Chicago, the museum in San Francisco decided against bringing the piece in because of its excessive size.
For this reason, it was on loan at the Art Institute of Chicago for more than a decade while the artist and collectors of her work who care about the common good arranged for it to be permanently shown there.
3. Wanderer above the Sea of Fog – Caspar David Friedrich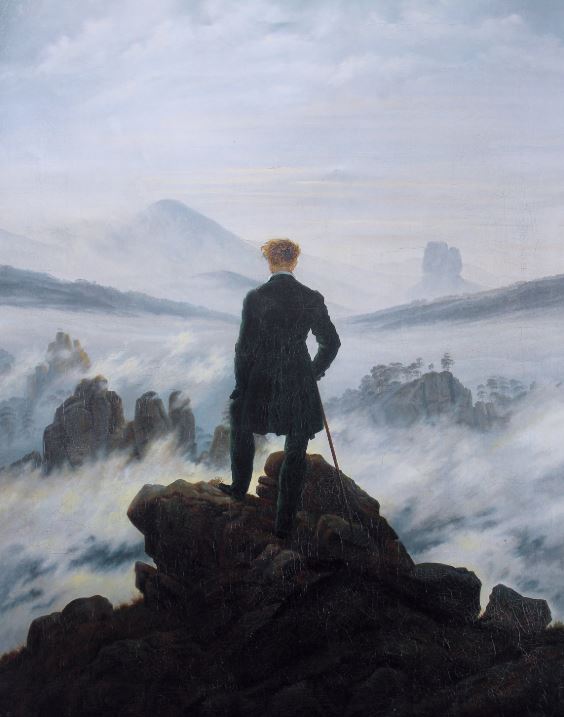 In 1818, Caspar David Friedrich created one of the most recognizable paintings from the Romanticism era. Human figures are a trademark of the German painter's, who is most known for depicting them against starry skies and expansive landscapes.
Another piece of his, Wanderer Above the Sea of Fog, depicts a youthful explorer in a similar situation: high on a cliff face, staring out over a foggy valley below.
At the time this painting was created, exploration was widely seen as a romantic endeavor across most of Europe and the United States.
Friedrich's art seems to capture the spirit of discovery and exploration that was popular among the many 19th-century explorers.
This work of art exemplifies how landscape paintings throughout the Romantic era were given greater prominence in the eyes of the people.
4. View of Toledo – El Greco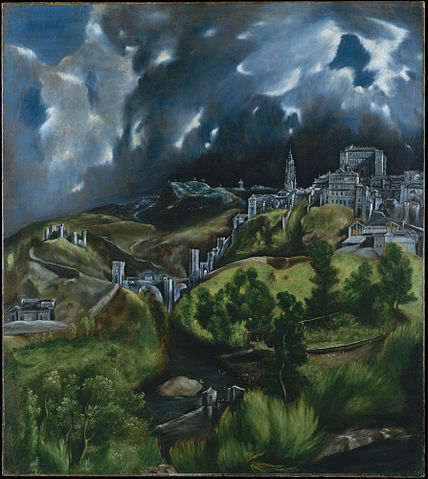 This landscape by El Greco is one of two of his works that have made it to the present day; the other being View and Plan of Toledo, also called Vista de Toledo. There is a painting titled "View of Toledo" hanging in New York's Metropolitan Museum of Art.
Like J. M. W. Turner's and Claude Monet's landscapes, Vincent van Gogh's "The Starry Night" and John Constable's "View of Toledo" are iconic depictions of the sky in Western art.
One of the artist's most ambitious works, View of Toledo is also a significant piece of Western art history.
Landscapes are an unusual subject for Spanish Renaissance and Baroque art. Because landscape paintings are so unusual, some have speculated that View of Toledo is a cut from a larger one.
However, there has been no reliable confirmation or evidence. It has been suggested that this painting predates any other Spanish landscapes because it was created before the Council of Trent banned landscape painting.
5. Study of Clouds – John Constable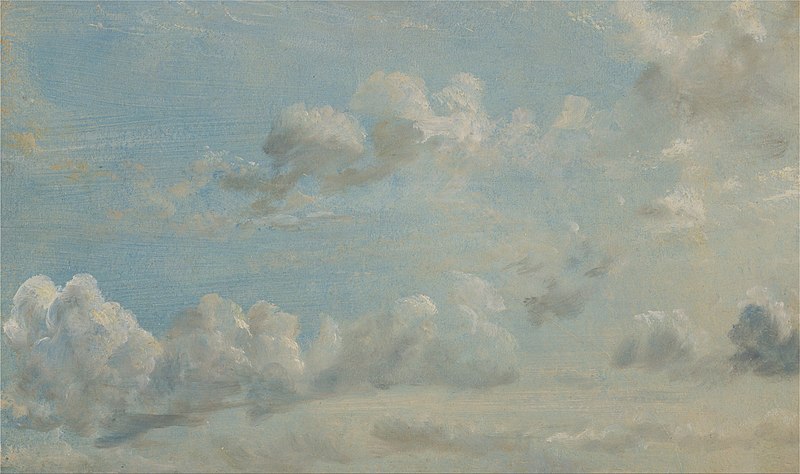 In 1821, in preparation for his monumental landscapes, Constable began to do studies of clouds in an attempt to capture their fleeting energy.
According to him, the sky should take center stage in any landscape. Constable's detailed, analytical observations of the weather are highlighted by the comments he made on the back of these sketches.
Cloud structure and movement are depicted with extraordinary accuracy in Constable's oil sky studies. Most also successfully convey the sense of loudness that they possess in the real world. The size of the investigations varies considerably.
Constable did not make his cloud studies with the sole purpose of copying each of them into later paintings; rather, the cumulative experience obtained through concentrated observation and documenting proved to be immensely beneficial to him.
6. Windmill at Wijk bij Duurstede – Jacob van Ruisdael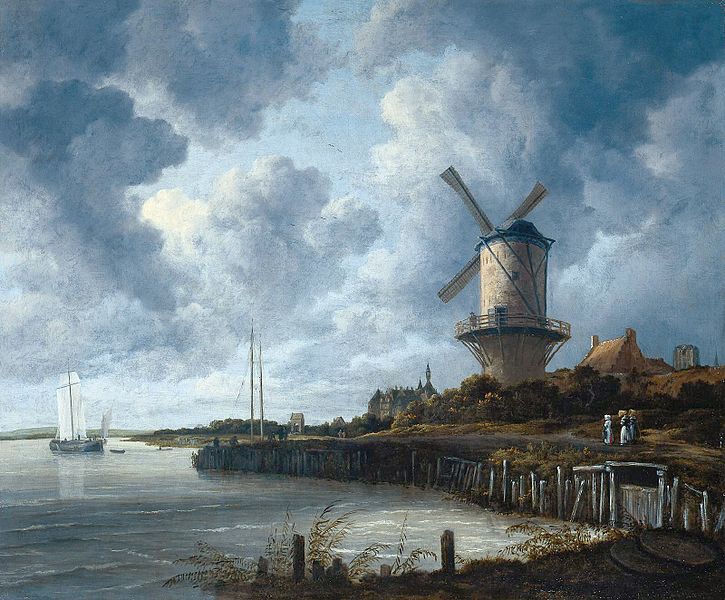 Painting of a windmill near Wijk bij Duurstede, Netherlands, by Dutch artist Jacob van Ruisdael, c. 1670.
Presently on loan to the Rijksmuseum from the Amsterdam Museum, it is a prime example of Dutch Golden Age painting.
Wijk bij Duurstede, a riverbank town about 20 kilometers from Utrecht, is depicted here, its dominant cylindrical windmill harmonized by the lines of the river bank and the sails, and the contrasts between light and shadow working along with the enhanced concentration of mass and space. Extremely impressive level of care for detail.
7. Puget Sound on the Pacific Coast – Albert Bierstadt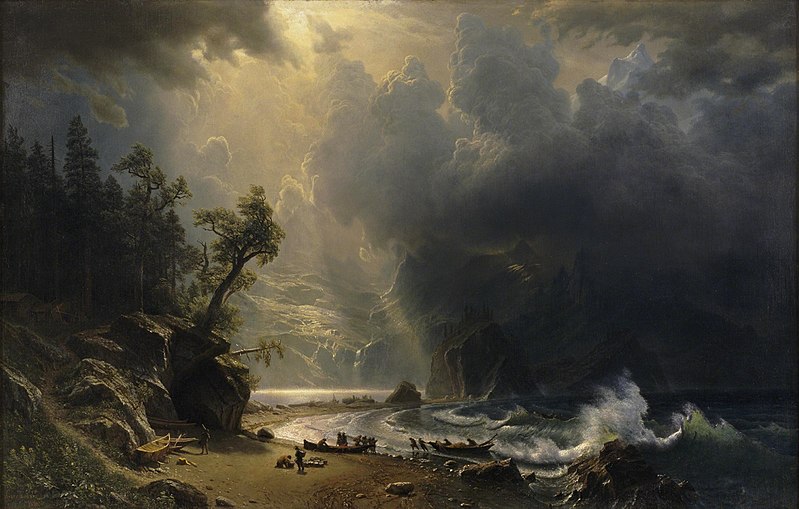 Albert Bierstadt, a member of the Hudson River School, painted this scenic view of Puget Sound on the Pacific coast in oil in 1870.
Bierstadt had not yet visited what is now Washington state when this painting was completed.
This painting of the Sound was commissioned by China trade merchant Abiel Abbot Low and was completed using only written descriptions as reference.
8. Wheat Field with Cypresses – Vincent van Gogh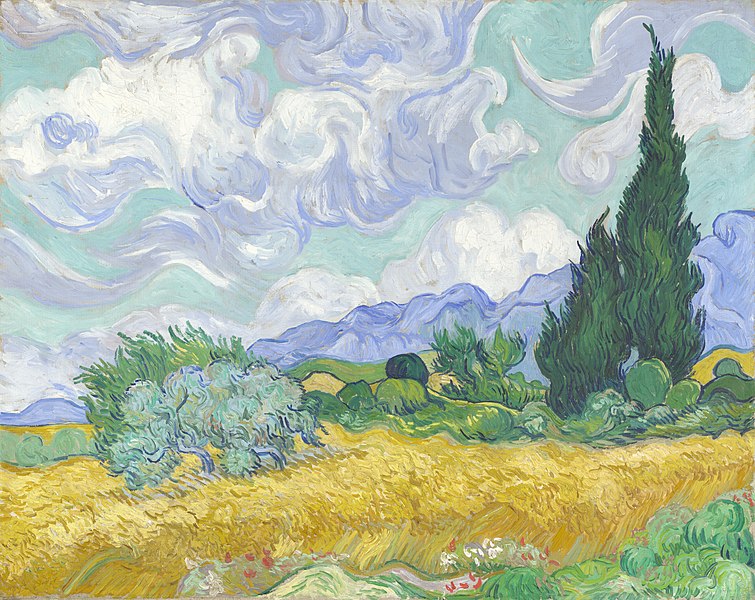 There are three oil paintings by Vincent van Gogh from 1889 called A Wheatfield with Cypresses.
While being a patient at the Saint-Paul-de-Mausole institution at Saint-Rémy, France, not far from Arles, Van Gogh displayed all of these works between May 1889 and May 1890.
The works took their cue from the Alpilles, which could be seen from the asylum's windows.
There are rolling hills and mountains in the background, and white clouds are whirling in an azure sky above a landscape of golden wheat fields, a dark fastigiate Provençal cypress rising like a green obelisk to the right, and lighter green olive trees in the middle distance.
9. Beach Scene – Albert Bierstadt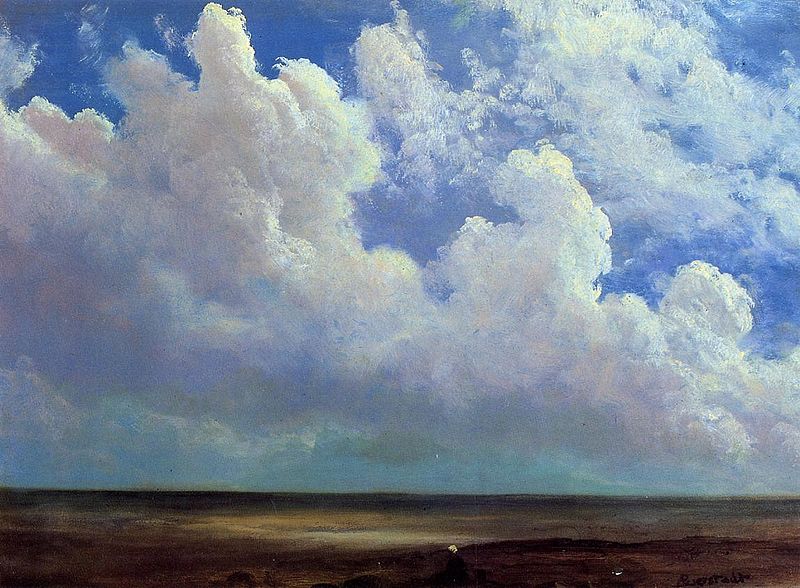 A German immigrant to the United States, Albert Bierstadt is best renowned for his grand, panoramic vistas of the American West. As a painter, he accompanied several Westward Expansion expeditions.
While he wasn't the first artist to capture these locations on canvas, he did become the century's preeminent interpreter of them.
Aware of the sky's potential as a source of light and decorative element, Bierstadt frequently included the sky in his works.
Among Bierstadt's more intricate skyscapes, this one demonstrates the artist's dedication to researching the properties of light and the patterns of clouds.
10. Sunrise with Sea Monsters – J. M. W. Turner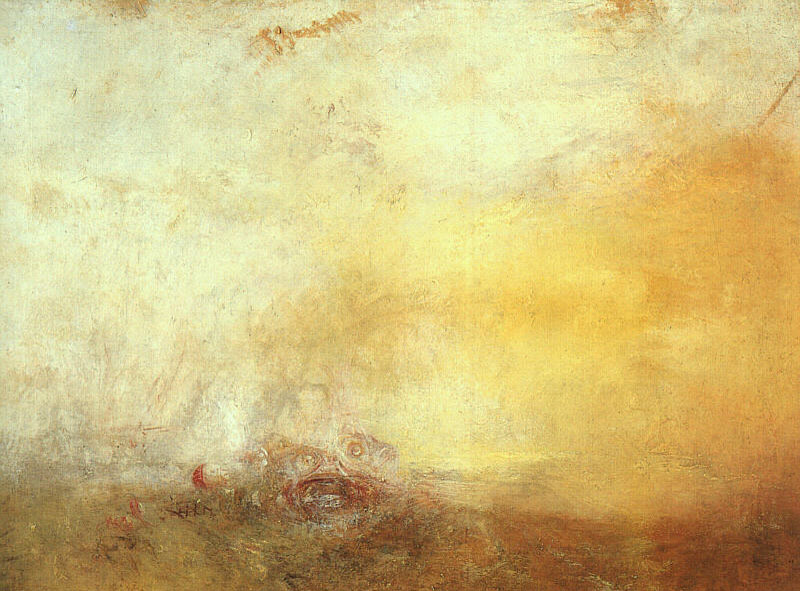 In his unfinished oil painting Sunrise with Sea Monsters, English artist J. M. W. Turner depicts a sunrise with a variety of sea creatures.
Tate Britain has added it to their permanent collection. Towards the twilight of his career, Turner painted this scene in Margate, a seaside town.
Larger than life, the artwork measures 36 inches by 48 inches and depicts a hazy yellow sunrise over a stormy grey sea. Swirls of pink and crimson, representing the proverbial sea monsters, lurk in the bottom left corner. In 1906, the picture had its debut in public.
In addition to these bare bones, however, the painting's interpretations offer a rich source of research and discussion. When the painting's title was first conceived, it referred to a single monster. The Tate Gallery insists that these fishy looking creatures are not monsters.