Pop art dominated the art world during the 60's and 70's and turned the established art world on it's head.
It immortalized images ranging from the most mundane of everyday house hold objects to the biggest celebrities of the day and every thing else in between.
Who would have though that the humble banana or a tin of Campbell's soup could reach such stunning fame?
The leading pop art artists drew massive influence from pop culture whilst single-handedly forcing art historians and academics to indeed question what is art?
Famous Pop Art Artists
1.

Andy Warhol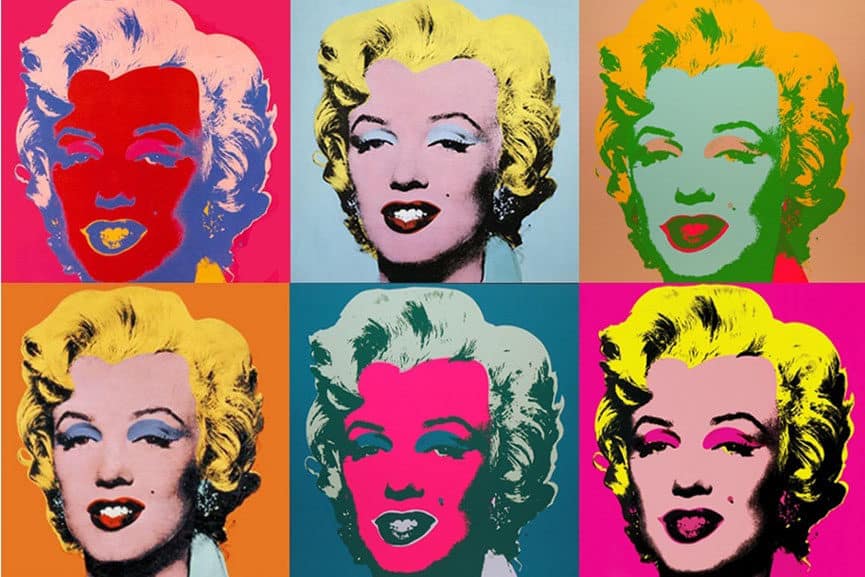 Born in 1928 Pennsylvania, Andy Warhol spent much of his youth sick in bed. Throughout this time, he formed his unique artistic skills and expression.
In high school, he studied commercial art before moving to New York where he started to make a name for himself.
Although he began his career in drawing and designing shoes, his career delved into photography, film, and printmaking.
Also Read: Famous Andy Warhol Paintings
Warhol's use of provocative images inspired countless controversies throughout his life.
His work merged art, celebrity life, and advertisement and has earned him the legacy as one of the greatest artists in history.
However, it also was criticized by art purists as a business move. In 1962 he founded his studio which became a popular meeting ground for both underground and mainstream celebrities like Madonna and Mick Jagger.
Surviving one attempt on his life, Andy Warhol eventually died due to complications after a surgery in 1987.
2.

David Hockney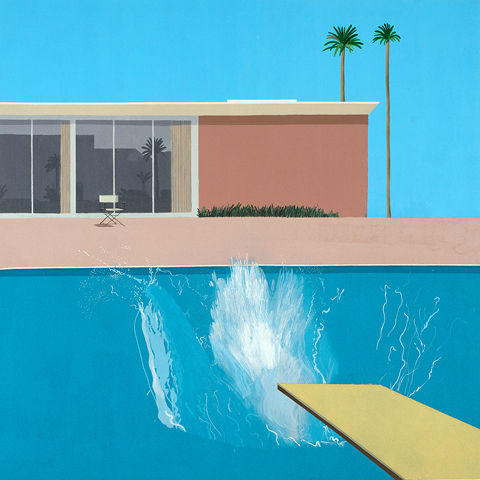 David Hockney, born in 1937 England, is a vital figure in the early pop art movement, though his early work had expressionist elements.
After studying at the Bradford College of Art, he studied at the Royal College of Art in London where he became known as the first student from the college to be given a diploma based solely on his artwork as a result of his refusal to write the essay needed to graduate.
Since then, he has and continues to work primarily as a painter, living between Los Angeles, Paris, and London.
Hockney, among painting, pursues drawing, photography, graphic design, and set design as artistic endeavors. The subjects he focuses on often depict, as a gay man himself, gay love and occasionally self portraits.
At one point, he held the record for the highest price of a painting sold of any living artist at ninety million dollars.
3.

Jasper Johns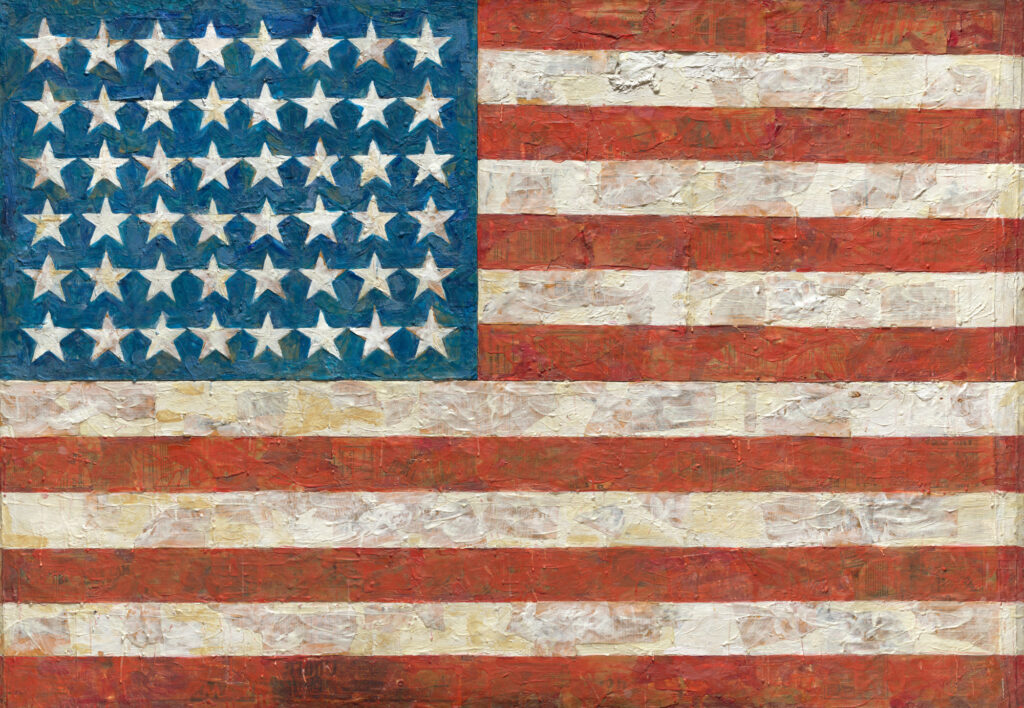 Jasper Johns is a pop artist known for his paintings which almost always depict the American flag or another topic relating to the United States. In addition to painting, he also is known for his printmaking and sculpting abilities.
Born in 1930 Georgia, Johns received success early on in his life when he displayed his art at his lover's, Robert Rauschenburg, studio. Leo Castelli discovered his works there and provided him with his own studio.
Additionally, Castelli purchased four pieces to be displayed in the New York Museum of Modern Art from which he received more notoriety. Since then, he has repeatedly earned the title of Highest Paid Work of any Living Artist for paintings like Diver, White Flag, and False Start.
Johns continues to paint in his home in Connecticut and still enjoys success with the New York Times naming him The Foremost Living Artist in 2018.
4.

Peter Blake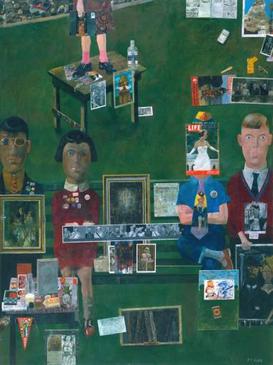 Peter Blake is a renowned artist who is credited as one of the influential members of the early pop art movement. His paintings draw upon elements from popular culture, usually having collage elements and often reference other artists' paintings within them.
Born in England in 1932, Blake studied at the Royal College of Art in London as well as Gravesend Technical College. Early on, he became a successful artist, though he did not have his first solo exhibit until he was twenty-eight.
The height of his fame was reached in the 1950's and 60's, commissioning paintings for well-known musicians like The Who, Eric Clapton, and the Beatles to paint cover art for their albums as well as tour posters.
In 2002, he was knighted at Buckingham Palace for his contributions to the world of art. He still resides in London where he continues to paint and run a rather large studio.
5.

Yayoi Kusama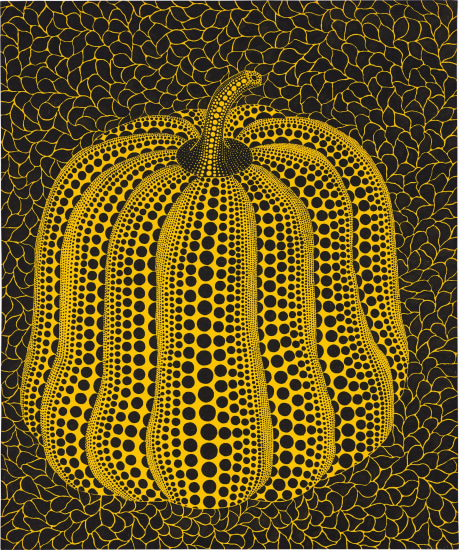 Yayoi Kusama is known for her many artistic ventures, from her sculptures and installations to her paintings and films.
Her most successful work has been in her immersive experiences like the infinity, or mirror, room. Much of her work is focused on feminism and minimalism as well as psychological and sexual content.
Kusama, born in 1929 Japan, gained early notoriety in Japan in the 1950's. Eventually, she moved to New York City where she submerged herself in the avant-garde movement.
There, she created infinity rooms, her most successful work, though the idea was stolen by some of her male contemporaries who profited even greater off of it.
During the Vietnam War, Kusama received national attention after her many art protests, personally calling out President Reagan at one point.
Due to her many mental health struggles, Kusama admitted herself to Seiwa Hospital for Mentally Ill in Japan where she continues to reside.
6.

Roy Lichtenstein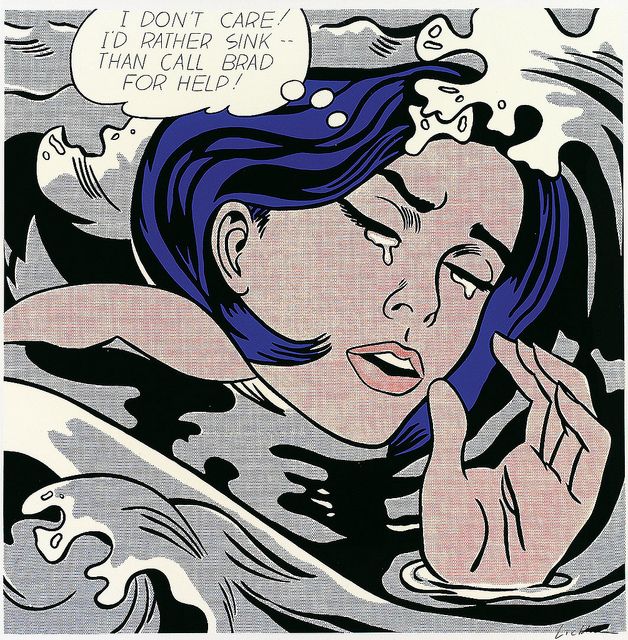 Roy Lichtenstein, born in 1923 New York City, was an artist known for his mock-comic paintings that resembled comic book scenes. Additionally, he often reproduced historical masterpieces in his own style, recreating's paintings from Van Gogh, Picasso, and other artists. 
Also Read: Famous New York Artists
As a young man, Lichtenstein studied under Reginald Marsh at the Art Students League of New York. Later, he went to Ohio State University where he eventually finished with a Master of Fine Arts degree after a brief stint in the military during World War II.
Though he began his career teaching in New Jersey, he decided to move back to New York City to be in the center of the art scene, and he didn't have his first solo show until 1962 when he was almost forty years old.
There, he continued to create sculptures, paintings, and prints until he died of pneumonia in 1997.
7.

Keith Haring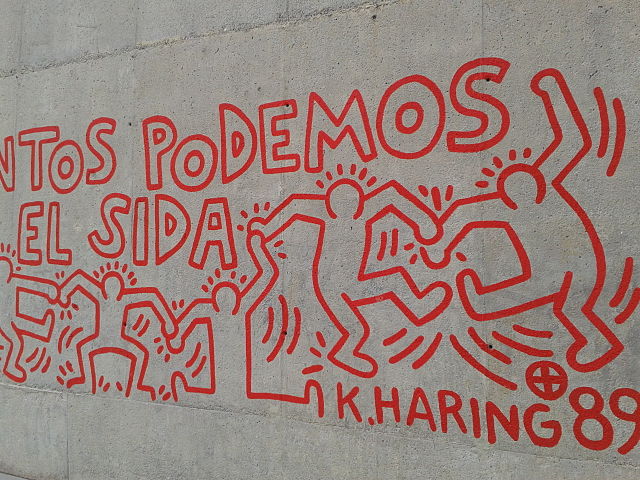 Keith Haring, born in 1958 Pennsylvania, was a widely controversial and influential gay artist who used sexual images to advocate for safe sex and AIDS awareness in the height of the epidemic.
After studying commercial art at Pittsburgh's Ivy School of Professional Art, Haring moved to New York City to study painting.
He would create large graffiti pieces in the subways which gained public attention. Due to the publicity, he was commissioned by night clubs, stages, television sets, and even hospitals.
Haring opened a "pop shop" in the late 1980's where he sold merchandise that displayed his works.
Though he argued this allowed his art to be accessible to a large number of people, he was criticized for commercializing his art for doing this. After
Haring died from AIDS complications in 1990, many celebrities, such as Madonna who donated to AIDS charities in his honor, praised his life and works.
8.

Romero Britto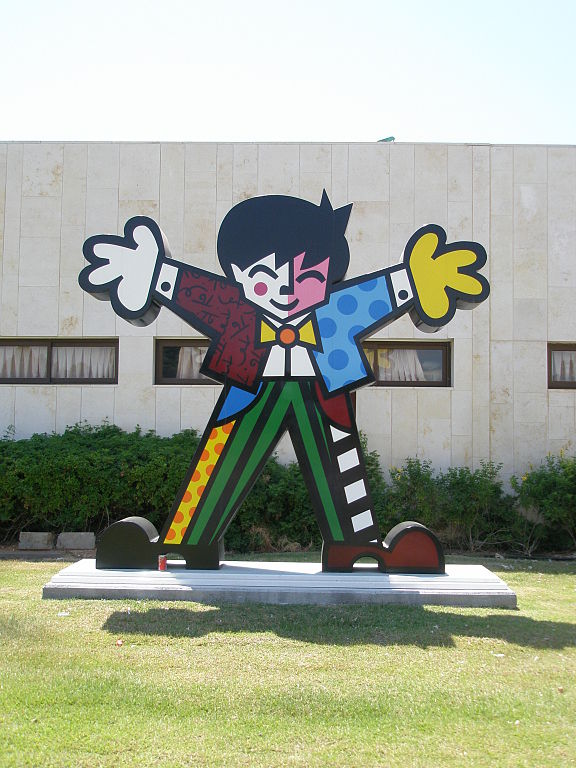 Romero Britto, born in Brazil in 1973, is a pop artist known for his paintings, sculptures, and serigraphs. Most renowned for his paintings, his works are often patchworks of designs that form an overall image, utilizing vivid colors and bold lines.
He once said that he tries to evoke hope, joy, and dreams through his paintings.
As a young child, Britto was constantly painting on everything from newspapers to cardboard, using any medium he could find as a canvas.
After a visit to Paris, he formed his style from seeing paintings from Picasso and Matisse. In 1989, he moved to Miami, Florida where he has lived ever since.
Shortly after moving, he received his big break from a recruiter for Absolut Vodka's Absolut Art Ad Campaign. Since then, he has been commissioned by several of the Olympics, Super Bowls, and international brands.
9.

Robert Indiana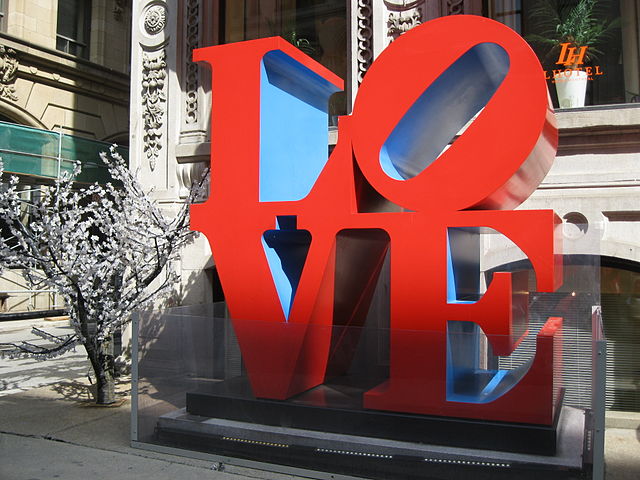 Robert Indiana, born as Robert Clark in Indiana in 1928, moved to Chicago after a brief stint in the military to study at the Art Institute of Chicago. Later, he took his studies to three different universities before graduating and settling in New York City.
Indiana's career took off quickly after Alfred Barr, the first Director of the Museum of Modern Art, bought his piece, The American Dream, 1. After this, he was able to have his own solo exhibition in 1962, achieving a rather successful career.
In his later years, he isolated himself in Maine, keeping himself hidden from the public eye until he died of respiratory failure in 2018.
Most of Indiana's works are prints and utilized bold, simple images, usually numbers or words. He is best known for his work LOVE, in his EAT series, which has been replicated and printed internationally for decades.
10.

George Segal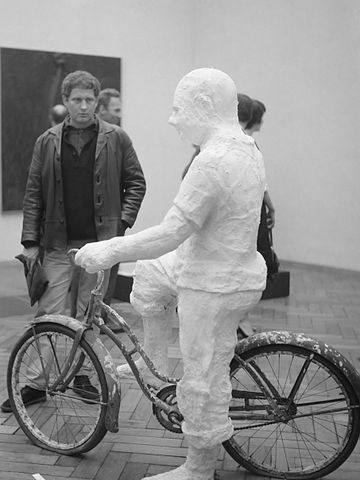 George Segal, though he started out as a painter, is most known for his plaster sculptures. These sculptures were life-sized casts of people, appearing melancholy and pale.
At first he kept the sculptures white but he began painting them towards the end of his life. Unlike other pop artists, his work focused on the individual as it related to consumerism rather than consumable products itself.
As a young man, Segal attended the Pratt Institute, Cooper Union, and New York University where he received a degree in teaching. After graduating, he taught art and English where one of his students introduced him to the medium of casting.
At his home in New Jersey, he would host art events where art professors and artists would engage and influence each other. After his death in 2000, his wife and children continued to hold these artistic happenings.
11. Robert Rauschenberg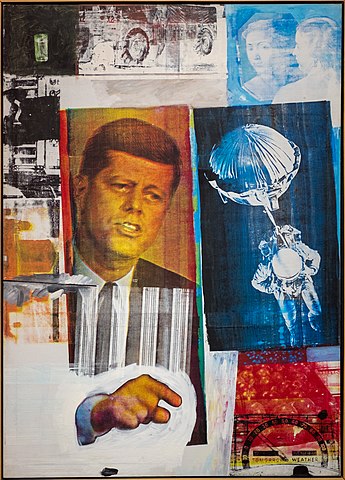 Milton Ernest "Robert" Rauschenberg (October 22, 1925 – May 12, 2008) was an American painter and graphic designer whose work foreshadowed the Pop art movement.
Rauschenberg is best known for his Combines (1954–1964), a series of works that used common things as art materials and blurred the lines between painting and sculpture. Rauschenberg was a sculpture and a painter, but he also experimented with photography, printing, papermaking, and performance.
During the 1960s, Rauschenberg's paintings began to integrate not just found items but also discovered pictures. After visiting Andy Warhol's studio that year, Rauschenberg started transferring images to canvas using a silkscreen method, which is generally reserved for commercial printing. Between 1962 and 1964, Rauschenberg's silkscreen paintings caused reviewers to associate his work with Pop art.
During his almost 60-year creative career, Rauschenberg garnered several prizes. The International Grand Prize in Painting at the 32nd Venice Biennale in 1964 and the National Medal of Arts in 1993 were two of the most notable.
Until his death on May 12, 2008, Rauschenberg resided and worked in New York City and on Captiva Island, Florida.
12. Wayne Thiebaud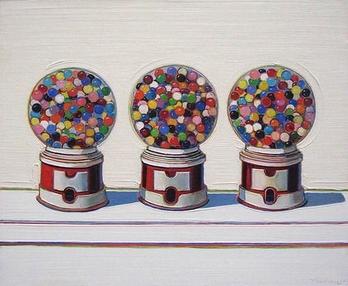 Morton Wayne Thiebaud (November 15, 1920 – December 25, 2021) was an American painter most known for his colorful paintings of everyday things like as pies, lipsticks, paint cans, ice cream cones, pastries, and hot dogs, as well as his landscapes and figure paintings.
Thiebaud is identified with the pop art movement because to his interest in mass culture artifacts, yet his early works, completed in the 1950s and 1960s, significantly precede the works of the great pop artists.
Thiebaud depicted his topics with rich pigment and exaggerated hues, and the well-defined shadows typical of ads are nearly always incorporated in his work.
Thiebaud disliked terms like "fine art" vs "consumer art," and referred to himself as "simply an old-fashioned painter." He did not consider himself a pop artist since he loathed Andy Warhol's "flat" and "mechanical" works.
Thiebaud depicted his topics with rich pigment and exaggerated hues, and the well-defined shadows typical of ads are nearly always incorporated in his work.
13. Eduardo Paolozzi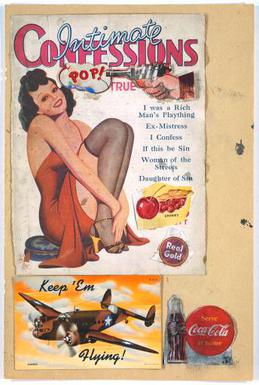 Sir Eduardo Luigi Paolozzi CBE RA (7 March 1924 – 22 April 2005) was a Scottish sculptor and graphic designer. He is generally regarded as one of the forefathers of pop art.
Paolozzi rose to prominence in the 1950s with a series of stunning screenprints and Art brut sculpture. In 1952, he co-founded the Independent Group, which is seen as the forerunner of the mid-1950s British and late 1950s American Pop Art movements.
His seminal collage from 1947 I Was a Rich Man's Plaything is regarded as the first standard bearer of Pop Art.
He always defined his work as surrealist art, and although he worked in a variety of mediums during his career, sculpture became increasingly intimately connected with him.
Paolozzi is known for creating realistic statues with rectilinear (typically cubic) components added or removed, or the human body deconstructed in a cubist fashion.
---
The above list of famous pop art artists details some of the most prominent and well recognized names of the pop art movement.