A self-portrait is a portrayal of an artist that that artist has drawn, painted, photographed, or sculpted.
Although self-portraits have existed since antiquity, it is not until the Early Renaissance, in the mid-15th century, that painters begin to show themselves as either the primary subject or prominent characters in their works.
Many painters, sculptors, and print-makers experimented with self-portraiture as better and cheaper mirrors were available, as well as the introduction of the panel portrait.
Women were often unable to train in drawing the naked body of a live model until the twentieth century, making it difficult for them to paint larger figure compositions, prompting many female painters to concentrate in portraiture.
Self-portraits are crucial to our knowledge of portraiture and art history. They are the medium through which many artists have been remembered, providing glimpses into their life, surroundings, and even mental states.
Famous Self-Portrait Artists
1.

The Desperate Man

– Gustave Courbet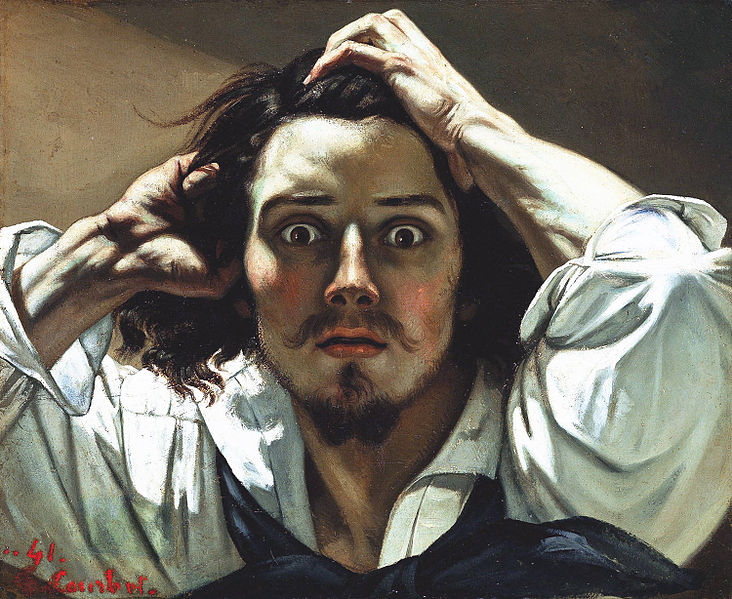 Gustave Courbet's self-portrait is one of the most renowned and iconic self-portraits ever produced.
The artist, Gustave Courbet, is shown in this 1845 picture with a stressed-out expression that seems to be riveted on the observer.
In many respects, Courbet's art conveys a feeling of desperation to the spectator via its remarkable level of realism.
One of Courbet's first works, it is one of the most instantly recognizable from the 19th-century master painter.
His other well known work Self-Portrait with a Black Dog was among the artist's many self-portraits painted in the 1840s. Influenced by works by José de Ribera, Zurbaran, Velázquez and Rembrandt he spent time at the Louvre copying their works of art.
For this project, he strayed from his usual vertical format. He was so dedicated to Le Désespéré that he took it to Switzerland with him when he fled France in 1873. "A picture portraying Courbet with a frantic look, for this reason dubbed Désespoir" was mentioned by doctor Paul Collin in his account of Courbet's workshop a few years later.
2.

Self-Portrait with Thorn Necklace and Hummingbird

– Frida Kahlo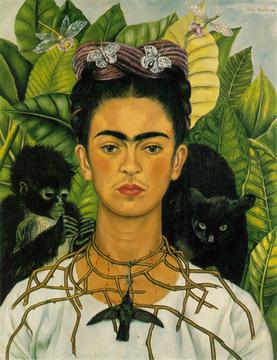 Frida Kahlo is regarded as one of Mexico's most illustrious and influential female painters and cultural leaders. Among the artist's best-known works are her depictions of female figures, many of which involve herself as the subject.
Self Portrait with Thorn Necklace and Hummingbird, painted by Kahlo in 1940, is one of the artist's most well-known self portraits.
Her head and shoulders seem to be encased in the branches of a thornbush that encircle her torso in the artwork.
Kahlo is seen in this picture with her trademark gloomy and severe face as she looks back in the direction of the observer. She also included unusual background images, such as a monkey behind one shoulder and a black panther viewed over the other.
Kahlo uses significant iconography from indigenous Mexican culture to place herself in a tradition of resistance to colonial forces and patriarchal dominance.
The black panther is bad luck and death, while the monkey is wickedness and evil. Pictures of mortality are juxtaposed with images of the natural world, which is often associated with reproduction.
Kahlo was given a spider monkey as a gift by her husband Diego Rivera, who implied that it may be a representation of Rivera, given that he yanked on her thorn necklace so hard that she bled from the pain.
As an alternative, the thorn necklace might be a reference to Christ's crown of thorns, comparing herself to a Christian martyr and reflecting the pain and sadness she felt following her failed love engagements. Her resurrection may be symbolized by butterflies and dragonflies.
3.

Portrait of a Man in Red Chalk

– Leonardo da Vinci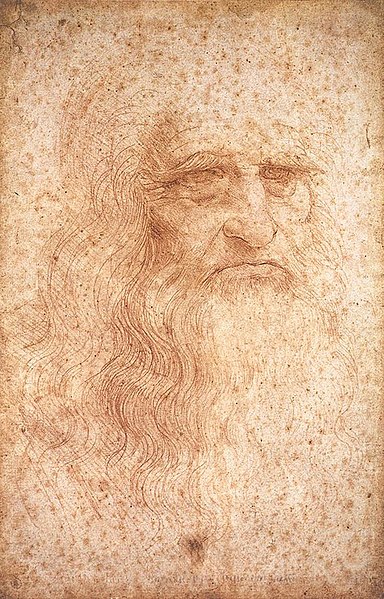 Leonardo da Vinci is recognized as an artist who mastered the human form. One of da Vinci's masterpieces, dubbed the Vitruvian Man, has long been hailed as the most significant depiction of human anatomy ever created.
However, there is another red chalk piece that is likewise well-known for its image of man.
The artwork is titled Portrait of a Man in Red Chalk (Self-Portrait) and is widely thought to be a self-portrait of da Vinci by many art experts and historians.
The picture was created on paper using red chalk, which was a favored medium for da Vinci and other artists to sketch out their works prior to painting or sculpting them.
This piece is said to have been completed in 1512, when da Vinci was an elderly man.
The drawing is simply a picture of an old man's face, which has clearly defined lines across his brow and what looks to be missing front teeth, which was prevalent among elderly people during this era.
The reddish splotches on the drawing are caused by the formation of iron salts over time as a result of the paper being maintained in a moderately wet atmosphere.
4.

Self-Portrait at the Age of Twenty Eight

– Albrecht Dürer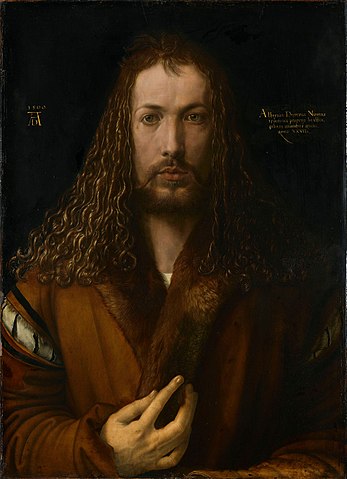 Albrecht Dürer's Self-Portrait (or Self-Portrait at Twenty-Eight) is a panel painting from the German Renaissance. It is the final of his three painted self-portraits, made right before his 29th birthday in early 1500. It is regarded as the most intimate, iconic, and intricate of his self-portraits by art historians.
The self-portrait is notable for its similarities to a number of older depictions of Christ. The symmetry, dark tones, and way in which the artist directly approaches the audience and lifts his hands to the center of his chest as if in the act of blessing are all noted as parallels with religious painting practices.
In both his 1498 Christ as Man of Sorrows and his 1503 charcoal painting Head of the Dead Christ, Dürer appears in identical stances and attitudes. Both are thought to be self-portraits, despite the fact that they aren't labeled as such.
Artist historians think Dürer meant to depict himself in these paintings because they have striking parallels to his known self-portraits, such as large eyes, a narrow mouth with a wide upper lip, and the form of both the nose and the depression between the lip and the nose.
5.

Self-Portrait with Halo and Snake

– Paul Gauguin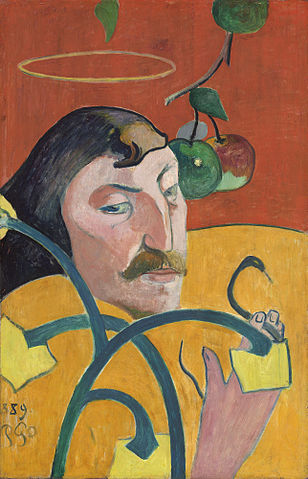 Self-Portrait with Halo and Snake, also known as Self-Portrait, is an 1889 oil on wood work by French artist Paul Gauguin that depicts the artist's late Brittany era in the fishing town of Le Pouldu in northern France.
Gauguin came to Le Pouldu with his friend and pupil Meijer de Haan and a small group of painters after becoming dissatisfied at Pont-Aven.
In the fall of 1889 and the summer of 1890, he remained for many months, during which time the group devoted their time adorning the inside of Marie Henry's inn with every major genre of art work.
In the dining room, Gauguin painted his Self-Portrait beside his companion work, Portrait of Jacob Meyer de Haan (1889).
There is religious symbolism as well as the artistic influence of Japanese woodblock prints and cloisonnism. Gauguin painted more than 40 self-portraits throughout his career, and this one was done many years before he moved to Tahiti.
6.

Self-Portrait with a Beret

– Claude Monet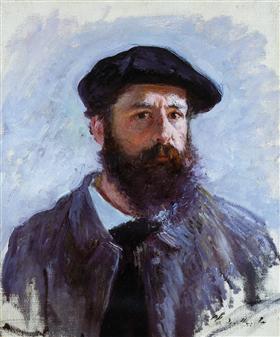 Claude Monet is often regarded as the most important player in the Impressionist movement, which originated in France in the late 1800s and has since become one of the world's most famous painters.
Many of his paintings, particularly those depicting various towns and landscapes, are regarded classics that reflect the most essential features of Impressionist painting.
Throughout his life, he also painted numerous self-portraits.
This 1886 self portrait of Claude Monet features the Impressionist artist's distinctive beret and beard. Monet's signature blurred brushstrokes, compositional use of untreated canvas, and beautifully depicted light-dark balance are all evident in Self Portrait with a Beret.
7.

Soft Self-Portrait with Grilled Bacon

– Salvador Dali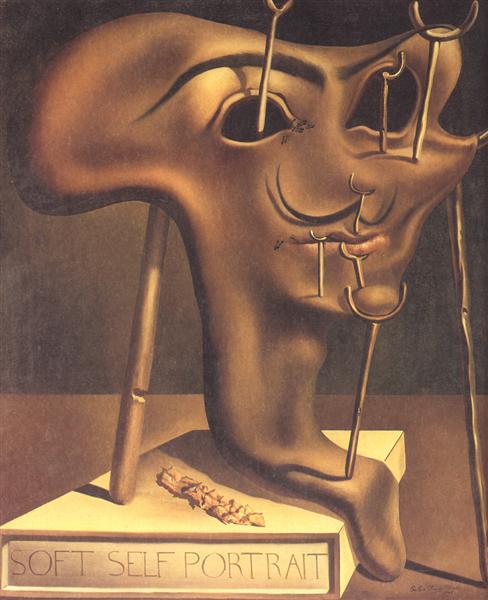 A rather original work by Spanish surrealist artist Salvador Dal, Soft Self Portrait With Fried Bacon, 1941, oil on canvas, depicting a phantasm full of comedy, where an amorphous, soft face emerges, supported by crutches.
Dali considered his self-portrait, which stands on a pedestal with the title of the piece engraved on it. Above is a piece of cooked bacon, a sign of biological matter and the regularity with which he eats breakfast at the Saint Regis Hotel in New York.
Dali blurred the barrier between reality and imagination in a dark and haunting way as a Surrealist, examining the psychological findings of the period (especially those of Sigmund Freud) while also harkening back to the irrational and passionate characteristics of Romanticism.
8.

Self-Portrait at the Age of 63

– Rembrandt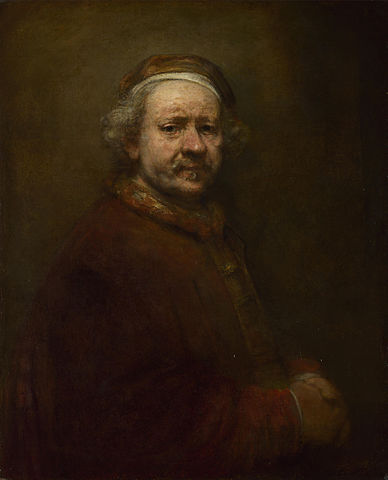 Rembrandt van Rijn is regarded as one of the most famous Dutch painters of all time and a pivotal player in the Dutch Golden Age and Baroque periods.
His paintings are noted for their realism, and he was known for using very fine brushstrokes to improve the impression of his subjects.
Self-Portrait at the Age of 63 is one of Rembrandt's most famous paintings. It was one of three self-portraits created in the months leading up to his death in October 1669, and it was one of the last in a series of roughly 80 self-portraits.
Despite the proximity to his death and the intense focus on his aged face, Rembrandt gives the image of a strong and self-assured artist. In 1851, the National Gallery in London purchased it.
9.

Self-Portrait with a Sunflower

– Anthony van Dyck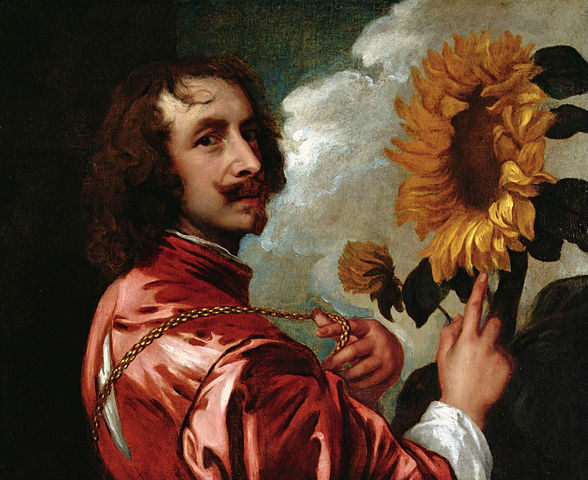 Anthony van Dyck's Self-Portrait with a Sunflower is a self-portrait by the Flemish Baroque artist Anthony van Dyck from Antwerp, Spain. Between 1632 and 1633, the oil on canvas is estimated to have been painted.
While working on this self-portrait, Anthony van Dyck was employed as the "chief Paynter in order to their Majesties" at the court of Charles I of England. The significance of the sunflower and gold chain has been a source of debate among art historians.
His success in the southern Netherlands and Italy catapulted him into a career as a royal painter, and he became a favorite of King Charles I and his court. Long after his death in 1641, Van Dyck's commitment to capturing the resemblance of his subjects earned him power over the field of portraiture.
His portrait approach developed into what is known as his Late English phase, as shown in Self-Portrait with a Sunflower, after such a long and illustrious career in painting. This piece is presently in the Duke of Westminster's private collection at Eaton Hall in Cheshire.
10.

Self-Portrait with Dark Felt Hat at the Easel

– Van Gogh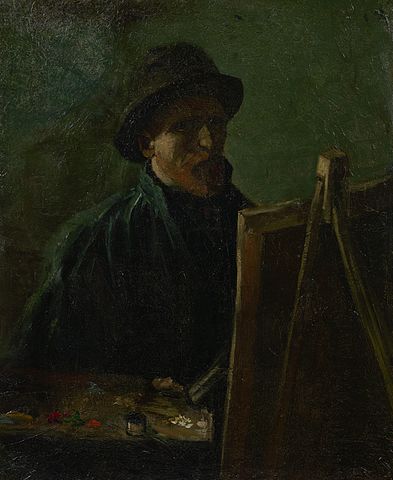 This is one of Van Gogh's first self-portraits, and the first in which he depicts himself as an artist. He's at his easel in the field, clutching his palette. He was keen to establish his mark as a painter in Paris after more than five years of work in the Netherlands and Antwerp.
Splotches of paint fill the rectangular palette, each one a pure, unmixed hue. A little turpentine jug sits on top, used to thin the paint. Van Gogh's thumb is visible in one of the holes, and two brushes are visible in the other.