Throughout the renaissance the only hope that a woman could have of becoming an artists was to be born into a very wealthy family, learn to paint at a convent after becoming a nun, or to have been born into a family of artists where their father owned a workshop or studio.
Regardless of the massive gender barriers at the time some female renaissance artists did indeed succeed in becoming successful although many of would not attain widespread recognition during their lifetime.
The following list of famous female renaissance artists managed to overcome these barriers and have produced works that are the equal if not the better of some of their male contemporaries.
Famous Female Renaissance Artists
1. Sofonisba Anguissola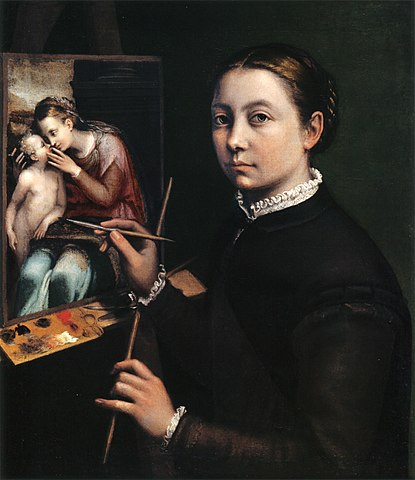 Sofonisba Anguissola (c. 1532 – 16 November 1625) was an Italian Renaissance painter who was born in Cremona to a low-income aristocratic family.
She had a well-rounded education that encompassed the fine arts, and her apprenticeship with local painters established a precedent for women to be admitted as art students.
Anguissola came to Rome as a young lady, where she met Michelangelo, who instantly recognized her brilliance, and to Milan, where she painted the Duke of Alba.
The Spanish queen, Elizabeth of Valois, was a great amateur painter, and Anguissola was hired as her instructor in Madrid in 1559, with the status of lady-in-waiting.
She then became the king's official court painter, Philip II, and changed her technique to the more formal needs of official portraits for the Spanish court.
Following the queen's death, Philip assisted in arranging an aristocratic marriage for her. She relocated to Sicily, then to Pisa and Genoa, where she continued to work as a prominent portrait painter.
Her portraits of herself and her family, which she created before moving to the Spanish court, are her most unique and appealing works. Her images of youngsters, in particular, were new and well-observed. A
As one of the earliest and most accomplished of the very few female court painters, she produced formal state portraits in the prevalent official style at the Spanish court.
Later in her life, she also painted religious topics, albeit many of her religious works have since been destroyed. She died in Palermo at the age of 93 in 1625.
2. Artemisia Gentileschi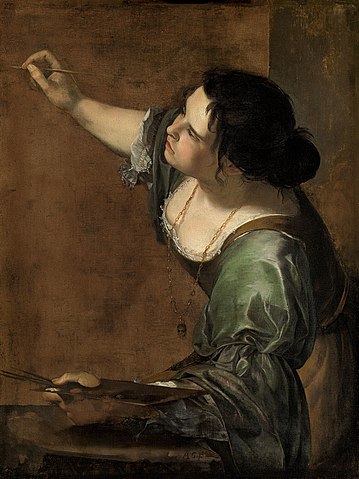 Artemisia Lomi, sometimes known as Artemisia Gentileschi, was an Italian Baroque painter who lived from 8 July 1593 until about 1656.
Gentileschi is regarded as one of the most outstanding seventeenth-century painters, beginning working in the Caravaggio style. By the age of fifteen, she was producing professional work.
Also Read: Famous Renaissance Paintings of Women
Gentileschi was the first woman to become a member of the Accademia di Arte del Disegno in Florence, and she had a worldwide clientele at an age when women had little options to pursue artistic instruction or work as professional painters.
Gentileschi's paintings often depict women from mythology, allegories, and the Bible, including victims, suicides, and warriors. Susanna and the Elders, Judith Slaying Holofernes, and Judith and Her Maidservant are some of her most well-known themes.
Gentileschi was well-known for her ability to capture the feminine body with outstanding authenticity, as well as her proficiency in using color to create depth and drama.
3. Lavinia Fontana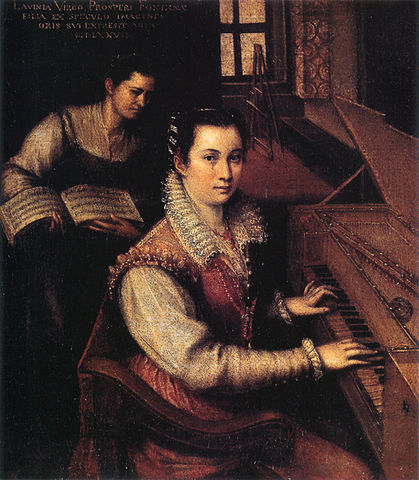 Lavinia Fontana (August 24, 1552 – August 11, 1614) was a Bologna and Rome-based Bolognese Mannerism painter. She is primarily renowned for her portraits, although she also dabbled in mythological and religious art.
Her father, Prospero Fontana, was a teacher at the School of Bologna and taught her. She is recognized as the first female professional artist in Western Europe since she earned her living via commissions.
Her family depended on her painting profession, and her husband worked as her agent while raising their 11 children. She was perhaps the first female artist to portray female nudity, although this is a point of contention among art historians.
Her masterwork is the Self-Portrait at the Clavichord with a Servant (seen above). It was created as a betrothal present for the Zappi family.
She was a highly accomplished artist who was often commissioned and able to earn financially from her work. She is a rare example of a Renaissance-era lady who achieved such high levels of achievement in painting. Her attention to detail revealed the sitter's affluence, which made her popular among the wealthy.
4. Plautilla Nelli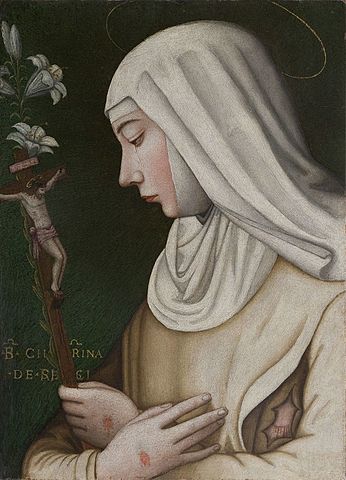 Sister Plautilla Nelli (1524–1588) was a self-taught nun-artist who was Florence's first known female Renaissance painter.
She was a Dominican nun in the Dominican convent of St. Catherine of Siena in Piazza San Marco, Florence, and was profoundly affected by Savonarola's beliefs and Fra Bartolomeo's artwork.
Despite being self-taught, she replicated the works of Agnolo Bronzino, a mannerist painter, and Andrea del Sarto, a high Renaissance painter.
Her main source of inspiration was duplicating Fra Bartolomeo's paintings, which reflected the classicism-style imposed by Savonarola's creative ideals. Fra Bartolomeo bequeathed his paintings to his student, Fra Paolino, who in turn bequeathed them to "a nun who paints" at the monastery of Santa Caterina da Siena.
Nelli signed her works with "Pray for the Paintress" after her name, revealing her gendered function.
Her art is distinguished by religious themes and intense depictions of emotion on the faces of her characters. Nelli had no professional training, and her male figures are believed to exhibit "feminine traits" since her monastic vocation forbade her from studying the naked man.
5. Catharina van Hemessen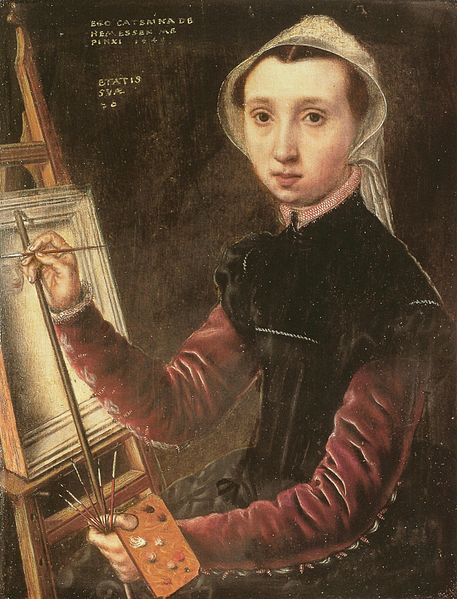 Caterina or Catharina van Hemessen was a Flemish Renaissance painter who lived from 1528 until 1565. She is the first female Flemish painter whose work has been verified.
She is most known for a series of small-scale female portraits finished in the late 1540s and early 1550s, as well as a few religious pieces.
Van Hemessen is credited with making the first self-portrait of an artist (of either gender) sitting at an easel. This Renaissance portrait, completed in 1548, depicts the artist in the early phases of painting a portrait and is presently housed at the Kunstmuseum Basel. Van Hemessen's other works may be seen at the Rijksmuseum in Amsterdam and the National Gallery in London.
A lot of impediments stood in the way of women of her day aspiring to be artists. Their training would include dissection of cadavers as well as study of the naked male body, while the apprenticeship system required the prospective artist to reside with an experienced artist for 4–5 years, generally commencing at the age of 9–15.
Female painters were exceedingly unusual for these reasons, and those who did make it were often schooled by a close relative, in van Hemessen's case, by her father, Jan Sanders van Hemessen.
6. Fede Galizia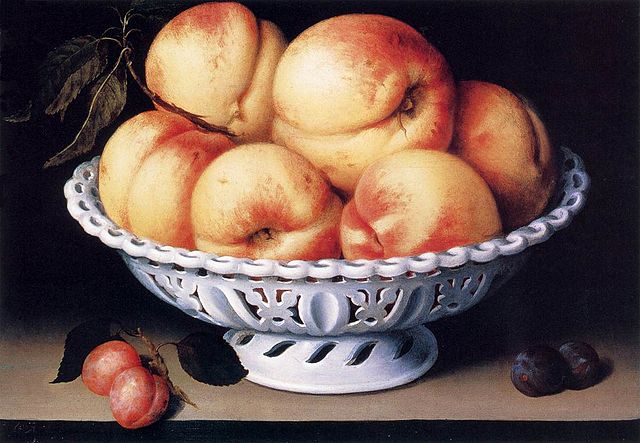 Fede Galizia (c. 1578 – c. 1630) was an Italian Renaissance painter of still-lifes, portraits, and religious images. She is most known as a painter of fruit still-lifes, a subject in which she was one of the first practitioners in European art.
She may not be as widely known as other female painters like Angelica Kauffman and Elizabeth Vigée-Lebrun since she did not have access to court-oriented or aristocratic social circles, nor did she seek the support of political authorities and nobles.
Her painting technique was influenced by the naturalistic traditions of the Italian Renaissance, with a strongly realistic approach. She earned many public contracts for altarpieces in Milanese churches, notably Noli me tangere (1616), which she created for the altar of Santa Maria Maddalena Church.
When she wasn't painting portraits, Galizia was more interested in painting still lifes, a genre in which she was a pioneer and for which she is best known.
Galizia's still life paintings comprise the bulk of her surviving works, despite the fact that they are mentioned in relatively few contemporaneous sources. Sixty-three of her works have been classified, 44 of which are still lifes.
Her sole known still life that she signed, completed in 1602, is the earliest dated still life by an Italian artist. Her paintings, however, did not get the respect they deserved until far into the twentieth century.
7. Elisabetta Sirani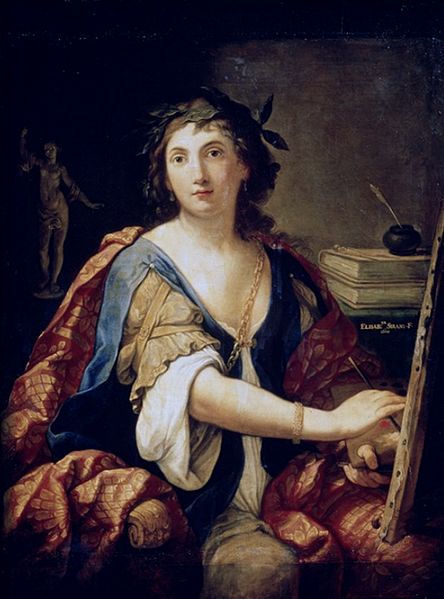 Elisabetta Sirani (8 January 1638 – 28 August 1665) was an Italian Baroque painter and printer who died at the age of 27 under mysterious circumstances. She was a trailblazing female artist in early modern Bologna who founded an institution for other female painters.
Elisabetta Sirani created nearly 200 paintings, 15 etchings, and hundreds of sketches, making her a prolific artist, particularly given her young death. About a fifth of these hundreds of sketches are related to Sirani's recognized paintings or prints.
Beginning in 1655, Sirani maintained a comprehensive list and records of her works and who commissioned them, which is documented in Malvasia's biography.
Many of her works are autographed. Sirani signing her paintings while her male peers did not might be because she did not want her father's work to be mistaken with her own.
Her paintings encompass a wide range of topics, including historical and Biblical tales, allegories, and portraits. Sirani was also the first female artist to concentrate in historical painting, a style that many of the female painters Sirani instructed adopted as well.
Sirani's focus in historical painting distinguishes her from other female painters of the period, who mostly painted still lifes.
At the Certosa di Bologna in 1658, she painted at least 13 public altarpieces, including The Baptism of Christ. Around 1660, she started concentrating on small-scale religious figures, notably the Virgin and Child and Holy Family, which were very popular among private collectors.
Cardinals, monarchs, princes, dukes, businessmen, and scholars from Bologna and around Europe were among her benefactors. Visitors such as ambassadors, political figures, and nobles would flock to Sirani's studio to see her work, and she became a celebrity in her city.
8. Judith Leyster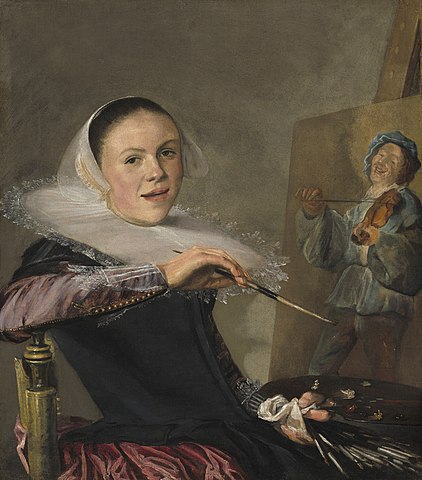 Judith Jans Leyster (born July 28, 1609 – February 10, 1660) was a Dutch Golden Age painter. She created genre paintings, portraits, and still lifes.
Despite the fact that her work was highly respected by her contemporaries, Leyster and her work were virtually completely forgotten after her death. Until 1893, her whole output was credited to Frans Hals or her spouse, Jan Miense Molenaer. Her creative skills were not appreciated until the late nineteenth century.
She specialized in portrait-like genre situations, usually with one to three characters exuding good joy and set against a simple backdrop. Many are youngsters, while others are drunk guys.
Leyster's home genre scenes were especially inventive. These are calm images of ladies at home, frequently with candlelight or lamplight, and are mostly from the perspective of a woman.
Despite being well-known and respected by her peers during her lifetime, Leyster and her work were completely forgotten after her death. She was rediscovered in 1893, when a picture that had been praised for almost a century as a work by Frans Hals was identified as hers.
Many of Leyster's works were credited to Frans Hals, despite the fact that they showed the "weakness of the feminine hand."
9. Levina Teerlinc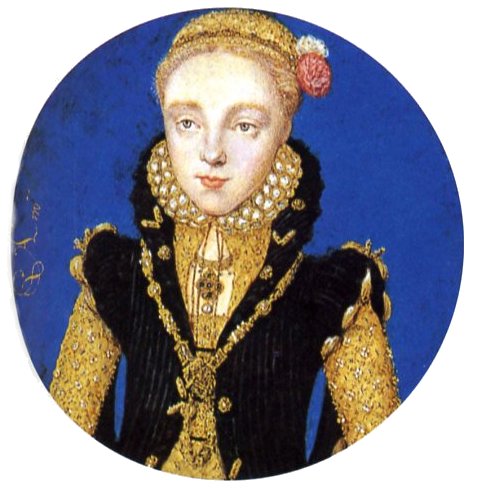 Levina Teerlinc (1510s – 23 June 1576) was a Flemish Renaissance miniaturist who painted for Henry VIII, Edward VI, Mary I, and Elizabeth I.
Between Hans Holbein the Younger and Nicholas Hilliard, she was the most prominent miniaturist at the English court.
Her father, Simon Bening, was a well-known book illuminator and miniature painter of the Ghent-Bruges style, and she was most likely taught as a manuscript painter by him. Before her marriage, she may have worked at her father's workshop.
Teerlinc's paintings are difficult to attribute since she did not usually sign them. There are a few works that are thought to be Teerlinc's since she was the only active miniaturist of distinction at English court between Hans Holbein the Younger in 1543 and Nicholas Hilliard in the 1570s. Some experts believe that many of the miniatures were destroyed in the Whitehall fire.
10. Rachel Ruysch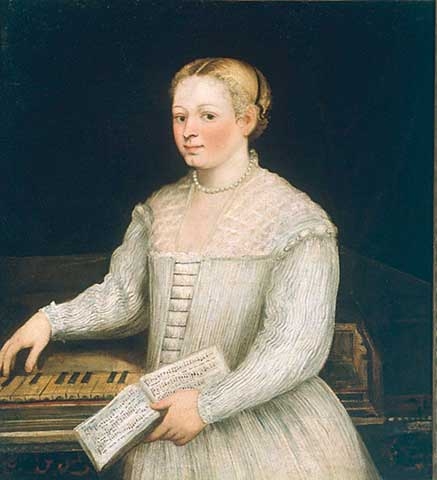 Marietta Robusti (1560 – 1590) was a Venetian Renaissance painter. She was Tintoretto's daughter and is sometimes referred to as Tintoretta.
Because at the time, women were expected to stay in the seclusion of the home domain and were not welcome in the public world of art creation and sale, Robusti and her female contemporaries obtained entrance to the art world via their artist dads or brothers.
Robusti's creative instruction consisted of an apprenticeship in her father's collaborative atmosphere, where she most likely contributed to her father's paintings with backgrounds and figure blocking, as was the standard allocation of labor in painting workshops at the time.
Marietta Robusti's sole artwork(shown above) that can be definitively ascribed to her is her Self Portrait (c. 1580; Uffizi Gallery, Florence).