For centuries female sculptors were extremely rare, sculpture even more so than painting was predominantly male dominated and if a woman intended to pursue a career in art then it was almost always with paint and brush.
For many of the women listed here the path to becoming a famous female sculptor was wrought with fighting the constant tide of being a woman in a male dominated world.
Throughout antiquity there have been very few if any women's names associated with sculpture. In modern times all of that has changed and now the once male preserve of sculpture has its fair share of female artists.
Famous Female Sculptors
1. Louise Bourgeois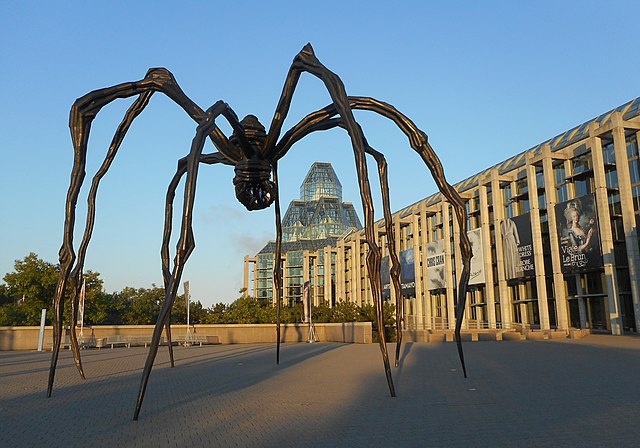 Louise Joséphine Bourgeois was a French-American artist who lived and worked in the United States from 1911 until her death in 2010.
Despite her prominence as a sculptor and installation artist, Louise Bourgeois also worked as a painter and a linocut printer.
Domesticity and the family were major subjects in her work, as were sexuality and the body, but she also looked at mortality in several of her works.
She saw the connection between these themes and memories from her upbringing as a healing process. When it comes to art movements, Louise Bourgeois was not technically linked despite exhibiting with the Abstraction Expressionists and having many similarities to Surrealism and Feminism in her works.
Also Read: Famous Metal Sculpture Artists
At some point in the late 1990s, Louise Bourgeois started to focus her work on the spider as a recurring motif. This culminated in her most renowned sculpture, Maman, a steel and marble work from which an edition of six bronzes(see above) was created.
Originally placed at Tate Modern's Turbine Hall in 2000 as part of Bourgeois's Unilever Series, the sculpture was recently installed in Qatar National Convention Center.
This is Bourgeois' biggest Spider sculpture. In addition, Maman uses analogies of spinning, weaving, nurturing, and protecting to hint to the power of her mother. As a result of her use of spiders, she has been dubbed "Spiderwoman".
2. Augusta Savage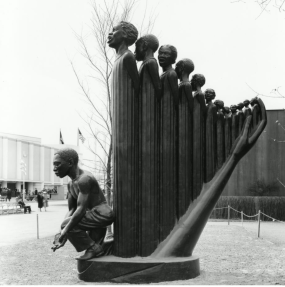 American artist Augusta Savage (born Augusta Christine Fells; February 29, 1892 – March 27, 1962) was linked with the Harlem Renaissance.
She was also a teacher whose studio was crucial to the careers of a generation of nationally renowned painters. She advocated for African Americans' artistic equality.
Savage was one of only two African Americans and one of four women to get a professional commission from the Board of Design for the 1939 New York World's Fair.
Savage was commissioned to construct a sculpture highlighting the influence of African-Americans on music. Inspired by the song by James Weldon and Rosamond Johnson, she composed Lift Every Voice and Sing, popularly known as "The Harp"(above).
The 16-foot-tall plaster sculpture was in front of the Contemporary Arts Building and was one of the most popular and photographed works at the fair; miniature souvenir metal reproductions were produced, and several postcards were bought.
The piece reinvented the musical instrument by using twelve singing African-American children of varying heights as its strings, and by transforming the harp's sounding board into an arm and hand. A young guy kneeling in the front gave music in his hands.
As with other temporary works, Savage's sculpture was destroyed at the conclusion of the exhibition due to a lack of finances to have it cast in bronze or to transfer and keep it.
Infrequently able to purchase bronze, she frequently sculpts with clay and plaster. Gamin, one of her most renowned busts, is on permanent exhibit at the Smithsonian American Art Museum in Washington, D.C.; a life-sized counterpart is in the Cleveland Museum of Art's collection.
In an exhibition of over 200 pieces by black artists, Gamin, which is based on a Harlem teenager, was named the most popular at the time of its creation.
Her approach is characterized by realism, expressiveness, and sensitivity. Although her art and impact on the art world are recorded, the whereabouts of the majority of her works remains unclear.
3. Edmonia Lewis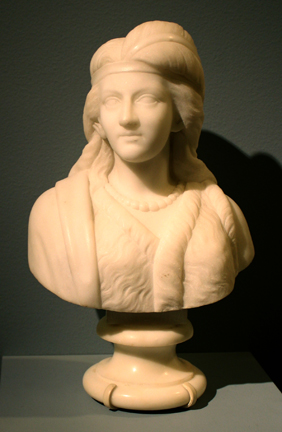 Mary Edmonia Lewis, popularly known as "Wildfire," was an American sculptor of mixed African-American and Native American (Mississauga Ojibwe) ancestry (c. 4 July 1844 – 17 September 1907).
She spent the most of her career in Rome, Italy, despite being a native of Upstate New York. She was the first African-American and Native American sculptor to acquire both national and worldwide renown.
During the Civil War, she rose to popularity in the United States; at the end of the 19th century, she was the first Black woman artist to have participated in and been accepted by the American artistic mainstream.
Her sculptures in the Neoclassical style are notable for combining themes pertaining to African Americans and indigenous peoples of the Americas.
Since a black artist, Edmonia Lewis had to be mindful of her artistic decisions, as her mostly white audience often mistook her work for self-portraits.
To prevent this, her female characters often have European looks. Lewis was had to reconcile her own personal identity with her creative, social, and national identities, an exhausting task that negatively impacted her creativity.
4. Yayoi Kusama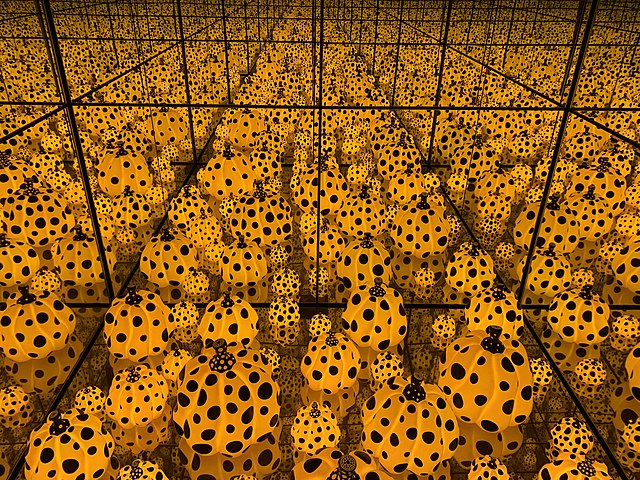 Yayoi Kusama is a modern Japanese artist who predominantly works in sculpture and installation, but is also engaged in painting, performance, video art, fashion, poetry, and fiction, among other creative forms.
Her work is rooted in conceptual art, demonstrates characteristics of feminism, minimalism, surrealism, Art Brut, pop art, and abstract expressionism, and contains autobiographical, psychological, and sexual themes.
She has been recognized as one of the most significant living Japanese painters.
Kusama was reared in Matsumoto and studied at the Kyoto City University of the Arts in the nihonga style of traditional Japanese painting.
Kusama, however, was influenced by American Abstract Impressionism. She relocated to New York City in 1958 and participated in the 1960s New York avant-garde scene, particularly the pop-art movement.
Embracing the growth of the hippie subculture in the late 1960s, she gained notoriety by organizing a series of occurrences in which individuals were painted with vividly colored polka dots while nude.
Kusama has continued to make work since the 1970s, focusing mostly on museum installations.
5. Niki de Saint Phalle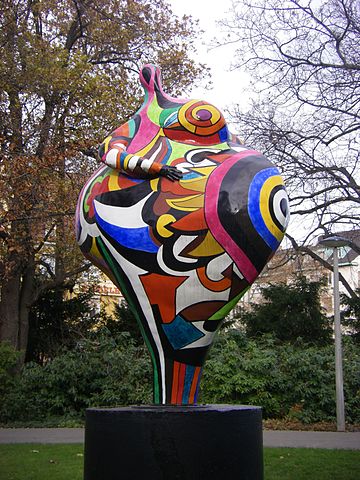 Niki de Saint Phalle (29 October 1930 – 21 May 2002) was a French-American sculptor, painter, filmmaker, and author of brightly decorated books with hand-drawn illustrations.
Saint Phalle was well recognized as one of the few female monumental sculptures and for her social dedication and work.
After a young marriage and the birth of two children, she started experimenting with a naive, experimental art style. She originally gained international recognition for assemblages of furious, aggressive figures shot with weapons.
These developed into Nanas, which are whimsical, large-scale, colorful sculptures of animals, monsters, and women. Her most extensive work was the Tarot Garden, a vast sculpture garden including a variety of pieces as big as houses.
The unusual style of Niki de Saint Phalle has been dubbed "outsider art"; she had no official art instruction but freely interacted with many other contemporary artists, authors, and musicians.
6. Gertrude Vanderbilt Whitney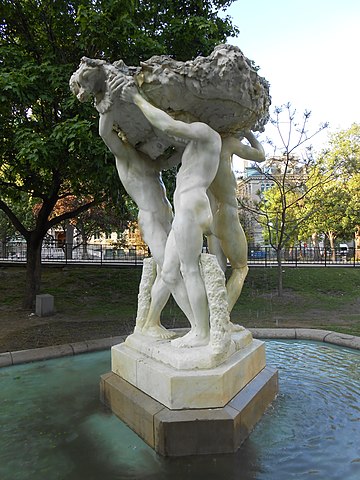 Gertrude Vanderbilt Whitney (9 January 1875 – 18 April 1942) was an American sculptor, art collector, and the founder of the Whitney Museum of American Art in New York City in 1931.
She was born into the rich Vanderbilt family and married into the Whitney family.
Her training with public monument sculptors affected her subsequent work. Despite the fact that her catalogs include various smaller sculptures, she is primarily recognized for her enormous works today.
Also Read: Female Architects
Whitney participated in the design of many memorial statues. During the 1920s, her works, especially her gigantic ones, garnered critical praise in both Europe and the United States.
The 1930s saw a decrease in the popularity of colossal works. The Spirit of Flight, designed for the 1939 New York World's Fair, and the Peter Stuyvesant Monument in New York City were Whitney's final public works of art.
7. Anna Hyatt Huntington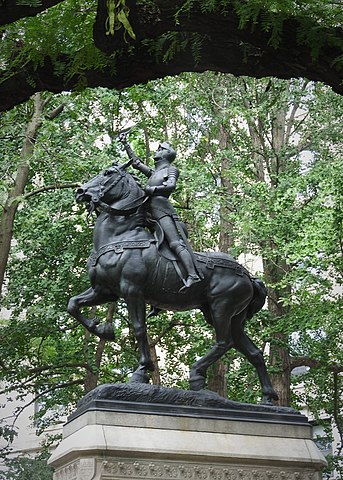 Anna Vaughn Hyatt Huntington (10 March 1876 – 4 October 1973) was an American sculptor who, in the early 20th century, was one of New York City's most notable sculptors.
She had a flourishing career as an artist at a period when few women were successful in the field. Hyatt Huntington showed often, traveled extensively, gained critical praise both domestically and internationally, and won several honors and commissions.
During the first two decades of the 20th century, Hyatt Huntington's animal sculptures, which blend great emotional depth with superb realism, rose to prominence. In 1915, she designed the first public monument to be constructed in New York City by a woman.
Her Joan of Arc, situated on Riverside Drive at 93rd Street, is the city's first historical woman-dedicated monument.
Animal sculptures by Hyatt Huntington, in both life-size and smaller dimensions, are on display in museums and private collections around the United States.
Her work is featured in a number of New York's most prestigious indoor and outdoor locations, including Columbia University, the Metropolitan Museum of Art, the National Academy of Design, the New-York Historical Society, the Hispanic Society of America, the Cathedral of Saint John the Divine, Central Park, Riverside Park, and the Bronx Zoo.
She collaborated with Abastenia St. Leger Eberle for two years to create Man and Bull, which was shown in the 1904 St. Louis Exposition.
8. Ruth Asawa
Ruth Aiko Asawa was an American modernist sculptor. She was born on January 24, 1926 and died on August 5, 2013. The Solomon R. Guggenheim Museum and the Whitney Museum of American Art in New York City house her works.
Fifteen of Asawa's wire sculptures are on permanent exhibit in the tower of San Francisco's de Young Museum in Golden Gate Park, and a number of her fountains may be seen throughout San Francisco's public spaces.
She was an advocate for arts education and the impetus behind the establishment of the San Francisco School of the Arts, renamed the Ruth Asawa San Francisco School of the Arts in 2010.
In 2020, the United States Postal Service will produce a set of 10 stamps commemorating her well-known wire sculptures.
9. Bessie Potter Vonnoh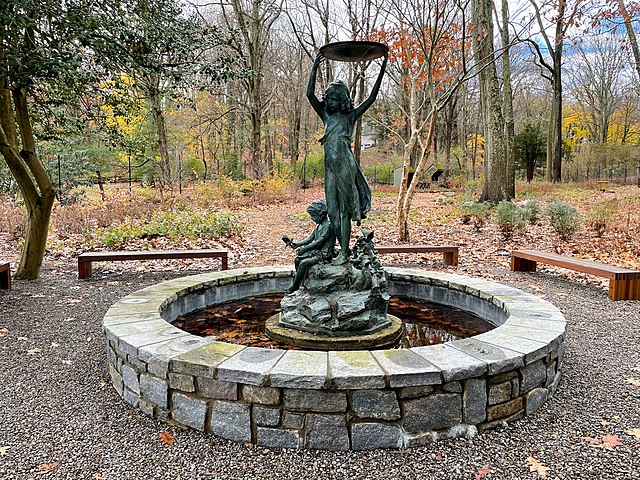 Bessie Potter Vonnoh (17 August 1872 – 8 March 1955) was an American sculptor best known for her miniature bronzes and garden fountains.
As she told an interviewer in 1925, her declared creative goal was to "find beauty in the everyday environment, to capture the thrill and swing of contemporary American living."
She liked clay modeling class in school and determined at a young age that she would become a sculptor. 14 years old in 1886, she enrolled at the Art Institute of Chicago.
Only because a local sculptor, Lorado Taft, employed her as a studio assistant on Saturdays was she able to pay the tuition. In 1890 and 1891, she finished sculpture studies at the Art Institute under the tutelage of Taft.
Vonnoh became one of the so-called "White Rabbits," a group of female artists, including Helen Farnsworth Mears and Janet Scudder, who aided Taft with the sculpture program for the Horticultural Building at the 1893 Chicago World's Columbian Exposition.
She also created the Personification of Art as an independent commission for the Illinois State Building of the exhibition.
Small-scale works by Vonnoh were fitted to the size and style of the typical American home and had wide appeal.
Vonnoh exhibited in the Armory Show in 1915. She was named a member of the National Academy of Design in 1921. 1931 saw her election to the American Academy of Arts and Letters.
10. Barbara Hepworth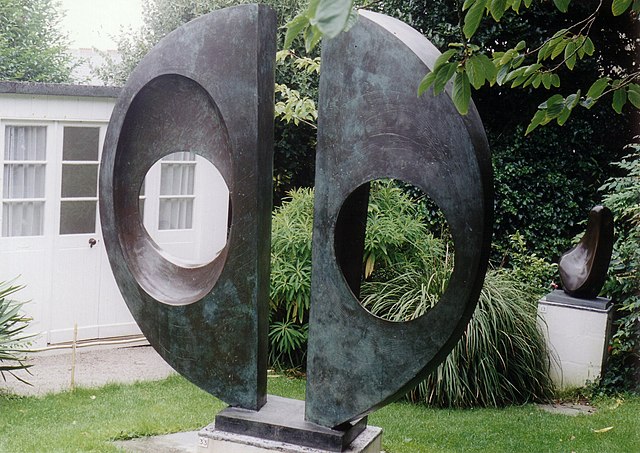 10 January 1903 – 20 May 1975 Dame Jocelyn Barbara Hepworth was an English artist and sculptor. Her work epitomizes Modernism and modern sculpture in particular.
Hepworth, along with painters such as Ben Nicholson and Naum Gabo, was a prominent member of the St Ives artist community during World War II.
Hepworth obtained a county scholarship to attend the Royal College of Art (RCA) in London, where she studied from 1921 until she was given the RCA diploma in 1924, despite the difficulty of gaining a post in a male-dominated workplace.
Her early work was preoccupied with abstraction and continental art trends. In 1931, Hepworth was the first to sculpt the perforated figures that would later become emblematic of Henry Moore's work. They would pave the way for sculpture's modernity.
The Barbara Hepworth Museum in St. Ives, Cornwall, and The Hepworth Wakefield, West Yorkshire, are named for Hepworth and house notable collections of her art, respectively.