In the early 17th century to the 1740s, baroque was the art style that flourished in Europe. Baroque is adopted from the French word (which means pearl of an abnormal shape), which turns from a Portuguese Barroco irregular pearl. The word was later translated into Spanish Barrueco and Italian Barocco.
During that time, the baroque style was dominant in various art forms that included architecture, dance, music, and painting. The paintings were characterized by drama, rich color, fierce lighting, and dark outlines.
In sculptures, the baroque style is set apart by his sense of dynamism and motion, which is augmented by astonishing effects like strong curves and rich decorations.
The father of baroque painting is Caravaggio, while Bernini was portrayed as a dominating figure of sculpture during that time.
Here are the top 10 Famous Baroque Artists and their known masterpieces.
Famous Baroque Artists
1.

Caravaggio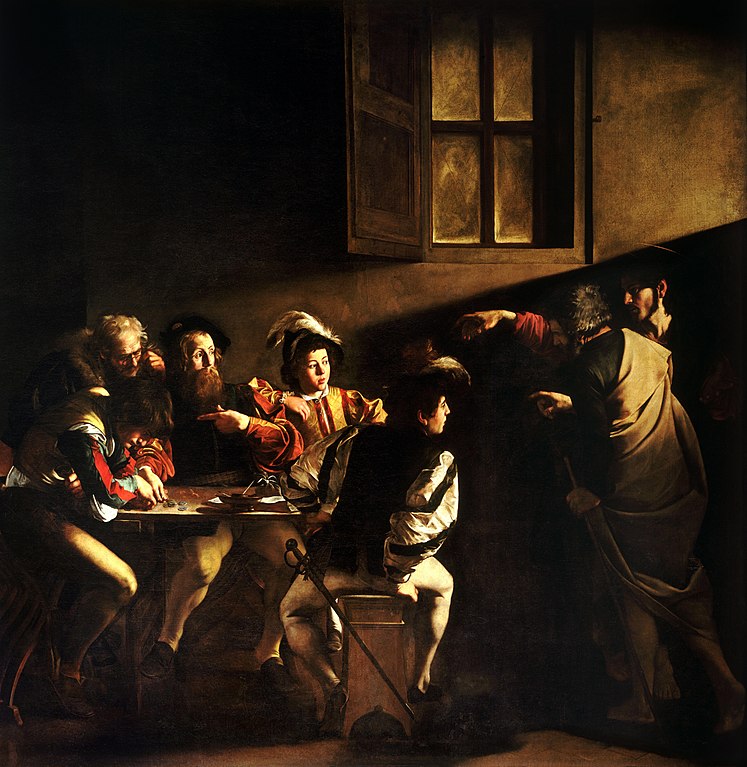 Nationality: Italian
Lifespan: he was born on 29th September 1571 and died on 18th July 1610.
Famous masterpiece:
· The calling of St Mathew (1600)
· David with the head of Goliath (1699)
· Supper at Emma's (1601).
After successfully training as a painter in Milan, Michelangelo Merisi da Caravaggio relocated to Rome, where he began and spent most of his artistic career.
Caravaggio was acknowledged with the invention of Tenebrism, a technique that was popular in baroque painting. This technique is set apart by predominantly dark tones and shadows with dramatic contrasting effects of light.
Aside from Tenebrism, he was known for depicting crucial moments and scenes that commonly feature violent struggles, severe punishment, and death. His paintings were a realistic combination of physical and emotional state with dramatic lighting that influenced the baroque schools of painting.
Caravaggio is known as the father of painting. His style is seen directly and indirectly in Rubens Jusepe de Ribera, Bernini, and Rembrandt's work. Additionally, he impacted the artistic generation that most of them followed in his footsteps, becoming a "Caravaggisti."
2. Johannes Vermeer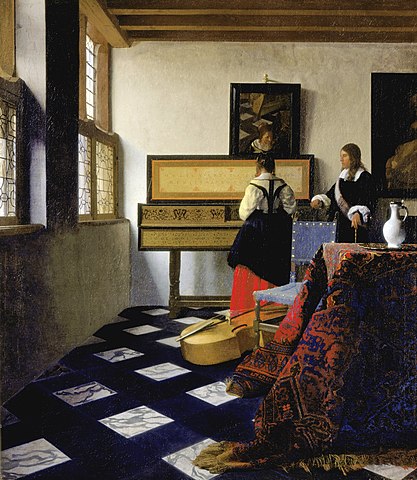 Nationality: Dutch
Lifespan: born on 31st October 1632 and died on 16th December 1675
Famous masterpiece:
· Girl with a pearl earring (1665)
· The milkmaid (1658)
· View of delft (1661)
Johannes Vermeer was a very doubtful and unknown man during his time. Maybe because he was less prolific and created only about 45 artworks his lifetime, only 36 of them are still there until today.
Most of his artwork carries unique and most revered images in the history of art. Johannes Vermeer painted religious and mythological scenes.
Johannes Vermeer is famous for his baroque paintings, which portray the daily life of the interior setting. Furthermore, he was known as the mastermind of using light in his work and creating realistic bright images that strongly attract the viewer's eyes.
Also Read: Vermeer Paintings
His memories faded with him when we died but luckily, his work was rediscovered and appreciated in the 19th century bringing his memories back to life. Since then, his reputation has grown into leaps and bounds.
In the history Netherlands, The Dutch Golden Age was when Dutch art was the most acclaimed in the world. Today Johannes Vermeer is acknowledged as a great painter of The Dutch Golden Age along with Rembrandt.
3. Peter Paul Rubens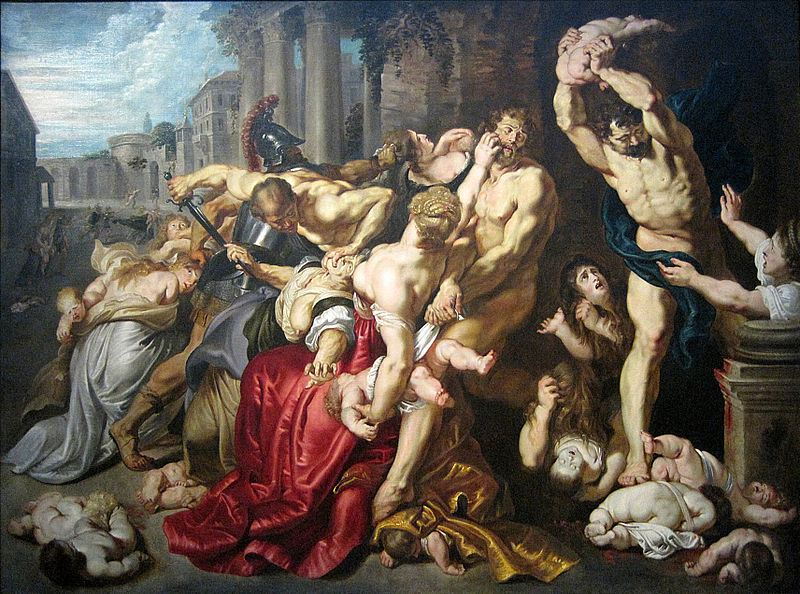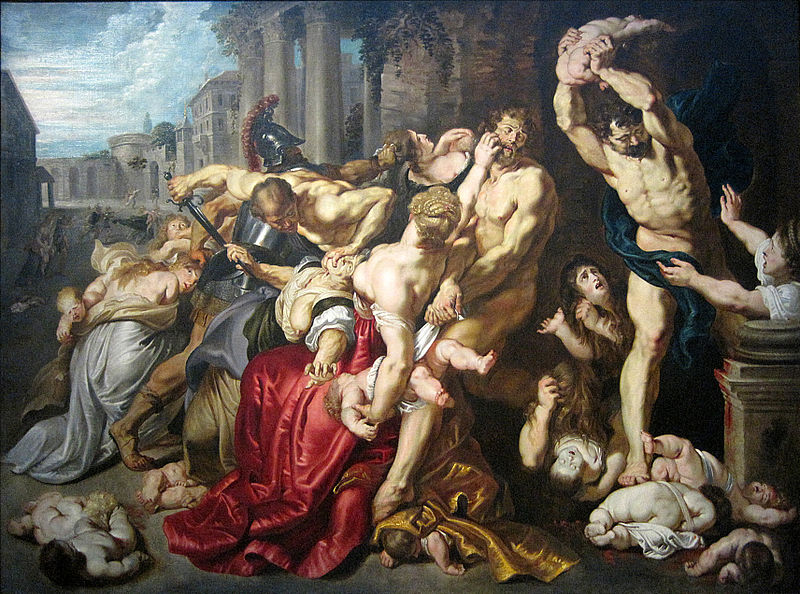 Nationality: Flemish
Lifespan: he was born on 28th June 1577 and died on 30th May 1640
Famous masterpiece:
· The Judgment of Paris (1639)
· The Descent from the cross (1614)
· Samson and Delilah (1610)
Peter Paul Rubens worked under Adam van Noort and Otto Van Veen, who were the leading painters during that time. Peter Paul Rubens later opened his studio in the same city, in which he produced paintings popular with nobility and art collection throughout entire Europe.
Peter was a prolific artist who made 1403 artworks. He was a guru of making altarpieces and history paintings of allegorical and mythological subjects. In his late life, Rubens liked to paint portraits and numerous landscapes.
Peter Paul Rubens was known for his unique and famous baroque style, emphasizing color and sexuality. Additionally, Ruben was an educated diplomat and a classy humanist scholar. He was a knight for both Phillip IV of Spain and Charles I of England
Sir Peter Paul Rubens is considered as one of the most influential artists of Flemish Baroque.
4. Rembrandt van Rijn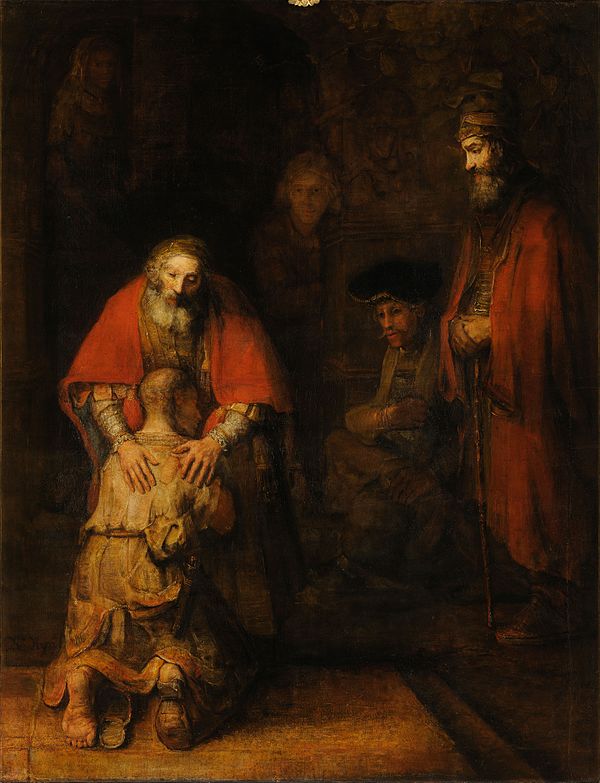 Nationality: Dutch
Lifespan:he was born on 15th July 1606 and passed away on 4th October 1669
Famous masterpiece:
· The night watch (1642)
· The abduction of Europa (1632)
· Self-portrait with Beret and Turned- Up Collar (1659)
Rembrandt van Rijn dominated in the Dutch Golden Age era, and since then, he remains among the most famous artists. Rembrandt was known as the guru of light and shadows, and his paintings are an exception to the reality, and they were able to brand and market themselves.
He worked in several sectors throughout his career, but his most famous works were depictions of biblical and mythological scenes.
As a portrait artist, he renowned for the change of moods of his subjects. During that time in Netherland Group portraiture flourished, Rijn made some of the most famous group portraits.
Rembrandt is regarded as one of the most incredible self-portraits known for showing mercy and kindness to himself.
5. Gian Lorenzo Bernini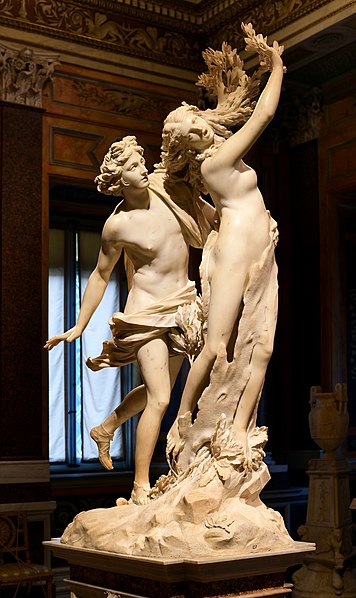 Nationality: Italian
Lifespan:he was born on 7th 1598 and passed away on 28th November 1680
Famous masterpiece:
· The ecstasy of Saint Teresa (1652)
· David (1624)
· Appolo and Daphene (1652)
Gian Lorenzo Bernini is credited with the baroque style of sculpture, which he developed to the extent that other sculptures were not significant in any style discussion.
Gian Lorenzo Bernini was considered a genius during his childhood. He was periodically recognized when he was young as eight years old.
Soon he earned the admiration and favor of a powerful patron who hailed him as Michelangelo of his century.
Bernini went onto have a long and illustrious career producing the best and famous sculptures ever created. Furthermore, Gian Lorenzo renowned sculptor of his age. One scholar believes that "if Shakespeare is drama, Gian Lorenzo ay be to sculpture."
6. Diego Velázquez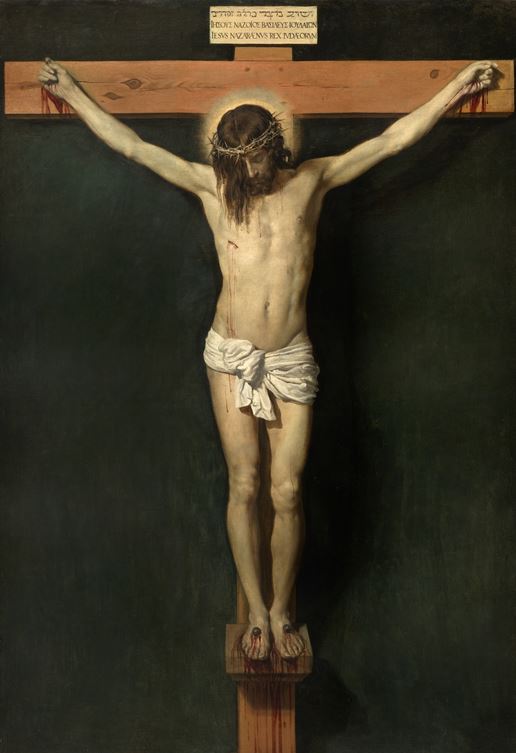 Nationality: Spanish
Lifespan:he was born 6th July 1599 and died on 6th August 1660
Famous masterpiece:
· Las Meninas (1656)
· Portrait of the innocent X (1650)
· Rokeby Venus (1650)
Diego Velazquez was a significant painter of his time and the leading artist in the court of King Phillip IV of Spain. He was also known as the most important Baroque painter in the 17th century in Spain. He became more popular beyond Spain's boundaries in the 19th century when his artwork became a realistic and impressionist painter's model.
Pablo Picasso, Salvador Dali, and Francis Bacon have paid tribute to Diego Velazquez by recreating his work since he is one of the most influential painters in European history.
7. Artemisia Gentileschi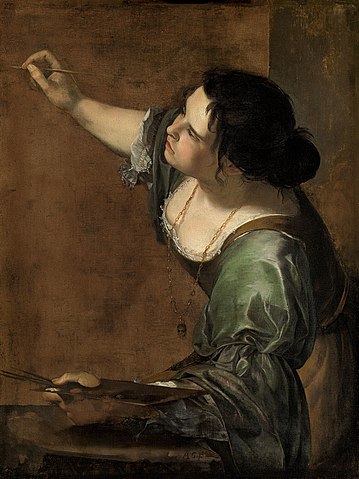 Nationality: Italian
Lifespan:she was born on 8th July 1593 and died on c. 1656
Famous masterpiece
· Susanna and Elders (1611)
· Judith slaying Holofernes (1620).
· Self-portrait as the allegory of painting (1639)
When she was only 12 years at the time, Artemisia Gentileschi lost her mother. Sadly when she was 17 years, she was raped by her father's friend known as Agostino Tassi. After the prosecution of Agostino Tassi, she got married to a painter and relocated to Florence.
Artemisia Gentileschi used to paint to forget her early life's tragedies, but it was there when she flourished as the first woman artist. Gentileschi was the first lady to become a member of the Academia de Arte del disegno, an instructional art academy in Florence.
In her paintings, she portrayed both strong and suffering women from myths, allegories, and the bible. She was recognized by the talent of her skill in handling colors.
Today she is acknowledged as one of the most award-winning painters of the age Baroque era and certainly the standout of all female artists of the age.
8. Anthony van Dyck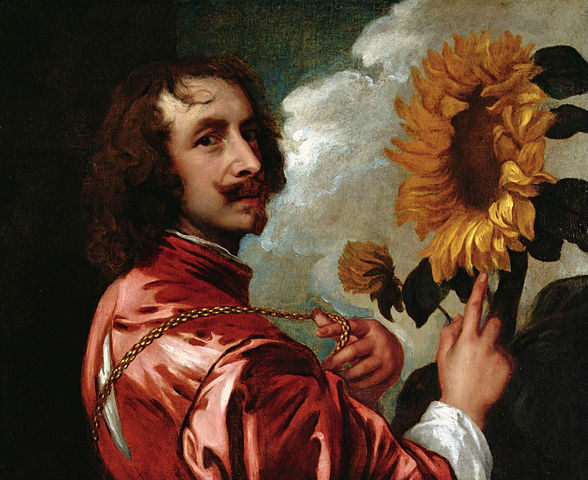 Nationality: Flemish
Lifespan: he was born on 22nd March 1599 and died on 9th December 1641
Famous masterpiece:
· Chares the first in three positions (1636)
· Self-portrait with sunflower (1633)
· Charles the first at the hunt (1635)
Anthony van Dyck was a wealthy Antwerp silk merchant son who began painting from his early age. During his teenage, he became a student of Peter Paul Rubens, one of the leading artists in Europe.
Anthony van Dyck had a successful career, which started when he became a court painter for Archduchess Isabella, Habsburg Governor of Flanders. He was also the foremost court painter for Charles I of England.
Anthony revolutionized the genre of court portraiture with a unique skill set, and he owned most of his portraits aristocracy, most notably Charles the first.
Aside from the court drawing, he also made mythological and biblical drawings. His skills impacted the future generation of court painting for the next 150 years in England.
9.

Nicolas Poussin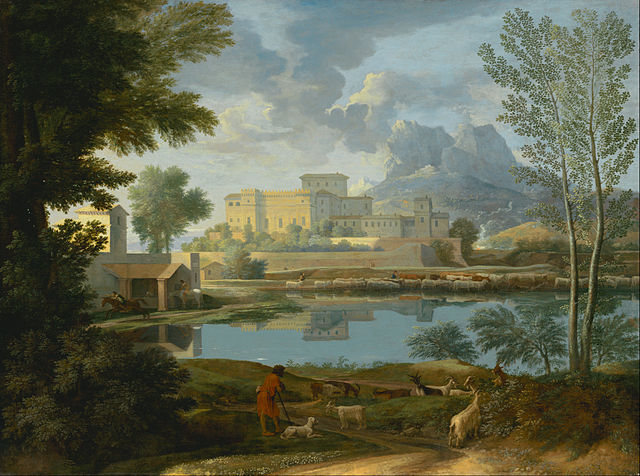 Nationality: French
Lifespan:he was born in June 1594, and he died on 19th November 1665
Famous masterpiece:
· Death of Germanicus (1628)
· Venius and Adonis (1629)
· The inspiration of the poet (1630)
· The martyrdom of Saint Erasmus (1630)
Nicholas Poussin was a leading French painter of the classical french baroque style. Although Nicholas Poussin spent most of his life working in Rome, most of his work was religious and mythological subjects painted for small groups of French collectors and Italians.
Nicholas returned to Paris to serve as a painter to the king under Louis XIII and Cardinal Richelieu, but he did not stay long before returning to Rome and resumed his traditional themes.
In his late years, he was devoted to painting landscapes in his artwork. His work was characterized by order, clarity, logic, and favors of line over color.
10. Jan Brueghel the Younger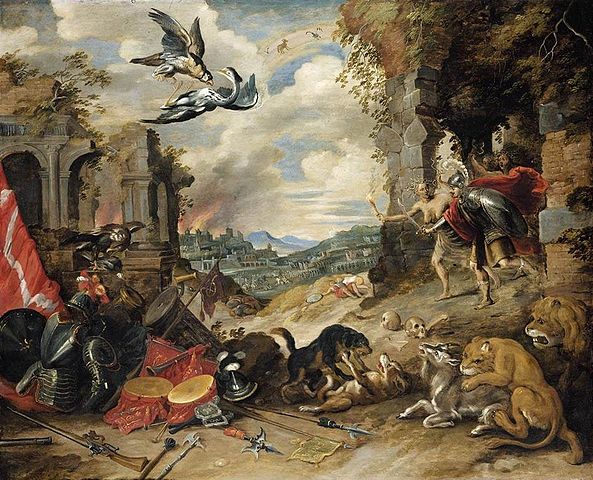 Nationality: Flemish
Lifespan:He was born on 13th September 1601 and died on 1st February 1678
Famous masterpiece:
· Adam and Eve in paradise (1620)
Jan Brueghel the Younger was born just before his father passed away; he was raised, nurtured, and cared for by his grandmother. Jan Brueghel the Younger learned his painting skills in Antwerp.
During his youth days, he went to Italy, where he worked as a painter under the patronage of Federago Cardinal Borromeo. In 1610 he was appointed to be a court painter to the archdukes of Habsburg, Austria.
Jan Brueghel the Younger worked as an Antwerp and was a friend to Peter Paul Rubens, with whom they sometimes collaborated in painting flowers, landscapes, and animals.
11. Pietro da Cortona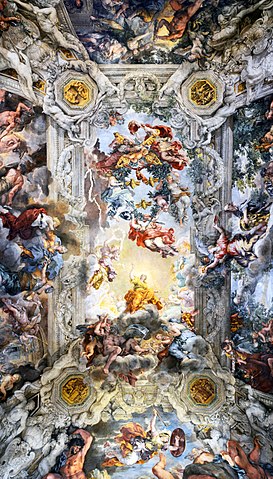 Pietro da Cortona (November 1, 1596 – May 16, 1669) was an Italian Baroque painter and architect.
He was an important role in the formation of Roman Baroque architecture, with contemporaries and competitors Gian Lorenzo Bernini and Francesco Borromini. He was also a well-known designer of interior decorations.
He was born Pietro Berrettini, but is better known as the name of his hometown in Tuscany, Cortona.
He mostly worked in Rome and Florence. He is most renowned for his frescoed ceilings, such as the vault of the salone or main salon of the Palazzo Barberini in Rome. He also completed vast painting and decorative schemes for the Medici family in Florence and the Oratorian fathers at the church of Santa Maria in Vallicella in Rome.
He has created a number of paintings. Although just a few of his architectural proposals were completed, they are as different and imaginative as those of his competitors.