There is no relationship quite like that between a mother and child. Children seek refuge, comfort and solace in their mother on an instinctual level that is often beyond our ability to put into words. The bond between a mother and her child is as strong as any familial connection known to humans.
Artists throughout history have portrayed the relationship between a mother and child in many different ways. Painters from virtually every art movement since the genesis of artistic expression have, in one way or another, depicted a mother with her children as it is a bond that nearly anyone can relate to.
The following works are some of the most famous paintings of mother and child from history.
Famous Paintings of Mother and Child
1.

Three Ages of Woman

– Gustav Klimt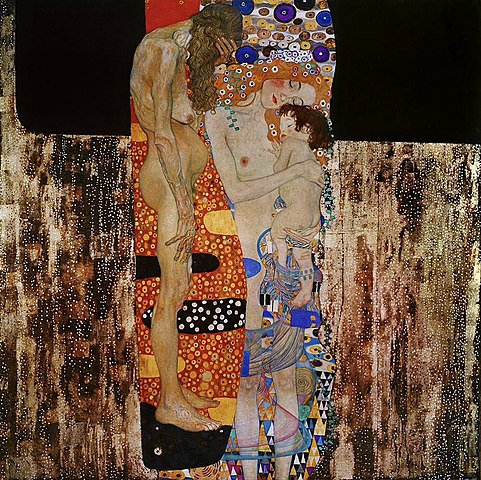 Austrian painter Gustav Klimt was known for his works that often depicted the female body in various poses or adorned with extravagant attire.
He is one of the most well-known artists from the late 19th and early 20th century and many of his paintings are considered to be in the Realism or Surrealism style that was common during this time period. Klimt created one of the most iconic images of a mother and child later in his career in 1905.
The painting is titled Three Ages of Woman and was done on a large canvas that depicts a woman in various stages of her life. The part that is most famous, however, is known as Mother and Child and features a young mother embracing her child as the two are surrounded by various types of flowers.
Also Read: Famous Gustav Klimt Paintings
This work is done with an exceptional amount of detail in both the nude figure of the mother, as well as her child. Both the child and mother appear to be sleeping and the complete painting depicts the many different relationships of a woman and her family.
Klimt is known to have incorporated gold tones into many of his works and this one is no exception as the mother is portrayed as having long, golden-blonde hair that is a stark contrast to the child's darker-colored hair.
2.

Camille Monet and Child

– Claude Monet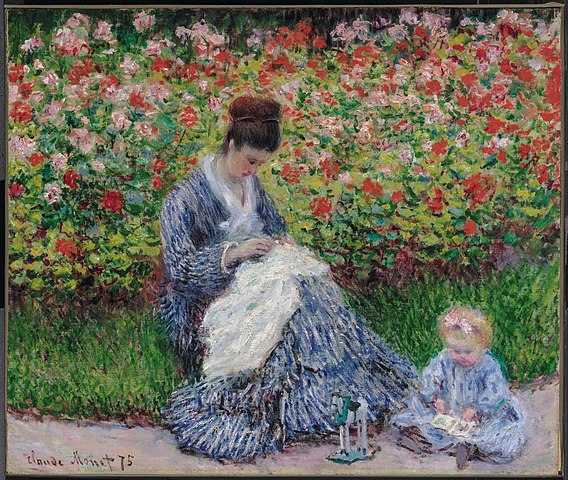 Claude Monet is viewed as the father of the Impressionist movement that took place during the 19th century in Europe and America.
His works often had an exceptional level of detail and few other artists were capable of replicating the atmosphere that Monet created in his paintings. He often painted scenes that involved his own family members enjoying a range of activities, or sitting together with one another in beautiful outdoor settings.
Also Read: Family Paintings
One of the most famous paintings that focuses on a mother and child is credited to Monet. This work is titled Camille Monet and Child and was completed in 1875.
As the title indicates, the painting depicts Monet's wife and a child. It isn't quite clear who this child is, but critics and historians have identified the setting as being that of Argenteuil, which is a community located just north of Paris.
This work is similar in nature to many of Monet's other paintings from this time period as it features an abundant number of flowers. Madame Monet appears to be knitting while the small child is looking at a small booklet while the viewer sees a toy horse at her mother's feet.
3. Innocence – William-Adolphe Bouguereau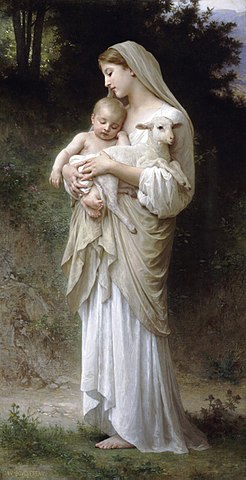 Many of the most celebrated paintings of a mother and child depict the figure of the Virgin Mary and the baby Jesus. This theme was very common during the 18th and 19th centuries as artists from various movements sought to portray the infant Jesus and Mary in a different manner than others had painted the pair.
William-Adolphe Bouguereau was one of the most famous Neoclassical painters of the late 19th century and one of his works is designated as one of the most memorable depictions of Mary and baby Jesus.
The painting is known simply as Innocence and was completed in 1893 and was a marked difference from many of his other works that have an erotic nature to them.
Mary is depicted as holding a sleeping baby Jesus in this painting along with a small lamb. The lamb was to signify the fact that Christ would later serve as a sacrificial lamb for mankind later in his life.
This painting is reminiscent of the 16th century style renderings of the baby Jesus and the Virgin Mary, but with a much more realistic appearance in both the form of the child and the female figure of Mary.
4.

Madonna Litta

– Da Vinci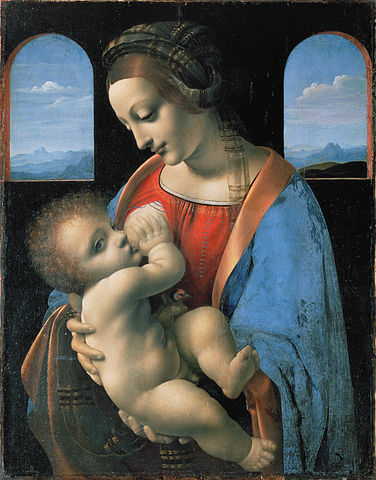 One of the most well-known paintings from the Italian Renaissance era that depicts a mother and child was done by Leonardo Da Vinci.
There were numerous other artists who created works depicting the Virgin Mary and baby Jesus during this time since the Renaissance took place in Italy, which was overwhelmingly dominated by Catholicism during the 1500's.
Da Vinci's painting titled Madonna Litta is one of the most memorable depictions of Mary and baby Jesus from the Renaissance era as Mary is portrayed as breastfeeding the young Jesus. The contrast between light and dark is evident in this work as the pair are depicted as being inside a castle that's sitting high upon a hilltop or mountain.
There are some scholars who dispute the idea that this work was actually done by Da Vinci himself, claiming that it was likely painted by one of his pupils under the instruction of Da Vinci.
5. Gabrielle et Jean – Pierre-Auguste Renoir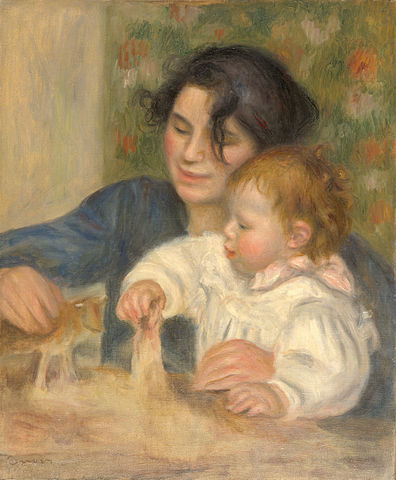 Pierre-Auguste Renoir was one of the most influential figures of the Impressionist movement during the late 19th century in Europe. He is often celebrated for his distinct painting style that included soft and free brushstrokes that often made the figures in his paintings appear to have a slight glow or aura.
One of Renoir's lesser-known paintings that is viewed as a joyful depiction of a mother and child actually portrays his son and a nanny by the name of Gabrielle Renard.
The painting is titled Gabrielle et Jean and was done in 1896 when Renoir's son was barely a year old. Renard was often depicted in the artist's works and many mistakenly view her as Renoir's spouse due to this particular painting.
Renard is seen playing with a toy figure of a cow in one hand as she embraces young Jean with the other. She is said to have had a very close relationship with Renoir and his son throughout his lifetime.
6.

Madonna di Loreto

– Caravaggio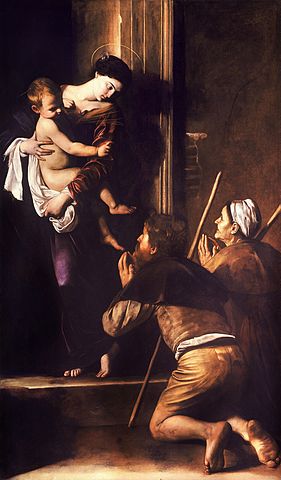 Caravaggio is remembered as one of the most prolific artists from the Baroque era and many of his paintings featured scenes from the Bible. He is credited with producing one of the most striking depictions of the Virgin Mary and baby Jesus in his 1606 painting titled Madonna di Loreto.
Like many other works done by Caravaggio, the painting features prominent figures from the Christian faith, but portrays them in a way that was very unorthodox for the time period.
The figure of Mary and baby Jesus is often depicted as being angelic or almost like a goddess in the same manner that other Baroque or Renaissance artists presented her. Instead, we see that Mary is barefoot as two peasants pay homage to the baby Jesus as their smiling faces are turned toward the young child.
Many critics and others during this time condemned this depiction, saying that it presented Mary in an inappropriate manner that was not fitting for the Holy Mother of the Catholic faith.
7.

Hide and Seek

– Berthe Morisot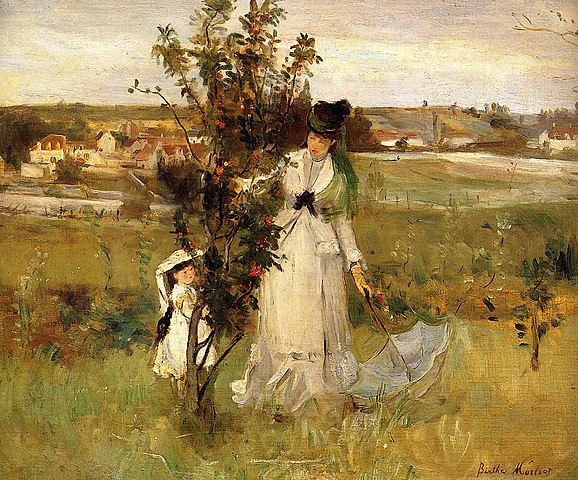 Berthe Morisot was one of the founding members of the Impressionist movement that began in France during the mid-1800s. Morisot is considered to be one of the three most prominent women of the Impressionist style alongside Marie Bracquemond and Mary Cassatt.
She is credited with painting a number of works that portrayed young women or girls in various settings.
One of her most famous paintings is known as Hide and Seek. This work was completed in 1873 and features a mother with her young daughter who is attempting to hide behind a small bush in a field. This painting features Morisot's signature style, which included soft, playful brushstrokes that resulted in a distinct portrayal of various scenes.
Her style is similar to that of Eduard Manet, who would later become her brother-in-law after she married his brother, Eugene Manet.
8.

The Sistine Madonna

– Raphael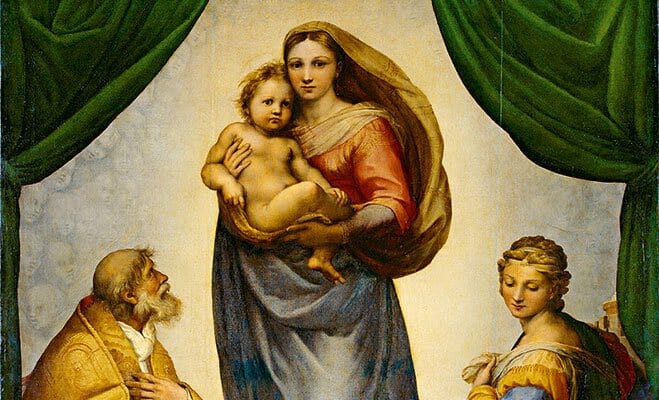 Raphael is widely-recognized as one of the most prominent members of the Italian Renaissance movement. Many Raphael paintings featured an array of the most important figures from the Christian faith and some of his works are celebrated as being among the greatest masterpieces of the time period.
In 1514, Raphael completed a work that many critics and scholars point to as his greatest achievement. The painting is titled The Sistine Madonna and was commissioned in 1512 by Pope Julius II for the church of San Sisto, Piacenza.
The figure of the Virgin Mary is painted in stunning fashion as she is standing atop a cloud with two other important individuals from the Catholic faith are at her left and right.
9.

Breakfast in Bed

– Mary Cassatt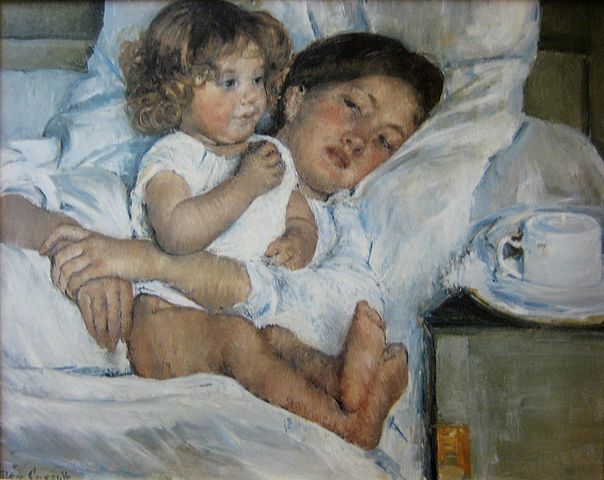 While many of the most famous paintings of a mother and child are credited to men from various art movements, some of the most memorable works on the subject are done by women.
Mary Cassatt is widely-viewed as one of the most influential figures from the Impressionist era and her paintings often depict the relationship between mothers and their children.
Her works are viewed as being the most accurate in a sense of the true nature of motherhood as Cassatt poured years of her career into capturing and depicting the tender nature of a mother's love toward her children.
Also Read: Famous Mary Cassatt Paintings
One of her paintings, titled Breakfast in Bed, is viewed as one of the more iconic portrayals of a mother and child. The work was completed in 1897 and features a lively young child sitting on her mother's bedside in what appears to be a morning setting.
The young woman clearly has the tired look that many mothers do when dealing with an energetic and rambunctious child.
10.

Music Lesson

– Lord Frederic Leighton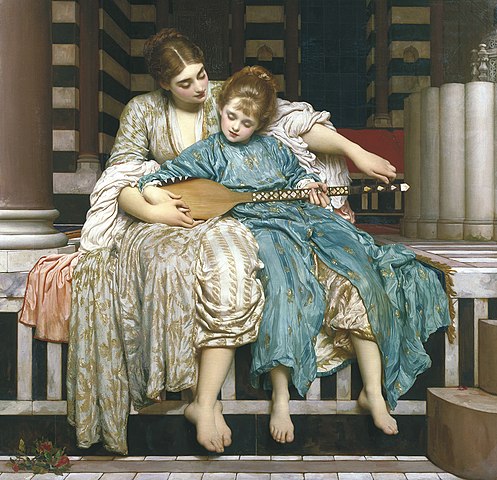 Lord Frederic Leighton was a distinguished British painter during the 19th century who created many works depicting the female form and the interaction of a mother with her child.
Leighton was a talented painter and sculptor who was well-liked by other prominent artists of both the Romantic and Realism movements.
A number of his most famous works focus on a mother teaching her child things like spinning yarn, reading or playing an instrument.
One of Leighton's paintings that is considered to be one of his most memorable is a depiction of a mother teaching her daughter to play a stringed instrument.
This work was finished in 1877 and is done in striking realistic detail, which is emphasized in Leighton's masterful portrayal of the flowing garments of both the mother and child.
11. The Virgin and Child with Saint Anne – Da Vinci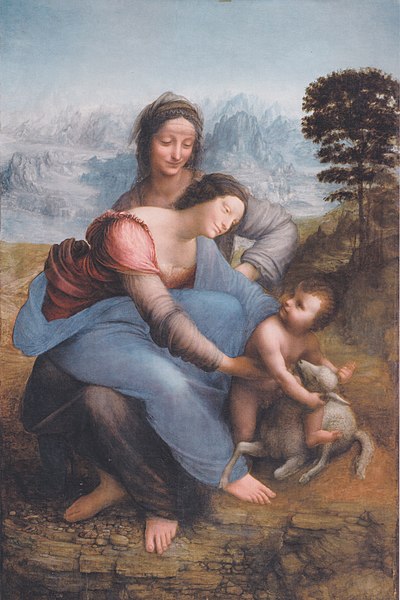 The Virgin and Child with Saint Anne is an unfinished oil painting by Leonardo da Vinci that dates to between the years 1501 and 1519 and was created during the High Renaissance.
It represents Saint Anne, her daughter the Virgin Mary, and Mary holding Jesus while he was a newborn. Christ is seen struggling with a sacrifice goat that represents his crucifixion as the Virgin Mary makes an effort to hold him back.
Leonardo was long fascinated with the subject matter of the painting, which was eventually commissioned to serve as the high altarpiece for the Church of Santissima Annunziata in Florence.
12. Madonna della Seggiola – Raphael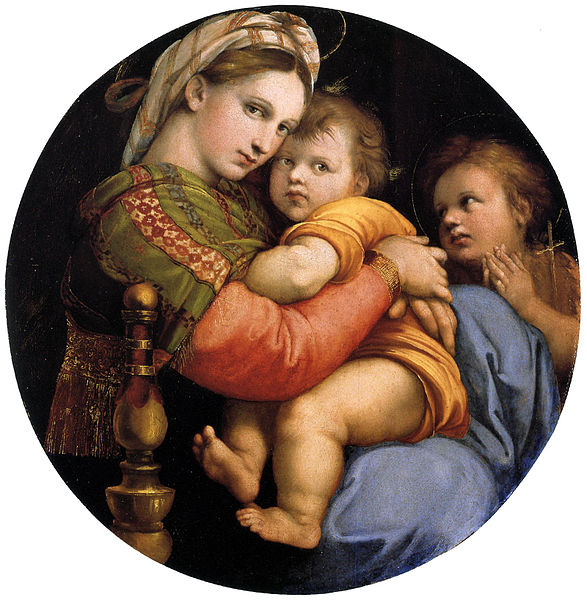 The Madonna della Seggiola or The Madonna della Sedia (28 inches in diameter; 71 centimeters in diameter) is an oil on panel Madonna painting by the High Italian Renaissance artist Raphael, completed between 1513 and 1514 and located in the Palazzo Pitti Collection in Florence, Italy.
Although its arrival at its present site, Palazzo Pitti, is documented, it is unclear who commissioned the picture; nonetheless, it has been in the Medici family since the sixteenth century.
It portrays Mary cradling the Christ-child while seated on a chair, as the youthful John the Baptist looks on with reverence. The Madonna della Sedia is one of Raphael's most significant Madonnas.
The picture demonstrates both Raphael's use of the tondo form and his humanistic depiction of the Madonna.
13. Mother with a Child and a Chambermaid – Pieter de Hooch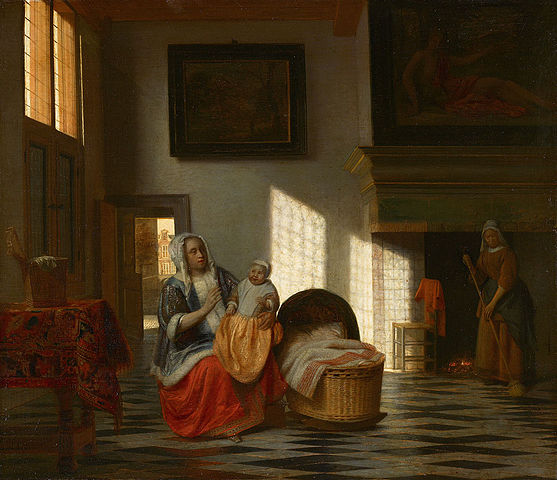 Mother with a Child and a Chambermaid (1665–1668) is an oil-on-canvas work by Pieter de Hooch. It is an example of Dutch Golden Age painting and a part of the Amsterdam Museum's collection.
De Hooch was renowned for his genre pieces depicting tranquil residential settings with an open door. In the Delft Guild of St. Luke, he was a contemporary of Jan Vermeer, with whom his work has similar topics and styles.