Many artists draw inspiration from the weather and the changing of the seasons.
Paintings that feature rain will most always have a sense of melancholy or gloom about them as the sky darkens and the heavens open up.
Weather affects all of us, everyday and in different ways, some love the sun while some run for shade, but when it rains we almost always flee from it or take some kind of refuge in a doorway or under an umbrella.
Famous Rain Paintings
1. Paris Street; Rainy Day – Gustave Caillebotte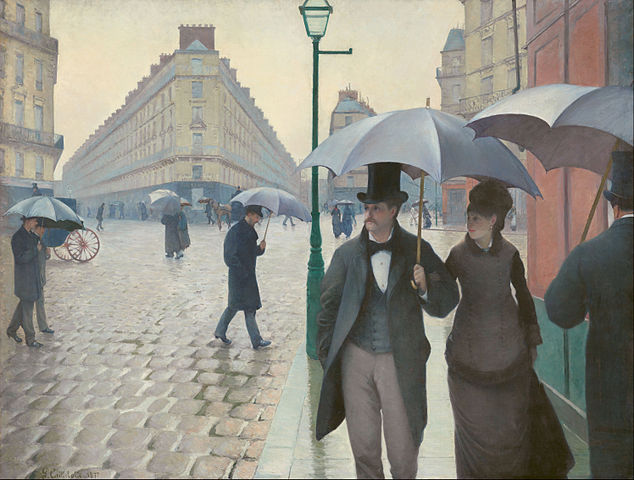 Gustave Caillebotte's (1848–1894) best-known work is Paris Street; Rainy Day, a massive 1877 oil painting on canvas. It depicts a group of people going through the Place de Dublin, originally known as the Carrefour de Moscou, at a junction in north Paris east of the Gare Saint-Lazare.

Although Caillebotte was a friend and patron of many impressionist artists, and this piece is included in that school, it varies in its realism and focus on line rather than sweeping brush strokes.
Caillebotte's fascination with photography is palpable. The individuals in the front look "out of focus," those in the middle distance (the carriage and pedestrians at the junction) have crisp edges, and the characteristics in the distant get more blurry.
The harsh cropping of several characters, notably the guy on the far right, demonstrates the effect of photography.
The picture debuted at the Third Impressionist Exhibition in 1877. The Art Institute of Chicago now owns it.
2. Rain – Vincent van Gogh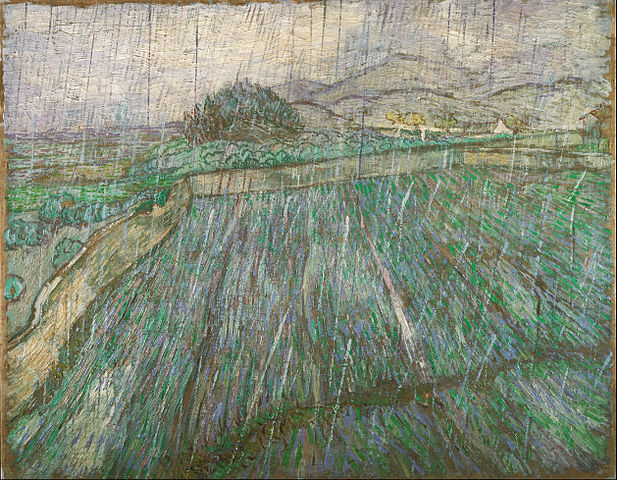 Rain is an oil-on-canvas work by Vincent van Gogh that was completed in 1889 when he was a volunteer patient at a hospital in Saint-Rémy-de-Provence.
He painted the scene outside his chamber window many times, portraying the hues and tints of the fields and hills near Saint-Rémy as they looked at different times of day and in different weather situations.
Van Gogh was a volunteer patient at the Asylum of Saint-Paul-de-Mausole, a former monastery in Saint-Rémy-de-Provence, from May 1889 to May 1890.
During his stay in the Saint-Paul-de-Mausole hospital, Van Gogh was particularly taken by a field behind the hospital that was surrounded by walls, which he represented in a sequence of at least 14 paintings and just as many sketches. He captured the area at various times of day and seasons.
Rain was painted on an untreated cotton canvas in November 1889, possibly during a period of heavy rain on October 31, 1889. Van Gogh depicted the rain as slanted lines that were angled differently from the lines in the wheat field in the backdrop. He was inspired by Japanese prints while producing this look.
Rain is housed at the Philadelphia Museum of Art in the United States and measures 73.3 cm 92.4 cm (28.9 in 36.4 in).
3. The Umbrellas – Pierre-Auguste Renoir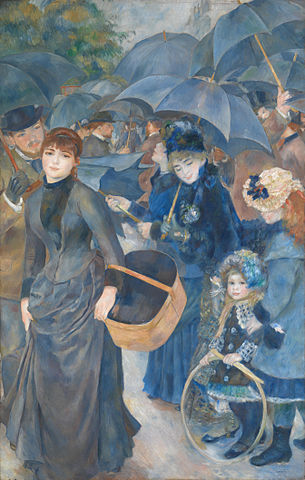 The Umbrellas is an 1880s oil-on-canvas work by Pierre-Auguste Renoir that was completed in two stages.
It is held by the National Gallery in London as part of the Lane Bequest, however it is alternatively shown in London and at the Hugh Lane City Gallery in Dublin. It returned to Dublin for a six-year stint from May 2013 to 2019. It is presently on display in the National Gallery in London.
Renoir started the picture about 1880–81, using the free brushwork with dark and brilliant tones that was characteristic of the Impressionist style.
After abandoning Impressionism and drawing inspiration from classical art he saw in Italy and the works of Ingres and Cézanne, he reworked parts of the painting, particularly the main female figure to the left of the frame, in a more classical linear style using more muted colors, and added the background and the umbrellas themselves, around 1885.
4. Rain, Steam and Speed – The Great Western Railway – J. M. W. Turner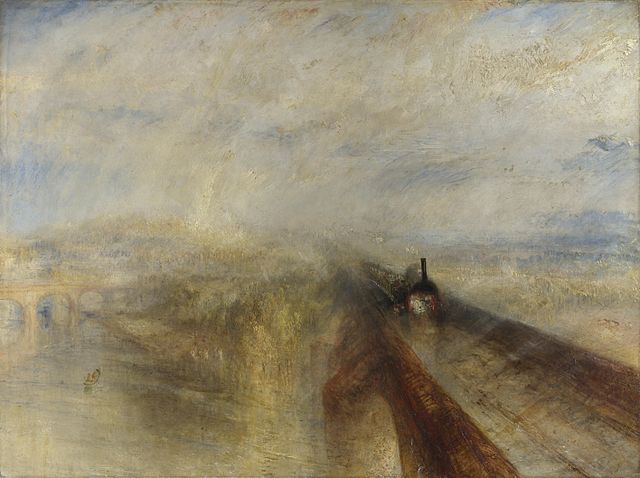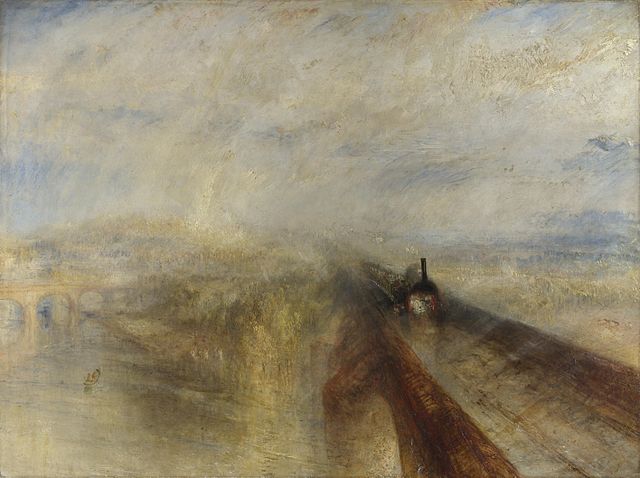 Rain, Steam, and Speed – The Great Western Railway is an oil painting by J. M. W. Turner, a 19th-century British painter.
The artwork was initially shown at the Royal Academy in 1844, however it might have been done earlier. It is presently housed at the National Gallery in London.
Turner's painting offers the sense of immense speed in a static work, which separated him from other painters. The piece mixes the force of nature and technology to generate an emotional tension linked with the sublime notion.
Also Read: Famous Turner Paintings
The picture was completed around the conclusion of the Industrial Revolution, which saw a significant transition in the Victorian era from an agricultural economy to one dominated by machine manufacture.
The railway was one of the most powerful symbols of industrialization, since this new mode of transportation had a significant impact on both industrial and social life.
Turner seemed to be a generation ahead of other artists since he was one of the few painters at the time who saw industrial progress as a worthy topic of art.
5. The Avenue in the Rain – Childe Hassam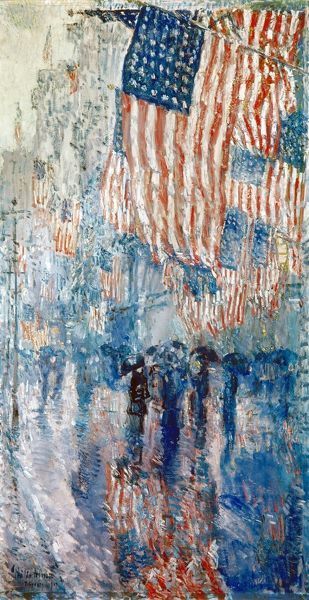 The Avenue in the Rain is an oil painting by American Impressionist painter Childe Hassam, completed in 1917. It shows Fifth Avenue in New York City in the rain, covered with American flags. The artwork is one of six by Hassam in the White House's permanent art collection in Washington, D.C.
Between 1916 and 1919, Hassam painted around thirty paintings of flag-draped streets. This work was created in February 1917, when the flag had 48 stars and the United States was about to join the First World War, at a period when patriotic fervor was high.
The artwork is 42 by 22.25 inches (106.7 cm 56.5 cm) in size and is dominated by red and blue tones, depicting the American flag. Several dark individuals hold umbrellas in the middle distance, as the far distance fades into the blue backdrop.
The flags seem to float in mid-air, suspended on poles projecting from invisible structures. The pictures are reflected in the puddles on the wet pavement and sidewalk.
6. Rainy Day, Fifth Avenue – Childe Hassam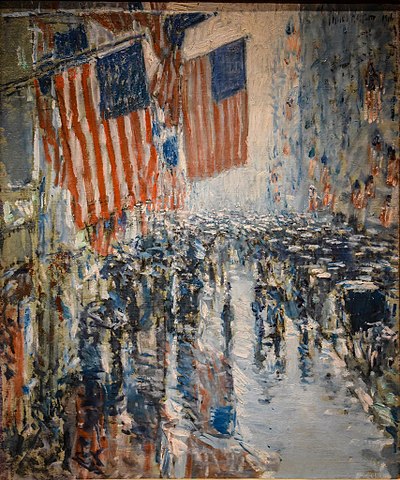 The urban life outside Hassam's studio on lower Fifth Avenue influenced his depictions of New York. That vast roadway, the city's cultural and economic artery, was also the nation's principal parade route.
When Hassam eventually relocated his studio uptown to 57th Street, closer to the core of those vibrant patriotic displays, he had a look into the country's rising engagement in World War I.
Hassam was perhaps motivated by two paintings by Claude Monet portraying national festivities in Paris on June 30, 1878.
7. Landscape at Auvers in the Rain – Vincent van Gogh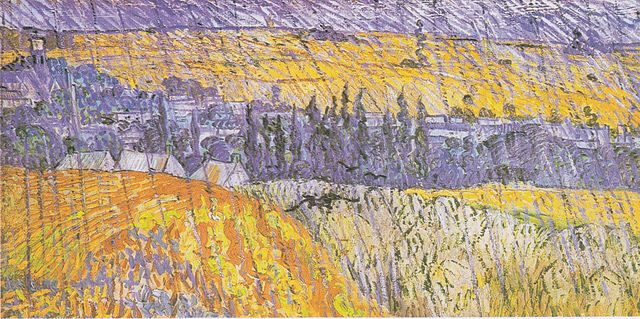 Landscape at Auvers in the Rain is an oil on canvas work by Vincent van Gogh, a Dutch Post-Impressionist painter.
It portrays a scene near Auvers-sur-Oise, where van Gogh spent the final years of his life, and was finished only three days before his death in July 1890.
Van Gogh created thirteen double-square paintings of landscapes in and around Auvers between June 17 and July 27. The representation of rain with dark, diagonal lines is said to be influenced by Japanese art, notably Hiroshige's woodcuts.
It also demonstrates van Gogh's artwork's visceral link between nature and emotion, as well as artistic developments such as a heightened horizon line, expressive brushstrokes, and vivid colors.
8. Seascape Study with Rain Cloud – John Constable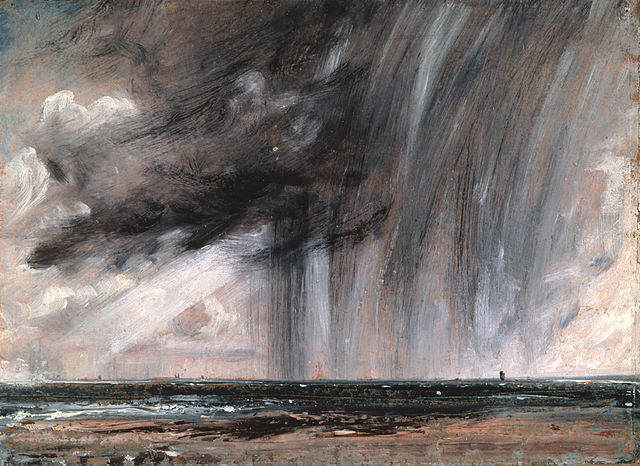 Seascape Study with Rain Cloud is a Romantic oil on paper work by John Constable that was completed in 1827. It is now housed in the Victoria and Albert Museum in London.
Also Read: Cloud Paintings
Between 1824 and 1828, John Constable made many visits to Brighton, where he stayed with his family because his wife, who suffered from TB, benefitted from the sea air.
Constable disliked living in the loud, fancy resort. He did, however, spend many hours painting the water while lounging on the beach.
9. Belle-Ile, Rain Effect – Claude Monet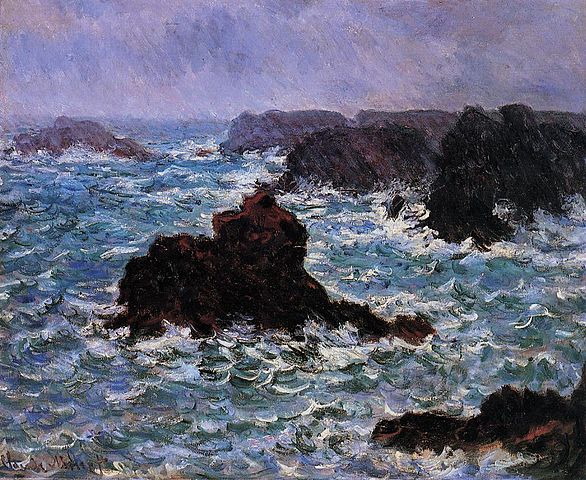 Monet's two-month vacation on the island of Belle-Ile, off the coast of Brittany, resulted in Belle-Ile, rain effect.
He was enthralled by 'this terrible place,' where massive granite outcrops had been twisted into strange forms by the unyielding powers of wind and sea.
Monet continued extending his stay in order to capture the impact of shifting coastal light on these natural features, as well as the ceaseless seas washing around them.
10. In the Rain – Franz Marc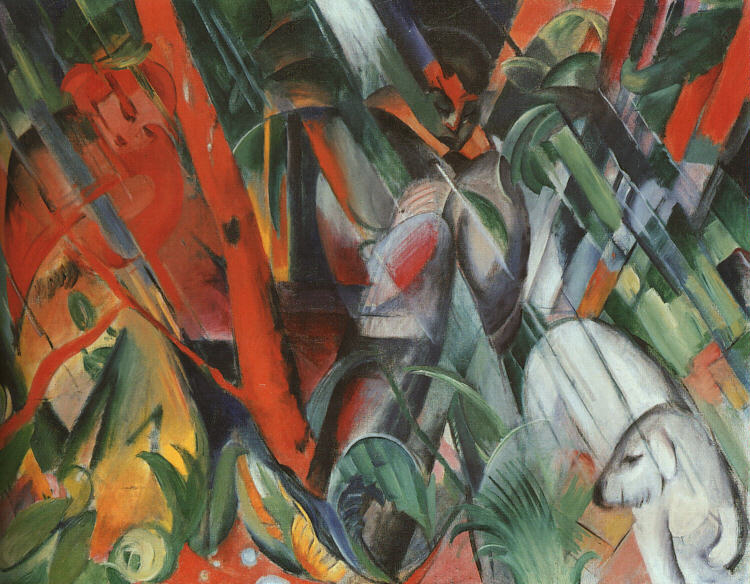 Franz Marc (February 8, 1880 – March 4, 1916) was a German painter and printer who was a prominent player in German Expressionism.
His mature paintings mostly show animals and are notable for their vibrant colors. In the start of World War I, he was recruited into the German army and killed two years later at the Battle of Verdun.
As part of their persecution of contemporary art in the 1930s, the Germans labeled him a degenerate artist. However, the majority of his work survived WWII, ensuring his legacy.
The majority of his mature work depicts animals, frequently in natural settings such as In the Rain. His art is distinguished by vivid primary colors, almost cubist depictions of animals, stark simplicity, and a great feeling of emotion.