The four seasons of the year have long served as focal points for artists who sought to portray the emotions and feelings that each one brings to most people.
Spring is a season that is overflowing with life and new beginnings.
Summer is full of activity or lounging about while fall is brimming with vibrant colors and winter typically represents an ending or loneliness.
Artists have found considerable amounts of inspiration from the spring season in a variety of forms.
The spirited colors that come with the blooms of different types of vegetation, the lush green grass and leaves once again appear and many kinds of animals give birth to their young during the spring.
Here, we will delve into history's 10 most famous spring paintings and the artists that created these works.
Famous Spring Paintings
1.

Primavera

– Sandro Botticelli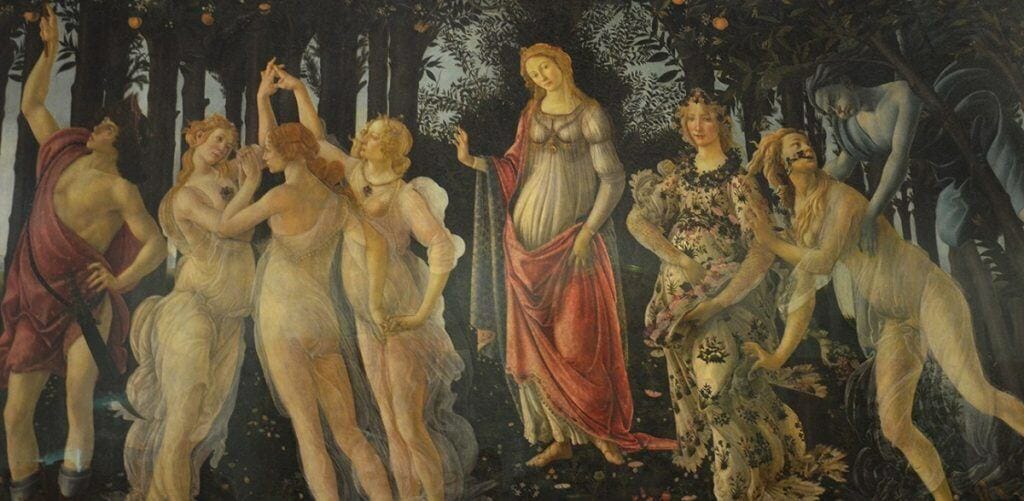 Alessandro di Mariano di Vanni Filipepi is one of the foremost figures of the early Italian Renaissance and his works and painting style likely inspired countless masterful artists that would come after him.
He is more commonly known as Sandro Botticelli and was born in Italy around 1445.
This nickname was derived from one that was bestowed on his older brother who had a rotund stature, prompting others to refer to him as a "barrell" or "Botticello" with the artist becoming known as Botticelli, or "little barrel."
Botticelli's painting style was one that more or less defined the early Italian Renaissance era. He created figures in a way that was much more intimate that other artists at the time typically depicted their subjects.
One of Botticelli's most famous paintings is titled Primavera, which means "Spring" in Italian. Critics and historians believe that his work was finished sometime in the late 1470's or early 1480's.
The painting depicts six female figures and two males, along with a small cupid that can be seen hovering above what many critics believe to be the figure of Venus.
The whole painting shows movement from left to right and signifies the changes that certain figures go through, according to Roman legend. It is widely recognized as one of the most iconic works centering around the spring season.
2.

Springtime

– Claude Monet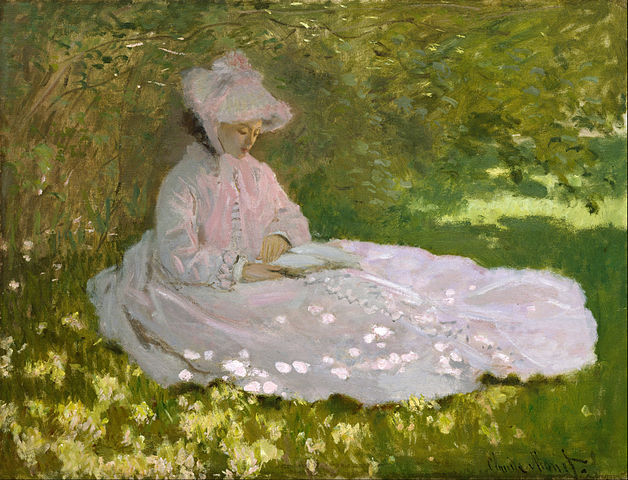 Claude Monet is one of the most highly-regarded figures from the Impressionist movement that took place in the 19th century. The French artist was born in Paris in 1840 during a time when the city was a bustling hub of artistic expression.
Around the age of 30, Monet began to display a passion for living and spending time in rural areas instead of the city that so many other artists were clamoring to get to.
It was at this time when Monet created a masterpiece that many critics say is a beautiful representation of spring and its true meaning. Finished in 1872, the work was simply titled Springtime, but it is also known as The Reader since Monet himself bestowed it with the title of Woman Reading when it was first exhibited in 1876.
The painting depicts Monet's wife, Camilla sitting under a canopy of lilacs reading a book, the flowers around her teeming with life.
This work was done shortly after Monet moved his family from Paris to a small village to the northwest called Argenteuil. There, he would draw inspiration to create a number of other works that featured natural settings full of spring beauty.
3.

Springtime

– Pierre Auguste Cot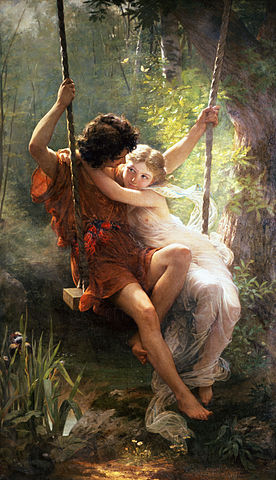 During the time in which Monet and other artists were enthralled in the Impressionist movement, others would work in a different style that was known as Academic Classicism.
Pierre Auguste Cot was one such artist who is known to have created a number of incredible masterpieces during his career.
One of Cot's most well-known paintings is also titled Springtime and was completed in 1873. First exhibited at the Paris salon, Cot's painting received high praise from the critics of the time for its intense detail and underlying message.
The painting portrays two young lovers sitting on a swing in a lush forest. The young girl is gazing lovingly into the young man's eyes as she clings to him.
The painting is one of the most famous that includes any reference to the spring season and is known for its clear indication that spring is the season of love.
4.

Almond Blossoms

– Vincent van Gogh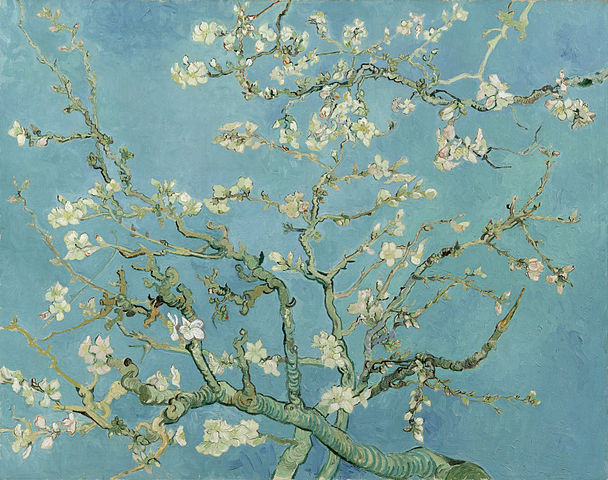 Vincent van Gogh was one of the most accomplished artists in history and had a reputation for painting natural scenes that were full of vibrant beauty and color.
Van Gogh was a deeply-troubled artist who spent a large portion of his tragically short life in asylums and sanatoriums around France.
He painted numerous works depicting blossoming trees as they represented hope and a rebirth of sorts—possibly the notion of hope that he looked to at times when he experienced especially dark states of consciousness due to his constant bout with mental illness.
This one is titled Almond Blossoms and was done in 1890 while van Gogh was living in Arles, which is a quaint coastal city on the southern coast of France.
This particular painting was part of a series and was created as a celebration gift to van Gogh's brother, Theo and his sister-in-law, Jo as they were bringing a child into the world that would be named Vincent, after the artist himself.
The painting is very simple in composition as it features a sprawling tree branch set against a bright, blue sky. The light-pink blossoms are bright, as are the branches of the almond tree.
Although it is one of the lesser-known van Gogh paintings, it is one of the best representations of his interest in Japanese woodblock paintings.
5.

Le Boulevard de Montmartre, Matinée de Printemps

– Camille Pissarro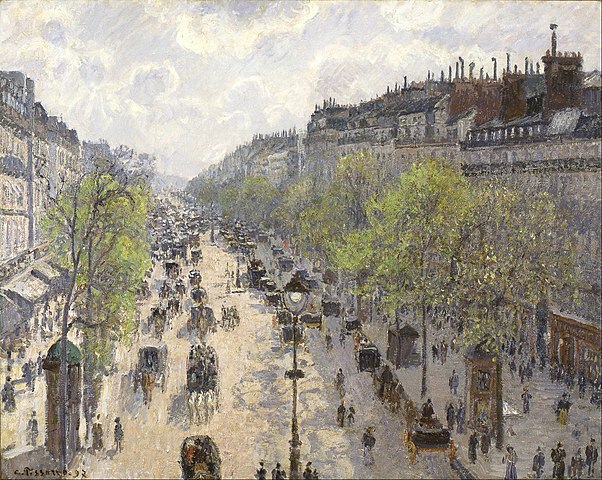 Camille Pissaro was another brilliant Impressionist artist who lived in Paris during the mid-to-late 19th century and shaped the overall movement through his unique style of painting that Pierre-Auguste Renoir described as "revolutionary."
Pissarro commonly painted scenes from in and around Paris or rural parts of France to depict different views of life for the people of France during the 19th century.
One of Pissarro's famous cityscape paintings is titled Le Boulevard de Montmartre, Matinée de Printemps. This 1987 painting captures a busy day on the popular boulevard that was frequented by people from all walks of life.
Pissarro was not the only artist to paint a scene from this particular part of Paris as many others have depicted the Boulevard de Montmartre from it's heyday during the late 1800's.
The painting is especially famous for Pissarro's depiction of the bustling street and the bright sunlight beaming down onto it. This piece is one of the highest-priced auctions from any of Pissarro's remaining works.
6.

Spring

– Lawrence Alma-Tadema
Lawrence Alma-Tadema is another prominent artist from the Academic Classicism movement that occurred during the same timeframe as the Impressionist era.
The Dutch artist was born in the Netherlands in 1836, but would later become a British citizen and travel across much of Europe during his career.
Critics and scholars argue as to what Alma-Tadema's most famous painting is, but many point to a work that revolves around the spring season—specifically a scene from the ancient Roman empire and a celebration of spring. The work is simply titled Spring and was completed in 1894 in the latter years of the artist's career.
It is known for the lively procession of figures, mostly women and children, who are parading through the city in what is an apparent festival occasion marking the spring season.
This painting is not actually done as an accurate representation of any Roman street or structure as Alma-Tadema appears to have combined a number of different prominent landmarks into this one single work.
7.

Spring

– Giuseppe Arcimboldo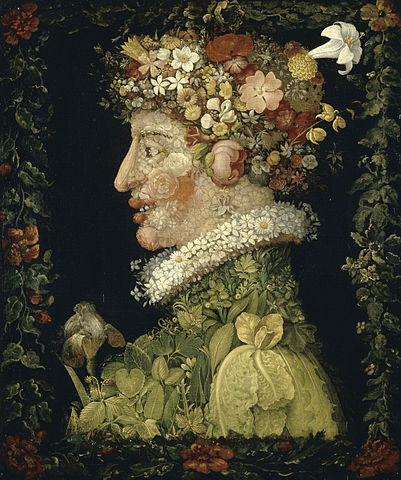 Giuseppe Arcimboldo is one of the more remarkably ambiguous figures from the Italian Renaissance era. The artist was born in Italy in 1527, but his works clearly do not align with any other painter from the Renaissance movement.
He instead created bizarre, yet well-composed paintings that many critics and scholars still argue about today as to whether they were the product of an especially creative mind, or someone teetering on the brink of madness.
Arcimboldo created a series of works titled The Four Seasons between 1563 and 1573. One of these works is titled Spring and is considered one of the most unique, and iconic depictions of the season in history. This peculiar work depicts the spring season, and each of the other three, as a seated individual in a portrait style.
Spring is a human figure that is made up of a collection of flowers and other vegetation that was known to have existed and characterized the season in Italy during the 16th century.
8.

Fishing in Spring, the Pont de Clichy (Asnires)

– Vincent van Gogh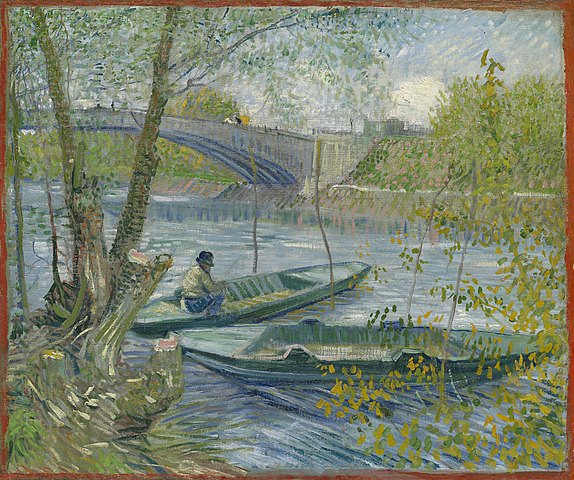 Van Gogh is known to have had a special affinity for the outdoors as the vast majority of his works center around natural settings that involve ponds or flowers and trees. One of his other, slightly lesser-known, works features a scene from the Seine River that represents the exuberant and cheerful side of the spring season.
Painted in 1887, this work is titled Fishing in Spring, the Pont de Clichy (Asnires). It depicts a man seated in a small boat, fishing with a rod and reel below a tree. A bridge is seen in the background while the entire work is encapsulated with flowery vegetation of light orange and green colors.
Also Read: Famous Summer Paintings
Many critics point to this painting as a very natural and quintessential representation of an Impressionist work from one of the greatest painters in history.
9.

Spring Blossoms, Montclair, New Jersey

– George Inness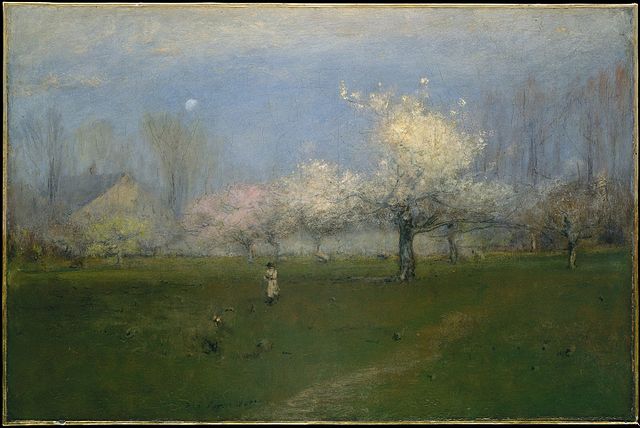 George Inness is remembered as an exceptional artist of the 19th century who was neither fully committed to Impressionism or Realism, but produced a number of incredible landscape paintings during his career.
He was born in New York in 1825 and his paintings are usually characterized by a complex scene that features variable degrees of sunlight or tumultuous weather conditions.
One of his greatest works is titled Spring Blossoms, Montclair, New Jersey and was completed in 1891 at the end of his life. This painting has many Impressionist characteristics and depicts a calm setting in a small field that's dotted with blossoming pink and white trees with a house in the background.
10.

The Small Meadows in Spring

– Alfred Sisley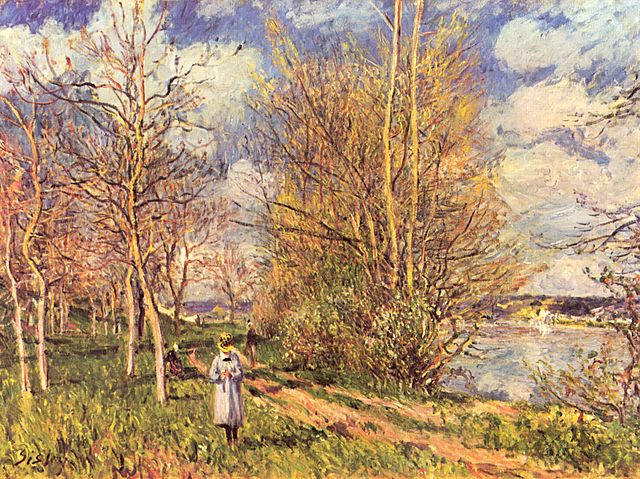 Alfred Sisley was another painter that lived during the 1800's and was an accomplished Impressionist painter that hailed from Paris and spent most of his life in France. Critics who have studied his work can typically identify a Sisley painting as he had a very distinct, yet unchanging style throughout the entirety of his career.
One of the most celebrated works he produced was titled The Small Meadows in Spring, By and was finished in 1881. This work features a beautifully-sunny setting that depicts a woman strolling alongside a path that hugs the banks of the Seine River.
The entire painting is illuminated with brilliant effects of the morning sun and many scholar and historians believe the young woman in this painting is Sisley's own daughter, who would have been about 12 years old at the time it was painted