Cityscapes have been a popular subject for many artists throughout centuries of different art movements. Since the Italian Renaissance, artists have sought to portray the cities they have either visited or lived in to capture the beauty and individuality of each one.
There are several cities throughout the world that have long served as centers for artistic expression and artists from various movements have depicted these cities with their own distinct flavor.
With some artists focusing their entire careers to painting cityscapes, there are numerous works in existence that are extremely impressive depictions of certain cities.
In this article, we will discuss some of the most famous cityscape paintings and also explore the artists who created them, as well as the reasons behind their creations.
Famous Paintings of Cityscapes
1.

Paris Street; Rainy Day

– Gustave Caillebotte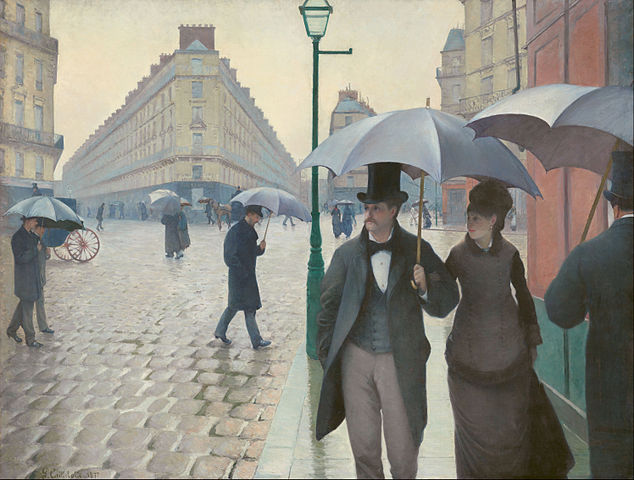 Paris is one of the most common cities that artists focus their efforts on in creating cityscape paintings. Gustave Caillebotte was an artist that was born and raised in Paris during the mid-19th century when a number of different art movements were in their most formative years.
Caillebotte is one of the more notable cityscape artists in history as his works were done with a masterful level of realism, yet also contained a sense of the emotional feelings or underlying messages that the artist was attempting to convey.
Caillebotte's most famous painting is an 1877 work titled Paris Street; Rainy Day. The painting depicts a scene in which various individuals are walking across the Place de Dublin, which was a popular area of Paris during the time in which the work was painted.
Like many other masterful Realism paintings from this era, this work contains incredible details, but the characteristics that most critics and historians are drawn to is the proportion and composition.
Many critics believe that this painting was heavily influenced by photography, but the painting received high praise from virtually every major critic and museum at the time. Caillebotte was praised for his uncanny ability to make the streets appear as if they are actually wet with the fallen rain.
2.

The Boulevard Montmartre at Night

– Camille Pissarro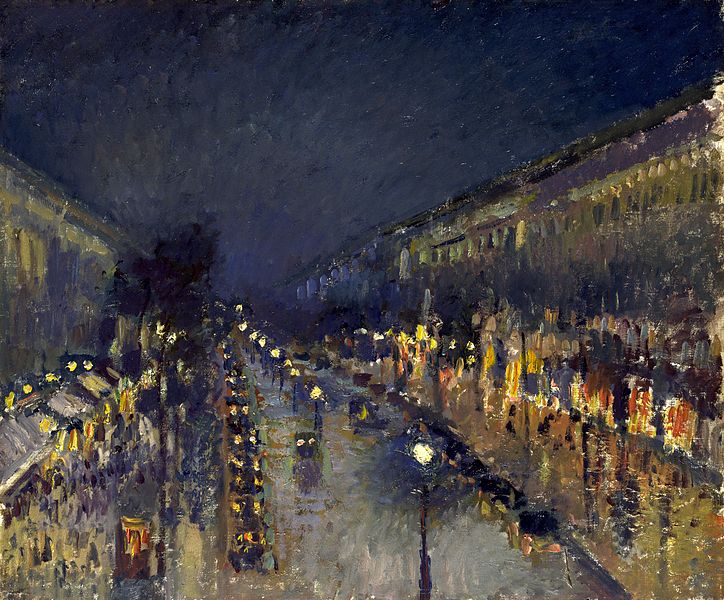 Camille Pissarro is regarded as the father of the Impressionist movement, which took place during the mid-to-late 19th century. Many of his works center on cityscapes in both daytime and nighttime and Pissarro became famous for his ability to depict cityscapes in an Impressionist form.
He was an especially gifted landscape artist, but he chose to paint cities and landscapes that held significant meaning to the people that lived in and around the locations.
One of Pissarro's most famous works is known for its incredible night atmosphere. The work is titled The Boulevard Montmartre at Night and was completed in 1897 after a time in which Pissarro spent a few weeks staying in the same room that overlooked the Boulevard Montmartre.
Historians record that the artist spent weeks painting numerous works that focused on the same perspective and angle of the famous painting, in both day and night.
This painting is known for Pissarro's masterful brushstrokes and use of color to display the glowing lights and how they illuminated the streets and storefronts of the famous Boulevard Montmartre.
3.

Cityscape I

– Richard Diebenkorn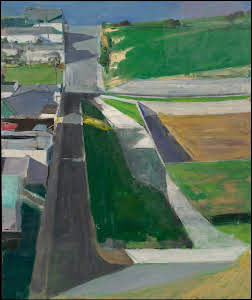 American painter Richard Diebenkorn is well-known as one of the most famous abstract artists that also worked in a variety of different painting styles and genres, including cityscapes.
He grew up in San Francisco and his family recognized his artistic inclination from a very early age as Diebenkorn was said to have been an avid creator of drawings from the time he was just a few years old.
One of Diebenkorn's most highly-celebrated paintings is a cityscape that depicts a simple hillside road that features houses on one side and lush, green grassy hills on the other.
Diebenkorn was known to have become a well-known artist in his youth when he worked with abstract expressionism concepts, but he would later move on to create figurative works such as this particular painting titled Cityscape I.
This particular painting was done in 1963 while Diebenkorn was enrolled at Stanford University as the institution's first artist-in-residence.
4.

Nighthawks

– Edward Hopper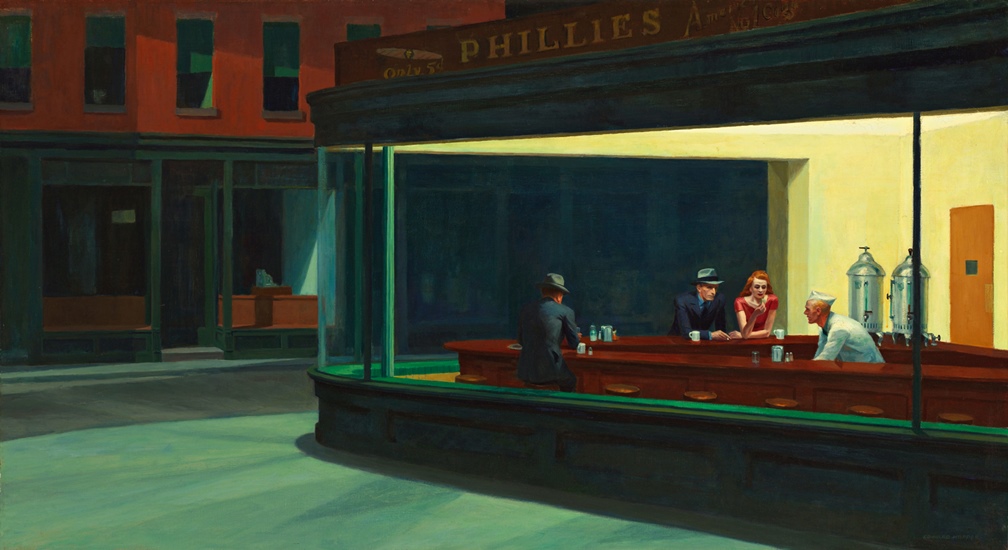 Edward Hopper is recognized as one of the most famous American painters from the early-to-mid 20th century. It was a time in which industrialization had greatly shifted the American landscape and culture from that of a farming society to one in which cities and urban areas were more prominent.
Hopper sought to depict this change in many of his paintings, especially during his later career.
Edward Hopper's most famous painting is titled Nighthawks and was completed in 1942. It portrays a young man and woman, as well as another patron seated at a midnight cafe while a single waiter behind the bar.
This scene is dominated by the sharp, lonely nature of the city outside the small corner cafe, which is said to have meant to represent the disconnect that many people had from one another due to living in large, overpopulated cities.
The painting is viewed as one of the more iconic scenes from American history and has been featured or inspired works ever since it was first exhibited.
5.

View of Delft

– Johannes Vermeer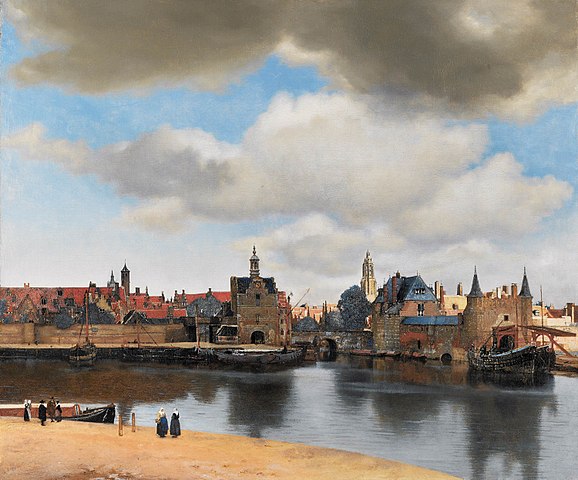 Johannes Vermeer is one of the more highly regarded members of the late Baroque era. The Dutch artist has one of the most extensive collections of cityscape paintings that were done with an incredible level of realism and perspective.
Many of Vermeer's paintings feature some of the prominent figures or other individuals he encountered, but the majority of his most celebrated landscape or cityscapes were done to portray his home city of Delft, Holland.
In fact, his most famous cityscape painting is titled View of Delft and was done by Vermeer in 1661. The painting received high praise when it was first finished and is one of the more iconic portrayals of a Dutch cityscape from the Baroque era.
The painting depicts a somewhat cloudy sky above a calm River Schie, which was the prominent waterway that ran through the city.
6.

The Little Street

– Johannes Vermeer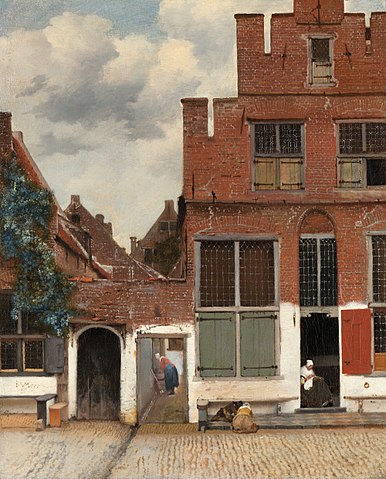 Another one of Vermeer's most celebrated cityscapes was done in the same city, his hometown of Delft. This painting is one of the very few works that Vermeer actually signed, which makes it one of his more valuable works that is still in existence. The painting is titled The Little Street and is believed to have been completed 1657 or 1658.
This work features a somewhat candid view of the quiet, calm street that is said to have been a very common sight for various cities throughout Holland during this time.
In addition to the incredibly-realistic detail Vermeer used in the painting, critics and scholars point to the artist's use of specific angles and shapes to focus the viewer's attention on certain areas of the painting, such as the left side and the small alleyway that's near the middle.
7.

The Stonemason's Yard

– Canaletto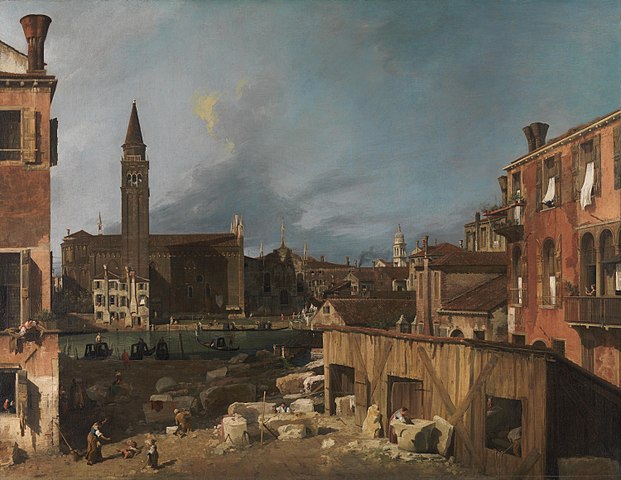 Giovanni Antonio Canal is more commonly-known as Canaletto and is regarded as one of the most famous Italian painters that lived and worked after the end of the Italian Renaissance.
Canaletto was extremely gifted in terms of painting scenes that included cityscapes from the most prominent locations in Italy and France.
One of Canaletto's most famous cityscape paintings is known as The Stonemason's Yard and was created in 1725 when he was still living in Venice.
Also Read: Paintings of Venice
This painting was one of the many cityscapes he created that featured brilliant amounts of sunlight that play across the buildings and other structures, as well as the people of the small city and stonemason's yard.
8.

Boulevard des Capucines

– Claude Monet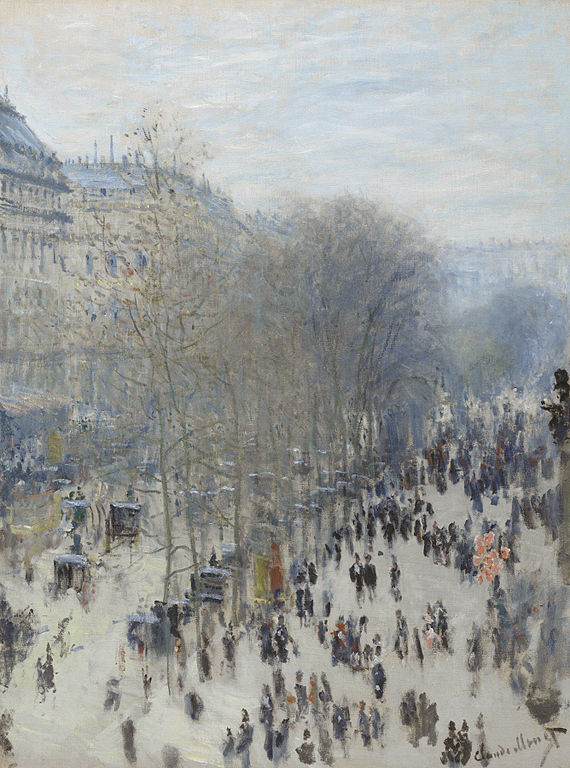 Claude Monet is widely viewed as the most prominent figure from the Impressionist movement with some critics and historians dubbing him the "Father of Impressionism." It was Monet's work and style that had an incredible impact on the other artists that followed after him in the Impressionist movement.
Many of his works features outdoor scenes because Monet popularized the style of painting that was called "en plein air" which involved the artist going to the actual location to sit and paint the work instead of making a mere sketch and returning to their studio to paint the full work.
Monet's most famous cityscape work is one that is known as Boulevard des Capucines and was completed in 1874. This particular painting features almost a bird's-eye view from the bustling Paris boulevard and depicts the streets as they were during this time, flooded with people from all walks of life.
The blue hue that dominates the painting seems to indicate Monet's feelings toward being confined to the city as it is said that he much preferred to spend his time in the outdoors whenever possible.
9.

Late Afternoon, New York, Winter, 1900

– Childe Hassam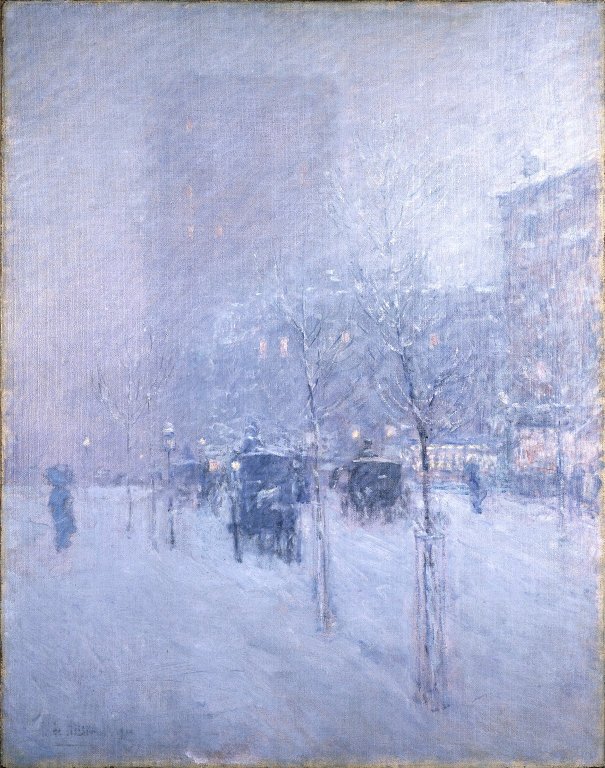 Childe Hassam was one of the most prominent Impressionist painters in America during the early 20th century. He produced a huge number of different paintings, watercolors and lithograph works that are now considered to be among the most widely-celebrated cityscape paintings from the time period.
One of his paintings is said to have an uncanny resemblance to Caillebotte's Rainy Day; City Street, which was done just a few years earlier, compared to Hassam's 1885 work.
One of Hassam's most famous original paintings is titled Late Afternoon, New York, Winter, 1900 and was completed during the height of his career in 1900.
This work contains a number of Impressionist characteristics and Hassam does a spectacular job painting the snow in a way that makes the viewer feel as if they can sense the bite of the cold air and feel the crunch of the snow beneath their feet.
Many artists have commented that painting snow-scenes is extremely difficult as it is hard to portray the light in a realistic manner. However, Hassam has done so beautifully in this particular work and gives the viewer a glimpse into the snowy, gloomy winters that commonly happen in Brooklyn.
10.

Paris through the Window

– Marc Chagall
Few artists from the abstract era are as highly-regarded for their cityscape works as those from earlier art movements. However, Marc Chagall is one of the few painters that managed to create one of the more memorable cityscape works that feature distinctly abstract elements.
Chagall was a prominent artist during the early-to-mid 20th century when Cubism and Expressionism were the two most popular painting styles in America and Europe.
His 1913 painting titled Paris through the Window is one of the more iconic works that features a view of the city of Paris. The painting is filled with vibrant colors and intriguing shapes and forms.
The famous Eiffel Tower is prominently displayed in the painting and it is remembered as one that celebrates the diversity and vibrancy of the city.