Artists of the American West are often classified as visual artists who represent in different creative mediums the 18th and 19th century western American Frontier and American Old West, as well as the 20th and 21st century Western United States.
Artworks from this American Western genre/period/region are also known as "Western Art," as opposed to Western art from European art history.
The American West is one of history's most memorable and distinct historical periods, inspiring its own distinct type of art.
For many decades, artists have depicted scenes during the Westward expansion, when Native Americans still controlled most of the territory east of the Mississippi River and cattle were herded hundreds of miles over the prairie and vast grasslands east of the Rocky Mountains.
A lot of artists would make hundreds of preparatory sketches that they would use as a reference when completing their canvases back in the comfort of their studios.
For the artists that endeavored to capture these scenes on canvas it often involved grueling month long journeys on horseback in often very primitive conditions.
Famous Western Artists
1. Charles Marion Russell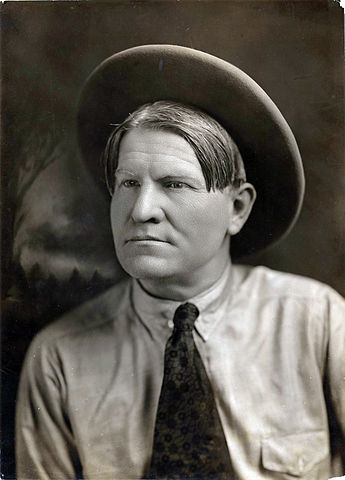 Charles Marion Russell, often known as C. M. Russell, was an American artist of the American Old West who lived from March 19, 1864 to October 24, 1926.
In addition to bronze sculptures, he painted over 2,000 paintings of cowboys, Native Americans, and landscapes situated in the western United States and Alberta, Canada.
He was also a storyteller and novelist, and was known as "the cowboy artist." He became an advocate for Native Americans in the West, backing the landless Chippewa's effort to create a reserve for them in Montana. The Rocky Boy Reservation was established by law enacted by Congress in 1916.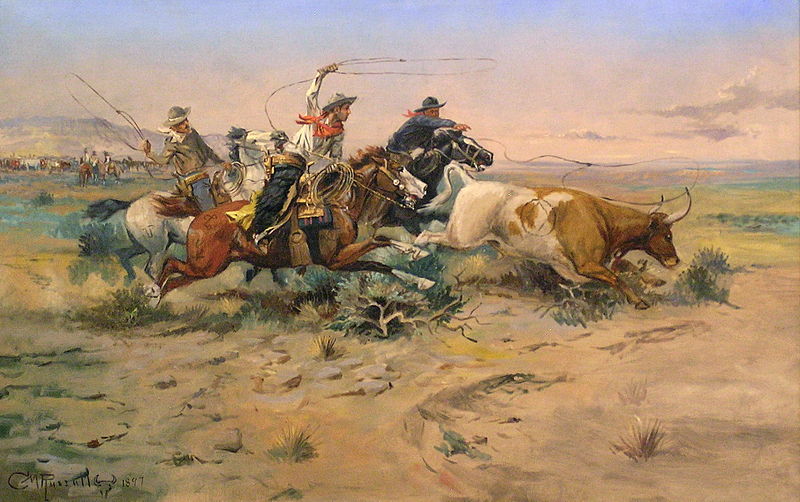 More than 2,000 Russell artworks, personal belongings, and artifacts are housed at the C. M. Russell Museum Complex in Great Falls, Montana.
The Montana Historical Society in Helena, Montana, the Buffalo Bill Center of the West in Cody, Wyoming, the Amon Carter Museum of American Art in Fort Worth, Texas, and the Sid Richardson Museum in Fort Worth all have significant collections.
His artwork Lewis and Clark Meeting the Flathead Indians is displayed in Helena's state capital building, and his 1918 picture Piegans sold for $5.6 million at an auction in 2005. He was recognized into the National Cowboy & Western Heritage Museum's Hall of Great Westerners in 1955.
2. Frederic Remington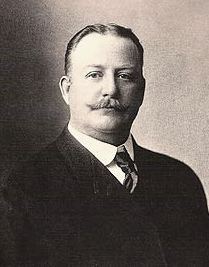 Frederic Sackrider Remington (October 4, 1861 – December 26, 1909) was an American painter, illustrator, sculptor, and writer best known for his representations of the American West.
His paintings are well-known for representing the Western United States in the latter quarter of the nineteenth century, including depictions of cowboys, American Indians, and the US Cavalry.
Also Read: Los Angeles Artists
Remington was the most successful Western illustrator during the "Golden Age" of illustration at the end of the nineteenth and beginning of the twentieth centuries, so much so that other Western artists such as Charles Russell and Charles Schreyvogel were known as members of the "School of Remington" during Remington's lifetime.
His approach was realistic, impressionistic at times, and generally deviated from the ethnic realism of previous Western painters such as George Catlin.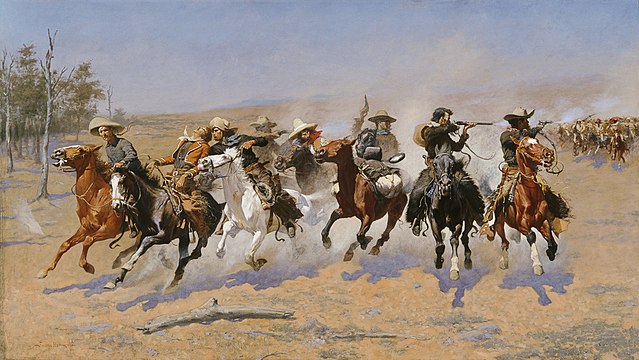 In contrast to the members and descendants of the contemporary Hudson River School, such as Frederic Edwin Church, Albert Bierstadt, and Thomas Moran, who glorified the vastness of the West and nature's dominance over man, his focus was firmly on the people and animals of the West, portraying men almost exclusively, and the landscape was usually of secondary importance.
For the benefit of his readers' and publishers' interests, he took creative liberties in his representations of human behavior.
Though he was always secure in his subject matter, Remington was less certain about his colors, and reviewers often criticized his palette, but his lack of confidence spurred him to explore and achieve a wide range of effects, some extremely accurate to nature and others invented.
3. Albert Bierstadt
Albert Bierstadt (January 7, 1830 – February 18, 1902) was a German-American landscape painter best renowned for his opulent, sweeping vistas of the American West. He joined multiple Westward Expansion expeditions to paint the scenery.
He was not the first artist to record the locations, but he was the most prominent painter of them for the rest of the nineteenth century.
Bierstadt was born in Prussia, but his family relocated to America when he was a year old. He returned to Düsseldorf to study painting for many years.
He was a member of the second generation of New York's Hudson River School, an informal group of like-minded artists who began painting near the Hudson River.
Their style was focused on meticulously detailed paintings with romantic, almost glowing illumination, which was frequently referred to as luminism. Bierstadt was a significant interpreter of the western environment, and he is often associated with the Rocky Mountain School.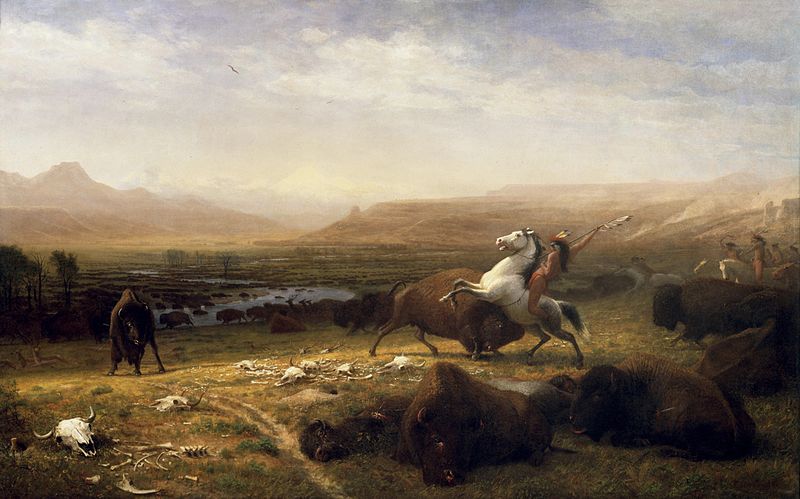 Bierstadt's choice of grandiose themes was matched by his business acumen. His solo shows were supported by advertising, ticket sales, and a "huge apparatus of publicity and puffery," in the words of one reviewer.
Despite his great popularity, Bierstadt was chastised by several contemporaries for the romanticism inherent in his subject choices, as well as his excessive use of light. Some reviewers said that Bierstadt's paintings of Native Americans "marred" the "image of lonely grandeur."
Bierstadt's wife was stricken with TB in 1876, and from then until her death in 1893, he spent time with her in the milder environment of Nassau, Bahamas. In addition, he continued to go to the West and Canada. Bierstadt's paintings went out of favor with critics later in life. It was chastised for having a theatrical tone.
A fire destroyed Bierstadt's studio in Irvington, New York, in 1882, along with many of his works. By the time he died on February 18, 1902, the craze for epic landscape painting had faded. Bierstadt was mostly forgotten after that.
4. Alfred Jacob Miller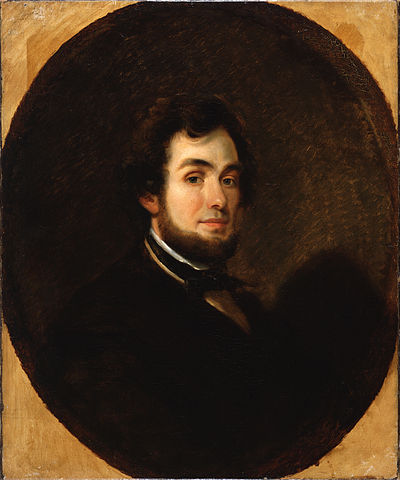 Alfred Jacob Miller (January 2, 1810 – June 26, 1874) was an American painter best known for his depictions of trappers and Native Americans in the western United States fur trade.
During the mid-nineteenth century, he also created several portraits and genre paintings in and around Baltimore.
Miller was the oldest of nine children born to George W. and Harriet J. Miller in Baltimore, Maryland. Miller's father was a merchant and tavern keeper in downtown Baltimore, as well as the owner of a property at Hawkins Point.
He journeyed to Italy in 1833, touring Bologna, Florence, and Venice before settling in Rome to study at the English Life School. During his European travels, he met the Danish sculptor Bertel Thorwaldsen and trained with the French painter Horace Vernet.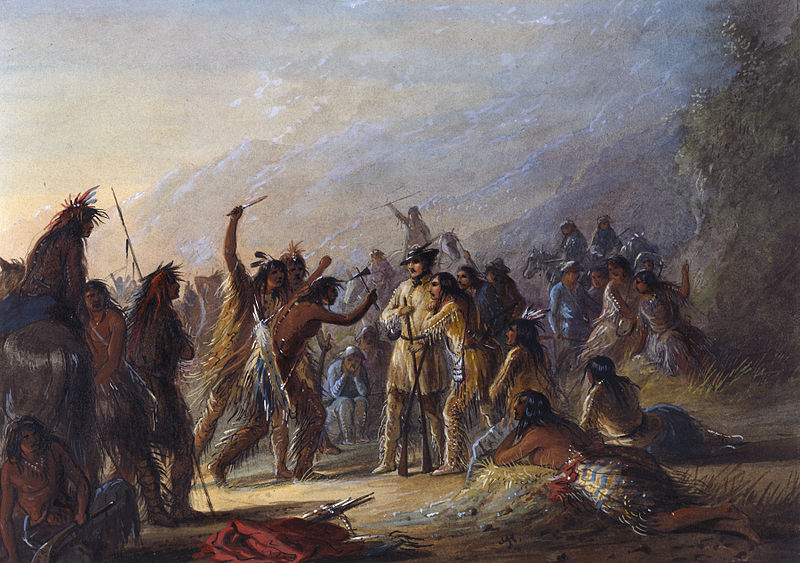 In 1834, he returned to Baltimore and built a downtown studio, advertising himself as a painter of portraits and Old Master replicas. His choice to go to New Orleans in 1837 may have been influenced by professional and financial challenges.
Miller promptly opened a studio on Chartes Street and started getting orders for portraits since the city had a reasonably open market for painters. Sir William Drummond Stewart, a Scottish nobleman and adventurer, met him at his studio.
Stewart recruited Miller to join him on his hunting trip to the Rocky Mountains and document the experience. That same year, they traveled as far as Fort William and Green River with officials from the American Fur Company.
Miller began working on his drawings in watercolors and oils after returning to New Orleans later that year. The scenery and situations of the hunting trip served as the basis for a series of paintings depicting Native Americans in the United States.
Miller was able to organize an exhibition in New Orleans in July 1838. In October 1840, he journeyed to Stewart's Murthly Castle in Scotland with his paintings, where a collection of his commissioned work was eventually placed.
5. Thomas Moran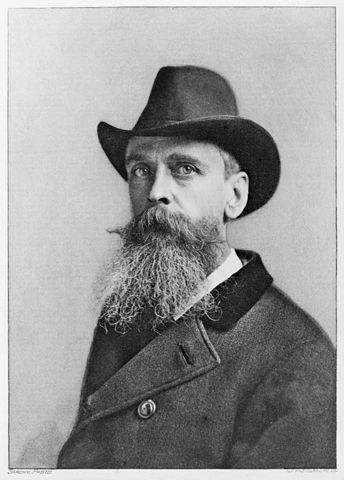 Thomas Moran (February 12, 1837 – August 25, 1926) was a New York Hudson River School painter and printer whose work often included the Rocky Mountains.
Moran and his family, including wife Mary Nimmo Moran and daughter Ruth, relocated to New York, where he found employment as an artist. He was the younger brother of Edward Moran, a well-known marine artist with whom he shared a studio.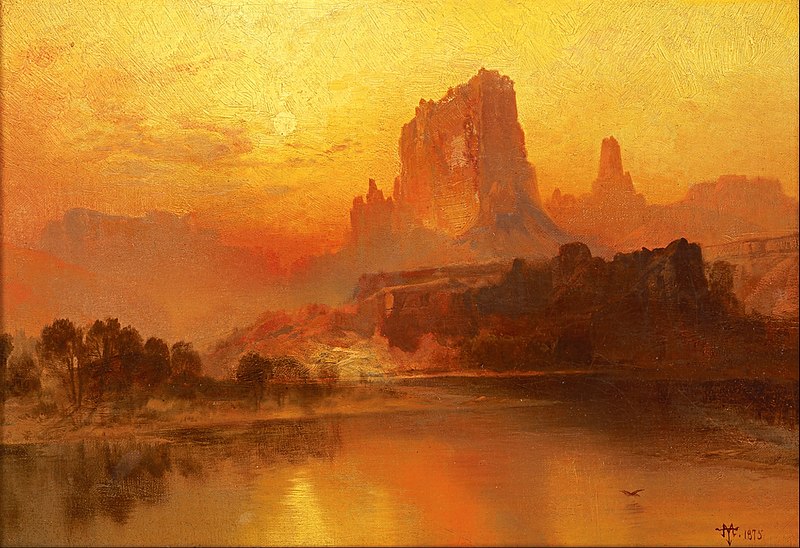 Thomas Moran, a gifted artist and colorist, was employed as an illustrator at Scribner's Monthly. During the late 1860s, he was selected as the magazine's principal illustrator, a position that helped begin his career as one of the foremost painters of the American landscape, particularly the American West.
Moran, together with Albert Bierstadt, Thomas Hill, and William Keith, are commonly referred to be members of the Rocky Mountain School of landscape painters because of the vast majority of their Western landscapes.
6. Maynard Dixon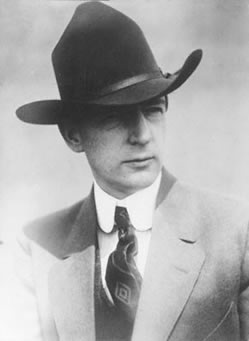 Maynard Dixon (January 24, 1875 – November 11, 1946) was an American painter whose work mostly depicted the American West. He was married to American photographer Dorothea Lange for a period.
Maynard Dixon is considered one of the finest artists, along with Fernand Lungren (1857–1922), another California based artist, having dedicated most of their art to the United States' southwestern cultures and landscapes at the end of the nineteenth century and the first half of the twentieth century.
Dixon donated four paints to the show Modern Art From The American West, juried by the well-known impressionist Jennie V. Cannon, at the University of Arizona in Tucson in December 1912.
In 1917, to support America's entrance into World War I, Maynard Dixon served on a committee with Lee F. Randolph, Bruce Nelson, and other famous painters to develop US Army camouflage.
During his lengthy stay in northern California, he became a frequent contributor to art shows.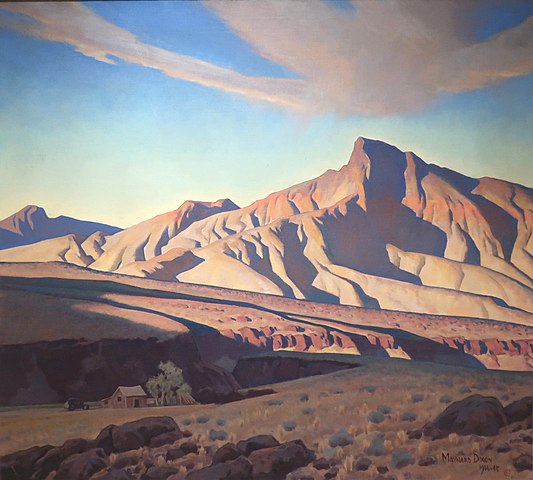 He stayed in New York for a while with his young wife and newborn daughter Constance, but soon returned to the western United States, where he said he could make "honest art of the west" rather than the idealized versions he was being paid to create. His first marriage ended shortly after he established a new life in San Francisco.
During this early era, Dixon established his style, and western motifs became a hallmark for him. Dixon was regarded as a colorful man with a terrific sense of humor in San Francisco.
He often dressed like a cowboy and looked keen to instill a western style, most commonly in the shape of a black Stetson hat, boots, and a bola tie.
7. Frank Tenney Johnson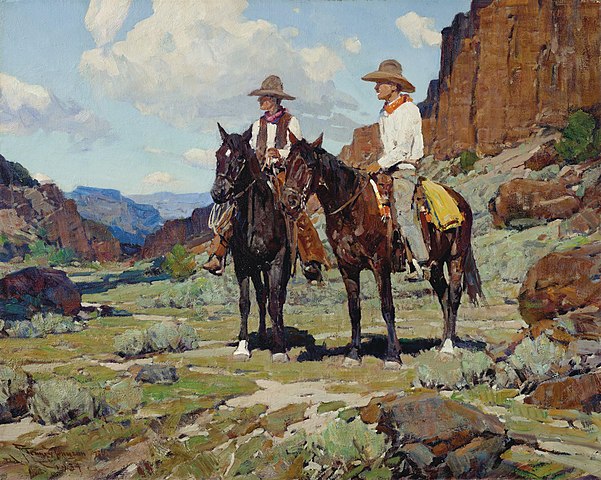 Frank Tenney Johnson (June 26, 1874 – January 1, 1939) was a painter of the Old American West who developed the "Johnson Moonlight Technique" of painting cowboys. Johnson's moonlight method may be found anywhere on the Range. He utilized knives, his fingers, and brushes to create his paintings.
He began his career largely as an artist. In 1904, he started working for Field & Stream magazine. He also worked as an illustrator for Boys' Life magazine. In addition to Field & Stream, he contributed to Cosmopolitan and Harpers Weekly magazines, as well as illustrating Zane Grey's Western books.
From 1904 through 1920, Johnson resided continuously in New York City, making several travels to the west to obtain source material for his works that were finished in his New York studio.
In 1912, he went on a sketching journey with cowboy artist Charles Russell to the Blackfoot Reservation east of Glacier National Park in Montana.
He spent a lot of time in his studio in Cody, Wyoming, just outside Yellowstone National Park, between 1931 and 1939. Many of his works were created there from observations he conducted within the park. He has been dubbed the "Master of American Moonlight Painting" and the "Old West Master Painter."
8. Joe Beeler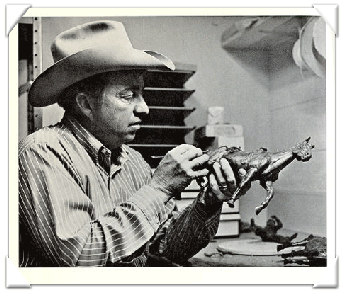 Joe Neil Beeler (1931–2006) was a Western art illustrator, artist, and sculptor from the United States. With Charlie Dye, John Hampton, and George Phippen, he co-founded the Cowboy Artists of America (CAA) in 1965.
Beeler was born on December 25, 1931, in Joplin, Missouri, to parents Jack Beeler and Lean Setser. Beeler began sketching at a young age and continued throughout college at Kansas State Teachers College and afterwards at the Art Center of Design in Los Angeles, California.
Beeler worked as an artist for the University of Oklahoma Press after graduating from college. After his one-man show at the Gilcrease Museum, Beeler's career took off.
He and his family relocated to Sedona, Arizona, in 1962, where he died. Beeler, along with many other cowboy painters, founded the Cowboy Artists of America in 1965.
9. R. Brownell McGrew
Ralph Brownell McGrew (September 6, 1916 – June 17, 1994) was a painter best known for his landscapes of the Western United States and portraits of Native Americans. "The Man Who Paints the Old," as his Navajo friends nicknamed him.
During WWII, McGrew worked for Firestone, developing and drafting materials. He also created portraits of notable Southern Californians and picturesque backdrops for motion film companies such as M.G.M. and Columbia.
McGrew started painting excursions in the Southwest after falling in love with the deserts outside Los Angeles. His ultimate purpose in painting, he once said, was "to paint as beautifully as he could, in order to transmit the limitless pleasure and ecstasy of God's creation."
He was the first winner of the John F. and Anna Lee Stacey Scholarship Fund in 1946, which allowed him to concentrate on landscapes. McGrew resided in New Mexico for 17 years in Cottonwood, Arizona, from 1978 to 1986.
McGrew spent more than 30 years traveling the back roads of the Hopi and Navajo reservations, which he was exposed to in the mid-1950s by Western artist Jimmy Swinnerton.
McGrew's paintings, which have sold for tens of thousands of dollars at auction, are not exact representations. "In the traditional sense, I am an Impressionist," he once declared. "Reality emerges from the suggested rather than the detailed or completed. My paintings aren't precise replicas of the situations I observe."
His favorite models were characterful old guys, such as the one represented in "Navajo Man with Turquoise Headband." He referred to them as "long hairs" — guys who had lived full lives and whose features testified of sun and persistence. Unlike many other painters of the period, he always compensated his models for their time.
10. Herman Wendelborg Hansen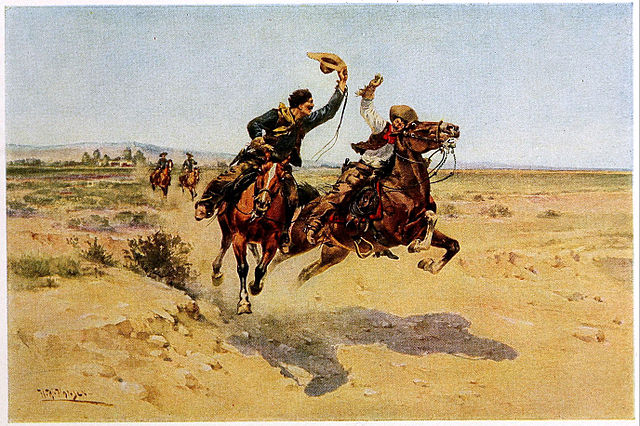 Herman Wendelborg Hansen (1854-1924) was a 19th-century artist most known for his paintings of horses, cowboys, and the frontier.
Hansen was born in the German town of Dithmarschen. He was talented in the arts from a young age. His father, a priest and draftsman, saw his son's aptitude and sent him to Hamburg when he was 16 years old. Hansen studied war scenes by the artist, Simmonsen, in this location.
Hansen moved to England for study in 1876, but he was drawn to the American West. Leatherstocking Tales by James Fenimore Cooper influenced him.
Hansen moved to New York City the next year to work as a commercial artist. He later relocated to Chicago, where he attended the Art Institute of Chicago.
His artwork mostly depicted the "mythic West." Through particular detailing and realistic images, Hansen's paintings effectively portrayed horses and cowboys in movement. He rose to prominence as one of the first fine painters to "popularize cowboy action scenes" and Wild West images.
Hansen worked in watercolor on a regular basis, but later in life he started to experiment with oils and etching. His work may be seen in the California Historical Society's collection.
11. Elbridge Ayer Burbank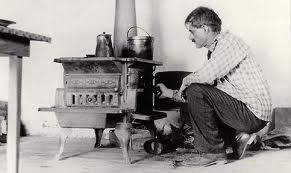 Elbridge Ayer (E. A.) Burbank (August 10, 1858 – April 21, 1949) was an American painter who drew and painted over 1200 portraits of Native Americans from 125 tribes.
He studied painting in Chicago and then proceeded to Munich, Germany in his 30s to study with well-known German painters. He is said to be the only one who painted Geronimo from life.
More than 1,200 Native Americans from 125 tribes were painted or drawn by him. He spent several months at the Hubbell Trading Post, where he researched and painted Native Americans, over a period of many years. His hometown, Burbank, Oklahoma, is named for him.