The winter season is one of the most beautiful times of the year. It is the time when people in cold climates get to enjoy all of the trappings that comes with winter, including snow, ice skating, fireplaces, and more.
Winter is not just cold, it has many colors too! Snow covers trees and bushes with white, winter fog blankets the ground in grey, icicles hang from rooftops in blue.
The most common colors that you will find during winter are the blues and grays. These colors are created by the reflection of light on snow-covered surfaces. Most of these colors have a cold feeling to them because they're not as energetic as warm hues.
We associate winter colors with different emotions such as nostalgia, coldness and death. But these colors can also make us feel warmth and joy, like the bright reds of Christmas trees or the oranges of Christmas lights or Santa's suit.
Winter colors are a reflection of winter weather and winter landscape. The sky and the ground will be covered in snow and the trees will be bare. The color palette is much simpler than in other seasons because we mostly see shades of white, grey, and black.
Below are are some of the most iconic paintings about winter by famous artists.
Famous Winter Paintings
1.

The Hunters in the Snow

– Pieter Bruegel the Elder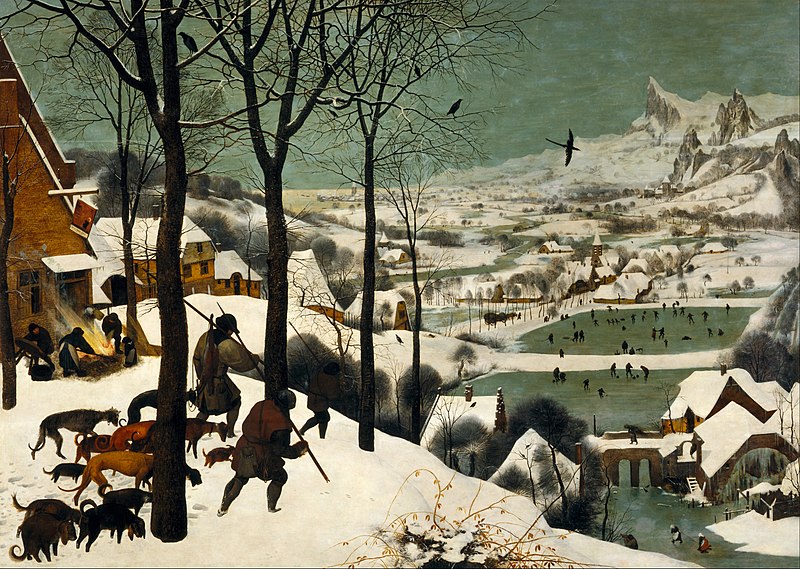 Pieter Bruegel (1525–1530 – 9 September 1569) was the most important artist of Dutch and Flemish Renaissance painting (Northern Renaissance).
He was a painter and printmaker best known for his landscapes and peasant scenes, and he was a pioneer in making both types of subject the focus of large paintings.
The Hunters in the Snow in 1565 in an oil on wood that is one of a series of paintings depicting various seasons of the year, five of which have survived. This scenario takes place in the dead of winter, in December/January.
Bruegel draws us into the composition in the same manner in all of the paintings in the Seasons series: from an elevated perspective, our attention is led to the wide-open countryside stretched out below.
2.

The Sea of Ice

– Caspar David Friedrich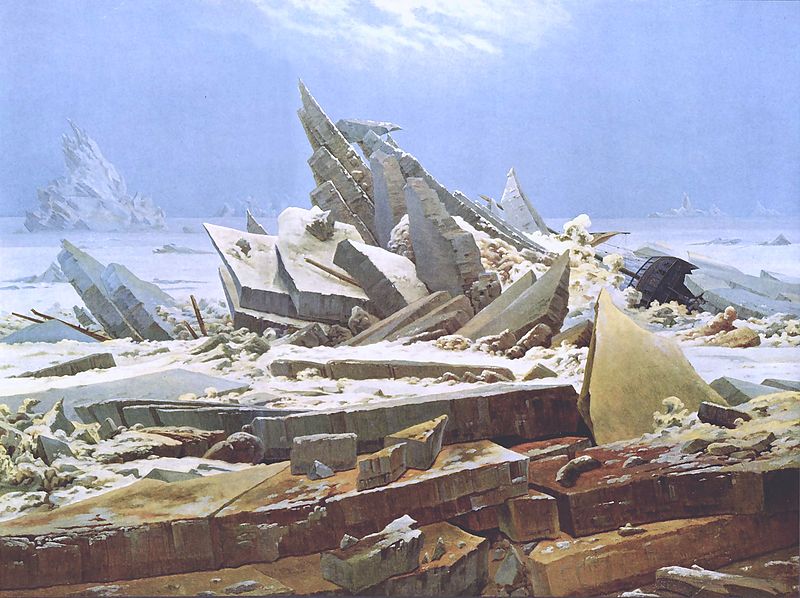 Caspar David Friedrich was a German artist who suffered from wanderlust, or the unquenchable desire to explore the globe and experience all of its beauty.
He spent a lot of time traveling across the globe to see the natural beauty that each place has to offer.
Friedrich is regarded as one of the most prolific painters of the Romantic period, and his works exemplified the many aspects that gave renown to so many of his works.
The Sea of Ice, (1823–1824), is an oil painting depicting a shipwreck in the Arctic. Prior to 1826, this picture was known as The Polar Sea.
The scene shows a shipwreck in the midst of a shattered ice sheet, with fragments piling up after the collision. The ice has formed a monolithic mausoleum, or dolmen, with jutting edges into the sky.
The wreck's stern is barely visible on the right. It is the HMS Griper, one of two ships that took part in two of William Edward Parry's voyages to the North Pole, as small inscription on it indicates.
3.

The Magpie

– Claude Monet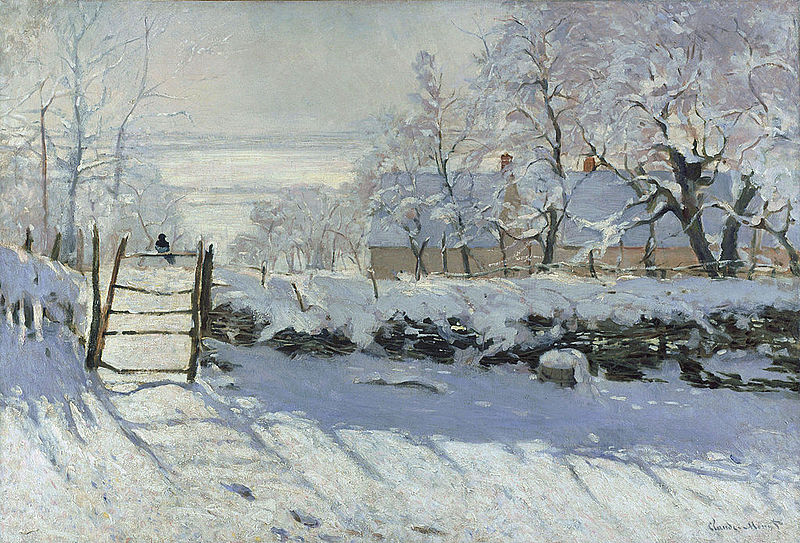 The Magpie is an oil-on-canvas landscape painting by Claude Monet painted during the winter of 1868–1869 near the village of Étretat in Normandy.
Monet and fellow Impressionists Alfred Sisley and Camille Pissarro created hundreds of landscapes depicting the natural impact of snow between 1867 and 1893.
The Magpie is one of Monet's roughly 140 snowscapes, created in 1869, and is his biggest winter landscape work.
According to art historians, a succession of harsh winters in France led to a rise in the number of winter landscapes created by Impressionists.
4. The Fox Hunt – Winslow Homer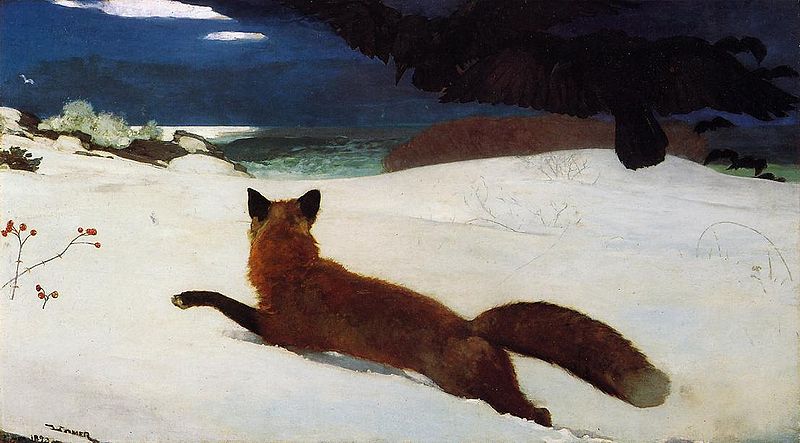 The Fox Hunt is an 1893 oil on canvas painting by Winslow Homer that was created in his studio at Prouts Neck, Maine during the winter of 1893. It is his biggest single work.
It has been dubbed "Homer's greatest Darwinian picture," and shows a fox searching for food in thick snow, who is being pursued by crows driven to predation by hunger.
After a long, hard winter, it is normal for swarms of hungry crows to assault a fox for food. Crows depend on their vast numbers and the fox's weakened state.
The Fox Hunt's overarching meaning was that it was a Darwinian artwork depicting survival of the fittest.
5.

Skaters in the Bois de Boulogne

– Pierre-Auguste Renoir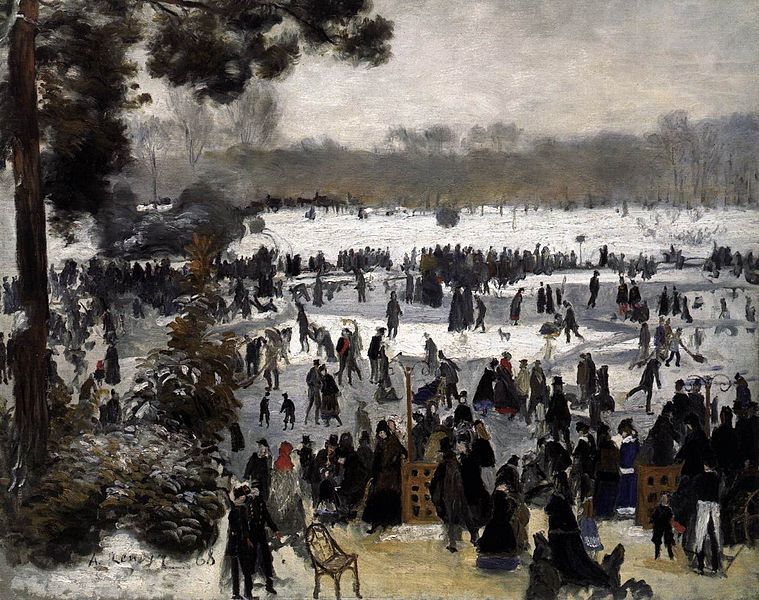 Skaters in the Bois de Boulogne is a winter 1868 oil-on-canvas landscape painting by French artist Pierre-Auguste Renoir.
Renoir is believed to have disliked chilly temperatures, thus this is one of his rare winter paintings.
Also Read: Spring Paintings
Renoir, who was 26 at the time, painted Skaters in the Bois de Boulogne en plein air in the public park of Bois de Boulogne in Paris during the chilly winter month of January 1868.
People were able to stroll across the Seine and ice skate on rivers and streams, according to newspaper reports from the period.
6.

Garden Under Snow

– Paul Gauguin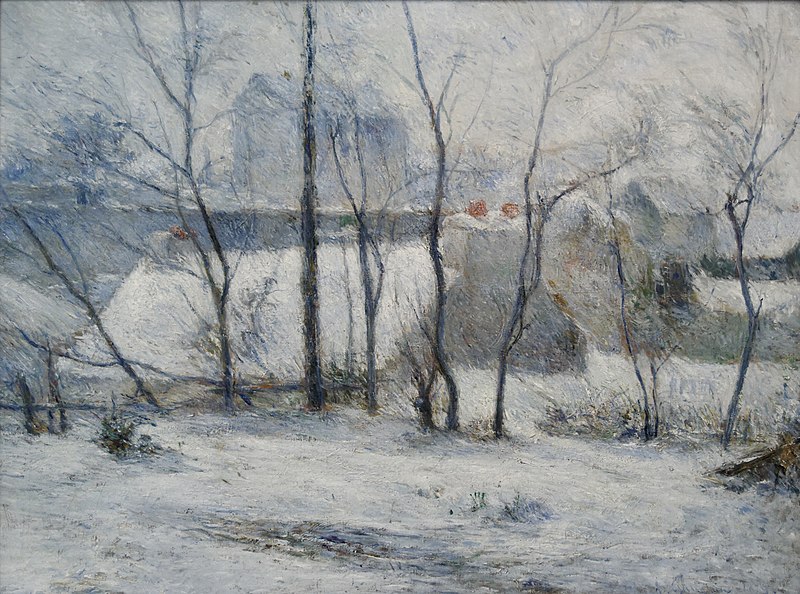 Paul Gauguin is most closely associated with the post-impressionism movement.
This movement was seen as a continuation of the impressionism movement, but rejecting many of its limits. In this way, the movement emphasized symbolic meaning as well as abstract characteristics.
Paul Gauguin discovered his calling here. He is often regarded as the most famous post-impressionist painter.
Paul Gauguin had an odd life and was not recognized as a well-known painter until after his death in 1903. Throughout his career, he created numerous works in which he used dark, heavy tones to create a feeling of aggressiveness and vitality in many of the themes.
However, in his early years he painted many scenes in the Impressionist style of which Garden Under Snow is one of them.
Gauguin was actually a well paid stockbroker in Paris who was painting as a hobby, following the collapse of the French stockmarket in 1882 he decided to pursue painting as a full time career.
This decision would eventually lead to the collapse of his personal life.
7.

Late Afternoon, New York, Winter, 1900

– Frederick Childe Hassam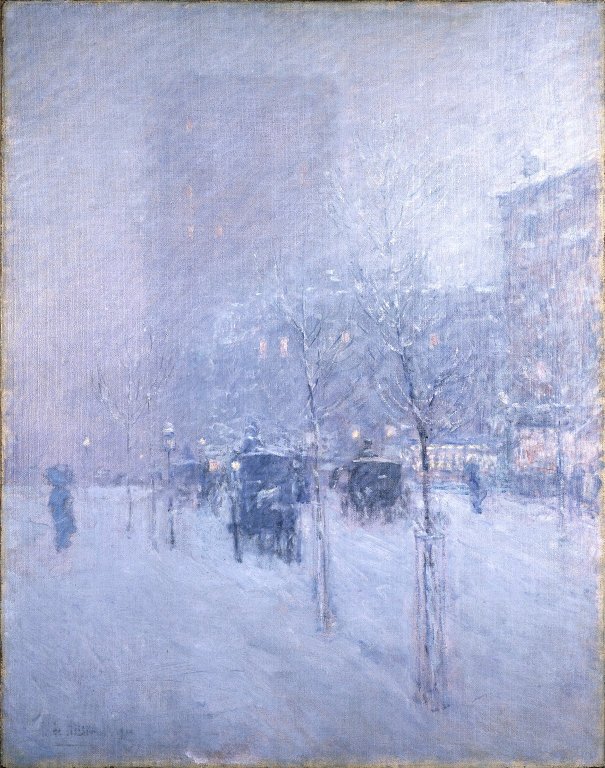 Late Afternoon, New York, Winter is an oil on canvas work by Hassam that was completed in 1900. It is one of several views of New York City that Hassam painted.
Although most impressionist paintings are ascribed to French painters, there are a few notable non-French artists.
Childe Hassam, an American artist, is well-known for a series of paintings depicting New York streetscapes.
Hassam, America's most successful Impressionist, was dedicated to portraying images of contemporary life with a feeling of immediacy. He created this look using rapid brushstrokes and a focus on the evanescent characteristics of light.
Also Read: Christmas Paintings
For many people, the picture of a snow-covered New York cityscape is intrinsically linked to the holiday season. Of course, it appears quite different in the twenty-first century than it did in the nineteenth.
8.

La Diligence in the Snow

– Gustave Courbet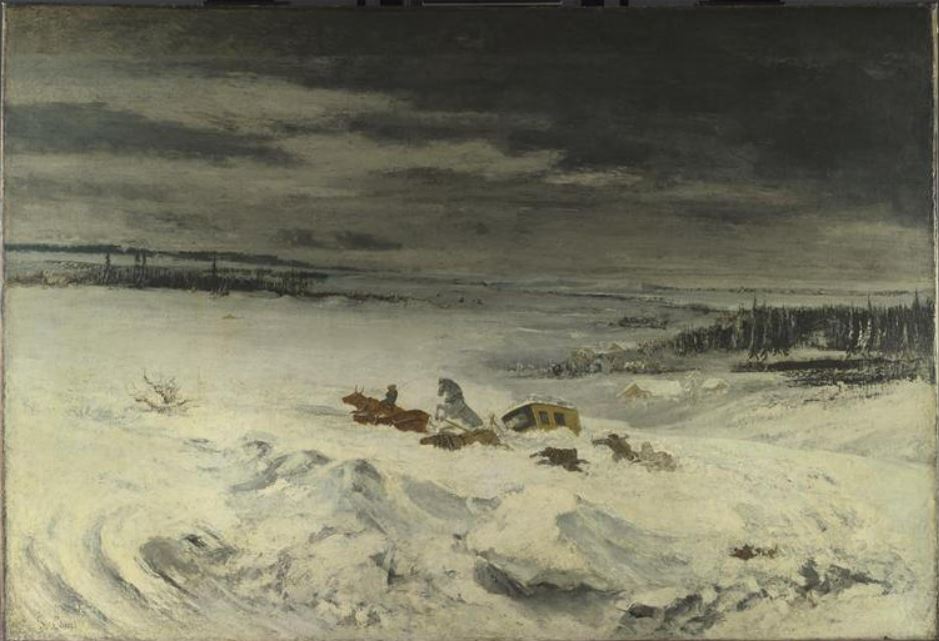 A diligence is a kind of coach, as shown above crashed in the snow.
Originally titled 'Naufrage dans la Neige' (Shipwreck in the Snow), the title was changed to 'Montagnes du Jura' on occasion.
It is believed to be based on a true event observed by Courbet on a hunting trip in the Livier Forest in the Haut Jura, a region in eastern France.
Courbet opened the path for a new updated version of Realism that drew inspiration from other contemporary trends such as impressionism and post-impressionism.
Courbet would liberally employ a palette knife in an attempt to produce thick, descriptive impasto in the work, but he did not completely forsake the use of brushes.
9.

Snow at Louveciennes, 1878

– Alfred Sisley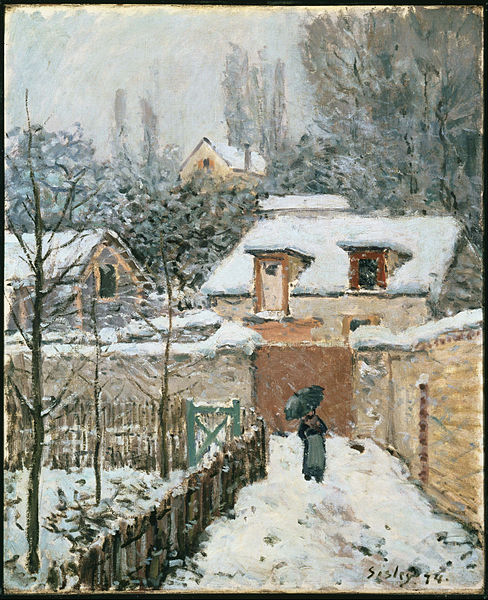 Alfred Sisley was a British Impressionist painter who lived in France for the most of his life.
Along with Claude Monet and Camille Pissarro, Sisley was one of the few artists to dedicate his whole life to Impressionist landscape painting en plein air.
Sisley created many winter images, including 'Snow at Louveciennes,' which depicts a snow-covered road vanishing into the distance and being inhabited by a single tiny figure.
Also Read: Fall Paintings
The countryside in winter had a special appeal for Sisley, whose solitary temperament was well suited to portraying nature's sorrow and despair.
Sisley liked painting snow landscapes because it enabled him to explore the subtle changes in light and experiment with various color tones and hues.
10.

Landscape with Snow

– Vincent van Gogh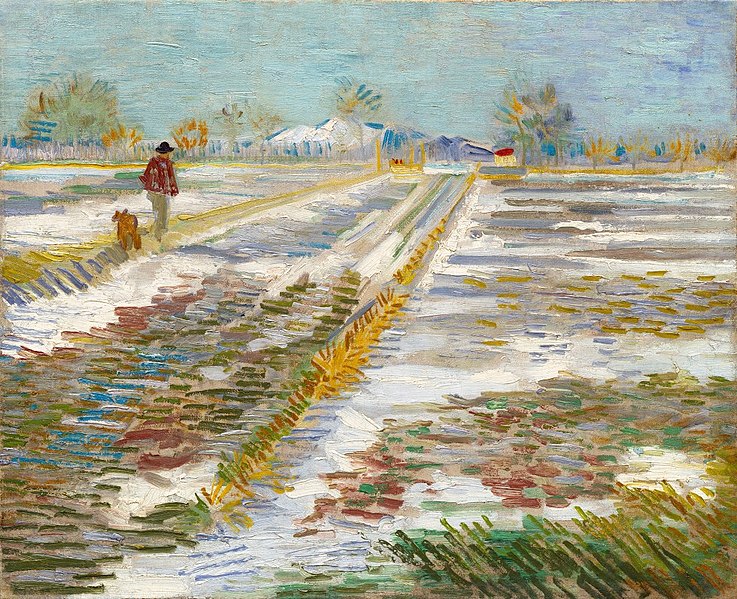 Landscape with Snow is a painting by Vincent van Gogh that was completed in 1888 and is said to be one of his earliest works after relocating to Arles. He left Paris in mid-February 1888 to escape the darkness of the city's winter and relocated to Arles.
Van Gogh painted at least twelve snowy landscapes in both oil and watercolor between 1882 and 1889; at the time of this work, the snow had just started to melt and the winter vegetation can be seen starting to show through.
He suggests the patchy covering of snow with daubs of brown paint and by leaving parts of the canvas exposed to brighter colors, it depicts the ominous, purple glow of a coming blizzard.