Autumn is a beautiful season of the year. The leaves start to change color and the weather cools down. This makes for some great painting inspiration. In this post, we share some beautiful fall paintings from a variety of different artists.
Autumn paintings are a great way to celebrate the changing seasons. Artists often use warm colors to convey the feeling of nostalgia and harvest. The use of orange, reds, and yellows is common in these paintings.
Autumnal colors are characterized by a warm, and often golden hue. It is a time of harvesting and reflection as the earth slows down before the winter.
It is difficult to imagine an painting of fall without its signature reds, oranges, yellows, golds, and browns. Fall is also considered one of the best times to view nature up close while hunting for leaves or acorns. And autumnal colors are deeply connected to our emotions.
Many artists choose this time of year to depict landscapes with saturated hues that symbolize a sense of change or slowing down after the long summer days and warmer nights have passed.
Famous Fall Paintings
1.

Autumn Landscape with Four Trees

– Van Gogh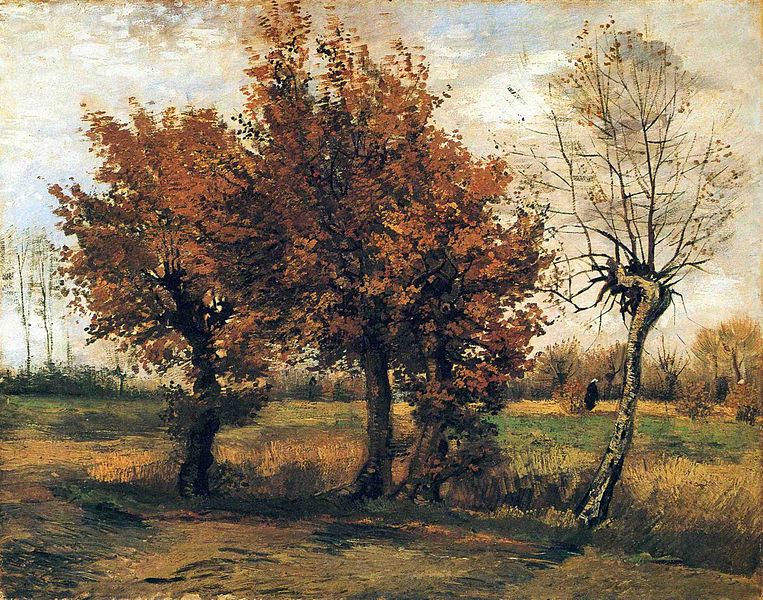 Van Gogh's paintings are among some of the most expensive paintings on the planet. He is best known for his sunflowers, cypress trees and still life paintings.
Van Gogh painted Autumn Landscape with Four Trees in 1885, in Auvers, Van Gogh would spend much time painting outdoors, just as he had done back home in Holland.
Van Gogh's Autumn Landscape with Four Trees is a beautiful and colorful painting that portrays the natural changing of seasons.
The trees in the painting are a symbol of the changing seasons, the orange and yellow, which can represent harvest time.
The painting is a study of colors. The colors have been added with the utmost delicacy, merging into one another to produce a binding harmony that is exquisite yet also austere.
2.

Autumn on the Seine at Argenteuil

– Claude Monet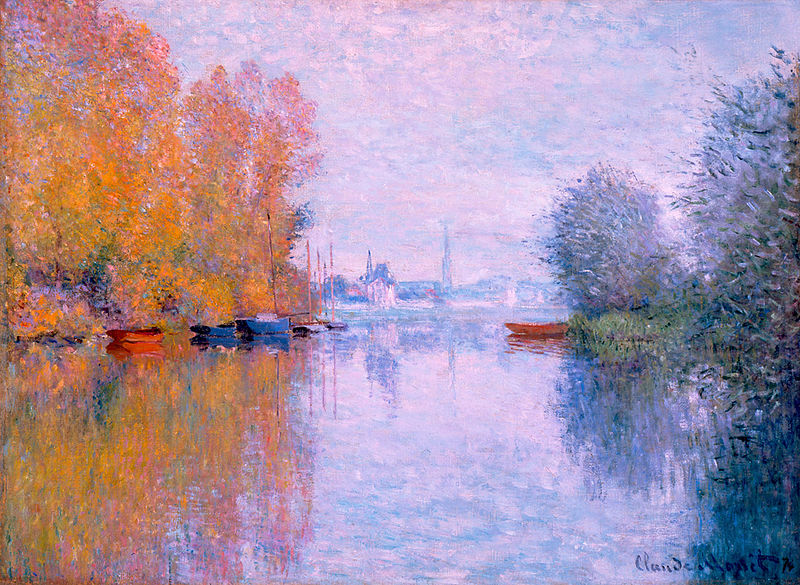 Monet's Autumn on the Seine at Argenteuil paintings have been viewed as some of his best work, capturing nature's alteration from seasons to seasons in a beautiful and unique way.
The Autumn on the Seine at Argenteuil painting is one of Monet's most famous paintings and is inspired by a series of paintings done by the artist in 1866-7.
This painting captures the moody atmosphere of an autumn day on the Seine River, also known as La Seine. The sky is dark and cloudy, but there are spots where light shines through to illuminate the water and buildings that line its banks. There are a few trees on either side of the river that have not yet lost their leaves, while others have already turned brown and orange.
Claude Monet's Autumn on the Seine at Argenteuil is a beautiful painting that captures the mood of a late September day in the region, with its changing light and gentle breezes.
The river, which is usually so busy, becomes calm and reflective. The reflection of the trees and buildings on the water's surface can be seen in full detail as well as their reflections in the windows of houses near by.
3.

The Forest in Autumn

– Gustave Courbet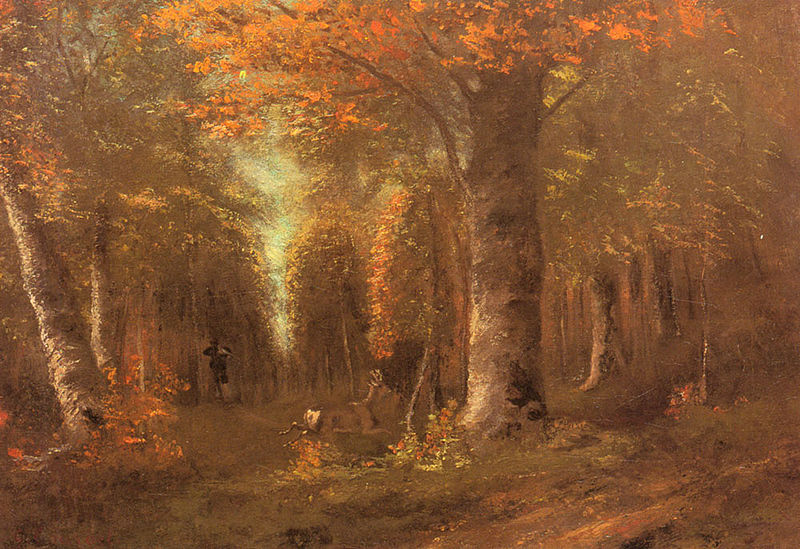 The Forest in Autumn is a painting created by the French painter Gustave Courbet in 1866. In this painting, he depicted an autumn scene with a stream and two oak trees.
The painting is a close-up of a forest, painted in three different hues of brown. The painting is from the artist's "The Paintings of Real Life" series.
This work is one of his most significant paintings because it was his first large-scale landscape that he painted without any people present, portraying only nature.
This work is an excellent example that demonstrates Courbet's mastery over realism and his ability to capture colors with accuracy. His use of light strokes to show depth in the foreground contributes to this skillful representation as well, as he used
The painting was created in 1866 and it is done in oil on canvas. It depicts the Montmorency Forest, which is a real place along the Oise River, near Paris, France.
A couple things that make this painting so well-known are its size (approximately 2 meters by 3 meters) and the fact that it was the first landscape to be painted with thick patches of paint.
However, when you look closer at the painting, you can see that there are some aspects of it that are not perfect. For example, there is a lack of depth because all of the trees have been painted at once and they all seem to be following a very strict
4.

Autumn

– Frederic Edwin Church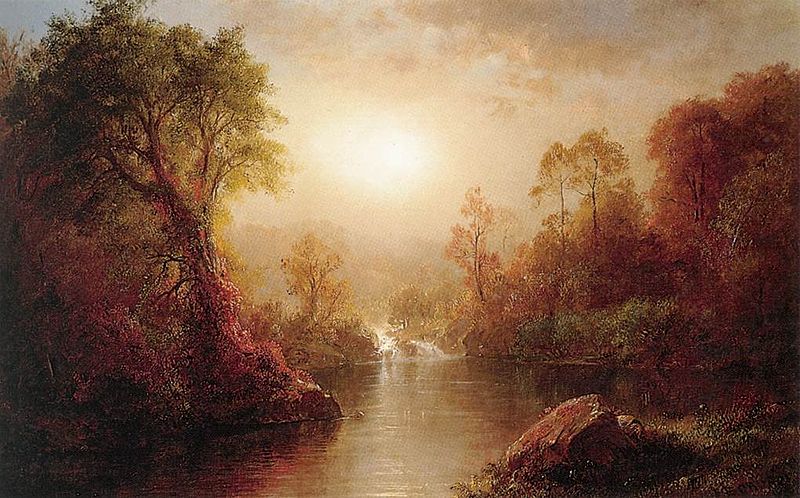 Frederic Edwin Church, a notable landscape painter of the 19th century, was born in 1826. He was one of the first American artists to specialize in painting the American landscape.
Church's paintings depicted America's natural beauty and contributed to the celebration of its vast open spaces.
Church studied in Paris under Thomas Couture before returning to Boston, where his first solo exhibition met with great success. He went on an extended tour of Europe, visiting Venice and Rome as well as France and England. The artist later returned to New York City but continued his travels throughout North America until he died in 1900 at age seventy-four.
5.

Autumn in Bavaria

– Wassily Kandinsky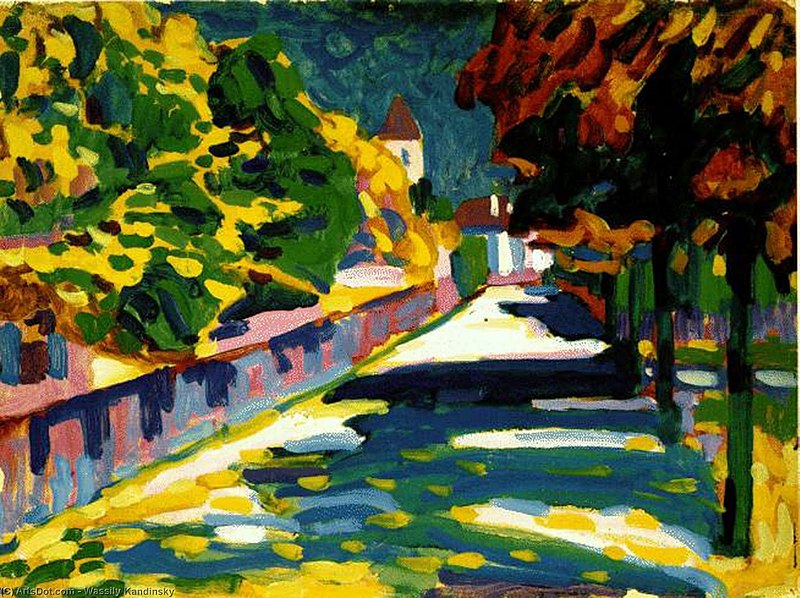 Kandinsky's painting, Autumn in Bavaria, was created when Kandinsky returned to Munich for the last time and became a part of the Neue Kunstvereinigung.
The work shows not just a cityscape but also Kandinsky's own musings about the changing times in Bavaria.
Kandinsky's work is a celebration of nature and a love letter to the Bavarian landscape. The painting depicts an idyllic landscape of a forest with green leaves, red-coloured leaves and blue-coloured leaves on a path through the woods.
This painting is one of Kandinsky's most recognizable paintings as it captures some of the most iconic features of Bavaria such as its natural beauty and its progressive spirit.
6.

Autumn Woods

– Albert Bierstadt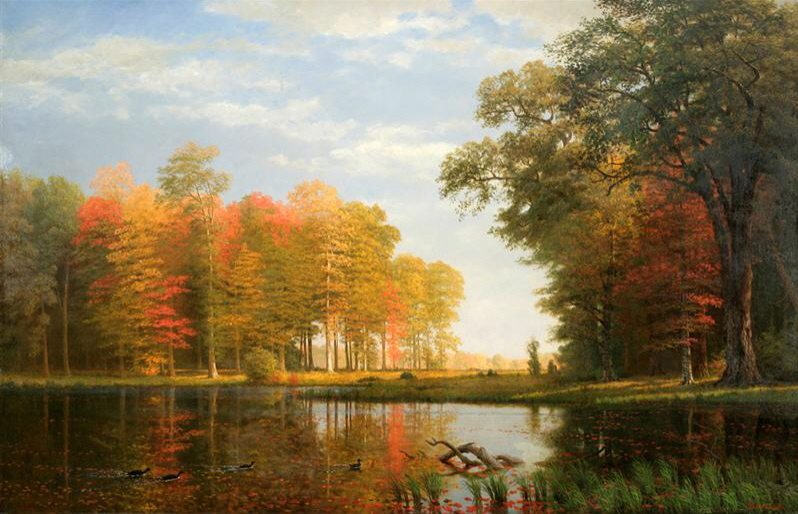 What better way to spend the autumn season than admiring the beauty of nature? The Autumn Woods by Albert Bierstadt, captures all the colors of fall – from red and orange to brown and golden yellow.
The painting has a lot of details that make it seem almost three dimensional. There are a lot of trees, leaves, and grass with their respective colors.
This is a painting of autumn woods with the sun setting in the sky, giving it a golden hue. In the foreground, you can see some fallen leaves and trees, indicating that winter is coming. The painting is done in oil paint with broad, sweeping strokes of the brush.
Also Read: Winter Paintings
A painting that has an endless amount of detail and captures the feeling of loneliness for anyone who looks at it.
Albert Bierstadt was a German-American painter and photographer who captured the beauty of Western America through his paintings.
One can see how this painting reflects Albert Bierstadt's love for nature through the way he painted the trees scattered in Autumn's woods. The autumn leaves are all different shades of orange, red, and yellow, depicting a beautiful autumn setting.
7.

Four Trees

– Egon Schiele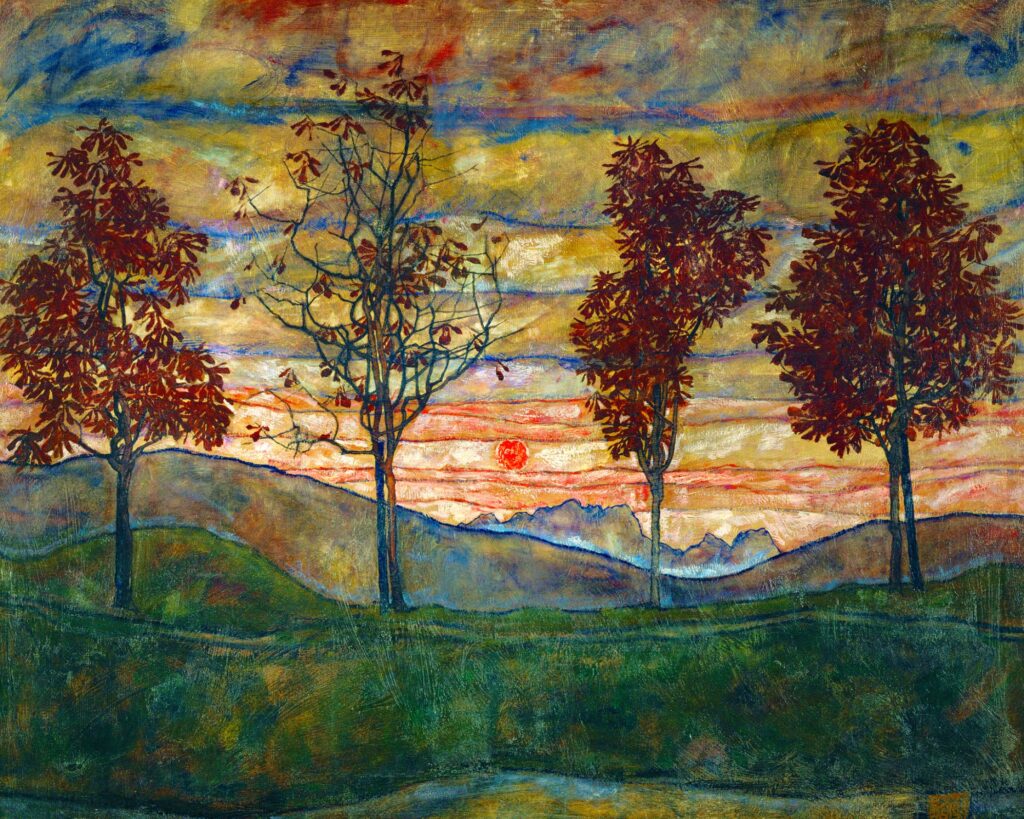 Schiele's Four Trees is a painting that is both beautiful and haunting. With its picturesque natural landscape and bright colors, it seems like a perfect landscape for many people to enjoy. However, there are darker undertones in this painting that show how problematic nature can be for humans.
It depicts four trees and the way they tower over the landscape while simultaneously crowding each other. It shows how nature can be both breathtaking as well as suffocating – something that Schiele was highly critical of in his later paintings.
It has been described as one of Schiele's most important works, and one that clearly anticipates his later style.
This painting is popular for its bright colors and unprecedented distortion of perspective created by the converging horizons.
The painting was created in 1909 and is currently housed at the Leopold Museum, Vienna, Austria. It depicts a wooded landscape with four trees located near each other and far away from the viewer.
The foreground is painted using heavy impasto to create texture while the background features an atmospheric blur that makes it seem like a distant image seen through a camera's viewfinder or through a windowpane.
8.

The Birch Wood

– Gustav Klimt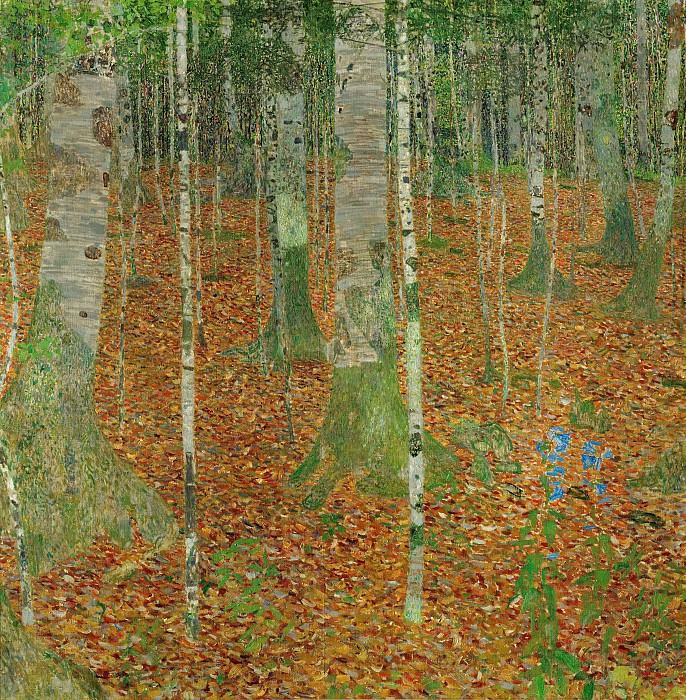 Gustav Klimt belongs to the Vienna Secession, a group of modern artists who left the Viennese Academy of Fine Arts, where they had trained.
The Birch Wood is a painting that can be interpreted through many perspectives: as an allegory for the death of nature, a symbol of spiritual growth or a depiction of rural life.
Gustav Klimt was a well-known and influential Austrian symbolist painter, whose most famous work is The Kiss.
The Birch Wood is made up of five oil paintings that were completed by Gustav Klimt between 1903 and 1907. He used sketches from 1899 to 1902, which he had not finished before abandoning them because they failed to comply with his new standards. It has been called "Klimt's most beautiful composition".
Klimt's life is fascinating but complex. He was an Austrian symbolist painter of the late 19th and early 20th centuries, whose works are on display in Vienna's Belvedere Palace and in museums across Europe.
Klimt used his art as propaganda for the "neue kunst" (new art) movement which opposed conservative tendencies in the Vienna Secession group of artists.
9.

Peasants in Autumn

– Katsushika Hokusai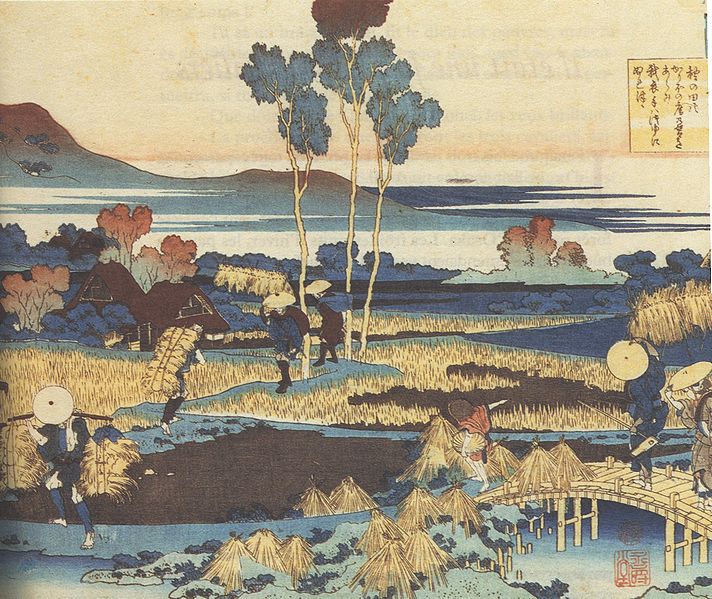 Katsushika Hokusai (1760-1849) was a renowned ukiyo-e painter and printmaker of the Edokko school. He produced a number of landscape paintings, including some masterpieces such as "Peasants in Autumn" (1830).
Peasants in Autumn has different ways to be interpreted and it's easy to see something new every time you take another look at it. The trees in this picture have been covered with leaves, but there are still some green ones on the far left side of the painting.
This work is a beautiful example of the application of the traditional Japanese folk art style to nature. The painting shows peasants harvesting rice in an autumn field, but it also has an atmospheric quality that makes it one of his most famous landscapes.
10. Autumn Afternoon, the Wissahickon – Thomas Moran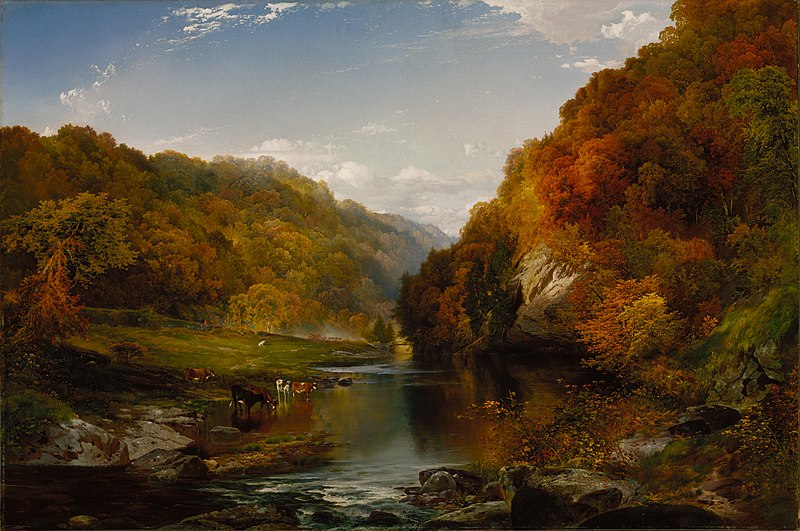 Moran was born in County Tipperary, Ireland on September 13th 1837 and died on March 4th 1926. He was an Irish-American artist who specialized in landscape paintings of the American West.
Moran's paintings are known for their luminous qualities and their sense of space that is not limited by realistic detail; he generally followed classical composition with strong diagonals.
In the painting, Thomas Moran depicts a pastoral scene as he stands on the bank of one of Philadelphia's most scenic waterways.
The scene illustrates a typical October afternoon in this area with its panoramic view of trees in full autumn color. With his keen eye for detail and mastery of technique, Moran conveys many subtleties that most casual observers might miss.
11. Poplars – Claude Monet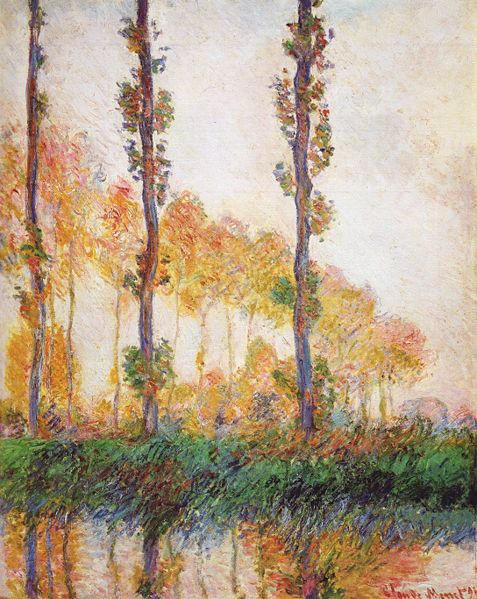 Claude Monet painted the Poplars series throughout the summer and autumn of 1891. The trees were located a little distance upstream from Monet's house and studio in a marsh on the banks of the Epte River.
He took a small boat up a neighboring canal to where it connected the main waterway, and from there he could paddle across to his floating painting studio.
The trees were lined up in a neat S-curve along the riverbank. There were three sets of paintings depicting the banks of the Epte River near Giverny, with the tallest Poplars extending off the top of the canvas in the first set, seven trees in the second set, and three or four Poplars in the third set.
In reality, the trees belonged to the Limetz commune, and they were auctioned off before Monet had finished painting them all. By the time he had done painting the trees, Monet had no choice but to acquire them. When he was done with the series, he sold the trees back to the merchant.
12. Autumn Leaves – John Everett Millais
John Everett Millais's work Autumn Leaves (1856) was shown at the Royal Academy that year. "the earliest instance of a wonderfully painted twilight," as critic John Ruskin put it, describes this work.
In a letter to their daughter, Effie, Millais said he wanted to paint something "full of beauty and without a topic."
In the photograph, four young women may be seen raking leaves together at dusk in what is now Rodney Gardens in Perth, Scotland.
Smoke is billowing out from between the leaves as they build a campfire, but the flames themselves are hidden from view.
The two girls on the left, who were likely models for Millais's sisters-in-law Alice and Sophie Gray, are dressed in period-appropriate middle-class attire, while the two on the right wear more rugged, working-class garb.
It has been argued that painting was a formative factor in the emergence of the aesthetic movement.
13. Starrucca Viaduct, Pennsylvania – Jasper Francis Cropsey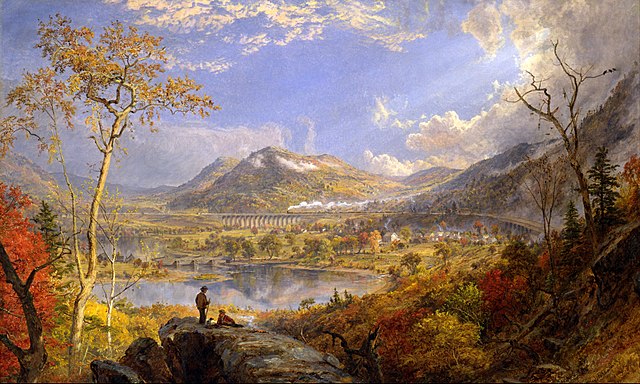 Jasper Francis Cropsey, an influential American landscape painter and a member of the so-called Hudson River School, chose to focus many of his paintings on the Starrucca Viaduct as the subject of his artwork.
The most significant piece of his work that has been saved so far that is related to this topic is a canvas that is presently housed at the Toledo Museum of Art in Toledo, Ohio.
The perspective that Cropsey had of this blazing fall landscape captured the woods, mountains, and valleys of the northeastern part of the United States in a celebration of the country's singularly unspoilt, natural splendor.
In paintings of this style, depictions of railroads often stand for the rapid industrialization of the United States and are seen variously as a symbol of both development and the devastation of the natural world.