It is only in the last two to three hundred years that landscape artists would find favor in the art world.
Prior to this the majority of paintings would have been either highly religious, historical or portraits of the rich and powerful.
Capturing everyday scenes in the countryside was considered low-brow by many art critics.
While there have been some successful landscape artists here and there it is not until the great J.M.W Turner raised the standards and landscapes really began to be appreciated.
Of any genre the impressionist movement is the one that catapulted landscapes to the forefront of modern art.
They would routinely paint out in the countryside or 'en plein air' to capture the best natural light, whereas previous to this the majority of artists would make preparatory sketches and then so most of the work back in their studio's.
Below is a list of the best landscape artists throughout history.
Famous Landscape Artists
1.

Vincent Van Gogh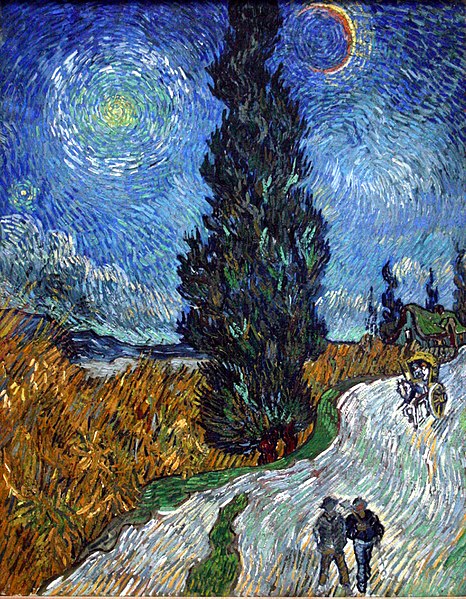 Vincent Van Gogh is one of the best-known landscape artists in the world. He was a Dutch painter from the post-impressionist school.
He created thousands of artworks, and 860 of them were oil paintings. Most of that 860 came from his last two years. He painted a number of portraits, including self-portraits, as well as still life's, but he was perhaps best known for his imaginative landscapes.
The bold colors and creative strokes have made his paintings some of the most valuable in the world. His work was highly expressive and has impressed people with its unique voice for more than 100 years.
He was among the first to lay the foundations for modern art. During his lifetime, he sold very few paintings and suffered from mental illness, and he ultimately committed suicide at the age of 37.
He left behind an immense body of work that has since found millions of fans.
2.

Claude Monet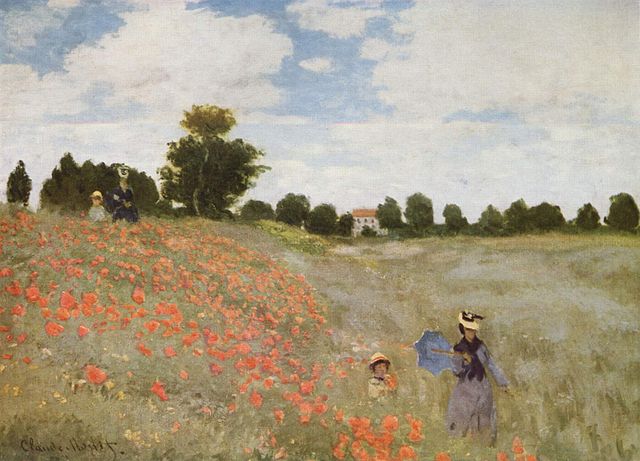 Claude Monet was born in France in 1840. As a French painter, he was a founder of the French Impressionist movement. He practiced its philosophy of putting the painter's own perceptions of a scene before the objective look of nature.
He applied this artistic philosophy to his landscape paintings to amazing effect. In fact, the word "impressionism" comes from one of his painting's titles- "Impression, Sunrise."
Monet mounted multiple exhibitions highlighting independent artist, or those who did not conform to the Salon de Paris, and he exhibited within them.
He rejected the practice of recreating old masters' works and wanted to take his own path. In later works, he would create several series of paintings that all centered on the same motif such as haystacks or a lily pond.
He died in 1926. His popularity has grown over time with his works getting a major boost in visibility and popularity in the late 20th century.
3.

Joseph Mallord William Turner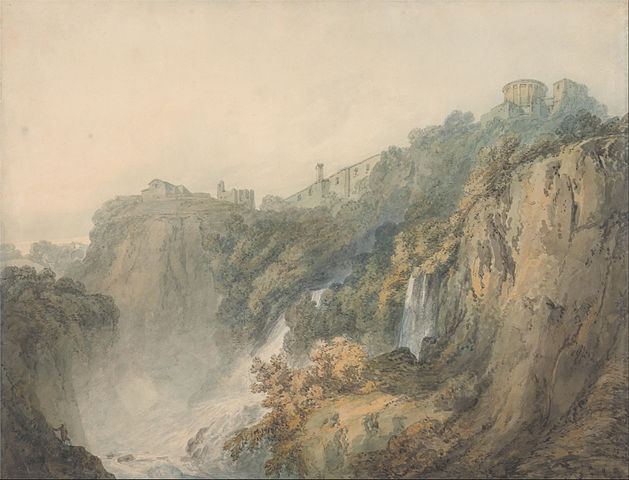 Sometimes known simply as William Turner, this painter was an English Romantic. He also made prints and worked in watercolors.
Creating a highly impressive body of work, he left behind 30,000 works on paper, 2,000 watercolors and over 550 oil paintings.
He is now considered to be the painter who elevated the practice of landscape painting. He was born in London in 1851 and started artistic works early, beginning with drawings and watercolors.
He was to become highly skilled in many different types of artwork. He began as most painters did in his day, copying the techniques of old masters and trying to make his landscapes as realistic as possible.
But as he and his works matured, they began to take on a more unique style. His landscapes became poetic and far more imaginative over time.
His works characteristically have expressionistic features of color, light and atmosphere.
4.

John Constable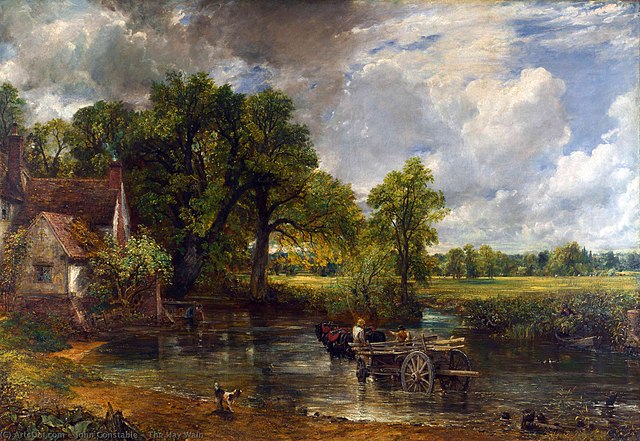 John Constable was born in Suffolk, England, and had a great love for the landscapes in the area. He went on a sketching trip around Norfolk in 1974. His first etchings came about in 1797.
He left his father's business and went into the Royal Academy Schools in 1799. In 1802 he first exhibited his work at the Royal Academy.
He began working doing commissions as well as works of his own after that. He painted landscapes often around his home, Dedham Vale, which is now referred to as Constable Country.
He painted these works with great affection and care, as he was highly attached to the area where he spent his boyhood. He is considered to have revolutionized the art of landscapes, though he was not financially successful during his life.
More of his works were sold in France than in England at the time. When he was 52, he was voted into the Royal Academy.
5.

Camille Pissarro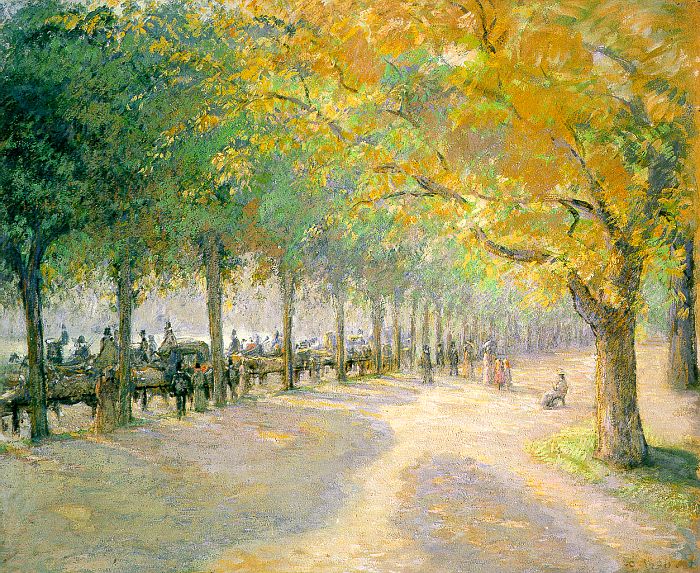 Camille Pissarro was a French painter of the Impressionist and Neo-Impressionist styles. He was born in St Thomas in 1830 and went to France at the age of 12 for boarding school, as his father was a citizen of France.
He is considered a highly important painter for the contributions he made to Impressionism and Post-Impressionism.
While in his 50s, he developed a Neo-Impressionist style. He was friends with Edgar Degas and Claude Monet, and experimented with styles to create the works he wanted to. He was one of the painters who shaped the Impressionist style.
While in boarding school, he developed a taste for the old masters of French art and became interested in doing his own painting and drawing. He moved back to St. Thomas after graduating and kept up his painting and drawing, building his skills over time.
He eventually had his own studio in Paris and worked with many artists who had set up an alternative exhibition to the Salon.
6.

Paul Cézanne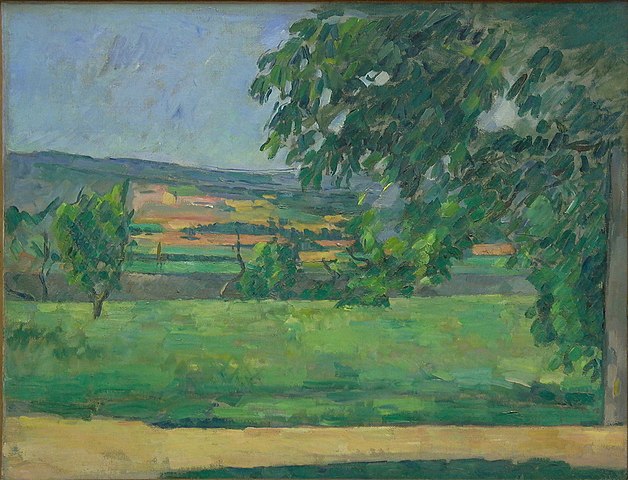 Paul Cézanne was born in France in 1839 and is considered among the best of the Post-Impressionist painters.
He developed new ideas and brilliant works that influenced a number of artists in the 20th century.
He was also one of the biggest influences of the Cubist style of painting. As the son of a prominent banker, he was expected to go into banking or a similar field. However, he had long been interested in the art field.
To please his father, he started law school, but he disliked studying the law and was finally allowed to go to Paris to study painting.
He suffered from mood swings and depression and became severely depressed when he found that many of his classmates where more technically proficient as he.
However, he developed his own style, but his works were often discredited and misunderstood for the majority of his life.
He insisted on personal expression in his paintings and became an enormously influential landscape painter.
7.

Caspar David Friedrick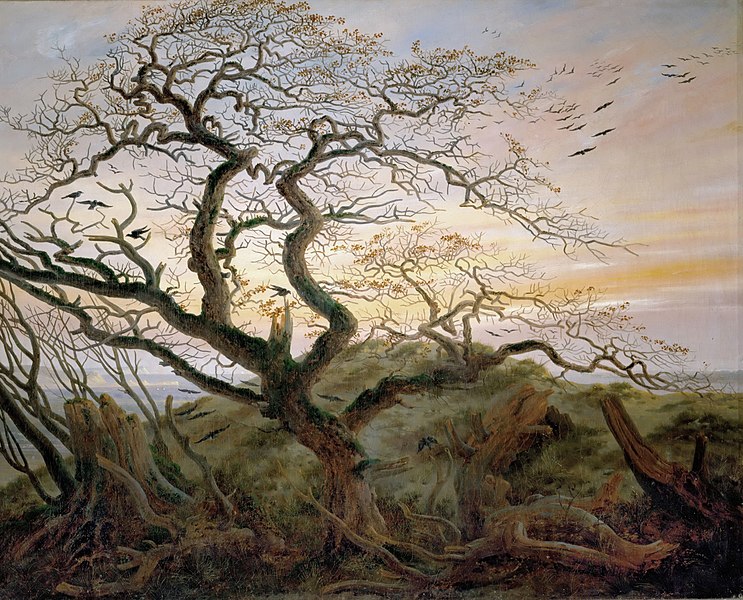 Caspar David Friedrick was a landscape painter of the German Romantic style. Born in 1774, he is considered to be his generation's most important German painter.
In his mid-period, he worked on paintings that blended allegories and landscapes to create a unique style. During this time, he often painted stunning landscapes with a figure in contemplation set in them.
He often included Gothic ruins, early-morning mist and night skies in these works. He enjoyed contemplating nature and used his symbolic works as anti-classical pieces that were created to convey within the work an emotionally deep response to nature.
He often painted a small figure or figures set against a vast landscape. His contemplation of nature brought him to see and depict the natural world as a creation of the divine and rejected materialism.
Though he died in obscurity, his works became popular in the late 1800s with another resurgence in the early 1900s.
8.

Jan van Goyen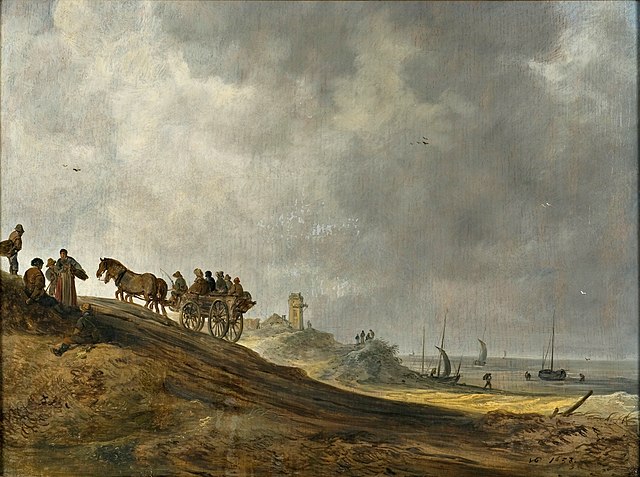 Jan van Goyen is one of the best-known of the Dutch landscape painters. He painted an enormous number of paintings, more than 1,200, and created more than 1,000 drawings.
He studied art, like many of his contemporaries, in a town called Haarlem. He created his own studio in The Hague when he was 35. While his works were never very popular during his lifetime, he influenced many painters after his death.
He tried to sell his paintings to make a living for himself and his family, but they never sold for much money. Because they sold for so little, he tried to make up for the low prices with extra volume.
He would paint quickly, use a limited number of inexpensive paints and paint thinly on the canvas.
He tried to dabble in real estate to increase his income, but this led to enormous debts that caused him to sell off most of his paintings and drawings.
When he died in 1656, he still had so much debt that the rest of his paintings were sold by his widow.
9.

Georgia O'Keeffe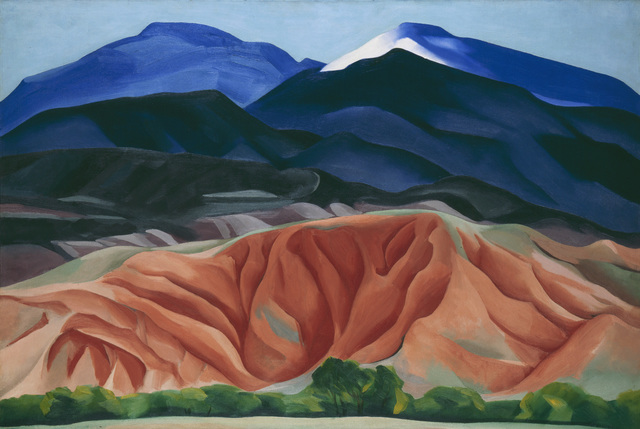 Georgia O'Keeffe was one of the most prolific watercolor artists who is best known for her paintings of flowers and her Southwestern-themed landscapes.
She is sometimes called the mother of American modernism. She studied art but felt that she was far too constrained by her lessons that were pushing her to realistically depict nature.
She worked as a commercial illustrator and taught art, all while perfecting her own painting style. She spent a few summers studying art and was introduced to new styles that used the painter's personal style and their own subject interpretation.
This greatly changed the way she engaged in her art and influenced her watercolors. In addition to her landscapes, she is well-known for up-close paintings of flowers that many people took for a representation of female genitalia.
In 1929 she started spending some of the year in the Southwest. This area influenced her many landscapes of rural New Mexico.
10.

Winslow Homer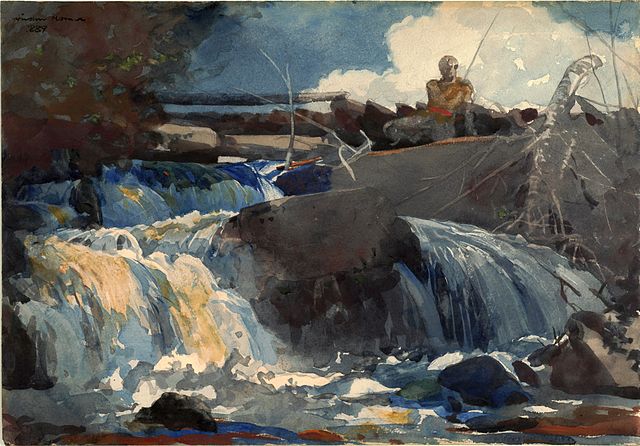 Winslow Homer was a preeminent American landscape artist who was well-known for the marine subjects he painted. Born in 1836, he was a self-taught artist who started out his working life as a commercial illustrator.
He then began oil painting and creating amazing works that conveyed a sense of density and weight. He was also a printmaker and worked in watercolors.
While he lived in NYC, he painted the more rural areas that he found himself in for work or for vacations. He painted the seaside in New Jersey and Massachusetts as well as the White Mountains and other small, rural places.
In 1866, he spent nearly a year in Paris for work and during that time he looked into the art of the region.
He shared a love for outdoor lighting with the French painters of the time as well as their simple brushstrokes.
He eventually made enough money with his watercolors that he was able to devote himself to painting full-time.
11. Thomas Cole
Thomas Cole (February 1, 1801 – February 11, 1848) was a landscape and historical painter from England. He is usually credited with founding the Hudson River School, a thriving American painting movement in the mid-nineteenth century. Cole is well-known for his romantic representations of the American landscape in his work.
Cole was born in 1801 in Bolton le Moors, Lancashire, and immigrated to the United States with his family in 1818, settling in Steubenville, Ohio. At the age of 22, he moved to Philadelphia, then to Catskill, New York, where he lived with his wife and children until his death in 1848.
Cole started off as an engraver. He was primarily self-taught as a painter, relying on literature and seeing the work of other artists. In 1822, he started his career as a portrait painter before shifting his focus to landscape painting.
Cole influenced his friends, notably Asher B. Durand and Frederic Edwin Church, who were members of the Hudson River School painting movement.
Church trained under Cole from 1844 to 1846, when he adopted Cole's method of sketching from nature and then creating an idealized, finished composition; Cole's influence is notably visible in Church's early works.
Cole is most known in America for his work as a landscape artist. In an 1836 work titled "American Scenery," he described his complex relationship with the American environment in esthetic, emotional, and spiritual terms.
He has created hundreds of drawings on a wide range of themes. Approximately 2,500 of these sketches are housed in the Detroit Institute of Arts.
---
We hope you have enjoyed out list of famous landscape artists !