Various man-made structures have often served as the focus for artists in some of the most notable art movements in history. Among these structures, bridges hold a certain sense of awe and wonder as they are forever attached to the life-giving rivers that stretch beneath them.
With so many different styles of architecture and material used in creating many of the world's bridges, it's easy to see why artists would be attracted to the prospect of portraying them on the canvas.
In this article, we'll examine 10 of the most famous bridge paintings in history and take a closer look at the painters who produced these works.
Famous Bridge Paintings
1. Bridge over a Pond of Water Lilies – Claude Monet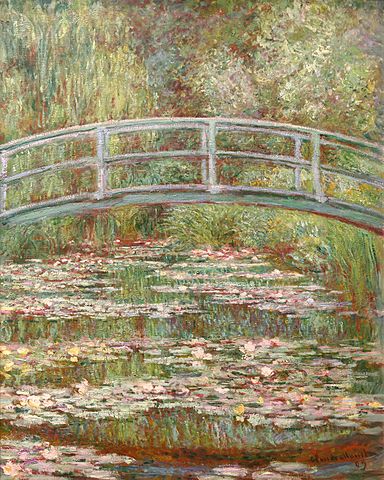 Claude Monet was well-known throughout the 19th century as one of the most prolific Impressionist painters from the popular movement that took place in Europe, the United States and the rest of the world.
Monet was best-known for painting scenes that involve nature, but many historians and critics point to some of his works that center around bridges as being just as impressive in many respects.
One of Monet's most famous paintings is titled Bridge over a Pond of Water Lilies and was completed in 1899, which was a time when Monet was devoted to creating works that revolve around nature, particularly flowers and water.
This painting, as the title indicates, depicts a serene bridge sitting atop a placid pond with blooming water lilies scattered across the water's surface.
This work has long been recognized as one of Monet's great masterpieces, not for his portrayal of the bridge, but because of the manner in which he painted the lush, green lilies and growth around the pond's edges.
2. The Argenteuil Bridge – Claude Monet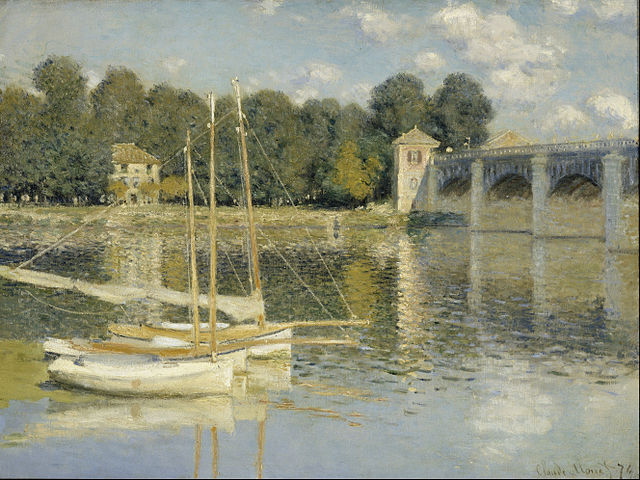 Monet had a reputation as an Impressionist painter that focused mostly on outdoor scenes. Historians and art scholars point to Monet as one of the main artists from this time period that popularized the 'en plein air' painting method in which the painter would paint a work on-site.
Another one of Monet's most famous bridge paintings was done 'en plein air' at the site of the The Argenteuil Bridge, which is located on the outskirts of Paris.
Titled The Argenteuil Bridge, this painting was done in 1874 when Monet had been living in Paris and was among the more well-known Impressionist artists of this era.
This painting was one in which Monet displays his mastery of perspective along with the vibrant, sun-soaked color of the bridge itself, as well as the manner in which the water reflects the boats and the bridge. This image is a quintessential Impressionist work as it seems to capture the fleeting perfection of this single moment.
3. Landscape with a Stone Bridge – Rembrandt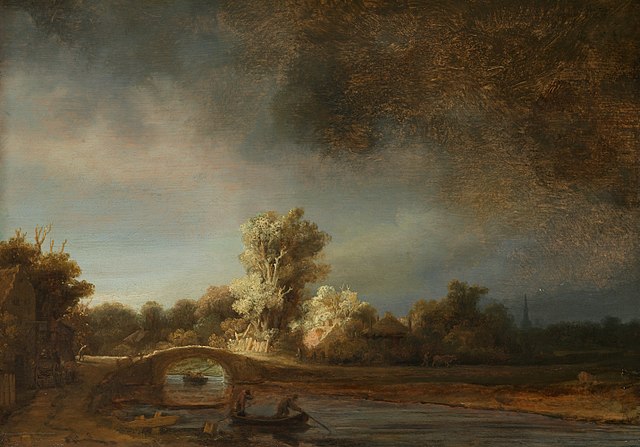 Rembrandt Harmenszoon van Rijn is fondly known as Rembrandt among art scholars, historians and critics as his works are a testament to the nearly unmatched level of skill he displayed in his paintings.
Rembrandt is widely recognized as one of the most famous Dutch painters in history and many of his paintings capture scenes from in and around the Netherlands and other parts of Europe during the 17th century.
One of Rembrandt's most memorable outdoor landscape paintings is simply titled Landscape with a Stone Bridge. This 1637 painting is rather dark and portrays an ominous storm cloud hovering over the skies that stretch above the old stone bridge.
The sun illuminates the small river where there are two small boats visible, each with occupants rowing to shore before the dark clouds burst open with their inevitable rain.
4. Rain, Steam and Speed – The Great Western Railway – J. M. W. Turner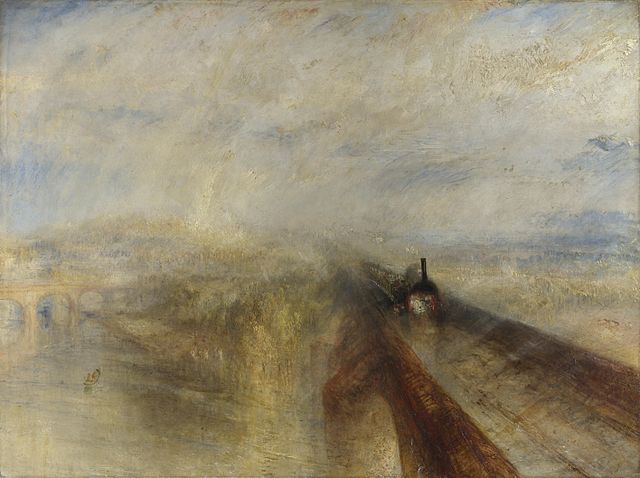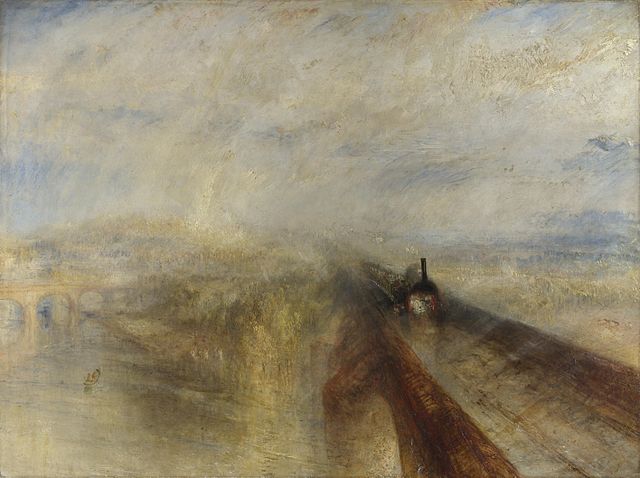 Joseph Mallord William Turner is a name that is synonymous with masterful landscape painting. The artist was hailed during his life as an exceptional painter and has since been honored as one of the greatest English artists to have ever lived.
Many of his works portray an outdoor scene that includes some sort of structure or building.
During the early 19th century, the painter seemed to be captivated with creating works that centered around steamboats and other types of vessels that were popular at the time due to the fact that such inventions were replacing the more beautiful, graceful sailing ships that had so long dominated the seas.
A painting by Turner known as Rain, Steam and Speed – The Great Western Railway is remembered as one of his more obscure works that showcases the artist's ability to portray a field of depth.
The 1844 painting is not among Turner's greatest masterpieces, according to most critics, but it is an incredible painting and display of his skill with a brush.
5. Water Lilies and Japanese Bridge – Claude Monet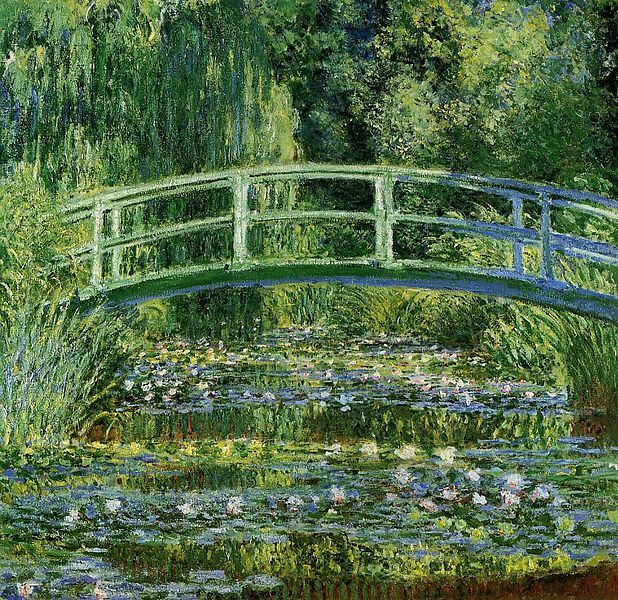 Another one of Monet's famous aquatic works featured a peaceful and picturesque scene near a bridge. During the artist's later years, he was very much fixated on painting scenes of a small pond that had a surface lined with water lilies.
These paintings were often grouped together into a series that is simply titled Water Lilies, but one of Monet's more recognizable paintings has a slightly different edition.
The work, titled Water Lilies and Japanese Bridge, features a bridge that was fashioned after the Japanese style of bridge-making that was common in water gardens in and around the island-nation's ancient waterways.
This painting displays a sense of calm and peace with the bridge stretching over the water, reflecting the deep green and blue coloration.
6. The Langlois Bridge at Arles – Vincent van Gogh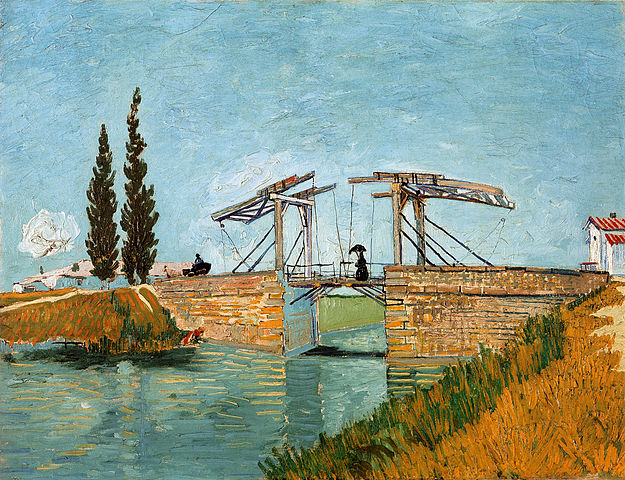 Vincent van Gogh is remembered as a masterful Post-Impressionist painter, but suffered terribly from mental illness throughout his short life. He always seemed to be drawn toward water in many of his works and was known to love painting 'en plein air' as so many other Impressionists did at this time.
One of the more notable bridge paintings done by van Gogh toward the end of his life was titled The Langlois Bridge at Arles.
Completed in 1888, this work focused on a uniquely-designed bridge and also displayed van Gogh's love for landscape painting.
The bright sunlight brings out the earthen colors of the banks and the bridge and contrasts deeply against the blue sky and water.
7. Charing Cross Bridge – André Derain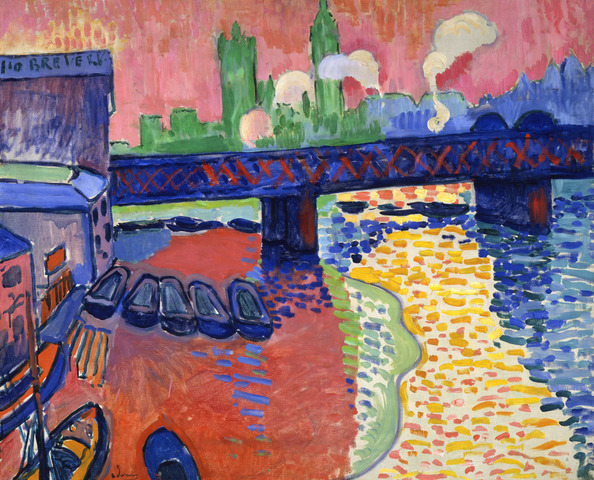 French painter André Derain was known to have produced works that were done according to a variety of styles that were popular during the late 18th and early 19th centuries.
He is best known as a Post-Impressionist artist and his style depicts vivid colors that are juxtaposed with more realistic tones used by earlier artists of the Impressionist movement.
One of his more famous works is titled Charing Cross Bridge and was done in 1906. The painting was a display of Derain's creative emphasis on color and how the Impressionist style would later morph into Expressionism and other movements.
8. Footbridge at Argenteuil – Alfred Sisley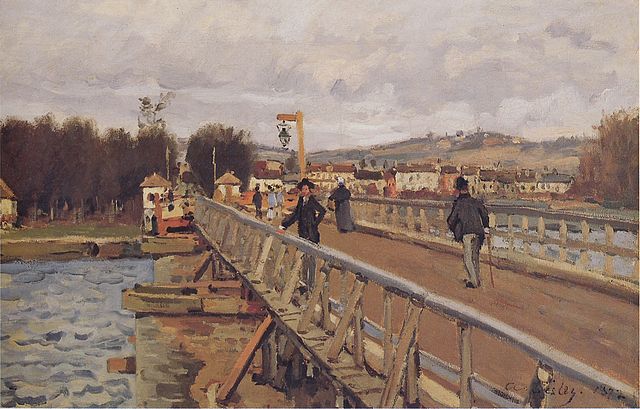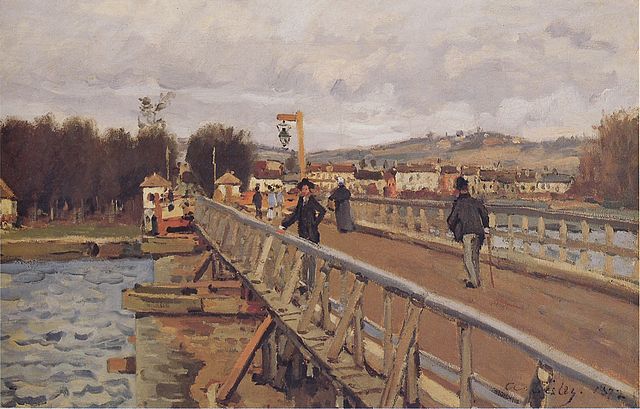 Alfred Sisley was famous for his portrayal of landscapes in the Impressionist style during the mid-19th century.
Although he was born and lived much of his life in France, he was still recognized as a British citizen due to his lineage.
He worked in a particular style that was realistic, yet captured the expansive beauty of France's countryside.
One of his greatest masterpieces is titled Footbridge at Argenteuil and was done in 1872. This painting is remembered as one that was more representative of a typical day in rural France as Sisley was known to paint almost exclusively 'en plein air' in order to capture his surroundings as accurately as possible.
9. Miracle of the Cross at the Bridge of S. Lorenzo – Gentile Bellini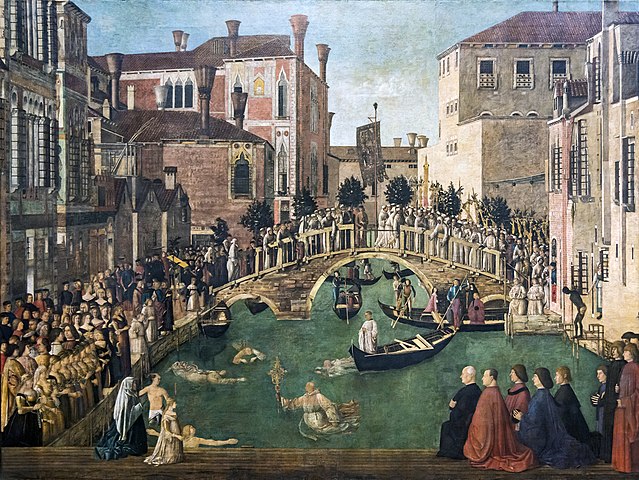 Many of the most famous artists from the Italian Renaissance era drew their inspiration from painters like Gentile Bellini.
Born in 1429, he would come before some of the artists that are more widely recognized for their contributions to the Italian Renaissance, but it was Bellini's works that shaped the movement as a whole during the mid-15th century.
One of Bellini's most famous paintings is one that's well-known for its historical and religious connotations.
The work is titled Miracle of the Cross at the Bridge of S. Lorenzo and was done in 1500. It is a collection of miracles that are believed to have been done with the True Cross that are displayed here, in one single work.
10. Under the Bridge at Hampton Court – Alfred Sisley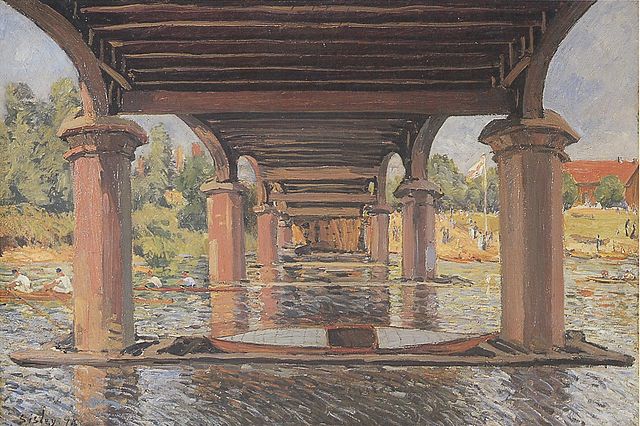 Few artists have been capable of delivering works that rival the perspective of that rendered by Alfred Sisley.
His eye for architecture and how it combined with natural beauty are on full display in one of his most memorable works that focuses on a famous bridge in England.
The painting is titled Under the Bridge at Hampton Court and was completed in 1874. The bridge was known for its majestic pillars and it was from beneath the bridge that Sisley would sit and paint this great work.
The setting sun appears to have created a crimson hue that was cast across the bridge and its pillars as boats pass by along the river.