San Diego is recognized for its perfect weather, 70 miles of immaculate beaches, and an incredible selection of top-notch family attractions and sites.
The second largest city in California (after Los Angeles) entices visitors from all over the world.
Since San Diego was the first location that Europeans visited and inhabited on what is now the West Coast of the United States, it is commonly referred to as the "Birthplace of California." In addition, it's widely known as "America's Finest City."
Below, we'll look at ten famous buildings in San Diego, along with some background information on their history and architecture.
Famous Buildings in San Diego
1. Old Town San Diego State Historic Park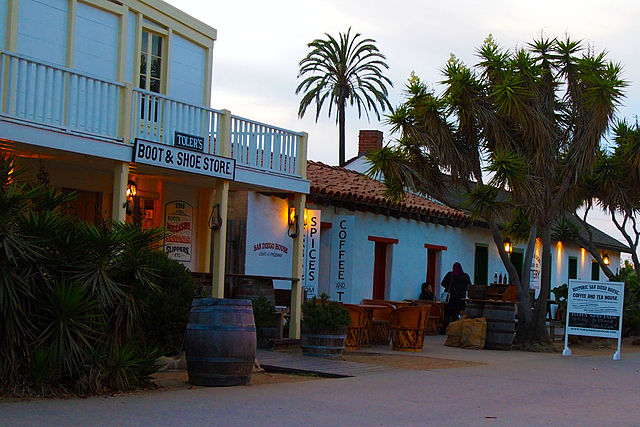 Old Town San Diego State Historic Park is a state-protected historical park. It's within the Old Town district, San Diego's oldest neighborhood.
The park opened in 1968, and the location was designated as California Historical Landmark #830 in 1969.
The Old Town San Diego Historic District was added to the National Register of Historic Places in 1971. According to California State Parks, Old Town San Diego was California's most popular state park in 2005 and 2006.
The park has stores, restaurants, and museums and consists of five original adobe structures. Among the other significant structures are:
A schoolhouse
A blacksmith shop
San Diego's first newspaper office
A cigar and pipe shop
A stable with a carriage collection
In addition, there are other shops where regional artists showcase their work. The state park and all of its museums are free to enter.
2. Balboa Park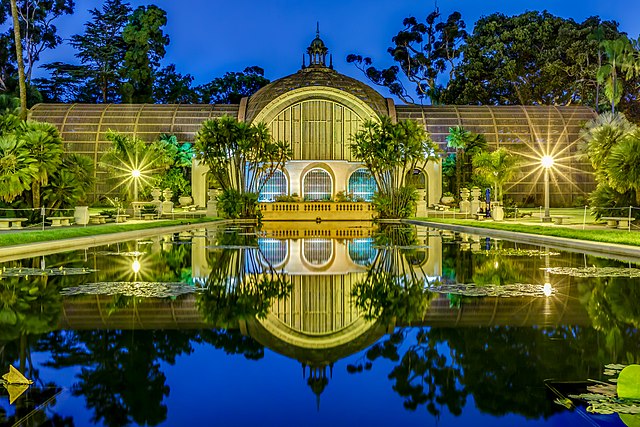 Originally called "City Park," it became Balboa Park in honor of the Spanish explorer, Vasco Núñez de Balboa.
In 1977, Balboa Park and its surrounding area were designated National Historic Landmarks. It is also listed as one of the Great Places in America and on the National Register of Historic Places.
This 1,200-acre historic urban cultural park includes the San Diego Zoo, one of San Diego's most well-known attractions, open space areas, natural vegetation zones, green belts, gardens, museums, several theaters, and walking paths.
3. Mission San Diego de Alcala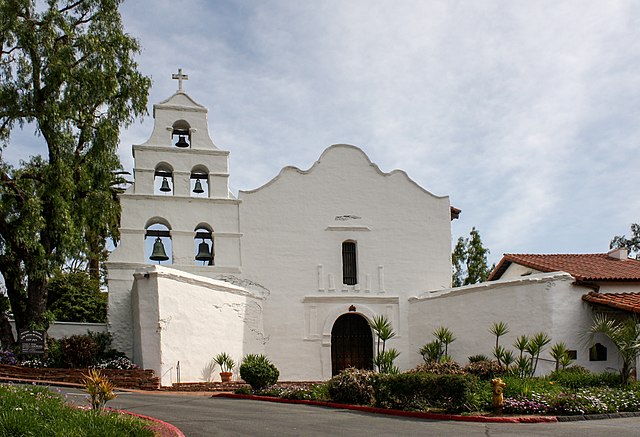 Father Junipero Serra founded the Mission San Diego de Alcalá on July 16, 1769. The first of California's twenty-one missions is named for Didacus of Alcalá, also known as the 15th century Saint Diego.
The Spanish religious and political goal to start an Alta California mission chain became a reality here.
A drought in 1774 prompted the mission fathers to relocate Mission San Diego from its original location to its current location, closer to the San Diego River, to access more advantageous agricultural grounds and nearby Indian settlements.
Also Read: Famous Buildings in California
Within weeks of its erection, violence broke out due to the native Tipai-Ipai Indians' resistance to colonization.
Hundreds of local Tipai Indians stormed the mission in 1775 because they were fed up with the laws and regulations, severely damaging the structure and killing Father Jayme, who became the first Christian martyr in California.
Out of concern for another raid, the padres reconstructed the mission following the specs of an army fort.
One of its most prominent features is this mission's 46-foot-tall campanario, or bell wall, which carries five bells. These bronze bells range in size, with Mater Dolorosa, the largest, weighing an incredible 1,200 pounds.
Father Junipero Serra, the mission idealist, once slept at La Casa of Padre Serra, constructed in 1774. This room is thought to be the sole original one to have survived native invasions and natural disasters.
4. George W. Marston House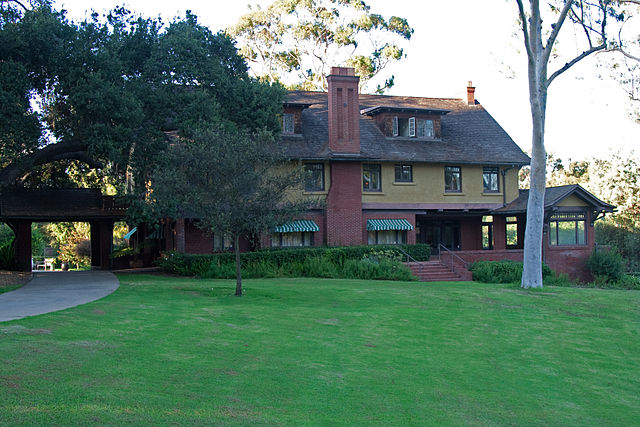 The prestigious 1905 Marston House, listed on the National Register of Historic Places, was constructed for businessman and civic leader George W. Marston, often known as the "Father of Balboa Park."
Situated on five acres of landscaped gardens with English and California design elements, it was created by renowned local architects William Hebbard and Irving Gill. It is also one of the most well-liked wedding locations.
Also Read: Buildings in San Diego
The museum's gift store is housed in the 1905 carriage house. It provides customers with a unique selection of appealing books and gifts focusing on history, architecture, and Arts & Crafts artifacts.
Upon entry, one's eye is led to the outdoors through casement windows aligned at the far end of the Marston House.
The dramatic entrance made by this dance serves to scale back the size of this massive home visually. Like the casement windows, almost exclusively utilized in the Marston House, it also creates a strong connection between indoors and out.
5. Whaley House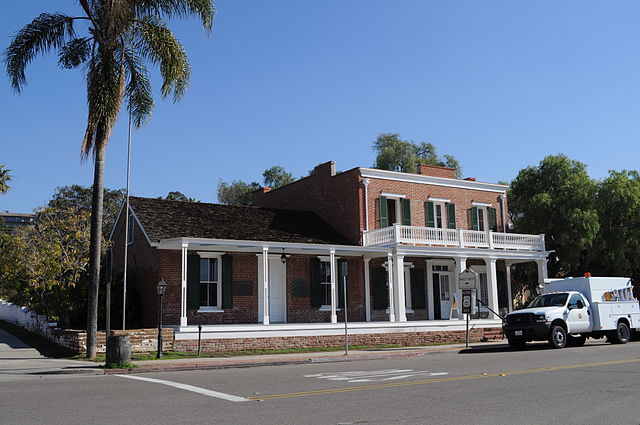 Thomas Whaley built this two-story Greek Revival home, widely hailed as the first of its kind and the greatest house in Southern California, with bricks from his own brickyard on Conde Street.
The house cost more than $10,000 to finish and was the first of its sort. Decorated with mahogany and rosewood furniture, Brussels rugs, and damask draperies, the Whaley House was a cornerstone of the 19th-century Old Town neighborhood.
Serving as the Whaley family's residence, the county courthouse, a general store, and San Diego's first commercial theater, many consider the fabled Whaley House one of San Diego's most recognizable sites.
This property draws tourists from all over the world because of its authentic decor and magnificent Greek Revival architecture style, as well as its enigmatic past and unmatched haunted history.
Frequently referred to as the most haunted house in America by those interested in the supernatural, its haunted lineage is unmatched due to its illustrious and sinister past, spine-tingling cases of spiritual encounters, and explainable incidents.
Many thought the Whaley House was condemned to be a haunted location before construction started, although the Whaley family's devastating history plays a significant role in its haunting. The home gained notoriety in the neighborhood as the location of Yankee Jim Robinson's public execution, a notorious local robber.
Despite the location's dark past, Thomas Whaley persisted in constructing his ideal home, declaring, "My new house, when completed, will be the handsomest, most comfortable and convenient place in town or within 150 miles of here."
6. Geisel Library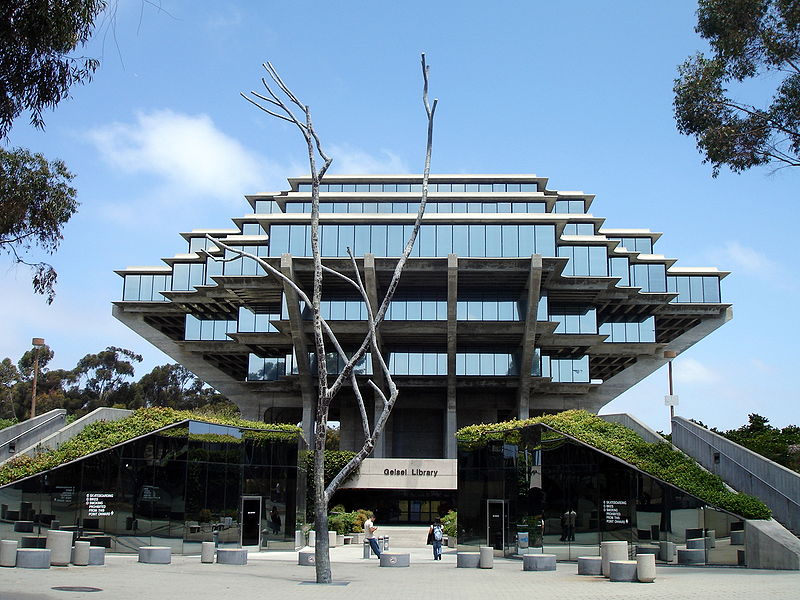 The University of California, San Diego's primary library structure is the Geisel Library.
Named in honor of Theodor Seuss Geisel, better known as Dr. Seuss, and Audrey Geisel, its unusual architecture makes it the most identifiable structure on campus. It's even represented in the UC San Diego logo.
Over 7 million books are housed in the William Pereira-designed library. Additionally, it houses the Mandeville Special Collections and Archives, home to the Dr. Seuss Collection, consisting of everything from original artwork to books to audio and videotapes, photographs, and memorabilia.
7. San Diego California Temple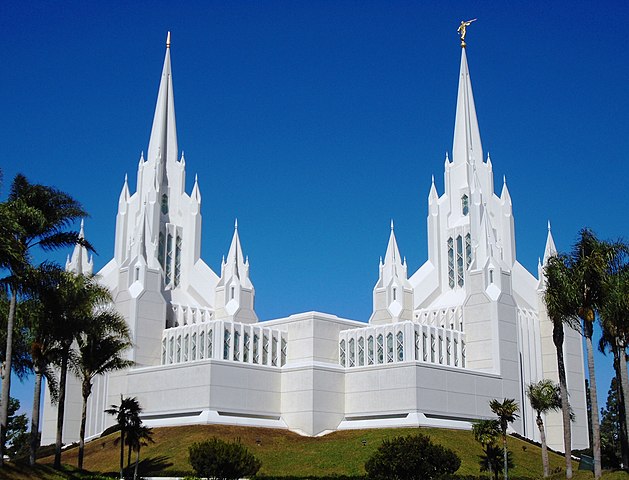 The San Diego California Temple is the 47th constructed temple of The Church of Jesus Christ of Latter-day Saints.
This temple has two central spires close to the La Jolla neighborhood of San Diego but stands out by having four smaller spires at their bases. The recognizable Angel Moroni statue on top of most LDS temples is placed atop the East spire.
The Mormon temple contains four ordinance rooms, eight sealing rooms, and a total floor size of 72,000 square feet. It was constructed on a 7.2-acre plot and is the 24th largest of its kind.
8. Santa Fe Depot San Diego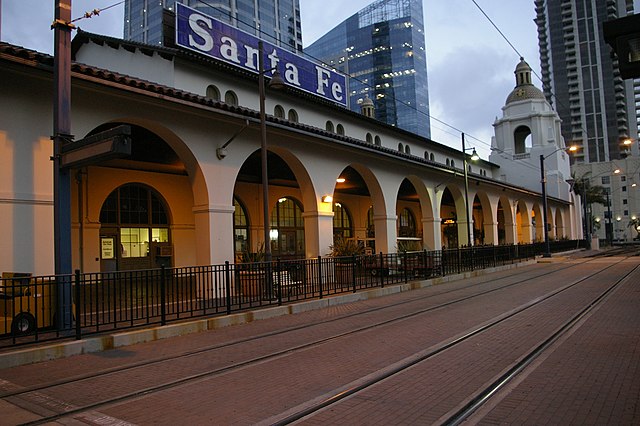 The beautiful Union Station, better known as the Santa Fe Depot, was built in 1915. San Francisco architects Bakewell & Brown created the station to honor California's colonial Spanish and Mission history.
Oliver J. Stough, the last living veteran of the Mexican War, had the privilege of buying the first ticket during the station's official opening on March 8, 1915.
Also serving as a reminder of San Diego's fight to become the Continental Railway's western terminus, the depot opened in time for the 1915 Panama-California International Exposition and was constructed during a prosperous time for the City of San Diego.
Twin towers with colorful tile domes flank the main entrance's large arch. The ceilings are made of natural oak beams, and the walls are tiled in vibrant colors, highlighting the expansive interior space.
9. Old Point Loma Lighthouse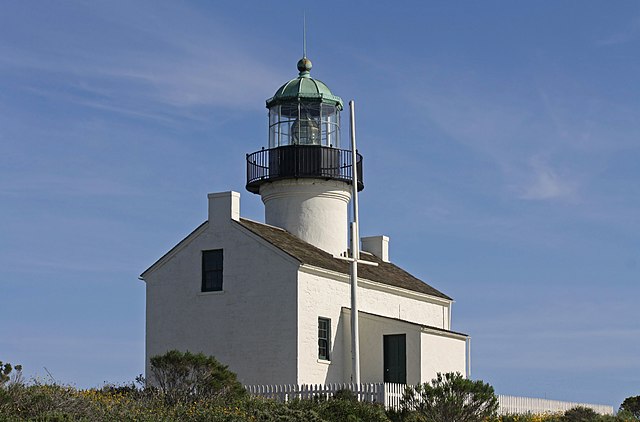 At the mouth of San Diego Bay, on the Point Loma peninsula, the original Old Point Loma Lighthouse is a historic lighthouse.
The Cabrillo National Monument contains it. Although it is no longer in use as a lighthouse, it is nevertheless accessible to the public as a museum.
Although it is occasionally referred to as the "Old Spanish Lighthouse," the U.S. government built it in 1855 after California became a state – not during the Spanish or Mexican periods in San Diego.
10. USS Midway Museum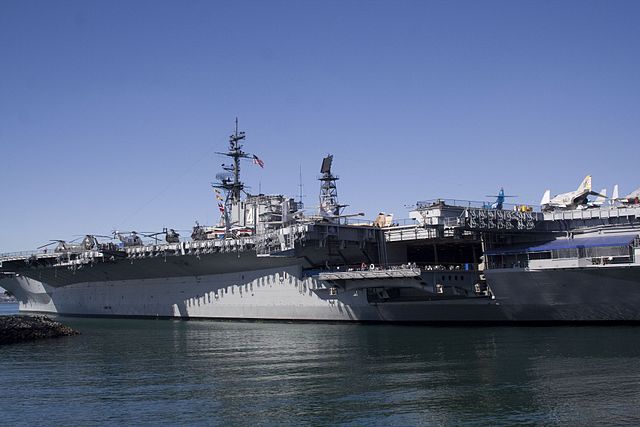 The USS Midway Museum is a historic naval aircraft carrier museum that can be seen at Navy Pier.
The aircraft carrier Midway is on display. Many of the planes in the ship's extensive collection were made in Southern California.
The USS Midway served as the country's aircraft carrier for the longest period between 1945 and 1992.
The carrier, notable for significant advancements in naval aviation and several humanitarian missions, was home to almost 200,000 sailors.