Michelangelo Merisi or Amerighi, often known as 'Caravaggio,' was a well-known European artist who is perhaps the most renowned Baroque painter who ever lived.
His paintings are characterized by a strong contrast between light and shadow, which became a hallmark of Baroque painting.
He was born in Milan in 1571, but his family relocated to a place in Italy known as Caravaggio only a few years later to escape the plague's ravages.
As a young adult, he returned to Milan and studied under Simone Peterzano, a well-known painter of the age.
Michelangelo Merisi da Caravaggio went to Rome after successfully trained as a painter in Milan. This is where he started and spent the most of his creative career.
Caravaggio is credited with inventing Tenebrism, a renowned style in baroque painting. This approach is distinguished by its use of mostly black tones and shadows combined with spectacular light contrast effects.
Apart from Tenebrism, he was well-known for portraying pivotal events and situations, which often included violent conflicts, harsh punishment, and death.
His paintings combined a realistic portrayal of physical and emotional states with dramatic lighting, influencing the baroque schools of painting.
Caravaggio is often referred to as the "Father of Painting." His influence may be seen both directly and indirectly in the work of Rubens, Jusepe de Ribera, Bernini, and Rembrandt.
Below are some of Caravaggio's most famous paintings that have firmly cemented him as one of the great masters.
Famous Caravaggio Paintings
1.

The Calling of Saint Matthew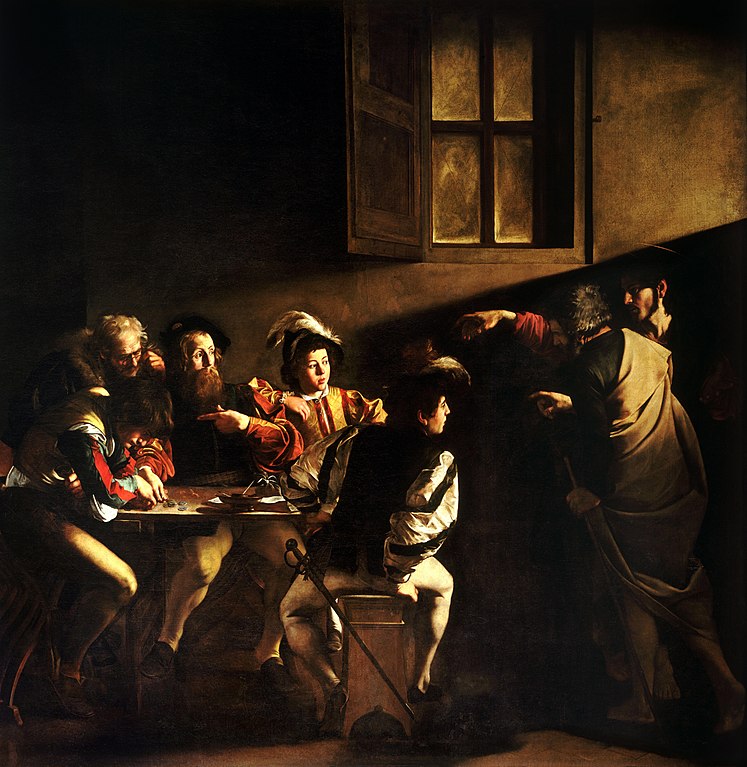 Few painters are as well recognized for their ability to depict high degrees of light and dark as Caravaggio. His masterpiece, The Calling of St. Matthew, was finished in 1600 and contains a compelling Biblical scenario in which Jesus asks Matthew to follow him.
The painting has received widespread appreciation for its extraordinary realism as well as the emotions plainly shown in the characters in the picture.
Jesus is shown gesturing to Matthew, who is seated at the table of Roman tax collecting, a vocation that was frowned upon by Jews at the period.
Matthew is represented with a horrified look in response to Jesus' request, since tax collectors were often seen as traitors to the Jewish religion.
2.

Judith Beheading Holofernes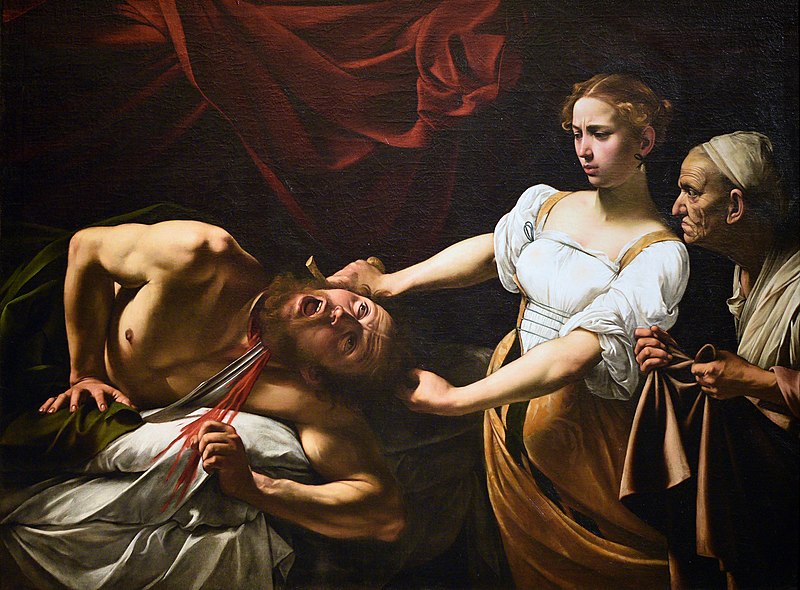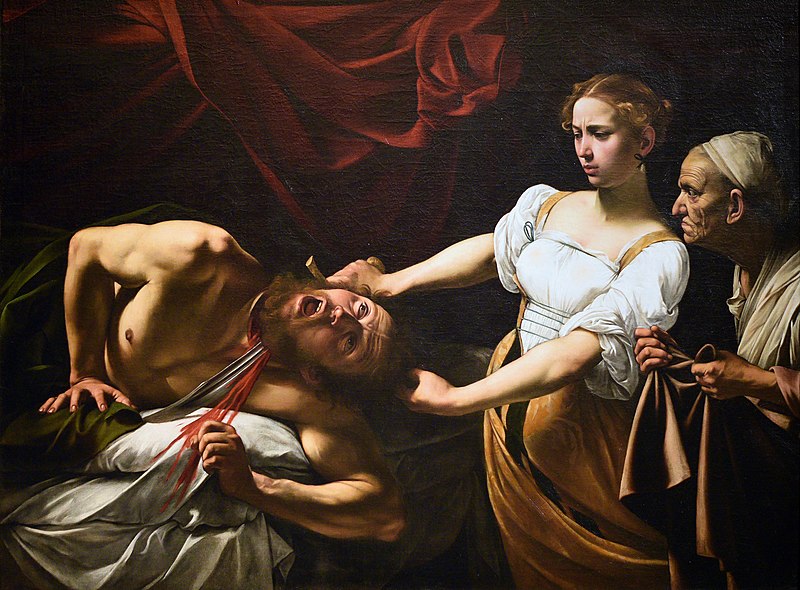 Caravaggio was famed for his ability to create paintings that accentuated the contrast between light and darkness, which plainly represent good and evil in many of his most famous works.
In 1599, he completed one of his most notable pieces, Judith Beheading Holofernes, which the artist named Judith Beheading Holofernes.
The picture is based on the Old Testament tale of Judith slaying the Assyrian monarch after luring him into a false feeling of security.
The picture was praised for its extreme degree of realism in every minute detail, from the look on Judith's face to Holofernes' writhing in misery.
The artwork depicts a shocked Holofernes who is taken aback by his fate at the hands of a lovely and delicate lady such as Judith. Abra, her elderly maid, appears behind her, clutching a blanket that she most likely meant to use to conceal Holofernes' face.
The elements of light and darkness are brilliantly utilized in this piece to represent the victory of good over evil in Judith's modest act of final revenge.
3.

The Taking of Christ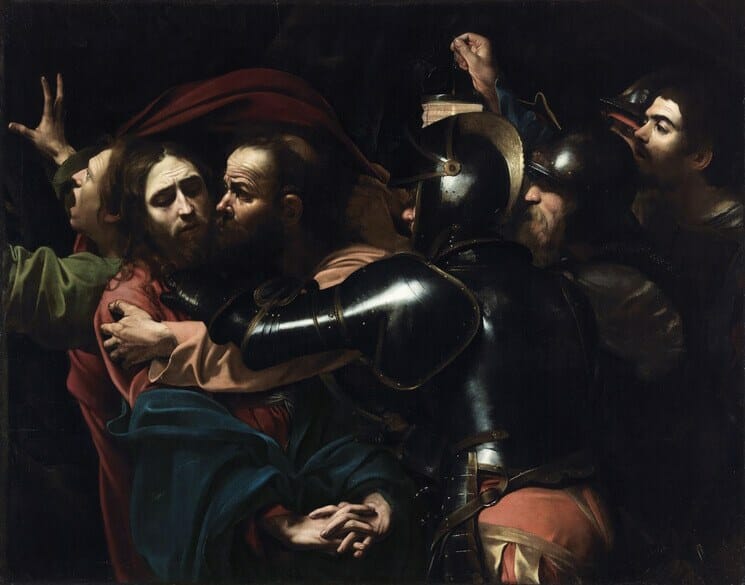 Caravaggio created this remarkable painting in 1602 for the Roman Marquis Ciriaco Mattei. Caravaggio used a novel visual approach to the biblical tale by positioning the characters close to the picture plane and using a sharp contrast of light and dark, imbuing the scene with an incredible sense of drama.
As the temple guards approach to capture Christ, Judas has identified Him with a kiss. St John the Evangelist is the fleeing disciple in disorder on the left. The scene is illuminated only by the moon.
While the man on the far right is carrying a lantern, it is ineffectual as a light source. Caravaggio represented himself, aged 31, as a spectator of events in that man's face, a tactic he regularly used in his works.
The picture, completed in 1602, depicts one of the most terrible moments in Christ's life, when he was apprehended by members of the Jewish hierarchy who would ultimately execute him. Jesus' portrayal illustrates his compassionate and nonviolent demeanor in the face of individuals enraged by his teachings.
Caravaggio's portrayal of Jesus is astoundingly realistic, and the creeping darkness that surrounds him as he is arrested signifies the inevitability of his own fate.
4.

Basket of Fruit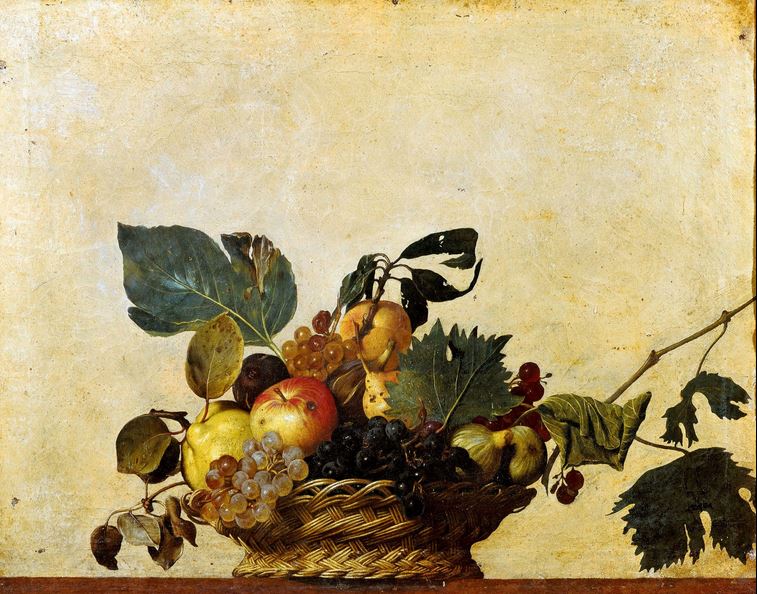 Recognized for his expertise in painting situations that display strong contrasts between light and dark, the Italian Baroque painter Michelangelo Merisi da Caravaggio is best known for his work in the genre of chiaroscuro.
His painting Still Life with a Basket of Fruit is considered to be one of the best fruit paintings ever created, and it demonstrates the artist's ability to capture differences in light and shadow while working with a variety of hues.
This piece, which was painted in 1599, was one of the artist's rare still life paintings, since he mostly concentrated his efforts on sacred subjects from Christianity. The picture, which is on exhibit in a library in Milan, Italy, has piqued the interest of art aficionados and critics alike because of its unusual depiction of fruit.
Also Read: Famous Food Paintings
Caravaggio painted a basic basket of fruit resting on a table that looks to be relatively simple at first sight, but a closer inspection shows that the fruits painted on the painting have deteriorated to strange degrees.
One or two of the leaves have been chewed through by a little worm and most of the fruit, including the grapes, seems to have passed their ripening point and is beginning to rot.
On closer scrutiny, the fruit displays some unpleasant traits, which suggests that the artist was using the fruit as a metaphor of sorts. The fruit seems to be gorgeous, but upon closer investigation, it reveals some bad characteristics.
5.

The Beheading of Saint John the Baptist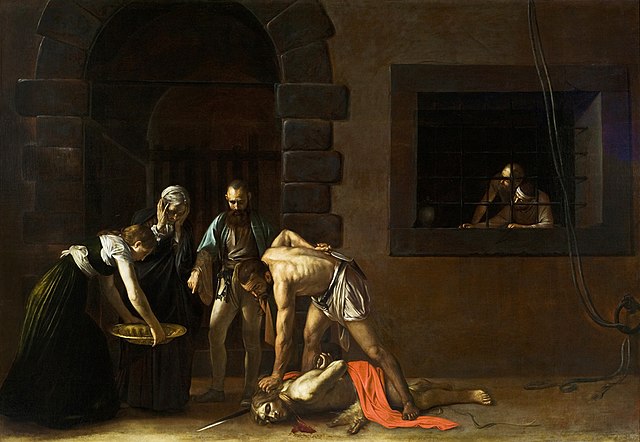 The Beheading of Saint John the Baptist is a 3.7 m by 5.2 m oil painting depicting John the Baptist's beheading. It is presently housed at Valletta, Malta's Oratory of St. John's Co-Cathedral.
With the use of chiaroscuro, the big canvas emphasizes the vibrant red and warm golden hues associated with the Baroque era. The artwork portrays John the Baptist being executed, as a servant girl waits nearby holding a golden plate to receive his head.
Another lady, who has been identified as Herodias or merely a spectator who notices something is wrong with the execution, sits by in stunned silence as a jailer provides orders and the executioner pulls his knife to complete the beheading.
6.

Bacchus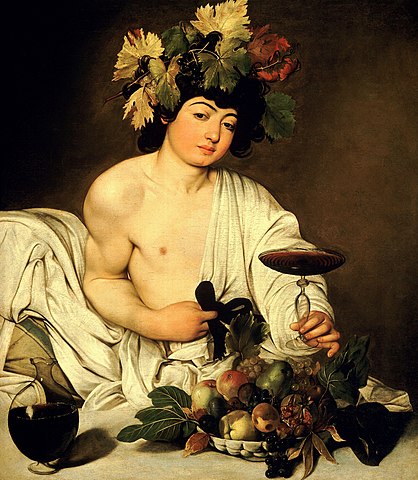 Bacchus (about 1596) is a Cardinal Del Monte-commissioned oil painting. Bacchus as a youngster is seen in the artwork, lounging classically with grapes and vine leaves in his hair and fiddling with the drawstring of his loosely draped robe.
A dish of fruit and a huge carafe of red wine are set before him on a stone table. He invites the audience to join him, holding out a short cup of the same wine. In the moment, the artwork is on display at Florence's Uffizi Gallery.
Bacchus was painted soon after Caravaggio entered the household of Cardinal Del Monte, and represents the Cardinal's educated circle's humanist concerns. In 1596, Caravaggio came into the Palazzo Madama and stayed for five years as a cardinal's guest. Del Monte was an art enthusiast and commissioned many Caravaggio works, including Medusa.
The cardinal was a devotee of traditional Greek mythology and often employed allegorical symbols to demonstrate his appreciation for art, music, and drama. Bacchus and Medusa were both gifted to the Medici family by the cardinal and have since stayed in Florence.
Del Monte's early encouragement and direction helped Caravaggio achieve riches and notoriety, making him one of his most significant benefactors.
7. David with the Head of Goliath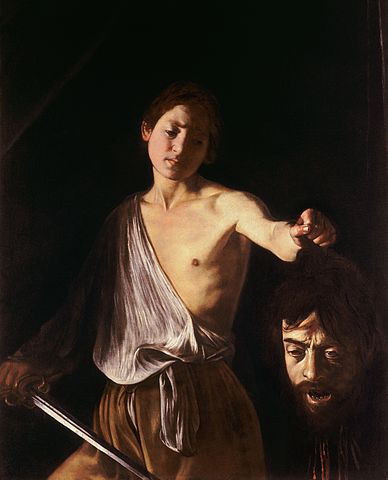 According to art historians, David with the Head of Goliath is a self-portrait by Caravaggio. According to some, both figures are emblematic of Caravaggio, with the youthful David portraying a young Caravaggio and the severed and bloodied head of Goliath depicting Caravaggio as an adult.
The picture is presently on exhibit in Rome's Galleria Borghese, where it has been since it was delivered there by a contrite Caravaggio pleading with the Pope to remove the price on his head. The Pope granted his request, but Caravaggio died of a fever shortly after learning about it.
A painting by a disciple of Giorgione (1510) depicting a figure reclining on a ledge served as an influence for the artist. Caravaggio, on the other hand, more successfully conveyed the drama by representing the head hanging from David's gloved hand, rather than leaving it on a ledge.
David's weapon is not the famed sling from the Biblical account, but rather Goliath's own sword, which David used against him. The inscription on the blade reads H-AS OS, which is an acronym for the Latin phrase "humilitas occidit superbiam" ("humility slays pride").
8.

Narcissus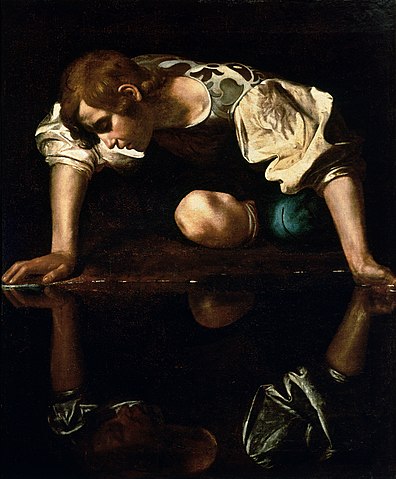 Narcissus was painted between 1597 and 1599 and was not credited to Caravaggio until 1916 by Roberto Longhi.
This is one of only two Caravaggio paintings known to depict a topic from Classical mythology, albeit this is more owing to chance than the artist's output.
According to Ovid's Metamorphoses, Narcissus is a gorgeous young man who falls in love with his own reflection. He succumbs to his desire, unable to pull himself away, and even as he crosses the Styx, he continues to look at his mirror.
Caravaggio depicted a juvenile page wearing a magnificent brocade doublet, leaning over the river with both hands, gazing at his own distorted image.
The picture exudes a deep melancholy: Narcissus is imprisoned in a circle with his reflection, surrounded by darkness, implying that the only reality exists inside this self-referential loop.
9.

Medusa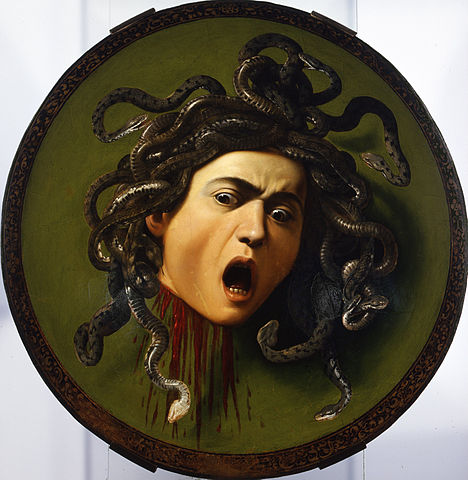 Caravaggio made two renditions of Medusa – one in 1596 and another in 1597 – representing the precise moment she was slain by Perseus. He plays with the notion by substituting his own face for Medusa's, indicating his immunity to her horrible stare.
According to legend, the painting's odd and elaborate design complements Caravaggio's singular concern with brutality and reality. It was commissioned by Italian ambassador Francesco Maria del Monte in order to present it to the Grand Duke of Tuscany and is currently housed in Florence's Uffizi Museum without being signed.
Caravaggio based his topic on the Medusa tale. The picture represents the severed head of Medusa, a monster depicted as a female with bronze hands and golden wings who wore a head full of deadly snakes in lieu of her own hair. Anyone who simply stared at her would be rendered immobile.
Medusa, along with her two sisters Stheno and Euryale, was referred to in ancient Greek mythology as a Gorgon, a strong legendary monster. She was cursed by Athena, who transformed her into the poisonous creature she was. Perseus, the son of Zeus and princess Danae, beheaded Medusa with the use of an Athena-provided shield.
Caravaggio used a self-portrait of his own face in lieu of Medusa's in his painting to convey his immunity to her horrible stare. Though the head is severed, it looks to be aware as the artwork depicts the creature's dying moments in stillness before being annihilated.
Blood streams down in several streaks, and the jaw hangs wide open, exposing the teeth. With wrinkled brows and enlarged eyes, a horrific appearance is conveyed.
10.

Supper at Emmaus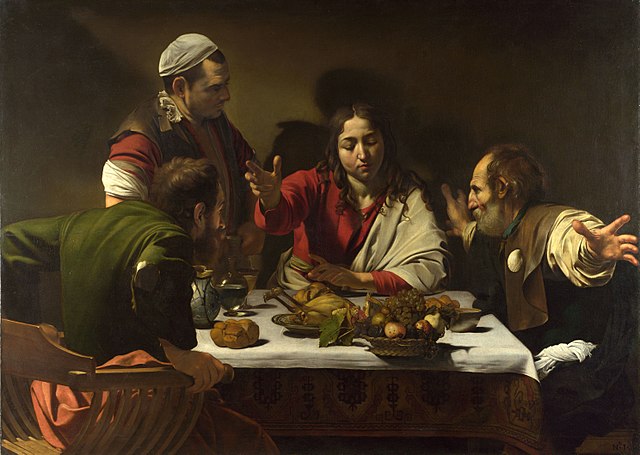 The Supper at Emmaus was painted around 1601 and is presently housed in the National Gallery in London. Originally, Ciriaco Mattei, cardinal Girolamo Mattei's brother, commissioned and paid for this artwork.
The artwork shows the moment when the resurrected but disguised Jesus appears to two of his followers (perhaps Luke and Cleopas) in the village of Emmaus, only to quickly disappear from their view. Cleopas is dressed in a pilgrim's scallop shell.
The other apostle is dressed in ragged garments. Cleopas gesticulates by extending his arms in and out of his frame of reference. The standing groom, with a smooth forehead and a darkened face, looks indifferent to the situation.
The picture is remarkable in that it has life-size characters on a dark, blank backdrop. A still-life lunch is laid out on the table. As with the world they knew, the basket of food teeters precariously close to the precipice.
In 1606 Caravaggio painted another version of the Supper at Emmaus (currently in Milan's Brera). By contrast, figures' motions are significantly more restrained, emphasizing presence over performance.
Both versions use the Trompe-l'il method, which seems to enable characters to move in their movements in order to capture the viewer's attention.