For thousands of years, food paintings and images of appetizing objects have been recorded visually through the drawings and paintings of some of the very earliest human beings.
From cave paintings of hunters to the ancient Egyptians carving crops and breads into tablets, to Dutch masters painting hyper-realistic still life's in expensive oil paints, food and art have a long and rich history.
Art about food gives us an insight into into ancient civilizations' diets and more specific accounts of how the nobility ate from Medieval times to today's highly commercialized food sector.
Famous Food Paintings
1. Campbell's Soup Cans – Andy Warhol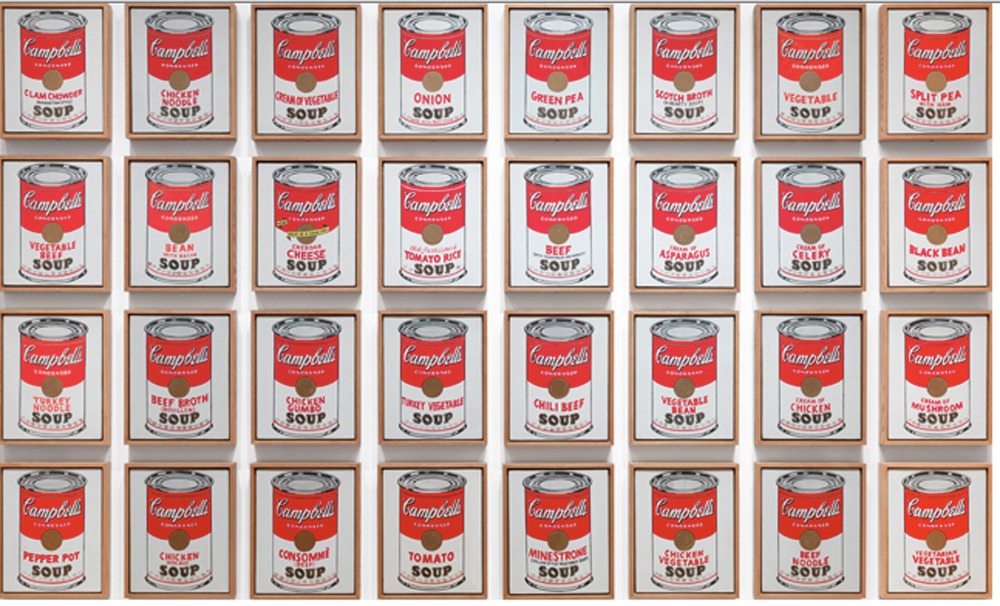 Rather of painting vibrant, dramatic images or landscapes, Warhol used acrylic paint to emphasize the contrast and beauty of everyday things such as soup cans, banknotes, bottles, and other diverse objects.
Campbell's Soup Cans, created in 1962, is widely regarded as one of the most iconic images in history. This was a series of paintings in which Warhol brought to life each each flavor of soup with its own, unique painting—32 in all.
These pieces were first displayed on stores in the manner of regular soup cans that were popularly eaten at the time. Warhol saw beauty in the everyday, and was quoted as saying of Campbell's soup, "I used to consume it." I used to have the same lunch every day for maybe twenty years, the same thing over and over."
This series of Andy Warhol paintings launched his career and established him as one of the finest pop art painters of all time.
He quickly transitioned to printing and silk-screening in order to continue exploring the concept of showing normal, daily objects in an unusual way.
2.

Figure with Meat

– Francis Bacon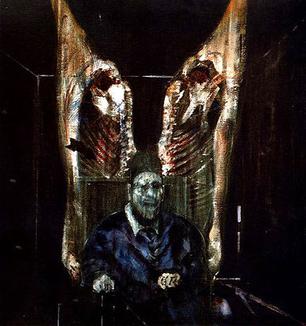 Figure with Meat is a 1954 artwork by Francis Bacon, an Irish-born artist. The image is based on Diego Velázquez's picture of Pope Innocent X; however, in Bacon's work, the Pope is shown as a grotesque figure sandwiched between two bisected cow parts.
The corpse hanging in the backdrop is very certainly a reference to Rembrandt's 1655 Slaughtered Ox. The picture is part of the Art Institute of Chicago's permanent collection.
The fresh meat evokes the opulent displays of fruits, meats, and confections in seventeenth-century vanitas paintings, which sometimes included subliminal moralizing messages about the brevity of life and the spiritual perils of sensuous pleasures.
To emphasize the point, the food sometimes displayed indications of being overripe or rotten.
3.

The Potato Eaters

– Vincent van Gogh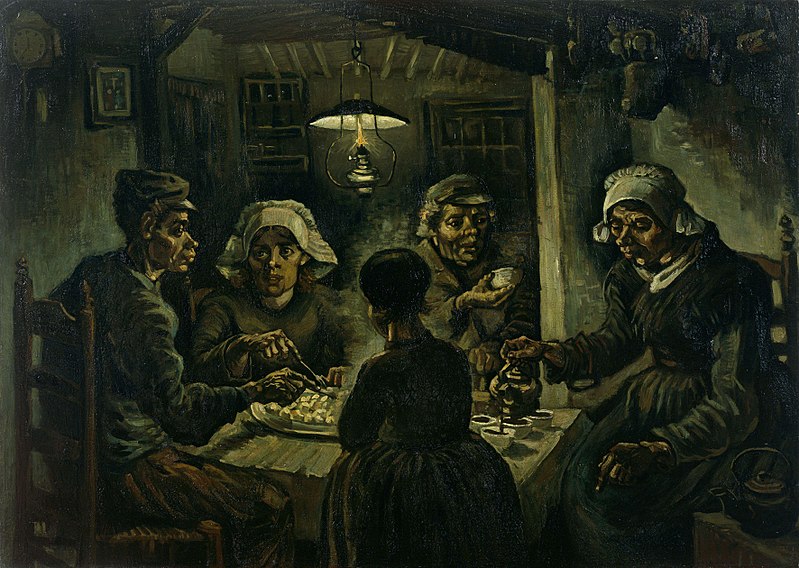 The Potato Eaters is an oil painting by Vincent van Gogh that was done in Nuenen, Netherlands in April 1885. The original oil drawing for the painting is on exhibit at the Kröller-Müller Museum in Otterlo, and he also prepared a number of lithographs of it.
The Potato Eaters is the deliberate effort of a young artist eager to establish himself in the world. He would do a slew of preliminary drawings and lithographs to hone his technique before embarking on a mature figure piece.
A picture of five seated persons in a little dark space dimly lighted by an oil lamp needs a high level of skill to execute successfully.
Van Gogh completed the "actual" painting between April 13 and the beginning of May. He went with a much larger canvas and called it The Potato Eaters.
Unlike the other oil and charcoal sketches, this one was painted 'mostly from memory,' which is a true monument to an artist's abilities.
4.

Mound of Butter

– Antoine Vollon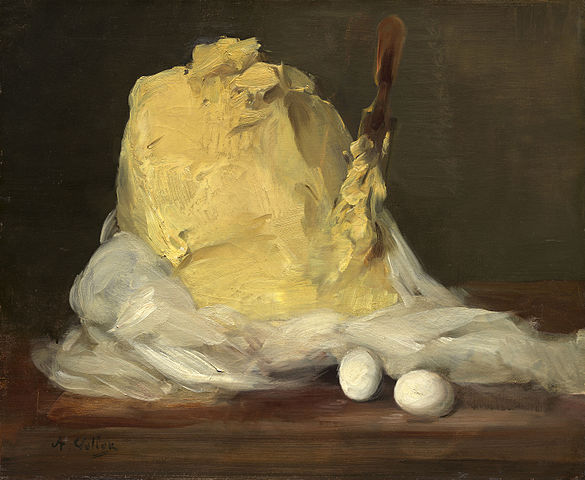 Mound of Butter is a still life painting of a mound of butter created between 1875 and 1885 by the 19th-century French realism painter Antoine Vollon.
The artwork is on display in the National Gallery of Art in Washington, D.C., and has been dubbed one of "Washington's Crown Jewels" by the New York Times.
Throughout his career, Vollon was most recognized for his still life paintings, which also included landscapes and individuals. He was a member of the French Realist movement and acquired superstar status during his lifetime.
The picture is an excellent example of Vollon's still life work, portraying a pile of butter in a rich, deep yellow hue (presumably from the carotene of the fresh plants that grazing cows commonly eat on barn fields). When Antoine Vollon was alive, it was customary to buy handcrafted butter from a farmer.
After milking, the cream is often collected, churned, and the butter lumps are kneaded by hand or massaged with a spatula to remove moisture, since significant volumes of buttermilk would limit its storage life.
Butter was traditionally preserved in a cold spot, wrapped in cheesecloth. The butter mound's fabric is loosely draped over a pair of eggs beside it in the artwork.
5.

Vertumnus

– Giuseppe Arcimboldo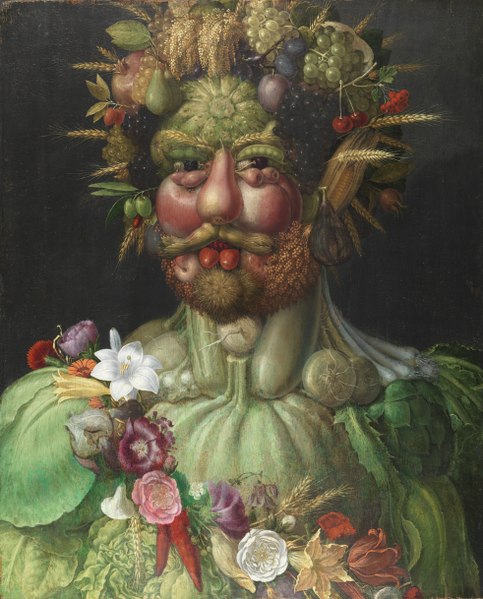 Giuseppe Arcimboldo's portrait named Vortumnus is one of the most remarkable fruit paintings ever produced (Vertumno).
This work, painted in 1591, concentrates on the Roman Emperor Rudolf II and is an odd, but appealingly organized picture of different fruits, vegetables, and flowers that compose the emperor's bust.
The artist's evident intention was to associate the emperor with Vertumno, the Roman deity of seasons and plant growth.
Many critics thought the painting was a joke, but the artist said that the use of plants and fruits to symbolize the great emperor was done to depict the method in which he rose to power.
This is one of the most intriguing and inventive works of Renaissance art, and it is presently on exhibit in Sweden, where it has been since the mid-1600s.
6.

Still Life with Apples

– Vincent van Gogh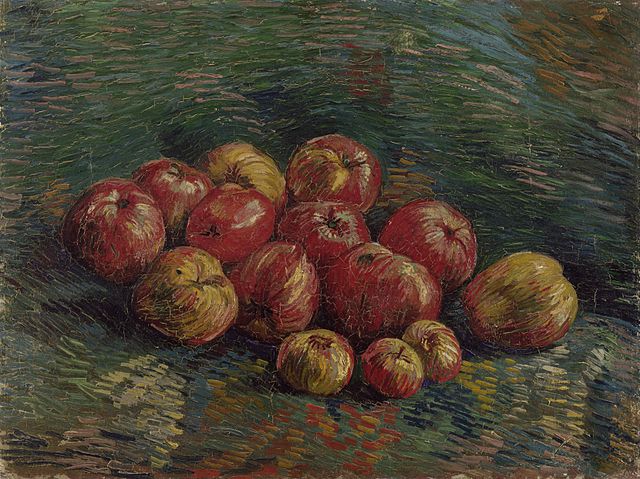 Van Gogh was regarded as a virtuoso of still-life paintings. His ability to depict natural plants, trees, and other items, especially fruits, in his own unique style is unparalleled in history.
In van Gogh's still life, the foreground and backdrop vie for the viewer's attention. It's a rainbow of colors.
Almost every blue and green in Van Gogh's palette may be found in the backdrop. He then added brushstrokes in contrasting hues, including yellow, orange, red, and pink.
He employed the same color schemes for the apples in the foreground, but in reverse order: warm tones first, then cold green and blue accents. The scene became more cohesive as a result of this.
7.

Apples and Oranges

– Paul Cézanne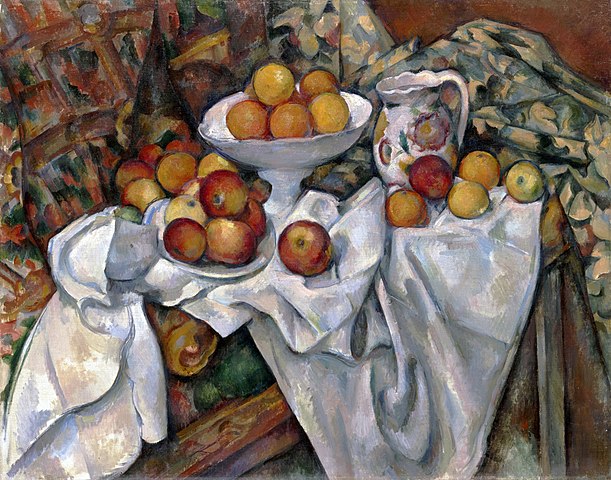 Around 1899, Paul Cézanne created Apples and Oranges, a still life canvas oil painting. It's one of the French artist's last works, completed at the end of his life.
During the same time period, he completed five more projects with comparable topics and styles. This still life is one of Cézanne's most recognizable paintings.
8.

The Peasant Wedding

– Pieter Bruegel the Elder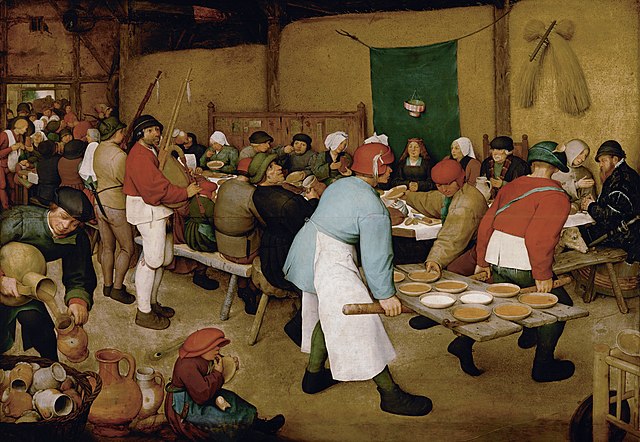 Pieter Bruegel the Elder's 1567 genre painting The Peasant Wedding is one of several showing peasant life by the Dutch and Flemish Renaissance painter and printer Pieter Bruegel the Elder.
Pieter Bruegel the Elder painted peasants and various elements of their existence in so many of his paintings that he was nicknamed Peasant-Bruegel, but he was also an intellectual, and many of his works had a symbolic significance as well as a moral component.
Many observers have questioned why Bruegel seems to have given the red-clad servant on the right, carrying the tray, a third foot. Bruegel the Younger, Bruegel's son, believed this foot was a mistake or, at best, too perplexing for viewers.
His 1620 reproduction of his father's artwork overcomes the issue by removing the third foot entirely. Claudine Majzels' study of the angles and relative locations of the persons involved, on the other hand, argues that the red-clad servant's "third foot" is really the extended left foot of the brown-clad guy who is moving the plates to the table.
9.

Nighthawks

– Edward Hopper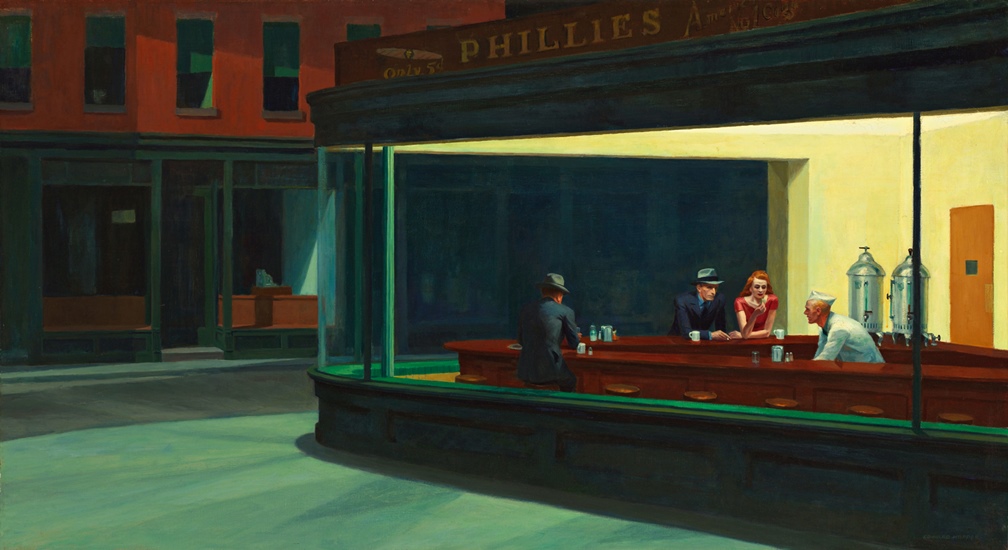 Edward Hopper's Nighthawks is a notable artwork in American culture that is almost a snapshot of the legendary 1940's lifestyle.
The piece is an oil painting depicting a late-night scenario in which a few people are still lingering around a corner café in the wee hours of the morning. Hopper's picture presents a magnificent exhibition of light and shadow on more than one level.
The vibrant colors contrast with the light, which may be seen as extremely bright in such a location, but the darkness works with the striking brightness in a manner that sets the image as one that can be viewed in a variety of ways.
Also Read: Famous Cafe Paintings
The pair in the artwork seem to be in extended quiet, while the waiter at the café glances up momentarily as he does his duties. Another guy sits in a similarly peaceful manner, his back to the spectator.
The artwork oddly lacks a door to the café, giving the idea that the inside is as lonely as the dark, dismal street outside.
Many critics believe this artwork exemplifies how industrialized life began to separate individuals from one another, especially in huge cities during this time period.
10.

Reversible Head with Basket of Fruit

– Giuseppe Arcimboldo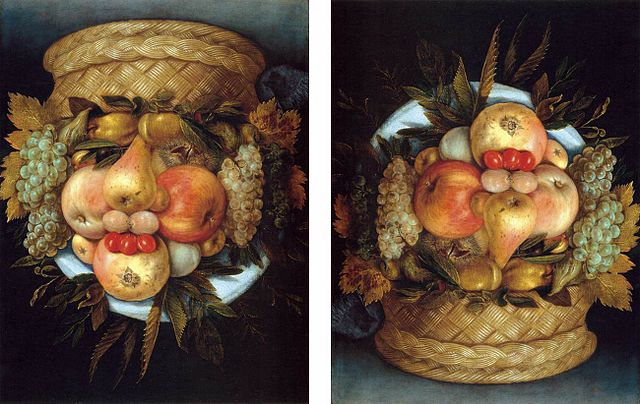 Giuseppe Arcimboldo's Fruit Basket or Reversible Head with a Fruit Basket is a c.1590 oil on panel still life. When turned around, it reveals an anthropomorphic head.
When this composite head is flipped upside down, it transforms into a fruit basket. This representation of a fruit basket, when seen as a still-life, is a significant early exemplar of this genre.