The world of Cubism art finds its genesis in artists who populated France and Europe at the beginning of the 20th century
However, the roots of the style stretch from the early works of Cezanne in the 1800s to as late as current times in 2020 with Alexandra Nechita.
Here are 10 famous Cubist artists who defined the movement and continue to influence heavily the style today.
Famous Cubist Artists
1.

Pablo Picasso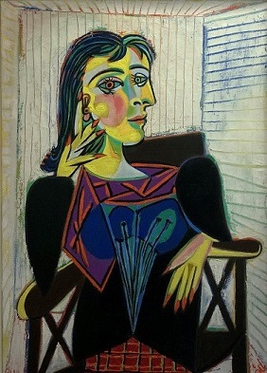 Born in the fall of 1881 in Malaga, Spain, Pablo Picasso spent his entire life tied to his country, its culture and its history.
His artwork developed early, and as a young man he entered the Academy of Fine Arts in La Lonja. Picasso's first exhibit occurred near the age of 20 after he had spent most of 1899 being exposed to current artistic trends at the café Els Quatre Gats.
For the next five years Picasso's style went from the Blue Period to the Rose Period, but Picasso's Cubist approach did not bloom until 1908.
Early in his career he would have been considered a post-impressionist and some of his impressionist paintings serve as a bridge between his earlier years as an artists and his more most famous works.
For the next three years the artist refined his sense of Cubism from an initial planning and analytical phase to what became widely associated with his name.
By the time Guernica was painted in 1937 as a protest of the bombing of Spanish villagers, Picasso's cubist paintings were in full maturity.
He is responsible for a one of the largest catalogues of well known Spanish paintings.
He lived until 1973 and spent his later years in France.
2.

Georges Braque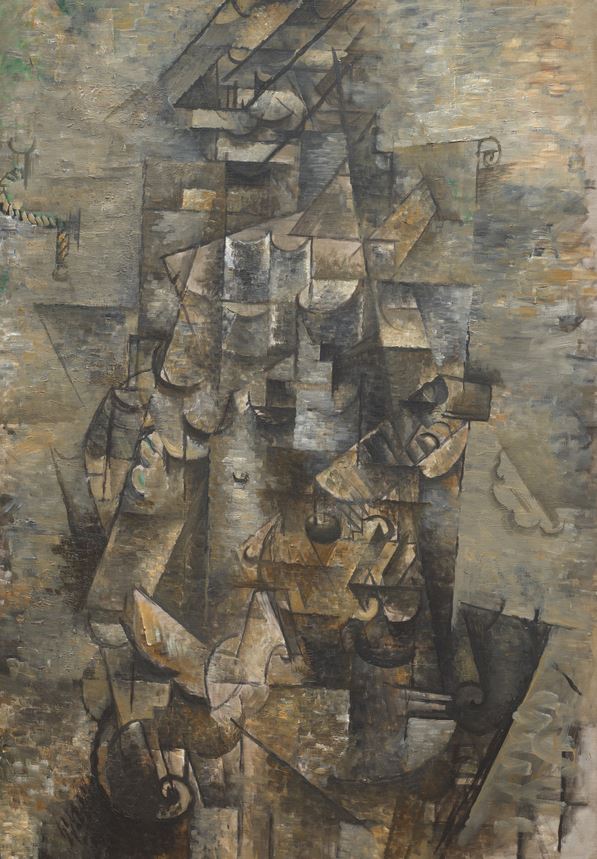 Born in France in 1882, Braque was easily influenced by his country's artistry perspectives which were reinforced during his tenure at Ecole des Beaux-Arts during his late teen years.
Originally, Braque had intended to be an interior decorator and studied for his trade certification. However during his early Paris years Braque met influences and shifted dramatically from Impressionism to Fauve style, which was very evident in a 1906 exhibition.
Two years later Braque provided his own solo show. It was at this point that Pablo Picasso and Braque crossed paths and became the grandfathers of Cubism. This lasted until 1914 when World War I put Braque on the front line.
After the war Braque rejected structure and flowed with creativity, and he was hired for ballet displays and major plaster work.
Surviving in Paris through World War II, Braque lived another eight years painting, making jewelry and lithographs but health limited Braque and he died in 1963.
3.

Juan Gris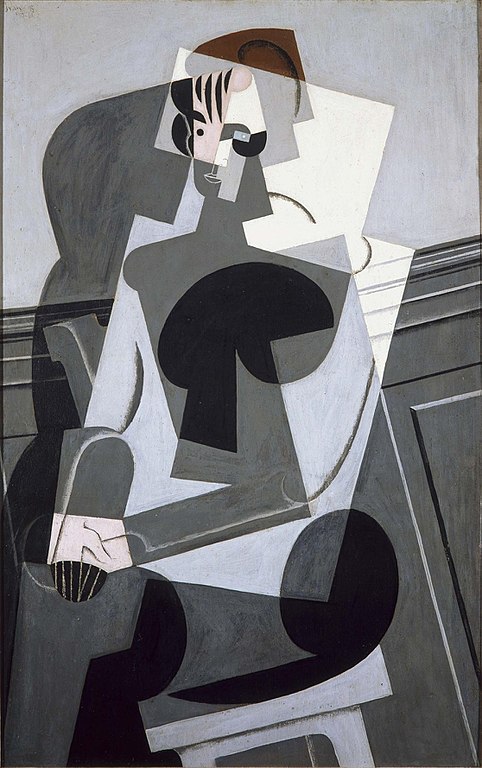 Not his original name, Juan Gris was born as Jose Gonzalez-Perez in 1887. A bit younger than his Cubism peers, Gris originally focused on mechanical drawing for a career in the industries, spending three years at the Escuela de Artes y Manufacturas located in Madrid, Spain. Much of Gris' early work showed up in magazines and periodicals.
It was not until 1905 that he began to consider artistic painting after learning from Jose Maria Carbonero. A year later, Gris relocated to Paris, and there he met up with the major Cubism names that influenced his later work.
Gris spent the rest of his life in France's capitol, and he spent much of the run up to World War I with the likes of Picasso, Braque and Raynal and Leger.
Gris commitment then appeared in painting in 1910 and within two years his version of Cubism became apparent. D.H. Kahnweiler and Leonce Rosenberg both sequentially sponsored Gris' paintings, but Gris passed away in mid-1927 due to poor health.
4.

Albert Gleizes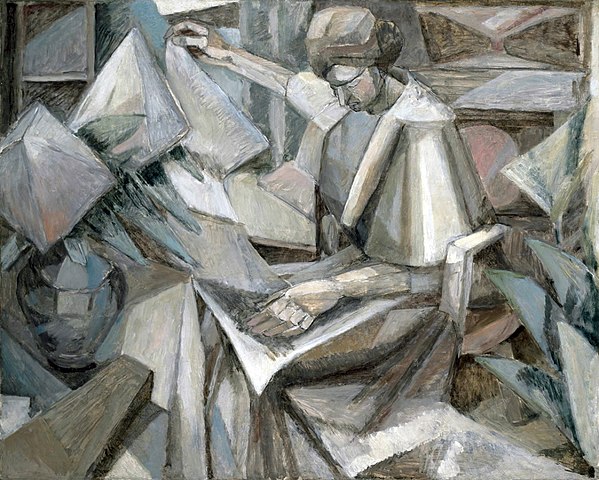 Raised in a fabric design studio in the 1880s, Gleizes was supposed to go into materials fabrication, but a military stint from 1901 to 1905 pushed him into painting instead.
Gleizes' first exhibit appeared in 1902 while still in the military, and by 1906 he was well-established in Paris as a working artist. He lived and worked with other artists in a small commune, but it collapsed in 1908 due to money issues.
Gleizes displayed in a number of exhibits after working with and being influenced by Leger, Fauconnier and Metzinger, and by 1912 he was an instrumental co-author of Du cubisme. However, World War I service interrupted plans, and after the War Gleizes went very much into abstract styles.
Travel and spiritual searching revised Gleizes' perspective on painting, and he created another commune in 1927 for artists. He continued to be influential in the 1930s with artwork displayed in the World's Fair of 1937.
After World War II Gleizes continued with illustrations and large chapel paintings until he passed in mid 1953.
5.

Paul Cézanne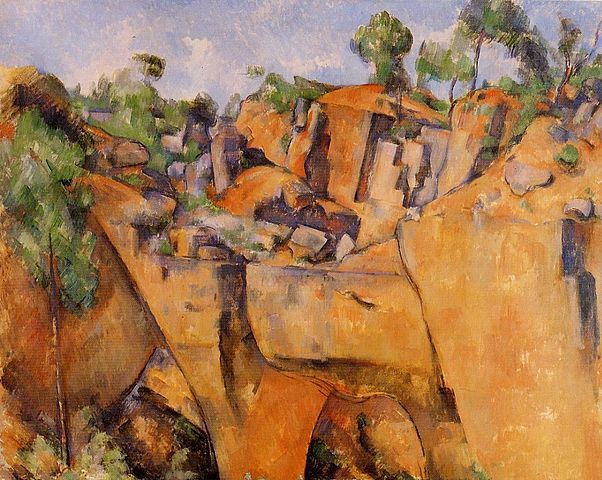 A famous artist and name in traditional modern art history, Paul Cezanne started off as a post-impressionist. From there he delved into abstract views of brush strokes and light as well as using color and form to create visual differences and edges.
The style was so different, Cezanne has been titled the genesis of Modernism by many artists who came right after him 50 years later.
Cezanne, for his part, started far earlier than most Cubism artists, being born in 1839 and producing his first paintings in 1861 in Paris.
Cezanne had the fortune of being able to live off his father's finances, so his entire effort went into art, producing significant works rooted in his initial education in Impressionism under Camille Pissaro.
While Cezanne passed away in 1906 and did not see the fruit if his work in younger artists, Cezanne's style evolved in later Cubism artists.
6.

Jean Metzinger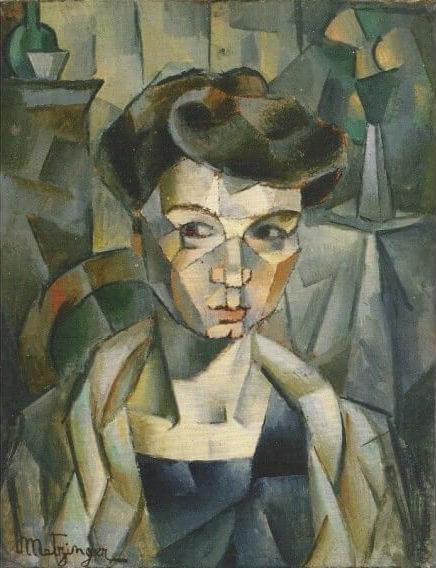 Born at about the same time as many of his Cubist peers, Metzinger developed his early painting influences directly in Paris being exposed to Robert Delauney.
Metzinger knew from the start his career was in painting, but it was in 1908 that he first met up with Braque and Picasso.
From there Metzinger's painting style was heavily influenced by his association with Picasso until 1923. He displayed his first show and set of works in 1910, and for the next two years regularly contributed to art literature on the details of modern art styles.
In 1911 Metzinger was one of a group of four artists who produced the Salle 41 exhibit, publicly launching the display of Cubism. He also worked on the writing of Du cubisme a year later as the theory bible of Cubism.
Metzinger continued to paint after his military service in World War I and stayed in Paris until his passing in 1956.
7.

Paul Klee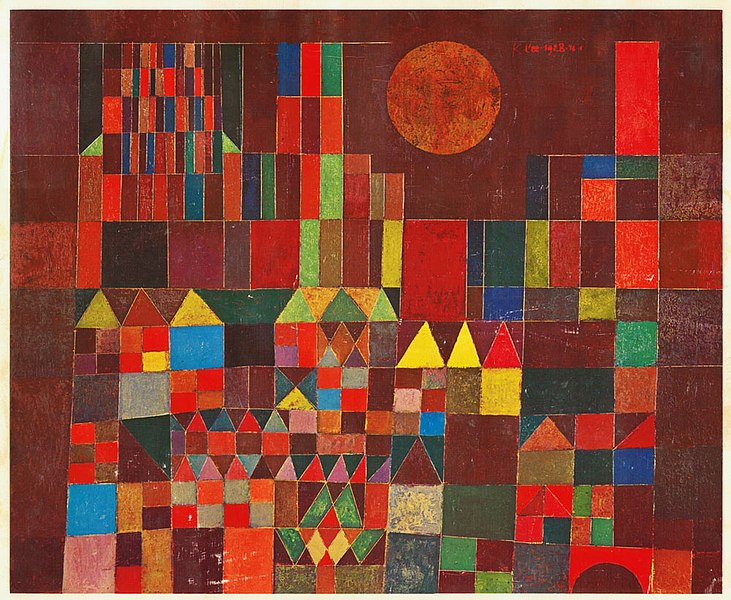 As a young child Klee was already deep in the arts raised by a Swiss family of musicians.
That love of music was integrated into Klee's perspective for the rest of his life, even after he moved to Munich for formal studies and skill development.
By the beginning of the 1900s Klee was done with school and studied for a while in Italy and abroad. Settling down again in 1902, Klee went off the grid until he started to dabble drawings and sketches in 1906.
By 1911 his work allowed Klee to be entered into exhibition and that channel Klee into exposure with Braque, Picasso and Delauney by 1912. Yet it wasn't until 1914 that Klee began to work with color after an overseas trip to Tunisia.
World War I halted much of his work but by 1920 Klee was active again in Munich, writing and receiving an appointment to the Bauhaus the same year.
Klee stayed influential until the Nazis forced him to leave Germany in 1933. He spent the next seven years in his home country of Switzerland before passing in 1940.
8.

André Lhote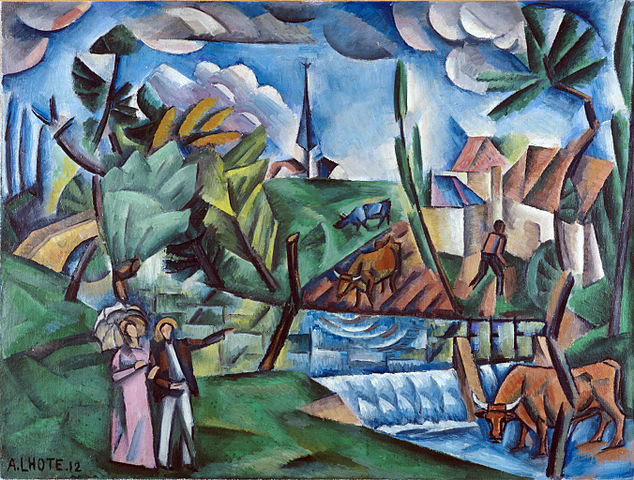 Guaguin and Cezanne both provided the fundamental inspiration and foundations for Lhote's work, which was quite natural since the artist was raised in Bourdeaux, France and learned his post-impressionism at the Ecole des Beaux-Arts.
On this platform Lhote then evolved with interaction from Jean Metzinger and Marcel Duchamp. That genesis produced Lhote's famous works, Cordes in 1912 and Le Porte of Bordueux two years later.
At this point, Lhote's art was interrupted like many with World War I and military service. After the conflict, however, Lhote went on to continue as an art critic writer and then establishing his own art school.
He continued to paint and exhibit as well, and Lhote died in 1962 in Paris. Unlike his peers, Lhote likely had a far great and wider influence with his choice of combining landscape impressionism and Cubism together because he was able to cement the lessons in multiple generations with his art school programs.
9.

Alexandra Nechita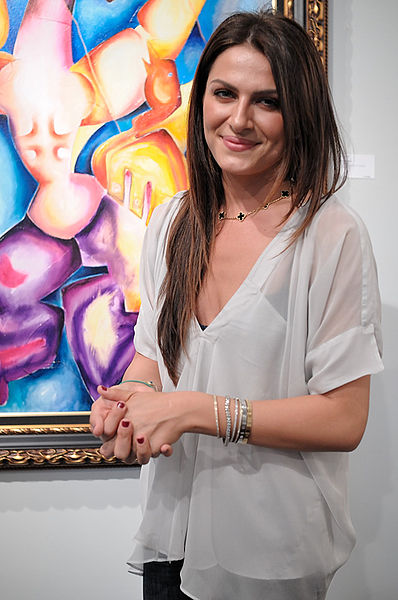 Many would take a first look at Alexandra Nechita and ask simply based on age alone why she should be included among Cubism artists, much less their most influential names.
However, while Nechita was born much later in 1985 and started her painting work a few years later after emigrating with her family to the U.S., her strong study of Cubism has been compared multiple times to the work of Pablo Picasso himself.
Part of what makes Nechita's painting so evoking involves classic choices that Picasso used as well: life-size large painting canvases, an extremely high attention to color detail and use of space, political messaging, and the sense of individual freedom.
Nechita completed a UCLA degree in Fine Arts in 2008 and continues to paint heavily living in Los Angeles. Her works provide a vivid display of bright, rich color with shading and brightness to distinguish shape and depth.
Nechita often describes her work as her inner feelings displayed, and her paintings move many emotionally.
10.

Henri Le Fauconnier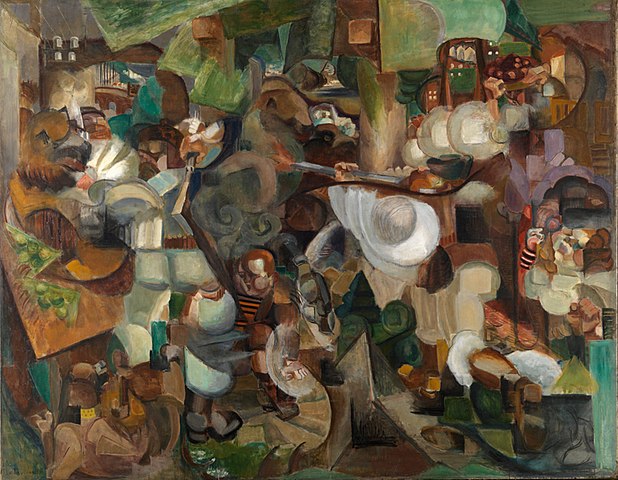 Where many Cubism artists focused on people, objects and animals, Fauconnier found his style and muse in landscapes as well as still life's.
Unlike some of his peers who wanted bold contrasts, Fauconnier chose to emphasize muted shades within outlines, including a bias for interlocking structures.
Fauconnier spent his career in France, moving to Paris at 20 and experimenting early in 1901. Cezanne was an early influence, but soon Fauconnier was also working alongside Metzinger and Leger in exhibitions in 1911.
World War I uprooted Fauconnier, and he relocated to the Netherlands which gave him time to study Dutch artwork and styles. However, Fauconnier returned to Paris after the War and stayed until his death in 1946 in Paris.
Some of the artists works still hang all over the world with pieces located in New York City's Museum of Modern Art, the Frans Halls Museum in the Netherlands, and the Hermitage Museum located in St. Petersburg.
11. Vicente Manansala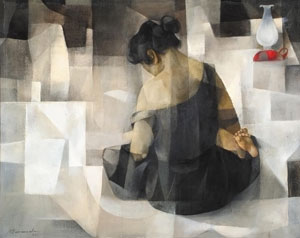 Vicente Silva Manansala was a Filipino cubist painter and illustrator who lived from January 22, 1910 to August 22, 1981.
One of the earliest abstract artists to emerge on the Philippine art scene. Vicente Manansala is also recognized for bridging the urban-suburban divide, as well as the rural-cosmopolitan divide.
His paintings represent a country in transition, a reference to the new culture introduced by the Americans. Manansala and Fabian de la Rosa are two of the best-selling Filipino artists in the West.
He belonged to the prestigious Cruz, Manansala, and Lopez family dynasty. He is regarded as one of the 13 Moderns, a group of modernists linked to Victorio Edades.
Manansala's paintings are the greatest and have been recognized as the best in the neighborhood and the city as a whole. His Madonna of the Slums depicts a mother and child from the rural who become urban shanty dwellers once they arrive in the city. Manansala's Jeepneys merged aspects of local folk culture with metropolitan congestion difficulties.
Manansala pioneered translucent cubism, a style in which "soft tones, contours, and patterns of figure and surroundings are skilfully juxtaposed."
---
This list of cubist artists covers the main classical names in the movement which will be forever tied to each other for their style of art.